Ever hear a personal story that's so captivating that you want to share it with others? At Agorapulse, we've heard some extraordinary stories from people who live life at a deeper, inspirational level. And we want to share them with you.
In this new series, we share the experiences of such people, documentarians Martin Blanchard and Félix Dubois, one narrative at a time. We'll dig deep into what inspires us about their documentary-making journey that launches January 15, check out the highlights from six months of riding bikes through eight countries, and discover what they've learned along the way.
The Purpose of the Six-Month Project
True traveling involves more than a suitcase and a destination ticket. It's more than just showing up somewhere, taking pictures, and shuffling off to the next location.
That's just sightseeing. And true traveling is so much more than that.
Sightexperiencing is more of what French friends Martin and Felix wanted.
"We have already traveled several times together, and we have the same vision of traveling and the same desire to discover the unknown," Martin said. "But we were missing an important element on our journey: to give meaning to it."
After a few months of reflection, these friends decided to make a documentary about the coexistence between humans and endangered animals.
They chose the name "Wanyama" (which means "animals" in Swahili) for this endeavor.
And they focused specifically on eight different countries in South Africa: Kenya for the lions, leopards, buffalos, elephants, and rhinoceros; Uganda for the mountain gorillas in the impenetrable deep forest of Bwindi; Rwanda for its hills of hidden treasures of rare wildlife; Tanzania for its extraordinary Serengeti ecosystem, its plains, wildebeests, zebras, and more; Zimbabwe for its dedicated reserves and natural parks; Mozambique for the marine wildlife, Zambia for its savannahs, plains, and forests; and South Africa for its diverse landscapes as the perfect end to the journey.
Nous sommes heureux de vous présenter notre itinéraire ?‍♂️Départ le 15 janvier pour 6 mois de trip a vélo en Afrique Australe ???Restez connecté plus d'informations arrivent !

Posted by Wanyama on Monday, November 25, 2019
The inspiration for making their journey on bicycles came from Felix's own family.
"My father was a guide in the African deserts and sparked my passion for Africa from a young age through our many trips," Felix said. "He and my mother crossed Egypt, Sudan, and Uganda by bicycle for seven months when they were younger."
How Felix and Martin Planned for This Documentary-Making Journey
A six-month trip requires planning carefully, doing the proper research, knowing the details, and yet also being open to new experiences that may emerge.
So, how did they move from the dreaming stage to the action-planning one?
Martin: "First of all, we tried to get as much information as possible about all the countries we will cross: the history of the country, the fauna and flora, the landscapes not to be missed, the geopolitical situation, the risks of diseases, etc.
"That information was the basis of our itinerary for our six months of adventure. It also allowed us to organize ourselves to get our vaccines, look at visas, and, above all, to better understand the conditions in which we will live.
"Then we became interested in the equipment to bring (bicycle, bivouac, and medical equipment). We had no knowledge about the bicycle equipment to take with us on such a trip. We [talked a lot] with [experts] and spent hours on the Internet to see what was there and understand what would be the best for us.
"Which equipment to take? How do we want to film? What do we want to film? Who do we want to meet? In which form do we want to present our report? So many questions that pushed us to project ourselves into our journey."
Felix: "We have been working on getting ready for this journey for months …
"We didn't just want to cross these countries but to immerse ourselves in the hearts of the local populations and understand the current challenges between the local populations and the different populations of animal species," said Felix.
"Then we reflected on the routes we wanted to take, according to the natural parks and the time we had.
"The bicycle is at the heart of our project, so we asked about similar projects, from local companies, in order to have bikes adapted to African paths."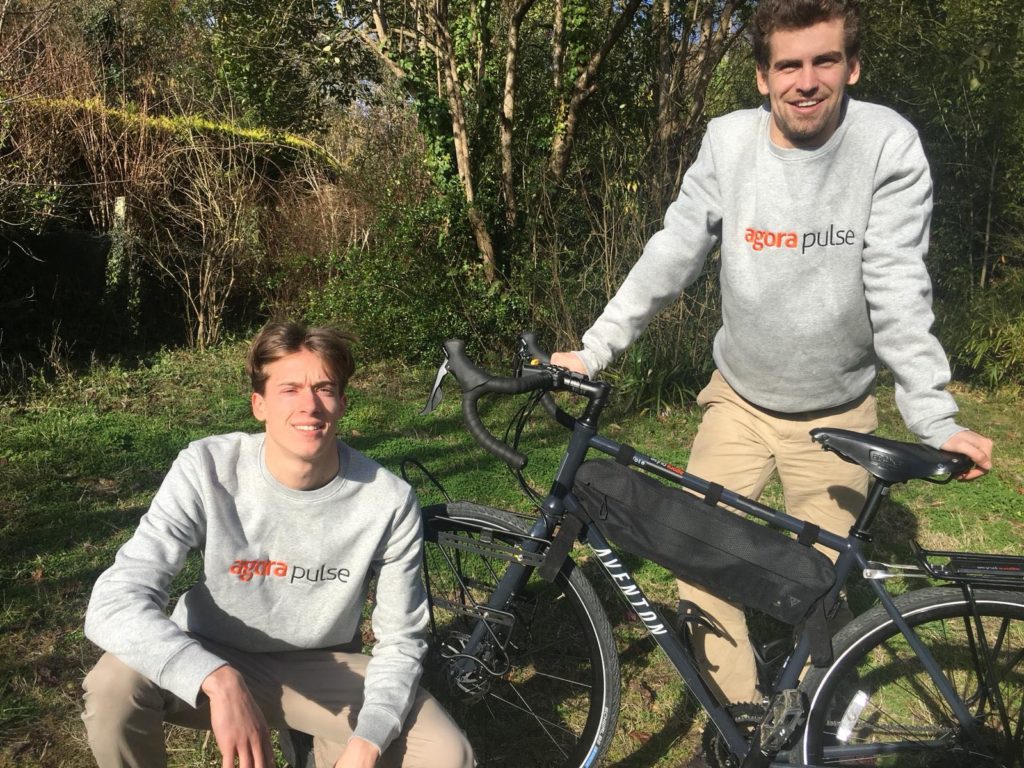 Equipment: Whittling Down to the Essentials
Felix: We can divide our equipment into five parts …
Bike equipment. We decided to leave with two gravel bikes, mounting with five bags (two front, two rear, and a handlebar bag). In all, we can put around 90 liters (around 23 gallons) per bike. For the tires, we used tubeless technology. It's a tire technology that doesn't need an inner tube and which punctures around 10 times less than basic tires. We also have replacement inner tubes, spokes, a spare tire, and other elements that will allow us to be 100% autonomous in case of a problem.
Health equipment. This includes the basic elements of a first aid kit (aspi venom, dressings, etc.) but also anti-malaria treatment because we will be exposed during 100% of our trip to malaria. In addition to that, we bought filter straws and Micropur (water-purifier tablets) to make the water drinkable.
Video equipment. We're bringing a hybrid camera (Panasonic GH5), which allows you to take very good photos and videos, with two lenses, one for all kinds of photos and videos, and a 100-300mm to allow us to zoom and photograph the animals. We also take an on-board camera with a very good stabilizer for all action scenes. To film video of landscapes, we've packed a drone. It will be a challenge to store all our videos and have a battery on our various equipment. So we've bought a lot of memory cards, external batteries, and a solar panel to be able to be 100% autonomous.
Bivouac and cooking equipment. This includes a large tent to put our bikes at the entrance, kitchen equipment (pots, utensils, etc.), but also a gas stove to be able to do our own cooking to avoid diseases.
Clothing. We'll start out with what is strictly necessary. We don't want to burden ourselves. This is why we have chosen to buy quality equipment in small quantities. For example, we only have a large fleece, two technical T-shirts, two pairs of shoes, K-way pants, and two short pants for the whole trip.
Expected Challenges on the Journey
Inevitably, a journey will veer off course, even if for just a little while, due to something unexpected.
You can plan for many, many things—but not everything.
For many people, that thought can be both frightening and exhilarating all at once. Stepping beyond a comfort zone, far from the familiar and routine, can be an enormous challenge for many people.
To Felix and Martin, it's something they welcome whole-heartedly. They are aware of what difficulties may be on the horizon.
Martin: "We are going to a place in the world that very few people know about and where we have difficulties to measure certain risks before we leave …
"We will surely encounter the suffering of people, poverty, or disease. But I think we will remember the beauty of nature, the greatness of the animals, and the joy of the African people.
"Another major challenge will be to reconnect with nature.
"During our journey, we want to take time to contemplate and live in the present moment. For me, this is completely in opposition to what our society is today," said Martin.
"We must live without our screens and take time to contemplate what surrounds us. Take the time to reach out to others, to be bored and to find yourself in front of yourself. For me, this is one of the major challenges of our trip."
Felix: "The biggest challenge for me is cycling. We are not great cyclists, and we will have to be very careful with traffic and will face the vagaries of the bicycle trip, punctures, and other mechanical problems in hot weather and in isolated places. I have no doubt that African solidarity will help us get out of the most difficult situations.
"Besides that, we will have to be very careful with wild animals, which are unpredictable.
"Finally, Africa is well-known for its environmental dangers, particularly associated with water and mosquitoes. We have already taken precautions and bought technical equipment to protect ourselves, but we will have to be vigilant all the time. And of course, we must face our daily enemy, the sun."
Support From Family and Friends
Martin: "My family understands and supports me 100% in my project, even if some fears may make them ask me questions over time. My friends are also behind me and are generally curious and concerned about the smooth running of our expedition. The main thing is that they are all happy for me and want to follow the adventure."
Felix: "My parents have supported me from the start and help me in my organization, thanks to their experiences. It's a big project for them, but they trust me and know we'll be careful. Regarding my friends, all are enthusiastic and interested in our expedition. They're all very curious and can't wait to get our reports.
"We are going on an adventure of a lifetime, and we have agreed to give them news but not too much.
"We want to live our trip at 100%," said Felix.
"For that, trust is essential. We will be equipped with a GPS, which will allow us to report any problem. We will remain as vigilant as possible, and will live 100%."
What the Documentarians Look Forward to Most
Martin: "I have always wanted to discover what was unknown to me in a remote part of the world. The curiosity to discover new cultures, new landscapes, new animals, and new languages. Getting out of your comfort zone and to be vulnerable in front of nature is something I find very exciting."
Felix: "The start, we know that the first 15 days will be the most difficult, we will have to get used to the heat, jet lag, equipment, and our body will have to get used to the kilometers traveled. We will finally be able to put into practice all the hours that we have carried out during these last 6 months.
"It will mark the beginning of one of the most beautiful adventures of my life, with ups and downs, but which I will have engraved in my memory all my life.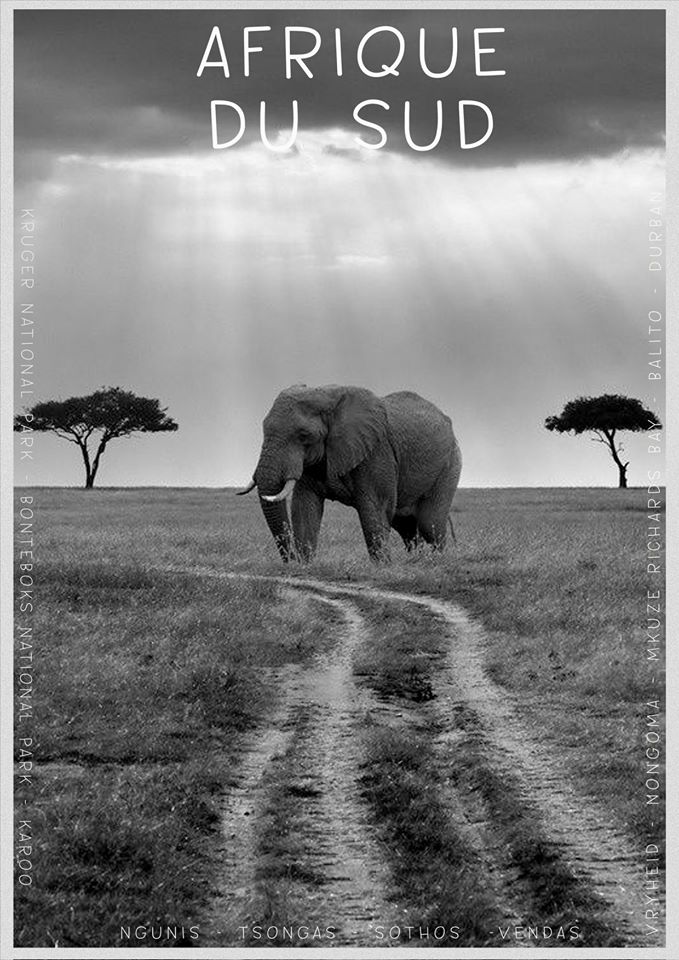 What They Are Really Not Looking Forward to
Martin: "What excites me the least is very clearly the diseases. The very high possibility of catching malaria in the areas where we are going to cool down a little bit at times. No doctor has given us the same advice. But we understand that we must protect ourselves as much as possible, and that the risk is highly present."
Felix: "It's a difficult question. I admit that everything excites me about this adventure. Even though I know that during these six months, we will go through many difficult moments, it is 100% part of the trip. It's often the hardest times which stay in mind the longest."
Read More About Their Adventure
Travel along with Felix and Martin as they produce the documentary of their bike ride throughout the different locations on the African continent. (You can also follow them on Instagram.)
We'll be publishing more articles on this blog as well as sharing posts via our social channels in the next six months.
At Agorapulse, we celebrate the spirit of getting out of one's comfort zone, transforming dreams into action plans, and bringing greater meaning into one's life. If you'd like to learn more about another of Agorapulse's inspiring people, read our series on Ingrid Ulrich and her own spectacular journey of survival.
* * *
Sign up now for a FREE demo.