"Hey, marketers! Artificial intelligence (AI) is coming for your job!" Or so say the marketers who don't know how to use AI. In fact, AI tools for marketing can make your job so much easier. The truth is that AI is a low-cost extra head on your marketing team. And a great addition at that.
Unlike human coworkers, AI:
Is always online
Doesn't get jealous if you talk about a project they really wanted
Takes responsibility if they've done something wrong. (It asks for more detailed feedback than most humans!)
It's helpful that AI's answers might not always be great out of the gate. Its imperfections allow marketers to say, "Hey, you're just another tool" and more easily set boundaries with the technology.
Here are nine uses of AI for marketers th at will speed up brainstorming and content creation but won't land you in an episode of "Black Mirror" or a sequel to "Her."
1. Use AI to Break Down Marketing Campaigns
In regards to marketing campaigns, what the public sees is just the tip of the iceberg. There's a lot more underneath that often gets overlooked. It can be overwhelming, especially if you're neurodivergent, to start and follow through on a campaign.
The AI behind Goblin Tools (free) takes any seemingly massive task and breaks it into doable chunks. It makes something like your marketing campaign more doable and less overwhelming in less than a minute.
Here's how the tool suggests I approach a campaign for a fictitious soap company, Lyra Clean.
(Could you imagine asking a human coworker to help you do this?)
2. Jumpstart Your Copywriting Framework
Copywriting is another whopper of a task for marketers. Perhaps you use a copywriting framework like AIDA (attention, interest, desire, action), PAS (problem, agitate, solve), or BAB (before, after, bridge) to organize thoughts and create a compelling story arc for your writing.
Keywords Everywhere's integration with ChatGPT (free plan available) makes the copywriting process easier with built-in templates for AIDA, PAS, and BAB. Adapt the editable prompt to match your organization's brand voice, writing style, or language, and let ChatGPT kick off your writing process with a fleshed-out draft of your preferred framework.
For this example, I chose the AIDA framework to talk about Lyra Clean.
Once you've tweaked the copy for your liking, you'll be able to repurpose it for email, social, landing pages, and, as we'll see in Tip 5, videos.
(Keywords Everywhere's ChatGPT plug-in features dozens of AI uses for marketers beyond copywriting frameworks. Definitely worth checking out!)

3. Analyze Your Competitors' Keywords
For content marketing to be successful, your writing must delight your readers and please the Google Algorithm du jour. So, let's talk about how to reach page 1 for your targeted keywords. AI can help here!
The "Competitor AI" feature of Serpple SEO Tool (free for one competitor) leverages AI to determine who you'll need to kick to the SERP curb in order to rank on the first page.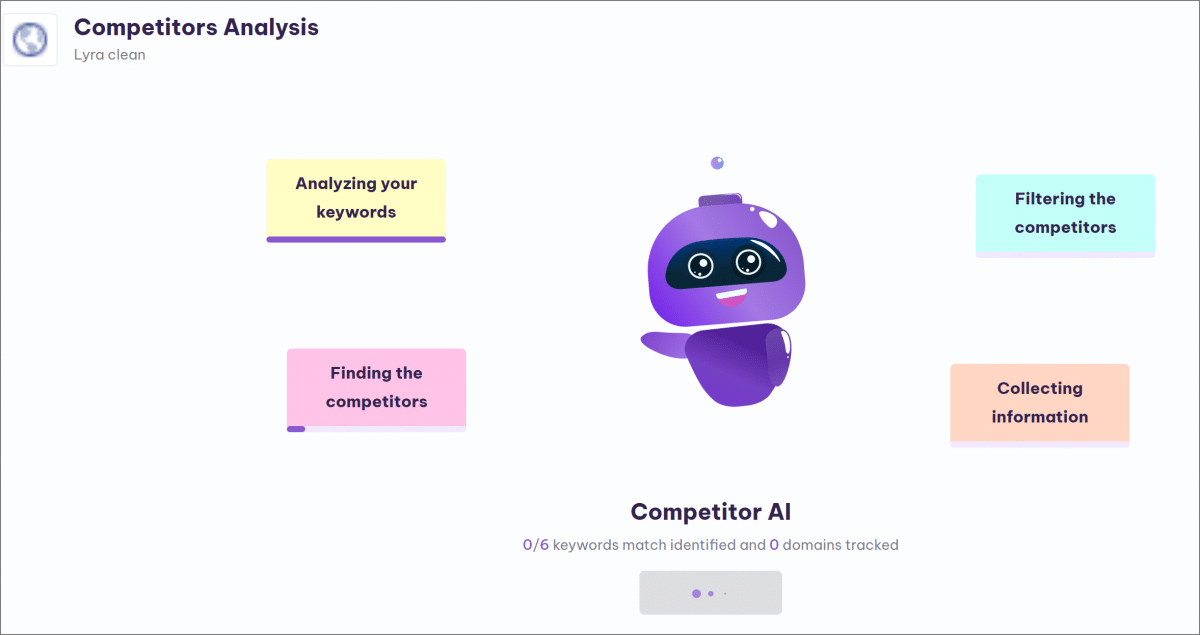 When I ran my targeted keywords through Serpple, it gave me a list of possible competitors who rank for at least one of those terms. Some of the competitors were too massive for me to unseat (e.g., Walmart), and others didn't match my brand's niche of natural and hypoallergenic soap. As seen in the example, I pruned Serpple's list to the brands I'd like to displace for my targeted keywords.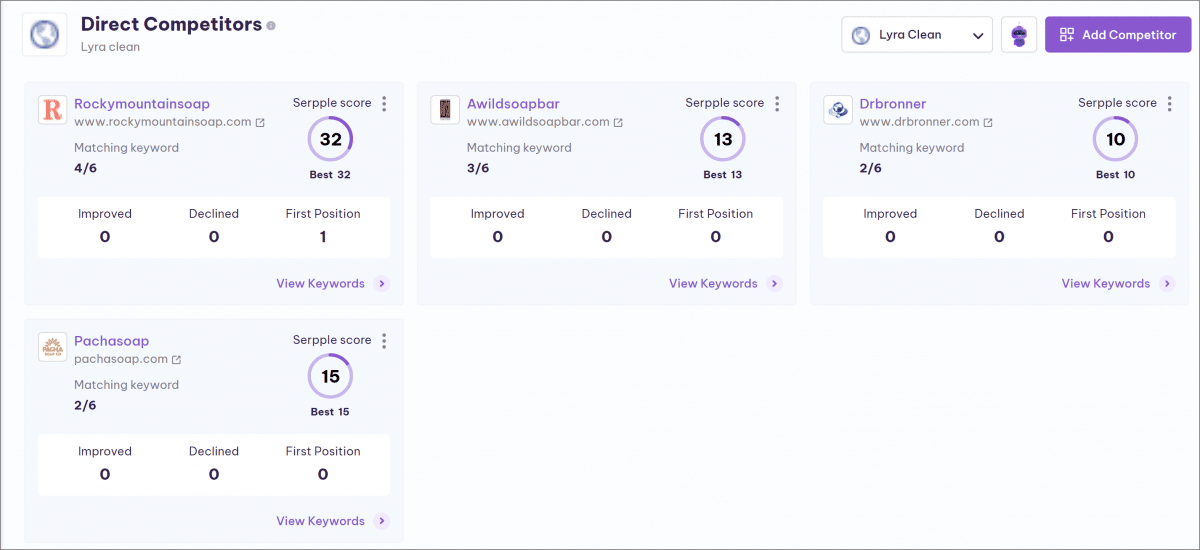 4. Brainstorm SEO-Informed Blog Post Ideas
Once you have the keywords you'd like to rank for, you'll have to create content that addresses those words or phrases.
If you need help coming up with ideas, ask a platform like ChatGPT (free plan available), Bard (free), or Bing Chat (free) for help. Again, they won't judge if you don't know what to write for those keywords!
I went to the ChatGPT chat that delivered me the AIDA framework seen in Tip 2 and asked it to come up with possible blog post pitches. Chats hold on to the AI "memory" and context of past prompts to produce better results for additional prompts. (You usually have to add fewer words with later prompts in the same chat. Another bonus.)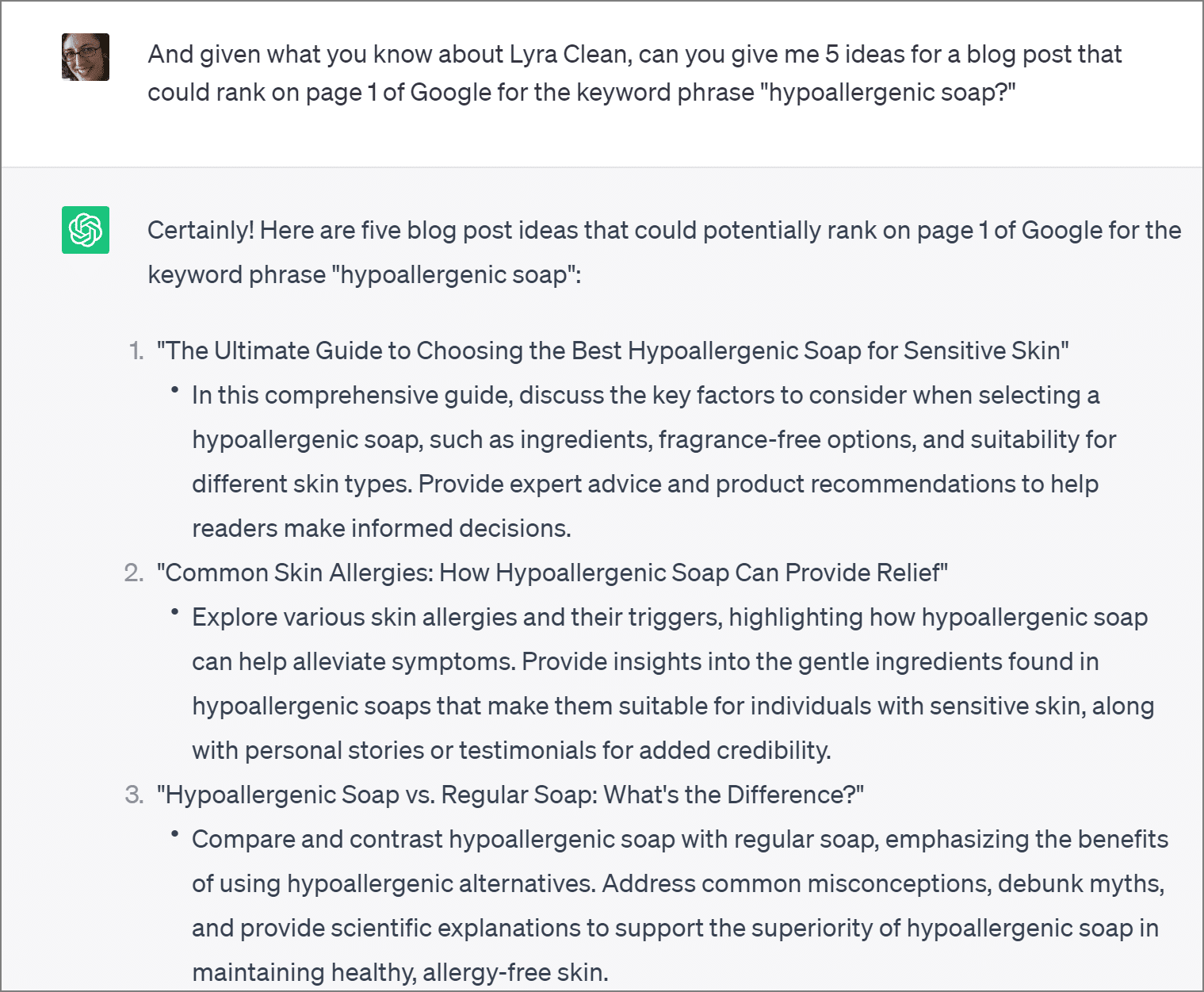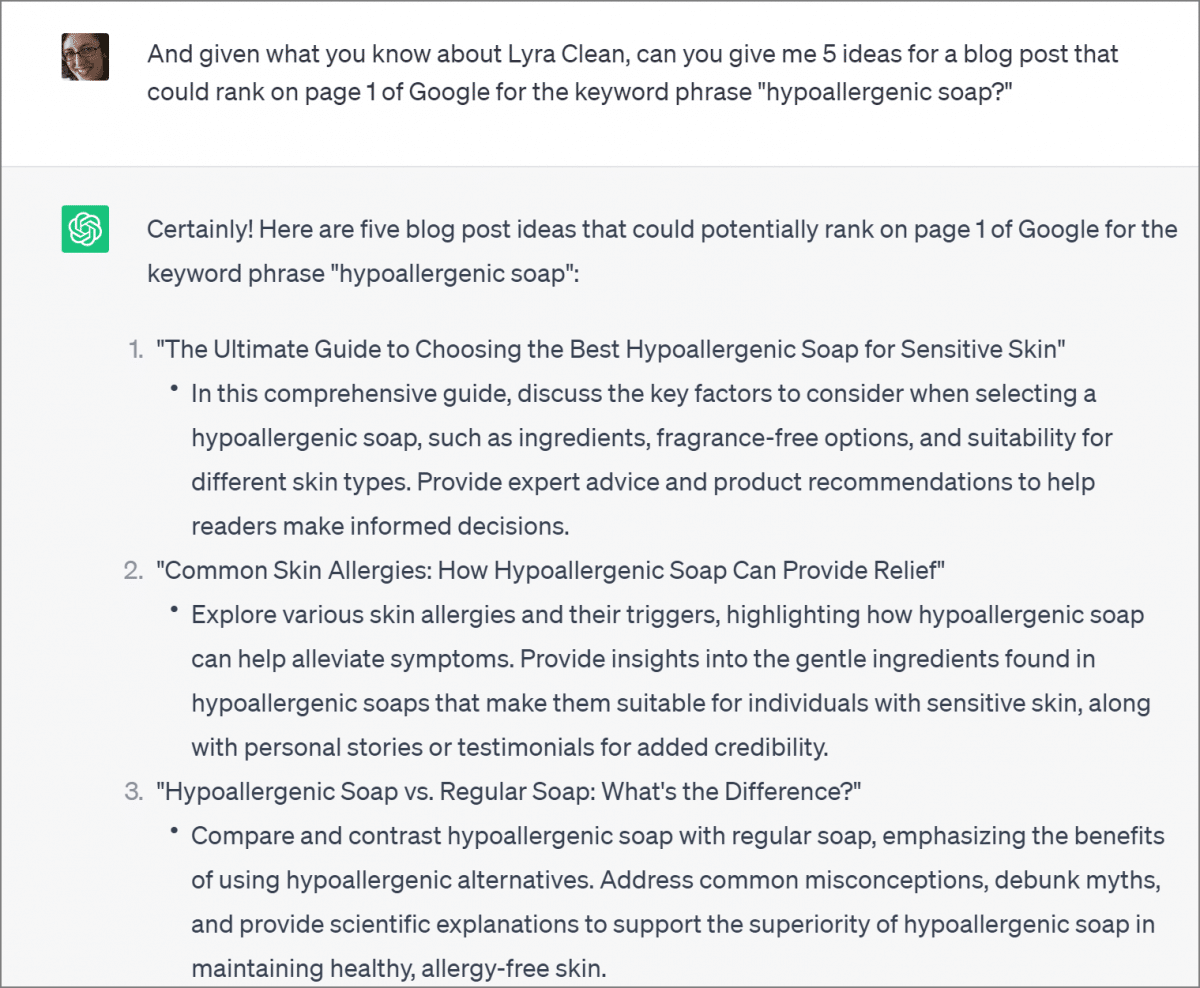 Caution: Because AI occasionally "borrows insights" from others without asking permission, make sure those posts and titles weren't already written by your competitors before you start writing. Again, the technology isn't perfect, but it definitely gets the blog ball rolling in this example.
Read more: AI Productivity Tools to Make Your Workday Much Easier and More Efficient
5. Use AI to Generate Video Script Ideas
Videos are a great way to repurpose or promote existing copy. Marketers can use AI to jumpstart their creative team's video production by:
Providing ideas for blocking the video, and
Giving them the script, including the title and call to action
Once again, I added this prompt to an existing prompt about Lyra Clean to give the tool more context.
If you have a wild visual idea that you'd like to give the creative team (say, a large bar of soap on a canoe?), Canva (free plan available) allows you to create and publish AI images.
6. Optimize YouTube Video Descriptions
You're going to share that video you just made in the prior example on YouTube, right? Never underestimate YouTube's power as an incredibly powerful search engine. YouTube descriptions give you 5,000 characters' worth of real estate to optimize your video for search.
How psyched are you to write a 5,000-character description for your video?
Right. Welcome to another use of AI for marketers.
Castmagic is well-known as an AI tool for marketing podcasts. I've found it incredible to write descriptions for videos as well.
Simply upload your YouTube video, and build a custom prompt to create a description optimized for search and referral traffic. (Custom prompts are available on Castmatic for plans $99/mo+)
7. Draft Twitter Threads
There are heaps of AI uses for marketers who do social media.
Let's take Twitter threads as an example. (We'll call them Twitter Threads for the sake of clarity despite the new name of the channel.) They're great for marketers who want to drive traffic to a landing page or blog post because they:
Add more context than a single 280-character tweet
Increase time on your content, and
Lead to greater engagement.
(If you want to drive traffic to your blog post, don't forget to prompt your AI tool to add a link to the post in the last tweet of the thread!)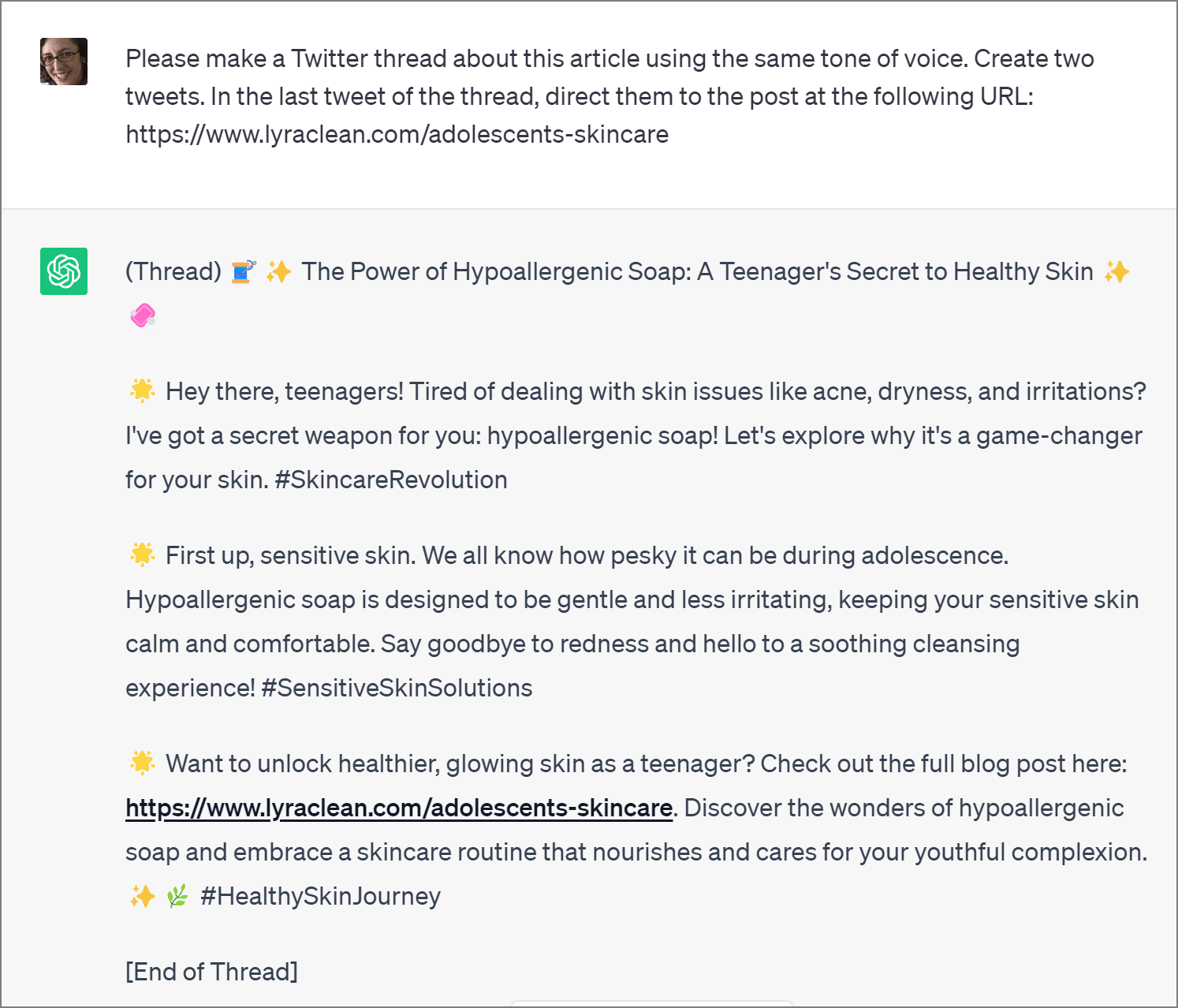 Caution: ChatGPT does a good job of organizing content for each tweet and adding potential hashtags. But in this example, it made two tiny errors:
I asked for two tweets and received three. This is a continual hiccup each time I generate ChatGPT Twitter threads. To get the number you're really looking for, prompt it to produce one tweet less than you want.
This technology isn't hip to the fact that GenZ doesn't flock to Twitter. This tweetstorm will most likely be read by parents of teenagers and not teenagers themselves. So I'll have to make another prompt to have the Twitter thread speak to Gen X about their Gen Z kids.
Once you make a few simple tweaks to the prompt (or Twitter thread copy), schedule that Twitter thread using Agorapulse.😉
8. Try a New Form of Content (Acrostic Poem, Anyone?)
Fine. I'm a word nerd. But if you're in marketing, chances you are, too. So why not leverage AI to create an acrostic poem to add levity (and visual copy) to your brand?
A literature refresh: Each line in an acrostic poem borrows a letter from a desired word. In this case, each starting letter in the following poem comes from Lyra Clean.
Producing brand-specific haiku and acrostic puzzles are other AI uses for marketers who love to play with words.
Caution: ChatGPT often likes to repeat letters of your targeted word, so I had to gently remind my AI-powered tool of the definition of "acrostic poem." But an extra prompt or two takes significantly less time than writing a structured, 9-line poem from scratch. This poem can be repurposed in a shareable image (with extra visual emphasis on the first letter of each line), a video with someone reciting the poem, or a social post where you ask followers to complete the last few lines.
9. Check for Plagiarism
In this competitive, oversaturated world of content, it would be great to have something you've written trend on LinkedIn. But not because it was lifted from another site on the Internet.
As I've mentioned throughout the article, AI tools produce content that sounds confident and authoritative, but often, that content is imperfect. And occasionally, it's taken from existing content.
If you want to reap AI's streamlining benefits but not your boss's wrath, please run all AI-assisted copies through a plagiarism checker.
For Grammarly Premium users, this feature has been hiding in plain sight. (If you don't have Grammarly Premium, it'll run you $12/mo).
Enter your copy usually to measure your writing score, and press the "Plagiarism" button at the bottom of the right-hand column. It will instantly find matches from your copy to any existing conlInternet.
In this example, I had ChatGPT write a blog post about hypoallergenic soap and teenagers. Here's what the checker found "plagiarized" from the Internet.
I'm not too concerned over that supposed "lifted" phrase, which most likely begins 20% of all informative blog posts. But these 30 seconds spent to check the blog post's originality were well spent.
10. Write Captivating Social Media Captions
At Agorapulse, the new AI Writing Assistant uses the latest AI technology to help marketers and social media managers create engaging social media content efficiently (and without stressing out) Whether you're writing a tweet, a Facebook post, an Instagram caption, or a LinkedIn update, our AI-powered writing tool will provide you with engaging suggestions and insights to make your content shine.
The Writing Assistant feature is available in the Agorapulse Mobile app, as well as the desktop app. Get more details about the AI Writing Assistant.
In Conclusion: AI Uses for Marketers
The examples present just a tiny sample of how you might work with a virtual, perfectly imperfect AI colleague.
Get some more ideas via our Agorapulse YouTube channel:
The more you play with AI tools, the more "What if I try X?" examples will come to mind. Your AI tool is always happy to try out whatever you have in mind. Again, it won't judge you.
Discover our AI Writing Assistant and more. Sign up now for a free demo from Agorapulse!