Whether you use AI to speed up tedious tasks or to transform your processes completely, artificial intelligence can help you do more in less time. With the right AI productivity tools, you can automate workflows, plan projects, and even jump-start creative output.
So which tools should you add to your tech stack? From social media and graphic design to research and project management, these AI productivity apps can make your workday easier.
AI Productivity Tools for Social Media and Content Creation
With AI writing tools, you can create social media captions and plan longer content quickly.
Agorapulse
Does it take what seems like forever to write the perfect social media post? Curious how your captions would perform with a different tone of voice?
Agorapulse's AI-powered Writing Assistant can help you write better captions faster for any major social media platform. To get started, all you need is a caption draft or an idea of what you want to say.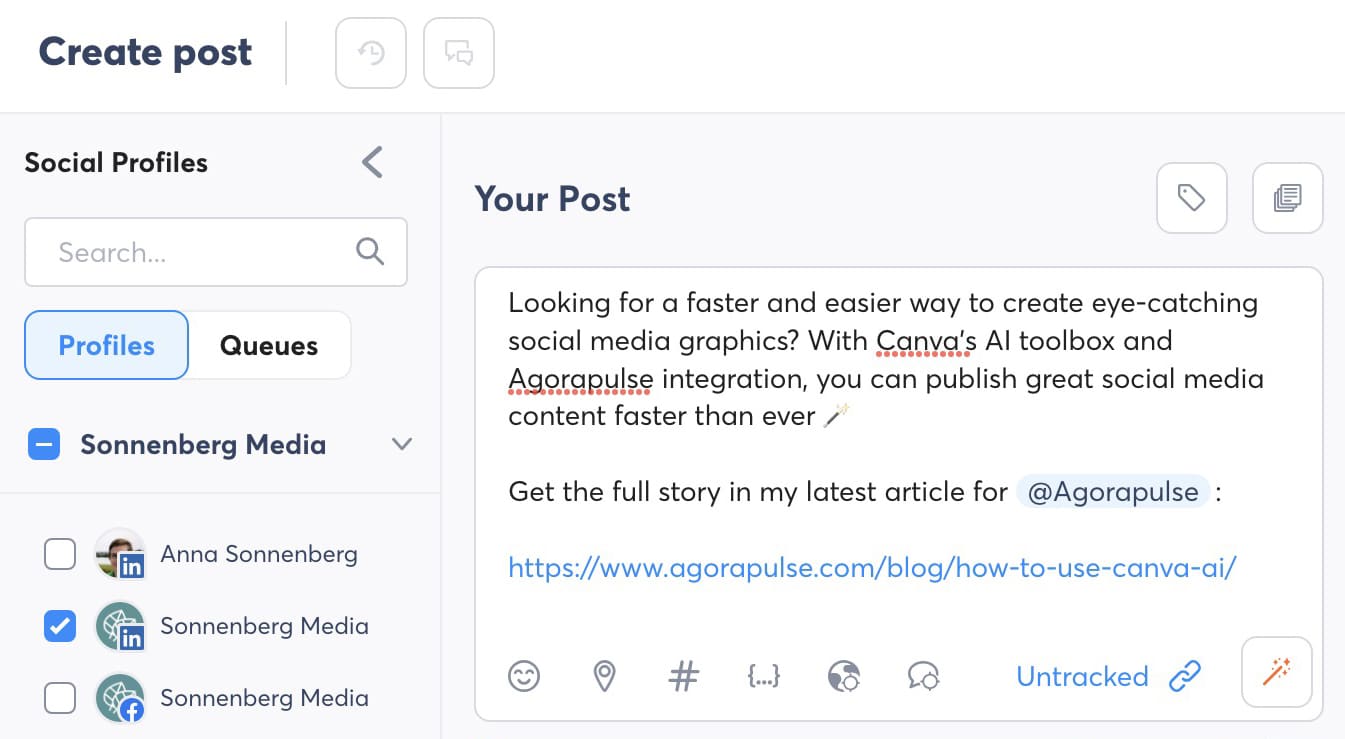 From your Agorapulse dashboard (desktop or mobile), open the post composer and tap the magic wand icon to open the AI Writing Assistant. You can choose from seven different tones to match your brand voice and the message you want to convey.
For example, the "funny" tone is by far my favorite. It reliably makes my social media content sound much more punchy and clever, and it even adds relevant emojis.
Read more: 10 AI Uses for Marketers that Don't Signal The Apocalypse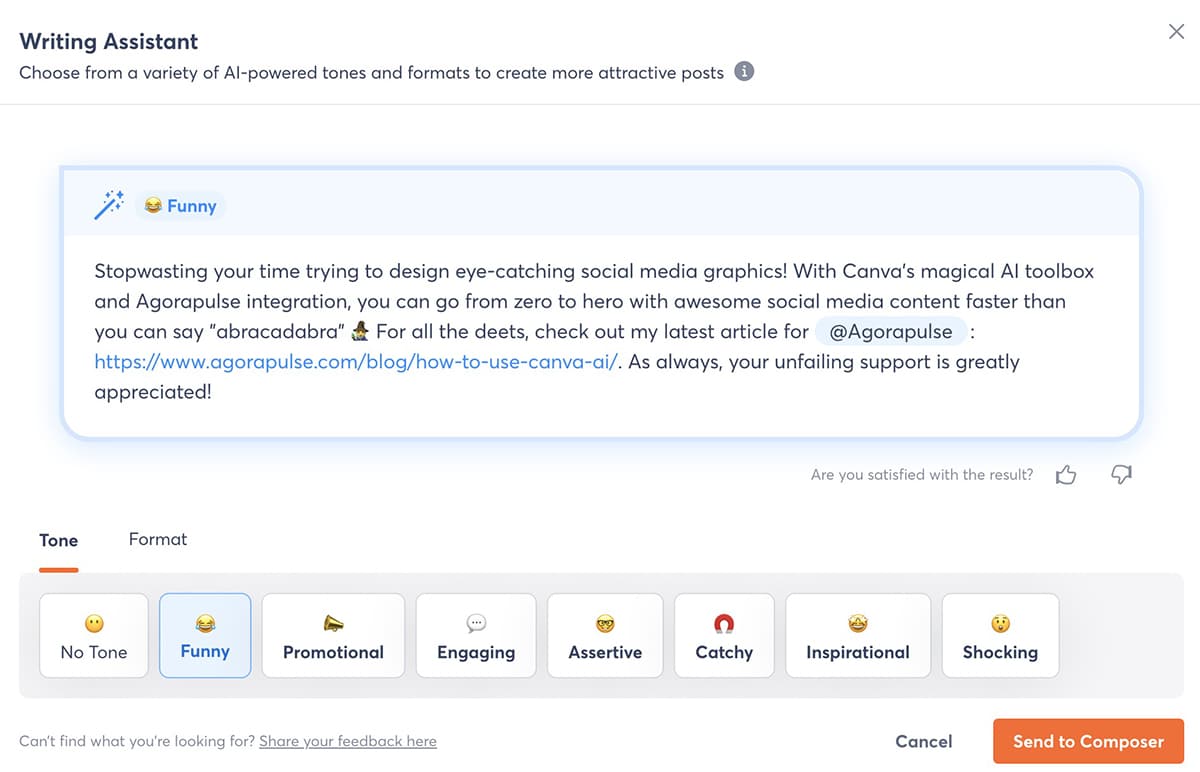 After sending your AI-generated caption to the post composer, edit or add your own personal touch manually. Alternatively, you can test out other AI voice options—like "catchy" to hook readers or "assertive" for sharing thought leadership.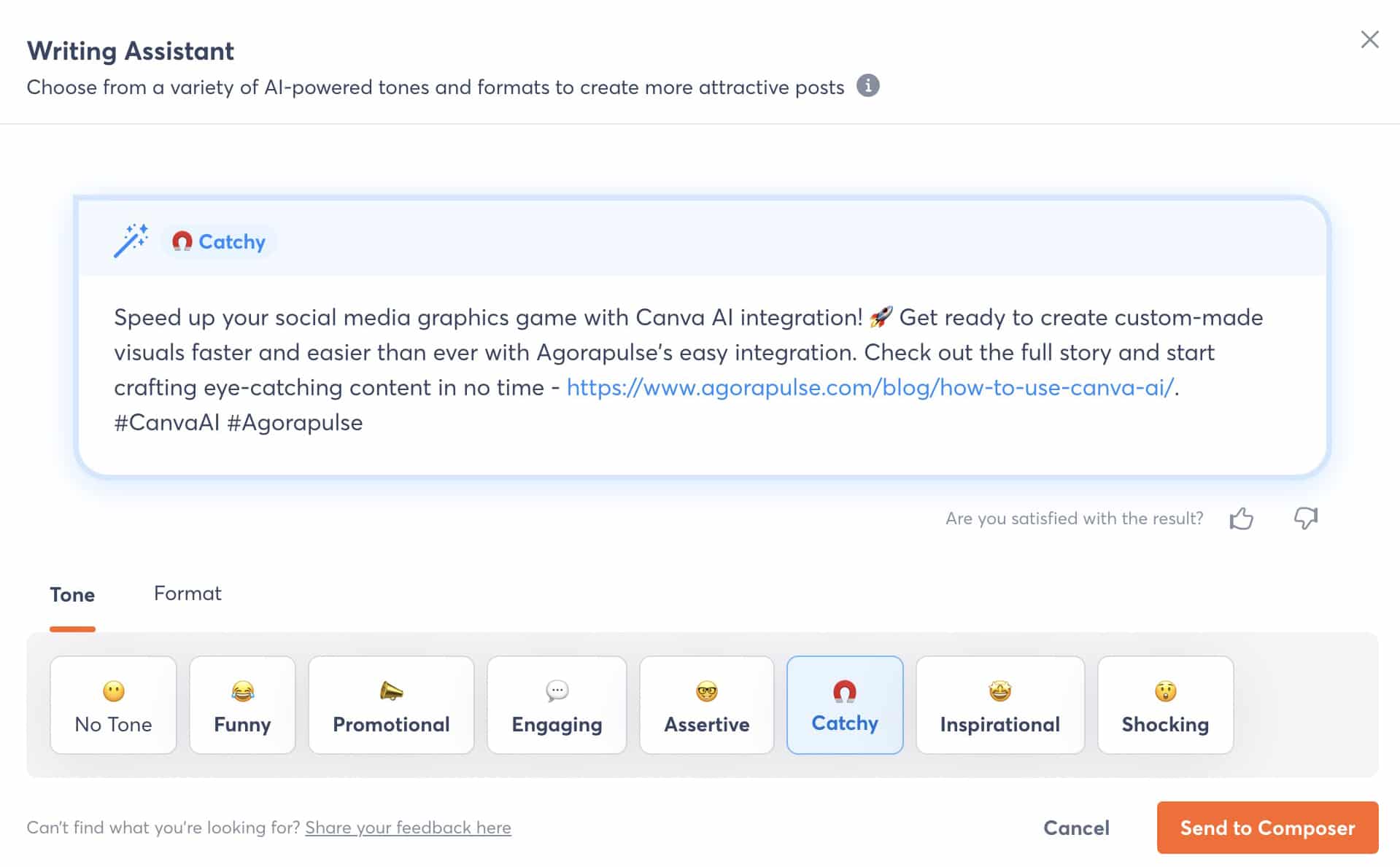 You can also click the Format button to shorten or expand the text. Even if you don't use the AI writer to change the tone, this feature can improve your caption drafts. It's great if you've already captured the right tone—but you need a little more or less.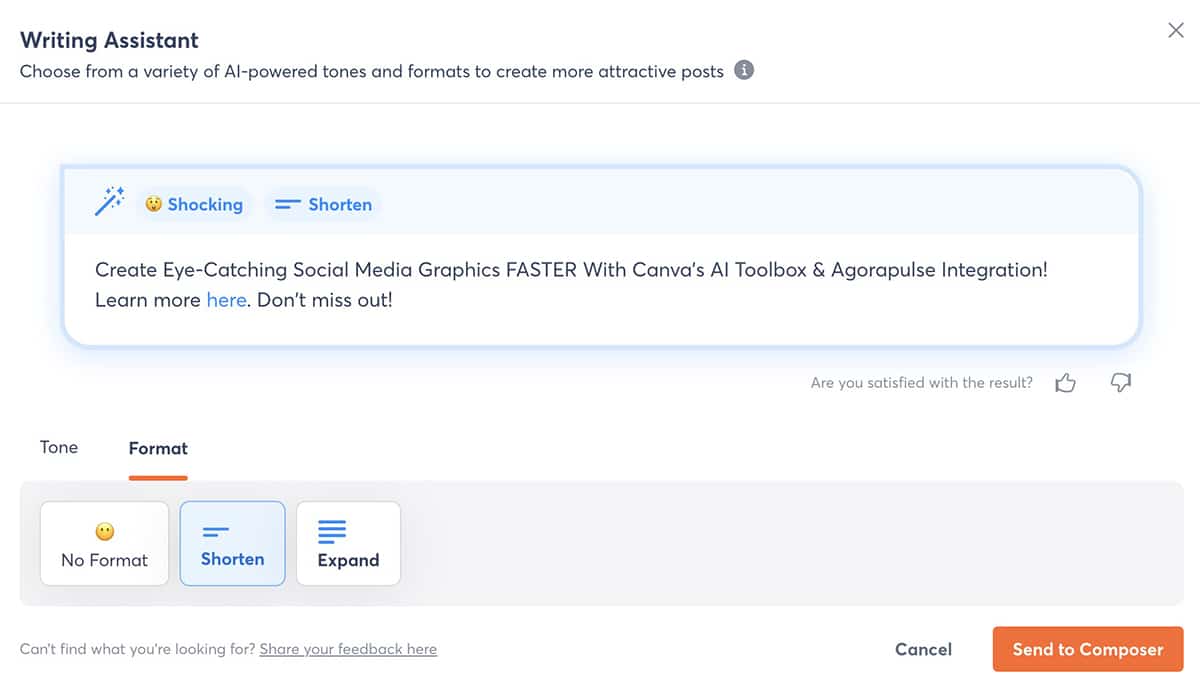 Want to generate relevant captions for each social media channel? In the post composer, select all the profiles where you want to publish.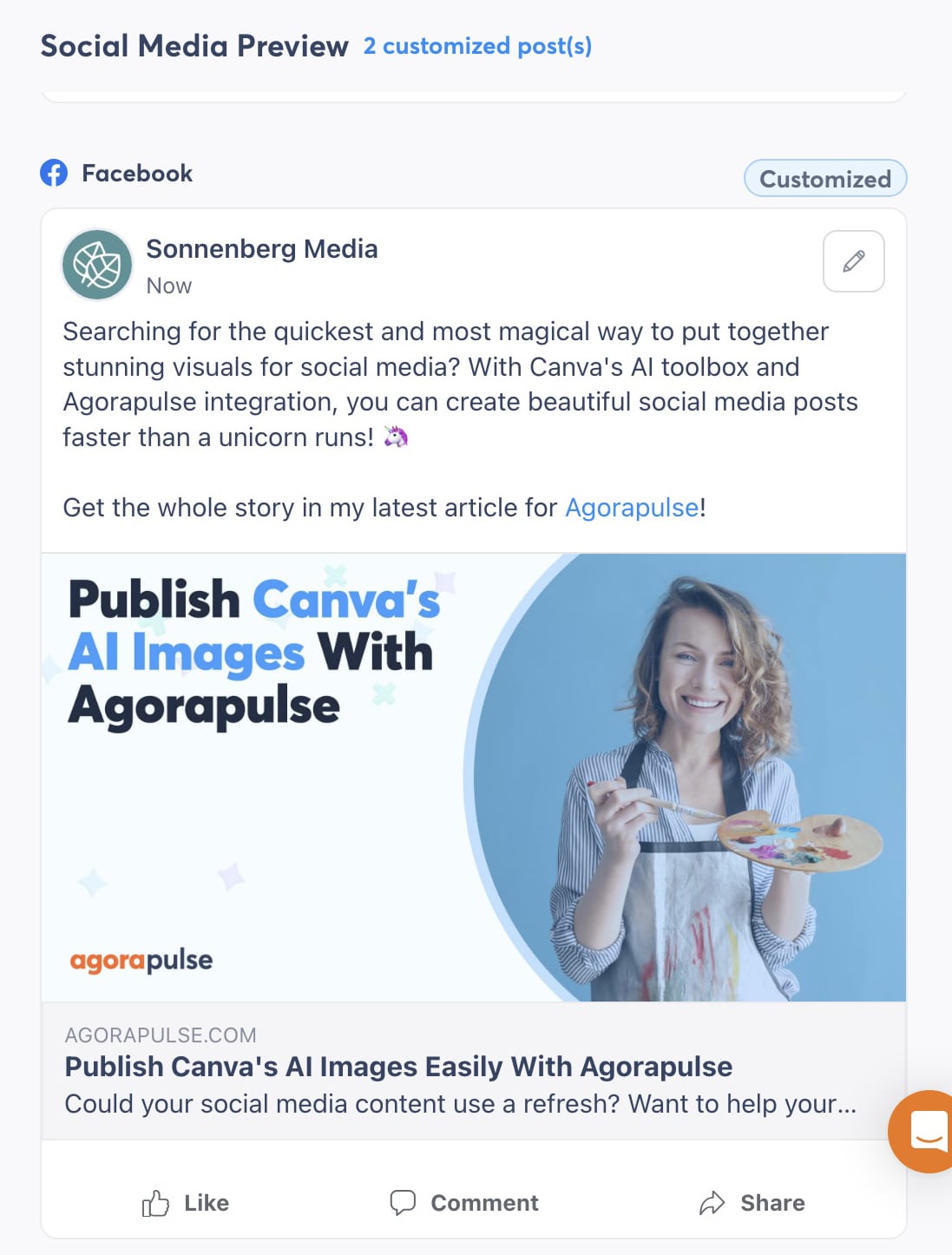 Then use the AI Writing Assistant to generate a caption for a social channel of your choice. Click to customize the caption for that profile and make any manual edits. Then re-generate and repeat, customizing each profile as necessary.
Grammarly
Grammarly is already an essential tool for marketers who want to improve their writing. But GrammarlyGO can help you write from scratch almost anywhere.
This AI-powered writing assistant plugs into apps like Google Docs and Gmail, where you can use its prompts any time you need a hand getting started. For example, I like using GrammarlyGO to draft emails.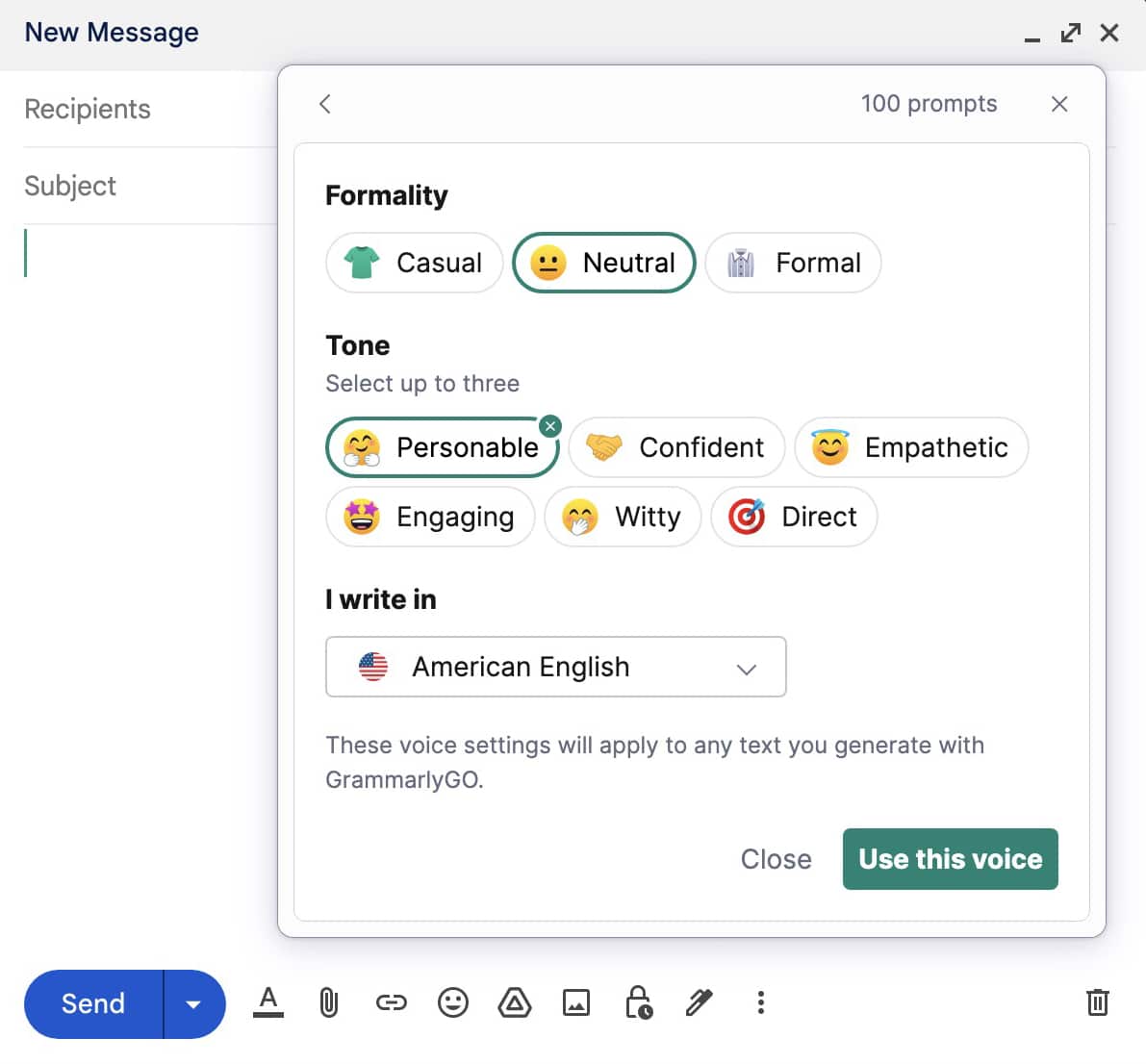 All you have to do is input a few words about the message you want to share. Then you can adjust the tone and formality to fit the context.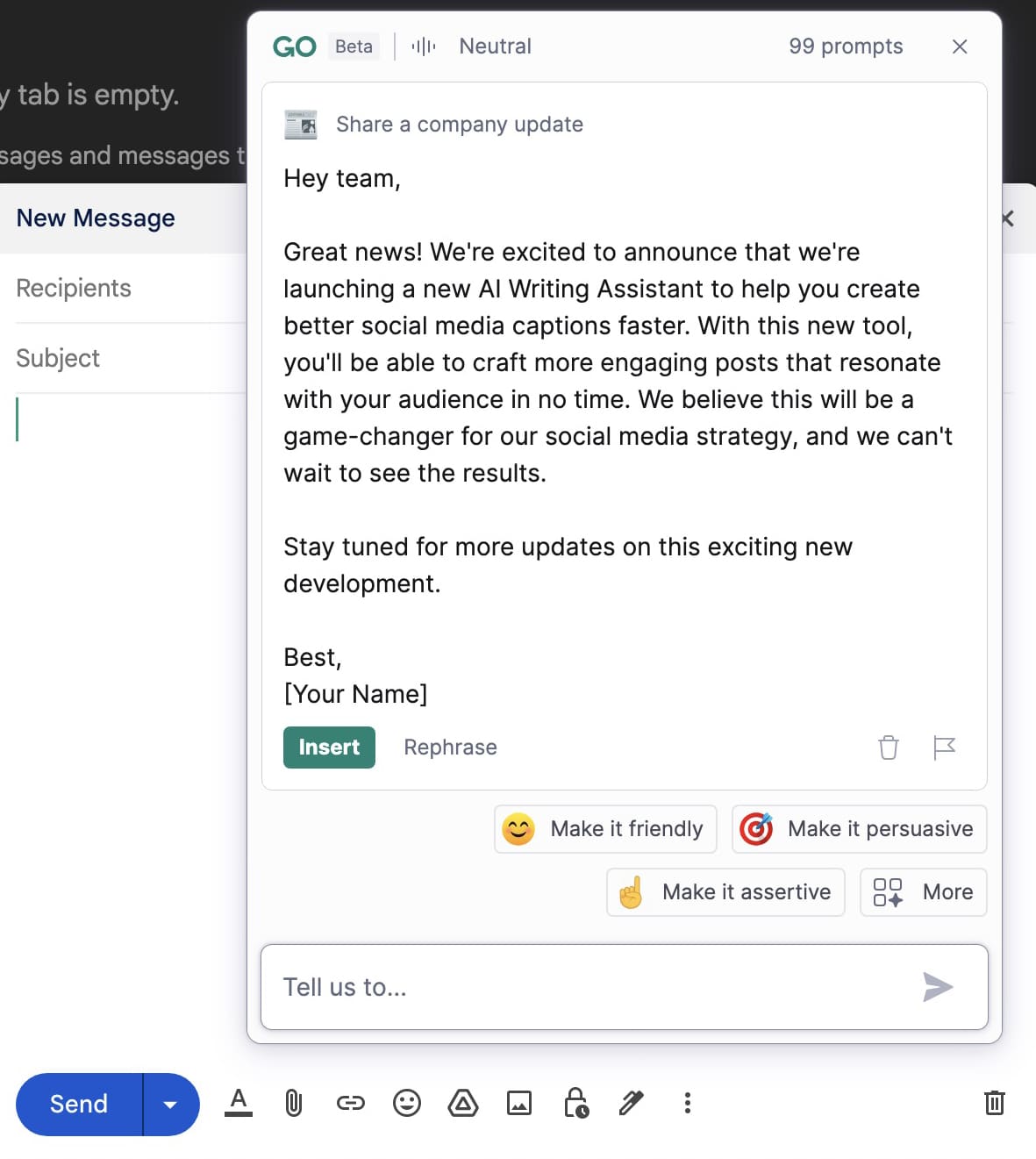 If the first version doesn't sound quite right, you can use one of the tone suggestions (like "persuasive") to fine-tune the email and get it closer to how you want it to sound. Then you can use the Grammarly plugin to review and perfect the email.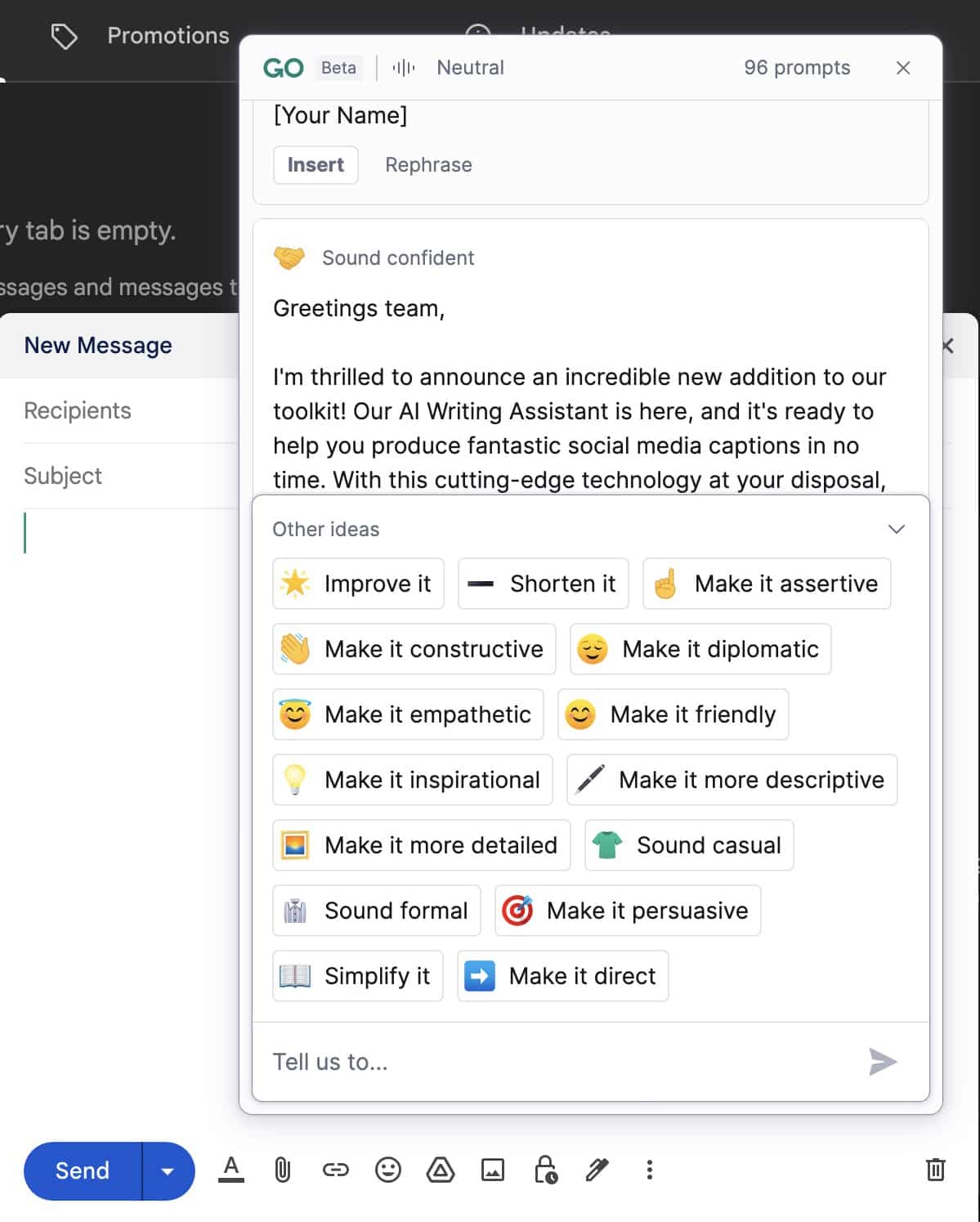 NeuronWriter
If your agency provides content marketing services or if you write for your company's blog, an AI writing tool can help with tasks like research, outlining, and writing. Most can also generate articles from scratch.
But I'd recommend that you approach this category cautiously, especially if you want to create high-quality content that performs well in search.
Rather than relying on these tools to write, use them to research competitors, find keywords, and score content.
There are tons of AI writing tools on the market, but I use NeuronWriter to research and guide most of my content. To get started, all you need is the keyword you want to target. NeuronWriter automatically finds all the top-ranking pages for the keyword and adds them to your writing dashboard. You can use competitors' pages as guides for your own subheadings and map out the article manually.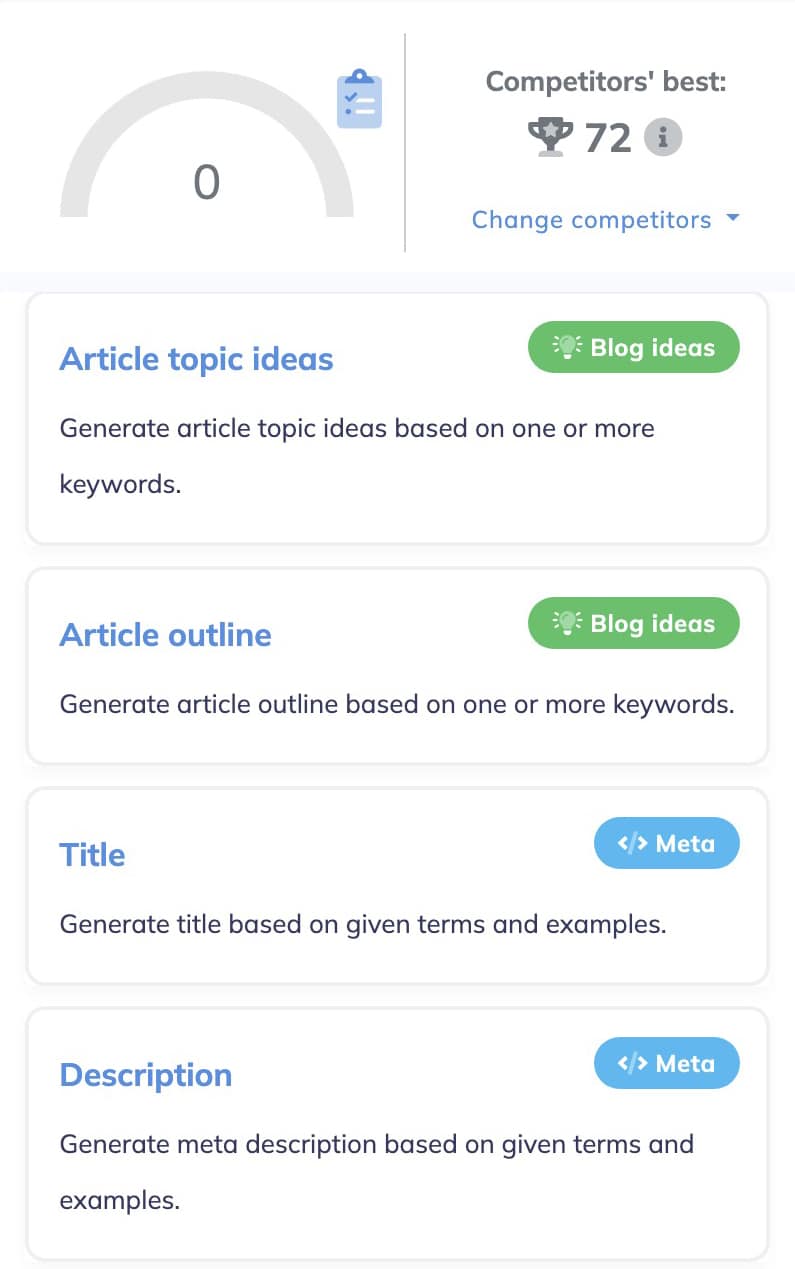 Or you can use the AI writer to outline the article for you in just a few seconds. You can also use the platform's AI tools to write short copy like titles and meta descriptions, allowing you to optimize content much faster.
Design and Video Production Tools With AI Prompts
Don't have the time or budget to create social media graphics or videos from scratch? These AI-powered design tools can fuel your creative process.
Canva
Canva has long been my go-to for designing social media graphics and editing videos. The platform's recently released AI toolkit makes it an even more powerful option for producing social media graphics.
You can read my full report on how to use Canva AI to get detailed descriptions of each tool. Here, we'll look at a few of the highlights, including a text-to-image generator and AI-powered editing tools.
Canva's text-to-image generator is great for creating graphics from scratch. Start by entering a prompt, the more detailed the better. You can edit and regenerate as many times as you like before publishing the image or adding it to a graphic.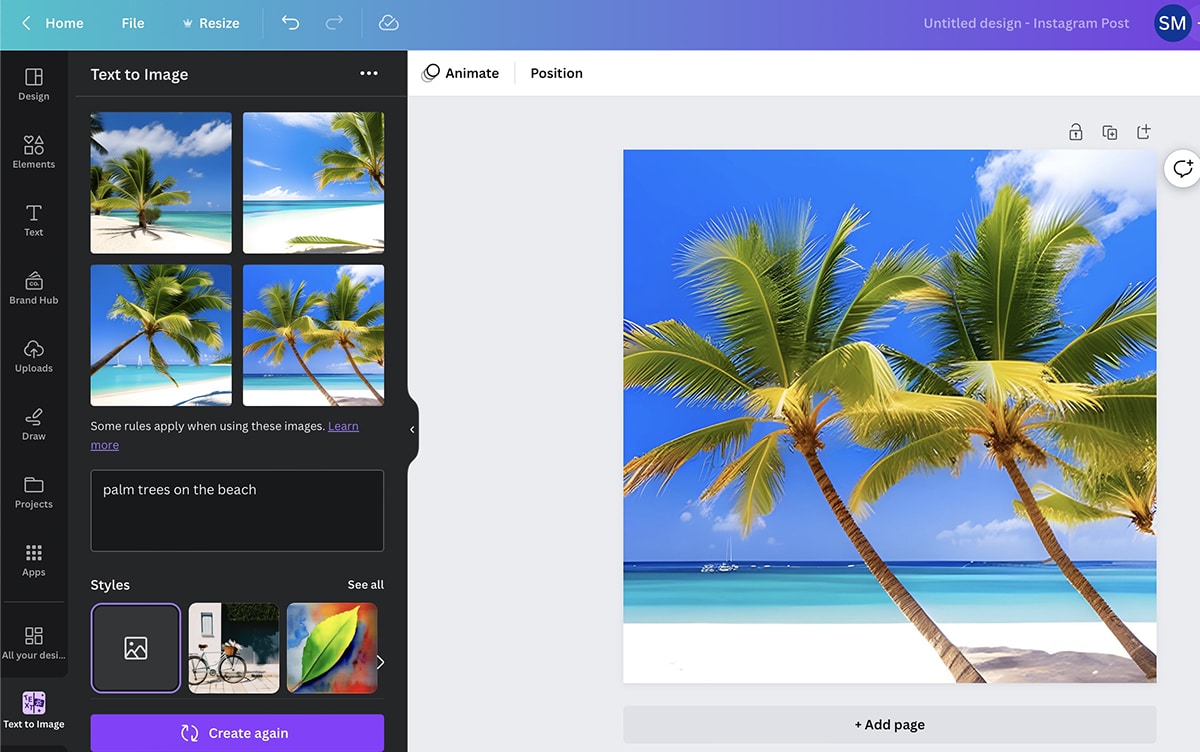 With Canva's AI-powered editing tools, you can make either original or AI-generated images look even better. The app's Magic Eraser tool removes objects from images in seconds, while the background remover can replace suboptimal backgrounds.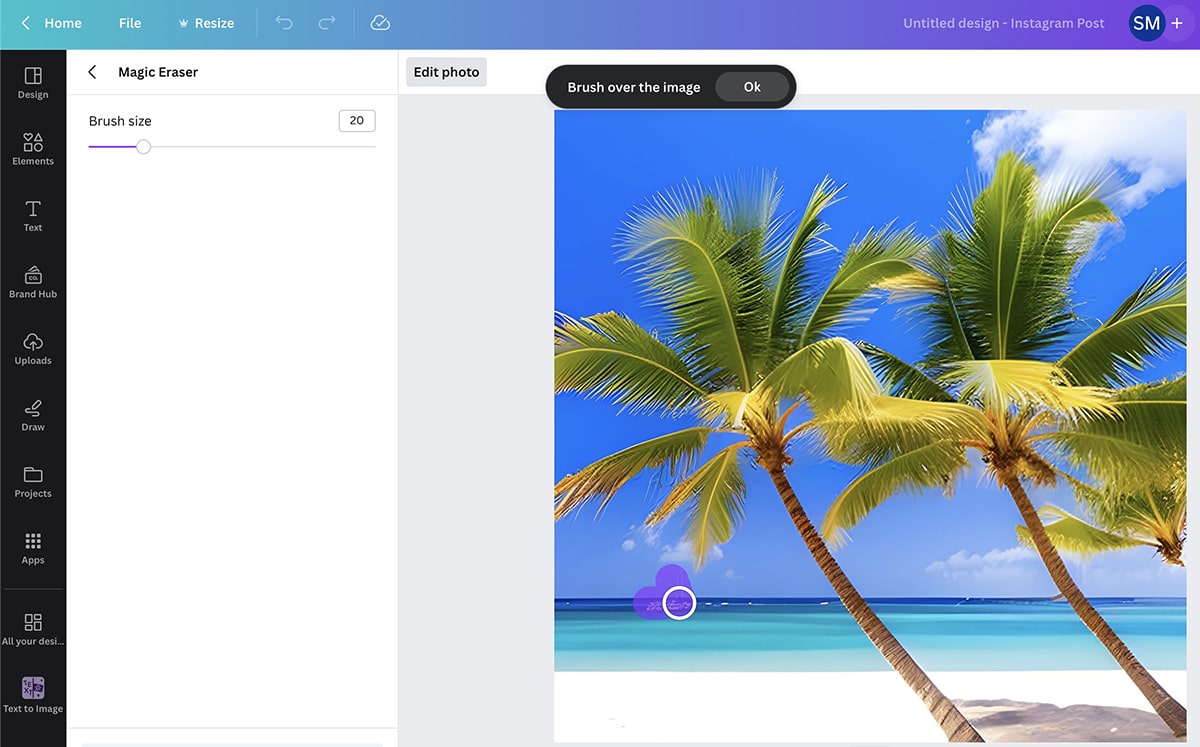 I also like the Magic Edit tool for selectively adding AI-generated elements—like the beach hammock below. Since Canva integrates with Agorapulse, I also like that I can design creatives and optimize captions in one streamlined workflow.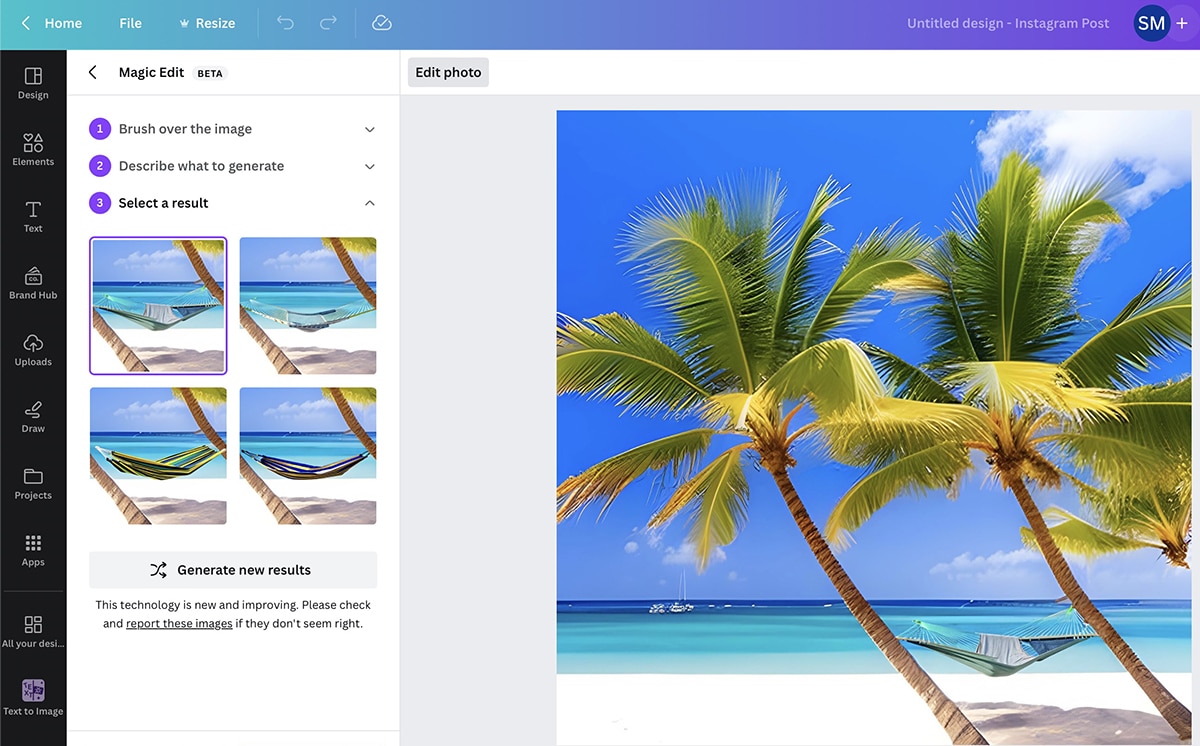 Adobe Express
Adobe Express is another solid option for AI-generated content, especially if you want more style-related guidance. The platform has a text-to-image generator that offers pretty decent results. I used a super simple prompt for the image below and layered multiple styles to bring my idea to life.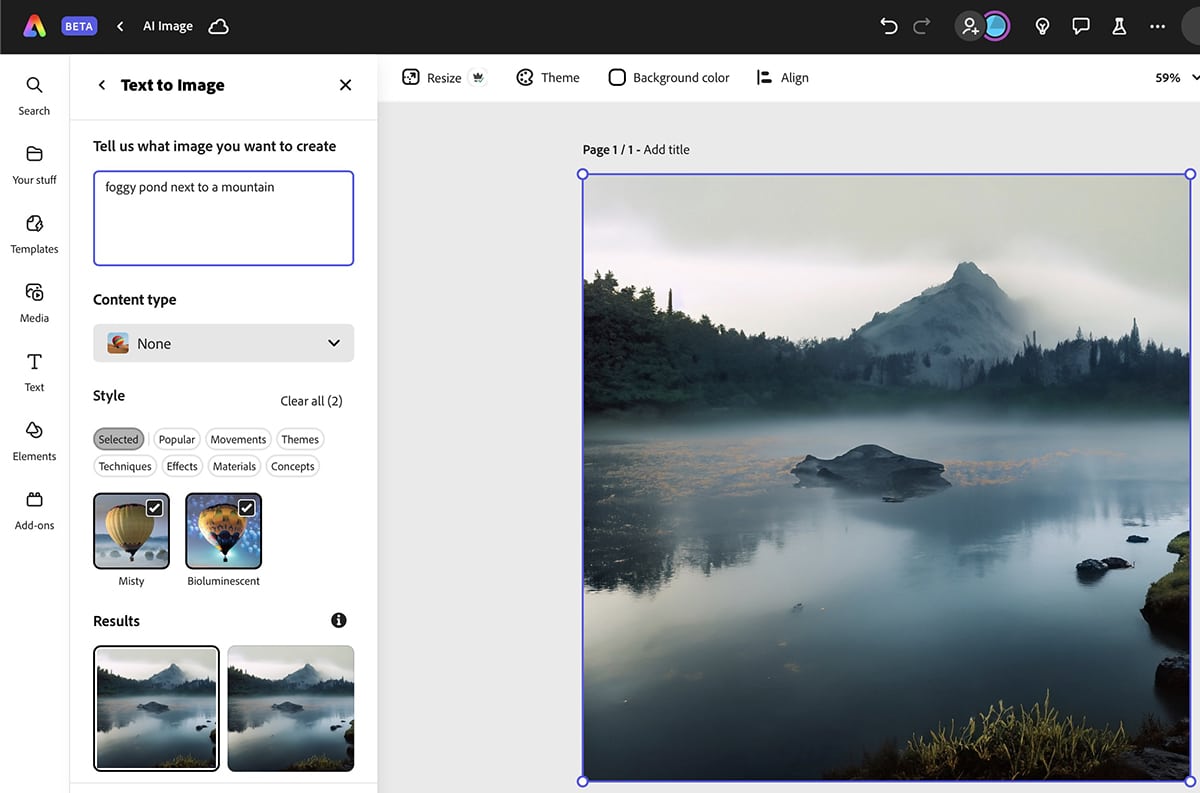 The platform also has a font generator that lets you add AI-generated fonts to your social media graphics. All you have to do is place text on a graphic and then input a prompt for the font.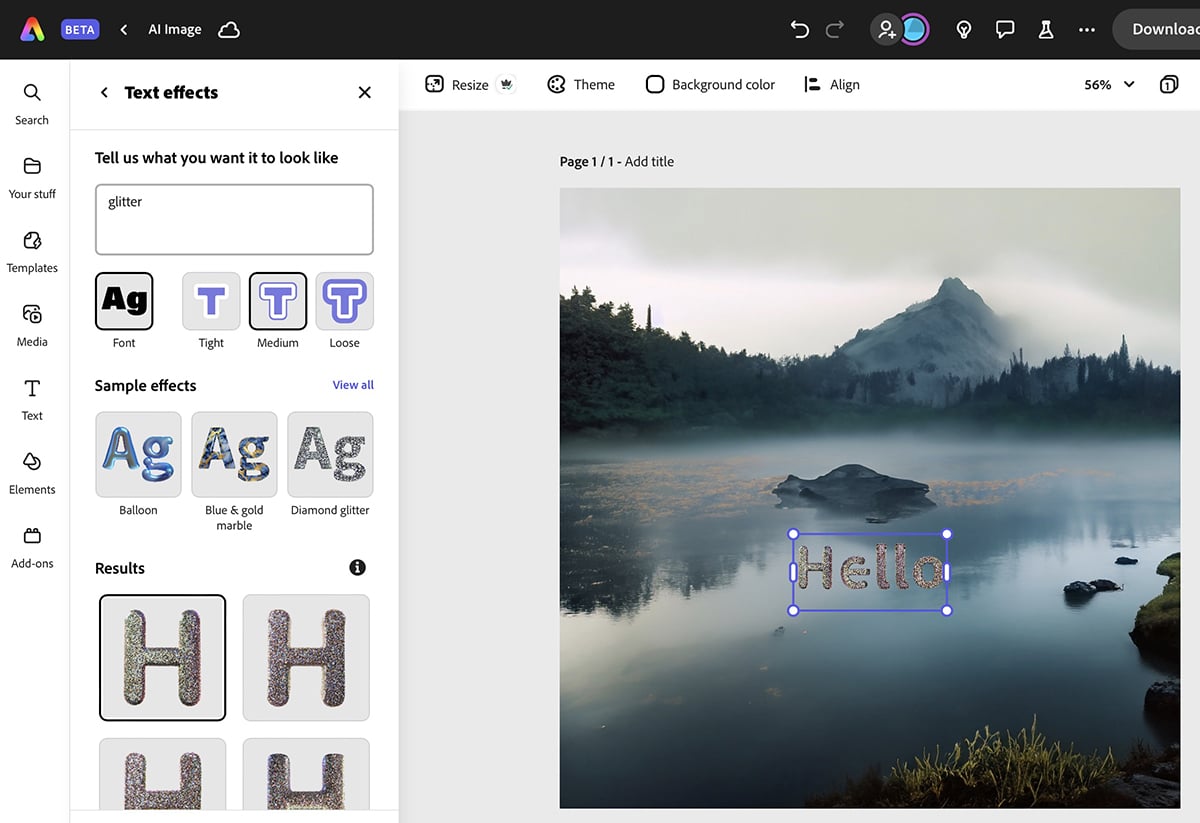 Read more:Which Tools Are the Best for AI Audio?
Synthesia
Currently, neither Adobe Express nor Canva supports AI-generated videos. Synthesia does, and the results are pretty promising.
But it's important to note that the app is better suited for explainer videos and how-tos than it is for producing creative social media content. So you can use it to make a video for a colleague or a client, but you probably wouldn't use it to make a reel.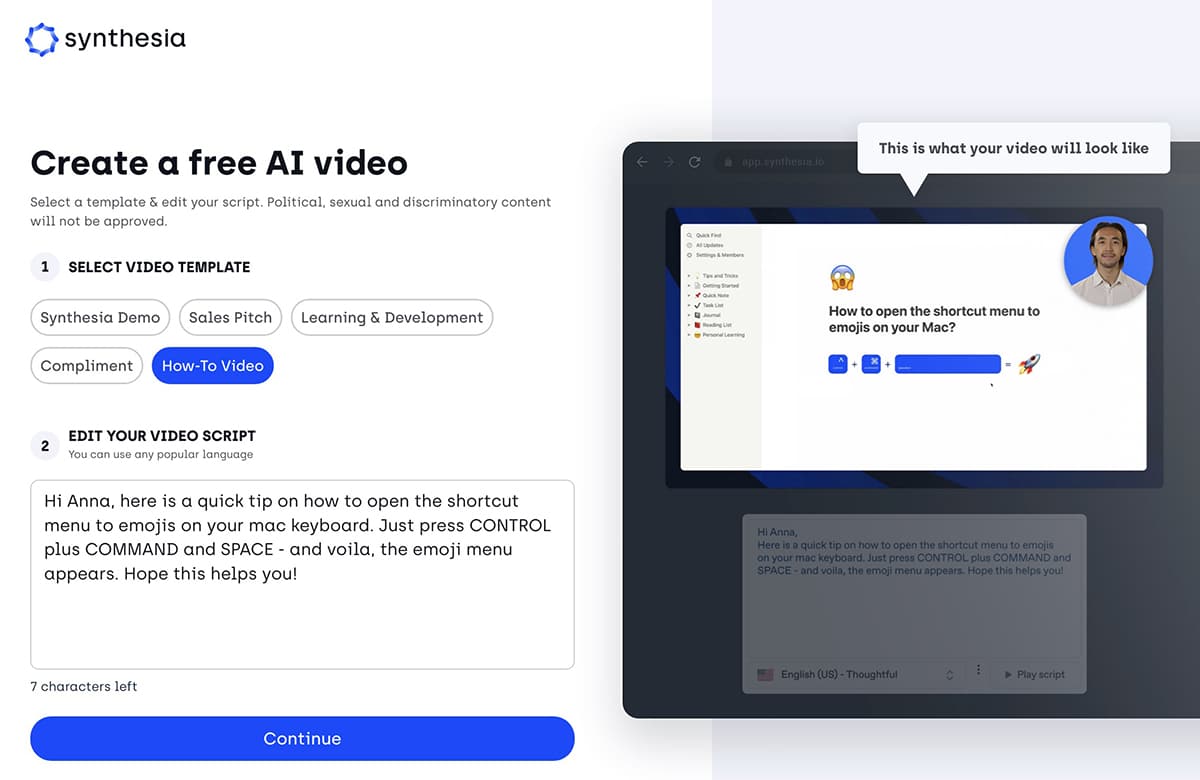 To generate a video, choose a style and a tone. Let the app generate a script and edit it manually for accuracy. You can also select from the available talking heads. Then generate the video automatically and share it with your team.
AI Productivity Tools for Research and Planning
Want to speed up your research and planning tasks? These apps can help.
Notion
Does your team use Notion for taking notes, keeping track of processes, or creating checklists? The platform's AI tools can handle most of these tasks for you automatically.
Although you can start with an existing document, you don't necessarily need one. You can give Notion AI a prompt and use the output as the foundation for your plan or process.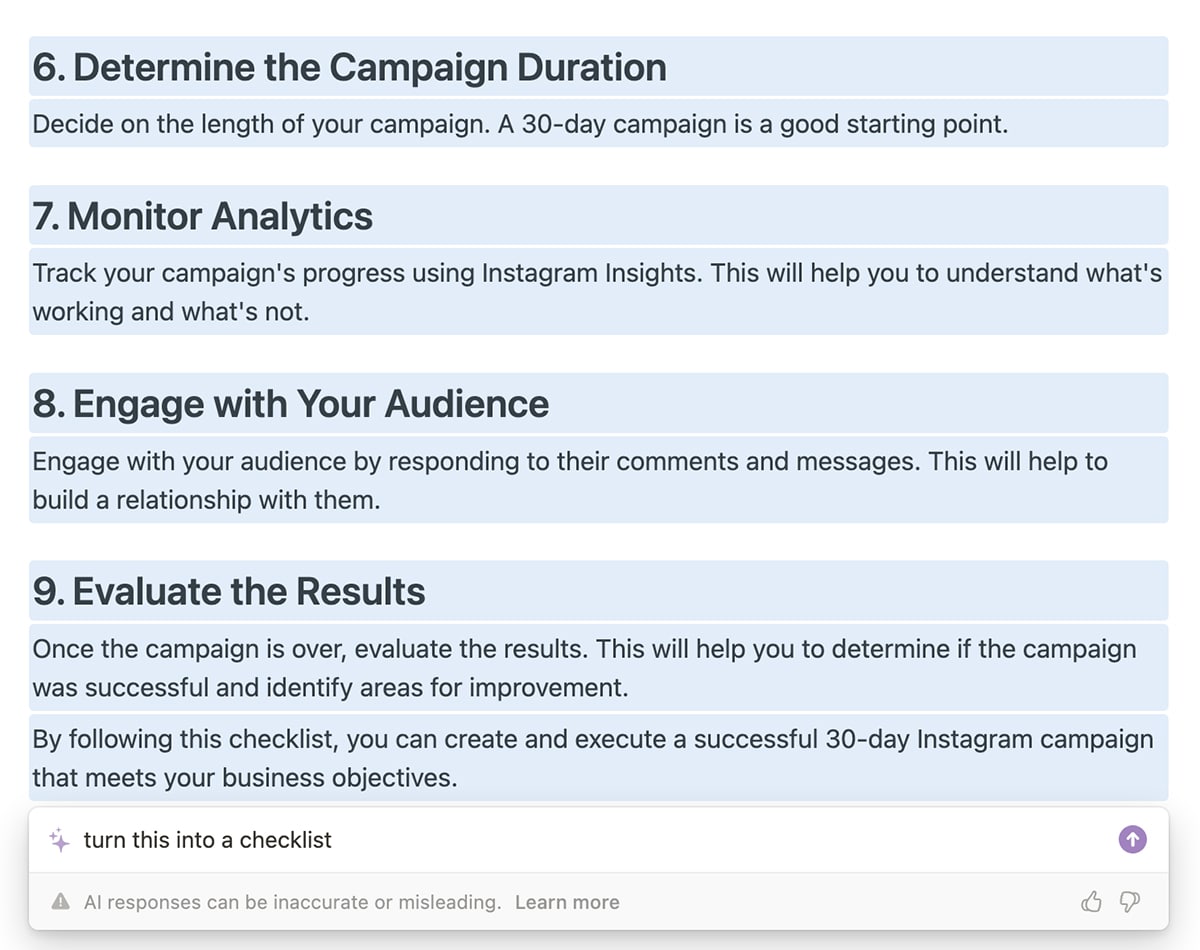 For example, you can turn notes or steps into a checklist that your team can work through. Then you can prompt Notion AI to assign tasks to team members or add due dates within a certain timeframe.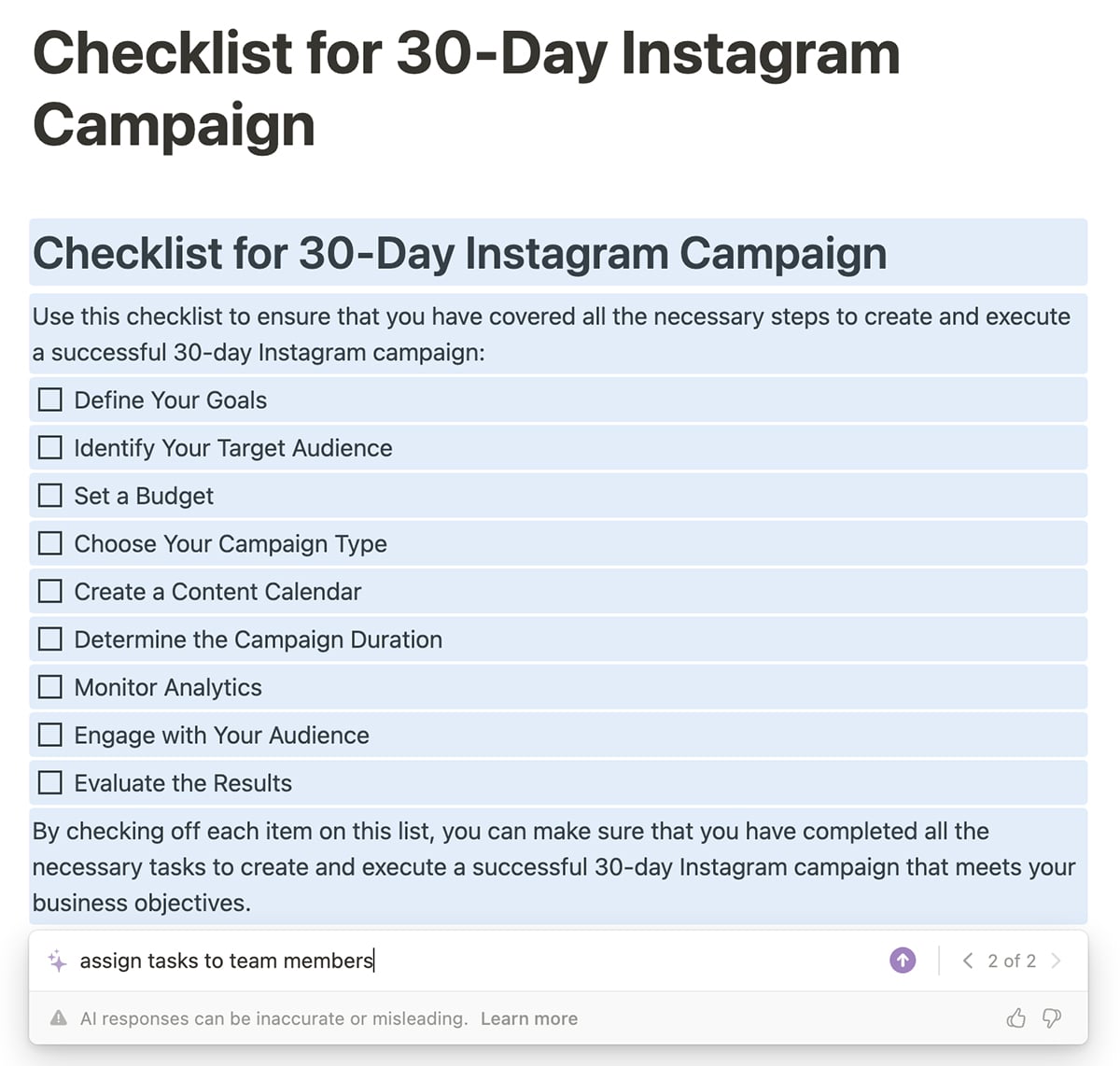 You'll definitely want to review any AI-generated plans, especially if you've created the entire process using Notion's tech. But even if you need to add a couple steps manually or shift due dates a bit, this is easily one of the best AI productivity tools.
Rows
Have an entire desktop filled with data exports from Ads Manager or CSV reports from Agorapulse? With Rows, you can parse the data much faster.
After importing a spreadsheet into Rows or pulling the data directly from linked accounts, you can click the AI icon in the upper right corner. Rows automatically generates takeaways from your data. For example, it reveals average datapoints as well as best and worst metrics.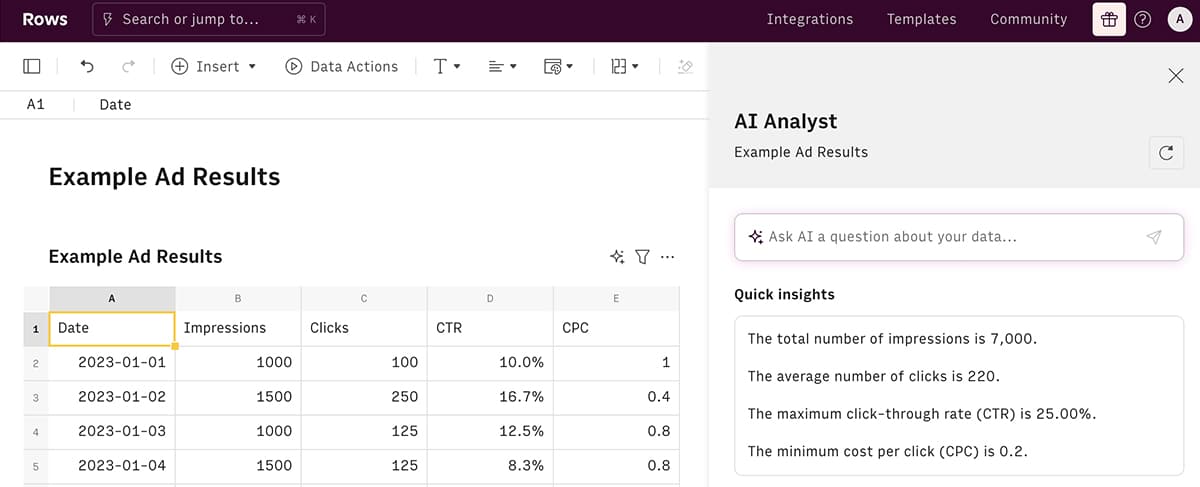 You can click any of the deep dive options to prompt Rows to pull relevant columns into a separate mini spreadsheet. Then you can review key data and get the answers you need.

You can also ask Rows custom questions about your data. The AI tool automatically generates new deep dives from your questions so you can dig into the data more efficiently.
Rytr
As an AI-powered content generation platform, Rytr has a long list of use cases. For example, you can use it to generate taglines for your website, write video descriptions for YouTube, or edit text you've already written. It's also helpful as a tool for planning and analysis.
The YouTube video idea generator is great for coming up with topics quickly. And if you decide to create one of the videos, you can use Rytr to generate a description quickly.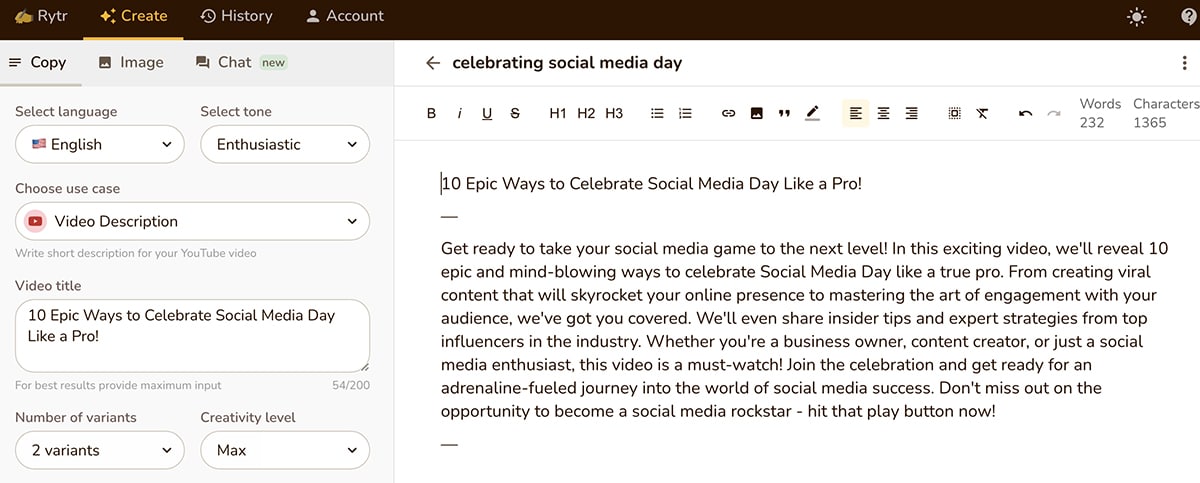 Rytr's keyword extractor can also identify keywords from any text you input, including competitor content. Using this output, you can build a more informed content strategy and publish better performing content.

Meeting and Communication Tools With AI Features
Curious how you can get more from your meetings? Try these AI-powered tools.
Discover Agorapulse's AI Writing Assistant and more. Grab your free demo today!
Miro
If your marketing team hosts a lot of collaborative meetings or creative brainstorms, Miro is great for working together in a more visual way. With this collaborative workspace, you can create virtual mind maps, project plans, or project kickoffs.
Miro's templates are helpful for creating these visual workspaces quickly, and the platform's new AI tools can help you process the results more efficiently. For example, after a brainstorming session, you can use Miro AI to cluster sticky notes by keywords so you can get a quick overview of topics.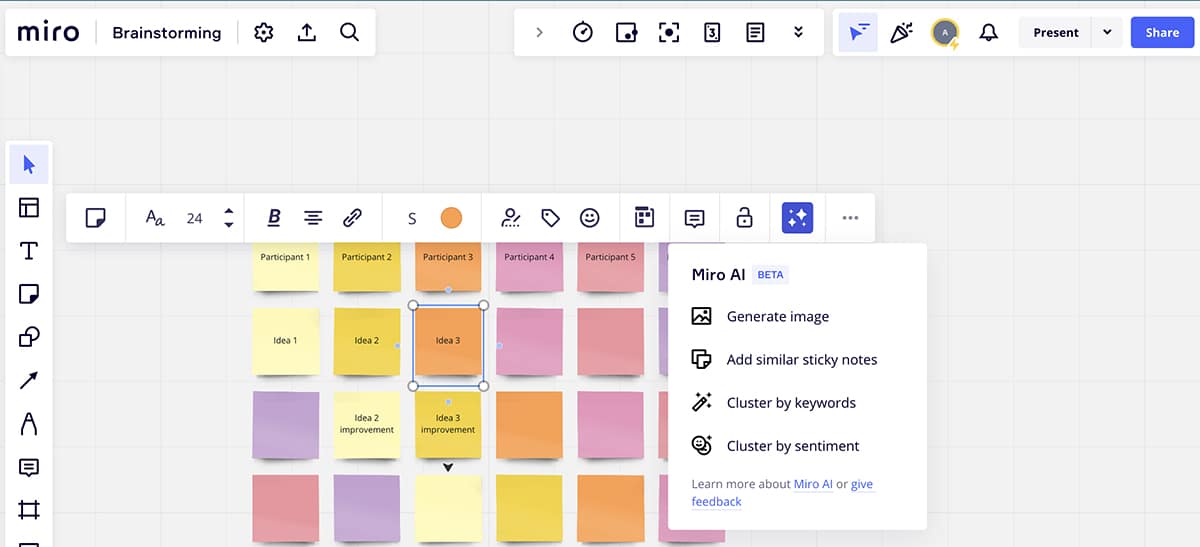 You can also prompt Miro AI to cluster ideas by sentiment so you can assess how your team is feeling. If you need more ideas, you can prompt Miro AI to do some of the brainstorming for you. The AI generator can create over a dozen more ideas from just one of yours, which can speed up your ideation.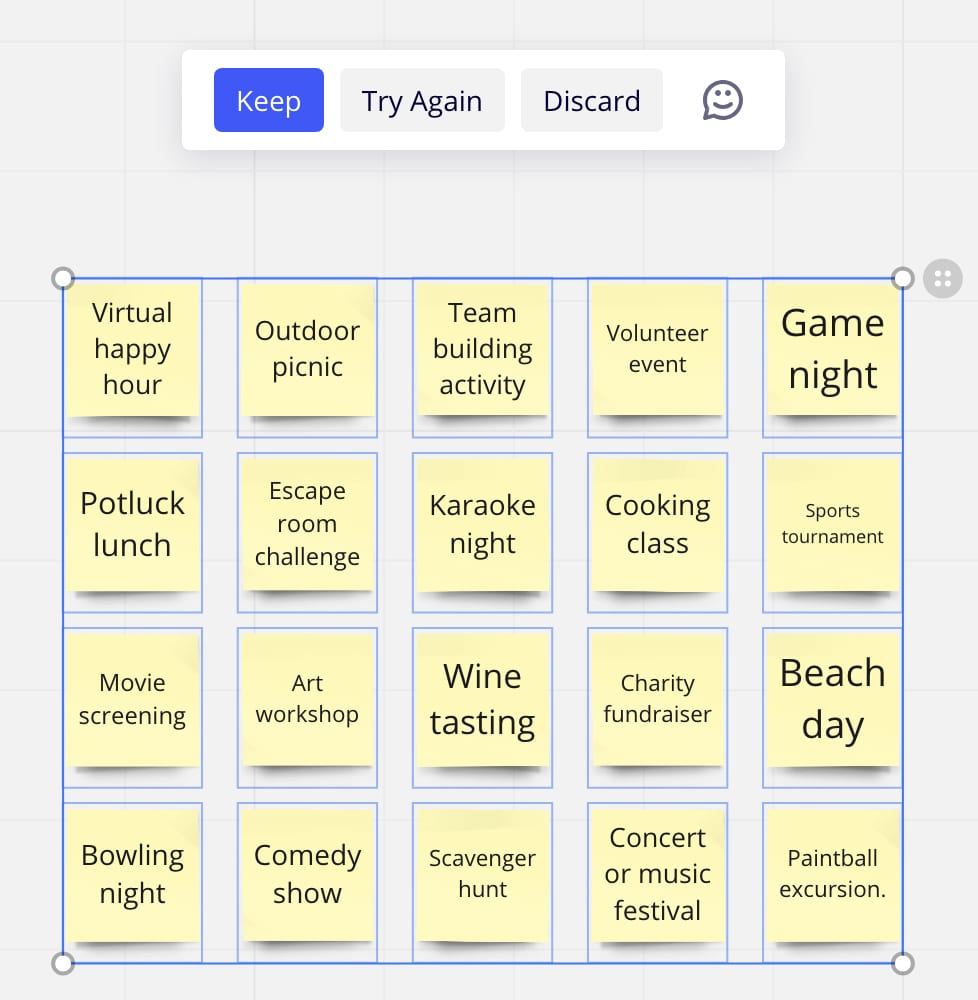 Otter.ai
Videoconferencing already requires a ton of multitasking, and taking meeting notes shouldn't have to be on your to-do list. Otter.ai can listen to your Zoom and Meet calls and transcribe the conversation automatically.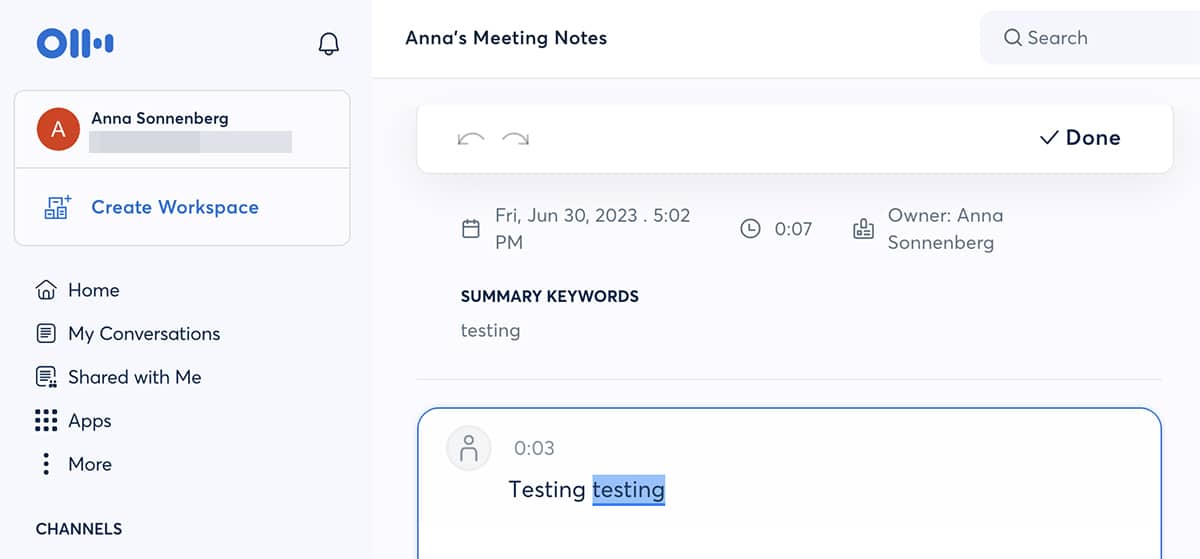 You can either link Otter.ai to your videoconferencing app of choice so it automatically transcribes all your conversations. Or you can add it to any meeting using the invite link. Either way, Otter.ai appears as an "attendee" at meetings so everyone knows you're recording and transcribing.

Otter.ai automatically pulls in the title of the meeting so you can organize all your conversations faster. It also highlights keywords from conversations so you don't have to worry about missing anything important.
Read.ai
Read.ai can also listen in to your meetings and transcribe conversations. But this tool is a bit more advanced, as it can also analyze your conversations, gauge sentiment, and help you get more out of the conversation.
In addition to providing transcripts, Read.ai automatically highlights keywords and calculates how much each attendee spoke during the meeting. The platform also calls out highlights and makes it easy for you to click through and rewatch or relisten to them.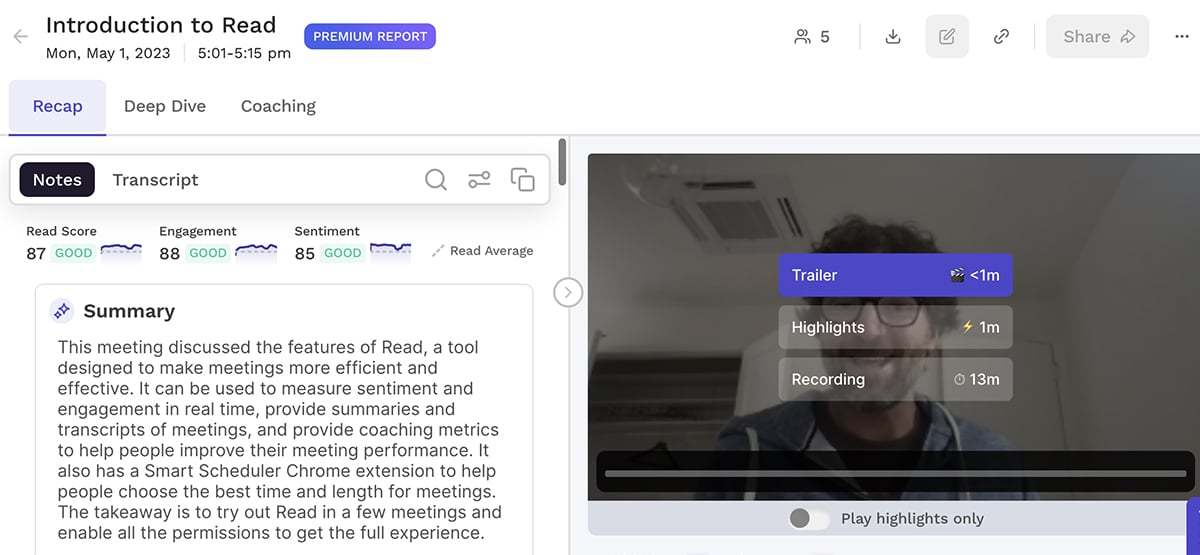 Read.ai also scores meetings, rating the engagement and overall sentiment. Want to get more out of meetings? The platform has a meeting coach that rates your speaking speed, how inclusive you were, and the overall impact you made during the meeting.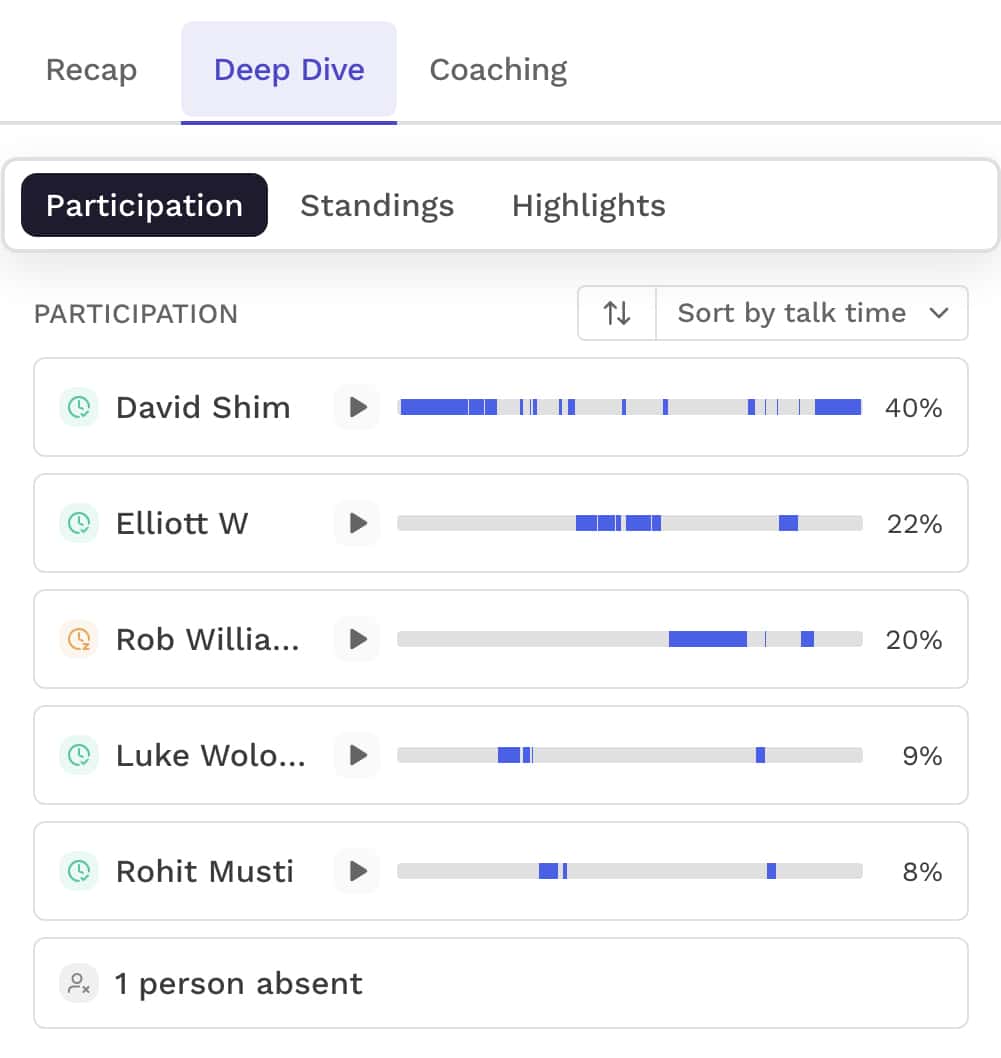 Using each of these datapoints, you can take steps to improve your performance and make the impact you want.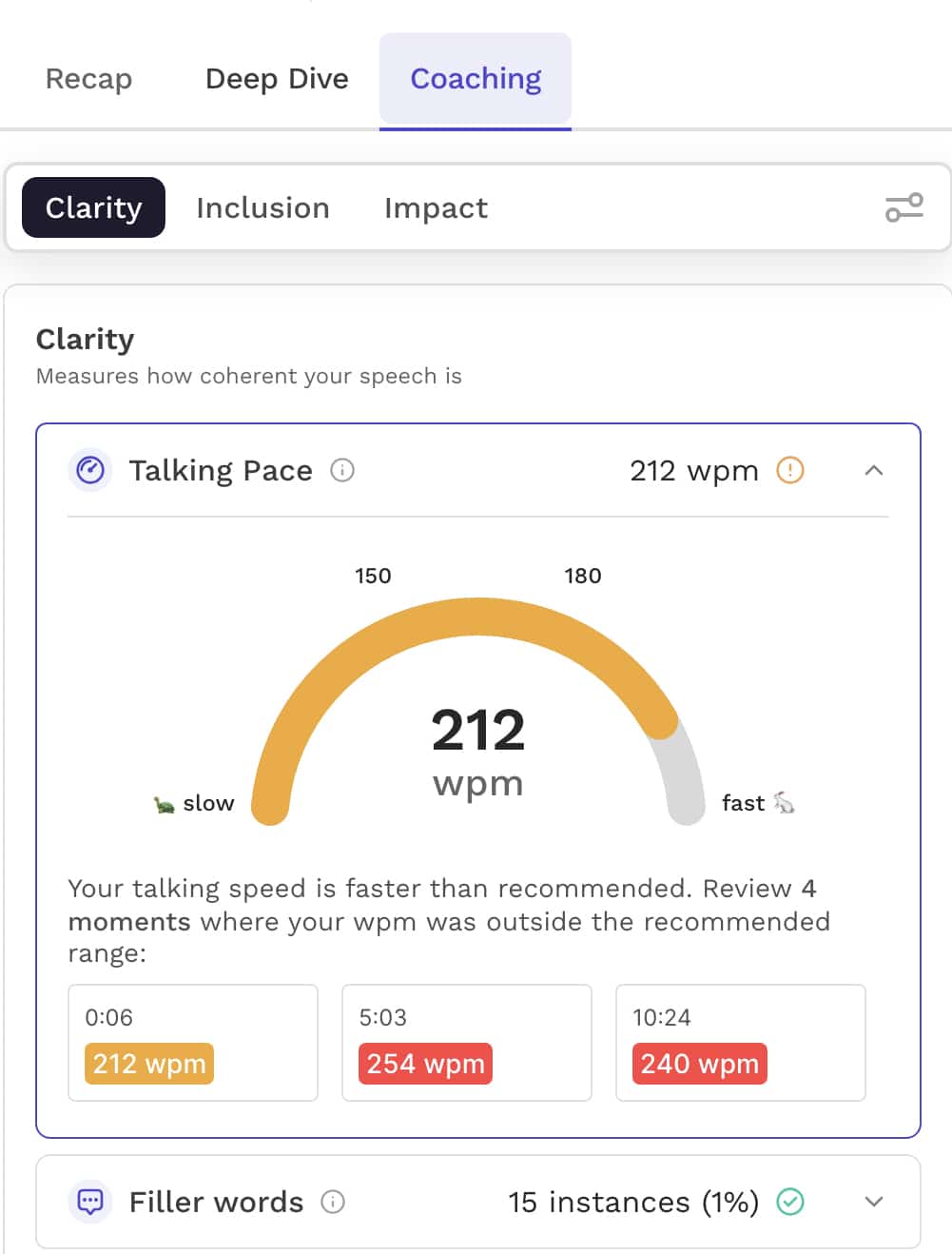 AI Productivity Tools for Task and Project Management
Need an easier way to manage tasks and projects? These tools' AI-powered features can improve your workflows.
ClickUp
As a project management platform, ClickUp is helpful for planning out marketing campaigns, assigning tasks to team members, and sharing files. The platform's new AI tools take things a step further by essentially completing select tasks for you.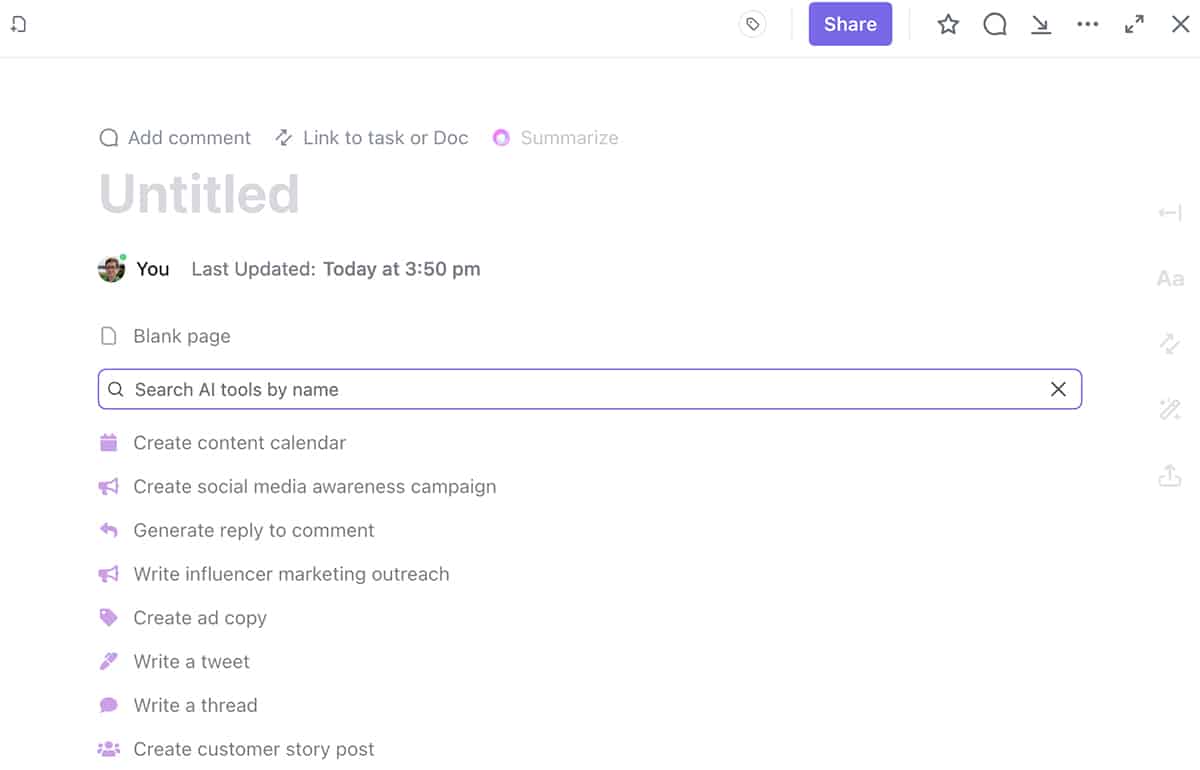 When you open ClickUp's AI tools, you can search by industry to find relevant prompts. Then you can browse the prompt library (above, I selected social media marketing) and select a task you want the platform to complete for you.
For example, you can prompt the AI generator to create outreach for an influencer marketing campaign, generate the outline for a content calendar, or write a reply to a social media comment.
Then you can link the output to a task in ClickUp task. Although you'll want to build in some time for manual edits, this AI generator can save you a ton of time on tedious tasks.
Todoist
Todoist has been my go-to task tracking app for almost a decade. The platform has long offered time-saving templates, which can help you plan things like marketing campaigns and content pipelines more efficiently.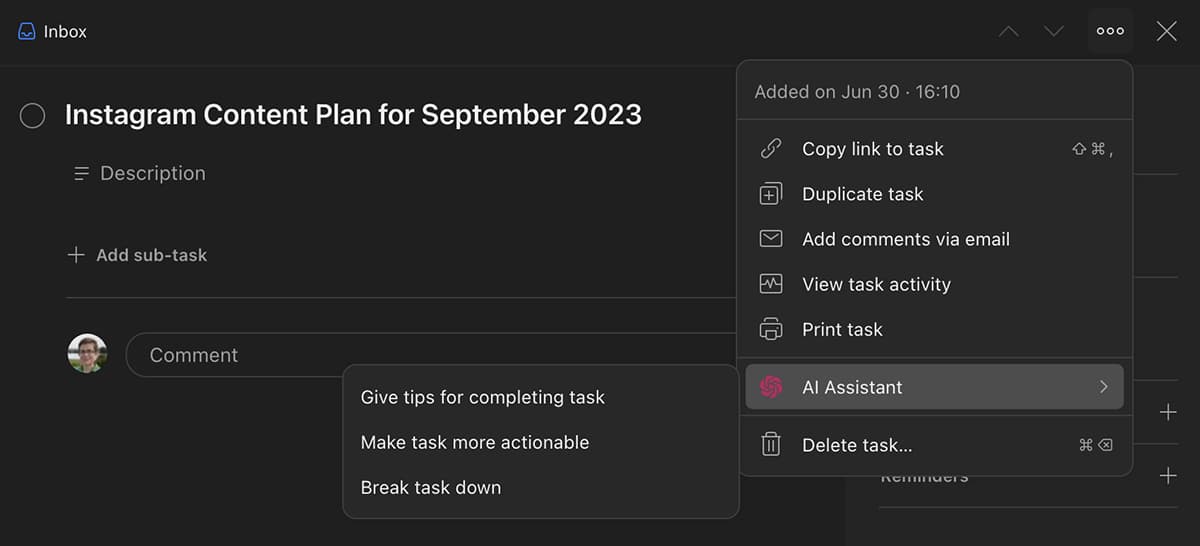 Todoist's new AI tools are great for reframing tasks or helping you complete complex projects. For example, once you add a task to your timeline, you can use the AI integration to get tips for getting started.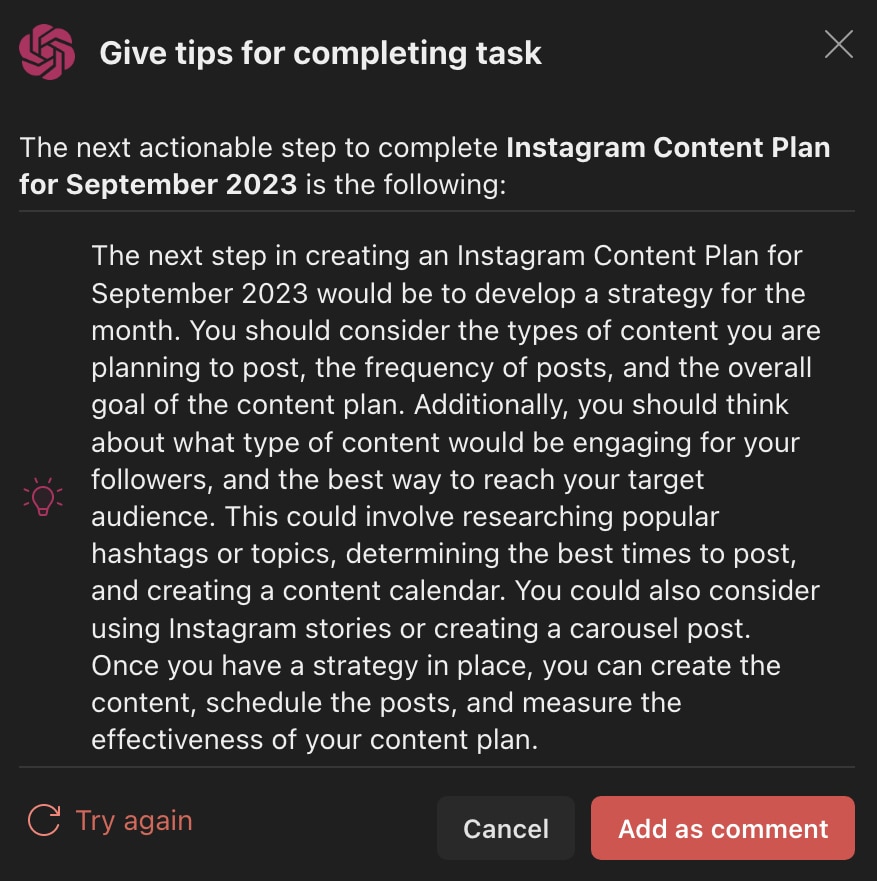 You can also prompt the AI generator to break the task down. This option is particularly helpful if you tend to add a lot of general tasks (i.e., "content plan for next month") to your calendar.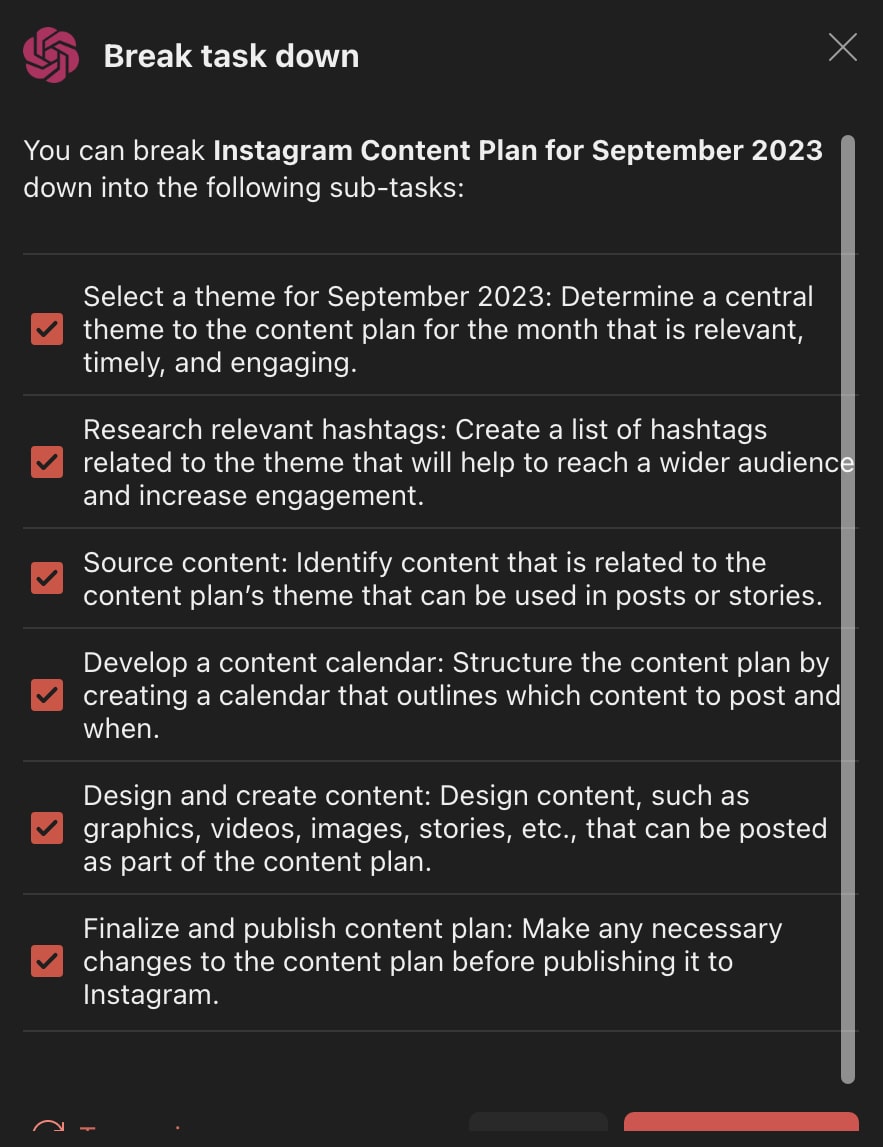 If you need an extra nudge to complete your to-do list, the AI generator can also turn your tasks into something more actionable.
Zapier
No matter which marketing tools you need to connect, Zapier probably has the workflow automations you need. It's designed to connect two or more apps so you can complete tasks automatically, such as cross-posting social media content or sharing data from an email marketing platform to a customer relationship management (CRM) platform.
Creating a Zap has never been difficult, but Zapier now has AI for productivity, making the process easier than ever. Instead of searching for the apps you want to connect and building the Zap manually, you can simply type what you want to do into the Zapier dashboard.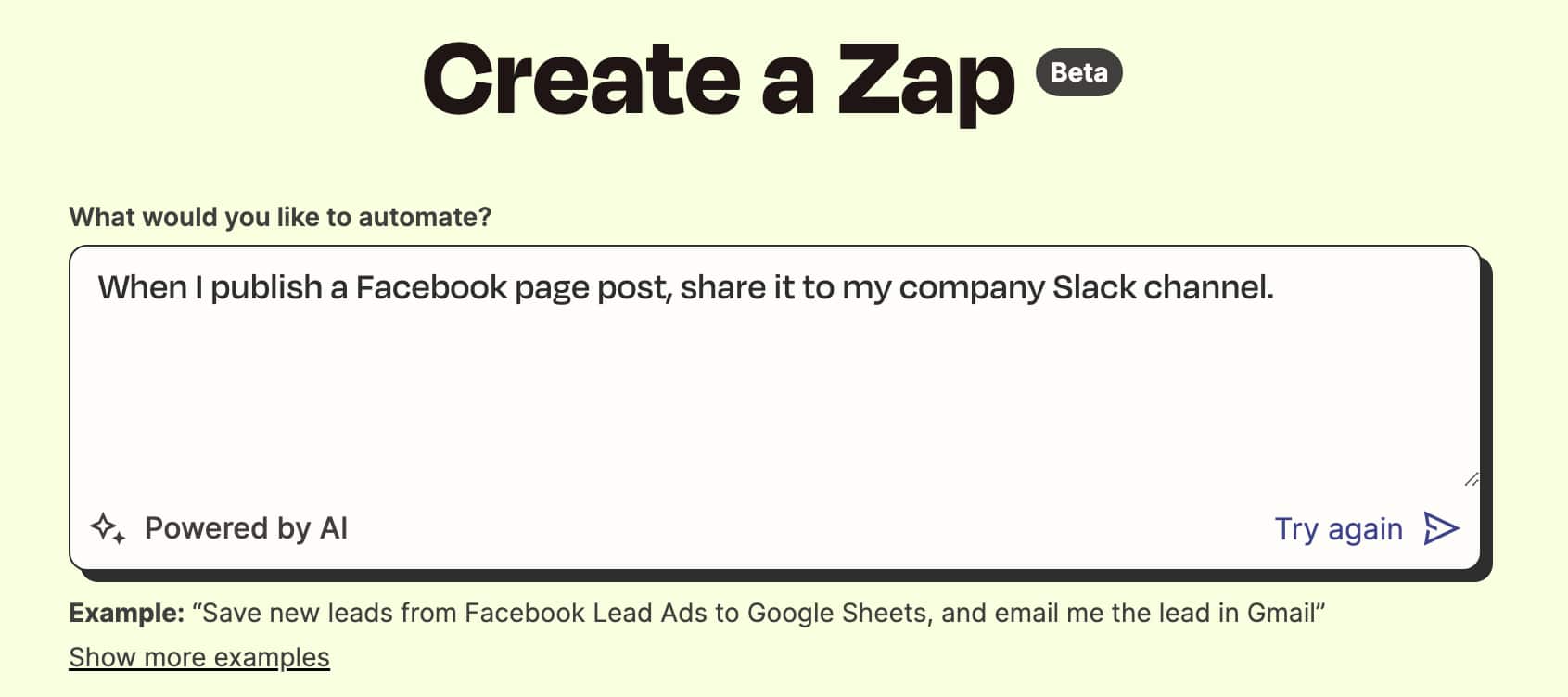 In a couple seconds, it generates a Zap automatically. From there, you can click Try It to connect relevant accounts, make any necessary manual edits, and enable the workflow.

Wrapping Up What We Learned About AI Productivity Tools
The best AI tools for productivity can help you do anything from completing routine tasks to enhancing meetings to improving creative output. By taking tedious tasks off your to-do list, these tools can free up valuable time so you can focus more on big-picture tasks like strategic planning and business growth.
Discover Agorapulse's AI Writing Assistant and more. Grab your free demo today!