This post is part of a weekly series by Ravi Shukle auditing the best performing Facebook Pages to give you real life best practices that will help you improve your Facebook content strategy.
What type of content should my business be posting on Facebook?
How do I get my Facebook fans to engage?
Owners of even the best Facebook pages ask these questions on a regular basis. There are simple key strategies for boosting engagement that any business can put in place today, and we provide examples of pages that are rockin' it each week!
This week, we're taking a look at Animals Australia, a 423,500 not-for-profit charity page growing by roughly 840 new fans daily. They're achieving a whopping 89.4% total engagement rate without spending a dime.
Here's how they did it.
1) Sharing the journey through storytelling

[Tweet "A great way to build a passionate fan base is to share your journey through storytelling – @RaviShukle"]

Everything about the post below is engaging, from the image to the message. It's a great example of Animals Australia's success in informing their audience about their business with heart warming stories. Warm fuzzies are the enticing reward for staying tuned in as a fan. Ending the post with a message of appreciation implies each reader is involved.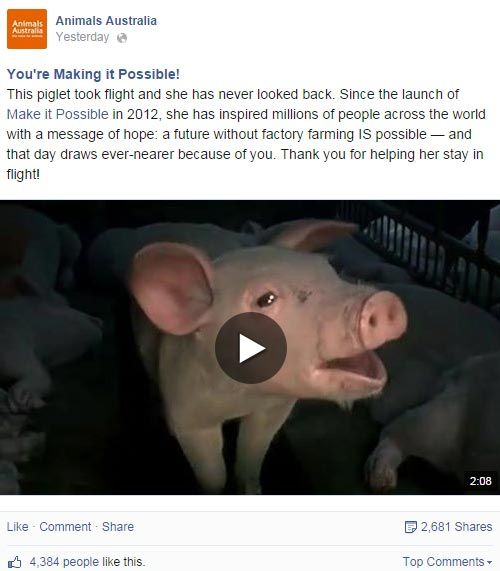 Sharing through storytelling brings your fans along for the ride and encourages them to participate. It entices your fans to retain interest and become more engaged as you're sharing the journey around your brand, not speaking directly to them about your business.
2) Collaborate with other pages in your Niche
A great way to extend the reach of your Facebook posts to targeted fans is to collaborate with other pages in your niche ~ Click To Tweet
Sharing posts from another page is a great way to introduce fans to a new audience and reinforce your point of view. It also encourages other pages to share your material.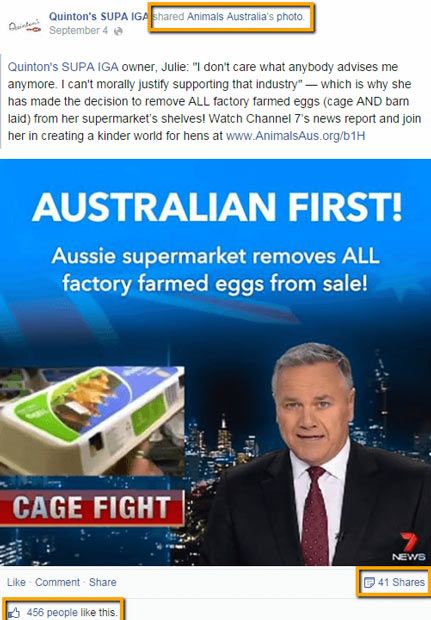 Collaborating with other pages gives your business the opportunity to be seen by a new audience. Try to collaborate with pages in your niche, as these fans will be highly targeted and more likely to share your content.
3) Encourage fans to share content and participate with your page
One of the best ways to create raving Facebook fans is to encourage them to share content with your business ~ Click To Tweet
Sharing images from fans is a great way to humanize your brand and encourages others to take part. Animals Australia has done a great job connecting emotionally with their fans by sharing heart felt images during a special occasion, in this case, Father's Day.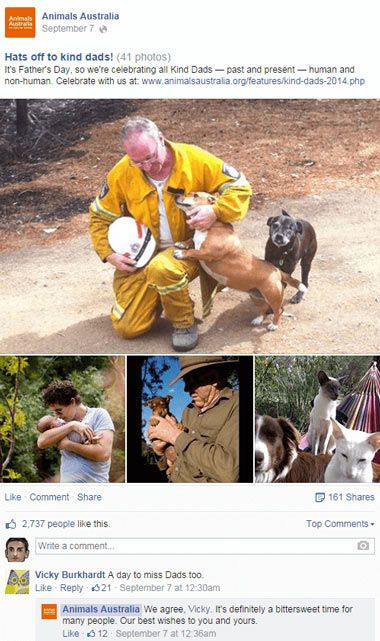 This is a great way to reward your fans by giving them the spotlight. It lets them know they are being listened to and appreciated. You'll build a loyal following and increase your engagement by sharing the stage. This will also get your fans used to sharing, so the next time your business asks, the response will only get higher.
4) Create posts based on real time events
Creating targeted updates based on real time events is a great way for your business to stay top of mind ~ Click To Tweet
This post grabs your attention straightaway from the bold visual, to the status update beginning with the words "BREAKING". This helps Animals Australia to raise awareness for events happening in real time. In this case, driving fans to take action against the cruel treatment of animals. Ending the post with the words "URGENT" and providing a link helps connect their passionate fans to the cause and take action if they wish.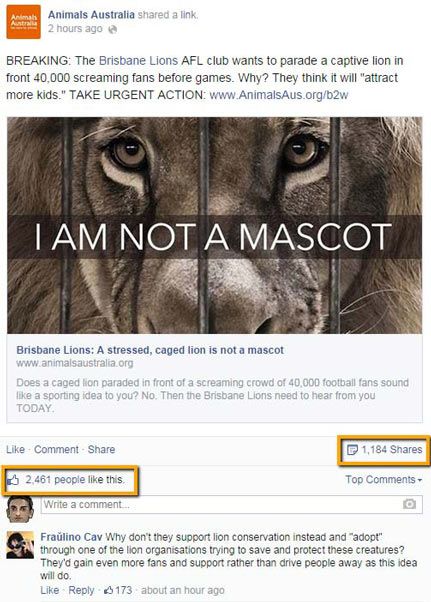 This not only helps your business remain on top of your fans' minds but also increases engagement since this is something your fans can directly relate to.
NOTE: When researching this type of content, ensure it remains targeted so that it doesn't look like your business is just jumping on the band wagon.
How do they compare against the "big guys"?
When auditing the performance of a Facebook page, we always find it interesting to compare it head to head against the big brands competing in their space. We compared 3 brands using Agora pulse's built-in Facebook competitors benchmarking tool that compete in the Pets category: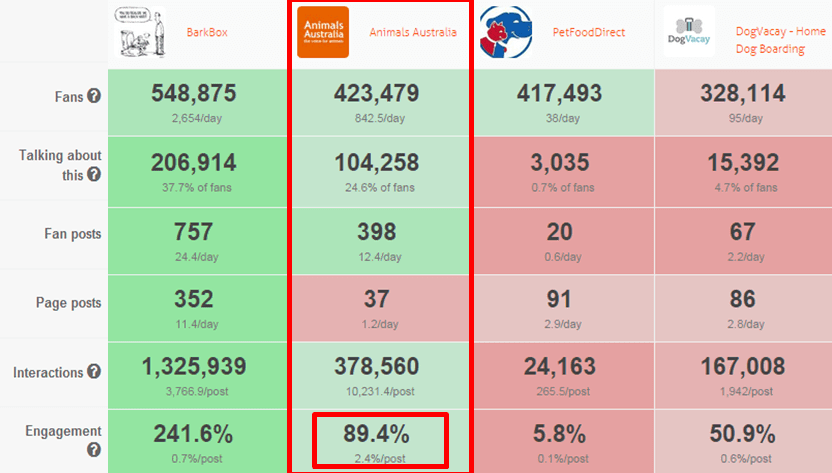 The interesting takeaways from this comparison:
o
Animals Australia, although not the largest page, has the highest monthly engagement rate (89.4%!)

o

On a per post basis, it is generating double the engagement of its competitors such as Bark Box and DogVacay (0.7% of fans vs 0.6%)

o

Animals Australia achieve the highest engagement rate amongst their competitors by just posting 1.2 posts per day versus 11.4 or 2.9 times a day for Bark Box and Pet Food Direct, respectively
This is impressive as it shows their page can still achieve great results without necessarily increasing their post frequency. Focusing on quality over quantity.
Conclusion
Building relationships still proves to be the number one way to increase your businesses engagement rate on Facebook.
Sharing your journey through storytelling and collaborating with other pages is a great way to involve your fans and open your content up to new audiences.