This post is part of a weekly series by Ravi Shukle auditing the best performing Facebook Pages to give you real life best practices that will help you improve your Facebook content strategy.

Ever wondered what makes the best Facebook pages so successful on Facebook?
We see posts from our favourite brands and pages and often just take for granted that they receive a high number of shares, comments or likes.
But what exactly are they doing to get those results?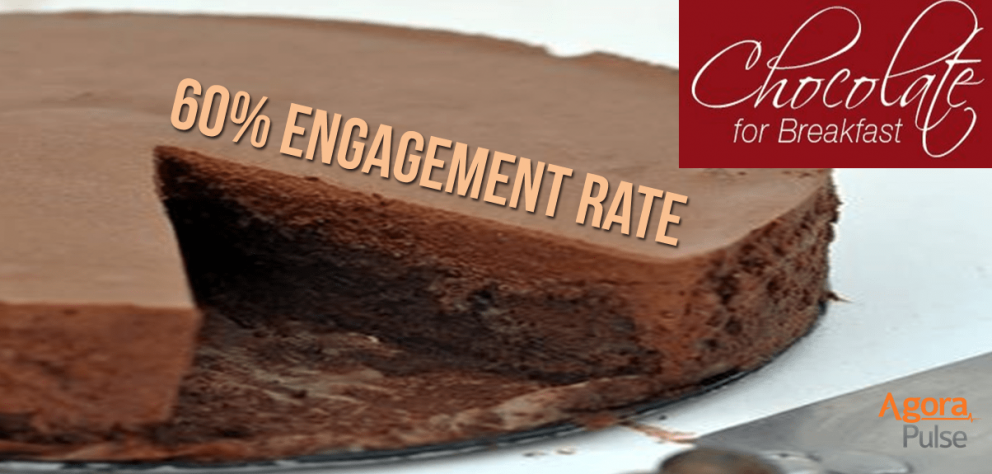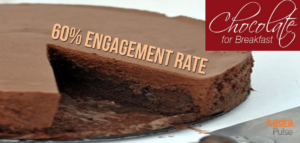 That's a great question and one we plan to answer in our new "Best Facebook Pages" blog series which looks at the exact strategies businesses are using to achieve success on Facebook. Each week we will highlight a Facebook page that is seeing great results on Facebook and break down how they started and the key steps they have taken to get there.
The best part is these are all strategies and tips your business can implement and test out today!
This week we are going to be analysing and looking at how Chocolate for Breakfast are using effective branding and posting strategies to increase engagement on their pages.
1) What industry they are in?
The Chocolate for Breakfast page are in the food industry focusing on the love of Chocolate.
2) When was the page created?
The Facebook page was created back in January 2011.
3) How many fans do they have?
At the present time the Facebook page has a total of 25,045 fans.

4) How many new fans are they getting daily?
The Chocolate for Breakfast page are getting on average 17.6 fans a day.
5) How often do they post?
The Chocolate for Breakfast page on average post 9.6 times a day.

6) % of fans engaged
The Chocolate for Breakfast page have a total of 16,681 interactions on the page with over 1,000 fans engaged. That's an incredible 66% of fans engaged.
4 reasons why Chocolate for Breakfast are seeing results
1) Posting Consistently
By looking through the stats using our competitor analysis tool we can see the Chocolate for breakfast page are posting on average at least 9 times per day. Now while this may seem like a lot to some one of the key reasons the page is seeing results from this action is due to all their content being consistent and highly targeted. It's important to remember
To get great Facebook engagement focus on relevant content rather than the number of times you post ~ Click To Tweet
Being consistent with your posts not only allows your fans a better chance to engage with your content but also allows them to get use to your posting schedule helping them to remain active on the page.
2) Using High Quality & Engaging images in all their posts
With over 1.23 million Facebook users worldwide accessing the social network via their mobile phones it has become even more important to ensure your content is created to stand out on this platform.
One of the most effective ways to grab the attention of a Facebook mobile user is to optimise your images ~ Click To Tweet

Chocolate for Breakfast is a great example of how sharing high quality images that grab your attention can have a huge impact on engagement with some of their top posts receiving around 60 shares!
If you want to find the best images shared on Facebook pages in your industry, I definitely recommend using Post Planner's latest tool: The viral photo and trending content tool. A must check!
Here's an example of how the page has used a clever quote and branded this to appeal to their fans with great results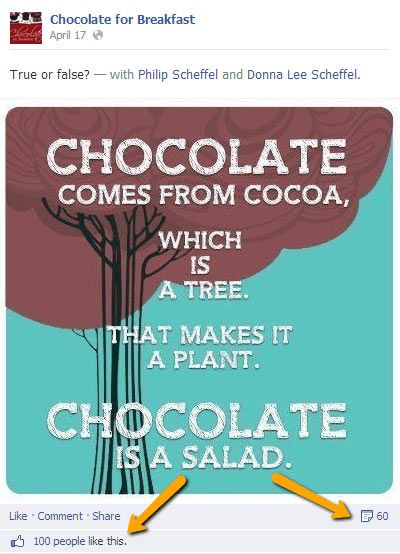 Another important aspect when creating and sourcing images for your posts is to remember to credit the original source the images were obtained from. Chocolate for breakfast have done a great job of this highlighting the original image source in their posts as well as branding their content.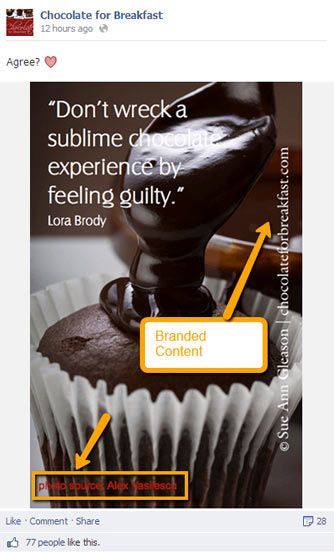 Asking questions to engage fans
We talked about using high quality images to grab the attention of your fans, but how do you start a conversation with them?
One of the easiest ways to engage your fans on Facebook is to ask questions ~ Click To Tweet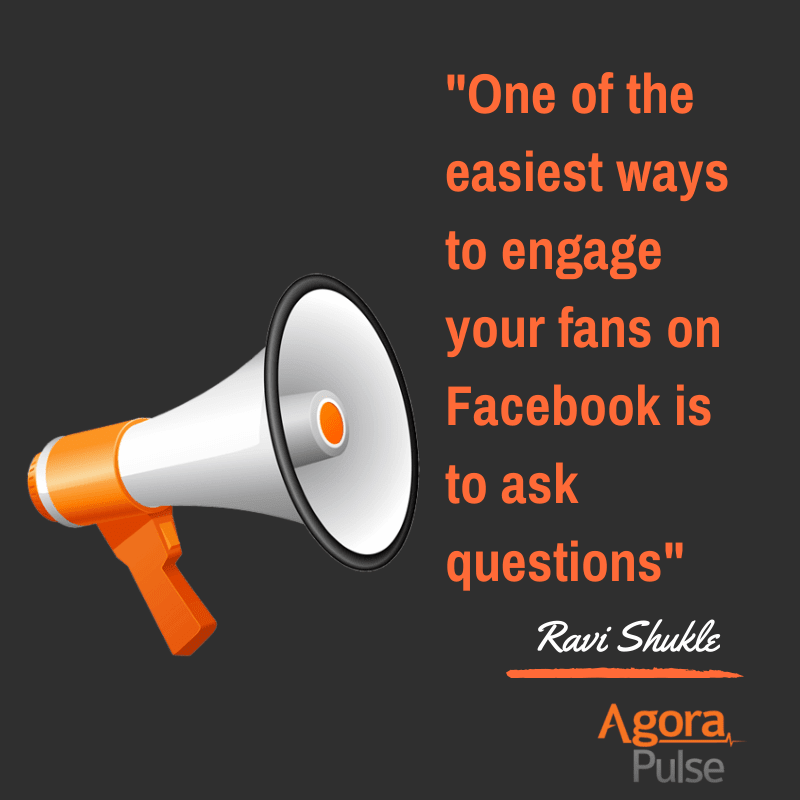 This can not only be a great way to start the conversation but to also learn more about what your fans prefer and how they feel towards your content.
Here is how Chocolate for Breakfast have used this technique to find out how it's fans keep track of Facebook content from some of their favourite pages.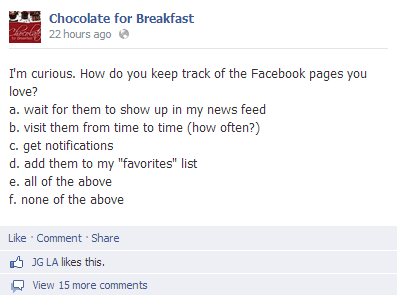 As we can see asking this type of question allows the page to get feedback on how its fans like to engage with their favourite pages. The page can then use this information to better deliver content to its fans in a way they prefer helping to boost its visibility and engagement.
Researched content that engaged their fans
When searching for content on Facebook we now know to look for high quality images that engage our audience.
But how do you know what to look for?
Posting high quality images aren't enough on Facebook. It's vital you research and share the type of content your fans already engage with ~ Click To Tweet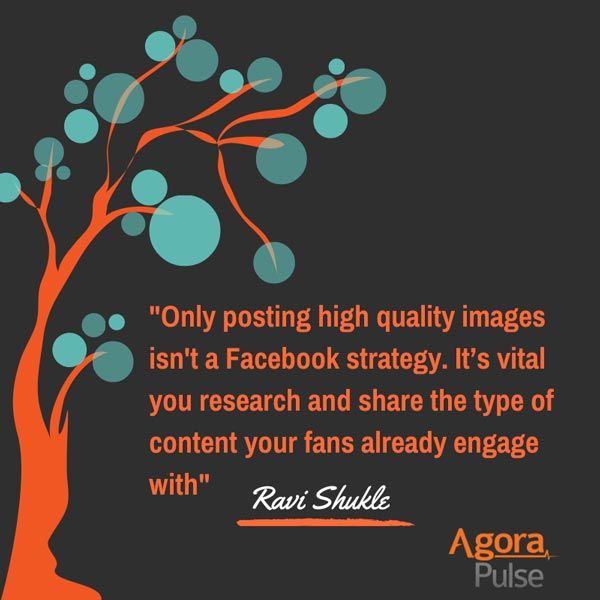 A quick way to do this is to visit your Facebook page insights and take a look at your page post engagement rate. This will help you determine which types of posts are doing well and which you need to adapt. You can also use tools such as Agorapulse to easily identify you best performing Facebook posts.
Chocolate for Breakfast have done a great job researching content that engages their audience focusing on the theme of Chocolate and recipes. This is one of the key reasons that posting 9 times per day on average is working for the brand as all the content is relevant so fans are happy to engage.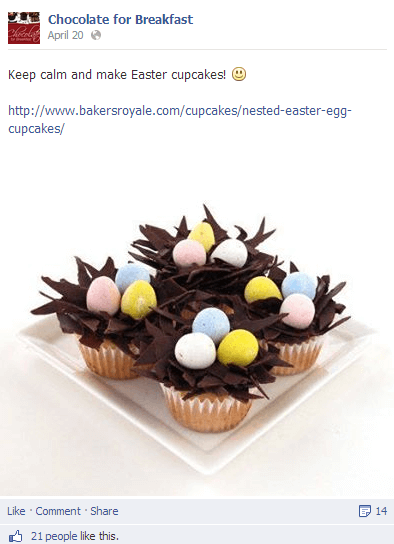 How the compare against the "big guys"?
When auditing the performance of a Facebook page, we always find it interesting to compare it head to head against the big brands competing in their space. We selected 3 brands that compete in the woman health & fitness category:
Health.com
Women's health
Weight Watchers
This is how the benchmark looks like (using Agorapulse's built-in Facebook competitors benchmarking tool):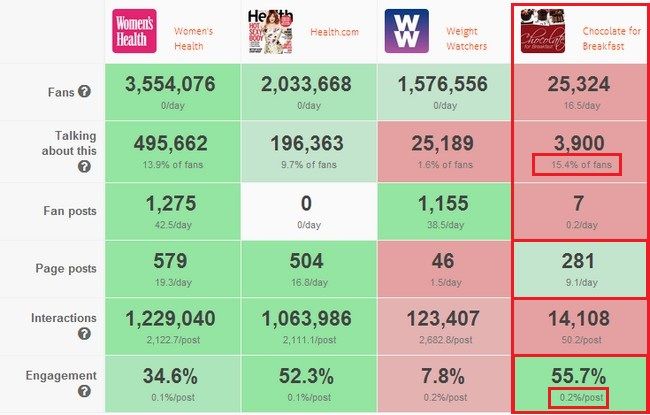 The interesting takeaways from that comparison are the following:
o
Chocolate for Breakfast is the smallest brand, and the smallest page, but gets the highest monthly engagement rate (55.7%!)
o
On a per post basis, it is generating twice the engagement of huge brands such as Women's health and Health.com (0.2% of fans vs. 0.1%)
o
It also gets the highest percentage of fans "talking about this" (15.4%)
o
All that with only posting 9.1 times a days versus 19.3 or 16.8 times a day for Women's Health and Health.com, respectively.
Pretty impressive results when compared to big, established brands with a lot more bandwidth and budgets!
What they could do to improve?
The page is doing a great job at engaging their community however here are a few tweaks they could make to help give them the edge:
o
Brand more images with their logo
o
Test out different types of content e.g. Link image previews / Video
o
Optimize Facebook profile image to fit within the square
o
Utilize the Facebook cover image with a call to action / URL
o
Create more Facebook competitions to help capture leads

What are the key takeaways you can apply to your page
Now that we've gone through and broken down the key ways Chocolate for Breakfast are seeing results on their page. Here are a few key actions you can take today to help optimise your Facebook fanpage for better engagement and Facebook success:
o
Research your Facebook content before sharing
o
Monitor Facebook Insights to help determine which content works best
o
Use High quality images when sharing your posts to your page
o
Ask your fans questions to help gain feedback
o
Brand your images with your logo/site
o
Give credit to original sources when sharing images from others
It's important that you remain consistent with your Facebok efforts as achieving success on Facebook is a marathon race not a sprint. By applying these techniques to your page today expect to see the conversations with your fans grow!
What types of posts get the most engagement on your page? Comment below