This post is part of a weekly series by Ravi Shukle called "Best Facebook Pages" where we will be auditing the best performing Facebook Pages to give you real life best practices that will help you improve your Facebook content strategy.
This week we're analysing Guias Viajar, a 163,000+ fan page by a French travel guide company that shares the top attractions to visit around the world.
They consistently maintain a high engagement rate on their Facebook page, and we're going to uncover the 3 steps they implement to achieve this success.
1) Share images of key attractions to travel from around the world
As a travel company, Guias Viajar understands that their fans and customers come to their Facebook page to find the best places to visit. As a result, they share regular updates from some of the top attractions around the world.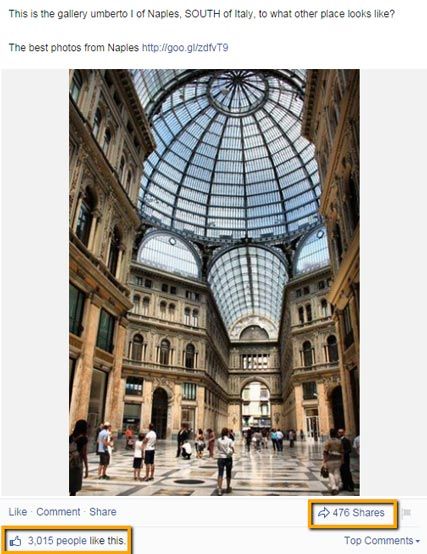 To help boost Facebook engagement simply create content that your key audience will enjoy ~ Click To Tweet
This method of sharing key attractions works great for Guias Viajar as it fits perfectly with their key audience– people who enjoy travelling to many destinations around the world. As we can see from the example above, this post has been liked more than 3,000 times with over 475 shares!
2) Share updates to help travellers on their journey
Guias Viajar understands that choosing a destination is only half the journey when travelling. So to help their Facebook fans they often post actionable advice to help travellers with the many issues associated with travel.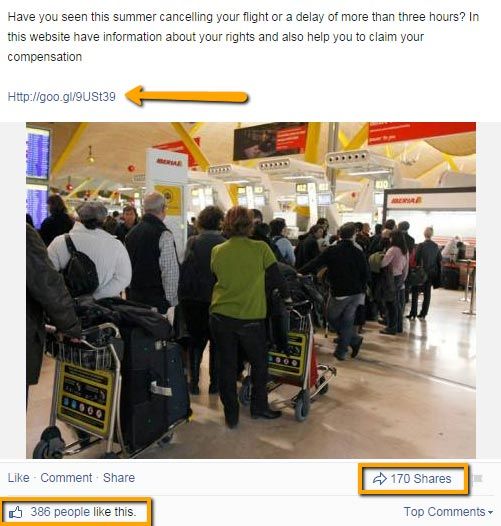 To help build trust with your Facebook fans ensure your content provides useful solutions to their problems ~ Click To Tweet
Speaking directly to the user, understanding their issues and providing them with a solution has proven to be a great way to engage fans and build trust within the community.
3) Share information on current events travellers can attend
Guias Viajar helps guide their Facebook fans on their travels by sharing current events that occur in a featured city or town. This has allowed fans travelling to the destination to better plan their trips and tell others about the events.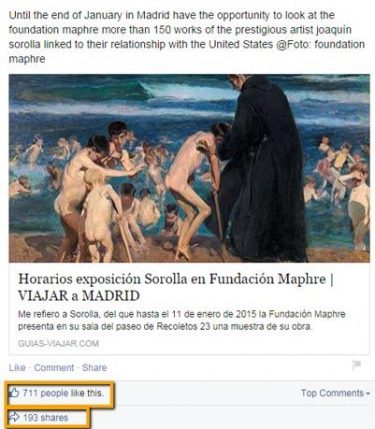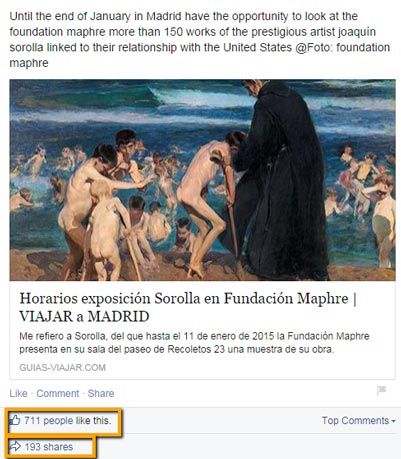 To help keep your fans engaged, share relevant content based on real time events ~ Click To Tweet
Sharing content based on current events has proven to be a great way to bring regular Facebook fans back to the page to find out more information and to share it with friends. Guias Viajar often shares this information via their blog, which also helps them bring traffic to their website.
How do they compare against the "big guys?"
When auditing a Facebook page's performance, we always compare it head to head against the big brands competing in their space, which in this case is the travel industry: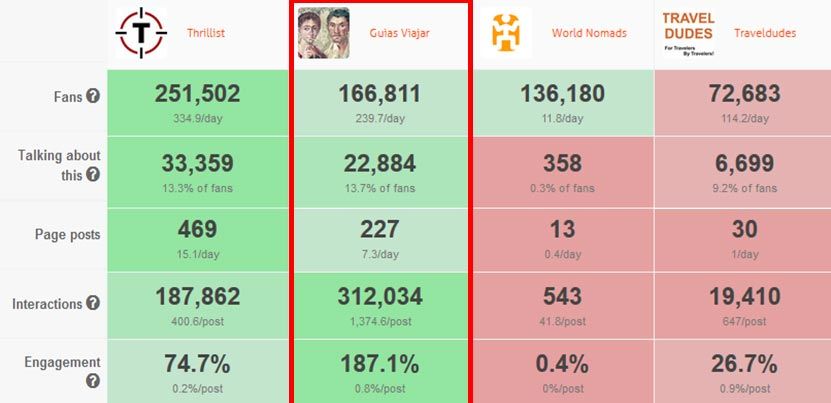 The interesting takeaways from this comparison are:
o
Although not the largest page It has the highest number of interactions averaging (1,374 per post!)

o

On a per post basis, it has found posting on average 7.3 times per day to be the magical number to help boost engagement

o

Remains the leading page among their competitors in engagement by sharing very visual content and asking questions
This is impressive as it shows their page can still achieve great results while increasing their post frequency. As long as the content is consistent fans are still more than happy to interact.
What could they do to improve?
Guias Viajar is doing a great job sharing travel related tips and images with their fans — however, here are a few tweaks they could make to help give them the edge.
o
Create promotions for users visiting the areas they mention.

o

Offer travel guides as an opt-in to help capture leads

o

Collaborate with other travel companies to promote key attractions

o

Ask for more feedback from fans in the form of questions
Key takeaways for you
Now that we've gone through & broken down the key ways Guias Viajar achieves a consistent engagement rate, here are a few key actions you can take today to help you achieve the same for your business.
o
Share images of key aspects that surround your business – These images can showcase a variety of things such as how your business works, behind the scenes, key product images, or your offices and team members. These are all great ways to involve your fans and build their trust.

o

Share updates that help your fans solve a problem – find out what your customers' pain points are and provide them with solutions in your content via your blog, Q&A sessions, interviews with experts, etc.

o

Share information on current events – If your business is location-based, you can share information on relevant events in the area and also encourage visitors to visit your store by sharing any current offers (e.g., promotional deals, Facebook vouchers, etc.)

o

Drive traffic back to your website – Providing value is great! However, you want to make sure your fans know it's your business that is helping them. Creating and sharing content via your own company blog is a great way to build that association and increase traffic back to your site.
How does your business help its customers?