This post is part of a weekly series by Ravi Shukle auditing the best performing Facebook Pages to give you real life best practices that will help you improve your Facebook content strategy.
What is the number one thing that creates engagement on your Facebook page?
Videos?
Pictures?
Links?
While all of the above may be true, in broader terms the actual answer is content.
The secret to increasing Facebook engagement is to create both relevant & targeted content for your fans ~ Click to Tweet
This is one area where many businesses still miss out. While there is nothing wrong with posting a humorous image or celebrating a national holiday on your Facebook page, if you don't make it relevant to your audience, you are missing out on the opportunity to engage more of your fans.
In this week's "Best Facebook Page" series we will be looking at how Pool Supply World use highly targeted & relevant content to engage their fans & will discuss tips on how you can apply these techniques to start seeing results on your Facebook page.
Ready to "dive" in? 😉
Let's go!
What industry are they in?
Pool Supply world are in the swimming pool industry specialising in swimming pool maintenance.
When was the page created?
The Facebook page was created back in 2006.
How many fans do they have?
At the present time, the Facebook page has a total of 88,762 fans.
How many new fans are they getting daily?
By looking at our Competitor Analysis tool, we can see that Pool Supply World are getting on average 42 fans a day.
How often do they post?
Pool Supply World typically post on average 1.7 times per day.
% of fans engaged
Pool Supply World have a total of 9,917 interactions on the page with over 11% of fans engaged per post.
4 reasons why Pool Supply World are seeing results with their Facebook content
1) Sourcing content that fans would love
When researching content for your Facebook page, it's important to ensure that it resonates with your fans. There's a lot of research out there to suggest that posting at a certain time of day or mainly posting a particular type of content works. While these methods may work well for some pages, on the whole I'm afraid those claims are false.
There is no "one size fits all" when it comes to your social media content. Stick to what works with regards to the times & type of content you share ~Click to Tweet
Pool Supply World have done a great job of finding & sharing content that their fans would love. For example, we can see from the post below that instead of posting a generic update about the weekend, they have sourced an image that relates to both their brand & their fans' interests. As a result, the post has seen increased engagement with 186 shares!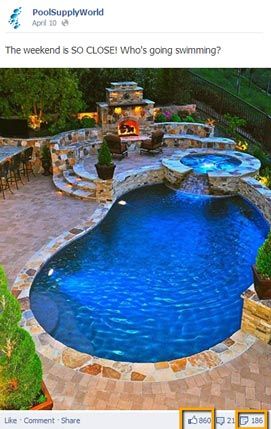 2) Creating content to suit their audience
We've talked about how finding the right type of content can help increase engagement from your fans, but there are also ways to both engage your fans & relate the content directly to your business. The simple way to achieve this is to create unique content related to your business.
Creating custom content is a great way to increase brand awareness & engagement directly with your business ~ Click to Tweet
This is a great opportunity for your business to engage its fans with the brand & showcase your company's personality. To do this successfully, your business will have to research the type of content its fans enjoy, such as quotes, style images, videos etc., which can help you plan the type of content you are going to create.
Here is how Pool Supply World have used this method to create a custom image to celebrate their "Happy Friday" theme that also showcases their fun personality. As we can see, the image below both grabs the user's attention & has been themed to suit the brand.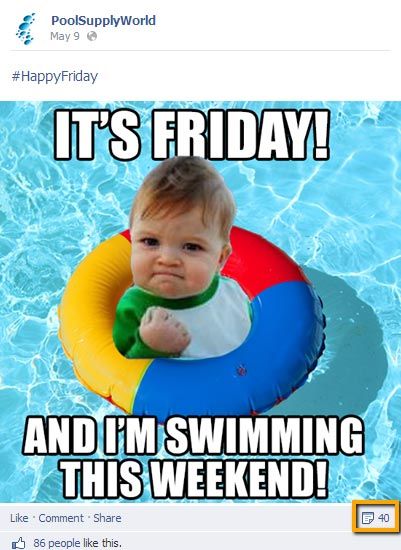 3) Relating content to real time events & trends
Have you ever just watched a movie or the latest episode of your favourite show & wanted to immediately tell your friends about it?
I'm sure I'm not the only one, and the reason you want to let people know is because you enjoy sharing your thoughts in real time. Telling them about a show you saw over a month ago just doesn't have the same effect.
How does this relate to Facebook marketing?
I'm glad you asked! The same desire to share your favourite shows or movies with friends also applies to great content.
Sharing real time content on your Facebook page is a great way for your business to stay top of mind ~ Click To Tweet
This is one of the many reasons we see certain pictures or videos go viral online. The majority of the time, these pieces of content have been created in real time & are immediately relatable.
We can see below how Pool Supply World have realised this & have created some great real time content to help their brand stay top of mind during the holiday period. It's important to note that you should not try to relate your brand to every single holiday or event — try to be selective, ensuring it relates to your business in some way & is not a forced effort.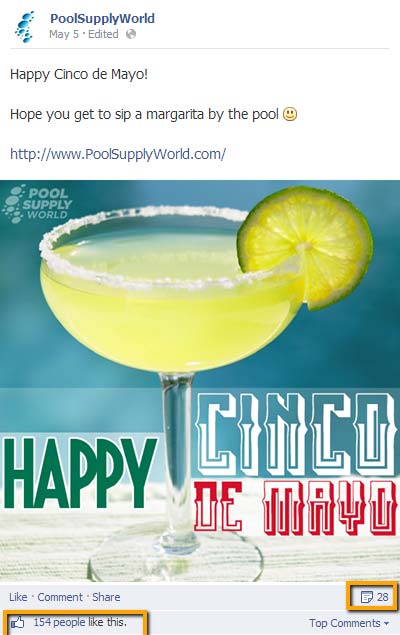 4) Encourage fans to contribute
A successful Facebook content strategy is one that involves its fans in the process ~ Click To Tweet
In the same way your heart pumps blood around the body for you to survive, your customers are the heart of your business. Putting them first will help pump life into your business & allow it to not only survive but grow stronger.
One of the easiest ways to encourage your fans to share content from your page is to ask via a status update. In addition, there are also two key ways in which you can highlight your fans' content without having to ask directly:
1) Highlight the fan's post, which will cause it to take the full width of the timeline & will be visible to all users who visit your fan page & scroll through the content.
2) Take the content from the fan's post & re-post it as a status update, letting your audience know that this has been shared via a fellow Facebook fan.
These methods show your fans that you value their contribution & will therefore also encourage them to contribute a lot more often.
Here is how Pool Supply World have used this concept & highlighted a post shared on their page by one of their fans.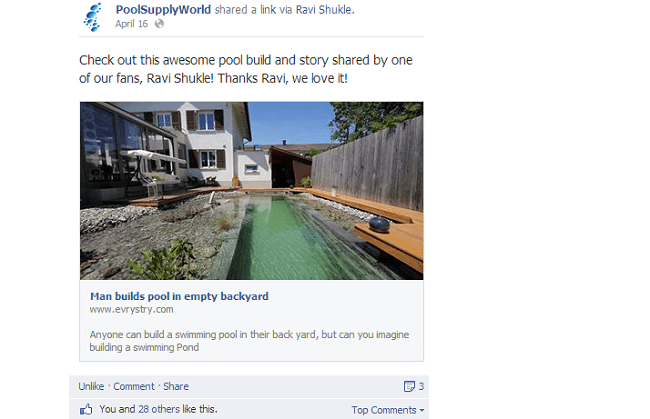 How do they compare against the "big guys"?
When auditing the performance of a Facebook page, we always find it interesting to compare it head to head against the big brands competing in their space. We selected 3 brands that compete in pool industry niche:
Zodiac Pool Systems, Inc.
Pentair Aquatic Systems
This is how the benchmark looks like (using Agorapulse's built-in Facebook competitors benchmarking tool):

Pool Supply World have been very successful at attracting targeted fans who not only enjoy the content but who are also passionate about the brand and industry. We are able to see this by looking at their number of interactions on page posts with 7,240 fans they are able to engage 258.6 fans per post.
If they were to increase their post frequency while maintaining the same level of engagement per post this would be a great opportunity to drive even more traffic and brand awareness.
What could they do to improve?
The page is doing a great job at finding & creating content that engages its fans — however, here are a few tweaks they could make to help give them the edge:
o
Brand more images using their logo

o

Share more content that links back to their blog

o

Share more stories of how the brand has directly helped its customers

o

Create more Facebook competitions to help capture leads
What are the key takeaways you can apply to your page?
Now that we've gone through & broken down the key ways Pool Supply World have found & created content to engage their fans, here are a few key actions you can take today to help encourage your fans to take part & find content that gets shared:
o
Create relevant & targeted content that your fans would enjoy

o

Showcase content shared by your Facebook fans

o

To encourage your fans to share content — just ask!

o

There is no "one size fits all" when it comes to getting engagement — stick to the posts that work well & continue to test out post times on a weekly basis

o

Sharing real time content on your Facebook page is a great way for your business to stay top of mind
Do not be afraid to ask your fans to share content, as you will find that those who enjoy & are passionate about the brand/business will be more than happy to do so. In addition, if you are sharing content based on real time events, ensure your message still relates to your audience & brand & has not been shared for the sole purpose of it being the hot topic.
Lastly — have fun! Feel free to showcase your brand's personality & lighter side in your posts.
Do you share content from fans on your Facebook page? Comment below