One of the Facebook metrics that I find my clients pay the least attention to is Negative Feedback.
There is something addictive about the more attractive metrics, such as Page and Post Reach, Likes, Comments, and Shares that I find disturbing.
To help you understand where I am coming from, let me bring you through what Negative Feedback means and why you should care.
What Is Facebook Negative Feedback?
Negative Feedback consists of four kinds of actions namely: Post Hides, Hides of All Posts, Reports of Spam, and Unlikes of Page.


You can find them in your Facebook web Insights. Just go to Insights > "Posts" tab > Scroll down all the way > Click on the dropdown arrow beside "Post Clicks/Likes, Comments & Shares" and select "Post Hides, Hides of All Posts, Reports of Spam, Unlikes."
Because Facebook is continuously changing things in the newsfeed, you might find that how you record negative feedback might differ from someone else. As such, I have broken them down into two different versions below.
Giving Negative Feedback: Version One
Post Hides and Hides of All Posts


P.S. I am using Ravi's post as an example here but please don't unlike his page or hide his posts! He posts great stuff, that's why his post appeared at the top of my newsfeed.
For some of you, when you click on the dropdown arrow at the top right of a post, this is what you might see.
The first option, "I don't want to see this," tells Facebook that you want to hide the post from your newsfeed.
The second option, "Hide all from Ravi Shukle," tells Facebook that you do not ever want to see posts from Ravi Shukle again.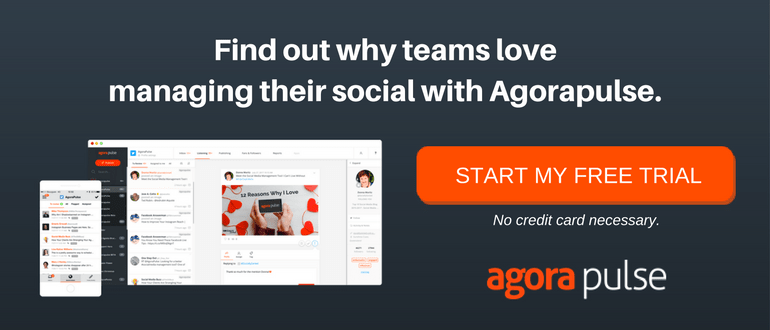 Reports of Spam


If you followed through after choosing "I don't want to see this," the above popup will appear. If you give feedback to Facebook that you had chosen this option because "It's Spam," this will reflect as a report of spam.
Unlikes of Page


In this version of newsfeed, there is no direct option for you to unlike one's page immediately from the dropdown arrow on the top right of the post.
To do so, you have to hover your cursor over the Page name, then hover your cursor over the "Liked" button in blue, before you can select the option to "Unlike" a page.
I believe that this version of newsfeed that I just showed you is the old one. When you see the next version, you will understand why.
Giving Negative Feedback: Version Two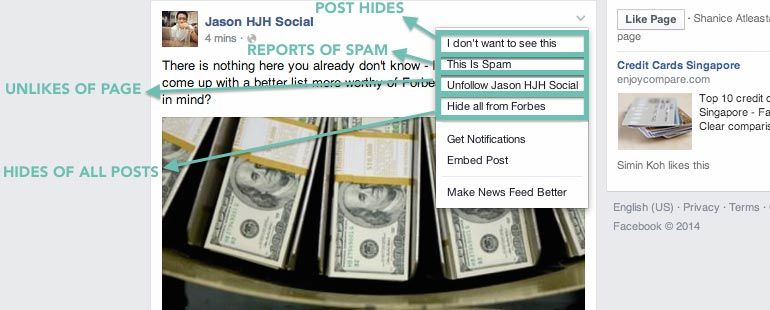 Unlike the version above, all the actions that are covered under Negative Feedback are easily accessible via the dropdown arrow on the top right of each post:
"I don't want to see this" to Post Hides
"This is Spam" to Reports of Spam
"Unfollow (Page Name)" to Unlikes of Page
"Hide all from (Website Name)" to Hides of All Posts
Because of how similar this dropdown arrangement is to how Facebook defines Negative Feedback in its Facebook web Insights, I believe that this is the version that Facebook will update all newsfeed to.
Wait … Don't Forget This One Thing
This is not all. In Version One, I mentioned that when you report a post as spam, you also hide the post, because the option of report a post as spam only appears after you opt to hide the post.
This creates a double-counting problem. Does this mean that when someone reports a post as spam, it is also hidden from his newsfeed at the same time?
This makes absolute sense and that is why I want to caution you, advanced marketers, to take note of this when you dig into Facebook's data.
After all, why would anyone still want to see your post after reporting it as spam?
Logically speaking, it makes perfect sense that if someone reported your post as spam, he or she does not want to see your post in the newsfeed anymore.
Unfortunately, I believe that the double-counting effect exists. In other words, as long as not all Facebook users have the latest newsfeed (or Version Two mentioned above), you will likely see discrepancies in the numbers reported in Insights.
This is why I want you to pay attention to the number of people who gave Negative Feedback to your post instead of the total count.
Where Can You Find This Data?


It's easy, just download your Facebook exported Insights and go to columns Q & R like what you see above.


To see the breakdown of the two Negative Feedback metrics, you can also go to these 2 worksheets to take a look.
* * *
Make sure you record Negative Feedback as part of your weekly or monthly review to ensure that if something drastic happens, you are the first to know and you can react accordingly. In other words, use this internally within your communications team.
However, this is not an important external KPI, so don't obsess over it. If you have a large fan size of over 10,000 fans, expect some negative feedback from time to time. You can't please everyone, especially not when someone is just having a bad day.
This is the 4th installment in a series of posts that I have written with Emeric to explain all the metrics you find in Facebook Post-level Data Export. Read the other articles here:
Sign up now for a FREE demo.
Pin This Post