Content Marketing Institute has some seriously sad news when it comes to content marketing metrics:
Our content marketing research indicates, 33 percent of B2B marketers and 41 percent of B2C marketers cited the inability to measure as a significant challenge.
There are so many content marketing metrics being touted as the "absolute most important" that it's hard to know which ones truly matter.
So let's break it down into manageable chunks. (That's what I do when dealing with numbers!)
Here are the metrics you should consider measuring with your content marketing efforts.
Content Marketing Metrics That Truly Matter
Back in 2012, Jay Baer came up with the four metrics that must be measured, but we're going to include two more that Curata CEO Pawan Deshpande later added to the mix:
Consumption: How many people consume (view or read) your content?
Sharing: How much is your content getting shared (also known as content distribution)?
Lead generation: How many leads come from your content?
Sales: How many sales do you receive from your leads?
Engagement: How many users interact with your content?
Retention: How many visitors come back for more or join your alpha audience?
Here's a flow chart of how Pawan sees all of these pieces working together. (Don't mind the operations metrics … That's another post for another day!)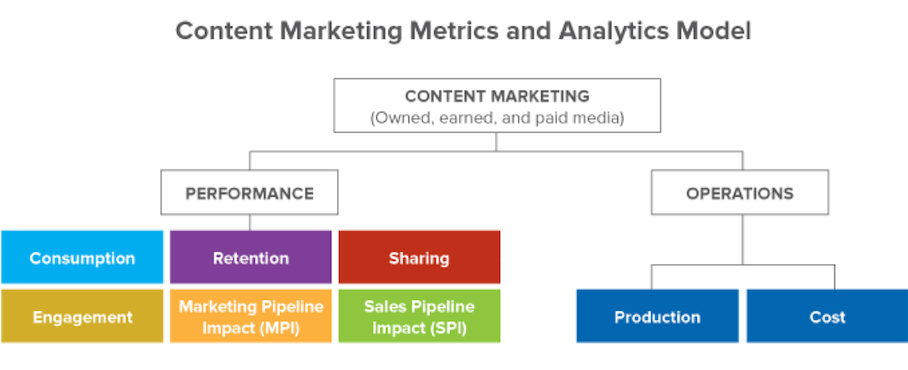 Now let's put each one of these practical measurements into practical tactics so you know exactly where to go to collect!
Consumption Metrics
How is consumption defined with content marketing metrics?
Website
With your website, use Google Analytics to check the following:
Website traffic. Look at visit and unique visits for a clearer picture.
Page views
Average time on site (or page if you're looking at a specific post/piece of content)
Downloads or form completions. You may need to set up goals in Google Analytics to track this.
Track your traffic sources with UTM Parameters.
Email marketing
If you're using emails to reach peeps, that's marketing with content! Track these consumption metrics:
Open rates
Click-through rates (CTRs)
Social media
With social media, it doesn't matter if you've grabbed a "like" or a retweet. Users need to CLICK to gain a point for consumption. So it probably makes sense that you should track click-through rates (CTRs)
We perform click-through audits for our clients that look something like this: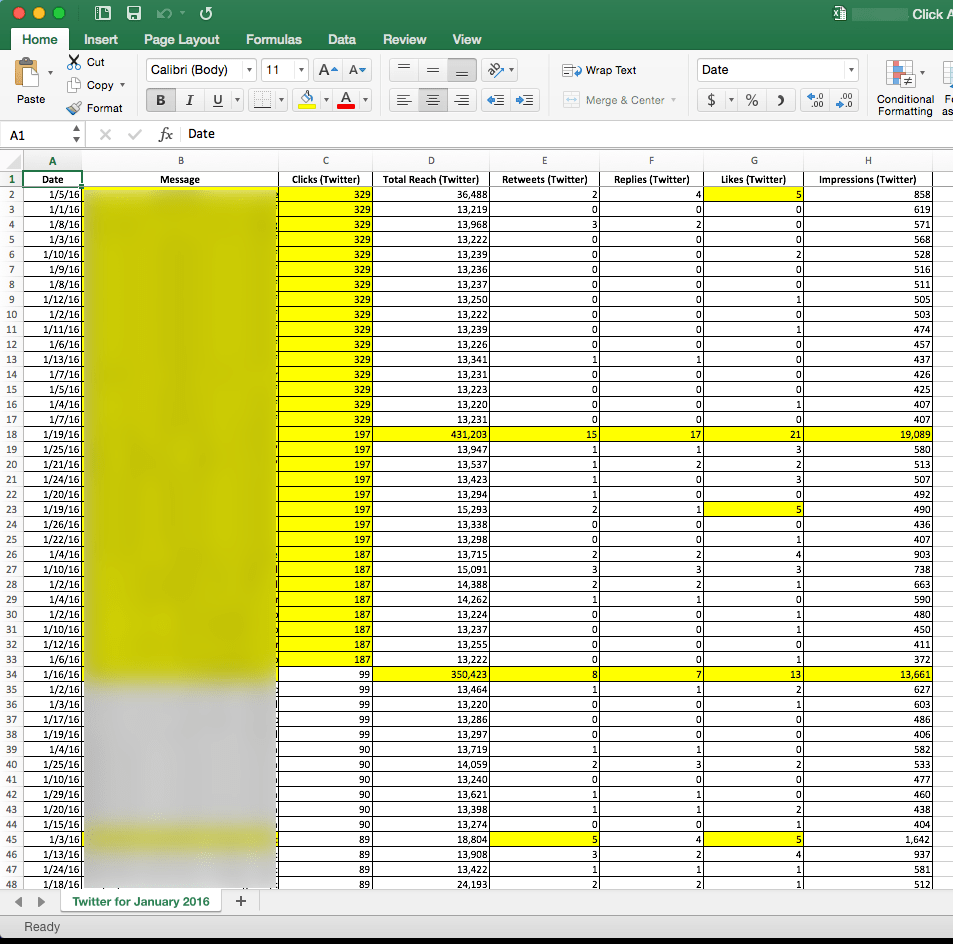 With these type of reports, we can track consumption and see which content is getting the highest amount of clicks—which can then tell us what to promote more of, what to content to put ads behind, or what types of content we may want to reproduce in the future.
Tools to use
For web analytics, we use the powerful (and FREE!) Google Analytics.
For email marketing, your provider should offer some sort of report on open rates and CTRs (we use everything from MailChimp to ConvertKit).
Your social media sites have free analytics, and if you want to dig deeper try a tool like Agorapulse!

Sharing Metrics
Here's where to look for shares when tracking content marketing metrics:
Website
Email marketing
Social media
Social media shares
Retweets
Likes (Yes — likes. When someone "likes" something, Facebook creates a story about YOU on their feed/stream.)
Tools to use
For inbound links, we again use Google Analytics (traffic sources > sources > referrals).
Your email provider should give you metrics on forwards.
Again, use the free reports from each platform or sign up for a social media management tool.
Lead Generation Metrics
Website
Call-to-action CTRs
Downloads or form completions
Campaign performance
Email marketing
Social media
Call-to-action CTRs
Comments/conversation
Tools to use
Google Analytics (goal set up comes in handy here!)
Your email provider
A click-audit may be best to track your CTA content, or use Bit.ly
Note: ConvertKit is also great for showing us form conversion rates … See below for a look at the form we created for our blog last month.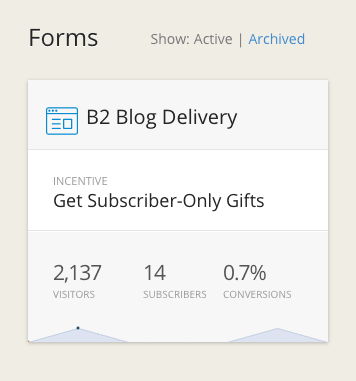 Sales Metrics
Sales is a bit harder to track, but not at all impossible! Look at these content marketing metrics:
Website
Conversion rates
Lead quality
Pipeline (where do they enter?)
Actual sales (ROI)
Email marketing
Conversion rates
Lead quality
Social media
Conversion rates
Lead quality
Tools to use
All of the above-mentioned tools, plus a CRM if you have one.
Engagement Metrics
Engagement can be pulled from many of the other areas we're measuring with a few added metrics to help us understand trends and patterns:
Website
Bounce rate
Average session length
Time on site/page
Comments
Total shares
Subscriptions
Unsubscribes
Sentiment analysis
Email marketing
Comments
Total shares
Subscriptions
Unsubscribes
Social media
Comments
Total shares
Follower growth/decline
Sentiment analysis
Tools to use
All of the above for website, social media, and email marketing
For sentiment, try SocialMention (just be wary of what they count as "negative" — post titles can get you a "ding"). See the Agorapulse example below.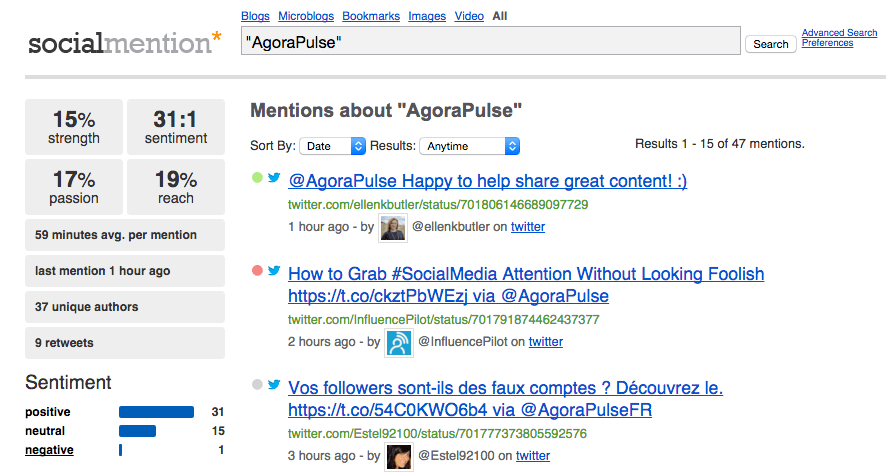 Retention Metrics
Retention is also a great way to uncover patterns and help you see the bigger picture with your content marketing metrics. Look at:
Website
Percentage of your returning traffic
Bounce rate
Number of pages per visit
Total pages visited
Unsubscribe rate
Email marketing
Subscribe rate
Unsubscribe rate
Social media
Tools to use
All of the above-mentioned tools.
And Now, the Caveat
We've mentioned both hard and soft content marketing metrics for you to measure.
Even so, you may find it difficult to find the exact metric you need to meet a business goal or KPI (key performance indicator). You may need to group several of these metrics together to achieve your desired result.
You will have to know what your goals are, and then choose the complimentary metrics accordingly.
There is no magic metric, formula or way to know how many of the above metrics are "the most important to measure" because it all depends on what goals you need your content marketing to successfully navigate.
At least, starting here will ensure you're not one of the high number of marketers who find content marketing metrics challenging!
Take control of your social media! Check out our free trial of Agorapulse to help you schedule, track, and measure all your social media efforts.