Do you want to promote your local business on Facebook?
Have you heard of Local Awareness Ads?
Local Awareness Ads allow you to easily reach those people who are near your business. If you have a store, a gallery, a restaurant or a bar, or any other kind of brick-and-mortar business with a physical address, Local Awareness Ads can become one of the biggest drivers of customers and sales from Facebook.
In this article you'll discover how to create your first Local Awareness Ad campaign with Power Editor and successfully reach local customers.
What Are Local Awareness Ads:
Facebook introduced Local Awareness Ads in October 2014, trying to make it easier for local businesses to reach people nearby:
With local awareness ads, businesses can quickly and easily find new customers by showing ads to groups of people who are near that business's neighborhood. <…> We think they're the best way for local businesses to reach people near them, and the best way for people who use Facebook to discover more useful things in their area.
A great feature of these ad campaigns is the ability to reach people who are as close as 1 mile/kilometer from your business, giving you much more control on your targeteting.
Even better, you can select unique call-to-actions that are only available to Local Awareness Ads – Get Directions, Call Now, and Message! With them, you can encourage people to book appointments, make reservations, or help them find the location of your business with ease.
Now that you know what Local Awareness Ads are, let's see how you can create them in Power Editor.
How To Create Local Awareness Ads:
First, open the Power Editor and click "Create Campaign".
Give your campaign a descriptive name and choose the "Local Awareness" objective from the drop-down menu. Name your ad set and your ad, and click "Create".
Next, navigate to the Ad Set level to choose your settings: the budget, the schedule, the target audience, and the placements where you want to show your ads.
For the target audience, begin by entering your business address. Then, choose the radius for your targeting – from 1 to 50 miles around your business:
You can also specify whether you want to reach everyone in that location or just a subset of people:
Finally, select the age and gender of your target audience, and use Detailed Targeting to add relevant interests, so that you reach those users who are more likely to respond to your offer:
With Local Awareness Ads you can only choose from two ad placements: Mobile News Feed and Desktop News Feed.
Also, the campaign will automatically be optimized for "Daily Unique Reach" – delivering your ads up to once a day to the same person – so that you don't overwhelm customers with too many ads.
Once you are happy with the settings, navigate to the Ads level to design your ad.
Designing Local Awareness Ads:
You have a few options when designing a local awareness ad.
First, you can choose whether you want to use a single or multiple images for it. If you have numerous offers to display, choose multiple images (also known as carousel ads).
Then, chose the destination to be either your Facebook page or a website URL: with the former, people who click on the ad will visit your Facebook page, and with the later they'll go directly to a page on your website.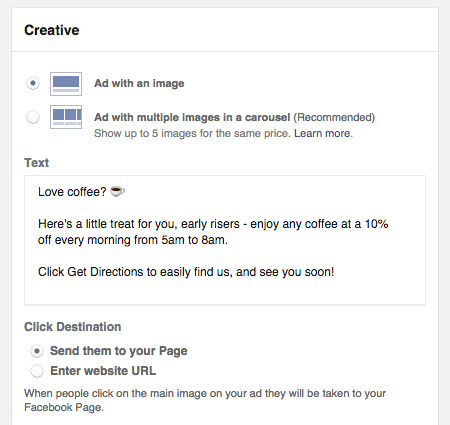 Most importantly, choose from four call-to-actions:
Learn More – take people to a website page or custom tab with more information,
Get Directions – open a map with the directions to your business,
Message – open the Facebook message window to contact your business,
Call – allow users to contact your business via phone.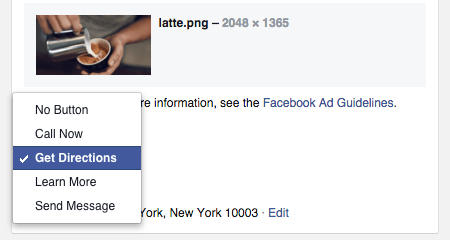 These call-to-action buttons are designed with the direct response in mind – to generate inquiries, requests or reservations, or get people through the doors of your business.
Finally, present your offer in a compelling way: write benefit-driven ad copy and headlines, and use images that are related to your offer.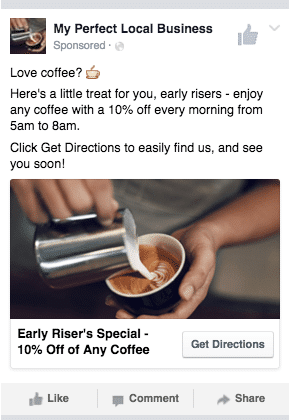 As with any other images on Facebook, they will have to comply with the 20% text rule – your ad images can't have more than 20% of text on them, which you can easily check with the Text Overlay tool.
Once you are happy with the campaign settings and your ads, click on the big green button in the top right corner – "Review Changes" – to confirm your choices and upload the ad campaign to your ad account.
If everything is good, you should now have your first ad campaign set up – congratulations!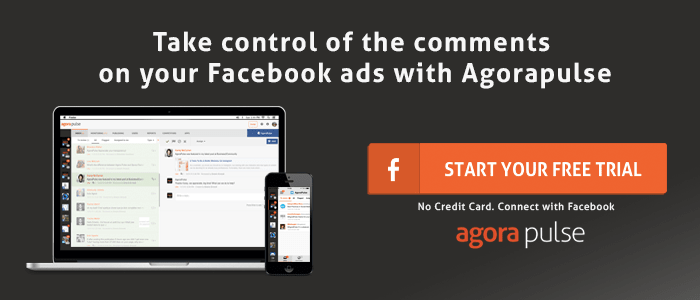 3 Ways To Use Local Awareness Ads:
Here are three successful examples of how other businesses are using Local Awareness Ads on Facebook.
#1: Logos and T-Shirts
"The custom t-shirt printing and embroidery shop used Facebook local awareness ads to reach people within 5 miles of its business, achieving a 12X return on ad spend."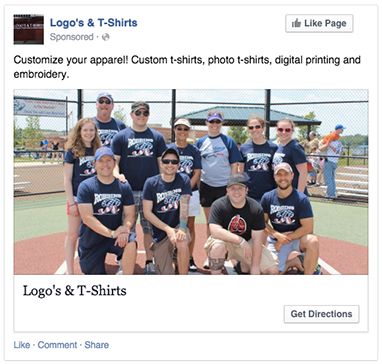 #2: Boba Guys:
"Boba Guys used local awareness ads and boosted posts to test local interest in a new location and drive foot traffic to existing locations, reaching up to 10,000 people and achieving a 9X return on ad spend."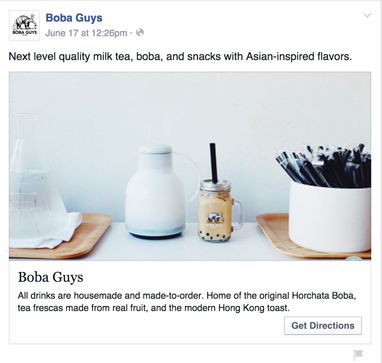 #3: Distinctive Gardens:
"Illinois-based plant and landscaping business Distinctive Gardens increased total sales for its annual Christmas tree fundraiser by 2.8X using local awareness ads."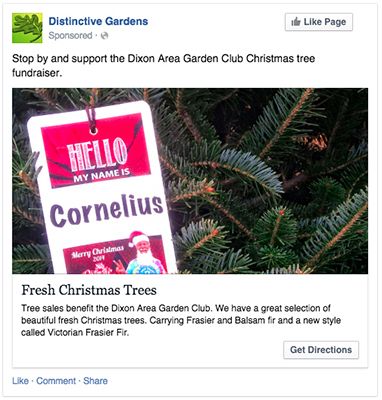 Facebook Local Awareness Ads can be a truly powerful promotion tool for your business.
Use them to reach people who are close to your business and encourage them to take an action – make an inquiry or a reservation, contact your business via Facebook messages or phone, or visit your local business.
What do you think of Local Awareness Ads? Will you be using them to promote your business? Or have you used them already?