In March, the whole Agorapulse team traveled to San Diego on a mission to attend the best sessions at Social Media Marketing World, compile notes of the key takeaways and share them with you. We've created 20 blog posts from those notes, here's one of them!
Title of the session: How to Use SlideShare for Business: The Success Formula
Speaker: Todd Wheatland
Why you should read this session's transcript: Since its acquisition by LinkedIn, Slideshare has become one of the most efficient platform to distribute your content and generate high quality leads. But because it's yet mainstream such as Youtube, there is less competition and very few people are doing it right on slideshare. But more importantly, the audience is very high quality. Lots of opportunities for those of you who will do it right! If you are looking to take your content marketing strategy to the next level in 2014, Slideshare is well worth considering, and that article will give you an unfair advantage!
The stat: 60 million people visit Slideshare every month. That's huge exposure for your content. That's also a lot of SEO power for your content.
The facts: Looking at the most commonly shared subjects on Slideshare, Business and Social Media are 2 of the 6 most mentioned keywords. That's evidence that the audience on slideshare is way more targeted than Youtube for example. Highly probably more in line with your audience than a lot of other venues.
Quote from the session: "Jay Baer, Joe Pulizzi and Leed Odden are 3 incredibly successful speakers and entrepreneurs. They have all built multi million dollars businesses. All 3 say that slideshare is their best source of new leads! Whoever you're selling to, there's a solution for you to capture them on slideshare."
A little background information about the state of Slideshare in 2014
As of today, Slideshare gets 60M visits a month. That is significant traffic for a BtoB audience.
Since they've been acquired by linkedin, it has been tightly integrated with LinkedIn and that has help take slideshare from a content repository to a real community.
Slideshare makes promoting content very easy via embedded social sharing features and sharing via your linkedIn network.
It also offers great ways to "monetize" that content via easy call to actions inside the presentation. You can even link to all your other slideshare resources at the end of the presentation, leading more traffic to your existing content: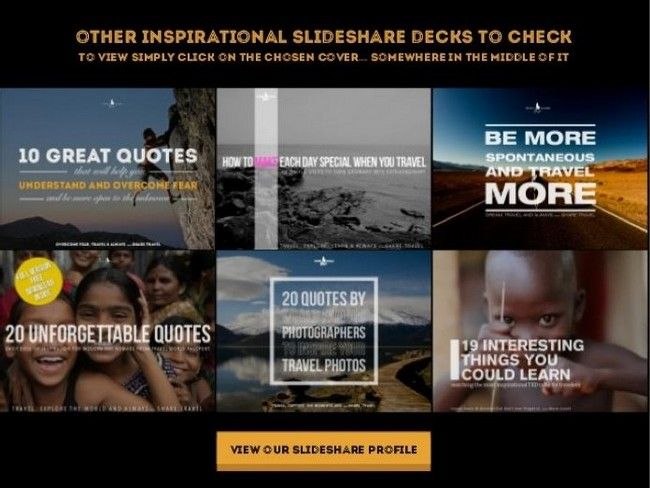 But more importantly, you have access to embedded lead generation forms that can be included anywhere in the deck: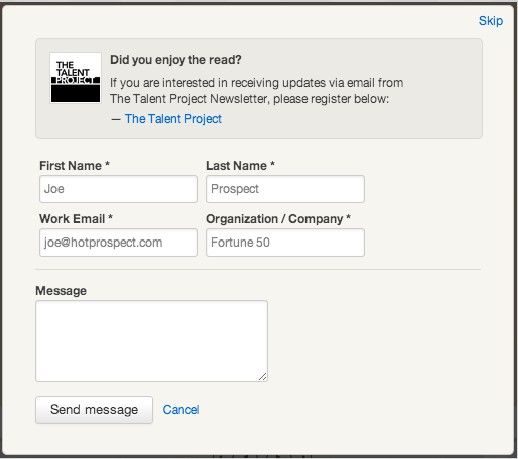 Concerning the lead generation forms, don't make it mandatory, make it an option, make an exciting offer people want (have!) to get.
You need to connect your linkedin and Slideshare profile because that will allow Slideshare to display the "trending in your network" section on Slideshare. That can lead up to 25% of all your slideshare visitors!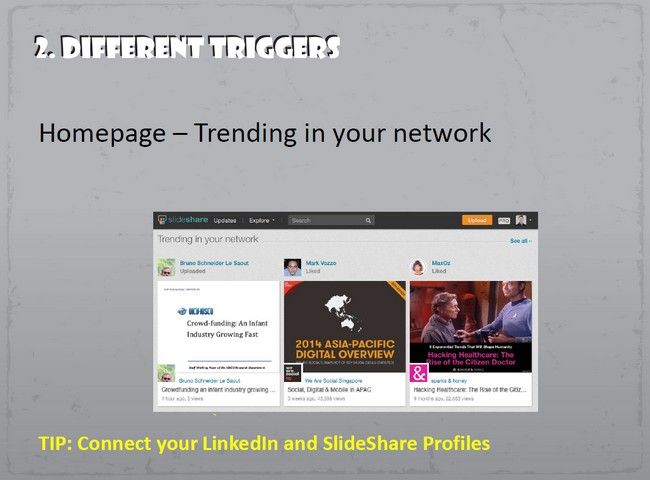 Make sure you understand how Slideshare will fit in your content marketing strategy
When creating content on Slideshare, you have to be intentional:
o
Who is this content for?

o

Where are they in the buying cycle?

o

What do you want them to do with it?

o

How does it relate to your other content?
For example, in our situation, If I was considering doing a slideshare presentation about the key metrics to monitor to measure the performance of a Facebook page, I would answer these 4 questions as follows:
o
That content is for agencies managing social media for clients

o

They are looking for tools to deliver greater value to their clients

o

I want them to try my facebook page performance reports

o

I can link the slideshare to my free tools and 3 blog posts I've already written, plus a 20 minutes webinar
That would help me a LOT to confirm the validity of that content to make sure it helps me achieve my goals!
The key to success on Slideshare: turn written content into visual content!
First of all, when it comes to the format: go for the horizontal format, not the vertical one.
Also, you REALLY have to change the way you approach content, especially if you are used to written content (blog, ebook, etc.).
Slideshare is a different beat, you really have to think visually.
To illustrate how this needs to be done, Todd shared a great example of his own making. They had a great, insightful report on "Employee engagement and retention". That document was heavy on words and did not contain a lot of visuals. As this was their main lead generation materials, they needed to get email addresses from people interested in reading it.
They uploaded that document on slideshare, but it did not go well. Very little views and very few leads.
Here is how the initial report looked like. Lots of text, small graphics, not a good fit for Slideshare: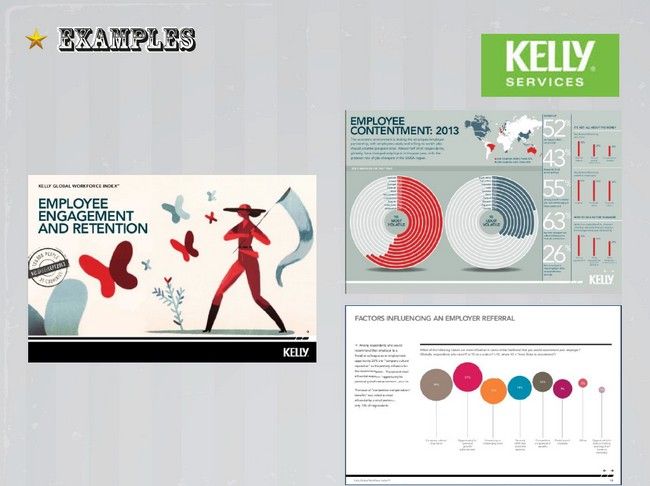 They then created a more visual version focusing on one aspect of the ebook: "why workers are leaving and what you can do about it". It did better, but not quite enough to lead to the result they were expecting. Here is that more visual version that did better. It's more visual, so it's better. But still not as good as it should be: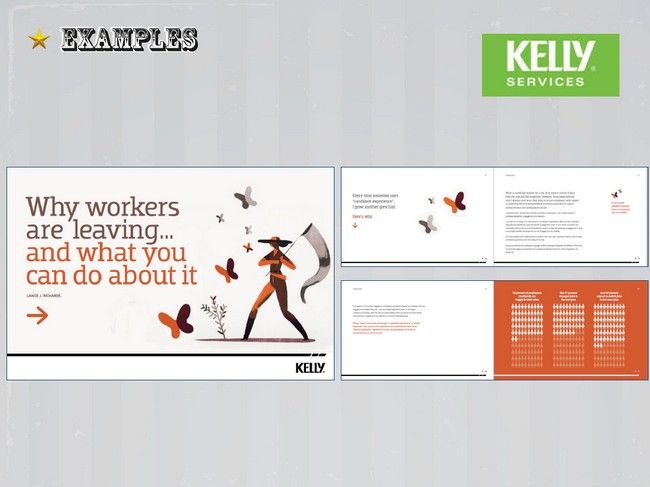 They ended up creating a highly visual presentation with very few facts and figures but very visual slides.
This lead to a lot of shares and views (11,000!) and that presentation then led to a link to download the original lengthy ebook thourg a lead gen form. They ended up with 250 qualified leads!
Here are the very visual slides that ended up with and that worked so well: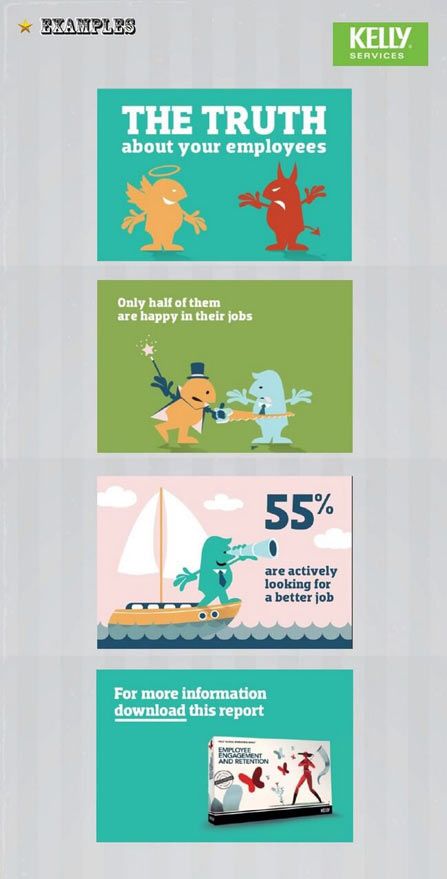 I can't thank Todd enough for that GREAT business case, it says it all!
Now you have the recipe for success on Slideshare:
Take a great piece of content that you'd like your audience to download (lead gen), cut it into pieces and make a highly visual (almost infographic like) presentation on Slideshare. It will get shared MUCH more and will lead to a great number of views. Add the right call to action at the end. You have a winner!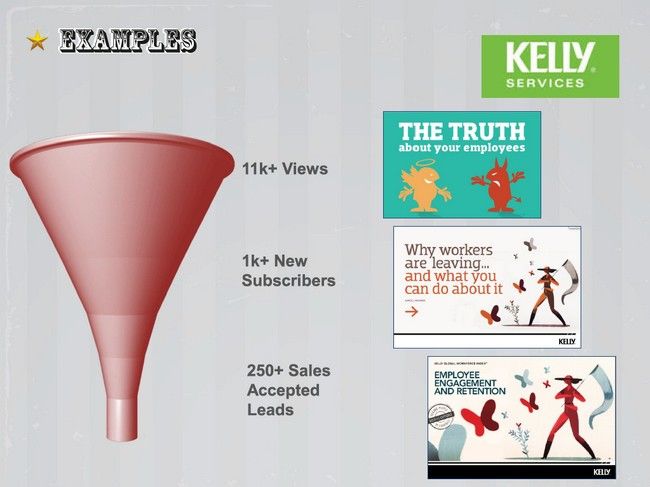 Got it, but I'm not a designer, how can I create good looking visual content?
Now, as slideshare is heavy on visuals, there is a problem most of us are challenged with: we are not designers and using a designer to help us come up with highly effective decks on slideshare is time consuming and expensive!
But the good news is: you don't have to be designer to create awesome decks on slideshare with eye catching visual content, there are several tools that can help you do that without requiring you to be an experienced designer!
Here are 3 tools which will help you create visual content for Slideshare:
Canva
We use Canva at Agorapulse and we really love it. It takes a little bit of time to master it and create high quality visuals, but that is nothing compared to calling a designer every time we have a visual to create. Highly recommended.For example,
that infographic was created using canva
, and it looks damn good!
It is an iPad app, try it if you are mainly using an iPad to create your slides.
A very effective tool according to Todd. Next on our "tools to try" list!
Finally, an interesting question came from the audience: "If I share my best decks on slideshare, my competitors will steal my best stuff."
Todd's answer (and we agree!):
don't be afraid to share your decks on slideshare, people will not "steal" from it, they are not you! This will demonstrate your skills and expertise. Also, you don't have to give them the whole thing, give them a preview and a chance for them to register for the full thing!
What's your take? Are you already a slideshare master? Does this post motivates you to give it a try? Let me know!