Need to have a picture-perfect Instagram strategy? Check out these tips for how you can make the absolute most out of the popular social media channel.
Instagram is now one of the top social media platforms with over 2 billion monthly active users and 200 million business profiles.
"Instagram was reported to be the second most used social media platform by marketers in 2022, with 79 percent of respondents saying they used the app to promote their businesses," according to Statista.
Which tools are available to digital marketers on the social media platform and how can you utilize them effectively?
In this article, I'm going to show you how to create an Instagram strategy that hits your KPIs.
1. Recap on Your KPIs
Before we get into your Instagram strategy, let's recap on your KPIs (key performance indicators).
Often, marketing departments will set generic KPIs without understanding how each social media channel can help you to achieve them (or not).
So, what do you want your Instagram marketing to achieve? You can choose from these goals:
Instagram strategy goal #1: Grow an engaged online community
If your KPI is to grow an engaged community, then which channels do you want to focus on?
Growing an engaged community on Facebook, Instagram, Twitter, LinkedIn, TikTok, YouTube, and Pinterest is possible but will require a lot of resources.
If you want to grow an engaged community on Instagram, you can monitor this by tracking likes and comments on your Instagram posts and Stories.
What is your engagement rate? (likes + comments ÷ no. of followers x 100).
The point is to see growth, replicate successful posts, and fine-tune your approach.
Can't be bothered working it all out? The Agorapulse reporting feature does it for you.
Related read: How to Create Power Reports That Shine
It tells you your followers, engagement, impressions and brand awareness score. Plus, you can benchmark month on month or year on year changes.
Instagram strategy goal #2: Increase brand awareness
You can monitor this KPI by tracking shares and listening for mentions of your brand on Instagram. You can do this easily in your Agorapulse panel using the "listening" tab. Increasing brand awareness can be done organically without spending your budget.
Agorapulse's easy-to-use Power Reports allow you to pull off impressive data each month or quarter to show your client or boss. This takes all the guess work and stress out of social media KPI reporting!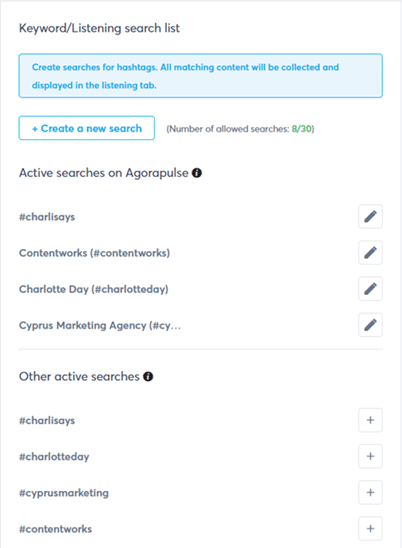 Related read: How to Better Position Your Brand
Instagram strategy goal #3: Drive sales
To drive sales on Instagram, you can track web traffic via Google Analytics, landing page views, or Instagram Checkout, which lets users buy products from brands directly on Instagram without leaving the Instagram app.
For paid advertising, you will want to be on top of your KPIs and ROI (return on investment) because this costs money. Instagram Checkout fees are significant, especially for small businesses. The selling fee is 5% per shipment or a flat fee of $0.40 for shipments of $8.00 or less. You keep the rest of your earnings.
Instagram has temporarily waived these fees but bookmark this date when they will ramp up again:

Brands have seen great success with the Instagram Checkout feature. MAC cosmetics boasted these incredible stats with a goal to drive sales.

Kiehl's, a personal care brand specializing in skin, hair and body care products drove great sales, too. This was via a combination of Facebook, Instagram, Messenger, and Instagram Direct.

"Since Instagram is often used as an online destination to discover beauty products and inspiration, we had the perfect opportunity to connect virtually with customers on the platform. Despite the travel restrictions, we were able to encourage people to explore Kiehl's curated range of products and buy directly via our Instagram Shop, reducing friction and easing the path to purchase," said Jesslyn Foo, Marketing Manager, Kiehl's Malaysia
Translating your KPIs for each platform will help you choose the content you post, the budget you will spend on advertising and the outcomes you need to achieve.
2. Make Sure Your Target Client Fits the Instagram Demographic
Does your ideal client fit the Instagram demographic?
It's so important to know your demographic. Though Instagram is one of the top social media platforms, it doesn't mean you have to be on it.
"In March 2023, 27.7 percent of Instagram users in the United States were aged between 25 and 34 years, whilst 25.7 percent of users were aged 18 to 24 years. Overall, under seven percent of Instagram users in the U.S. belonged to the 13 to 17 year age group, and those aged 65 plus accounted for just 4.7 percent of users." (Statista)
Taking it a step further, Research by Facebook on Instagram highlights the following as top interests on the platform.

Think of it as a meeting of minds.
Instagram users want to dive deeper into their interests and discover new ones. They're eager to learn, connect with a community and hear from the people and businesses that inspire them. Meanwhile, you as a business and content creator can use your messaging, copy, and creative to help immerse people in their interests.
You can excite your audience, create a community, and drive sales.
Of course, there are tons more popular categories on Instagram including parenting, design, and pets.
But if your brand really doesn't tick any of the demographic boxes then you might need to rethink. You could also take a sneak peek at your competitors. Do they have Instagram? What hashtags do they use and what engagement are they getting?
Once you have established that your target client fits the Instagram demographic, do a little research on their behavior.
To produce great content, captions, hashtags, and campaigns, you need to know what your followers like seeing in their feeds.
If you have an Instagram account already, it's easy to check up on your followers by running an Agorapulse report. There you can check the best times to post, the most popular hashtags, top posts, most engaged fans and much more. You can see below that my most popular hashtag is #amwriting for example.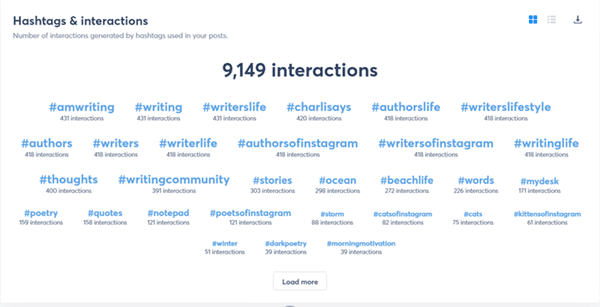 Audience research doesn't take a long time and can uncover some very interesting insights that will help build your strategy.
3. Assess Your Resources
Here's where you need to be very realistic about your brand's resources. That's time, budget, and people to work on this Instagram strategy.
Researching other brands and their strategies is great. Aspiring to their success is awesome. But, there's no point trying to copy Starbucks ' Instagram strategy when you don't have its resources.
Let's check in on what you need.
Designs/photos
Instagram is all about visuals, so you need to have a plan. Are you going to post branded JPEGs or actual photos? This will depend on whether you have physical products to display, events to attend, a large team, a physical location, or clients you can feature.
Example: Contentworks Agency IG is predominantly photos of our team, clients, partners, and events. The vibe is fun, carefree without too much styling or filtering.
We post lots from events, lunches, parties, and meetups and never include infographics or promotional videos.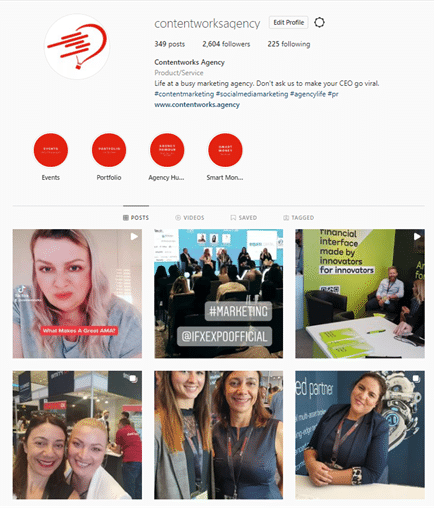 Meanwhile, brands like Paperchase focus on product only. Nothing is by accident on this IG with symmetrical lines, stunning visuals, desirable colors, and pleasing arrangements. Stationery is HUGE on Instagram, but it's all about the layout and aesthetically pleasing designs.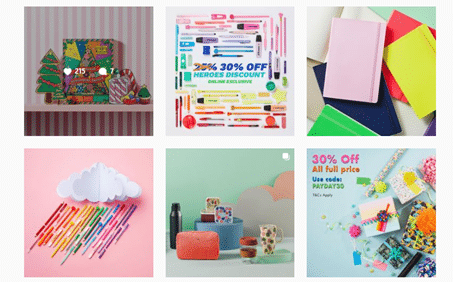 Equipment and resources
The good news is you don't need a huge design team to succeed on Instagram. A high-quality smartphone and someone committed to managing the channel is enough to begin. You will, however, need a writer or a social media manager who can write great captions. This is key.
If you have a designer and videographer, this is a huge plus for creating engaging video Stories, Reels and gifs. (Check out my article winning at social media on a budget for more hints and tips.)
4. Meet the Suite
Now you know your KPIs and resources, which of Instagram's great tools will you be focusing on and what will you need for them?
Instagram Posts: Permanent posts that form our profile grid. You can add multiple images and videos to each post and your audience can swipe to see them all. This provides a great opportunity to tell a story or describe a product in more detail.
Here's a great example from AirBNB, one of my Instagram favorites: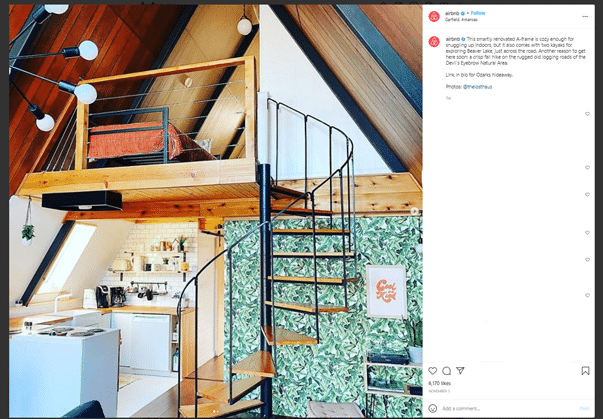 First the "get you interested" pic and summary.
Then a deep dive into some of the property's stunning features or a photo taken from another angle like this one.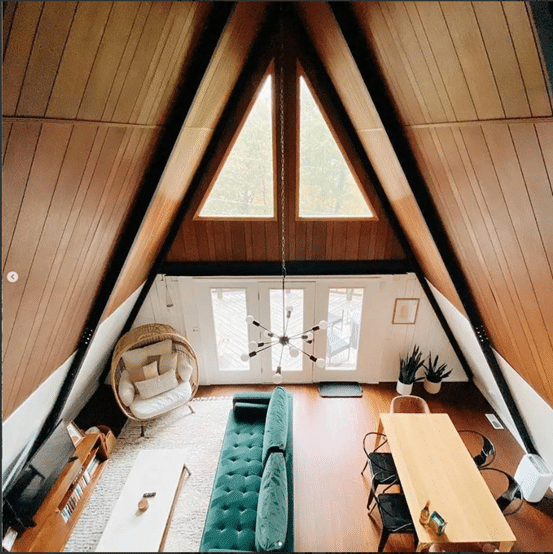 If you're selling products or experiences, the more detail you provide, the more likely you are to make a sale.
Instagran Carousels
Utilize Instagram Carousels to showcase your product range like Ted Baker . This beautiful Carousel saw a 2-point lift in ad recall and 22% increase in sales to 18-24-year-old buyers. Not surprisingly.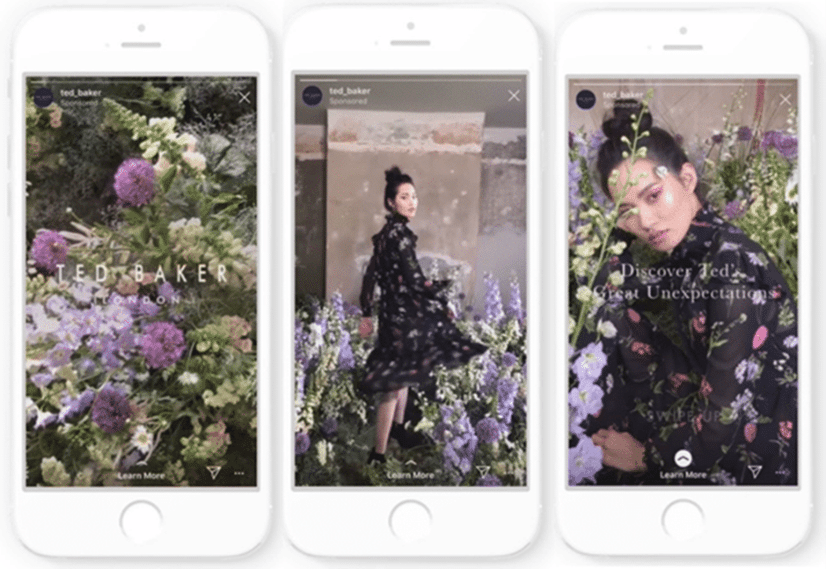 Carousels are a great way to show how things work together. For example, a dress with a matching bag, shoes and coat. Or a beauty range used on different skin types.
Instagram Stories
Brand Stories have an 86% completion rate. That's huge compared with other forms of communication like blogs and long-form videos. IG Stories offer brands so many choices. These revolve around styling and effects and mean you can really add your brand stamp.
For example, you can:
Change your text to your brand colors.
Create a "revealing" story series.
Layer photos on video.
Add a link sticker.
Unlock secret GIFs.
Save your favorite stories filters.
Save your stories to highlights to keep them visible.
Related read: Instagram Stories: Everything You Need to Know
One to watch for innovative and engaging Stories is National Geographic (NatGeo). Their Stories cover live events around the world, educate and explain all about nature and wildlife. Of course, we don't all have NatGeos budget for travel and filming, but the core principles remain the same. Great photos/videos, good use of stickers, nice explanatory text and a good presenter.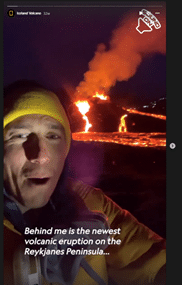 IGTV/ Instagram TV
Instagram finally acknowledged that IGTV wasn't working out and in early 2020, Instagram dropped the orange IGTV button from Instagram's home page due to lack of traction. It's rebranded IGTV as "Instagram TV," and got rid of the exclusive IGTV video format. Videos posted to the main Instagram feed can now run up to 60 minutes long. You also don't need to leave the main app to view them.
A spokesperson for Instagram says the IGTV app, now called the Instagram TV app, will remain as a "destination for people to visit with the intent of watching video."
Instagram TV is not designed for professional videographers. Most of the platform's hit successes have been crafted by talented social media managers.
Instagram TV is a vertical video platform. That means you can't always reuse your horizontal videos! The platform is optimized for 9:16 vertical video but it will support 16:9 horizontal video.
Instagram TV is a great place to showcase your events, seminars, company parties and launches. Especially now they can be up to 60 minutes.
The IGTV app isn't going away. It is rebranded as "Instagram Video" and will host the "Instagram Video" formatted content and Instagram Live videos. But it won't host Reels.
Instagram's official account publishes 3-4 minute long takeover videos by famous characters, such as Dolly Parton or Pontus Jansson (a popular rock balancer). You can steal their style by inviting micro influencers, partners, clients or friends to share a takeover video. This will expand your audience reach and wake up your followers.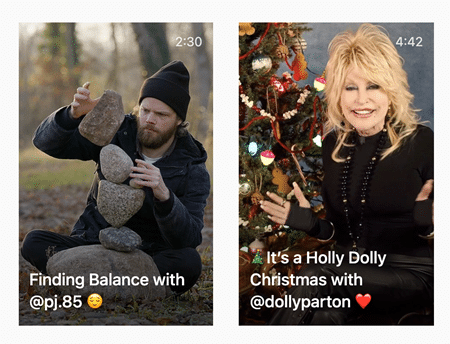 Reels
Create fun 15-second videos. Instagram's answer to TikTok. Reels is Instagram's answer to TikTok.
Related read: What Instagram Reels Mean for Social Media Managers
With Reels, you can record and edit 15-second videos, add sounds and effects, and then share the videos. Instagram Reels includes a wider range of video editing tools, effects, and speed controls than Stories.
Reels are more than just a cool sticker you can use to embellish your Instagram Story. They have outstanding visibility. The top video on many "explore" feeds is Reels content, which is displayed much larger than other posts on the page.
10 Instagram Reels hacks for creating engaging and click-worthy Reels
Create creative original content.
Share popular TikToks to your Reel. (you can remove watermarks)
Use Music from the Instagram library or create your own audio.
Include Closed Captions to be inclusive.
Utilize daily trends and plan for seasonal trends.
Share your Instagram Reels to your feed.
Share educational content and how to's.
Research and include the right hashtags.
Share the Reel to your Instagram Story.
Reels still has one major flaw though. It doesn't offer a consistent way for creators to get paid. Not like YouTube and TikTok do anyway! Facebook plans to pay $1 billion to creators by the end of 2022.
Instagram now has so many tools for marketers to play with. Your strategy might also include micro influencers, user generated content, and brand collaborations. The key is to remember your demographic, keep your account on brand, be consistent, and most importantly, have fun!
Instagram reels are now available in your Agorapulse social media inbox, social media listening, and publishing
Reels Reporting is coming soon!
Please note that this new feature is not available in legacy plans. If you want to have access to Instagram Reels from your Agorapulse account and you are a Legacy plan user, please get in touch with our Customer Success Team. They can help you to pick the best plan for you within the new plan structure.
5. Document Instagram Brand Guidelines
Brand guidelines include:
Colors
Fonts
Logo presentation
Other key elements of your visuals.
If your brand is established, you may already have brand guidelines, which is great.
Having documented brand guidelines means any member of your team or an external agency can manage your online presence and maintain seamless consistency. However, you might need to annex a few extras for your Instagram account.
Here are some additions to include.
Filters
The filters you use on your posts (if applicable) can really create your Instagram brand. Noting them down along with any edits on brightness, color, and saturation is a good idea. In fact, the type of filters you use can really contribute to brand recognition and brand awareness.
Color palettes matter. You need to choose brand colors and stay consistent with them when posting your content. Plan and design content in advance, so your images look aesthetically pleasing in the grid like Halo Top.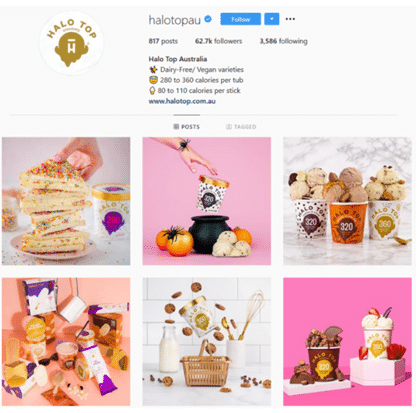 Your top hashtags
Whilst product and campaign hashtags will vary, there may be a core set of hashtags that define your brand and sector. Keeping a note of these in your brand guidelines makes it easy to add to them into posts. If there are hashtags you don't want to use, add them in a "banned" section of your guidelines.
You will need to watch out for relevant trends too. If it's #CupcakeDay and your bakery doesn't use that hashtag you could be missing out!
Your fonts
Your Instagram image font doesn't have to be the same as your Web or email font. It's Instagram. Have some fun! That said, it's a good idea to keep a note of the main fonts you use on your posts. If you use Canva, you can save these in teams. Canva Teams makes it easy to stay on-brand with logos, sharable color palettes, and font. Using the same font on all your images makes your Instagram page look tidy and helps to cement your brand.
A good example is Sainsbury's who use their brand colour and font to stay consistent.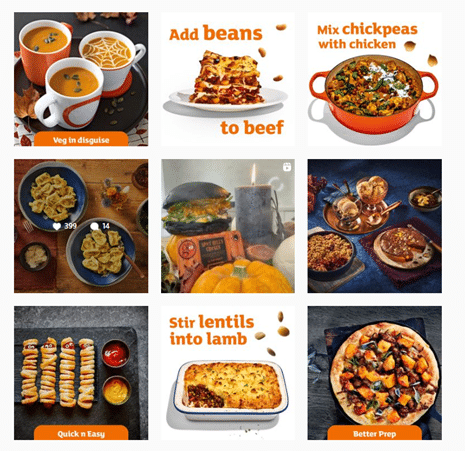 Your tone
Your TOV (tone of voice) should be consistent with your brand overall. However, it can be tweaked for Instagram. For example, if your brand voice is formal and professional on your blog, it might use emojis and a friendlier tone on Instagram.
Your reply policy
The way your respond to comments, Story mentions, or tags is all part of your branding. Do you acknowledge tags? Do you share Stories featuring your brand? What about how you handle complaints?
Don't Do That!
If you want to succeed with your Instagram strategy, avoid these 5 mistakes:
Posting random or poor quality image
Not using hashtags properly
Posting boring content or repetitive content
Not following seasonal trends
Not engaging with your audience
In Conclusion
An Instagram strategy, as with your other platform strategies, should be reviewed and adjusted yearly.
Take note of what worked well, what didn't, and keep running those reports.