Have you ever wondered whether you should update your Facebook page more or less? We've already seen one example of how more posts to your Facebook page increases organic reach. Now, let's look at another one: Courier Mail.
The Breaking News Strategy
Courier Mail is Brisbane and Queensland's best news source, bringing exclusives, breaking news, sport, and entertainment stories online. They don't just stick with local news, however. They post the latest news headlines from around the world – first on their website, and then on their Facebook page.
//
Unlike many pages that just receive likes for their stories, each post on the Courier Mail page receives likes, shares, and comments. Sometimes, the comments even exceed the number of likes.
//
What's even more interesting is that their stories get immediate engagement by fans. The one below, for example, had 36 likes and 17 comments within 16 minutes of publishing.
//
Results
For a Facebook page that depends purely on organic reach (no paid ads), they (at the time of writing this post) have a huge number of people talking about their page.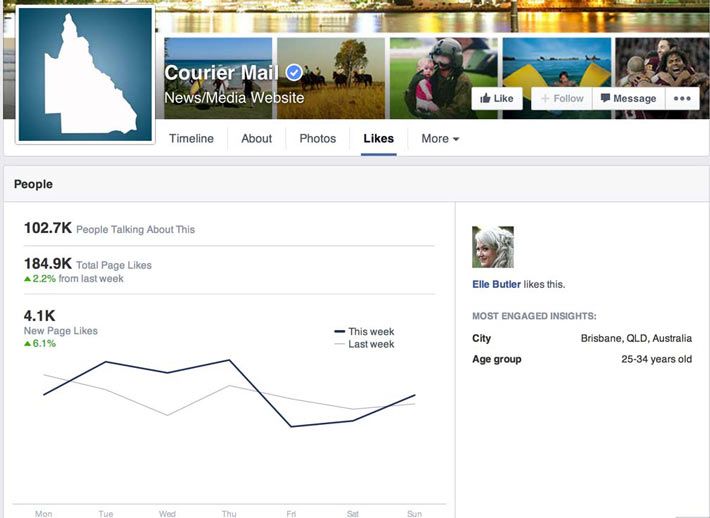 Most page owners merely dream of having this kind of engagement. What's even better is that although they cover news worldwide, their most engaged audience is their target audience of residents in Brisbane. Plus, they've got great stats compared to other popular news / media outlets. We used the competitors' benchmarking tool from Agorapulse to compare the performance of the Courirer Mail page with news outlets Behemoth such as The Wall Street Journal, USA Today of the San Francisco Globe (for the local news side).
Courier mail is far, far ahead of the engagement game with an equivalent of 330% of its fans engaged on the page over a 30 day period with the closest contender, USA Today is at 68%. USA Today is already doing an incredible job at generating engagement, and they have the bandwidth for that. Courier Mail is just an inspiration for all its colleague from the media!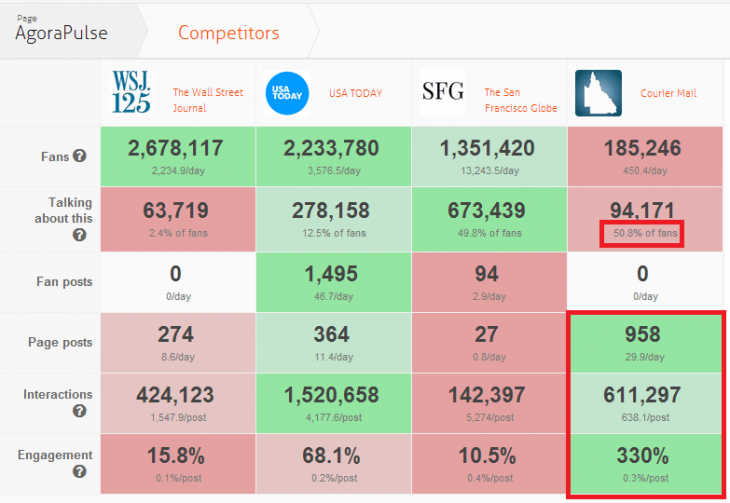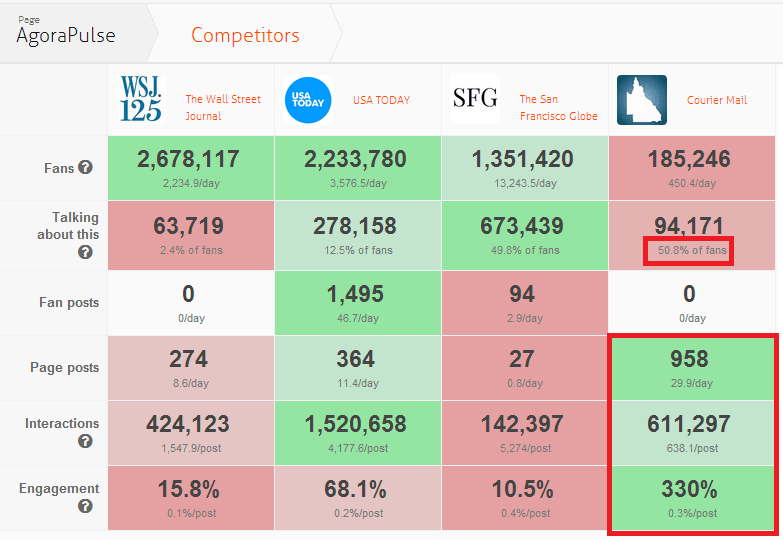 On a side note, their website is also within the top 100 in Australia according to Alexa rankings. While Facebook is not their sole traffic source, Alexa lists Facebook as one of their top traffic sources.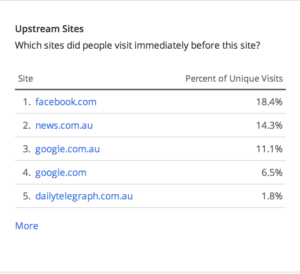 Takeaways for Your Business
Chances are, your business is not a news / media outlet. But that doesn't mean that you can't replicate the success of one such as Courier Mail.
First, you will need to identify the type of news stories your audience would be interested in. Take AgoraPulse, for example. Fans of their product would be interested in – you guessed it – news about Facebook. Your fans could be interested in automotive news, entertainment news (you're lucky if this is you, because there is a never ending supply of breaking news in entertainment), fashion news, local news, marketing news, or other relevant topics.
Second, you will need to find some good news sources to monitor for any breaking news in your industry. The best approach to this is to subscribe to blogs / news sources via RSS using tools like Feedly. This way, you can see the latest headlines immediately. Alltop is a great source for finding blogs / news sources on specific topics, such as Facebook.
Third, if you want to benefit from having multiple posts per day that can drive traffic back to your website, you will need to figure out your content strategy for breaking news. You can either announce the breaking news item like a news / media outlet would, posting an announcement and citing other sources as quickly as possible on your own blog or news section. Or you can put your own spin on the breaking news by saying how it should be handled.
While this might sound like a lot of work in the content development area, it doesn't have to be. Remember that most news / media outlets start with a short article that gets updated throughout the day as more details emerge. You can always use updates to the article as a way to get people back to your website again by promoting major updates on your Facebook page as well as other social networks..
Finally, once you've published an article on your website, you will be ready to post a link to it on your Facebook page like this one covering the rollout of the new Facebook page design.
//
You will accomplish three things with this strategy:
o
You will keep your audience up-to-date on the news that matters to them.

o

You will post something that will drive immediate engagement as a hot topic in your industry that should receive a lot of shares, thus increasing your overall reach..

o

You will send lots of traffic from your Facebook page to your website.
It's a win-win situation. It's a strategy that benefits your audience, your Facebook page's reach, and your website traffic. And if you're smart about it, you can even turn the articles on your website about the breaking news into conversion opportunities to introduce visitors to your products and services.