Does your business depend on bringing new leads consistently?
Have you been using Facebook ads for driving traffic to your website, promoting your services and getting new clients?
Then you will like the newest addition to Facebook advertising platform – Lead Ads.
In this article, I'll show you exactly how you can create your first Lead Ads campaign with Facebook Power Editor tool so that you can get more leads, clients and sales.
What Are Facebook Lead Ads?
Recognizing the increasing need for businesses to measure the results of their ad campaigns, Facebook introduced Lead Ads in July 2015.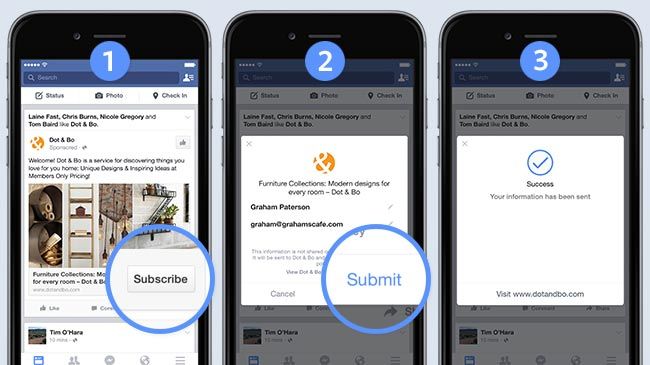 The primary goal of Lead Ads according to the press release: "make the mobile signup process easier by automatically populating contact information that people have given Facebook, like email addresses."
The biggest advantage of using them compared to other types of ads is a native signup flow, allowing people to click on an ad and sign up without leaving the social network.
Because contact details will be automatically populated form people's personal profiles, it will eliminate the usual pain points of online forms: filling out all of the information completely from scratch or dealing with mobile-unfriendly websites.
Why Are Lead Ads Important:
First, a massive number of people are using Facebook on mobile!
According to Facebook's second quarter results, as many as 1.31 billion people check Facebook on their mobile devices every month, and 844 million of those do it every day.
What's even more staggering – 655 million people connect to Facebook on mobile devices only.
So if you don't have a strategy for converting mobile users into clients, you are missing out on a huge potential audience and a tremendous business opportunity.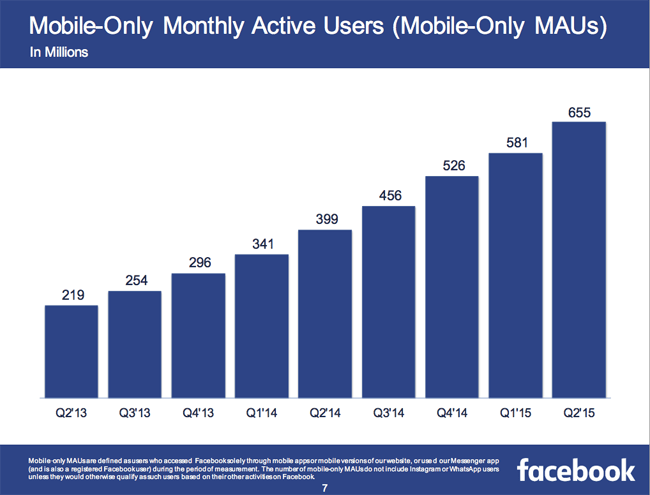 Up until now, most advertisers relied on the 'traditional' way of generating leads – create a compelling lead magnet with a dedicated landing page and use Facebook ads to drive traffic to it.
From my experience, this approach can bring amazing results on desktop but does not work on mobile equally well. Even with a much higher click-through rate and a lower cost per click, mobile traffic just doesn't convert well on most websites. And this is exactly where lead ads come in.
First, they solve the problem of slow page-loading speeds. As much as 40% of people abandon a website that takes more than 3 seconds to load, which can be detrimental to many businesses.
The lead ads, however, will load almost instantly and with very little data usage, so you can show them to people that aren't even connected to wi-fi.
Even more importantly – Facebook will automatically populate people's contact details, so they can sign up with as few as two clicks. And if some personal information wasn't provided or if users want to edit what they submit, they have that option too.
This, combined with the native signup flow, can make a big difference in your conversion rates and cost per conversion.
"But is cheaper always better?", I hear you say. Of course not!
I agree with Rick Mulready that there's more to a landing page, where people can read more information or watch videos about your product, than just to bring sales – it's to bring qualified sales.
So although lead ads could bring more contacts at a cheaper rate, their quality could also deteriorate because of little-to-no effort it takes to sign up.
The only way to find out – test it by yourself and see how they work for your business!
How To Create Your Lead Ads Campaign:
Now that you know more about lead ads and their importance, let's see how to create your first lead ads campaign.
First, head off to Power Editor and click "Download to Power Editor" at the top of the page. Select your ad account and hit "Download".

Next, click "Create Campaign" and choose the "Lead Generation" objective for your campaign: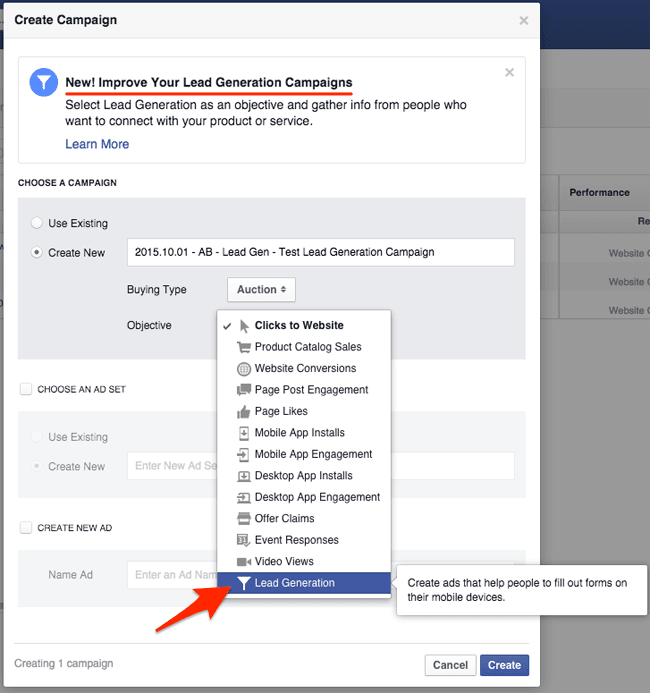 If it's not there, you can try to reset Power Editor – you can find the "Reset Power Editor" feature in the top right corner of the page, next to the "Help" button. And even if that doesn't help, you might need to wait for a few more weeks until it's released to all advertisers.
Next, navigate to the ad set level, create a new ad set and click "Edit".
On the ad set level, you will be asked to choose your Facebook Page and accept the Terms of Services for lead ads.
As with any other campaigns, you will also need to specify the campaign settings: Budget, Schedule, Target Audience, Placement, Optimization & Pricing, and Advanced Delivery.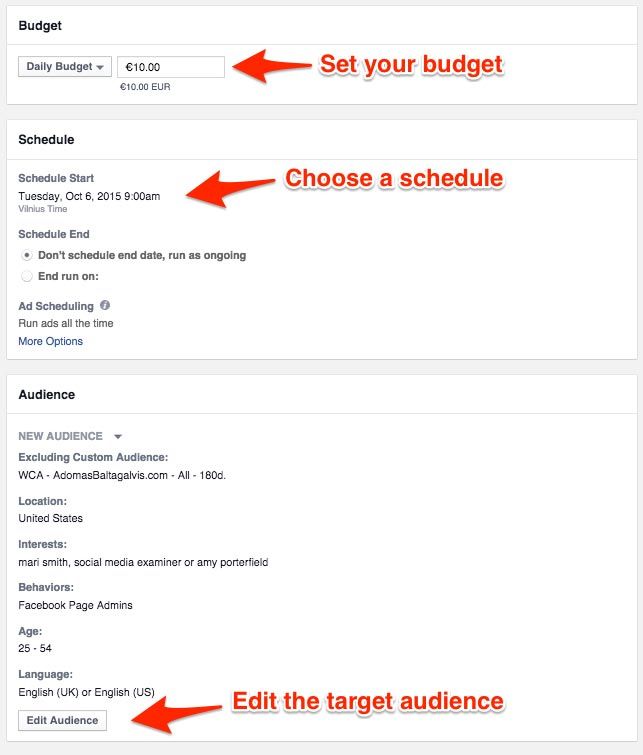 At the time of writing this article, the only placement that you could choose was Mobile News Feed. However, Facebook just announced that in the next few weeks leads ads will also be available in new formats, including video and carousel, and also on desktop.
On mobile, you can narrow it down even further by choosing whether you want to show your ads on Android devices or iOS devices only.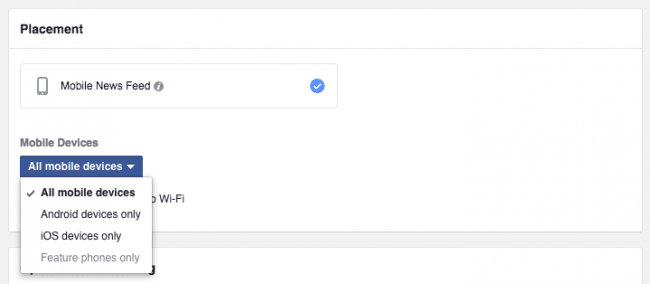 Finally, in the Optimization & Pricing section, select if you want to bid for Leads (recommended) or Clicks:
The former is very useful, as Facebook will use its own algorithms to optimize your campaigns by showing them to people that are more likely to convert. The later will focus on generating as many clicks as possible, including like, share, comment, like page, see more and other clicks.
Once you're happy with all the settings, move to the ad level.
Design your Lead Ad:
If you haven't already, click "Create Ad" and hit "Edit" to open the editing window.
You will see the usual fields for the ad creative: Text, Headline, News Feed Link Description, Image and Call-to-Action – fill them in!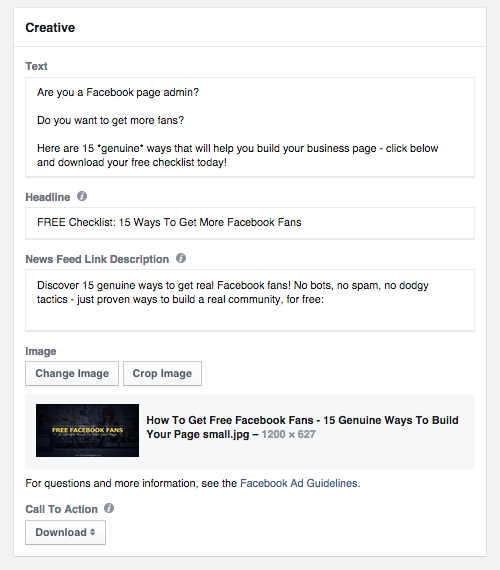 Regarding the creative, avoid the most common Facebook ad mistakes, in order to make it more effective. In particular, make sure the ad is value-driven and has a clear call-to-action at the very least.
As for the image, follow the advertising guidelines and make sure the there's not more than 20% of text on the image. Use the Grid Tool to make sure your image can be used.
Create New Lead Form:
Now the most important part of your campaign – creating a new Lead Form.
Click on "Create New Form" to open the lead form creation window:

First, choose a name and a language for your lead generation form: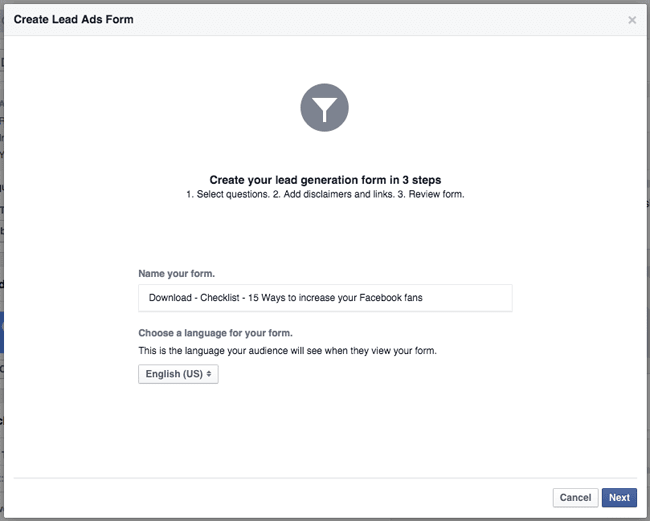 Next, select what user information you want to collect from people that sign up.
It can include: Contact Fields (First Name, Last Name, Phone number, Street address, City, State, Province, Country, Post code, Zip code), Demographic Questions (Date of birth, Gender, Marital status, Relationship status, Company name, Military status), and Work Information (Job title, Work phone number, Work email):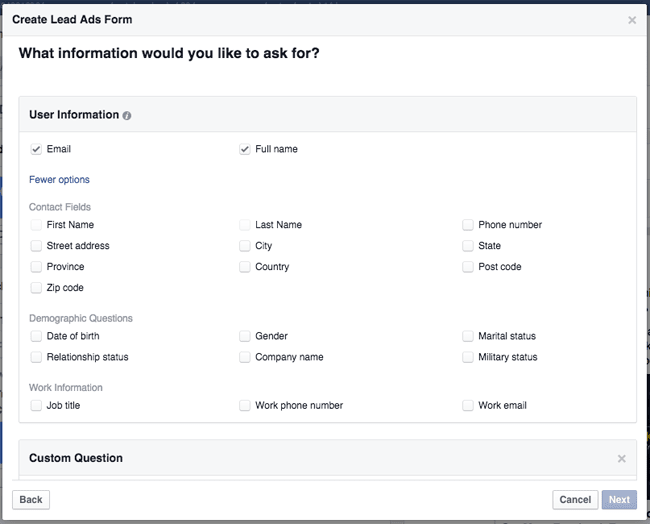 You can also add up to three Custom Questions to your lead forms if you require specific information.
Just click "Add Custom Question", enter the question headline and multiple choice answers, or leave it blank for open-ended questions: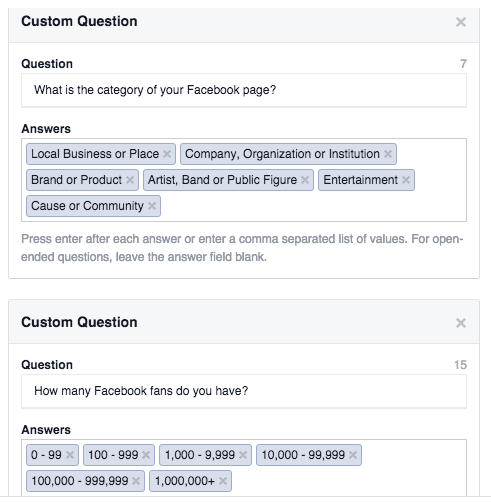 Once you're happy with the question and the information you want to request, click next to add a link to your Privacy Policy and add any optional disclaimer: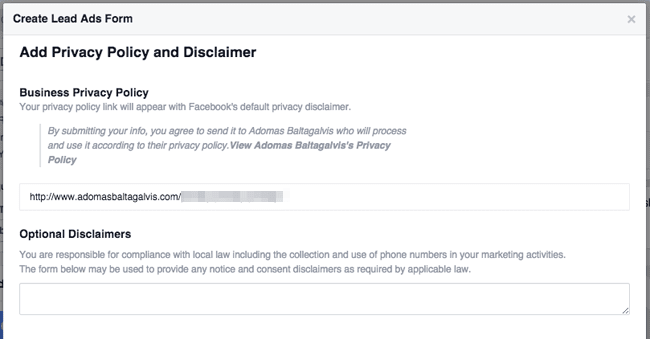 Finally, add a link to your website – it will appear as a call-to-action after people submit their contact details:

Click "Next" to get a preview of the form and, if you're happy, click "Create Form".
The ad will look almost identical to an ordinary website click. The only difference might be a different call-to-action that's not available for other campaigns such as "Get a Quote".
Once again, review campaign settings in the ad set level and check your ad creative for any typos.
Finally, click on the big green button "Upload Changes" at the top of the page to send your campaign to your ad account.
Congratulations – you just created your first Lead Ads campaign!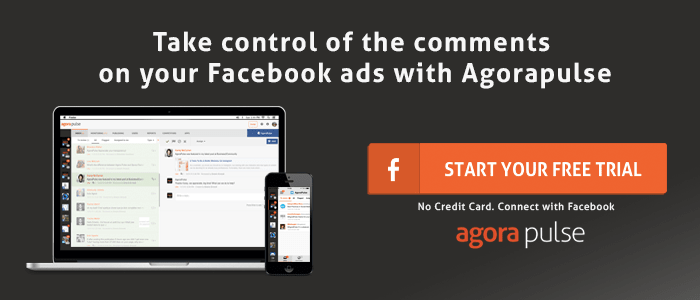 View Live Ad Preview on Mobile:
After you uploaded the changes, a new section of "Ad Links" will appear above the ad preview (still in the ads level in Power Editor).
What I love about it – you can click on the link 'View on Mobile', which will send a notification to the Facebook app on your phone with an active link to your ad.
You can then see the ad on your mobile phone and go through the sign up process by yourself, to make sure everything is working correctly: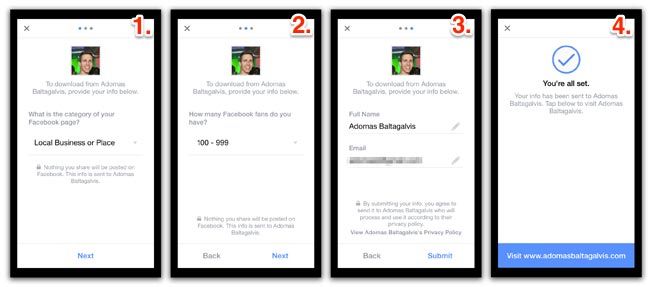 Retrieve Leads and Edit Your Lead Forms:
In order to retrieve any leads your ad campaign generated, go to your Facebook business page and click on "Publishing Tools."
Next, click on Forms Library in the sidebar to see a list of all forms that you created, together with a number of leads it generated.
Click on 'Download' to begin the download process – you'll download a .csv file with all the leads and the additional information people filled in:

Facebook Lead Ads Policies:
In addition to following the Terms of Service, you also need to comply with the Lead Ads advertising policies.
In particular:
Advertisers must not create Lead Ads Questions to request the following types of information without our prior written permission:
The same or substantially similar information using an Advertiser Question that you could use a Template Question to request;
Government-issued identifiers;
Financial information;
Account numbers;
Health information;
Insurance information;
Usernames or passwords;
Race or ethnicity;
Sexual orientation or information about the sexual life of the individual;
Religion or philosophical beliefs;
Political affiliation;
Trade Union membership status; or
Criminal or arrest history.
Summing this section up, you cannot ask any confidential information or information that might be used to discriminate people.
Pros and Cons of Lead Ads:
Yes, Leads Ads can make it super easy to sign up with just two taps on their mobile devices.
Yes, people don't need to leave Facebook and deal with slow websites, which can increase the conversion rates.
And yes, there are some great use cases for lead ads, that would suit almost any type of local or even online business: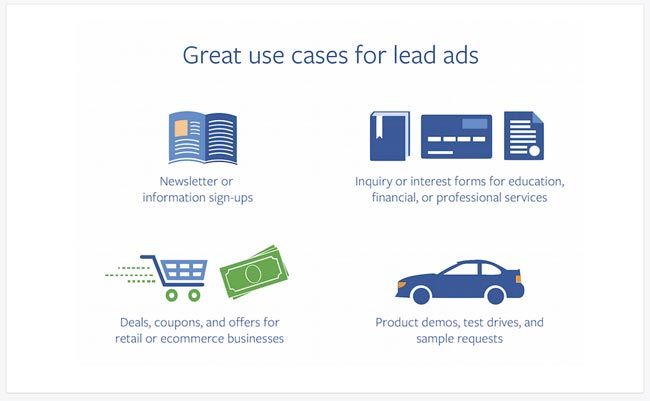 However, there are also a few drawbacks that I can immediately see with lead ads.
First, there's poor integration with other tools at the moment – so when someone signs up on a lead ad, you will have to go through the manual process of downloading the leads and uploading them to your email provider.
Although Marketing Partners like Marketo, Salesforce or Driftrock will be solving this by offering a custom integration via Facebook's API, that still comes at an additional cost to businesses.
Second, they do not go together with the tripwire funnels that would take people through more complicated sales funnels: from the initial sing up, to a thank you page, a sales page, and the upsell pages.
Third, and maybe most important, lead ads make any remarketing more complicated. In the traditional way of sending traffic to a landing page, not only can you get new leads, but you can also capture those that didn't sign up and re-engage them with other offers. This will not be possible with the Lead Ads campaigns.
Final Conclusions:
Lead Ads is a very interesting addition to the Facebook advertising platform.
There are many ways that businesses can utilize them: from generating more inquiries, contact requests, to getting new subscribers and leads.
The fact that they can only be shown on mobiles devices is both a pro and a con. So like with any ads, they should be tested and evaluated for each business independently.
And what about you? Will you be using Facebook lead ads? Let us know in the comments!