You likely already know that Facebook will ban Fan Gating on November 5. You can read more about how banning the Like Gate option will affect you and the social media marketing industry: here.
Agorapulse has always been designed to make compliance with Facebook's TOS easy for you. We'll be disabling our Fan Gate option on October 15. From then on, you won't be able to activate the like gate step to force Facebook users to become a fan in order to participate in a contest.
Consequences to your campaigns:
The like gate step will automatically disappear from your campaign apps' configuration view. All Facebook users will immediately access the welcome step as the first stage of your contest.
What about recruiting new fans?
Of course, we'll do everything we can do to help you recruit new fans through your campaigns. We've made it possible to add your page's Like box to the qualification form, so fans who are really interested in getting news from you can like your page from the same place they provide their email address. We're also activating this feature as default for your current campaign.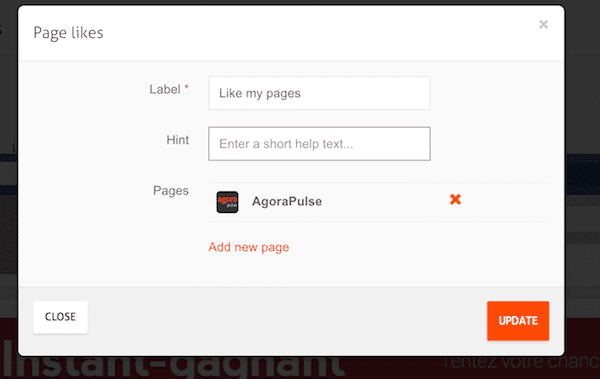 You can also add any or all the pages you want: other pages you manage, your partners' pages, co-branding…
To ensure quality connections and help businesses reach the people who matter to them, we want people to like Pages because they want to connect and hear from the business, not because of artificial incentives. – Facebook
Here you go! Use our new qualification form to get qualified fans who are genuinely into you!
FAQs
– I want the like gate to be on my contest!
It's technically impossible and forbidden now. Here is the full Facebook blog post about it.
– My campaign is running right now. What will happen to it?
Nothing. The like gate will automatically disappear and we'll display your like box in the qualification form. You have nothing to do.
– Is it possible to make the "page to like" feature required?
No, sorry, it's not possible. The visitor will be able to participate even if he doesn't like the page.
– Can I ask participants to like pages other than mine?
yes, you can submit any and all the pages you want to (partners for example!)