Don't get stressed out over Facebook Live. You can now schedule a live video on Facebook! We'll show you how. (You'll love how easy it is.)
Facebook Live Videos are popping up everywhere now—and for good reason.
Although live videos are great, they come with their own set of drawbacks. When Facebook Live first rolled out, you had to either spontaneously go live or promote your broadcast without a link where potential viewers could sign up for your live video.
But did you know you can schedule live videos with the Facebook Live scheduling tool?
The Facebook Live scheduling tool gives creators the opportunity to promote and retain larger viewership with a post to your broadcast details. Also, it lets your potential live viewers sign up for a reminder before you go live with your video content. This update can greatly increase the viewership of your live broadcasts, helping you and your brand get even more return from Facebook live-streamed broadcasts.
Related post: How to Schedule Facebook Posts
How to Schedule a Facebook Live Broadcast
As a page admin, head over to "Publishing Tools." Then click on "Video Library" and then "Live." You'll get a screen with your broadcast credentials.
If you are broadcasting from a third-party tool, you'll need to copy the information from this page to link your broadcast to your tool.
Write a descriptive caption to let your followers know what you'll be covering in your broadcast, add a title for your video as well as add tags to make your video a little easier to find. From this screen, you can also copy your Facebook embed code.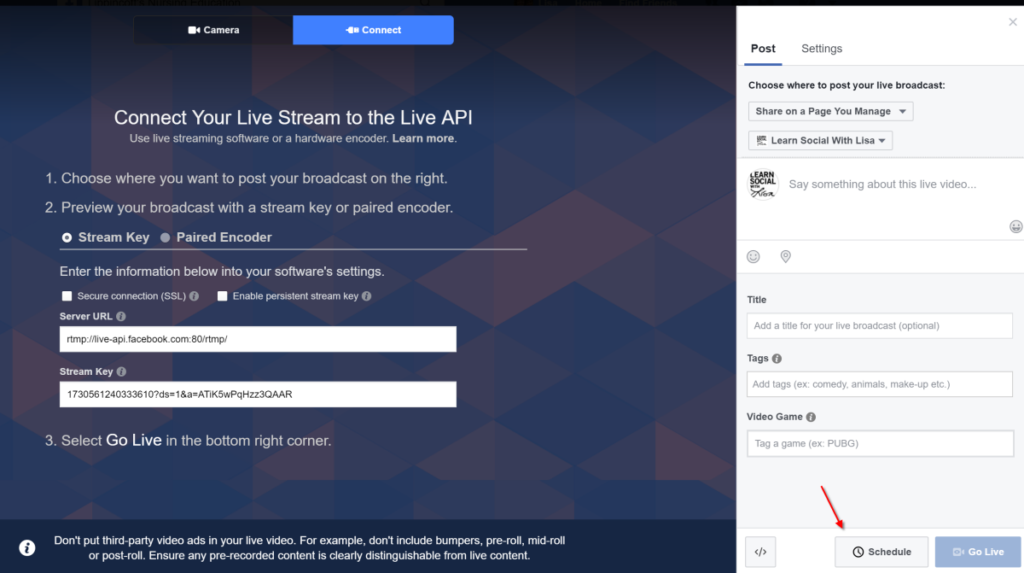 Next in the Facebook Live scheduling tool, click on "Schedule" on the bottom right of the screen (seen above), where you'll be taken to a preview lightbox. From here, you can see what the Facebook Live scheduled post will look like. You can add a few personalized touches like a custom image, and set the time and date your video to go live.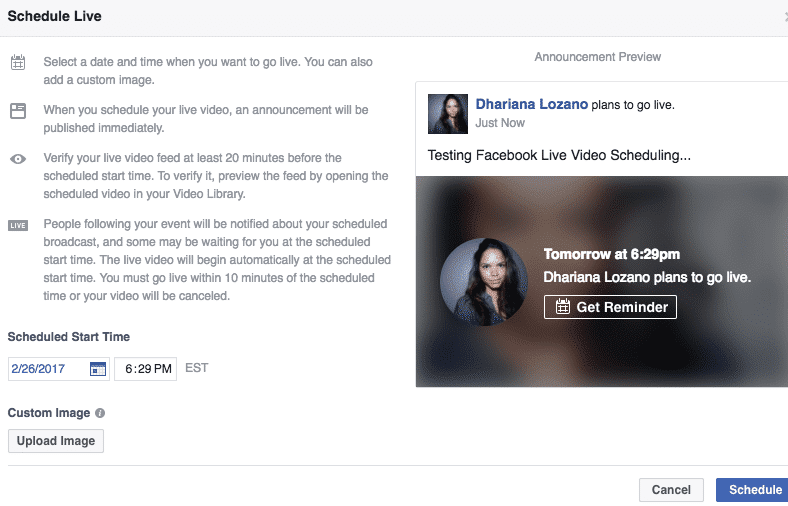 Here is a screenshot of how your post will look in your feed.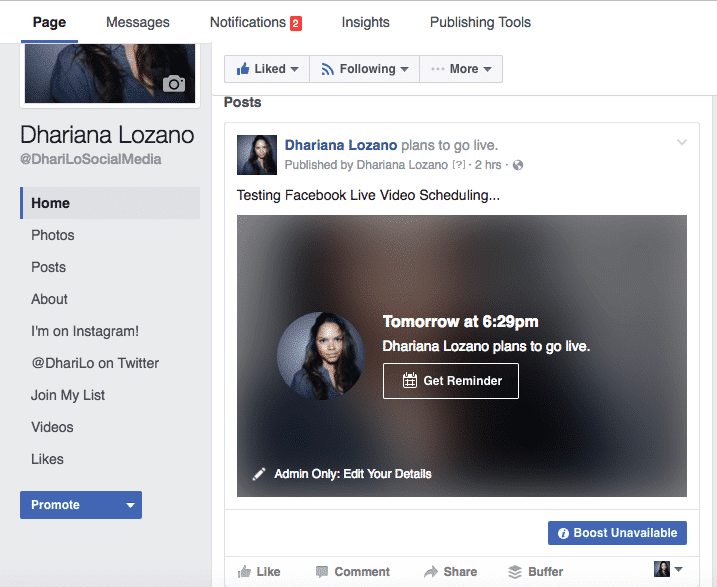 Using the Facebook live scheduling tool gives content creators an opportunity to have live videos reach a more extensive audience. You won't have to scramble to create reminder posts or tweet out that your video is live while you're broadcasting.
Another perk to the Facebook Live scheduling tool is that it provides a pre-broadcast "lobby" where viewers can interact with each other three minutes before your live video starts.
The Facebook Live scheduling tool gives you the ability to link prospective viewers to your post, and sign up for a reminder. For extra visibility with Facebook Live Video, embed the link to your scheduled live video onto a website or blog post to drive your website visitors to your broadcast.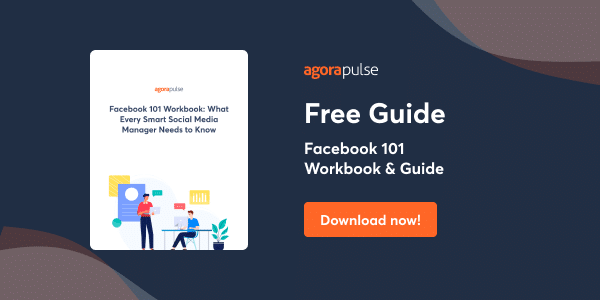 You can also send an email to your list with the link to your scheduled video post to make sure your subscribers don't miss the action. Viewers who have signed up for a reminder about your Facebook live video will receive a notification shortly before you go live which will help engage and retain larger audiences when the actual broadcast is active.
Sign up now for a FREE demo.