How do you get more organic reach on Facebook? Or in layperson's terms, how do you get more people to see your posts on Facebook without paying for ads?
I think only one person knows for sure and he lives in Palo Alto.
Until I get an invite to the Zuckerberg-Chan estate for some one-on-one time, I decided to get some insight by turning to my trusty Facebook Barometer.
This free Facebook tool takes your fan page and measures it against other pages with similar page likes to determine how well you're doing in terms of engagement, CTR, and yes — organic reach.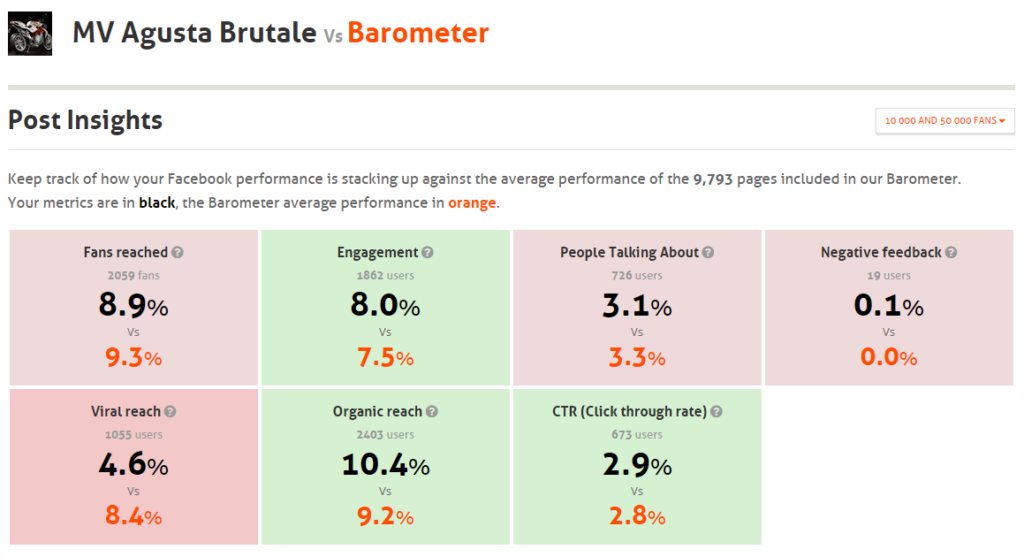 Being that I work for the company that creates the Barometer, I decided to go "under the hood" and see how industries as a whole are faring in terms of organic reach on their Facebook pages.
I selected Barometer data from 10 industries — this totaled nearly 3,000 fan pages. I then tallied up their organic reach data and used the median to weed out any outliers. The data was both uplifting and depressing.
The data was uplifting because by golly, there are pages out there that are still getting great reach.
I was a tad bummed by the stats here because many times, I can't get pages to get these numbers.
So I decided to see what top performing pages in these industries are doing well in this regard.
Here is a list of a knockout page in each of the categories you see in the infographic. As I highlight each page, I'll explain what it's doing well to engage its fans and increase its reach.
Industry: Travel and Leisure
Location: Canada
Page Likes: Over 10,000
Reach Tactic: Highlighting the lifestyle of its community
Fraserway RV Rentals in British Columbia focuses on posts that resonate with people who would typically seek out an RV getaway in this part of Canada. So you'll see lots of videos of moose, adventures, and snow — like with this post.
It keeps momentum (and engagement) going by offering genuine gratitude and offering a timeline contest that asks fans (and non fans) to leave a comment.
(It just so happens that we also have a free Facebook timeline contest management tool. Fraserway: if you're reading this, give it a whirl next time!)
Industry: Nonprofit Organization
Location: USA
Page Likes: Over 8,000
Reach Tactic: Natively posted video
Dogs can't simply attend a Webinar to become a service dog. There's a lot of work that this Pennsylvania organization does with dogs for them to be of service to their future best friends. And SSD captures it all through video uploaded natively to Facebook.
For a page with 8,000 fans, it's encouraging to see videos like this on its page with over half that amount of video views.
Industry: Local Business
Location: USA
Page Likes: Over 1,100
Reach Tactic: Community building through hashtags
This Arizona dance school keeps its Facebook fans together (and its content sorted) by the hashtags #MADdancers, #MADalumni, and #MADteachers.
While the jury is still out as to whether hashtags help reach on Facebook, it certainly helps Marilyn's dancers feel a sense of belonging. Check out these former students trying to remember steps to a jig! From the video's comments, you can see that it brought back memories for many #MADalumni.
Industry: Automotive
Location: Poland
Page Likes: Over 16,000
Reach Tactic: Encouraging lust
You don't have to know Polish to know that this car dealership is reaching its followers (and friends of its followers).
In this post, the dealership asks "If you were to have one of these [totally dreamy] cars in your garage, what color would it be?" This is a great way for fans to comment (and to have those fans' comments appear in their friends' desktop activity feeds).
And if luxury cars weren't enough to make readers salivate, it paired a BMW with glazed donuts for "Fat Thursday." This double delish was shared 12 times — nice extra reach there.
Industry: Education
Location: Egypt
Page Likes: Over 45,000
Reach Tactic: Tagging other pages
It takes a village to raise a child. And Mavericks School knows all about it. Its posts often thank those who help educate its students. In this post of gratitude for an outdoor excursion, Mavericks was smart to tag The Maths Gym. The Maths Gym was so taken by the token of thanks that it shared the post with its 4,000+ fans.
6.The Urban List Perth
Industry: Media/News
Location: Australia
Page Likes: Over 108,000
Reach Tactic: Posting frequently
This Perth lifestyle blog uses Facebook to drive traffic to its Website. And getting good reach is the first step to drive traffic.
Whether you remember the old EdgeRank "time decay" of yesteryear, or the "algorithm" of today, both secret formulas mention that a healthy frequency of good content is an important factor in how many people will see your posts.
With that in mind, this page posts timely or evergreen content about five times a day.
Think that's too much for you to handle? Use a Facebook scheduling tool so you don't have to be chained to your fan page.
Industry: Health/Beauty
Location: USA
Page Likes: Over 3.4 million
Reach Tactic: Offering new ideas and inspiration
These days, fewer and fewer people are going with a basic pink or red on their nails. Essie has seized this opportunity to provide daily color inspiration and tips for the latest trends in nail art. In this example, the company shared Teen Vogue's video on how to make Tie-Dye Flower Nails using Essie polish.
Industry: Bank/Financial Institution
Location: Australia
Page Likes: Over 10,000
Reach Tactic: Making a boring industry "social"
I don't follow my bank on Facebook. I'm not interested in hearing about measly interest rates on a 3-year CD or about the bank's efforts to go paperless.
Teachers Mutual Bank knows many of its customers feel the same way. So it makes a concerted effort to speak of issues near and dear to teachers that go beyond their savings account. In this example, it highlights a teacher using drone technology in her classroom.
Industry: Food/Beverages
Location: India
Page Likes: Almost 3,000
Reach Tactic: Experimenting with video
This bakery in Bangalore uses a wide variety of video types on its page, including the use of Facebook Live. In the following example, you can learn how to make cake pops. (Who wouldn't click through on that?)
Industry: Retail/Consumer Goods
Location: USA
Page Likes: Almost 4,000
Reach Tactic: Shares curated content
This sewing thread company has received the memo that brands don't always have to create their own content to reach its followers.
It posts sewing and craft tips from a wide variety of helpful Websites, including this one from Melly Sews.
This approach allows Gütermann of America to post a steady flow of content on its fan page without constantly relying on original content.
With these ten pages, you should get a few ideas to incorporate in your reach-grabbing strategy. Try these tactics for a while and then go back to the Facebook Barometer to see if your reach (and other metrics) have improved.
What organic reach approaches have worked well for your fan pages? Let us know in the comments!