[[updated Oct. 14, 2016]]
Social media is all about building relationships. Taking a page from a Manners 101 playbook, good social media manners come from a simple please and thank you. This begs the question: What's the best way to say thank you to your followers on Twitter?
First Off: Why Say Thanks?
When someone follows you, shares one of your blog posts, retweets or shares your content they are showing an interest in what you do. It's like a customer walking in the door of the shop. They may not buy this time but it's your opportunity to get to know them better and let them know you appreciate their interest.
By engaging with them in conversation they'll remember who you are in the future and come back for more.
When to Say Thanks?
There are lots of opportunities to say thank you on Twitter. Depending on your current level of engagement you can choose which tweets you will react to.
I'd love to thank everyone who interacts with me and my tweets. As the number of retweets and follows has grown I have had to limit my thank you posts just to those who share my articles and blog posts.
You need to decide how much 'thank you time' will work for your business. Here are a few examples of great opportunities:
For a follow
If you are building your Twitter following it is a nice touch to thank each new follower. It's a good way to break the ice and might just lead to a longer conversation.
There is one disadvantage to thanking all new followers. Not every follower you get is valuable, in fact some new followers will be spammers or robots. Separate the good from the spam and this tactic will be more effective.
For a retweet
When someone retweets you it's a great opportunity to connect. Thanking someone encourages them to share again.
Here, influencer John Haydon retweeted something from Agorapulse.
10 Essential Social Media Tools For Non Profit -> https://t.co/tZw4jM77IA <- Top choice is @AgoraPulse

— John Haydon (@johnhaydon) October 12, 2016
And a nice thank you / don't mention it exchange occurred slowly afterwards.
@AgoraPulse Anytime!!! pic.twitter.com/kBo4Xl1Ik7

— John Haydon (@johnhaydon) October 13, 2016
For a share from your blog
As with retweets, thanking people for sharing your blog posts or links to your website can encourage more sharing in the future. This works well if you write guest posts. The tweeter may not be aware that you are the author, a simple thank you can alert them to your own website or blog.
@HiRiseInc @shaylaprice Thank you for sharing the info! We hope you all find it useful.

— AgoraPulse (@AgoraPulse) October 13, 2016
How To Say Thank You
Now that you've decided when to say thanks you need to think about how to do it. There are an array of tools that can help you, we'll look at some shortly. If you want to ensure the recipient feels valued you need to tread carefully.
Don't automate
It's always nice to get a thank you but when they are lumped into an automated tweet with other users they lose their impact.
A personalised thank you will always stand out. Automation just looks lazy.
Look at this stream of thank yous. Not only do they look automated but they also don't define what 'most engaged' means. (Commun.it is a good tool when used correctly. I'll show you later in this post).
George Huss has nailed it. He thanks each follower individually with a personalised image. I was delighted when I received mine.
Pick something to spark a conversation
Replying with a thank you is a nice gesture but if you really want to build relationships review the users' Twitter bio and account. Find something to personalise your tweet. Maybe you'll find they like cats or perhaps they tweet about coffee a lot. Adding something personal to your tweet opens a conversation and will make you more memorable.
Look at this example from Donna Moritz. See how her comment built a conversation.
Follow Friday
Follow Friday was devised in 2009 by @micah (according to Mashable). It's a way to provide good recommendations on who people ought to follow. The idea is to tweet the username or someone you recommend, add a reason others should follow them and use the tag #followfriday. It's a great way to endorse someone or thank someone.
As with the automated thank you, it's important to practice good etiquette. This humorous cartoon from The Oatmeal shows you why.
3 Tools to Help You Say Thank You
1. Commun.it
I showed you an example earlier of users using Commun.it poorly. Used well, Commun.it can be a valuable tool. It will help you discover new people to follow and it makes the thank you process easy.
When you log in to the Commun.it dashboard it presents you with a number of ways to say thank you.
You can:
Thank people for a retweet
Thank people for following
Thank people for being 'high value members'
Reply to people who have interacted with you
It labels people as 'Influencer' 'Engaged' or 'Supporter' depending on how they interact with you and other Twitter users.
Don't fall into the trap of using the automated tweets that Commun.it offers. Always, always customise these and send to just one user at a time. This way your thank you will stand out and be noticed.
2. Twitter Search
When people share links to your website or to your blog posts they may not always include your @name. You can use Twitter search to find these people. Just type your domain name into the search bar and you will find tweets from anyone who has shared links back to your site.
Make sure you click the 'All' tab at the top of the page to see all mentions.
3. Agorapulse
Agorapulse users can monitor retweets, website mentions, hashtags and brand mentions on Twitter. It's easy to reply directly from the app and as a bonus you can add an image.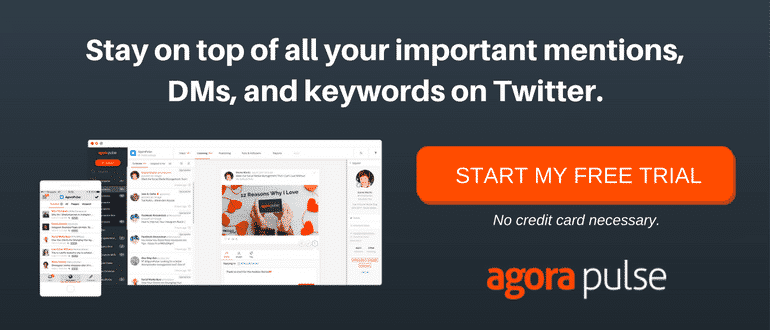 Here are recent tweets that mention articles from the Agorapulse social media blog.


With a tap or click, you can begin to say thanks to one of these kind souls.


Which brings me on to my bonus tool…
*Bonus Tool* Canva
If you really want to stand out with your thank you tweets use an image. If you personalise that image you'll make an impact.
Take the example from George Huss above. I was so impressed when I saw it featured on the Socially Sorted blog I went and followed him straight away so I could get one too.
It's a simple concept and easy to create with photo editing software but hugely effective. If you want to use images to personalise your thank you Canva is the perfect tool.
From the Canva dashboard click 'More' so you can see all template types. Select 'Twitter post'

Now create a visual thank you for one of your followers. In the example below I've added a cow as @WriteOnTrack_L is a dairy farmer.
By clicking the duplicate button on the right hand side I can copy this image, change the Twitter handle, replace 'cow' with something else and add a new photo.
By batch creating images like this I can quickly respond to lots of tweets from various users.
Conclusion
Saying thank you is a positive step towards building strong relationships on Twitter. But if you are going to do it:
1. Don't automate
2. Be personal
3. Be creative
If you've seen good results from saying thanks on Twitter or if you are tired of getting thanks, let me know. I'd love to hear your thoughts.