In the wake of the Cambridge Analytica scandal and in a bid to be more transparent with its users, Facebook has launched a new ad transparency feature that lets you see all of the ads a page is running.
Cancel that ad spy tool subscription– you've now got direct access from Facebook to discover the exact ads that your competitors are running.
And it's not all good news. This feature works both ways and now all of your ads are public and can be accessed by your competition.
How to Find Facebook's Transparency Feature
To find the new ad transparency feature, navigate to the Facebook page whose ads you want to see.
If you are on a desktop, head to the bottom of the left-hand side column menu. There you'll see "Info & Ads".
Click this and the new feature will open, displaying the live ads that the page is running.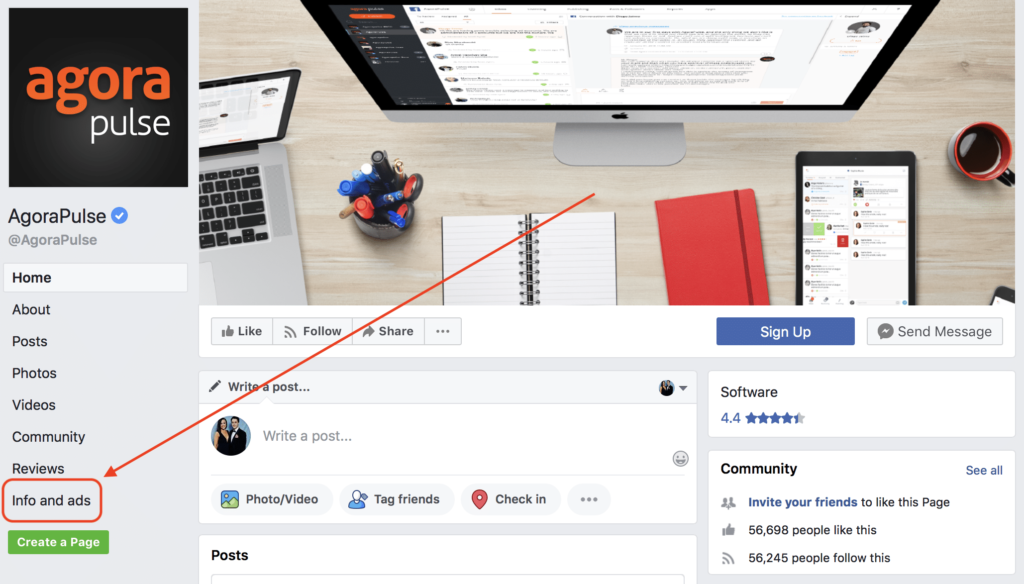 On mobile, getting access to this feature is a little different. Using the Facebook app, navigate to the page whose ads you want to see. To the right of the screen, just above the Page name, you'll see an "Info and Ads" button.
Click on this and it'll open with a slider where you can see the page info and the active ads.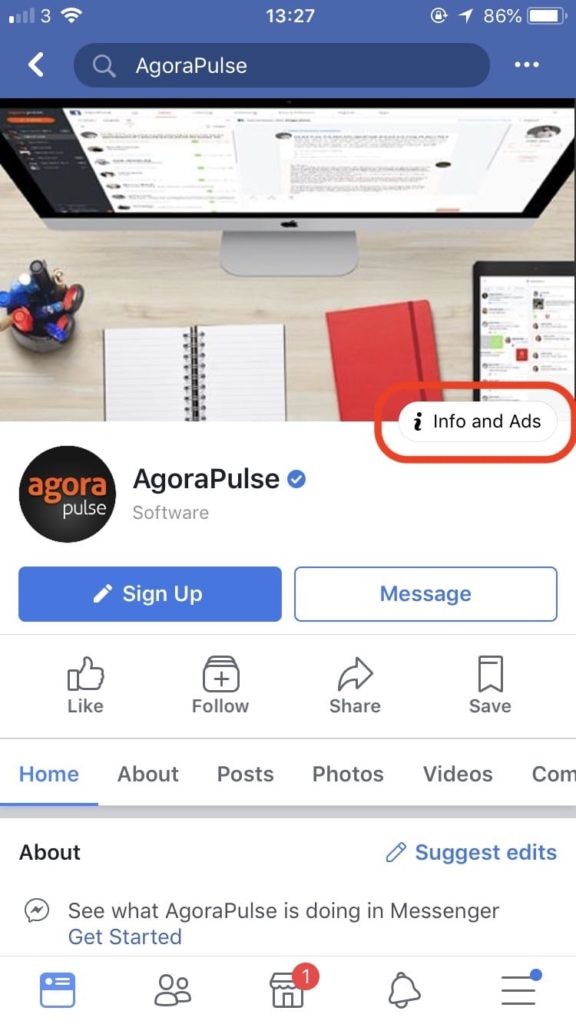 The Implications of the New Ad Transparency Feature
Facebook designed this feature thinking of its users first and advertisers second. Let's look at the implications of this new feature for each of these groups.
Users
The new transparency feature is great for users. By opening up all of the ads that a page is running, they will be able to discover discrepancies in different ads as well as spot conflicting ads.
On the more positive side, users will be able to see ads aimed at audiences further down an advertiser's sales funnel and can discover greater discounts or better promotions.
For example, a savvy Facebook user, when targeted with an offer-based ad in their newsfeed could then navigate to the page's "Info and ads" section and look at all of the ads to see if there are better offers available.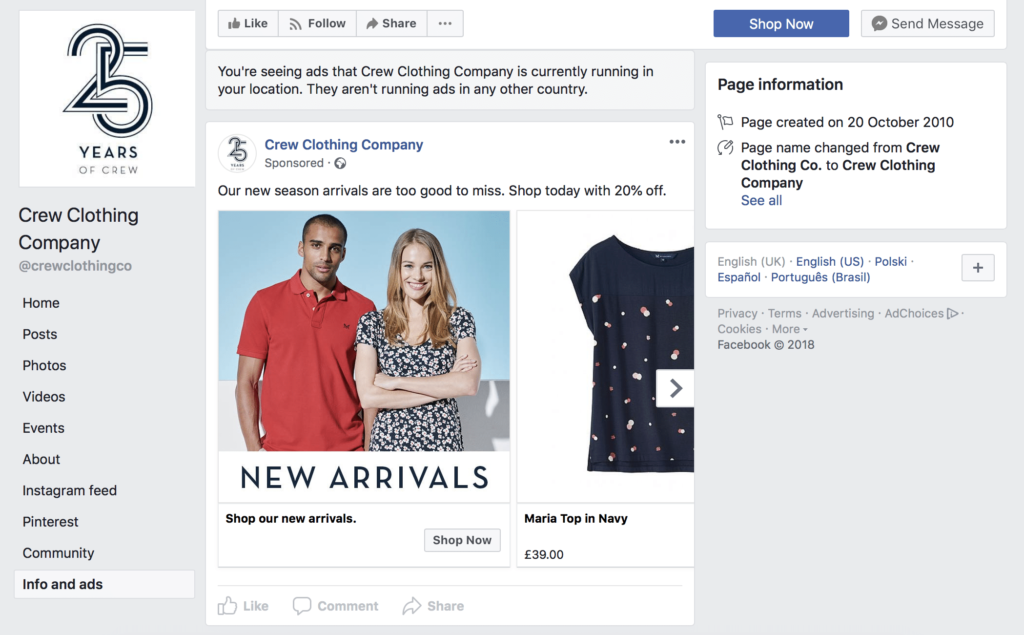 However, in reality, the likelihood of this actually happening and having a negative impact on advertisers is very low. Most users probably don't even know this feature exists and if they do, they might use it once for the novelty and then quickly forget about it.
Businesses
The group using the new ad transparency feature the most will be businesses. Let me explain.
Use it for competitor research
With this new feature you can now see the exact ads that your competitors are running. You can even go as far as clicking on the Call To Action (CTA) of the ads to take you to their landing pages where you can discover their goals.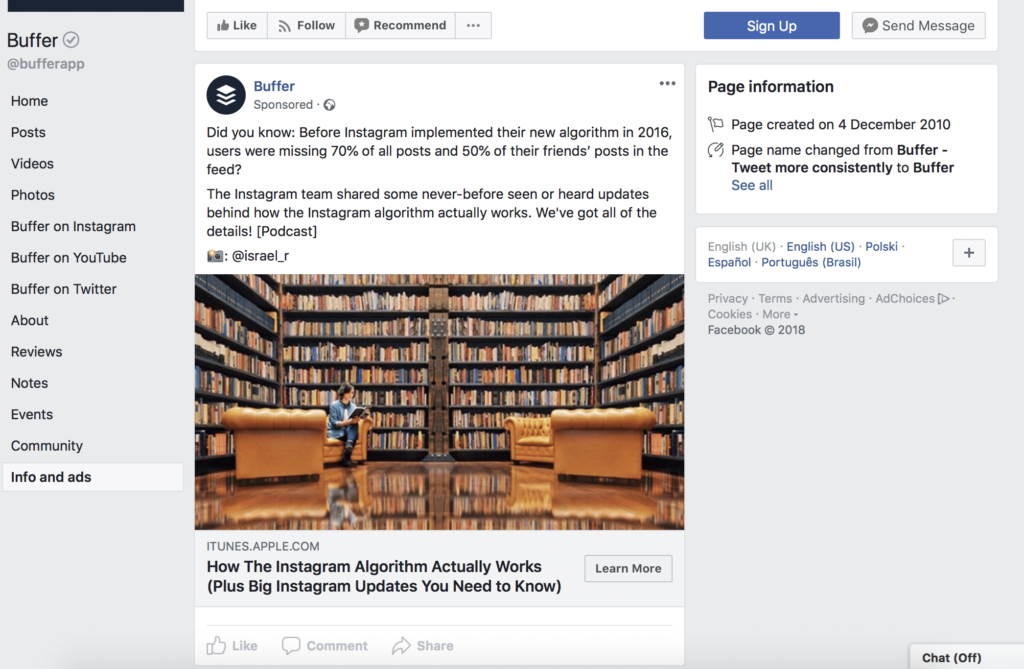 This means you can now find the content, the offers, the products and services that your competition is advertising and can use this for inspiration for your own campaigns.
But a word of warning– don't be that business that just copies other advertisers' ads word for word. It's ethically questionable, the competitor will catch onto it, and so will your target audiences.
Instead, use the findings of your research into the ads that your competitors are running, and improve upon them. Make your ads better. For example, you can use competitors' ads as inspiration for topics to then create your own content around and test its effectiveness.
The Limitations
There are certain limitations with the ad transparency feature that reduce its usefulness. This actually protects you as an advertiser. Although you can see the exact ads that your competitors are running, and they can see yours, there's no other data available.
This feature doesn't reveal your ad's targeting, budget or spend. You keep control of those details. So being able to see competitors' ads and vice versa, but not the targeting is like only seeing the tip of an iceberg. There's more to it, below the surface.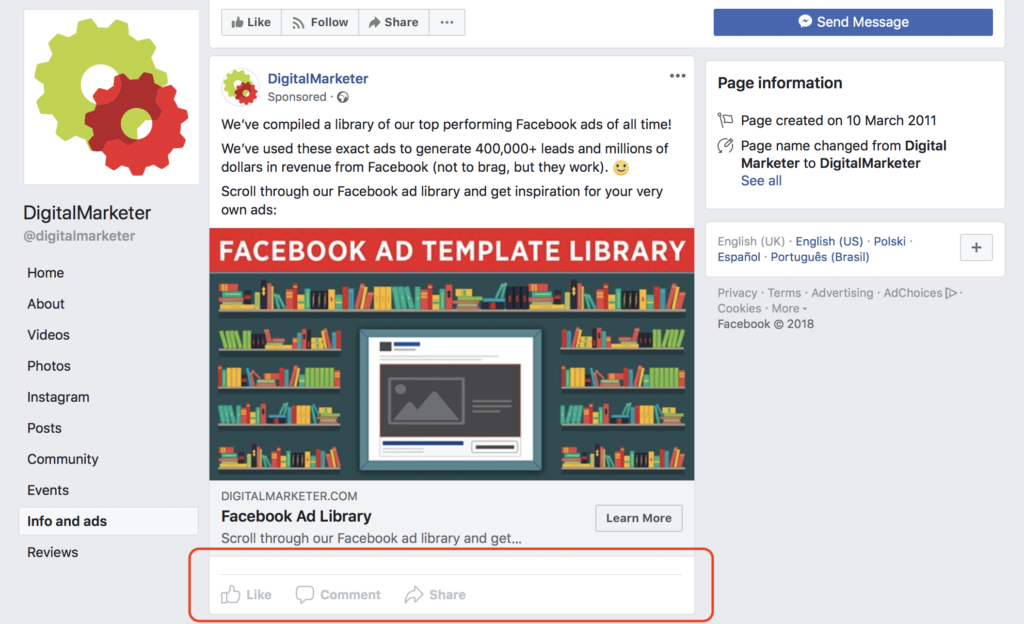 One of the key elements to generating new sales from Facebook, is ensuring that you are targeting the right people. This means showing your ads to the most relevant audience.
Hypothetically, you could run similar ads as a competitor and they could fail miserably because your targeting is wrong. You've been able to see the competitor's ads but that's only one piece of the Facebook advertising puzzle.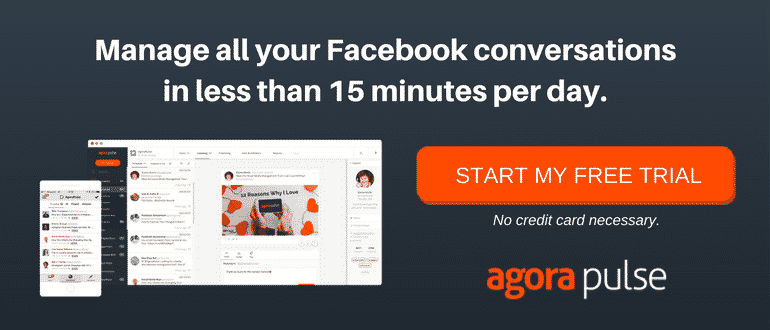 Exclusions and the impact on your ad metrics
The ad transparency feature brings a big question to the surface– will the views, clicks, and reach impact your campaign metrics?
Facebook have especially addressed this by stating that you won't be billed for people viewing your active ads through the feature. They've also stated that they've put controls in place to help avoid views through the feature counting towards your impressions or click-through results, maintaining your insight into how your ads are run across Facebook's platforms.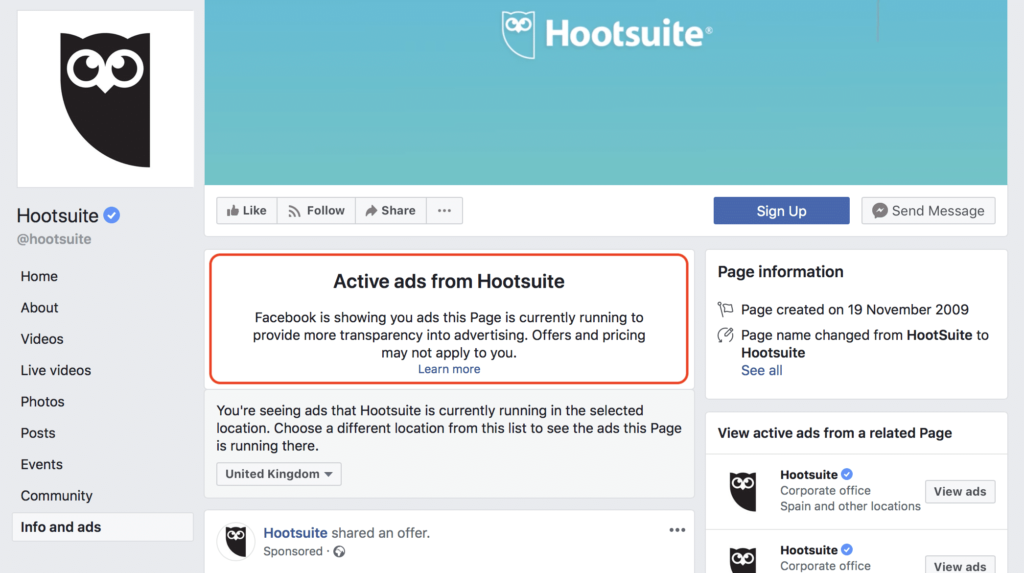 There are some types of ads that are excluded from this new feature. At the moment these are offer ads and dynamic ads.
Conclusion
I think the true impact of this new feature will be minimal for both users and advertisers.
By not showing additional data such as ad targeting, spend, objectives and previous results, as well as any social proof such as likes, comments and shares, you only have one piece of the puzzle.
Seeing success with Facebook advertising goes much deeper than just looking at ads. It's a combination of positioning, campaign objectives, targeting and messaging. These all work together to generate positive campaign results and drive high Return on Ad Spend (ROAS).
Will you be using Facebook's Ad Transparency Feature? What do you think its effect will be? Let me know in the comments!