[[updated December 5, 2018]]
As Instagram continues to grow in popularity, many social media managers are working to find good things to post on Instagram. While people often joke about the coffee art and food images, the truth is that with a little creativity you can get many more ideas about what to post.
Your content on Instagram, like any other social media platform, will partly depend on who your audience is, and what your product or service is. Instagram is a perfect opportunity to show your audience your creative side.
Quotes
While Instagram is an image-based social media, that doesn't mean you can't post words too. You do this by turning the words into graphic pictures. Some ideas for types of things to post on Instagram that are word based would be:
Inspirational quotes from others
Tips you give your clients or customers
Positive sayings
Facts and information
Testimonials from clients
My friend Nicole posts several of these different types of images, and they typically get about twice the engagement as her photo posts! She really knows her audience and what they want to hear about, so think about the things that your clients and customers need and want to hear.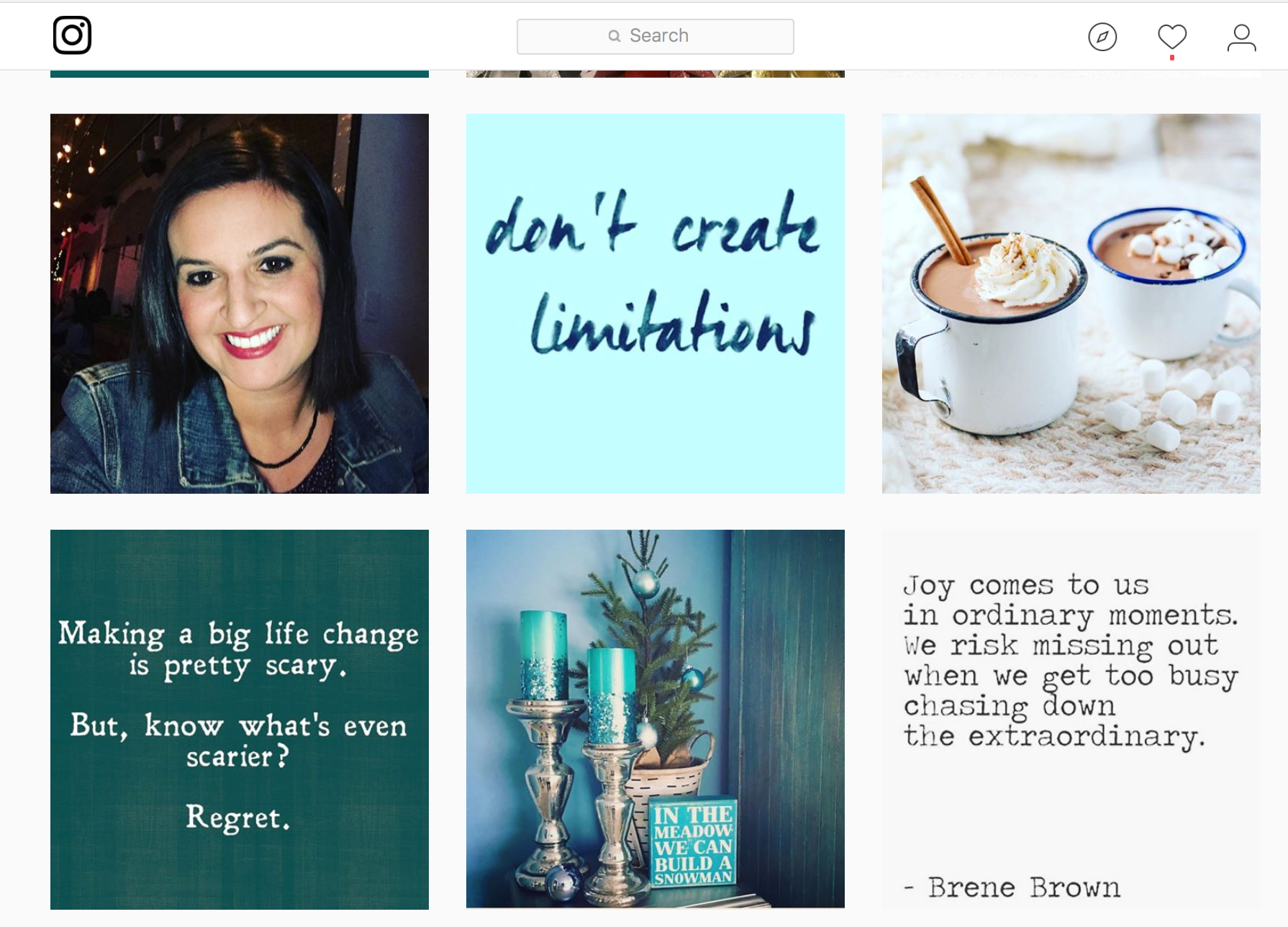 These days, it is easier than ever to create text-based images for Instagram using tools like Canva. You can size them for Instagram, add your text and image, and then save it for posting to your account. One of the nice things about this kind of content is that it is usually evergreen, and can be used more than once.
The easiest way to do this is with the new Agorapulse Publish Queue categories and direct publishing. As long as you're using an Instagram business profile you can now schedule, repeat and publish directly from Agorapulse. You can then create a category specifically for text quotes, create several quotes, and then add them to the queue to go out over time and repeat periodically.
Be careful though: you want to make sure that you create enough content for one queue that your audience doesn't see the same content over and over. With the Agorapulse bulk upload scheduler you can make sure you have properly padded out your queues. This gives you the ability to upload up to 100 images with the click of a button.
Choose your images and pick to either schedule them, or add to a queue
Stories
Another type of content you can post on Instagram are Instagram stories. Many social media marketers are missing out on this opportunity because it seems too complicated. The good news is that there is an app for that!
Fastory.io is a free app that allows you to drag and drop images onto a story, and then download it to post. This allows you to not only use images, but also video and text in your social media posts on Instagram.
Just like with quotes, you can create these ahead of time, and then schedule them to your social media account. Either schedule them to post at a specific time, or add them to a queue. The easy templates provided by the app will give you some ideas, but here are some other story ideas:
Steps of a process in your business
Behind the scenes looks
Previews of upcoming products or events
Links back to some of your best website content
Your Customers
You know who is an expert at finding good things to post on Instagram? Your customers! This can come in a couple of different forms. The first is to take pictures of your customers yourself. Have fun with this one! Here are some ideas for different industries to get your wheels turning:
Hairstylist could take pictures of the new cut
Car repairman or salesman could take a picture of the fixed car, or the new owner and their car
Builder could take a picture of a completed home, of their client while they look over plans together
Coaches and consultants can take a selfie with their client and tell about their business
Real estate agents can take closing photos with their clients
You get the idea. Get your client involved, smile, and share. This is a perfect opportunity to show your work, and/or happy customers! Always ask permission, and if possible tag them in the post for the best results with this one.
But you don't always have to do the work, you can also use user-generated content. Basically, that is fancy social media language for reposting content originally created by other users and giving them credit.
A company that does a fantastic job of building brand loyalty and awareness using this strategy is the women's custom clothing company eShakti. They regularly encourage their users to post pictures of themselves in their new dresses and reshare the best. As much as half their Instagram content is created this way, and it makes people love their clothes even more!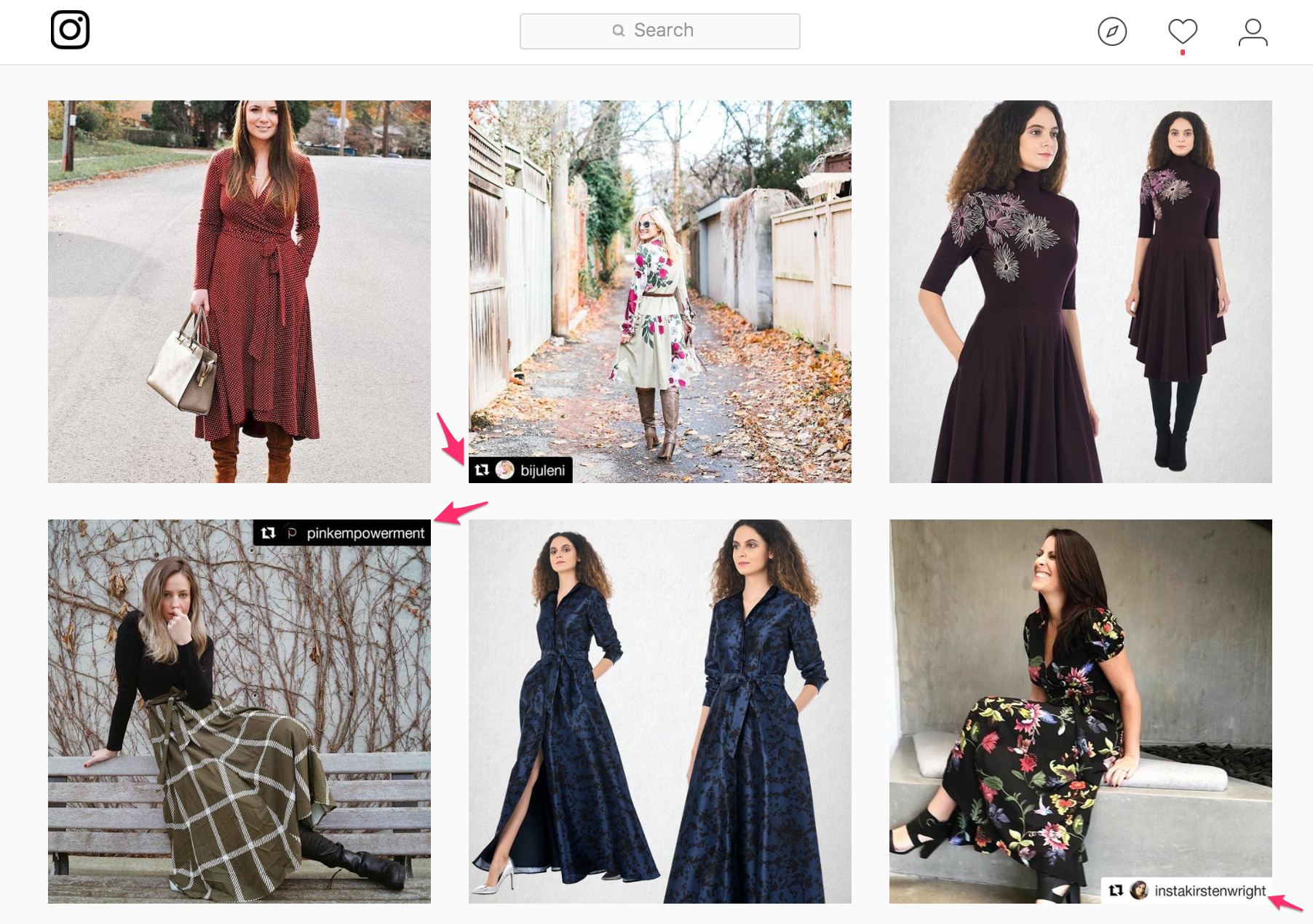 Not only does give them additional original content for their Instagram, but it also gives them a chance to build relationships with their customers, and use the features of Instagram's algorithm to their advantage.
What about you?
Have you discovered any good things to post on Instagram? What do your followers react to the most? Are you going to try any of these ideas? If so, be sure to tag @Agorapulse so we can see what you are up to!