Want to know the details of Hootsuite pricing and what it really costs you? Read on to get a comprehensive look at the real cost of using Hootsuite and its value for money.
We've spent more than 30 hours researching this topic. As a competitor, we need to know the cost and value of Hootsuite plans. In a way, we're as motivated as you are in determining what Hootsuite's real cost is.
As a Hootsuite competitor, we could be tempted to arrange the truth so this "pricing investigation" makes us look good and them look bad. But we'll make you a promise: If Hootsuite is a better value for money for any given scenario, we'll tell you!
This article is about Hootsuite plan pricing and how much it actually costs based on your specific needs.
You most likely looked at the Hootsuite pricing page, so we won't repeat what you already know Instead, we'll reveal pricing information NOT found on the Hootsuite pricing page. "Under the hood" information is much more valuable in your search for the right social media management tool for your business.
TL;DR
Here's a very high-level summary:
How much is Hootsuite? The Hootsuite pricing page only gives you annual pricing information. It doesn't show the monthly pricing, which can cost 60% or more per month.
If you have more than 3 users or 20 profiles, your only option is Enterprise. The only two other options for mid-market maybe out of the running from the start of your evaluation. Dig deep into your pockets for the Enterprise plan. The Enterprise plans begin at $16,000-$18,000. That's for annual plans that must be paid for upfront.
Many "advanced" features are not available with the Professional and Team plans. Need such features as content approval workflow, campaign reports, or a content library? Then you must sign up for the upfront annual commitments.
Agencies might struggle to find value with Hootsuite based on the tool's user/profile limitations and advanced features. Agencies and businesses that need to manage more than 20 social media profiles or need more than 3 users on their account soon find themselves doubling or tripling their cost to get the users, profiles, or features they need.
1. (Intentional?) confusion between monthly cost and annual cost
On Hootsuite's pricing page, plans with a price have a small asterisk that means the prices are for annual billing. This information is mentioned in the small print at the bottom of the page.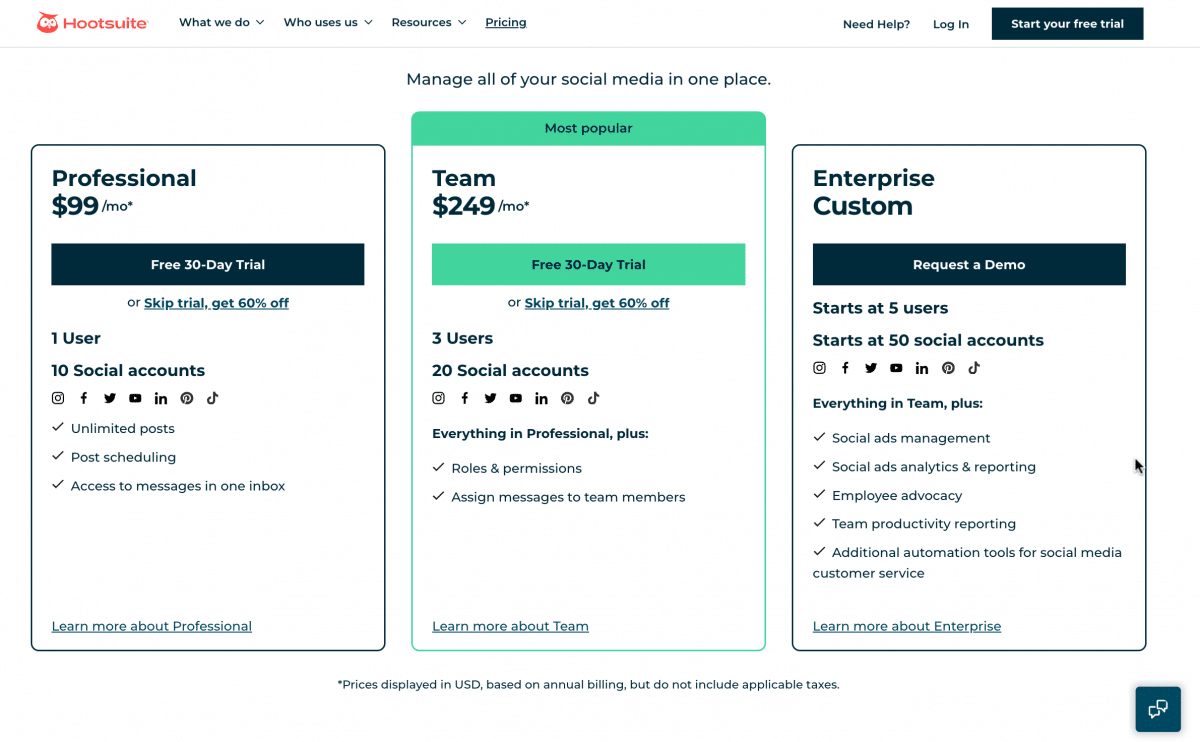 Displaying the monthly cost of a subscription software based on an annual subscription is common practice. Even we at Agorapulse do this. However, you typically see a user-friendly toggle function to easily bounce between the monthly and annual costs.
We have never seen a company use small print to denote that pricing is only based on annual pricing, all while hiding the actual monthly pricing. You can't find the monthly cost of Hootsuite on the pricing page or anywhere online without making an account.
Even then, you'll only see only the monthly price based on an annual subscription until you enter your credit card information to complete your purchase. Only then can you choose between a monthly and an annual plan.
Here are the two prices for the Professional plan: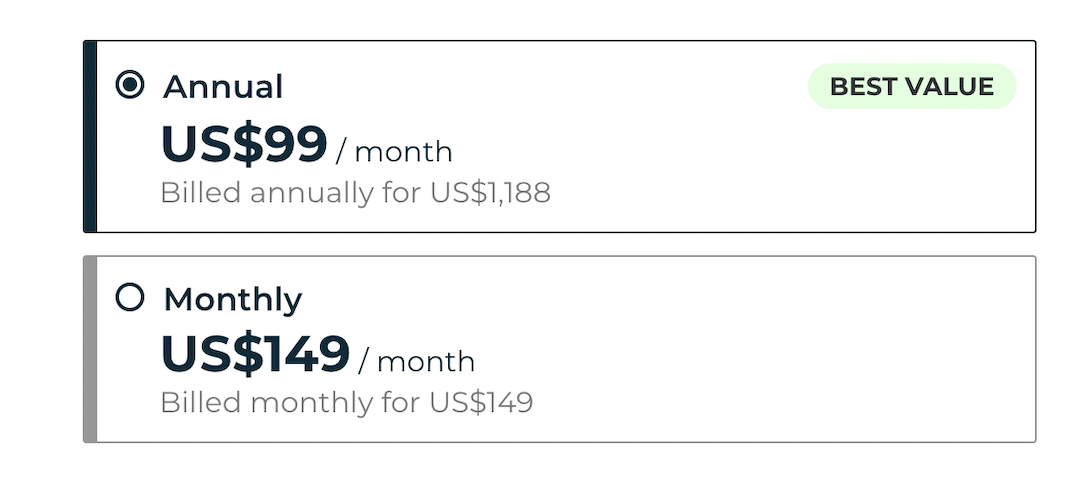 And here for the team plan: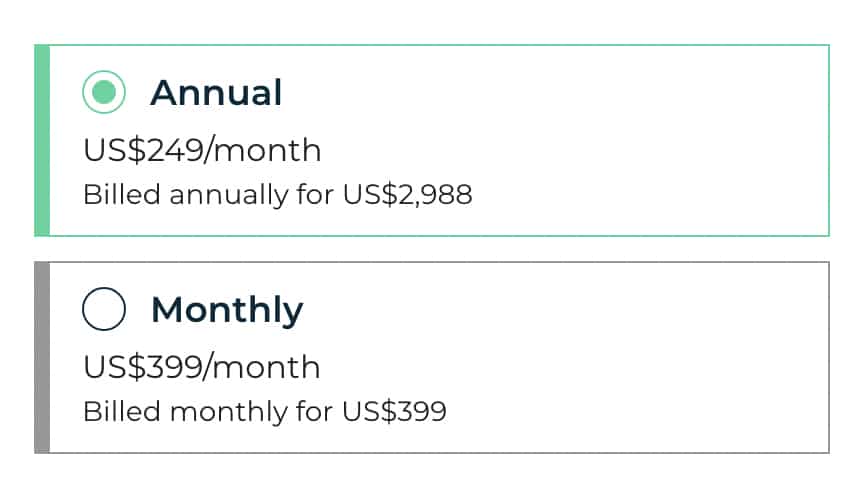 Monthly plan prices are significantly higher than the advertised prices. A monthly subscription for the Team plan cost 60% more. A monthly subscription for the Professional plan cost 100% more. That's a considerable jump from what's public on their pricing page!
A total of 90% of Agorapulse users start with a monthly plan. That might mean that 90% of Hootsuite new users go through the unpleasant experience of learning how much Hootsuite will really cost them.
2. The Enterprise plan: when things get serious (and above $16,000 a year)
There is no pricing information on the Enterprise plan. This omission is commonplace among social media management solutions.
Not providing an enterprise price is typically not to trick users but rather to be flexible to prospects' specific needs. For example, one prospect may need a lot of users but not that many social profiles, or vice versa.
Being able to adapt your pricing structure is beneficial for both parties.
The cost of a Hootsuite Enterprise plan starts at $16,000 for 5 users with approximately $1,800 per additional user. And the Hootsuite Enterprise is an annual commitment with no monthly payment options.
3. Hootsuite costs are based on the features you need
Now that you know how much each plan will really cost you, let's look at the important features a social media manager needs and what plan they are included on.
To do that, scroll down the Hootsuite pricing page a little and go to the "side-by-side feature comparison".
Support
We know, customer support is not a "feature." But with social media teams working around the clock (all with varying levels of social media confidence), customers have come to expect fast and efficient customer support provided by helpful support agents.
In the past, Hootsuite has listed available support options in its side-by-side feature comparison. After the tool's most recent pricing update, however, details about support options no longer appear in this breakdown.
The Enterprise plan mentions "Hootsuite customer support" in the main list of features. But the pricing page doesn't elaborate, and the Hootsuite support page makes it even more confusing to understand the options available at each level.
In fact, the support page indicates that Professional, Team, and even Business (which no longer exists) subscribers can use the self-serve help center, send Facebook or Twitter DMs, access chat support, or submit a request via email.
However, the Hootsuite support team is available only during business hours (Eastern Time). The team provides help in English only. You're out of luck if you need help in another language.
What's particularly surprising about Hootsuite's support options is that even Enterprise customers (remember, those who spend at least $16,000 per year) are stuck using the same support channels as above—if they have a standard Enterprise plan.
Premier Enterprise plan subscribers have one additional option: reach out to their account reps for help. This option implies that Premier Enterprise subscribers may be able to access support from human agents—but Hootsuite doesn't clarify these details publicly.
Maybe that's why Hootsuite support is rated so low compared to Agorapulse on G2:

Other advanced features
If you're an agency, or if you're managing an active and strategic social media presence, you need the following features. Yet they don't come with any of the Hootsuite entry-level plans.
The features below will only be available if you pay at least $16,000 upfront (Enterprise plan):
Team reports to measure the activity of your team (response rate, number of replies sent)
Dedicated account manager
The features below will only be available if you pay at least $8,900 upfront (Business plan):
Content approval workflow
Message approval workflow
Content (visuals and videos) library
Ability to tag outgoing posts to create campaign reports
Automated moderation rules
Audit log of team responses
Saved replies
With Agorapulse, none of these features require an annual commitment. Most of these features are available from Agorapulse at a starting price of $249 per month without a need to commit to an annual subscription. (Unless you want to in which case your cost would be $199 per month.)
4. Who is (and isn't) Hootsuite ideal for
Hootsuite is a worthwhile option if you're in the market for a social media management tool.
The question here is not whether you should consider it but rather what specific needs will remove it from the equation (or make it a bad "value for money" option).
Where Hootsuite pricing plans might not make sense for you
Based on how its pricing plans are built, and what features are available in each plan, Hootsuite might not be a good solution for you if you fall into these categories.
You manage more than 20 social profiles
You have no other options but to go with the Enterprise plan.
With Agorapulse, a plan with the same profile/user specs will cost you $149 per month, plus $15 per additional social profile. (If you subscribe annually, it's $10 per additional social profile.) If you commit to an annual subscription ($119 per month), that works out to a starting price of $1,428 for the year. Even with an annual commitment, that's more than affordable.
You have a team of more than 3 users
If you need more than 3 users on your Hootsuite account, you only have the option to contact them directly for a sales call.
So, if your agency has more than 3 people managing social and doing community management, or if your customer support team has more than 3 agents answering questions on social media, you're paying the big bucks.
A total of 4 users with a Sprout Social Professional plan would run you at $1,2966 per month.
Even more affordable (and scalable) is the Agorapulse Advanced plan at $149 per month or $1,788 per year.
If you need a large number of users, the gap widens even more. For 16 users, you have to choose the Enterprise plan at $16,000 with an annual commitment. This configuration will cost you $2,704 with a monthly Sprout Social plan.
You're an agency
You need to manage more than 20 social profiles with more than 3 team members, so all the above applies.
But even if you are a small agency and could live with 1 or 2 users and 10 or 20 social profiles (the limits for the Professional and Team plan, respectively at $99 and $249 per month), you're stuck. Hootsuite got rid of its Business plan.
Most teams need to look at the Enterprise plan or bust.
Automatically emailing reports to clients every week or every month
Customizing your reports with your own agency name and logo
Labeling incoming messages or comments to provide additional information to your clients about what their audience is talking about
Team response time to customers' questions to prove your value to your clients
Here again, all these features will be available in the Advanced plan of Agorapulse, and its add-ons, saving you a substantial amount of money.
You have a very active social media presence
If you have a very active social media presence, you'll most likely need the following features:
Automated moderation rules. When you are dealing with a high volume of incoming messages, you have to put some kind of automation in place
Saved replies. When your team has to provide the same answer, again and again, on different social media accounts, you have to give them the tools to do that while remaining sane and avoiding mistakes!
Collision prevention. Make sure team members aren't stepping on each other's toes and duplicating efforts when responding to followers.(Especially for different social media channels.)
Here again, the Agorapulse Advanced plan will require an initial investment of $149 for all these features instead of dealing with the inconvenience of Hootsuite.
You have very basic publishing needs
If you only need one user, have fewer than 10 social profiles to manage, and are only looking to publish content on social media (no need for social media engagement or listening), then Buffer is by far a better option. Buffer can take care of your needs for just $6 per month; the same will cost $99 with Hootsuite.
If you need to engage and listen across social media networks, Buffer can't help you. You'll need to purchase an additional tool.
You demand prompt, friendly, helpful customer support
According to almost 6,000 user reviews on G2, Hootsuite's support gets the worst rating among the four largest social media management solutions: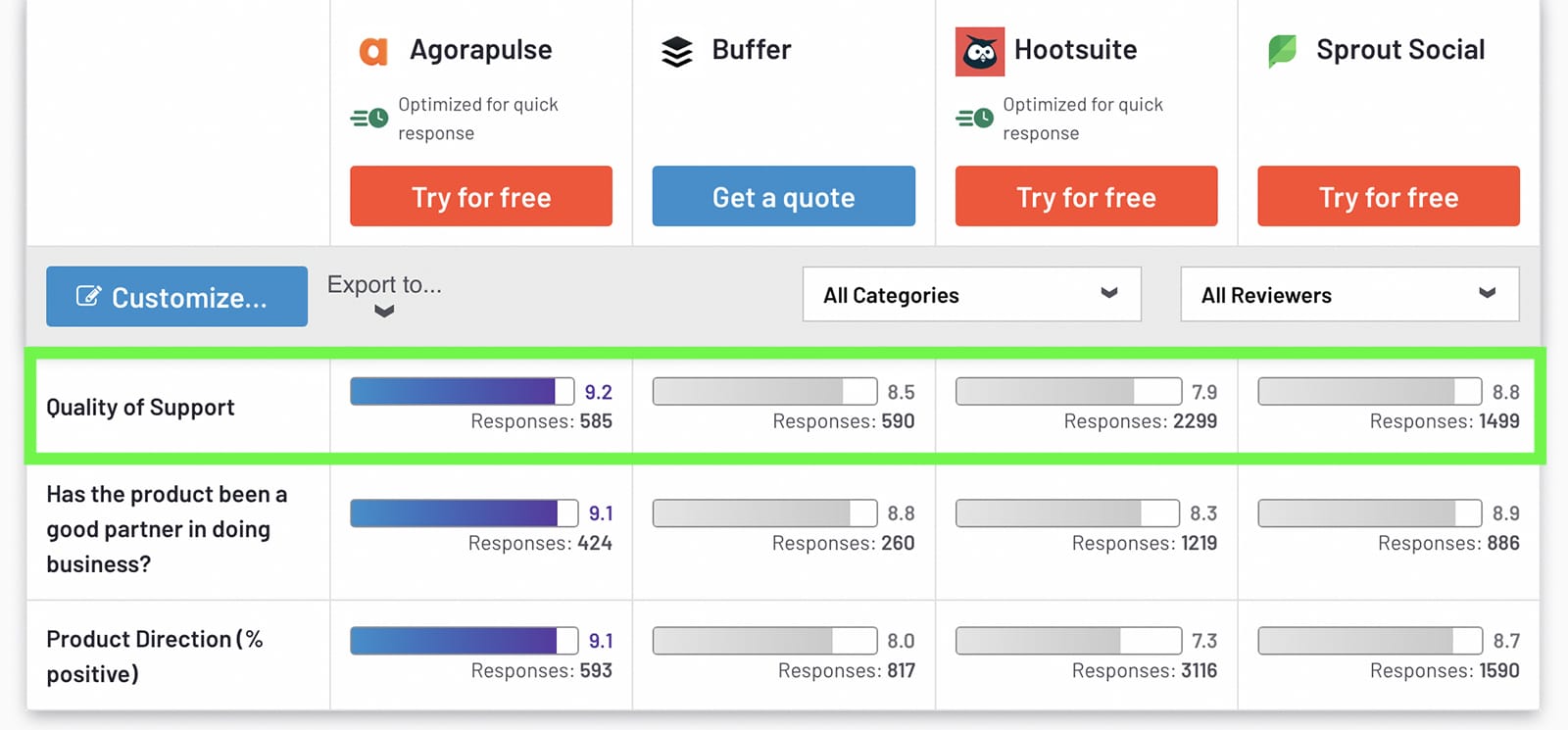 It's worth pointing out that Agorapulse gets the best rating. We take great pride in this rating as we've always heavily invested in our support team.
You care about innovation and product vision
Hootsuite offers very poor ratings from its user reviews. With almost 6,000 user reviews, actual users of Hootsuite, Sprout Social, Buffer, and Agorapulse think that Hootsuite is not improving its product or driving it in the right direction.
In other words, social media management software users think that Hootsuite software is not as innovative as they would expect it to be and is not headed in the direction they wish it to go.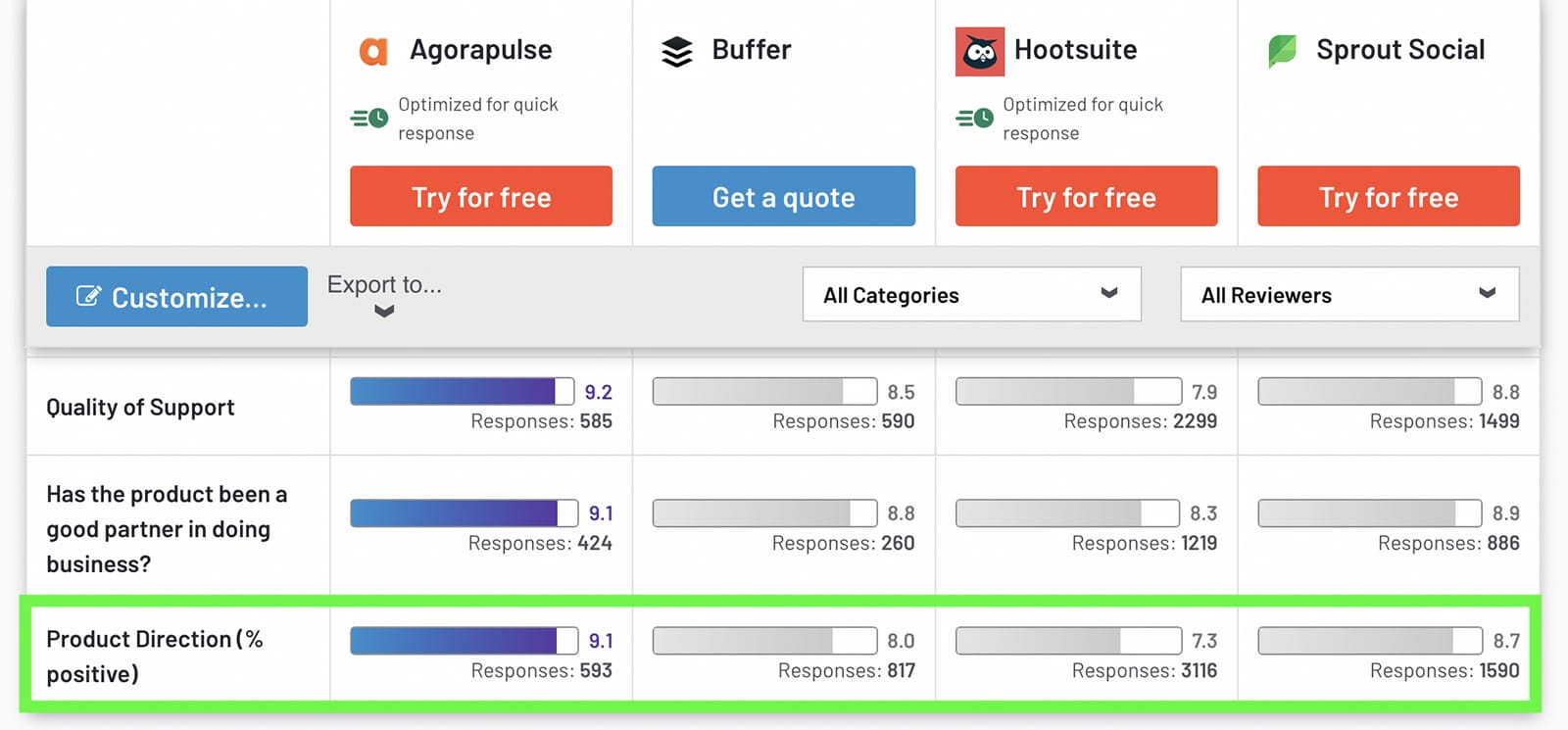 In a world where social media platforms evolve weekly, you want your social media management software to stay at the forefront of innovation and experience constant improvement. You want the tool to work with for your social media strategy, not against it. Hootsuite's 7.3 lags far behind the other industry-leading social media management tools.
Get started on saving time and energy on your own social media management! Book a free demo and see how we can help you schedule, track, and measure all your social media efforts.