Should you choose Hootsuite as your social media management tool? If you're considering it, you're most likely asking yourself, "What are the pros and cons of Hootsuite? If this isn't the best tool, what is? What do the Hootsuite reviews say?"
To help you in the decision-making process, we've written a comprehensive breakdown of Hootsuite reviews from 6,185 real Hootsuite users on the most respectable review sites, such as G2, Capterra, and TrustRadius.
Why would we at Agorapulse do this? As one of Hootsuite's competitors, we have a clear, understanding of the competition's pros and cons, pricing plans, and ratings based on Hootsuite users' reviews and opinions.
If you would rather focus solely on Hootsuite's pricing plans, read our Hootsuite's Pricing Revealed: How Much Does Hootsuite Really Cost? article. And if you're torn between Hootsuite and its competitor Sprout Social, get a fair, data-driven comparison in our Hootsuite vs. Sprout Social article.
No time to read the whole piece?
TL;DR
Here's a very high-level summary:
Hootsuite is seen as out of date. This legacy solution struggles to keep up with its far-more innovative competitors, according to thousands of user reviews. This lag has allowed Sprout Social and Agorapulse to lead in terms of user experience and perception.
It's significantly behind the competition in user experience and ease of use. Hootsuite's age is showing: It was ranked a low 8.1 compared to Agorapulse's solid 9.1. That significant gap is backed by solid data and user testimonies.
Hootsuite lags behind Agorapulse in the ranking of critical features. Agorapulse beats Hootsuite across the board, especially in publishing, monitoring, and reporting. Reviews on Capterra give Agorapulse an 8.7 out of 10, and Hootsuite an 8.3. This seemingly small difference is significant, for it affects how users perceive the overall experience of using these solutions.
Growing agencies and businesses are forced into the Business program, which costs $8,868 upfront. Hootsuite's pricing shows only annual pricing information (not the more expensive monthly option), which gives a false impression of an affordable plan for agencies and businesses. However, the Business plan actually costs $8,868 if you are billed annually upfront. And if a team's needs grow, it is forced into Hootsuite's $18,000/annual Enterprise plan.
Hootsuite's "value for money" depends on whether you're a small company that is not growing or one that is active and expanding. You'll have to look at your specific needs and see whether Hootsuite is a good or bad "value for money" option. The answer will depend on what your specific needs are and whether your business intends to grow. For example, if you have more than 5 users and/or 20 social profiles, or you intend to grow beyond that, Hootsuite is probably not the right choice for you.
Now, let's dig into a detailed overview of Hootsuite.
1. Hootsuite is "dangerously out of date"
Hootsuite was one of the first companies to open the market of social media management solutions. But this legacy tool has struggled to reinvent itself and innovate its products in comparison to its more agile competitors, such as Agorapulse and Sprout Social.
"Hootsuite is dangerously out of date. In its early days—in the absence of any other tool and amid only a few social media channels—Hootsuite's user interface was groundbreaking. You could create a different stream for each channel. Then, the Internet evolved. More channels appeared. More incoming message types were introduced. But Hootsuite didn't evolve with the Internet." (The Hootsuite Problem by Tod Maffin)
Tod's perception is common to Hootsuite customers.
"Hootsuite is outdated and not much has changed over the past decade. I was grandfathered in with the pricing, and now cannot transfer to another social media management tool for even a tenth of what I pay to Hootsuite.
Hootsuite doesn't allow you to download draft posts (copy, images, links, hashtags) for you to present to a client and get approval. It only allows you to export to a csv file, which is pointless when your client needs to see how their images and links are going to look.
It takes them a long time (sometimes years) to build in the features that I see other social media management tools have – such as Instagram Stories scheduling and Pinterest." ( "Basic and Outdated" on G2 review site)
Users rate Hootsuite's product direction at a very low 7.3 on the G2 review site.
That dismal score is especially concerning if you're deciding whether to choose Hootsuite. You want a product that keeps up (and sometimes is ahead of) the social media landscape.
That tool is not Hootsuite.
Sprout Social rates 8.8 by comparison; Agorapulse is a solid, industry-leading 9.3.

2. It's significantly behind the competition in user experience and ease of use
Hootsuite is significantly below Agorapulse in terms of ease of use, admin, and setup, according to G2.
Ease of use, admin, and setup
On average Agorapulse ranks 9.1, and Hootsuite averages at 8.3.
This difference demonstrates how thousands of users felt about these ease of use, admin, and setup.

Hootsuite's low rating is reinforced by what we've read in the comment sections of the reviews.
"It isn't as user-friendly as other social media management software. There is not a calendar really to help you see all posts upcoming and past at a glance. Also when sharing it with another team member, the views can get very confusing to others and I feel that the learning curve is a bit high." ("Does the Job but isn't very user friendly" on G2)
Considering the low rating in ease of use, setup, and admin, Hootsuite's support should be stellar to make up for it.
After all, when users are having issues, they should be able to turn to customer support.
So, how does Hootsuite's customer support rate?
Quality of support
In terms of quality of support, Hootsuite ranks a 7.8, one of the worst support ratings on G2 for the industry.

That low number shocked us for such a huge legacy company.
We dug deeper into the ratings of the most popular social media management tools and determined that the average quality of support score is 8.8—far above Hootsuite's low 7.8.
In comparison, Agorapulse has the proven No. 1 customer support in the business, according to G2, Capterra, and TrustRadius. It ranks an industry-leading high 9.3.
Product direction
If you're looking for a social media management solution that evolves with the ever-changing world of social media, you should pass on Hootsuite.
Once again, Hootsuite has one of the lowest scores in the industry. It rates a mere 7.3 in an industry where the average of the most popular social media management tools is 8.82.

For the high price tag that accompanies Hootsuite, you should expect the company to dedicate itself to continually evolving its product.
However, all those factors contribute to Hootsuite consistently trailing behind its top competitors for functionality, ease of use, value for money, and customer support.
Capterra confirms that Hootsuite consistently trails behind in the industry for its overall score: 86.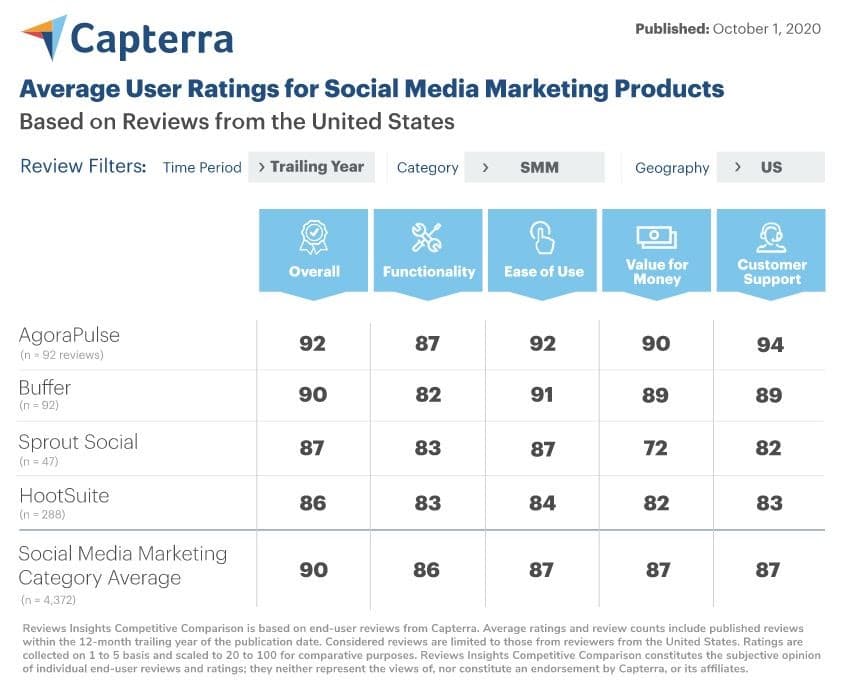 By comparison, Agorapulse ranks far above it at a solid 92 overall.
Related read: Why This Hospitality Company Chose Agorapulse Over HootSuite and Sprout
3. Hootsuite lags behind Agorapulse in the ranking of critical features
Though Hootsuite does a decent job of helping users publish content to different social media channels, it continually gets a lower score than Agorapulse from users.
Reviews on Capterra for functionality (see above Capterra chart) give us an 8.7 out of 10, and Hootsuite an 8.3. Agorapulse beats Hootsuite across the board, especially in publishing, monitoring/listening, and reporting.
That difference may look small, but let's look at what it means.
Publishing
Hootsuite ranks a decent score for its Publishing (scheduling, automation, networks, and community engagement).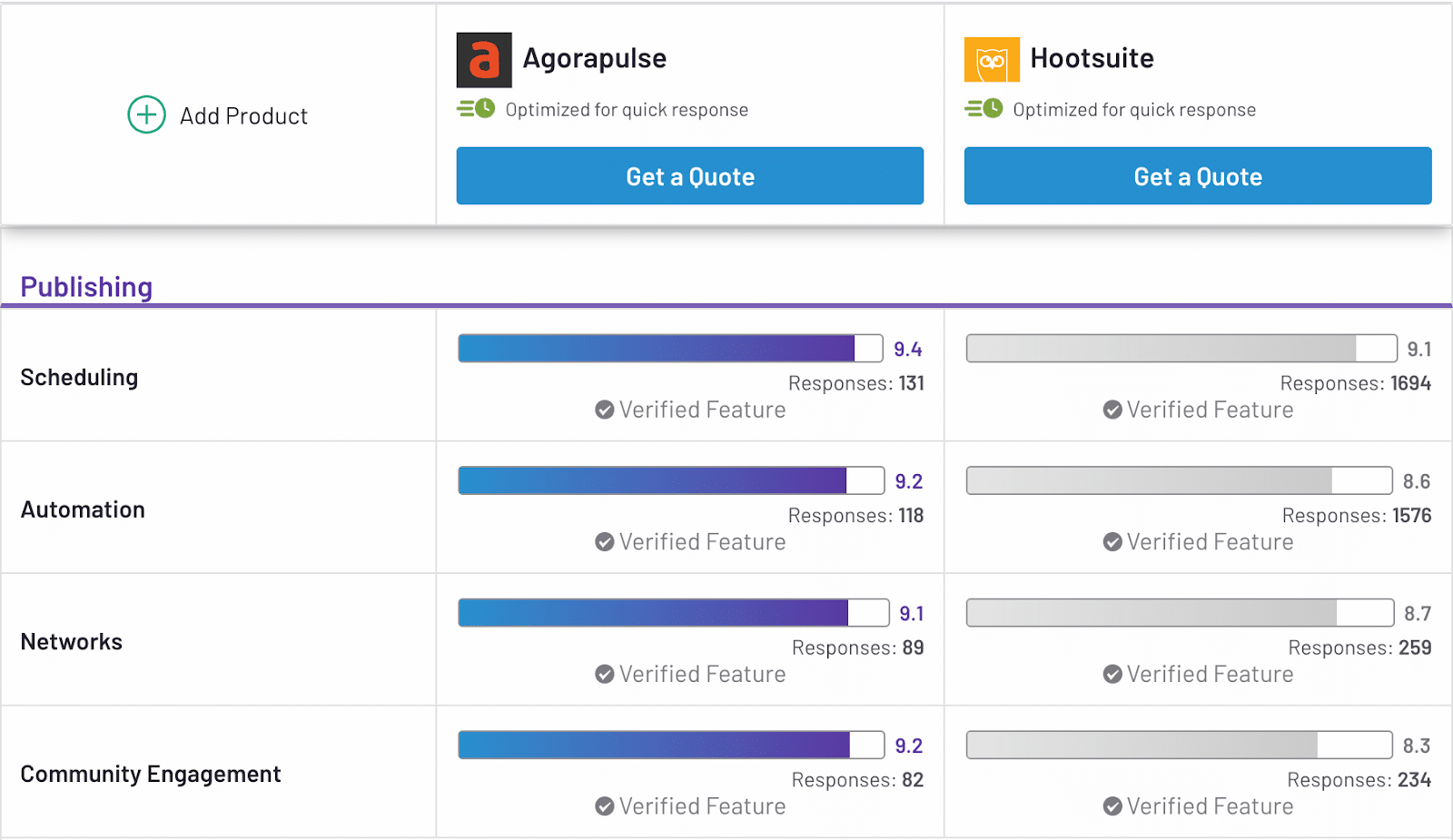 However, when you compare Hootsuite's score to Agorapulse, you can see that Agorapulse really rates far ahead in the individual categories:
Scheduling: Agorapulse's 9.4 to Hootsuite's 9.1
Automation: Agorapulse's 9.2 to Hootsuite's 8.6
Networks: Agorapulse's 9.1 to Hootsuite's 8.7 (significantly lower)
Community Engagement: Agorapulse's 9.2 to Hootsuite's 8.3 (another major difference)
In all those subcategories of Publishing, Agorapulse's rating on G2 averages 9.22 (out of 10) whereas Hootsuite averages 8.67.
That difference can be attributed to features offered by Agorapulse (and not on Hootsuite), such as:
Post customization for each social network
Saved hashtag groups to reuse on your posts
Interactive shared content calendars with clients and other stakeholders
Monitoring
Monitoring is a crucial feature for anyone involved in social media management. You must stay on top of online conversations about your business, your clients, your competitors, and others in your space.
Solid monitoring can help you better strategize your marketing campaigns and help you craft social content for better engagement. (And you can also spot a crisis-in-the-making that needs to be dealt with immediately.)
How does Hootsuite rate for its social media monitoring?
Once again, Agorapulse has the edge over Hootsuite on every subcategory of social media monitoring: social measurement, sentiment scoring, influencer identification, social reporting, and social listening.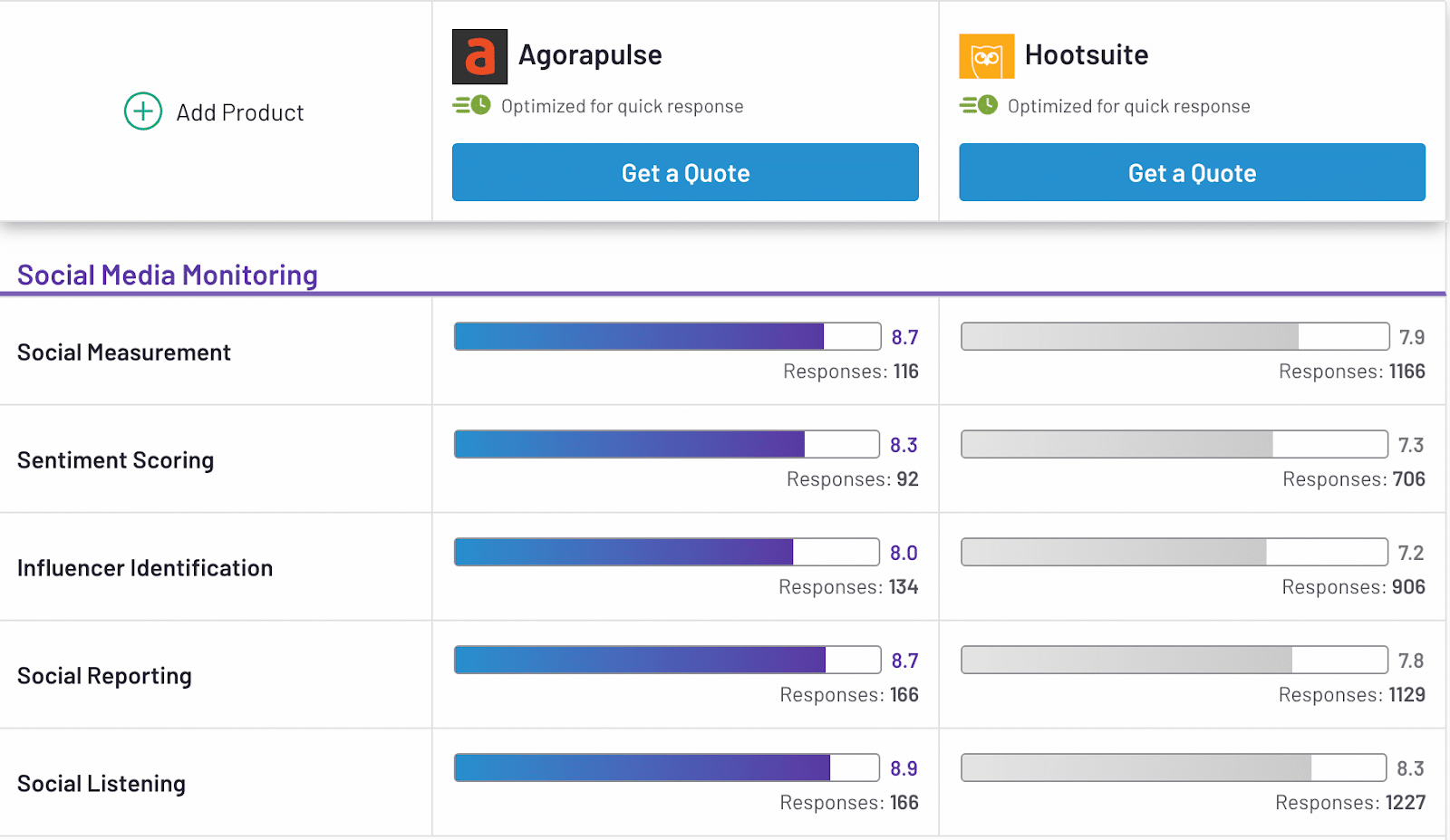 Hootsuite's ratings have a 7.7 average; Agorapulse's rating is 8.5. Though that difference is only 0.8, it clearly demonstrates again that Agorapulse has superior monitoring features.
In addition to looking at the scores for monitoring, you should also take into your buying decision-making the fact that Agorapulse offers features that Hootsuite does not.
Those features include:
Collision detection
Social inbox for Instagram and YouTube (in addition to Facebook, Twitter, and LinkedIn).
Fact: Agorapulse was the first social media management tool to offer a social inbox in 2014. Sprout Social followed with its version in 2017, and Hootsuite finally offered one in 2019. (This yet again shows how Hootsuite continually lags behind in product direction.)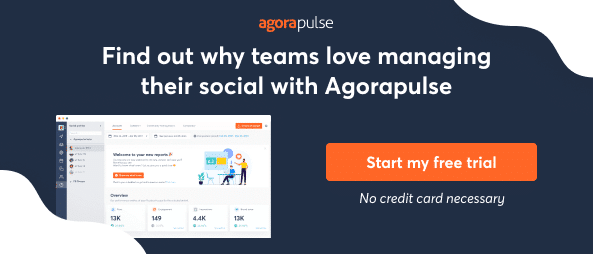 Reporting
One of a social media manager's regular tasks is to report on KPIs and other meaningful metrics.
But if you need paid campaign tracking, Agorapulse is not your best choice.
We do offer a free tool, but it won't be as comprehensive as the paid reporting tools offered by Hootsuite.
However, keep in mind that this type of reporting is an add-on to both solutions and is quite expensive. You'll have to pay $18K/yr (annual option only) for Hootsuite's Enterprise plan with the Impact add-on.
For everything else, we're having the same pattern again: Agorapulse is ahead of Hootsuite with an average of 7.75 vs. 8.4!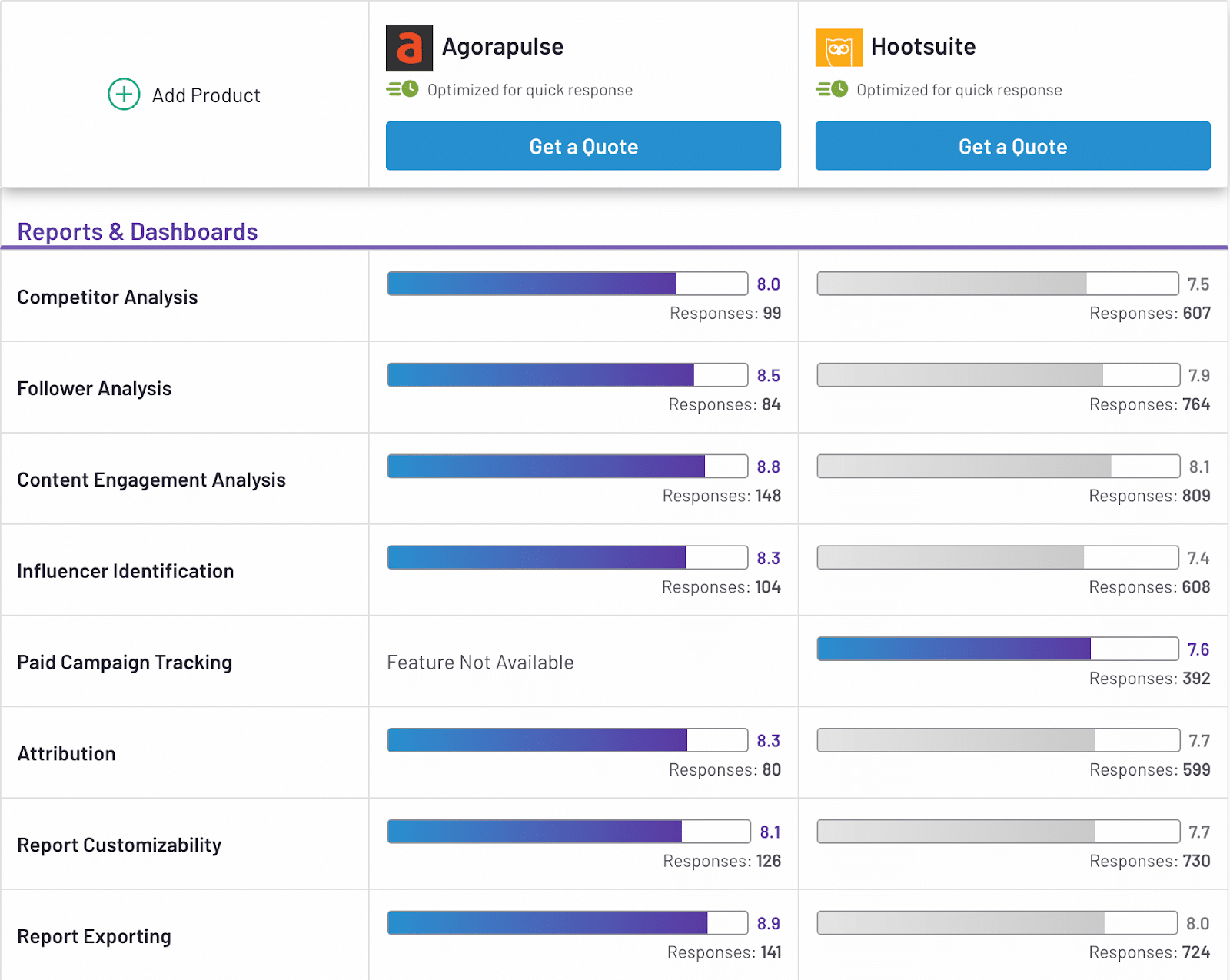 Agorapulse does offer superior reporting features that are a better value for money:
Instagram Stories reports
Facebook competitor reports
Amazingly beautiful reports that will make you look like a rock star
Truly aggregated data (not side-by-side data but data integrated in one chart)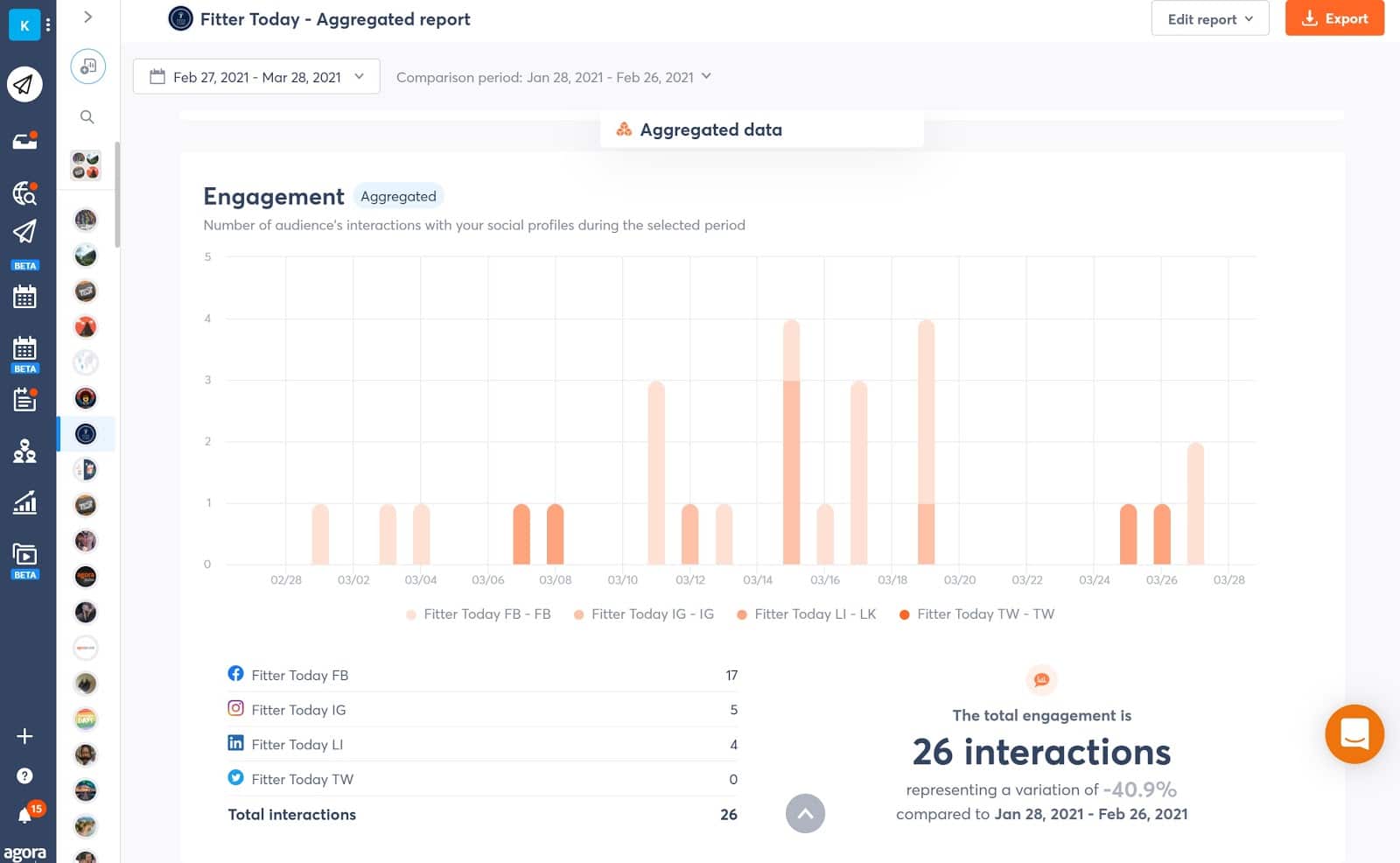 By comparison, Hootsuite makes you sign up for the $8,868 Business plan (and pay it upfront) to get features like:
CSV exports to sort and filter your metrics. (Agorapulse offers the same in all its paid plans.)
Schedule reports to external users. (This feature can be as low as a $29/mo add-on to Agorapulse's plans.)
4. Active agencies and businesses will be forced into the Business plan, which costs $8,868 upfront
The Hootsuite pricing plan only gives you annual pricing information, not the monthly pricing, which is 30% more expensive.
This hidden pricing goes against the common practice of displaying the monthly cost of a subscription software based on an annual subscription. You typically get to toggle between the monthly and annual costs.
But not on Hootsuite's pricing page. You have to create an account to compare monthly and annual plans.
And if you're an active business or agency needing to manage more than 20 social profiles or more than 3 users, you'll exceed the limits of the Team plan and need to choose the Business plan. It's advertised at $739 for up to 35 profiles and 5 users.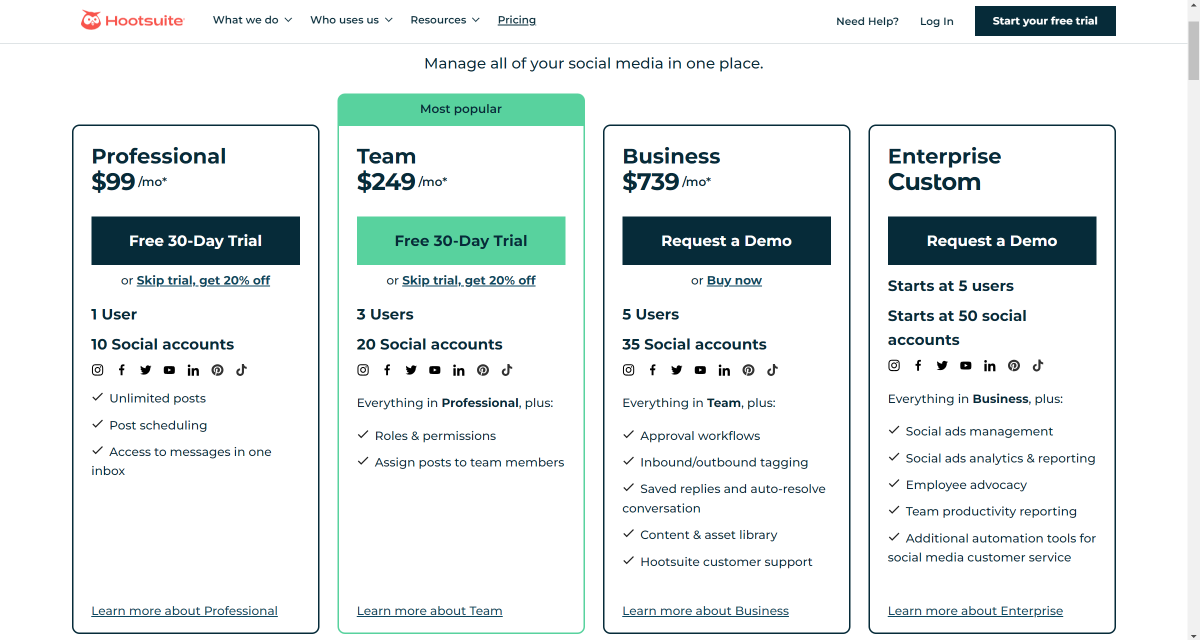 Then, you'll quickly realize that there's no monthly plan for the Business plan. Though the pricing page says $739, you must commit to an annual plan.
That's $8,868 upfront.
Need "real live human support" any time of day? An approval workflow? Automated moderation rules? You won't get any of those on the Professional and Team plan. You have to choose the Business plan.
That's right—$8,868 upfront.
And you won't even get the best support in the business.
Hootsuite's support gets the worst rating among the four largest social media management solutions:

Moreover, if you need advanced features, such as team reports, live training, and a dedicated account manager, you'll have to sign up for the Enterprise plan and pay at least $18,000 upfront.
If you want to crunch the numbers yourself, use this free, super-detailed pricing tool from a well-known UK marketing consultant Ian Anderson Gray.
6. Hootsuite's "value for money" depends on whether you're a small company that is not growing or one that is active and expanding
If you're just managing the publishing and engagement of fewer than 10 social profiles and don't need any additional users on your plan, Hootsuite is an affordable option.
As one reviewer mentioned on G2:
"Hootsuite provides a good overview of your social media channels and makes scheduling a breeze. It is good for companies with less than 4 social media channels as there are better tools out there to handle bigger social media accounts." ("Nice tool for small companies with low social media activity" on G2)
You also might choose Hootsuite if you have a need to publish to Pinterest.
Also, if you must integrate your social media dashboard with other business apps, such as Zendesk and/or Salesforce, Hootsuite once again may be a good option for that specific need.
However, Hootsuite is most likely not a good fit for you if:
You manage more than 20 profiles.
Your only Hootsuite option will be the Business plan, which requires an investment of $8,868. All at once. No monthly option is available. (A plan with the same profile/user specs only costs you $199/month or $1,908/annual at Agorapulse.)
You have a team of more than 3 users.
Again, your only option is the Business plan at $8,868. So, if your agency has more than 3 people managing social and doing community management, or if your customer support team has more than 3 agents answering questions on social media, you're shelling out serious cash. (The more affordable Agorapulse Premium plan is only $199 a month or $1,908 a year.)
You're an agency.
Even if you're a small agency and can handle the user/profile limits of the Professional and Team plans, you are going to need features only available on the Business plan. Those include: a content approval workflow, labeling outgoing posts, automated moderation rules, saved replies, automatically emailing reports to clients every week or month, team response time to customer's questions, and more. That's going to cost you $8,868 up front. (BTW – All those features are available on Agorapulse's Premium plan. For an initial investment of $199. Plus, you have the option to enroll in our free agency-specific Agency Love program.)
You have a very active social media presence.
If so, you'll need automated moderation rules, saved replies, and collision prevention. Again, you'll have to pay $8,868 with Hootsuite. (The Agorapulse Premium plan, by comparison, only requires an initial investment of $199 for all those features.)
You demand timely, helpful customer support.
Hootsuite's support gets the worst rating among the four largest social media management solutions, according to almost 6,000 user reviews on G2:

A free detailed, helpful pricing tool
If you want to do some research on your own beyond Hootsuite reviews, use this helpful, detailed social media pricing tool from well-known UK marketer Ian Anderson Gray.
The tool is updated at least twice a year. It allows anyone, in less than a minute, to know exactly how much they would need to pay for the four biggest social media management tools on the market.
And after you realize that you're paying waaay too much for your current social media management tool, reach out to us for a free demo of Agorapulse, and take control of your social media today.