Get the groundwork ready today for all the end-of-year reporting that'll come soon enough. The following tips can help you prepare social media reports for agencies.
Reporting is a necessity in any social media manager's life. Solid marketing reporting can boost your client's satisfaction and loyalty and increase your average client's life. (Talk about pressure, right?)
Let's see how you can prepare for your agency's end-of-year reporting starting now!
If you are well-prepared, you will not dread the approaching reporting season that much and be excited about meeting your goals.
What Is End-of-Year Reporting?
An end-of-year (EOY) report (also referred to as an annual report or year-end report) presents a detailed report of (marketing) activities within the preceding year.
The report usually outlines the overall performance, financial statements, and other KPIs (key performance indicators).
An annual report aims at fostering transparency and increasing clients' confidence in your work.
What's the Purpose of End-of-Year Reporting?
The main goals of end-of-year reporting include …
To create an easy-to-digest summary of what has been done and what has been achieved within the past year. For agencies providing marketing services, this report should be proving the value of their services.
To educate a client on how social media marketing should work and which results to focus on
To set up a clear and actionable plan for the upcoming year based on the past year's successes and failures
When Should You Start Preparing?
The earlier you start to collect your data, the better your report is going to be. (And the easier it is going to be to create a social media report).
In many cases, unless you set things up at the beginning of the year, your EOY report will lack lots of important data.
This includes Web analytics (social-media-driven traffic and conversions), brand mentions, and interactions.
That being said, make sure you have the following in place at the beginning of the year to be able to create a comprehensive report.
Set Up Your Agorapulse Account for Each Client

The Agorapulse social media management solution requires minimum setup, It will start generating social media reports right away.
Connect all your social media channels, including Facebook pages you are managing, Twitter accounts, and LinkedIn accounts. Don't forget to do that for each new client you onboard and the client's social networks.
Know the terms and domains you want to monitor for each client. These include your client's brand name, product names, CEO's name, domain, etc.
Have your Facebook ROI details. The calculator allows you to evaluate the value generated by your Facebook page. Set up the cost for engaged fans, link clicks, and a thousand impressions. Again, this needs to be set up for each client's Facebook page.
Social media reporting is included in all Agorapulse account tiers. Power reporting is advanced analytics and reporting functionality that is available as an add-on.
Set-Up (or Get Access to) Your Client's Web Analytics Account
The best way to prove the value of your marketing services is to show what kind of an impact it has on your client's website.
On-site analytics makes reporting more in-depth and allows more precise conversion monitoring.
Most of your clients will have Google Analytics already tracking their site performance. All you need is access. Most of your clients will need goals set up to monitor social media traffic and conversions.
If your client is flexible enough to implement your recommendations, I'd recommend giving Finteza a try.
The tool is much easier to set up and understand, and it includes nice marketing features like personalization, sales funnel visualization, and ROI analysis.
Consider All the Decision-Makers
When planning your end-of-year reports, make sure to consider each client's decision-making unit (DMU).
A DMU consists of all people within a certain company who take part in the company's buying decisions.
In B2B, a DMU is one of the most important parts of the sales funnel: You need to find your way to each decision-maker within your client's company if you want them to remain your clients for longer.
Know the decision-making unit
A DMU may consist of:
CEO of the company. This person usually wants to see a lot of information presented quickly and in detail, such as with nice graphs and convincing visualization.
Head of the marketing team. Make sure to always make it clear that your great numbers and successes wouldn't have been possible without the in-house team's help. It is also a good idea to mention your future plan and how the in-house team may help in its implementation.
Head of accounting. These people need to see clear ROI. They will also appreciate it if you include a clear summary of all the expenses (your invoices as well as advertising costs they have encountered).
At the beginning of the contract (as well as at the beginning of each year), it is worth discussing your clients' DMUs with sales and customer support teams. This way you will be well prepared to create a report to make them all happy.
What Should the EOY Report Include?
Performance trends and benchmarks
Showing traffic and conversion numbers and the results of social media campaigns is helpful. But the clients of digital agencies always ask, How does that compare to the previous year as well as to the average performance metrics.
Agorapulse sets automatic comparison of data to the previous period, so you will have a detailed comparison report by default:
In both Google Analytics and Finteza, you can choose to compare your current report with the previous year's data. In Google Analytics, you need to enable "Compare to previous period" when selecting the dates:
Visualize everything you can to make benchmarks and trends as visual as you can. There are different ways to visualize data, so it is a good idea to play with several of them.
Notable achievements
This is where I tend to encourage my team to keep track of and then ultimately include:
Interactions with niche influencers
Social proof (i.e., customers praising the client publicly on social media)
Replies from notable celebrities
Social interactions that led to a purchase or a public recommendation
Answers that turned an angry customer into a buyer
All those can be saved as screenshots and included in the year-end report as "highlights."
Social media is not an "all-numbers" game. This section helps to drive this message home. If you keep highlighting some individual interactions, your clients will value them more.
For less technical decision-makers, this section will also help understand what it is you are doing and take more interest in your services.
Agorapulse helps you keep track of notable interactions by using labels.
Instead of saving screenshots and links, you or your team can simply add a separate label (e.g. "To report").
Doing so allows you to go back to those interactions any time in the future to choose those you want to include in the final report:
Apart from tagging notable conversations, you can also add labels to your posts to track the performance of specific campaigns or types of content.
For example, you can label all the posts related to "x" product to show a summary of its performance throughout the year.
Fails (and what you have learned from them)
Any social media marketing report should include both successes and failures. After all, social media marketing involves lots of experimentation. It is impossible to imagine a campaign that is full of marketing tests all of which are successful.
A failure is a testament to a solid social media marketing campaign.
Include all your failures and what you have learned from them. Mention why you think a tactic failed and whether it is worth trying again by fixing the previous mistakes.
If so, you'll then have data to better inform your social media strategy for future campaigns.
Marketing ROI
If you enable the feature, Agorapulse reports allow you to estimate ROI for your Facebook campaigns.
Google Analytics also includes a feature for social media ROI, based on the goals you set up.
The overview of this section includes:
All your conversions from all sources. If you have several goals set up in analytics, this report will include them all.
Contributed social conversions (i.e., conversions Google Analytics attributed directly to social media). This number includes goals that were not completed during the first visit.A user can click a link on social media, close the page, then come back in two days and finally make a purchase. This number will include all of these.These would not include "social awareness" conversions (i.e., those your business received because of the brand awareness you built through social media).
Last interaction social conversions (i.e., those goals which were completed during the very first visit from a social media channel). This number is somewhat indicative of what kind of a job your landing page is doing when it comes to engaging the social traffic:
Again, you can (and should) create a comparison report to show how this year compares to the previous year and demonstrate year-over-year growth:
Ideas for the upcoming year
Did you see any cool campaigns in your or neighboring niche? Do you have some fresh ideas you'd like to implement?
If you saw some cool tactic being used by your competition (or just about any brand) over Christmas, mention that this is something you could do next year.
This section should make it impossible for your client not to renew your marketing contract. They need to know that you are eager to try new tactics and look forward to your future together.
Creative ideas don't come in a day, especially when you feel pressed turning your report in, so make sure to start brainstorming these ideas early on.
Financial statements
This section will make your report more trustworthy.
Knowing that you keep track of their expenses, the clients will feel confident you understand their needs. Your expenses may include software costs, advertising budgets and even business phone bills if you are providing phone support as well.
This section will help them see there were no hidden costs or charges they incurred and you are being 100% transparent. It is worth including accounts receivable here as well.
Deeper, more powerful dives into your content
A basic report from Agorapulse includes:
Account growth
Audience demographics
Impressions
Content overview
Engagement
Community management
However, agencies may want to use Power Reports (a subscription plan add-on that starts at $29/month).
Agencies can:
Access multiple profiles at once for a combined social media report
Report with data from up to 10 social profiles in the way that best fits your needs
Do a combined overview of all channels
Show the aggregated data that matters to you (and hide the ones that don't)
Show the top-performing content for each channel
You can get a more detailed look at Power Reports for the specifics.
Quick Look at What to Do Now
To sum up, what is it that you need to do to create a good end-of-year report?
Here's what you need to do at the very beginning of the year to prepare.
Set up your tools
Add social media accounts, set up social media listening, add web analytics tracking code.
The earlier you start collecting the data, the better.
If everything should have been set up by now, you may want to check if everything is working.
Code is often lost in redesigns, brand names change, and social media tokens expire. This is your time to make sure all is in place and works properly.
Discuss each client with sales and customer support teams
Ask;
Who are you going to report to?
What kind of decision-makers are they directly talking to?
Which kinds of KPIs each of those decision-makers prefer to focus on?
Track interactions, mentions, and social media testimonials
You may want to save URLs and screenshots of everything that feels cool to you. These may not all get to the annual report, but they will turn useful on clients' phone calls.
An easier way to do that would be to use Agorapulse labels, which allow you to save social media interactions in a separate folder for further reference.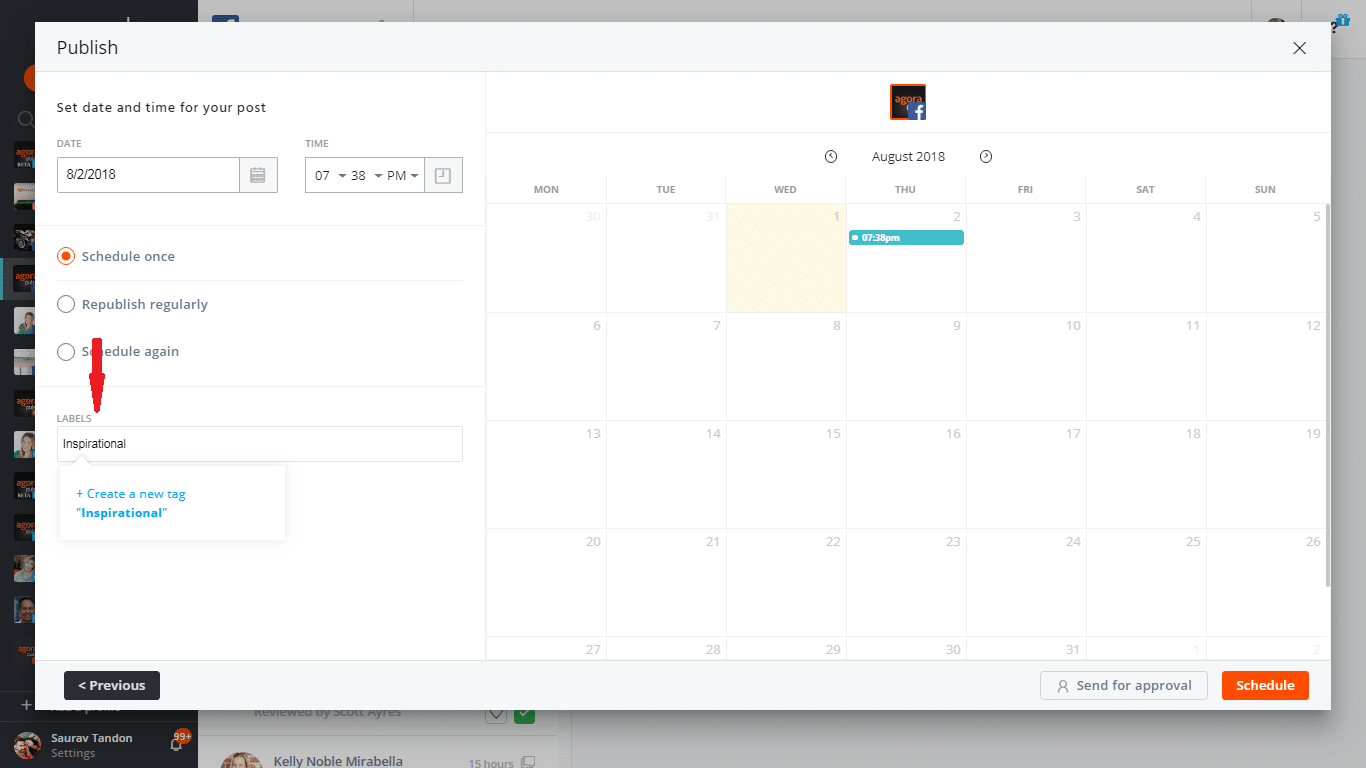 Create an outline of each report at the beginning of the year and fill it in with some notes going forward
Think of this as a rough draft that keeps you motivated and organized.
If you know which data you are looking for, you will be more motivated to achieve your goals.
As an agency, you'll have conversations with clients about what their social media objectives are. So, you'll need to stay on top of those objectives and report on them later.
Objectives can include:
Build brand awareness
Create a community
Increase conversions
Improve customer service
You can read more about what to include in your social media report.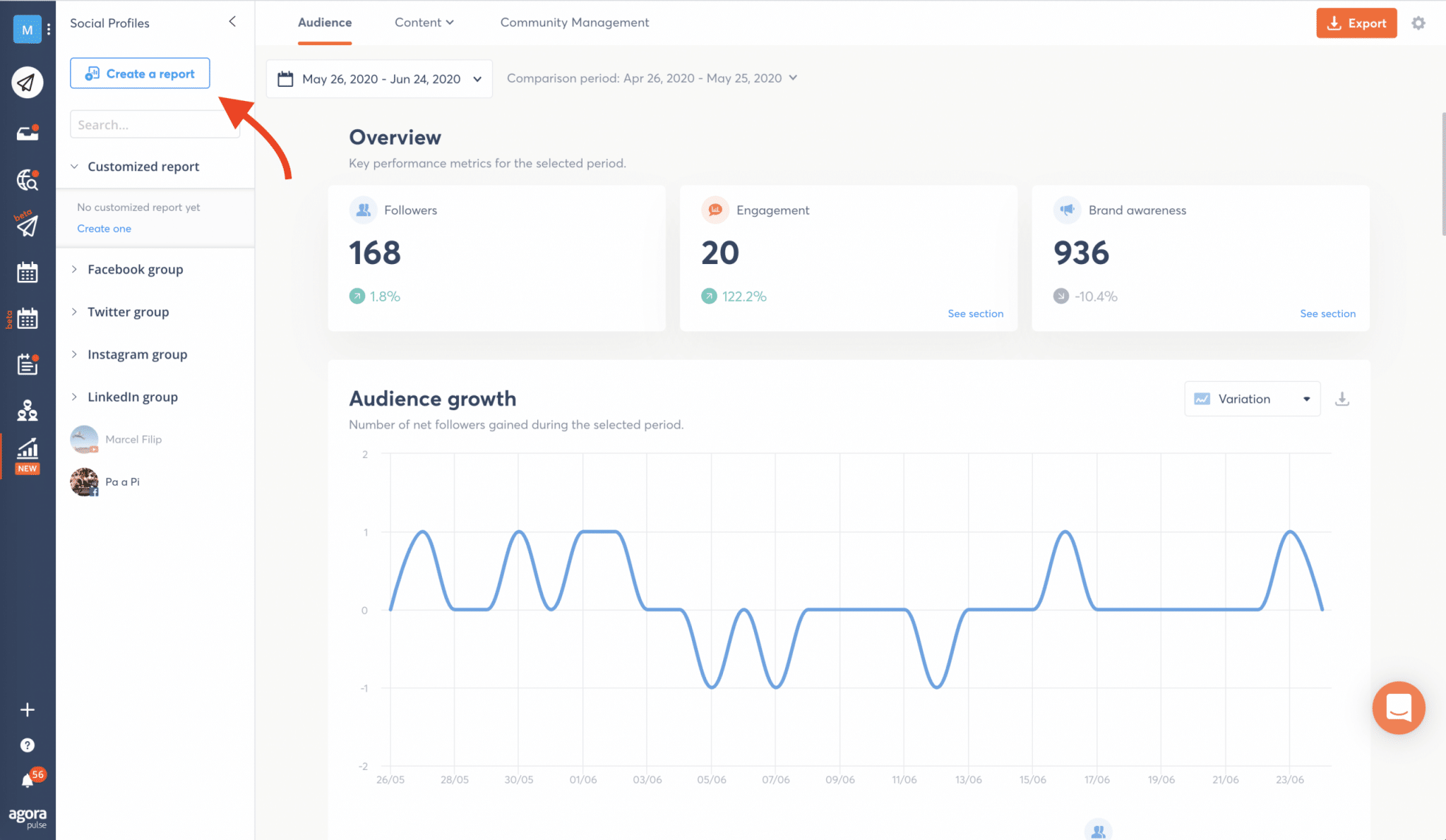 As you are watching your clients' competitors, keep track of some ideas for the next year
This is especially useful for next year's seasonal campaigns.
Rather than think "Why hadn't I thought of this Christmas marketing idea?" I think, "Cool idea! We will try something like this next year!"
This is the section that will make your report actionable.
Conclusion
If you are managing a marketing agency, end-of-year reporting is your ultimate competitive advantage. If you do it right, your clients will be by your side for as long as their budget allows and will never think to leave for any other agency. It is an opportunity to demonstrate the true value of your work without being too self-promotional or pushy.
Don't take annual reporting lightly: Start preparing early to create a truly useful and impressive report at the end of the year. Good luck!
Start preparing now for amazing social media reports for clients. Check out our free trial of Agorapulse to help you schedule, track, and measure all your social media efforts.