Following on from winning a coveted spot on G2's Best Software Awards 2022 list, Agorapulse has now been recognized in 20 G2 award categories and has won first place in eight of them, including:
Usability
Results
Audience engagement analysis
Estimated ROI
User satisfaction
Ease of setup
G2's recognition of our stellar performance this year isn't surprising when you see that more than 800 G2 reviewers gave us an average overall score of 9.3 for:
The quality of our support
How easy the platform was to use
Payback from using the platform
How easy it was to do business with us
Every year, more than 80 million people consult G2, which publishes reviews from thousands of real-life software buyers, before they make a software decision.
We, therefore, take our G2 reviews, scores, and awards very seriously. So we're incredibly proud that we've built a social media management platform that our customers clearly love.
"It's an honor to receive recognition in the G2 Fall 2022 Reports awards. Our goal is to help businesses get the most out of their social media management software, so it's encouraging to see customer satisfaction across critical categories like estimated ROI, usability, and results. We'll continue to work diligently to ensure that our customers exceed their business goals with Agorapulse." (Emeric Ernoult, founder and CEO of Agorapulse)
We're thankful for all the reviews and comments that we receive. We read and respond to every single one, and use them to help us:
Shape future updates and features
Improve our product and service
Build stronger two-way relationships with our customers
Following our amazing year, we'd like to share the top five things our customers love about Agorapulse, and use their G2 reviews to explain why they love them.


Publishing
"Saves a lot of time and makes scheduling and monitoring so easy." (Business Owner)
A core part of any social media strategy is content: planning content, creating content, scheduling content, and, finally, publishing content.
But the process of planning, creating, and publishing social media content can be complex and time-consuming—especially when you're posting on multiple social media networks.
So, we've designed and built features that allow our customers to create and publish, or schedule in advance, content for multiple social media platforms, from one central place.
With our publishing features, Agorapulse customers can:
Create content, and quickly adapt it for different social media networks
Save posts as drafts, so they can continue to work on them later
Share posts for approval, both internally and externally
Leave comments to communicate easily with internal team and external clients
Add labels to every post to organize content and track and report on its performance
That is why our publishing features are one of our client's favorite features.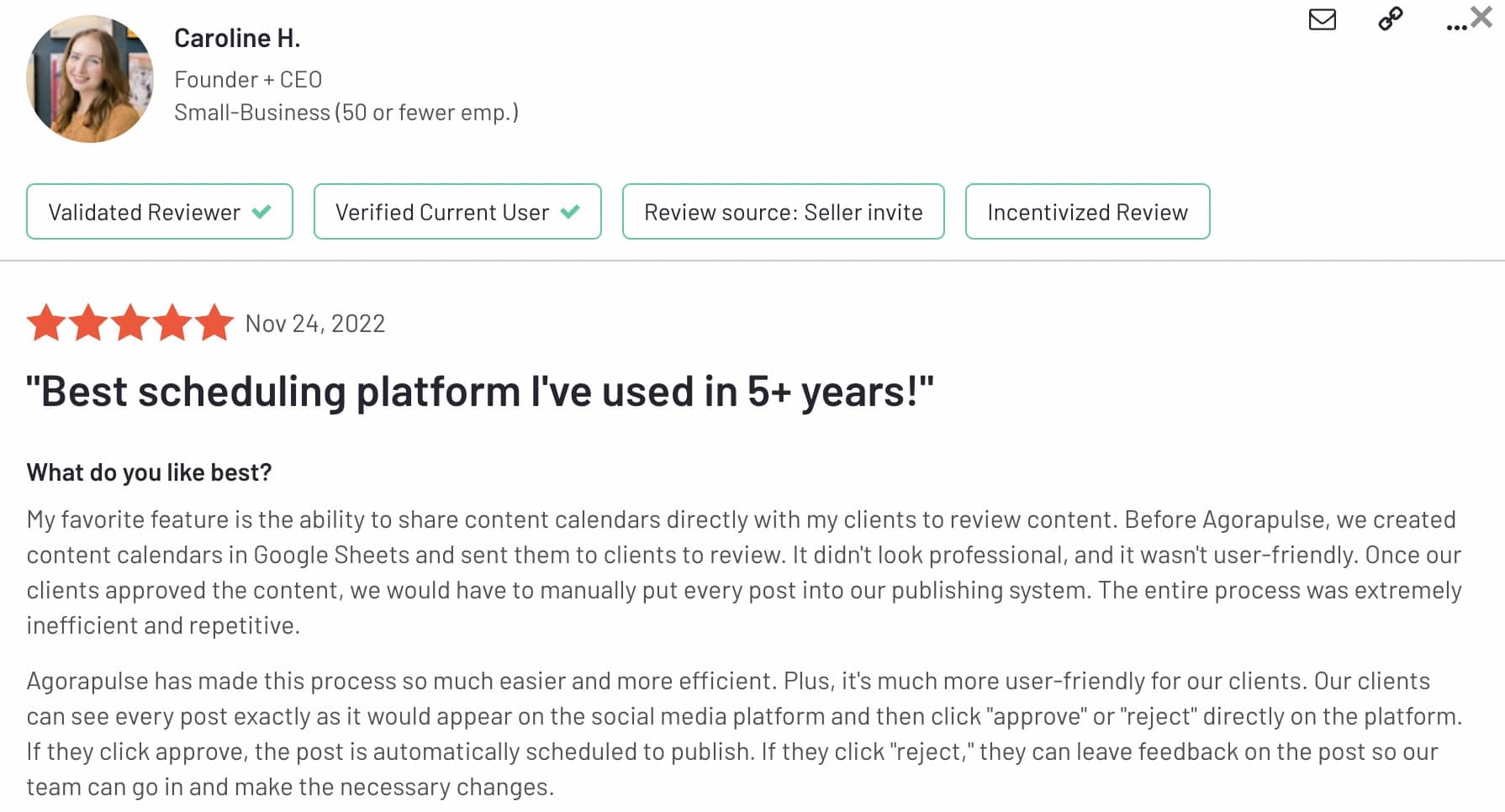 2. Engagement
"I love that all comments come into Agorapulse, and it's immediate." (Cosmetics Administrator)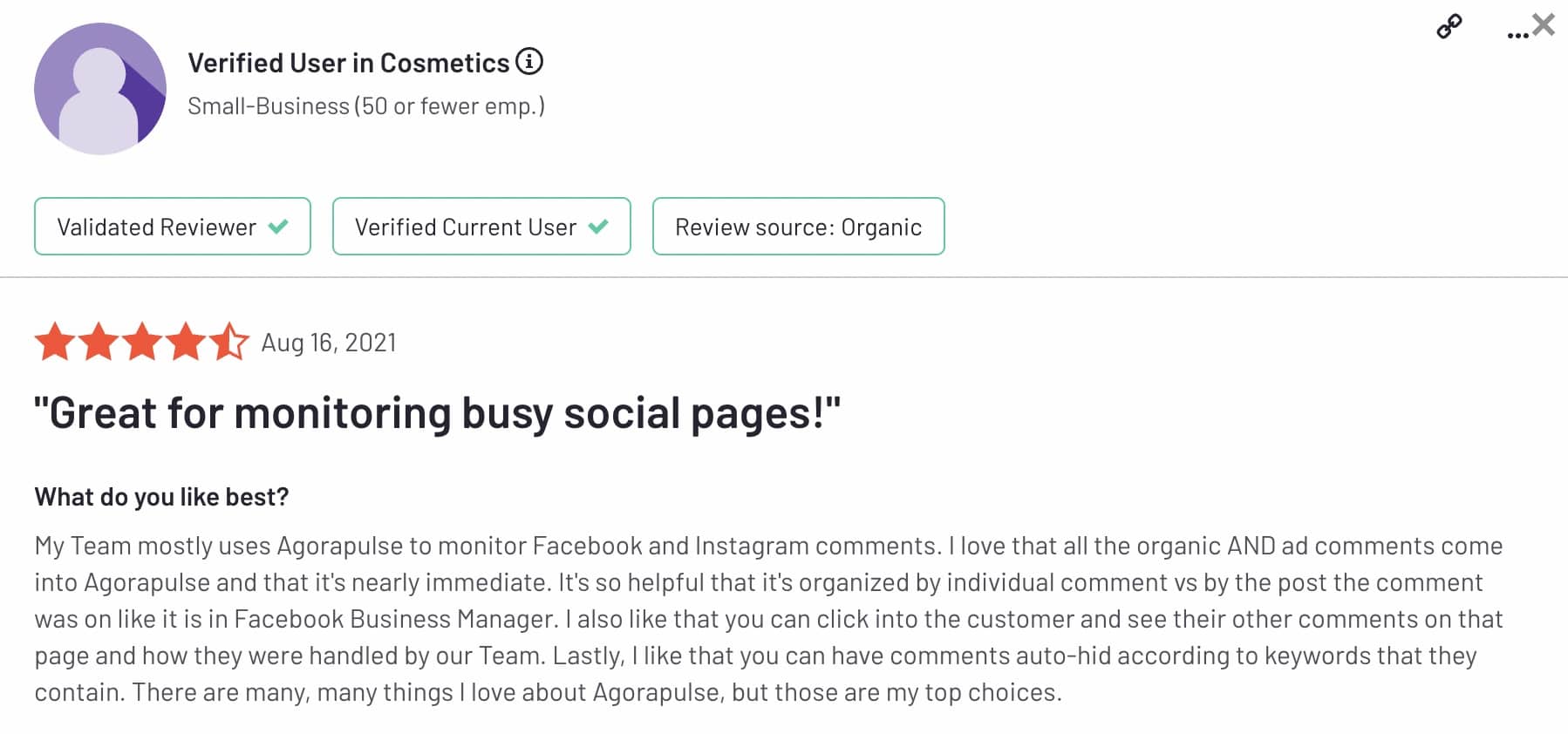 Our customers come from all kinds of industries: marketing agencies, universities, hospitals, tech companies, and more.
But what do all our customers have in common?
They're all engaging daily with their customers on social media. The steady stream of comments, DMs, and interactions—whether to sell a product or answer a question—can make social media managers incredibly busy and stressed out.
This is why our Social Inbox is loved by all of our users. It allows them to effortlessly build long-lasting relationships with their customers.
In using the Agorapulse Social Inbox:
Customers can create saved replies to save time when answering recurring questions.
They have the ability to reply to ad comments from one single platform instead of each individual social media network.
They have the power to assign conversations and share feedback with their team to keep conversations on the radar.
They can leave notes on their conversations to add more context and keep it consistent.
They have the option to tag conversations with custom labels for easy filtering and reporting.
They can create automatic moderation rules to decrease response time and handle delicate content.
Those Social Inbox features allow overworked social media managers to focus on having valuable conversations and building stronger relationships with their customers, which will ultimately lead to more sales.
3. Reporting and Proving ROI
"Reporting that helps me see what's working and what isn't." (Director of Communication)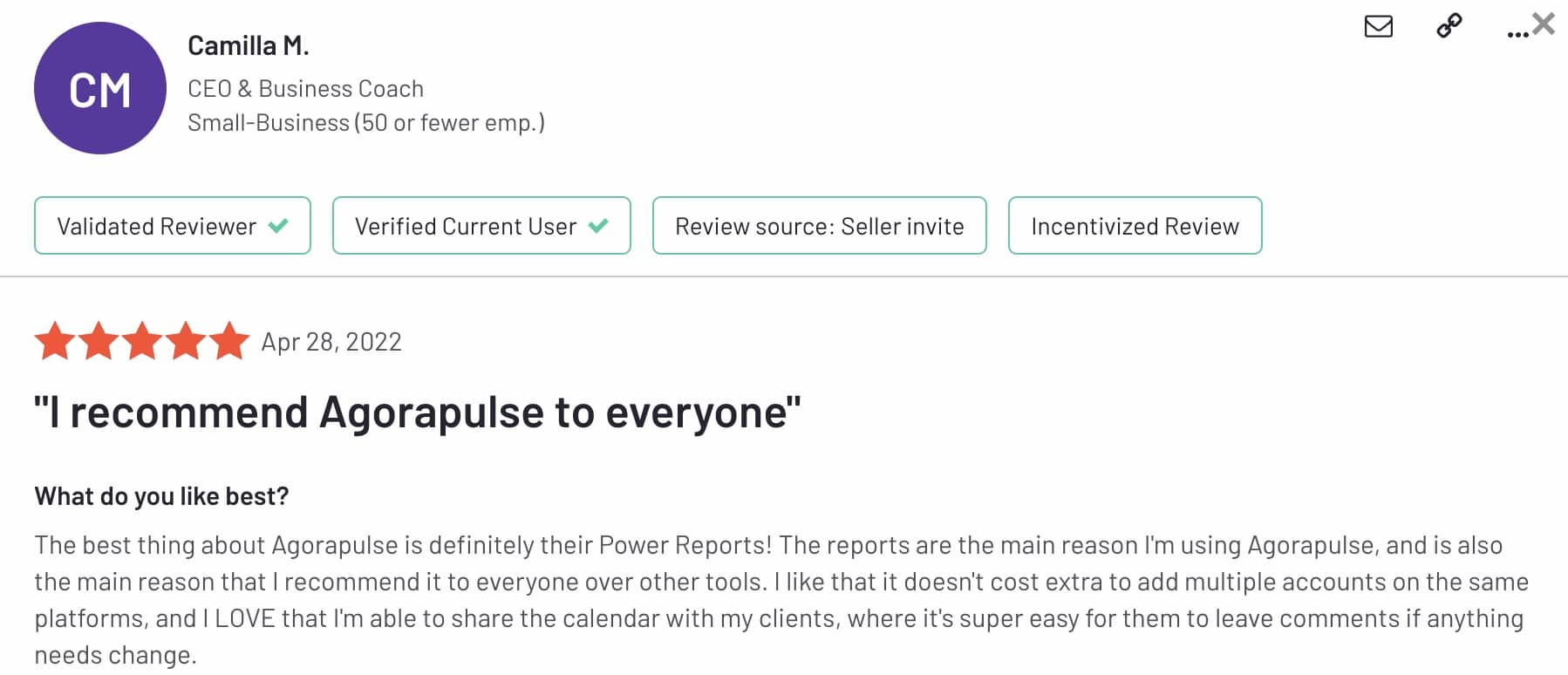 You can't overlook the importance of tracking the performance of your social media campaigns.
To build a better social media strategy, you need to analyze your campaign KPIs. You must understand what content is (or isn't) resonating with your audience, and which social media networks are bringing you the biggest ROI.
But analyzing social media metrics can be tricky. Manually pulling performance data from several social media networks and third-party platforms can be confusing and time-consuming, especially when you're working with multiple clients across multiple campaigns.
This is why our customers love our reporting, monitoring, and Social Media ROI features.
They can see all the data they need about their social media campaigns and networks on one single dashboard.
Data is clearly presented in an easy-to-read format, which allows our customers to quickly analyze their content's performance and share important insights with internal and external stakeholders.
Plus, to help them prove Social Media ROI, we've built a dedicated Social Media ROI tool that allows them to auto-generate and add UTMs to their content, link their Agorapulse account to Google Analytics, and understand the direct impact that their organic social media activity is having on their business goals.

4. Support
"Very quick to reply and resolve issues or requests" (Head of Marketing)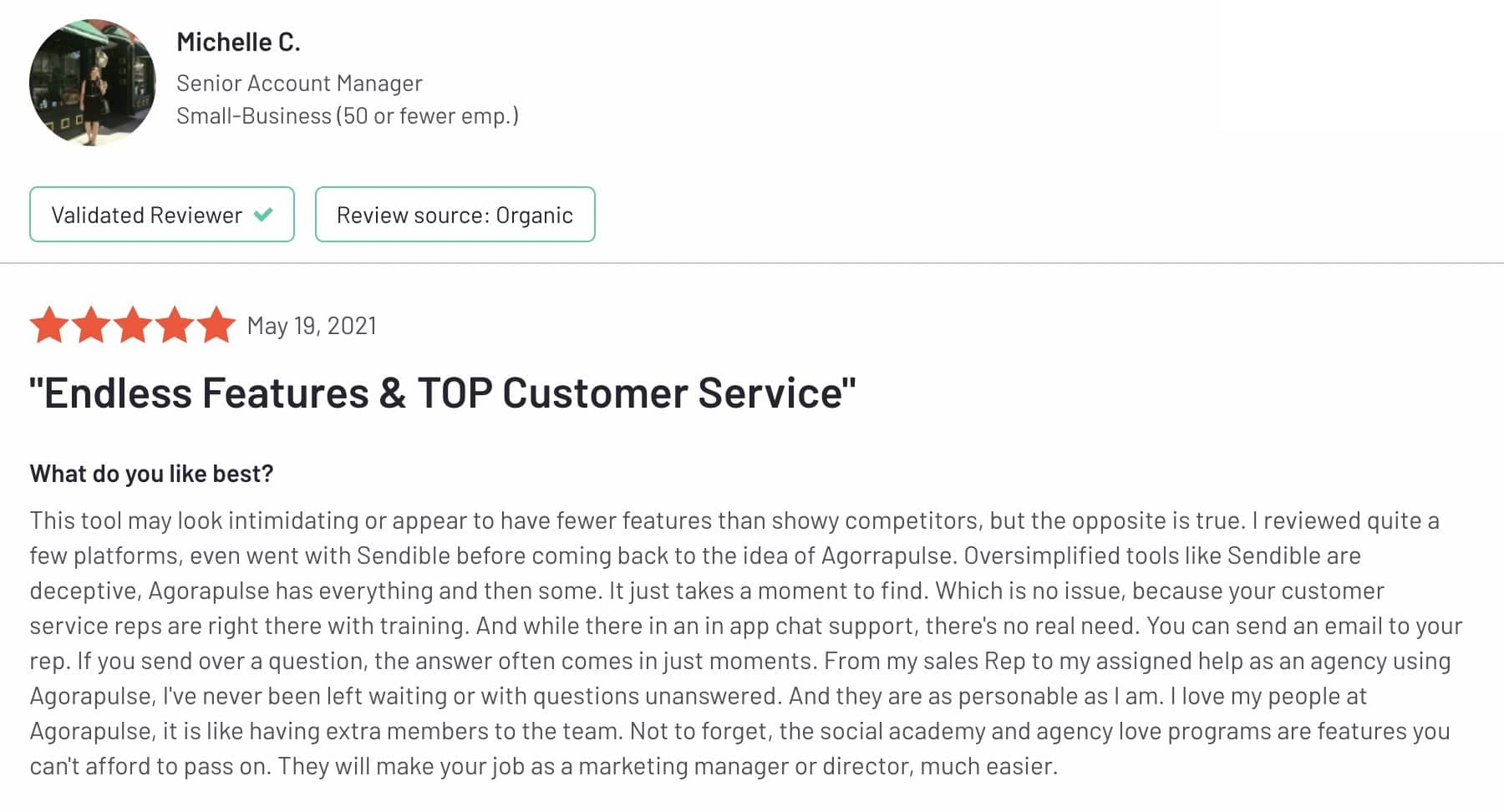 Let's face it, no matter how good a piece of social media management software is, you can always have questions, bugs can always creep in, glitches can always happen, and networks can always fail.
So, not only do you need a social media management platform that helps you create, monitor, and track your social media content, collaborate with internal and external stakeholders, and perform daily routine tasks quickly and cost-effectively, you also need one that offers world-class customer support.
You need to know that, without fail, you have a team of experts right behind you, ready to fight the fire of a social media crisis with you, day or night.
Our customer support team does exactly that. They're on hand, 24/7, to give advice, answer questions, and guide our customers through any problem.
That's why our customers love us.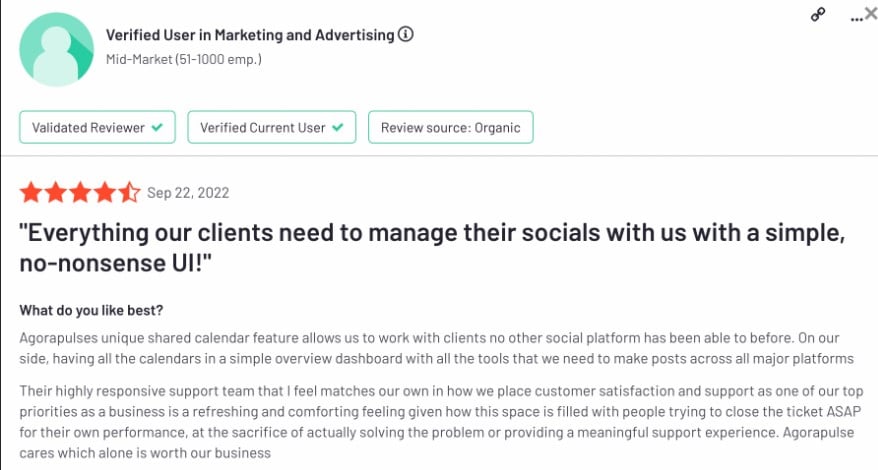 5. Ease of Use
"Agorapulse is easy to use and navigate." (Account Strategist)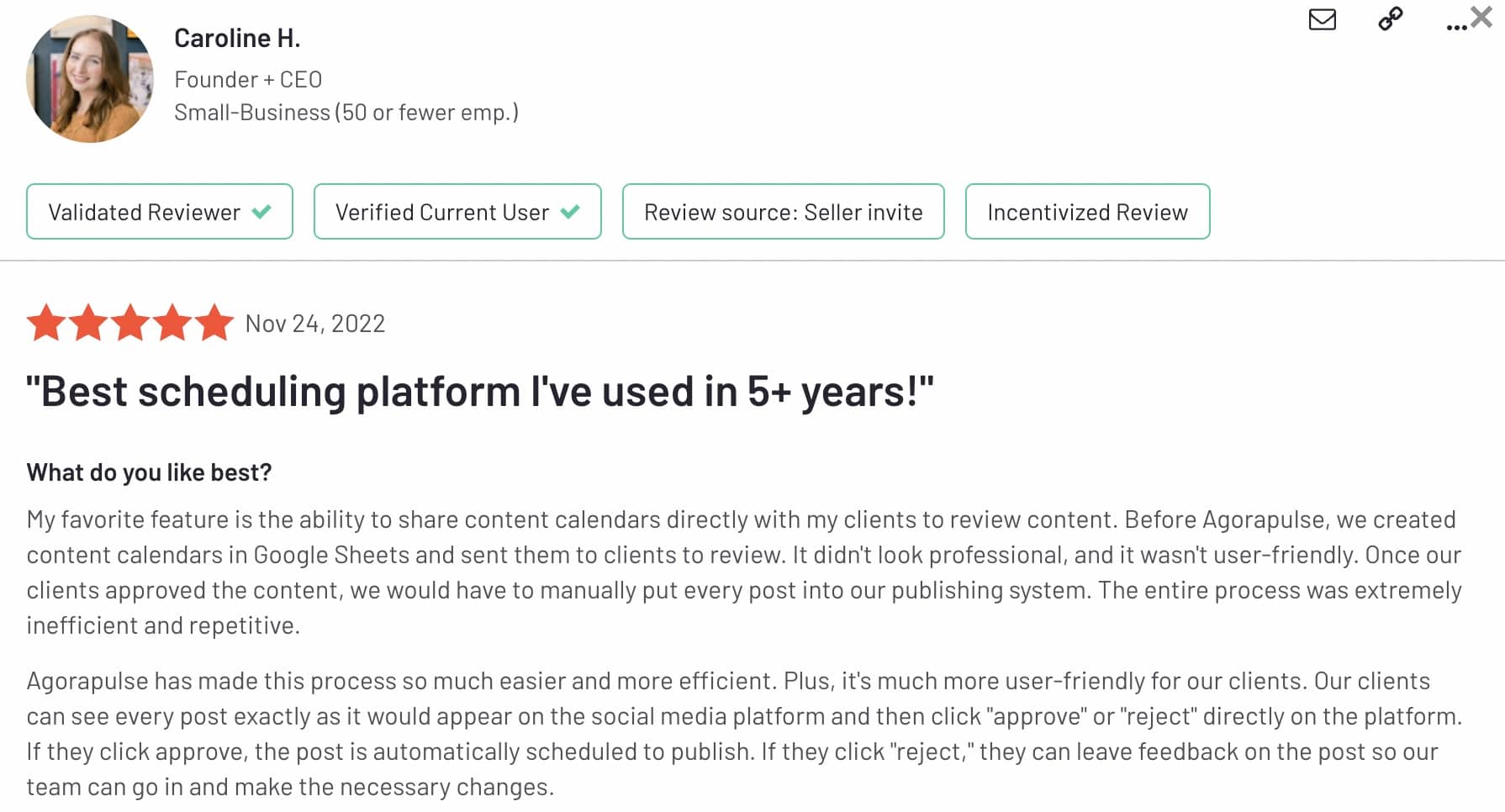 A social media management platform with all the latest gizmos and gadgets is about as much use as a chocolate teapot if you can't use it.
With all integrations and dashboards we build and the reporting and collaboration features we design, we put ease of use at the center of everything we do at Agorapulse.
That is why, on G2, we consistently get an average score of 9/10 for ease of use, and 9.1/10 for ease of setup, and why our customers rave about how intuitive and easy to navigate our platform is in their G2 reviews.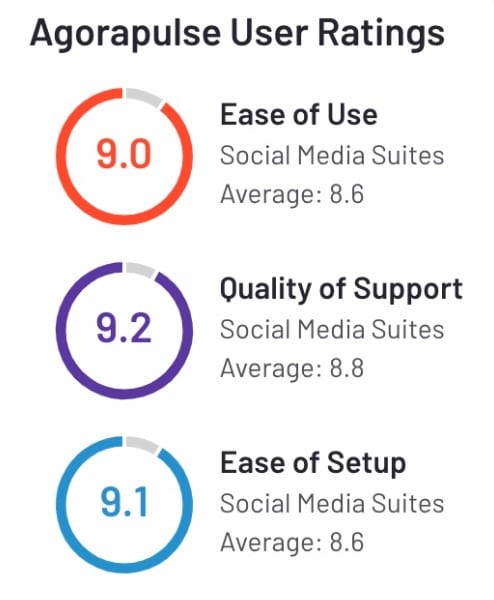 Why Agorapulse Won "Best Software Award 2022" and Got Eight First-Place Rankings on G2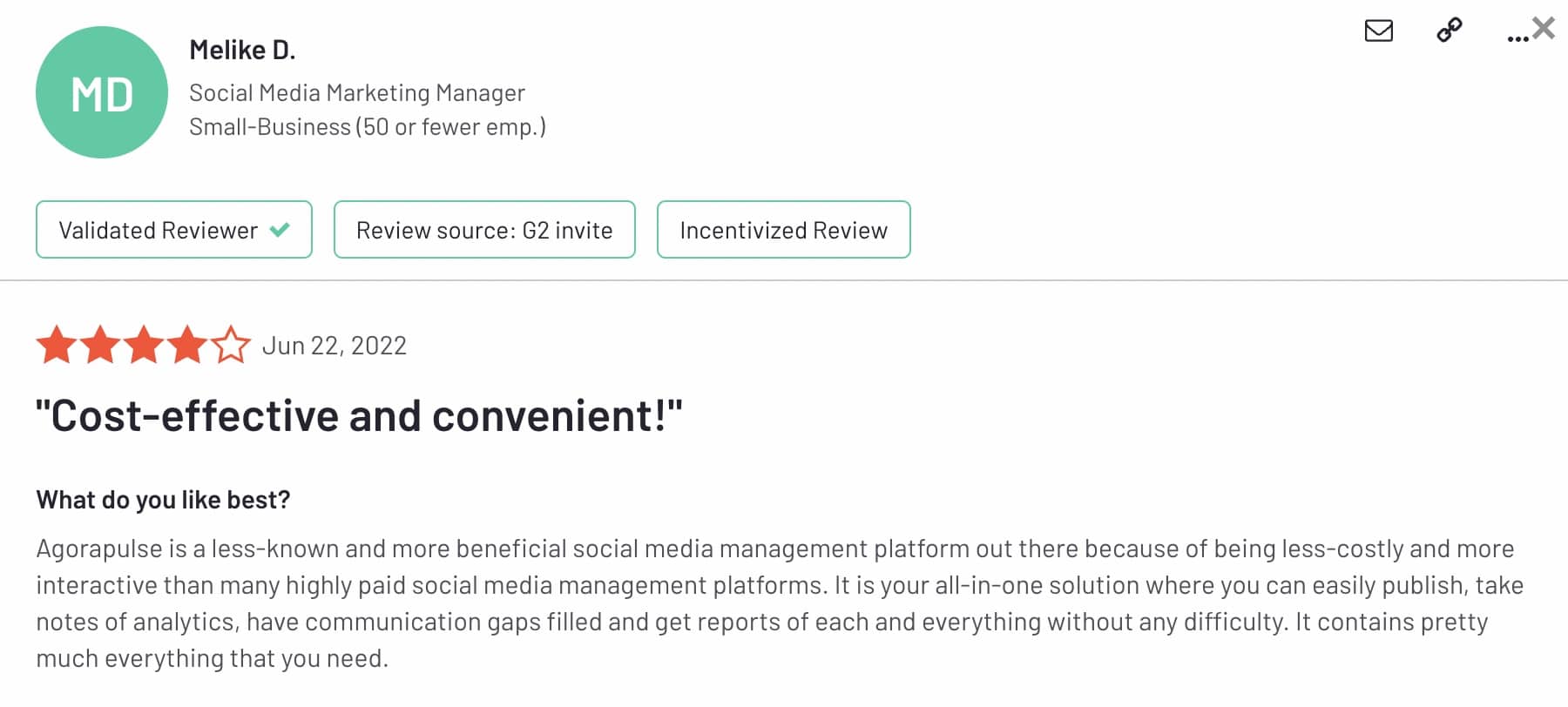 Getting recognition from G2 and glowing reviews from our customers warms our hearts. Knowing that we've built, and are continuing to improve, a social media management platform that's helping you and your teams succeed is what really matters.
Thank you to all our customers for sharing their reviews with us, and for helping us to continually grow our product!
Want to find out what the positive buzz surrounding Agorapulse is all about? Sign up for a free trial and see how easy it is to schedule, track, and measure all your social media efforts with Agorapulse.