From a $1.7 billion spend in 2016, to $16.4 billion in 2022 and predictions of $84.89 billion by 2028, influencer marketing is growing. Actually, it's exploded into a huge Instagrammable beast!
But with more of our budgets and resources focused on influencer marketing, are we approaching it right?
At Contentworks Agency, we've worked on a number of influencer marketing contracts. In this article, I'm sharing rookie influencer marketing mistakes we learned along the way.
You'll need to know some influencer marketing stats first.
Key trends for the influencer marketing space continue to include micro- and nano-influencers, user-generated content, and brand ambassadors.
With more budget invested in influencer marketing, big brands are investing in influencer marketing managers, platforms, tools, and performance-based monitoring.
Creators are increasingly being compensated by platforms who don't want to see them leave! Worried about creators going to TikTok, Meta announced additional bonuses to Reels creators publishing original content. It's also introduced "Challenges" that enable Facebook Reels creators to earn up to $4,000 per month for meeting certain goals.
LinkedIn has come a long way in the last year. It used to be stuffy and corporate with humblebragging posts and awards.
There has been a surge in user-generated talent like Rob Mayhew, TikTok creator and LinkedIn savior. This is changing the game for the platform and making it a place where talented influencers can thrive.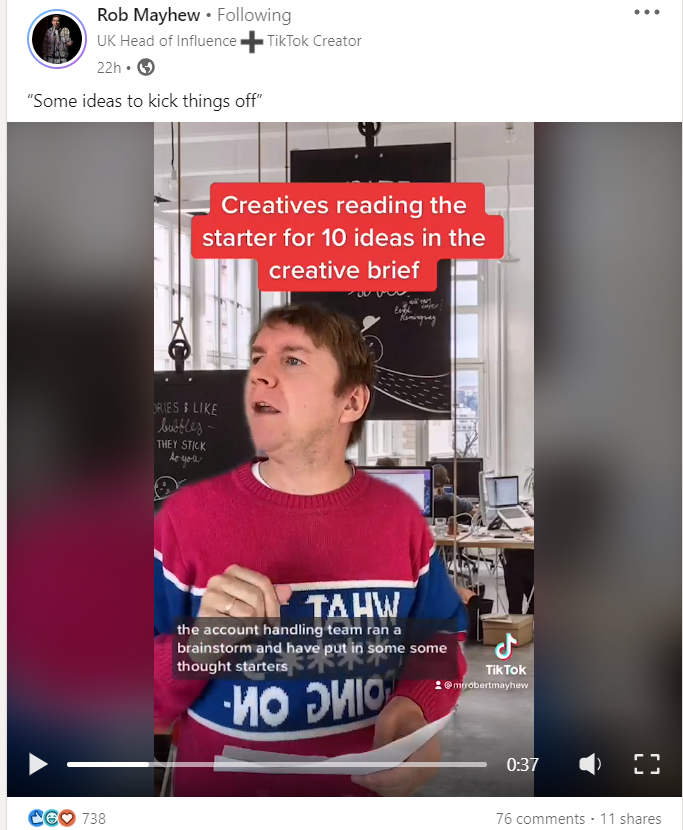 Brands are moving away from one time influencer marketing deals like a sponsored post. Now, they are focusing on long-term relationships with brand ambassadors that mesh with their audience metrics. This is certainly a more authentic approach than seen in previous years.
So, what are those rookie influencer marketing mistakes? Here are my top seven.
1. Not Defining a Goal for Your Influencer Marketing Relationship
Whether for a campaign or a long-term relationship, you need to have a goal or a set of KPIs unique to your influencer marketing relationship.
Without those what are you really doing? You're blowing your budget on an impressive name that achieves no tangible results for your brand. Whether it's generating sales, web traffic or social media engagement, you need a tangible goal. That goal should be properly documented and communicated to your team and influencer.
Solution for marketing mistakes
First off, define your desired outcome. By understanding this, you can choose the right social media metrics to monitor. If you want brand awareness, look at reach, sentiment, traffic and engagement, for example. Know how you will monitor these actions too. Setting goals that you are unable to track is pointless.
Document it. The contract with your influencer should be comprehensive and clear on what is expected, joint responsibilities, and compensation methods. Learn how to make a powerful influencer contract template!
Once you know your goal and the metrics you're monitoring, you need to back up your goals with the right content. Your social media posts, landing pages, blogs, PRs, videos, and web content should all be aligned. That includes your CTA (call to action). If your goal is to drive web sales, your CTA needs to do just that.
2. Going Macro Instead of Micro
You've heard the saying, "Bigger isn't always better." For the most part, that's true, with the exception of giant Toblerone bars. In regards to influencer marketing, there are different tiers you need to know about.
Let's take a quick look at these first.
Nano influencers
Nano-influencers are your everyday social media users and probably live in your existing audience base. They typically have anywhere from 1,000 to 10,000 followers. They aren't professional "influencers," but they have good engagement rates for their authentic posts.
You might refer to nano-influencers as brand ambassadors if they post about your products. Tess Barclay is a lifestyle blogger who has nearly 6,000 followers. Tess tags clothing companies and lifestyle products. However, many of her posts are unsponsored and natural.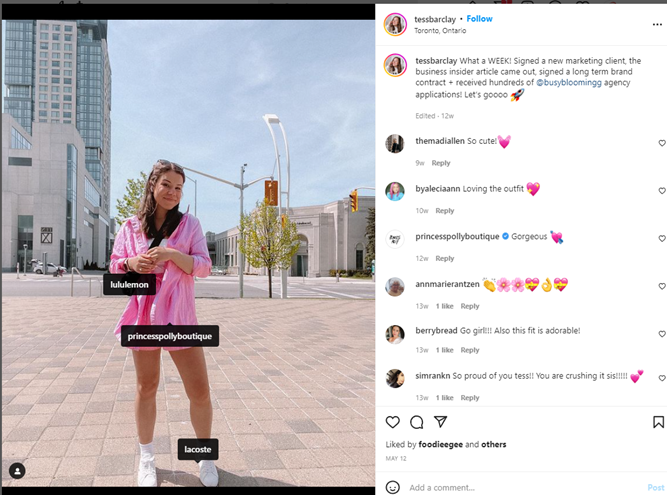 Micro-influencers
Micro-influencers are defined as accounts with anywhere from 10,000-50,000 followers. They form the sweet spot for a lot of brands because they offer authentic engagement while also being a more economical choice.
Emma Cortes is a lifestyle influencer and podcast host with 47,000 followers. She would be considered a micro influencer. Her Instagram posts do feature sponsored mentions. However, they also offer great recommendations, reviews and authentic commentary.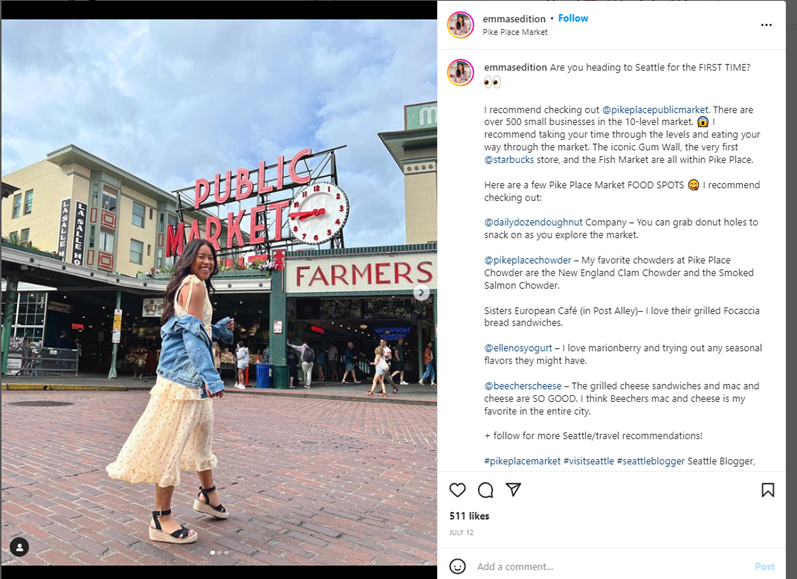 Macro influencers
Macro-influencers are influencers who are well known. They usually have upwards of 150k fans with mega influencers sitting around 500K.
Macro influencers are not just the Kardashians (although sometimes it seems that way). They include talented, popular creators like Symphony Clarke, a TikTok creator with over 200K followers. She clearly labels sponsored posts as such, but also creates fun TikToks that are not sponsored.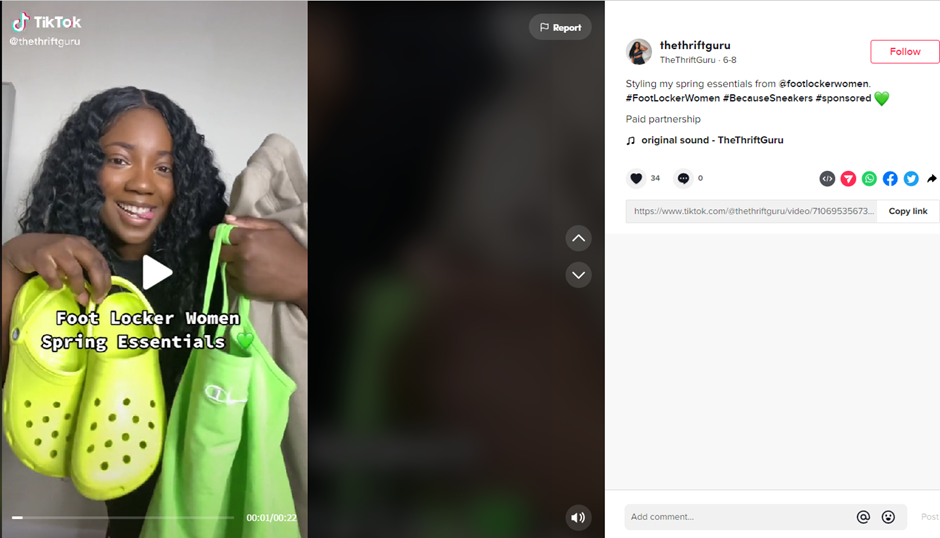 Solution for marketing mistakes
The three tiers above come with different price tags but also different levels of audience engagement. Instead of looking at the fan count, look at the engagement per post. In many cases, macro influencers have purchased fans, so this won't translate to actual post engagement.
Don't overspend. If you're a small to medium size brand, a macro influencer could wipe out your marketing budget. Whilst it might be an exciting prospect, you need to consider the rest of your marketing needs. Without content, social media, design, video and SEO, you won't win at influencer marketing.
Choose the influencer that will gel with your audience and end goals. For example, if you're a bookstore, it would be better to work with a writer than a well-known fashion model. Choosing a macro- influencer that doesn't fit your brand will be perceived as inauthentic.
3. Not Researching Your Influencer
We looked at the different types of influencers and the importance of choosing one from the correct tier. But it goes deeper than that.
When you run a campaign with an influencer, they become the public face of your brand. It means that your name will be associated with their actions for the extent of the relationship—and even beyond it.
Conducting thorough research on your potential influence(s) is completely essential.
Here are some of the things you should be watching out for:
A proven history of illegal activities (drug use, DUI, assault or shoplifting for example)
Previous problems with influencer marketing relationships, or lawsuits filed
Behavior that contradicts your brand. If you're selling vegan products, you maybe don't want to recruit the biggest meat-eating influencer.
An influencer who has a record of saying things they shouldn't and appearing in the press for faux pas
Influencers unwilling to allow you to look at their social media dashboards. Screenshots can be deceptive and easily manipulated.
Similarly, influencers on all tiers should review whether a brand is good for their reputation.
When Fyre Festival recruited top models like Bella Hadid, Hailey Baldwin, and Emily Ratajkowski to promote the festival on their social media accounts, they essentially damaged their personal brands during the fallout.
Lawsuits are still raging over this one.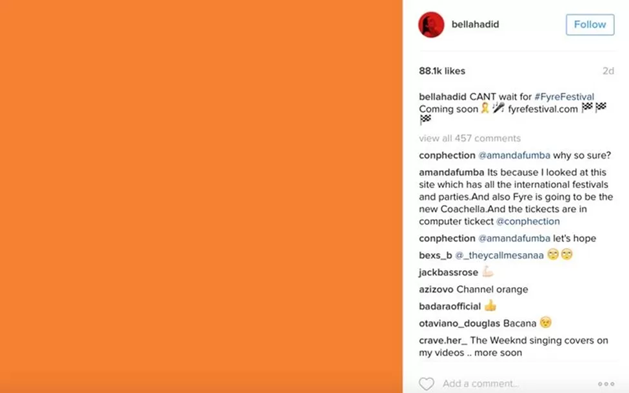 Solution for marketing mistakes
Knowing your target audience and their likes and dislikes is key. If you hire the wrong influencer, you could alienate them entirely.
Aim to build a long-term relationship with your influencer, especially for successful campaigns. Some brands utilize Influencer Marketing CRMs to manage relationships with influencers.
Be ready to answer questions about your brand and campaign. Respecting your influencer's individual brand is all part of the deal.
4. Choosing the Wrong Compensation Model
An expensive rookie influencer marketing mistake is choosing the wrong compensation model to pay your influencer.
If you're not familiar with the different compensation models, let's take a quick look together.
Pay per post
This is the most common way to pay influencers with prices going up to a cool million dollars for a macro-influencer! This model is straightforward. You pay a flat rate to your influencer in exchange for publishing a post on their social media channel(s). This is not a performance-based option. They post, and you pay!
Cost per click
This is when you pay your influencer based on the clicks that the content got. Usually, the clicks will go to your landing page, shopping site or website. This is not indicative of sales, it simply shows how many people were interested.
Cost per engagement
This is when you pay an agreed upon amount to your influencer, based on the level of engagement they're able to drive. Be aware that certain metrics like cost per engagement can easily be manipulated using bot software.
Free merchandise
If you're working with nano- or even micro-influencers they might be willing to swap their promos for some of your merch. This is usually the most cost-effective option for brands, but it depends what you're offering. Jewelery, high end fashion, luxury vacations, hotel stays, and cars are likely to be popular. Your fintech solution for enterprises, less so! Remember to clearly define what you're willing to offer on this type of deal.
Cost per acquisition
This would be an ideal compensation model for most brands, but unsurprisingly it is the least popular with influencers. It centers payment on the sales or subscriptions their post drives.
Most influencers want to be paid for their time and the fact that they featured you on their channel. They mostly don't go for this option!
With more than 253 million followers, Jenner charges $700,000+ per post, like the one below.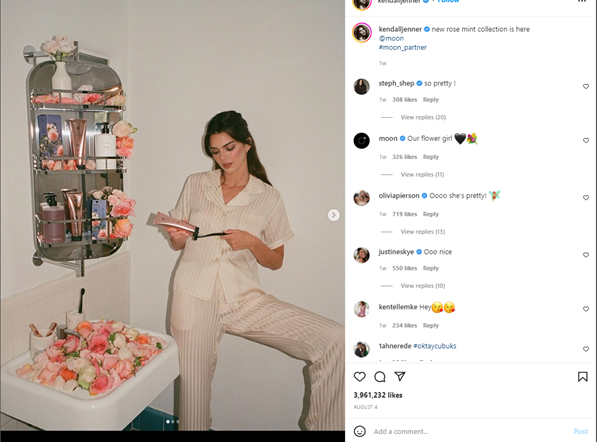 Solution for marketing mistakes
Do your research and offer the right deal to the right influencer. If you're perceived as cheap or trying to haggle, you might burn your bridges early on.
Be firm and clear in your contract about what you are willing to provide. If you are basing your deal on merch, don't leave room for any ambiguity.
Track results. Any links you provide should have tracking codes embedded or, you could choose to give your influencer a unique coupon code. For example: Use code CharliSpring for 20% off at Checkout.
5. Being Swayed by Audience Size
This is an easy mistake to make, isn't it? An influencer has a huge following and seems popular so working with them will earn your brand huge dollar amounts.
Sometimes, that's true.
We know that macro influencers paired with the right brands have the power to drive huge revenue, brand awareness, and web traffic.
But here are some of the reasons that might not benefit you:
Their fans are bought. I've said it before and again here, many influencers buy followers, likes, and even video views.
They are genuinely popular but not in your niche. Imagine beauty influencer Huda Kattan promoting a gaming product. You might even lose fans and revenue for a stunt like that!
Your product offering isn't right. If you're not offering enough discount, promoting the wrong range or you mismatched your content then it could be a miss.
Solution for marketing mistakes
When looking for influencers to work with, your focus should be on relevance, not follower numbers. Take the time to look at the influencer's previous posts to see what worked and what didn't.
Think twice before partnering with influencers who drive minimal engagement. There is a problem there somewhere and all the followers in the world won't make it ok.
Check they aren't working with your competitors. This is something your influencer marketing contract should cover. If your influencer is posting a different handbag each day and yours is one of 20 then this can really impact your results. It also shows a lack of authenticity.
A niche influencer with a small, engaged following may be far more valuable to you than a generalist with a huge following that doesn't really listen to them.
Agorapulse can help you find the influencers in your own social media audience. Log into your account, select any Twitter user, and Agorapulse will tell you whether they're a brand ambassador!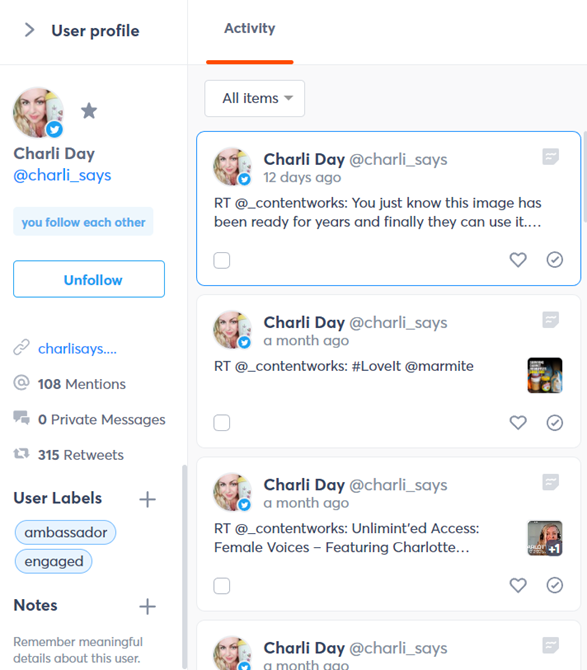 6. Not Monitoring Results
If you've chosen wisely and set up an influencer marketing contract, both parties know what to expect. Is that it then?
No. You need to be monitoring campaign results closely from day 1.
Using a platform like Agorapulse, you can measure everything from engagement, brand awareness, social media mentions and ROI.
You can also monitor conversations that mention your brand on social media. Social media monitoring keeps your brand on top of messages before they might become viral for the wrong reasons.
If you're paying your influencer per click or per acquisition, then you really need to be on top of this.
The results may determine how much you end up paying. These should be measured against changes at your end. Did you witness web traffic spikes? More brand mentions? Or perhaps your own followers increased? All these metrics need to be recorded.
Solution for marketing mistakes
Create promo codes, UTMs, tracking and affiliate links when you set up campaigns, so you have the best chance of recording your results accurately.
Run comparisons between your engagement prior to working with the influencer, this can give you a clear indication of their impact.
Don't stop monitoring when the campaign ends. Often, PR fallout can occur later. Irish beauty blogger and influencer Terrie McEvoy teamed up with Tower Jewellers for a giveaway involving two high-end bracelets. After Terrie announced the winners, fans noticed both were her close friends. Ouch!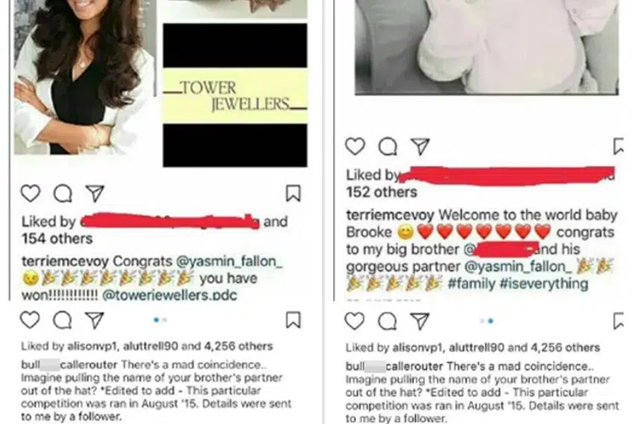 7. Being Too Perfect
Authenticity always trumps perfection. 2022 has seen the rise of authenticity among business leaders, brands, and influencers. We don't want photoshopped sunsets, faces with tons of beauty filters, and picture-perfect lifestyles.
We want to see what's real. That's why being a content control freak isn't the best idea in regards to influencer marketing.
Creators know what their audience likes, it's their audience! Everything from the content, emojis, filters, photography styles and captions is unique to them.
It's also what their followers want to see. Audiences can easily spot a fake and will be quick to call it out.
Remember that horrifically staged Listerine promotion featuring Scarlett Dixon (aka Scarlett London). Fans were quick to call out the tortilla pancakes, helium balloons (which are not part of anyone's normal day), and the perfect hair and makeup. And of course, Listerine mouth wash on the bedside table. (Who keeps it there?)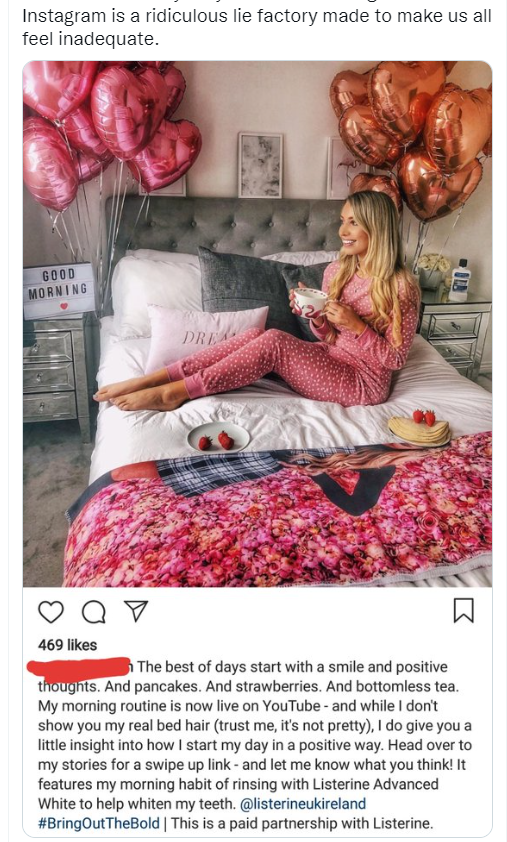 Solution for marketing mistakes
Don't try to restrict or change the creativity or style of your influencer. If you don't like how they operate, then don't work with them. When you restrict their creativity, they may create poor-quality content that seems fake. So, your budget will be wasted.
Work with your influencer to create the right content, hashtags and messaging. Listen to them when they tell you what their audience likes and dislikes.
Be clear in your influencer contract about who will do what. Are you providing the content? How will it be approved? What about photography, props, scenery, costume and hashtags? Your influencer needs to be onboard with all these decisions.
If you're considering an influencer marketing relationship, take your time to review your options, research the market, and understand what you will need to do to make it work.
Be ready to spend time and budget creating, delivering, and monitoring the campaign from start to finish, and then some.