A strong brand provides incredible value for any business–whether you're focused on your business, your agency, or your clients. By consistently brand monitoring and managing a company's reputation, you can ensure that its brand thrives.
Find out how brand monitoring can benefit your business or social agency clients and learn about tools that let you track and respond to brand mentions more efficiently.
What Is Brand Monitoring?
Brand monitoring is the practice of checking various outlets to identify when, where, and how people mention a company or specific related terms. Those comments are called brand mentions.
This process gives you a more complete picture of how people view the brand.
Brand monitoring also enhances your ability to respond to negative sentiments and keep the brand in good health. (You'll also be able to see whether your goals of increasing brand awareness are being met.)
Think of brand monitoring as an essential tool for assessing your company's reputation.
At any moment, customers, prospects, and competitors may be talking about your brand, products, or services. Whether those conversations have a positive or negative spin, they probably won't be on your radar—unless you practice brand monitoring.
A comprehensive brand monitoring strategy typically involves keeping track of several channels, such as:
Websites and blogs
Online forums
Review sites
Broadcast and print media
Why You Should Monitor Your Brand Reputation
Brand monitoring lets you listen in to what people are saying about your company or clients.
If you're a social media agency, you'll also want to monitor to see how your social media campaigns and initiatives are going (and then be able to do social media reporting for your clients).
Yet, online brand monitoring is much more than just a cool opportunity to spy on customers!
Monitoring offers some seriously valuable benefits.
1. Gauge customer sentiment
Sure, you could send out a survey to learn what customers think of your brand. You could even poll prospects to see what's holding them back from making a purchase.
But asking directly doesn't always result in the most honest responses. Your audience may be stuck with limited multiple-choice responses, or they may not feel comfortable sharing their genuine thoughts.
With online brand monitoring, you can assess customer sentiment without the filter. That means you can see what people are really saying about your brand or your clients, even when they don't think you're paying attention.
Tip for using Agorapulse for brand monitoring: Agorapulse makes finding conversations about your brand on social media easy. Once your team sets up a social listening search, brand mentions automatically appear on your organization's Agorapulse dashboard.
Your team can evaluate each one individually to determine the sentiment—and then apply a label to track whether it's positive, negative, or neutral.
To save time, your team can also apply labels automatically, based on keywords of your choice.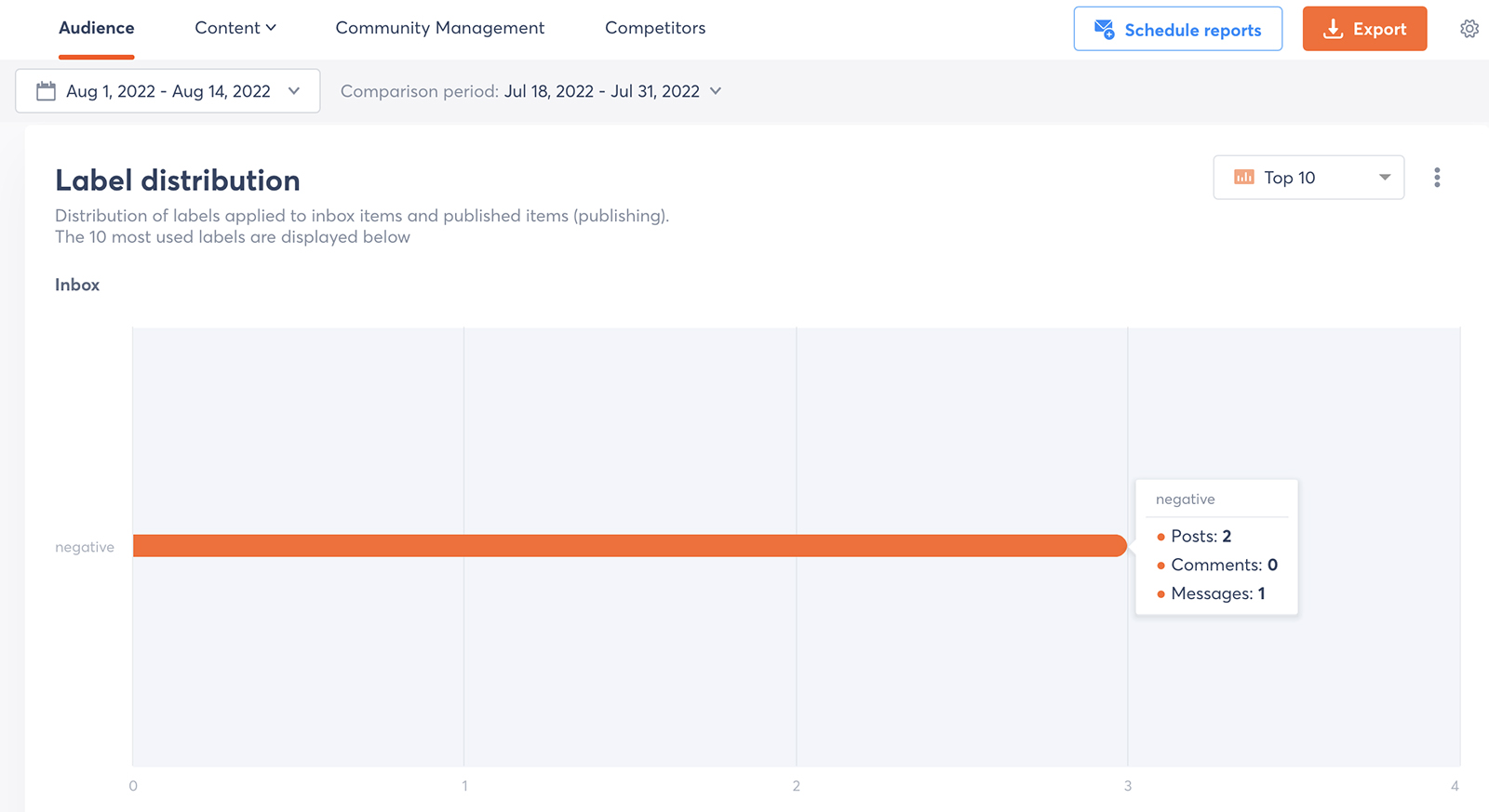 Using Agorapulse, you can efficiently gather data on customer sentiment.
Then you can share your findings with other stakeholders and ensure that everyone has a realistic sense of the organization's reputation.
2. Communicate with customers
Brand monitoring does involve lots of one-sided observation.
However, you don't always have to be a passive participant. Rather than just listening in, take the time to engage with customers who discuss your brand.
Turning online brand monitoring into a two-way avenue for communication is simple. Whether the conversation is positive or negative, you can join in the conversation on behalf of your agency or agency clients.
By becoming an active participant, your company can leverage key opportunities to influence the conversation.
How might that work?
Say your team spotted a positive customer review. You can thank the customer for their positive feedback and respond to specific aspects. When potential prospects read the review, they can see your public response and get a sense of your brand personality.
It works the other way, too.
If your team finds a negative comment about your organization's customer service, for example, you can apologize and attempt a recovery. Your team can also track this type of engagement so you can identify and resolve internal processes.
Tip for using Agorapulse for brand monitoring: When you use Agorapulse, you can monitor tweets and retweets on the Twitter social media platform.
You'll also be able to like, reply, or bookmark an item.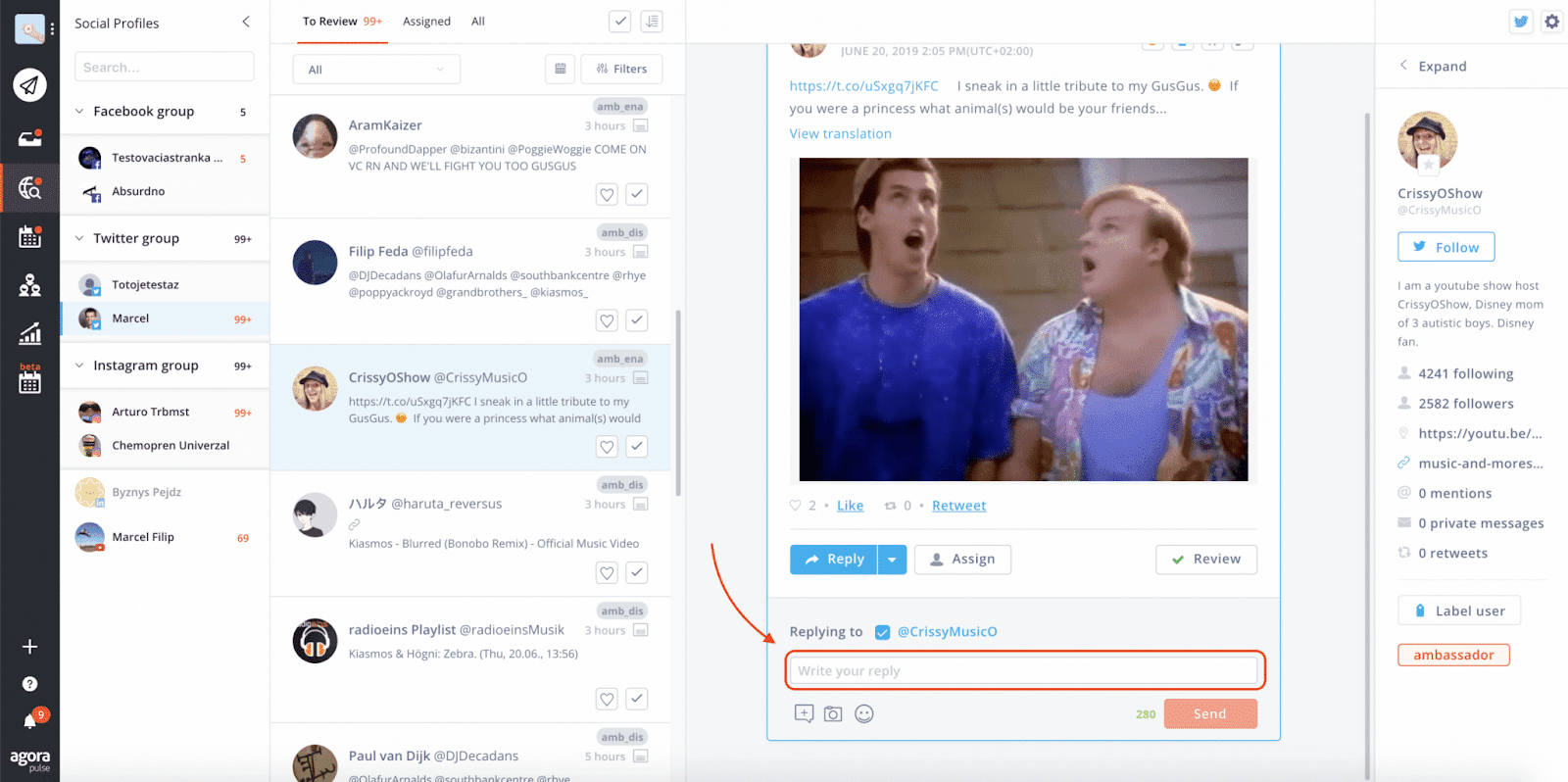 If you're an agency, you can use Agorapulse to assign any follower content on your Twitter account to any admin. You can also leave notes for internal communication among team members.
Find influencers and UGC
Brand monitoring doesn't have to result in closed conversations with individual customers.
In some cases, you can amplify brand mentions to generate even more value for your business.
Two of the most common ways to do this include:
Social media influencers: Online brand monitoring can also lead you to discover influencers–or people who are paid to promote products and services to their own audiences. If you're an agency, you can harness the power of influencers to help your clients' businesses get more buzz and grow their following.
User-generated content (UGC): If you find that customers create content featuring your brand, you can reshare it with your audience. No matter how great your in-house marketing content might be, UGC like photos, videos, blog posts, and reviews come across as more genuine, authentic, and trustworthy.
Not only that, UGC content has a great influence on the purchase process across all industries – 79% of people say user-generated content highly impacts their purchasing decisions, while only 13% say content from a brand is impactful.
Identifying and Leveraging Brand Advocates
Brand monitoring can also help you identify brand advocates who are already promoting your brand on social media and other online platforms. These advocates can help spread positive word-of-mouth marketing and increase your brand's reach and visibility. It's important to engage with these advocates and build a relationship with them for long-term business success.
For example, suppose you notice a customer consistently posting positive reviews of your product on social media. In that case, you can reach out to them and offer them exclusive discounts or early access to new products. This can help build a loyal customer base and turn them into brand advocates who will promote your brand to others.
An example of brand advocacy would be Doc Rock sharing the news of Agorapulse's partnership with Canva. Doc Rock doesn't work for Agorapulse, and his enthusiasm and his influence for Agorapulse are earnest. So, his video will reach his 9.49K subscribers.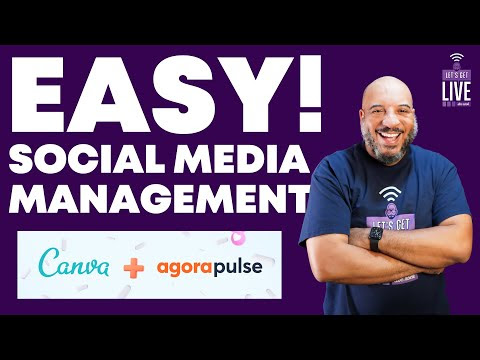 Consider how you can also reach influencers in the spaces you want to go, whether for your own brand or your agency clients.
Tip for using Agorapulse for brand monitoring: UGC can easily fall through the cracks without a tool like Agorapulse. In some cases, creators may tag your brand when they post about your products on social media. But when creators mention your brand or product without a tag, you won't receive a notification in Instagram or other social media apps.
Using Agorapulse's brand monitoring tools, your team can make sure influencer posts never go unnoticed. From the Agorapulse dashboard, your team can even like, share, or respond to UGC. Then you can build on that initial interaction and form a relationship.
Find Opportunities to Improve Your Business
When you first start checking brand mentions, it's natural to expect (or at least, hope for) positive conversations about your clients' companies or your own company.
Even if your business is universally loved, however, you're bound to surface at least some negative engagement.
Rather than dismissing these comments as outliers, take the opportunity to learn from them:
Do the comments reflect specific concerns? Your clients may be able to identify actual quality issues or points of friction with their service offerings.
Do the conversations show a lack of communication? If customers complain online, they may not have other easy options for connecting with the brand.
Can you act on the feedback? Share customer feedback with the appropriate team, so your agency or your clients can resolve any problems.
Tip for using Agorapulse for brand monitoring: Negative feedback can get costly for any organization, especially if your team doesn't respond effectively. But when you monitor negative comments and reviews with Agorapulse, your team can identify issues and develop both immediate and long-term solutions.
Agorapulse's labeling system makes it easy to track certain types of engagement—including negative feedback. Your team can opt to track shortcomings on weekly or monthly reports, so everyone has a clear view of brand performance.
Crisis Management
Some of the negative issues you uncover may be relatively minor complaints.
However, some may signal a major problem that could significantly impact the brand's value over time.
When you engage in ongoing brand monitoring, you can identify potential crises early on, such as when the first few customer comments appear. If you act quickly, you can address any issues before they turn into something more serious.
For example, social media comments might alert you that your clients' latest product has a concerning quality issue. By sharing feedback with client teams and proactively providing customers with a solution, you can avoid a crisis, maintain a good reputation, and reinforce your clients' credibility.
Tip for using Agorapulse for brand monitoring: Agorapulse's management and communication tools can help your team identify and address growing problems before they escalate out of control. Your team can assign inbox items to PR specialists or other stakeholders to ensure they're handled quickly.
Team members can also use Agorapulse's built-in customer relationship management (CRM) tool to keep track of users. For example, you can hide harmful comments from your social media pages, ban problem users, and make internal notes about customers to keep everyone in the loop.
Improve marketing strategy
Brand monitoring can also help you understand the results of your marketing efforts and identify areas for improvement.
Here's how to use this process to improve marketing:
Monitor hashtags and related discussions to quantify the success of your marketing campaigns.
Determine what channels your customers are using, so you can allocate resources effectively.
See how competitors are doing and what's trending in your industry to inspire your own efforts.
Tip for using Agorapulse for brand monitoring: Agorapulse automatically tracks brand mentions and uses them to calculate your profile's brand awareness score. To view the brand awareness score for any social profile, go to the Reports tab and select a profile.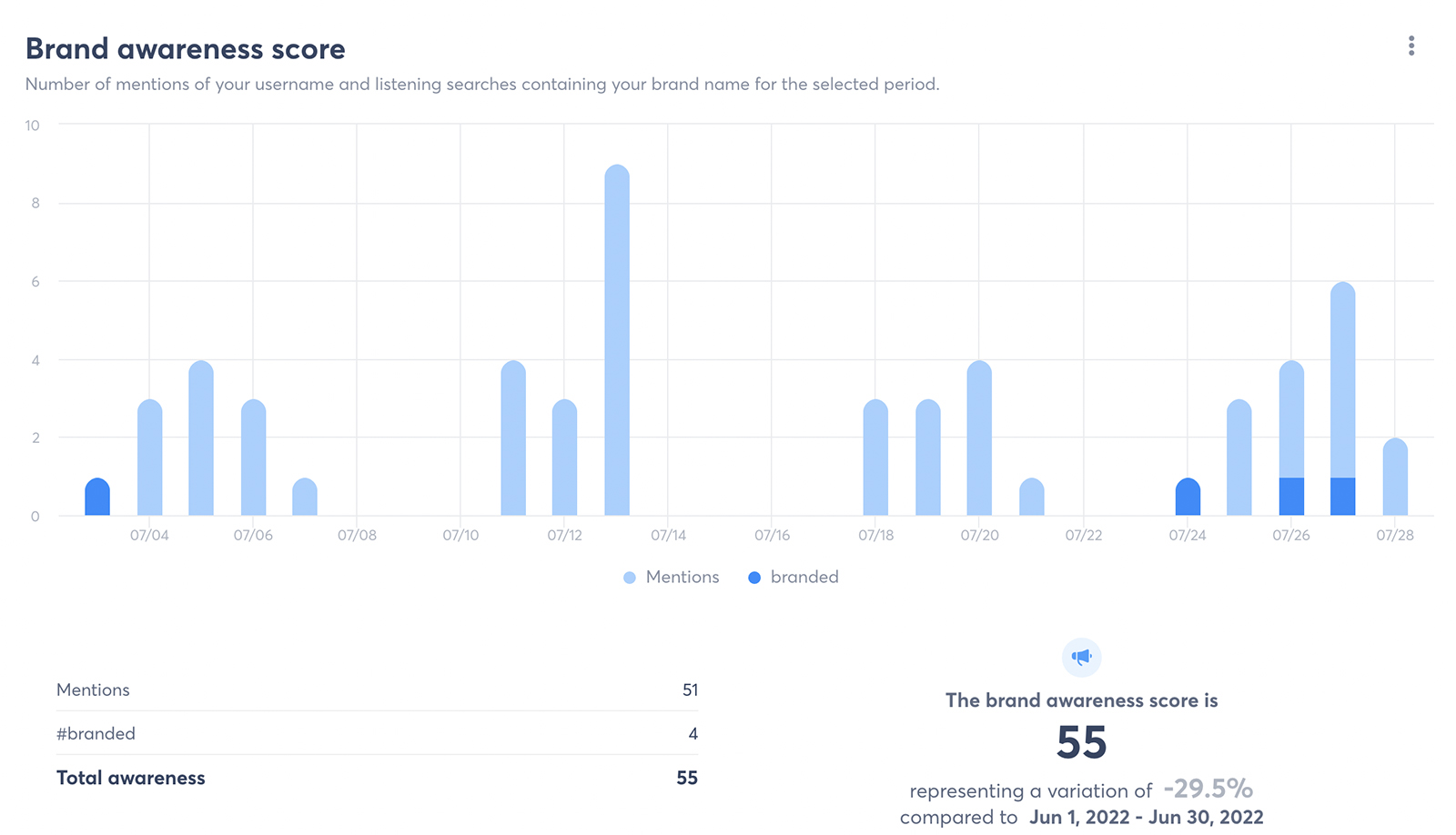 At a glance, you can assess your brand's impact for the current week or month and compare it to previous time periods. Using this data, you can ensure that your team continues to improve efforts, capitalize on trends, and use resources effectively.
What to Track With Brand Monitoring
To successfully track your company reputation with brand monitoring, you have to go where the conversations are happening. It's different for every business. Whether that includes social media platforms, blogs, or any other channels listed above, monitoring a few key areas is helpful.
Company, product, and service names (and variations)
For most businesses, online brand monitoring starts with tracking company names as well as product and service offerings.
Many customers and prospects initiate discussions by mentioning the company or its offerings, so taking this first step helps you find a lot of your brand mentions.
Remember that your audience doesn't always talk about your brand the way your team does. People may abbreviate your company name, misspell it, or refer to it by a nickname. You need to know the various ways people refer to your brand–and then include those variations in your tracking.
For example, Agorapulse often gets spelled as AgoraPulse or customers refer to it as Agora or AP.
Tip for using Agorapulse for brand monitoring: Monitoring company, product, and service names is easy with Agorapulse. From the listening dashboard, team members can click to set up a search for any of the above categories.
Your team can certainly create separate searches for each variation of your brand name, products, or services. But you can also track multiple variations of each term in a single search—which can make collecting data and reviewing results much easier.
Did your team discover yet another misspelled version or unofficial nickname for your brand? Your team can update Agorapulse listening searches at any time to ensure they're always tracking the most important terms.
Founders and employees
Any discussions about people who are integral to the company can influence brand reputation.
If your company's founder is a public figure or if some employees have their own sizable followings, you should also monitor their names and usernames.
Tip for using Agorapulse for brand monitoring: Monitoring stakeholder mentions is critical for maintaining a strong brand reputation. But with Agorapulse, you can do more than just keeping a running list of brand mentions. Your team can also respond to any public brand mentions directly from the Agorapulse dashboard.
Want to run founder and employee mentions by stakeholders before responding? Your social media team can assign relevant brand mentions to stakeholders, assistants, or any other designated representative. That way key company figures can monitor their own reputations and put their own spin on responses.
Campaign hashtags
As a marketing executive, you know how valuable campaign data can be. Yet social media metrics like impressions, engagement, and clicks can only tell you so much. Tracking campaign hashtags can add nuance to your findings and help you glean helpful takeaways.
When you run marketing campaigns that include hashtags, it's essential to track their performance.
Not only can these metrics help you gauge the success of the campaign, but they can also offer insight into how people are talking about your brand.
By monitoring campaign hashtags, you might also discover some high-quality UGC or identify potential influencer partnerships.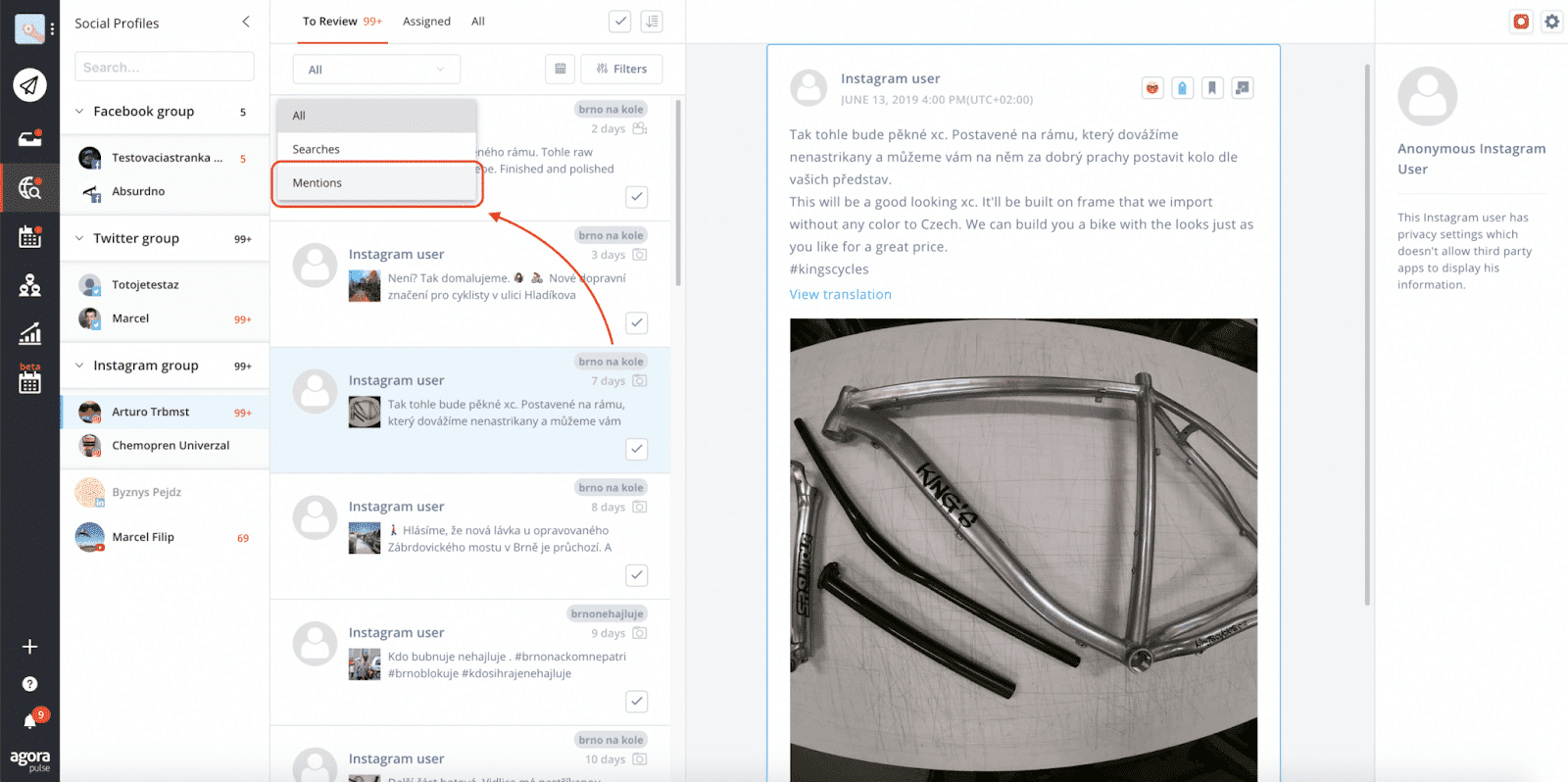 Tip for using Agorapulse for brand monitoring:
With Agorapulse, monitoring campaign hashtags is as simple as setting up a listening search. Then content featuring your campaign hashtags automatically appears on your Agorapulse dashboard for review and analysis.
From there, your team can manually review hashtagged content or label it for quick analysis. Hashtag and label can appear on your weekly or monthly social media reports so you can analyze campaigns as they happen.
Website traffic
Most companies monitor website metrics like visitor numbers, popular pages, and conversion values.
However, website analytics can also show where your traffic is coming from, which can be critical for managing brand reputation.
Identifying traffic sources can alert you to active conversations about your brand.
From there, you can learn more about the context and take action as appropriate:
Did an influencer publish a positive review of your brand? You may want to comment on the review and share it on your social media pages. If the influencer has enough social authority, you may want to forge a longer-term relationship.
Has a disgruntled customer complained about your brand on a review site? You may want to respond and offer a resolution or encourage the customer to contact your team privately.
If you're an agency, you can ask those questions of your clients' brands as well.
Tip for using Agorapulse for brand monitoring: Keep in mind that third-party content about your brand can have a greater impact than you might expect. In addition to responding to individual reviewers, you'll want to incorporate their feedback into your organization's social media contact.
For example, say your team has identified a number of quality control complaints on third-party review sites. To maintain a positive brand reputation, you may want to create content acknowledging those complaints—and explaining how you plan to do better.
Your team can use Agorapulse to draft, schedule, and publish that social content immediately or over time. You can also use Agorapulse to measure the sentiment of the responses and avoid any escalation.
Competitors and peers
Tracking your competitors can also help you maintain an optimal reputation.
Fortunately, monitoring what your competitors are doing is easier than you think. Use the same guidelines that you used to develop a list of your own brand name variations. However, do brand monitoring for your competitors instead.
You can learn:
What customers love about your competitors, which can inspire you to improve your own processes, products, or services.
What people hate about your competitors, which can give you opportunities to win over unhappy customers.
Which new products or services your competitors are teasing, which can inform your own offerings
Tip for using Agorapulse for brand monitoring: Similar to branded terms and campaign hashtags, your team has the option to respond to any competitor content that appears in your Agorapulse listening searches. To join these conversations without appearing out of touch, your team may find it helpful to create a standard approach for this type of content.
For example, a conversational response may be more effective than a salesy reply. If you see an opportunity for lead generation, it may also be worth consulting with your sales team to create a process for prospecting and outreach.
Industry keywords
Neither your agency nor your clients operate independently of external forces.
Every brand is part of an industry that has its own set of trends, news, and influencers. If your organization is serious about online brand monitoring, tracking industry keywords is essential—and so is responding to the content that these searches surface.
By joining conversations about key topics in your organization's industry, your team can increase awareness and build authority.
And by monitoring industry terms and hashtags, you can better understand important changes that may affect your brand, including your products, services, campaigns, or reputation.
Tip for using Agorapulse for brand monitoring:
Like branded searches, responding to industry content is easy with the Agorapulse dashboard. Your team can respond to Twitter, Facebook, and YouTube content right from the dashboard—and they can click to open relevant Instagram posts directly.

Cost of Brand Monitoring
As you might expect, the cost of online brand monitoring depends largely on the social media monitoring tool you choose. Most social listening tools require subscriptions, which can range anywhere from under $100 to thousands of dollars per month.
Some of the most common factors that affect pricing include: (Examples are from Agorapulse's pricing.)
Number of searches per platform: Agorapulse offers unlimited searches on every supported social media channel—except Instagram, which is limited to 30 searches.
Number of mentions per month: Agorapulse subscriptions include 100,000 mentions on each supported social media channel per month.
Update frequency: Agorapulse's sync time varies per plan. Enterprise plans sync every 5 minutes, while Premium plans sync every hour.
Number of users: Each Agorapulse plan supports a different number of users. Enterprise plans support eight users, and Premium plans allow four users.
Platforms supported: Agorapulse supports brand monitoring across Facebook, Instagram, Twitter, and YouTube.
Commitment required: Agorapulse offers monthly and yearly pricing so you can choose the time frame that works best for your organization.
As important as pricing may be, it's just one of many factors in your decision. There are a number of other considerations you should take into account when choosing your brand monitoring tool.
Features to Look For in a Brand Monitoring Tool
We suggest considering the following factors when deciding which social listening tool to use for your brand monitoring strategy:
Collaboration options
Unless you oversee a one-person marketing team, you need a tool that supports collaboration. Look for a brand monitoring dashboard that allows multiple users and makes it easy for them to work together.
For example, Agorapulse users can see which team members are online and if a colleague is replying to a message they're currently reading. With Agorapulse, you can also assign inbox items to colleagues and leave internal notes.
Marketing channels
In some cases, your organization may need a tool that finds brand mentions and other relevant content across marketing channels. For example, you may want to monitor review sites and blogs across the internet. In that case, you'll want to look for a cross-channel tool.
In other cases, you may extract the most value from focusing on social media listening. In that case, a tool like Agorapulse—which specializes in monitoring social media channels—is a smart choice.
Tool integration
Although some tools focus completely on brand monitoring, Agorapulse does much more than track brand mentions. It's a complete social media solution that your team can use to manage everything from social media scheduling and publishing to engagement and analytics.
At Agorapulse, agencies and social media managers can easily incorporate everything the dashboard offers—including brand monitoring—into their workflow.
Data and insights
Without analytics, a brand monitoring tool is really just an activity feed that allows your team to engage and respond. To get the most value from your brand monitoring, analytics is an essential component.
Agorapulse offers automated analytics and reporting for brand mentions along with other social media monitoring strategies. To draw even more useful insights, users can also create custom labels and reports from the dashboard.
Usability and support
Some social listening tools may be incredibly powerful and offer a long list of helpful features. But if your team can't understand how to use it or if it doesn't integrate easily with your team's existing workflow, this can become expensive, fast.
This is even more true if the platform doesn't have easily accessible help documentation, or a readily available customer support team. Some platforms such as Hootsuite don't even offer customer support unless you are paying for the Enterprise plan. This is another one of the hidden costs that you should be aware of when purchasing a brand monitoring tool for your team.
The main thing to keep in mind is that the brand monitoring tool that you choose should be aligned with your overall social media marketing strategy.
To sum it up…
Brand monitoring plays a vital role in today's competitive business landscape. By implementing effective strategies and utilizing the right tools, businesses can gain valuable insights into their brand's perception and make data-driven decisions to enhance their reputation and drive growth.
Pssst. In case you didn't figure it out yet, Agorapulse can make brand monitoring a thousand times easier. Check out a demo with our team for free today.