Why Monitor Brand Reputation?
It is important to monitor brand reputation because it can provide valuable insights into customer sentiment, as well as guide your marketing strategies and product development.
By analyzing this feedback, businesses can identify areas for improvement and deliver a better customer experience. Essentially, by monitoring your brand reputation, you can stay in tune with customer expectations and adapt to evolving market needs.
How To Monitor Brand Reputation In Agorapulse
The most effective way to monitor your brand reputation is to use a social listening tool like Agorapulse. This will enable you to efficiently gather and analyze data from multiple social media platforms and other online channels.
Here's how you can start monitoring your brand reputation with Agorapulse:
1. Set up social listening
By default, Agorapulse automatically tracks any direct mentions–which happen when someone posts to @yourusername on social media. But you'll need to add any other searches to monitor your brand reputation manually.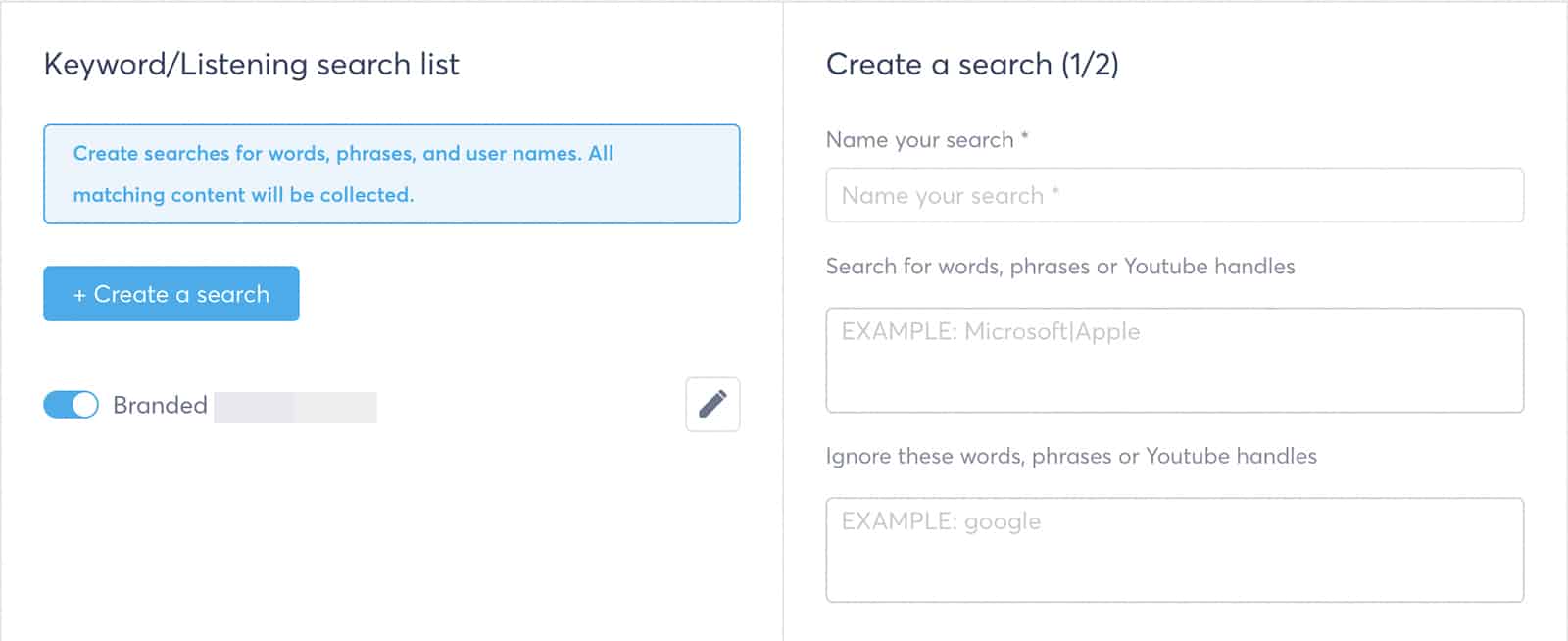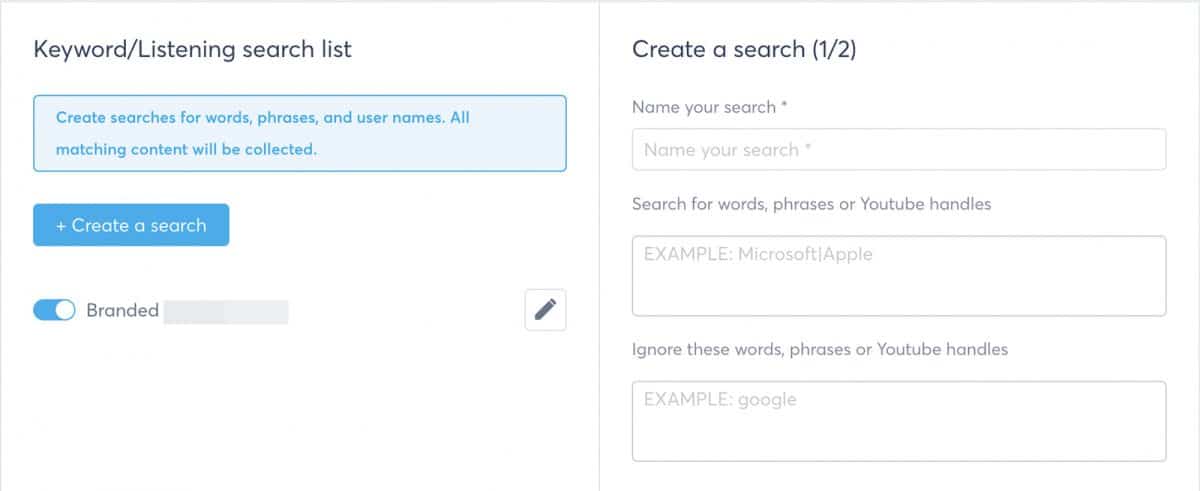 In the Listening tab, click the Create a New Search button to begin.
Then enter your search parameters, which may include brand nicknames, product names, website URLs, or competitor names.
You can fine-tune your social listening search as much as you'd like.
There's no limit to the number of searches you create in Agorapulse—except on Instagram, which has a 30-search limit.
But the more searches you add, the busier your listening dashboard will get. To make sure you only receive relevant mentions, narrow your searches as much as possible. For example, you can exclude terms in YouTube searches, and you can specify a language in Twitter searches.
2. Locate new brand mentions
After setting up some searches, you can start to find brand mentions in Agorapulse's Listening dashboard.
Any new brand mentions automatically appear in the To Review tab.
To remove an item from your To Review tab, click the checkmark. You can also click the checkmark at the top of the inbox to review all outstanding items at once.
If you've created multiple searches, you'll find that they appear on a unified tab for each social profile. To separate brand mentions from other searches, click the filter icon at the top of the inbox. Select Search and use the dropdown to choose the search you want to review.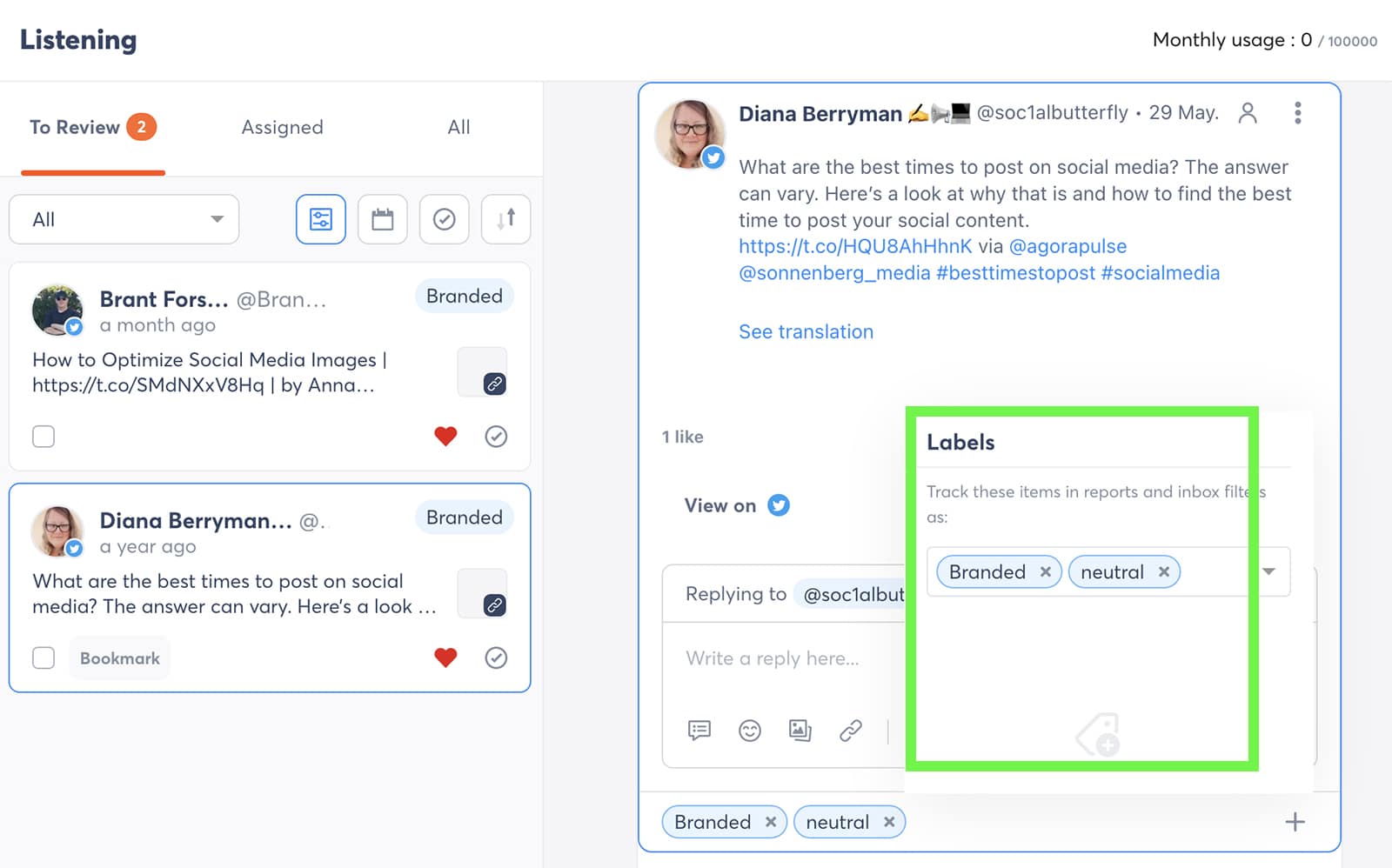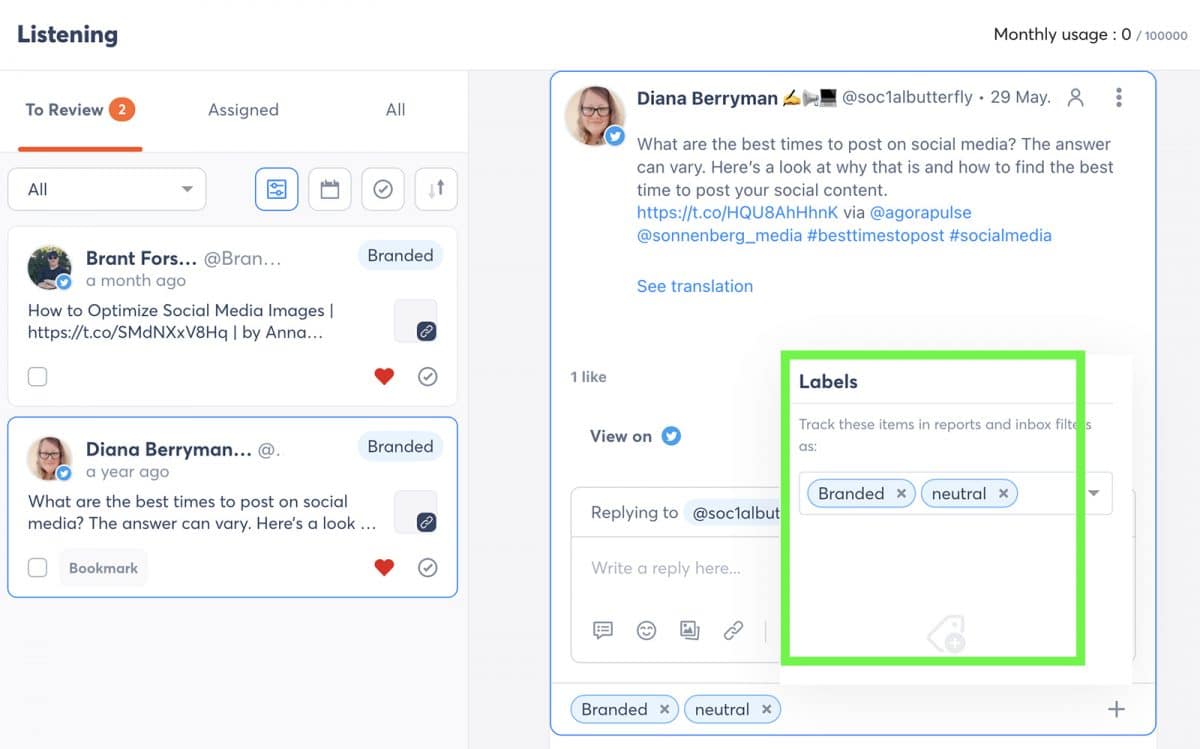 To add another layer of organization to your brand monitoring content, you can apply labels. Check all the items you want to label and open the Bulk Actions dropdown. Select Add Label and choose the label you want to apply.
3. Respond to brand mentions
You can click on any brand mention to engage with it directly from the Agorapulse dashboard. That means you can like, share, or reply to any mention without leaving Agorapulse. You can formulate a personalized reply or tap into your saved replies to reuse a standard response.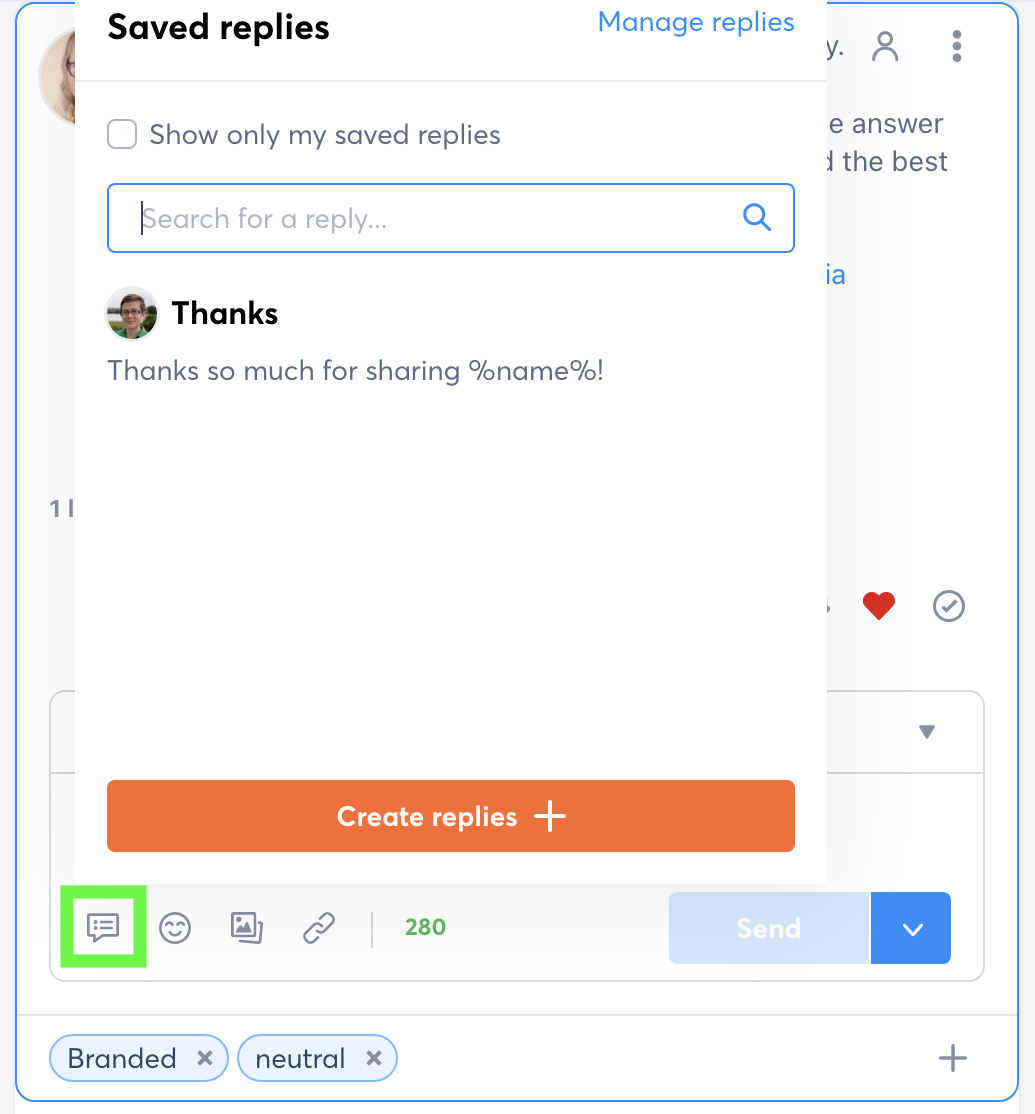 To access your saved replies, click the message icon below the response window. You can search for the perfect reply or scroll to find the one you want to use. You also have the option to create a new saved reply from this interface.
When you're happy with your response, click Send. The item will automatically disappear from your To Review tab and move to the All tab for safekeeping.
4. Involve your team
Some brand mentions are likely to warrant straightforward responses.
You can simply respond and click Review to clear the item from your inbox.
Others may require more thoughtful responses, such as serious customer complaints or in-depth questions. You can assign these items to any member of your team without leaving the Agorapulse dashboard.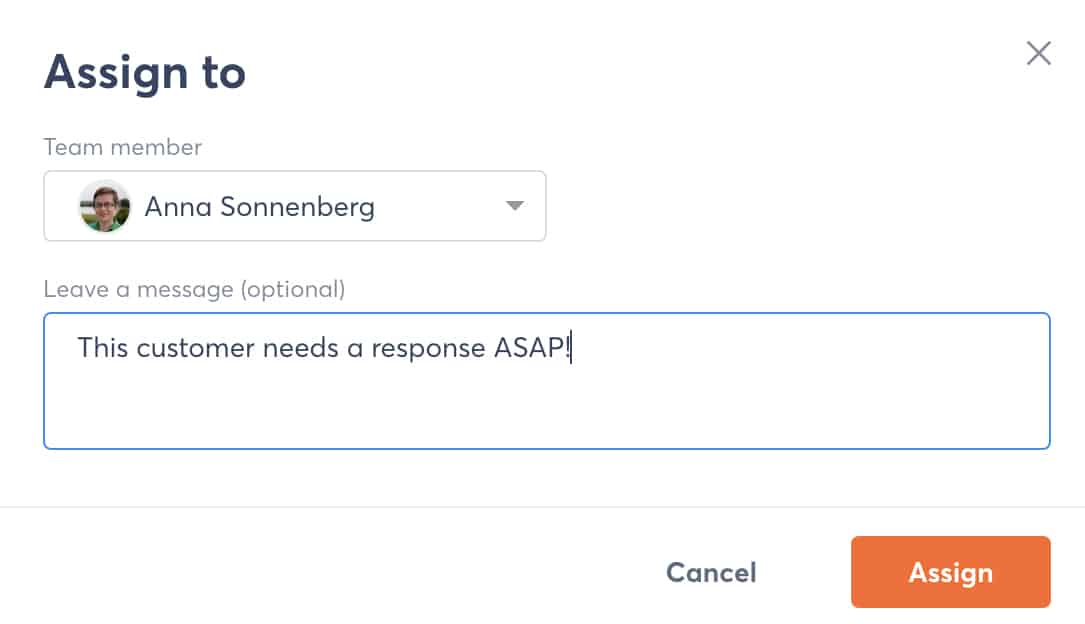 To assign a brand mention, click the silhouette at the top of the inbox item. Use the dropdown menu to select a team member and write an optional message to add context. When you click the Assign button the item will disappear from your To Review tab and land on your colleague's Assigned tab.
5. Keep track of key mentions
Likewise, some mentions might create a bigger impact than others.
If you identify potential influencers, problem customers, or great UGC, you won't want to lose track of the post.
If you use Agorapulse, you can bookmark any mention and give it a custom label to keep it on your team's radar.
For example, you might want to label particularly positive or negative mentions or posts that require follow-up.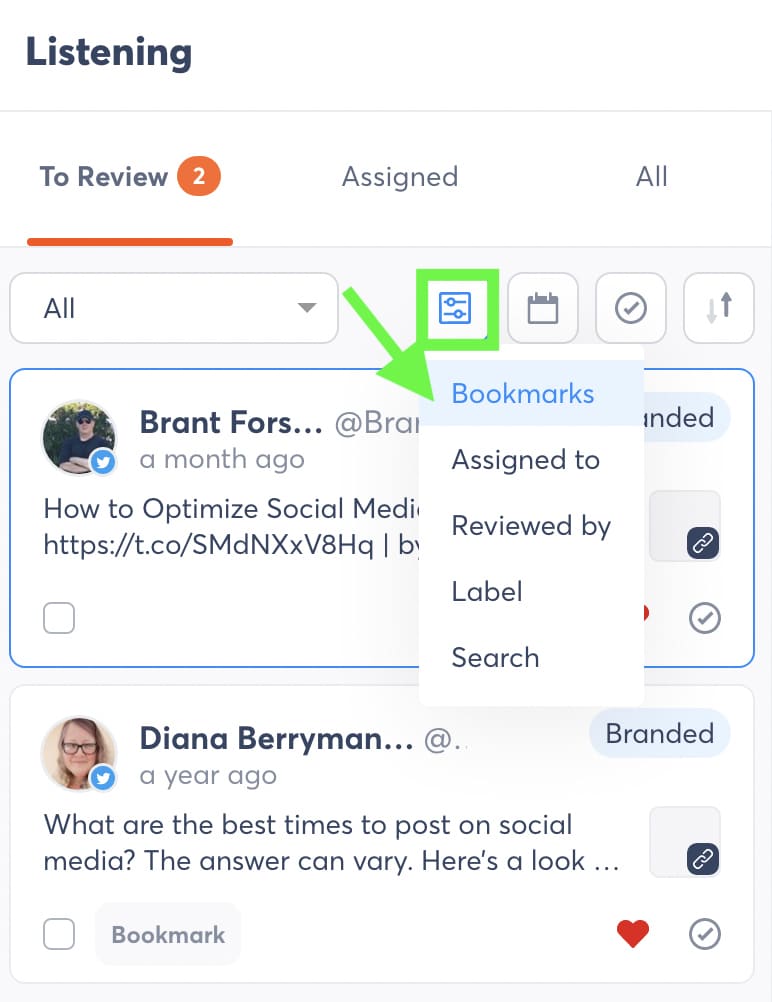 To bookmark a brand mention, click the three dots at the upper right corner of the inbox item. Select Bookmark from the list. You'll see a Bookmark label appear on the item in your inbox.
Then you can use the Bookmarks filter to view only bookmarked items.
To label a brand mention, click the plus sign in the lower right corner of the inbox item. Use the dropdown menu to select preexisting labels or click to create a new one.
6. Know your engaged customers
With Agorapulse, you can do more than just keep track of specific mentions. You can also keep an eye on who's talking about your brand.
From the dashboard, you can click on any mention of your brand to learn more about the user behind the tweet.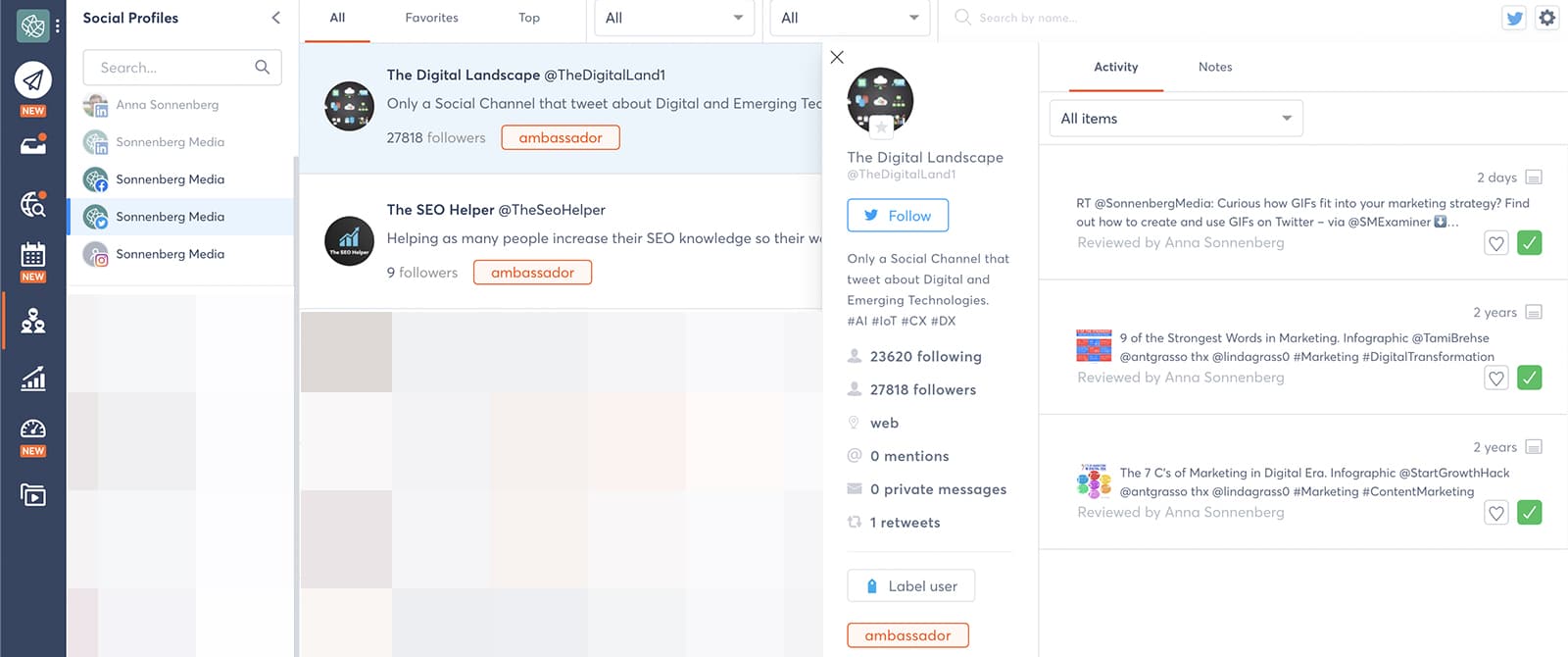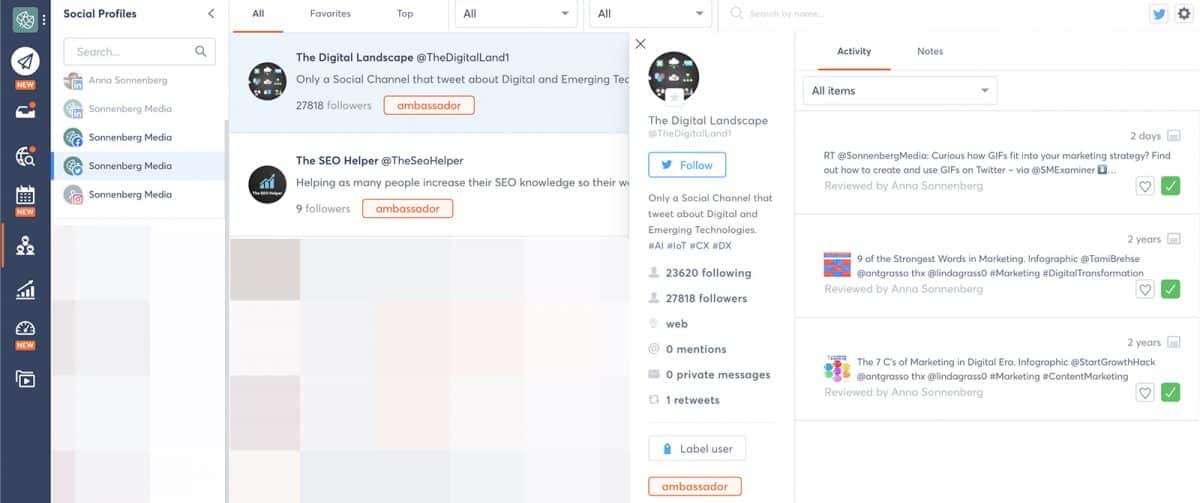 You can use their follower count and the number of times they've mentioned your brand to assess their social authority quickly.
Agorapulse automatically labels users who interact with your brand, but you can add custom labels to any user yourself to help keep track of things that might impact your brand reputation. Then you can track them in the customer relationship management (CRM) tab, where you can modify labels, review prior mentions, or leave internal comments for your team.
To learn more about the user and their past interactions with your brand, click to expand their profile. You'll see basic data like their username, follower numbers, and the number of times they've interacted with your brand. You can also scroll through all previous mentions.
Click the plus sign next to User Labels to add a manual label. You can also click to add an internal note if you'd like to share information with your team.
You can also manage influencers and ambassadors from the Fans & Followers tab. Click on any user to see details, review interactions, add labels, and write internal notes.
7. Report on brand mentions
To monitor your brand reputation successfully, take time to glean insights from them. Include your custom labels on your Agorapulse social media reports to help your team quantify mentions and gauge the public perception of your brand. Then use your analysis to improve your approach or enhance your campaigns going forward.
Agorapulse automatically tallies brand mentions and listening searches on the Reports tab. To add more nuance to your reports, use the label feature to monitor sentiment, campaigns, and other insights that may impact your brand reputation.
Once you create a labeling system, you can build custom reports around those labels. On the Reports tab, click Create a report and select Label report. Choose at least one social profile and a label, and then choose the data you want to feature in the report.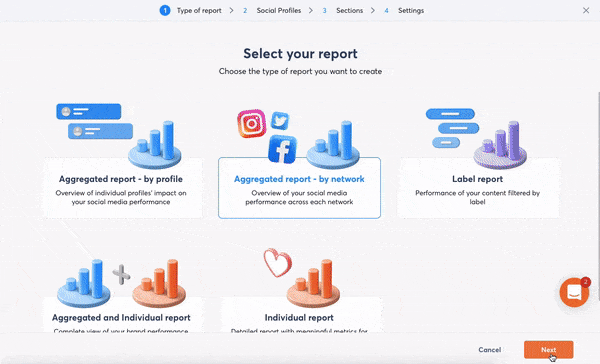 To automate these insights, click to schedule your custom report. You can opt for weekly or monthly reports, and you can send them to yourself or your entire team.
8. Refine your brand reputation monitoring strategy
Use the information gathered through social listening to identify potential issues or crises before they escalate. By being proactive, you can address concerns, rectify problems, and protect your brand's online reputation.
Social listening is an ongoing process, so continue to adapt your search parameters and keywords to stay up to date with the evolving conversation around your brand.
Remember that while social listening tools are powerful, they are not infallible. It's important to supplement the data with human analysis and critical thinking to gain a comprehensive understanding of your brand's reputation.
In Conclusion
If you're an agency with clients who struggle to stay on top of all their mentions and online conversations, you can help clients manage brand reputation, gather customer insights, and stay on top of industry news when you use a social media management tool like Agorapulse.
Your social listening efforts can also allow clients to monitor competitors and stand out from their peers, all while helping you make money as a social media agency. Hard to believe that it can be that easy, right?
Check out a free demo of Agorapulse and see firsthand how it can streamline your brand reputation management.