When you need to expand your customer base and get your food and beverage brand into more retailers, a successful social media marketing strategy is crucial. From TikTok and YouTube to Instagram and Facebook, social media is your destination for growing an engaged community, driving sales, and telling your brand story.
In this guide to food and drink marketing, we'll cover creative ideas for marketing your brand on social media and tips for measuring and optimizing your efforts—so you can spend your budget more effectively.
14 Ideas for Marketing Food and Beverage Brands on Social Media
Not sure where to start with social media marketing? From brand building to e-commerce sales to influencer partnerships, here's how some of the most creative beverage brands are using social media.
1. Tease a product launch
Planning to launch a new product or bring back a seasonal favorite? With a mix of short-form video, feed posts, and disappearing stories, you can generate buzz and get your target audience excited about what's to come.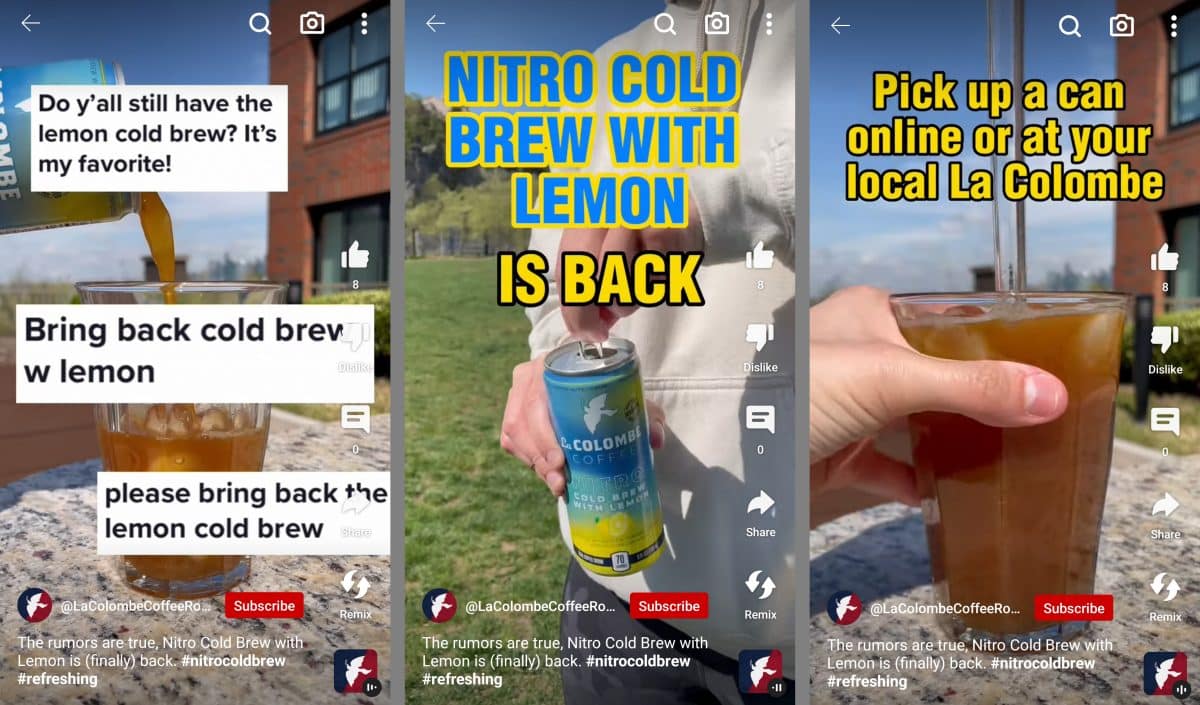 Above, La Colombe uses YouTube to announce the return of a best-selling coffee drink. The video highlights comments from customers requesting the drink's return before announcing its (re)launch and telling viewers where to find it.
2. Enable e-commerce sales
Want to encourage customers to browse your brand's e-commerce store? All major social media channels support e-commerce, allowing customers to browse and buy directly from your profile or from the feed.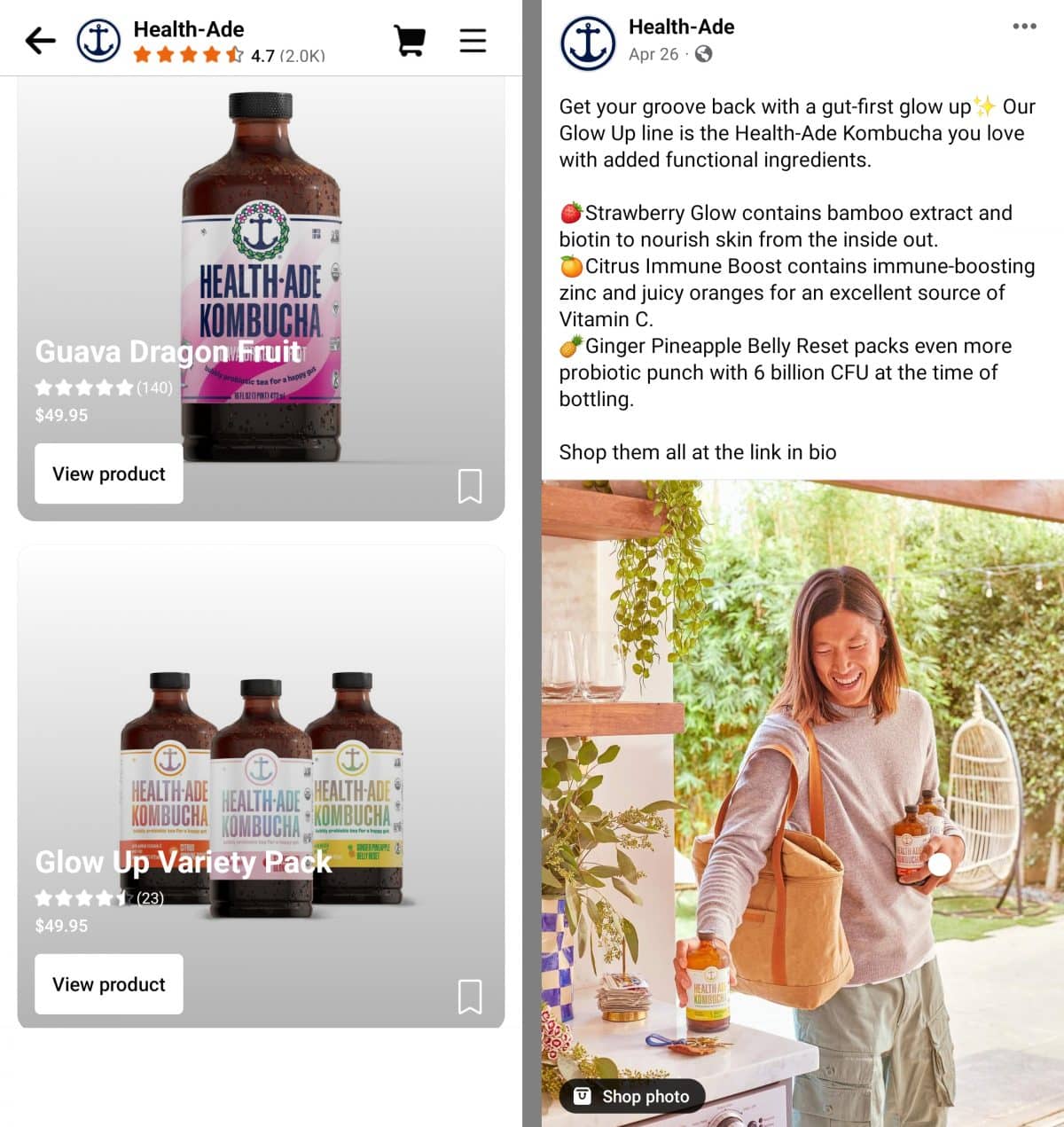 Above, Health-Ade uses Facebook shops to market cases of kombucha. Customers can browse the beverage brand's shop directly from its Facebook profile or tap to shop feed posts with tagged products.
To enable these native platform features, you'll typically need an existing e-commerce store to start. Then you can integrate it with the social media platform's shopping tools and start tagging products in your posts.
3. Show customers where to shop
Prefer to send customers to a retail location instead? Whether you sell via third-party retailers or in owned storefronts, you can highlight where to buy on platforms like Facebook, Instagram, and Twitter.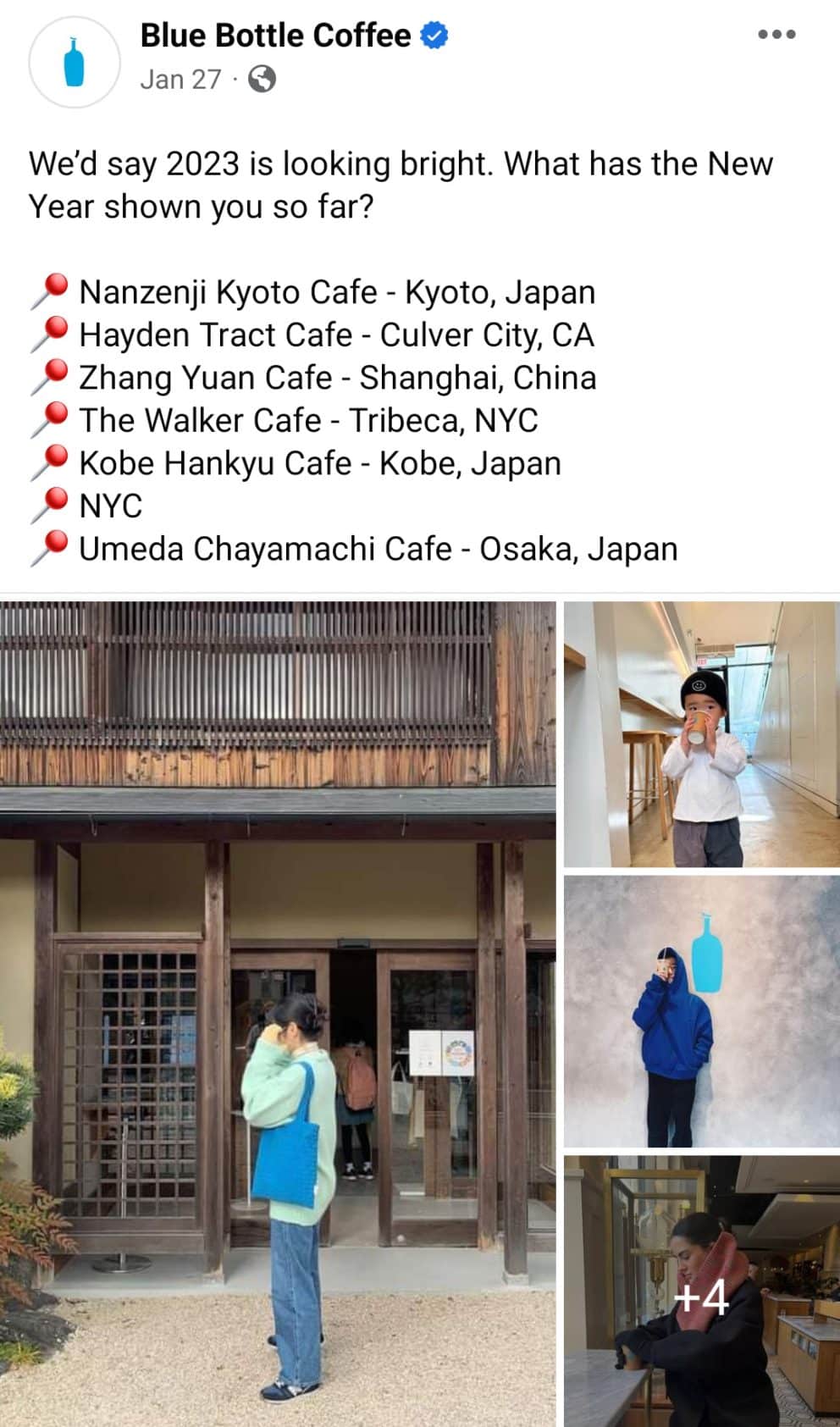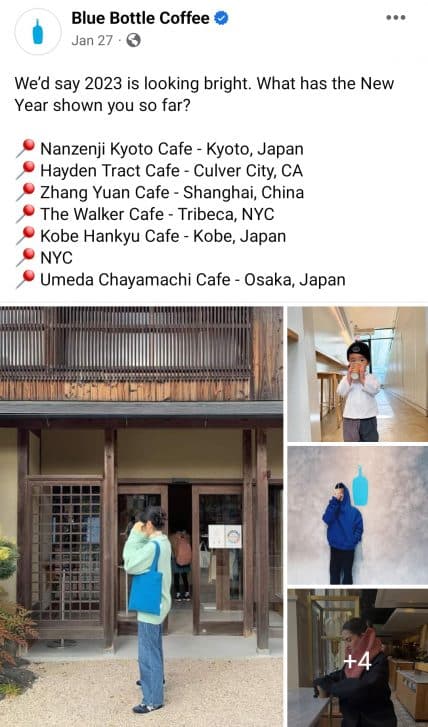 On Facebook, Blue Bottle Coffee highlights several locations where customers can purchase the brand's canned coffee and cafe drinks. By including several in a single post, the brand can showcase their diverse locations and inspire customers to visit.
Need multiple team members to contribute to posts like these? With Agorapulse, you can draft social media content and request a review from internal team members. Once everyone has signed off, the content will publish as scheduled.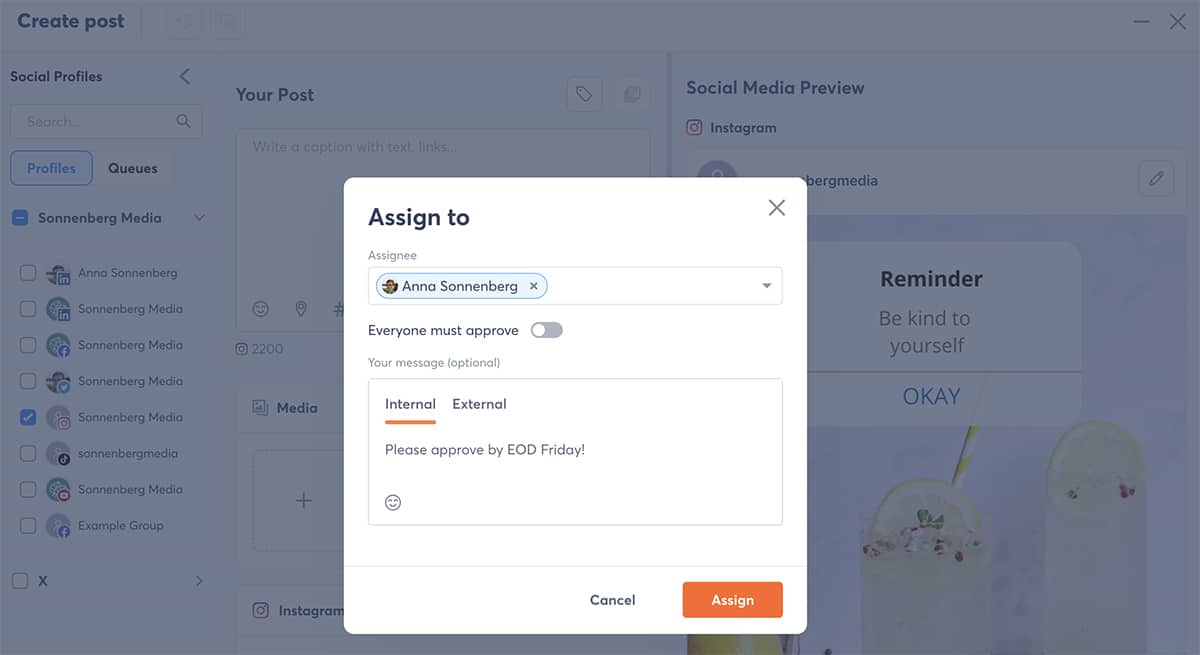 4. Poll your biggest fans
Thinking about launching a new product or opening a new retail location? Want to gauge customer interest before making an official announcement? Ask your biggest fans directly, like Califia Farms does on Instagram.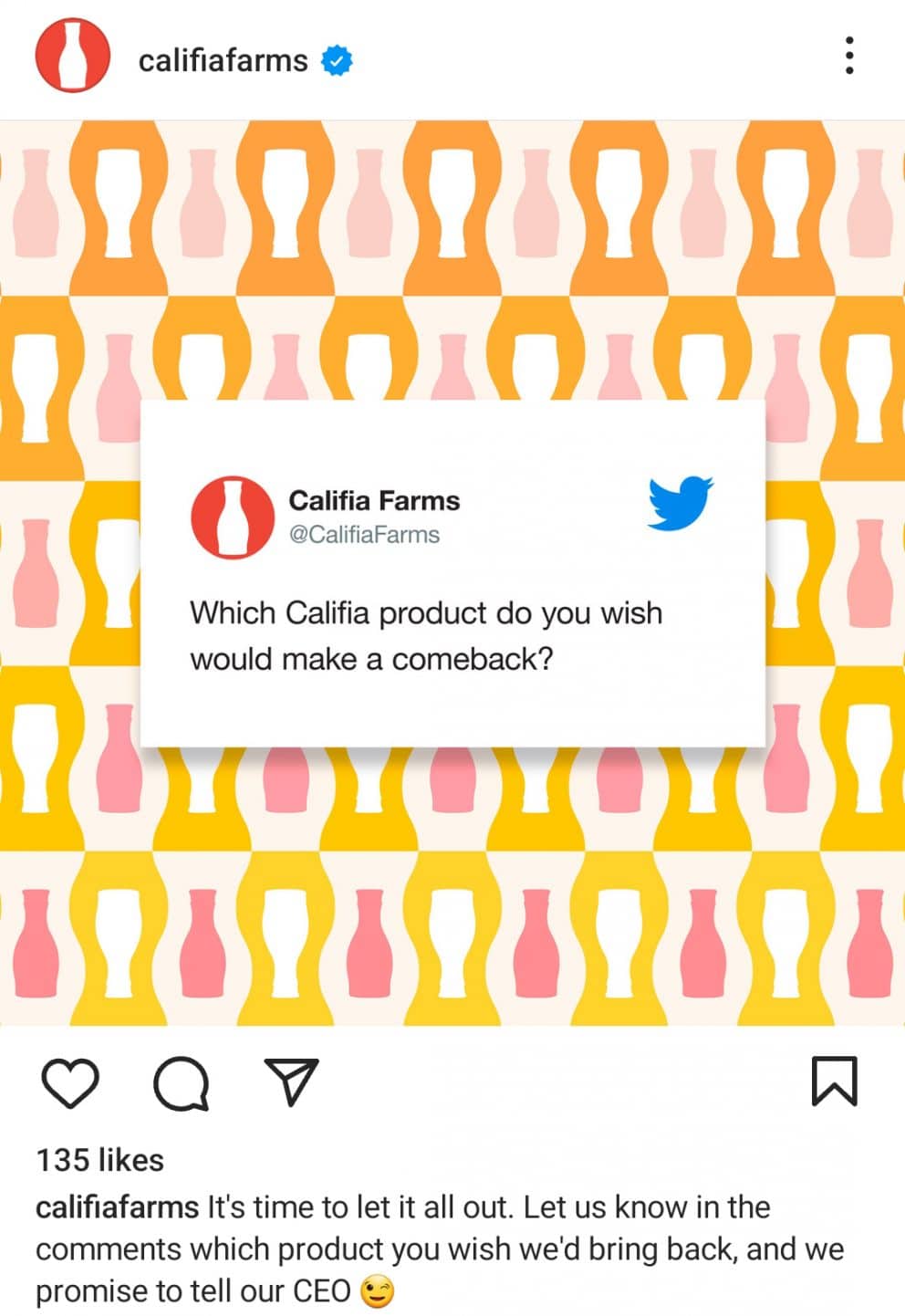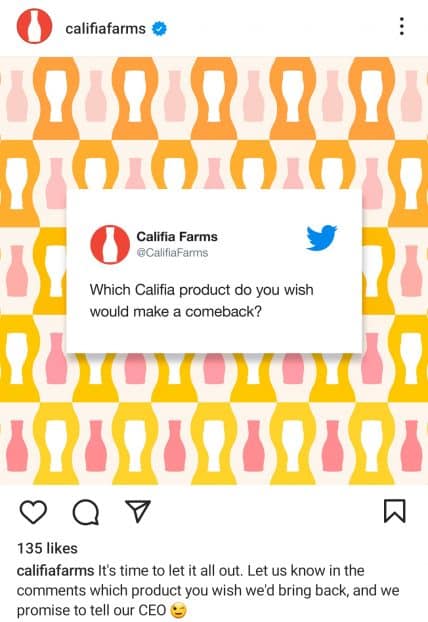 Another option is using poll stickers, question stickers, and emoji sliders to add an interactive element to stories and short-form videos.
Get a FREE demo of Agorapulse and transform your social media management.
Below, Califia Farms uses an emoji slider to gauge excitement for a new product launch.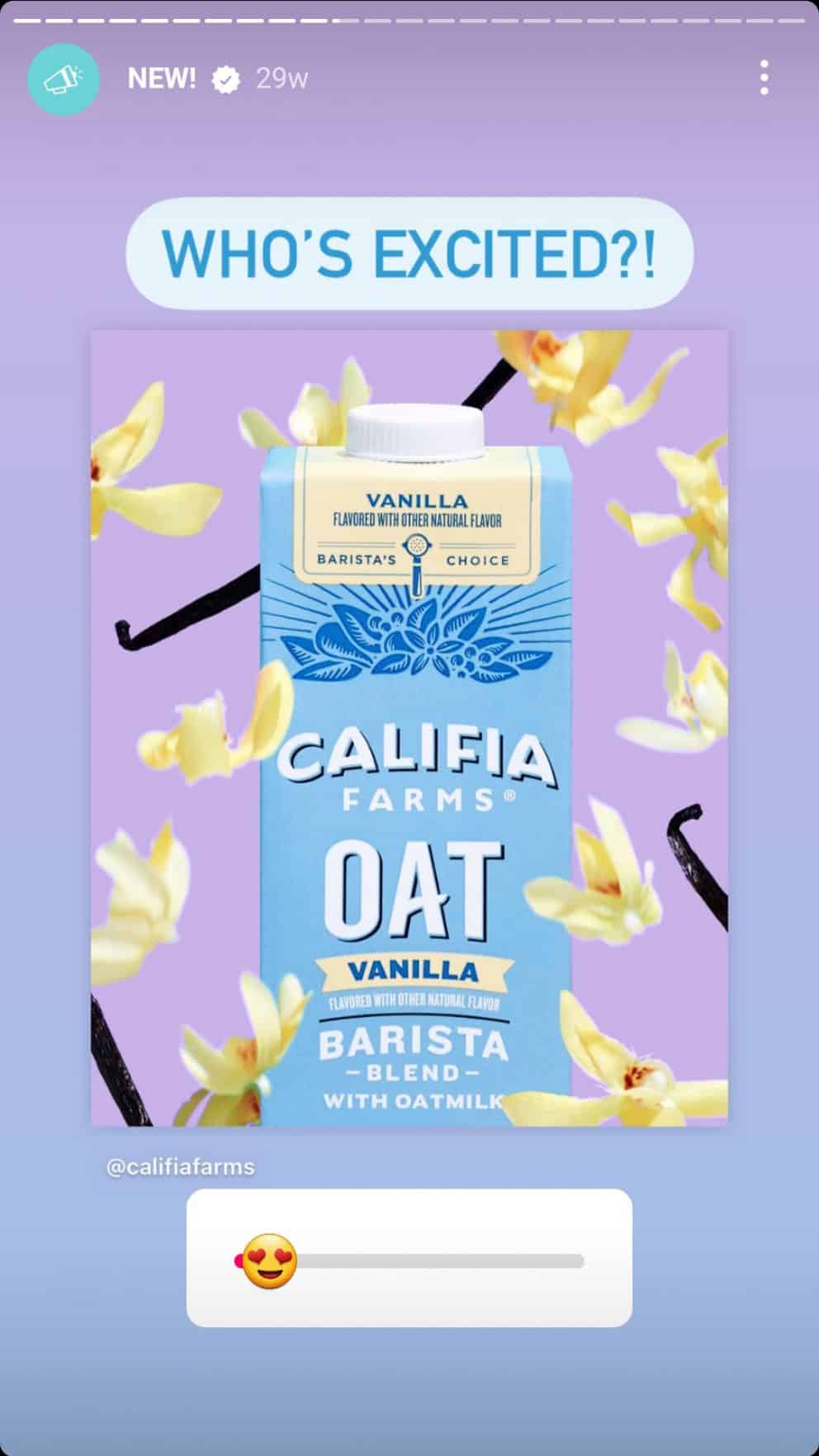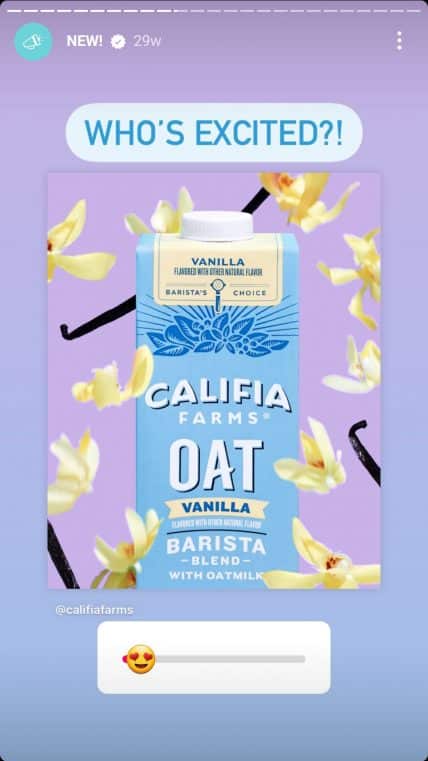 5. Highlight unique ingredients
Do your ingredients or sourcing practices set your beverage brand apart from the competition? By calling out your ingredients and telling customers why they should care, you can give followers new reasons to love your brand.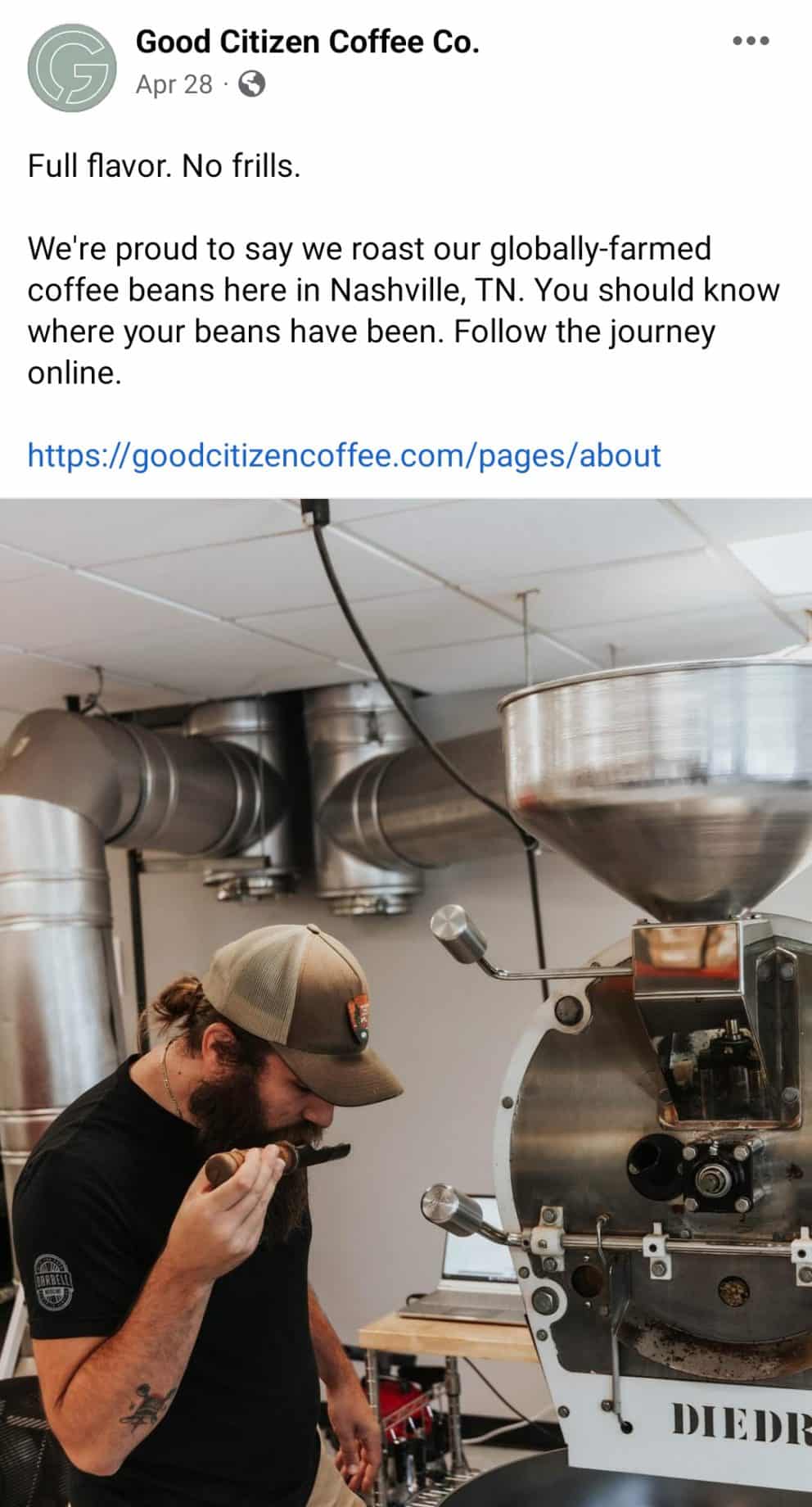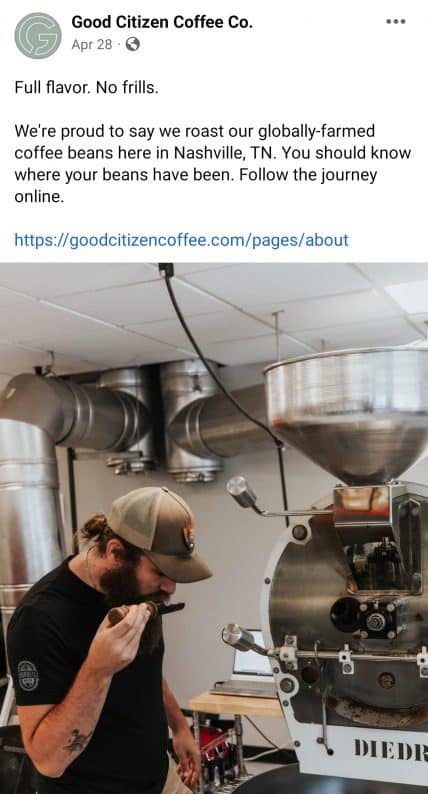 Above, Good Citizen Coffee Co. uses Facebook to promote the locally roasted coffee beans that the brand uses to make canned coffee and cafe drinks. Customers can tap the link to learn exactly where their beans originated.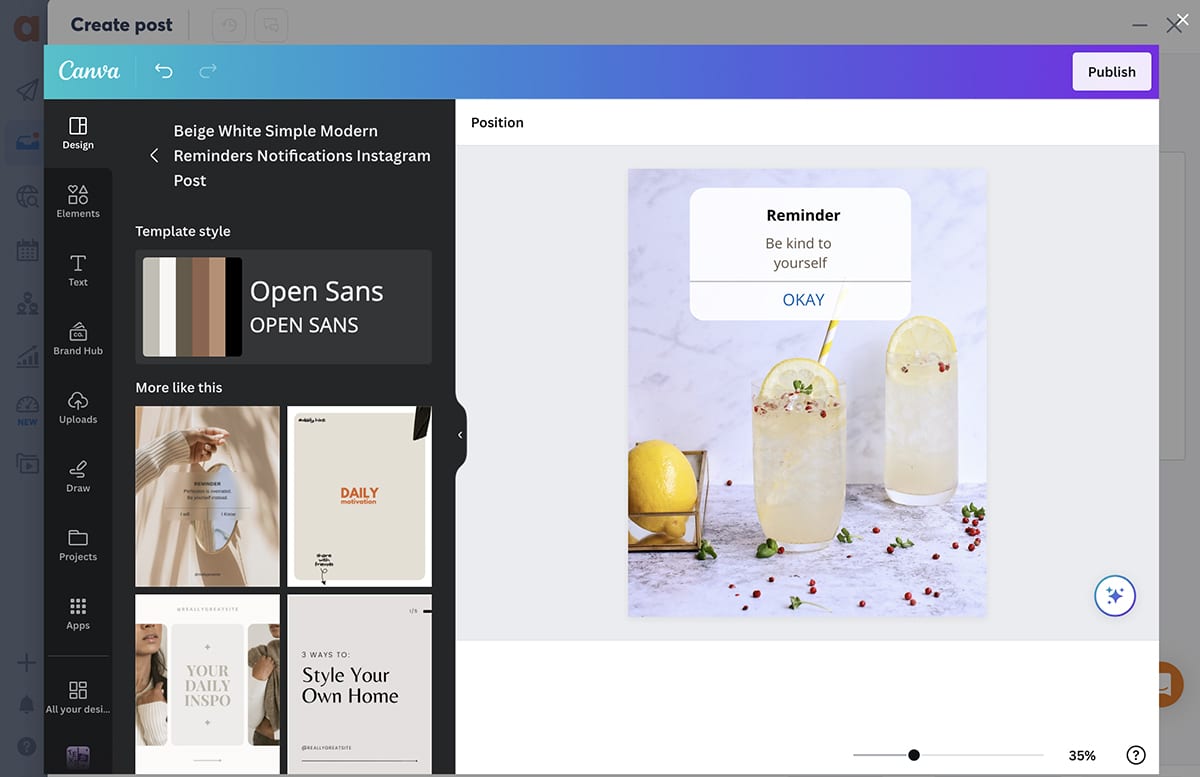 To make your beverage brand's posts stand out in the feed, use Agorapulse's Canva integration. You can edit photos or create graphics directly from the Agorapulse dashboard, which can speed up your team's creative process.
6. Promote a recipe
Want to give customers new ideas for using your products? By sharing recipes, you can help customers get more value from your beverage products and give them reasons to restock their fridges more frequently.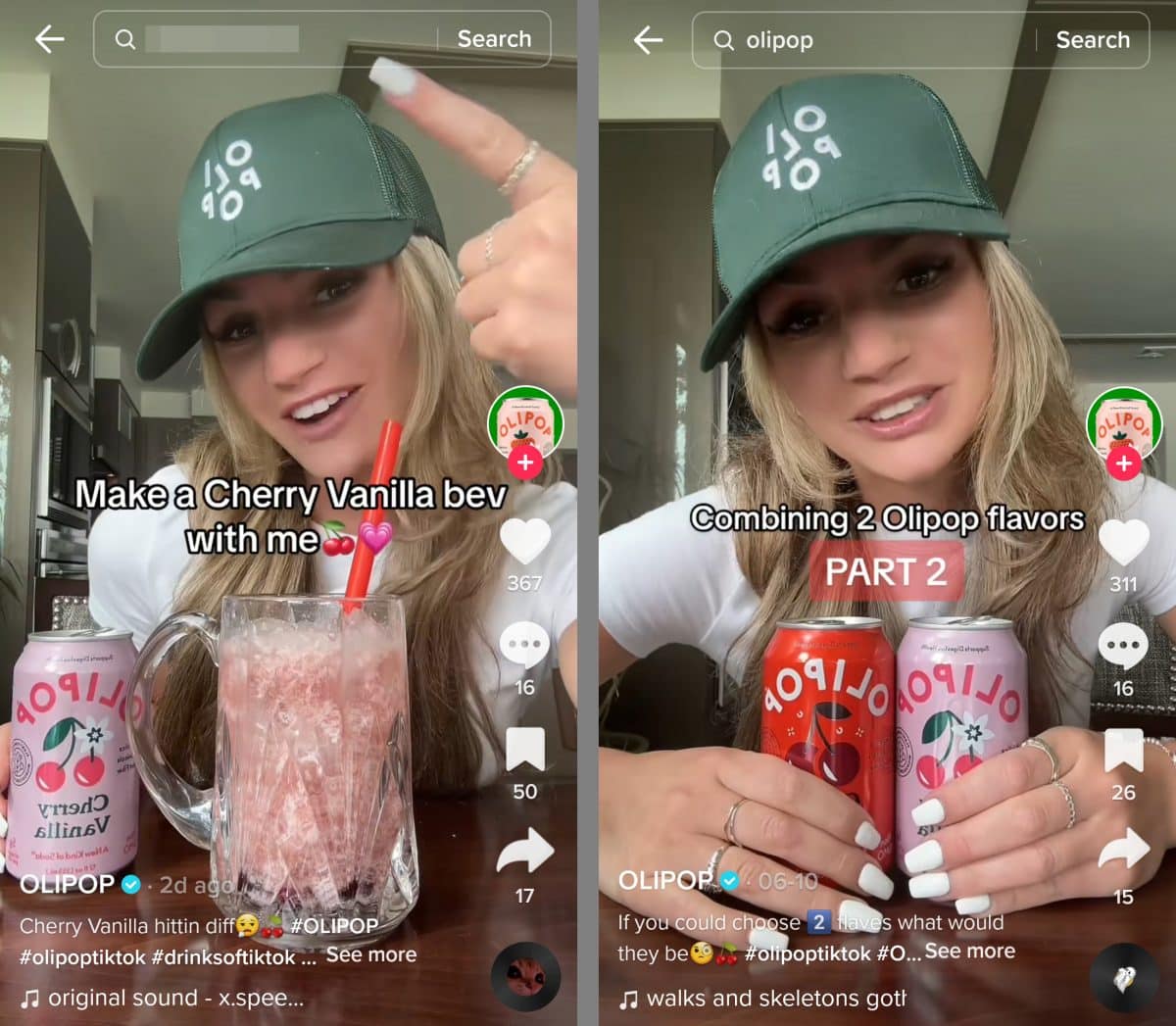 Above, Olipop shows customers how to use the brand's soda to make custom drinks. On TikTok, the brand also has a series that explores combining multiple Olipop soda flavors.
7. Clarify your USP
Beyond ingredients, what makes your brand unique? With videos, feed posts, and stories, you can show what sets your brand apart from the competition and give customers a reason to stay loyal.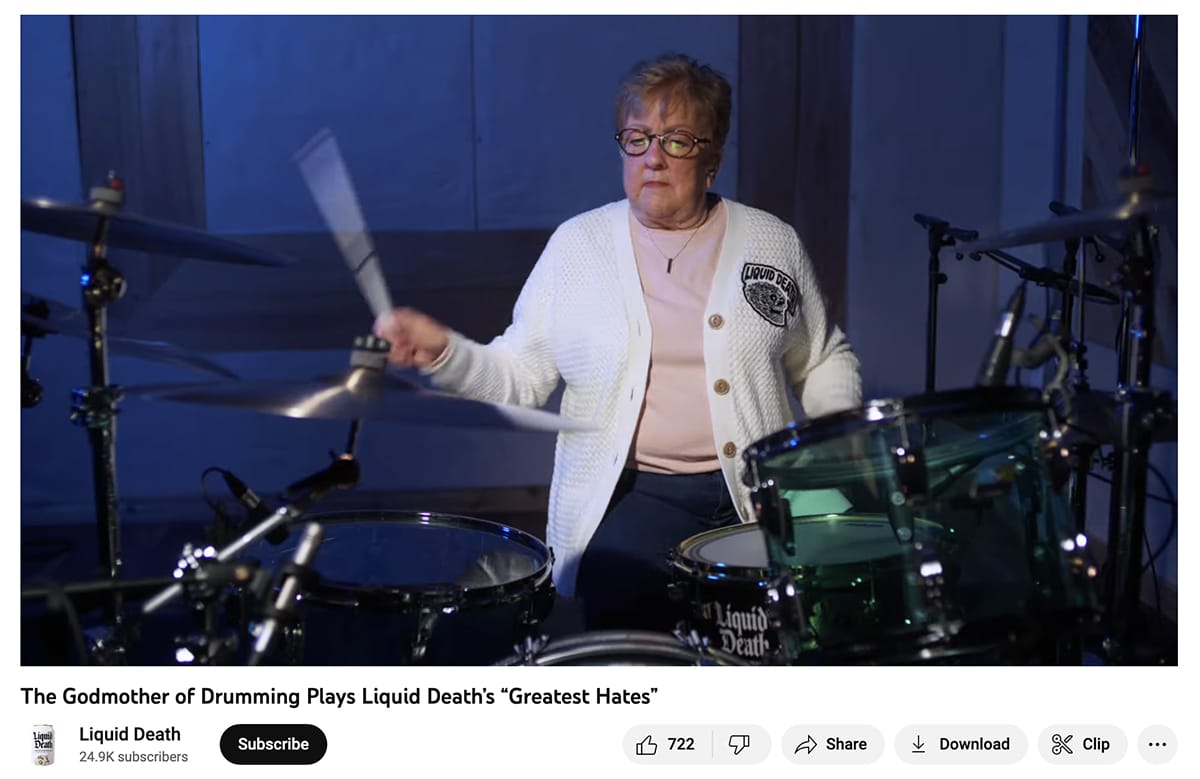 Liquid Death's "murder your thirst" tagline doesn't always produce positive reactions, so the brand has leaned into the negative feedback as a way to unify its customer base. On the Liquid Death YouTube channel, the "godmother of drumming" plays as a death metal singer screams some of the brand's worst hate mail.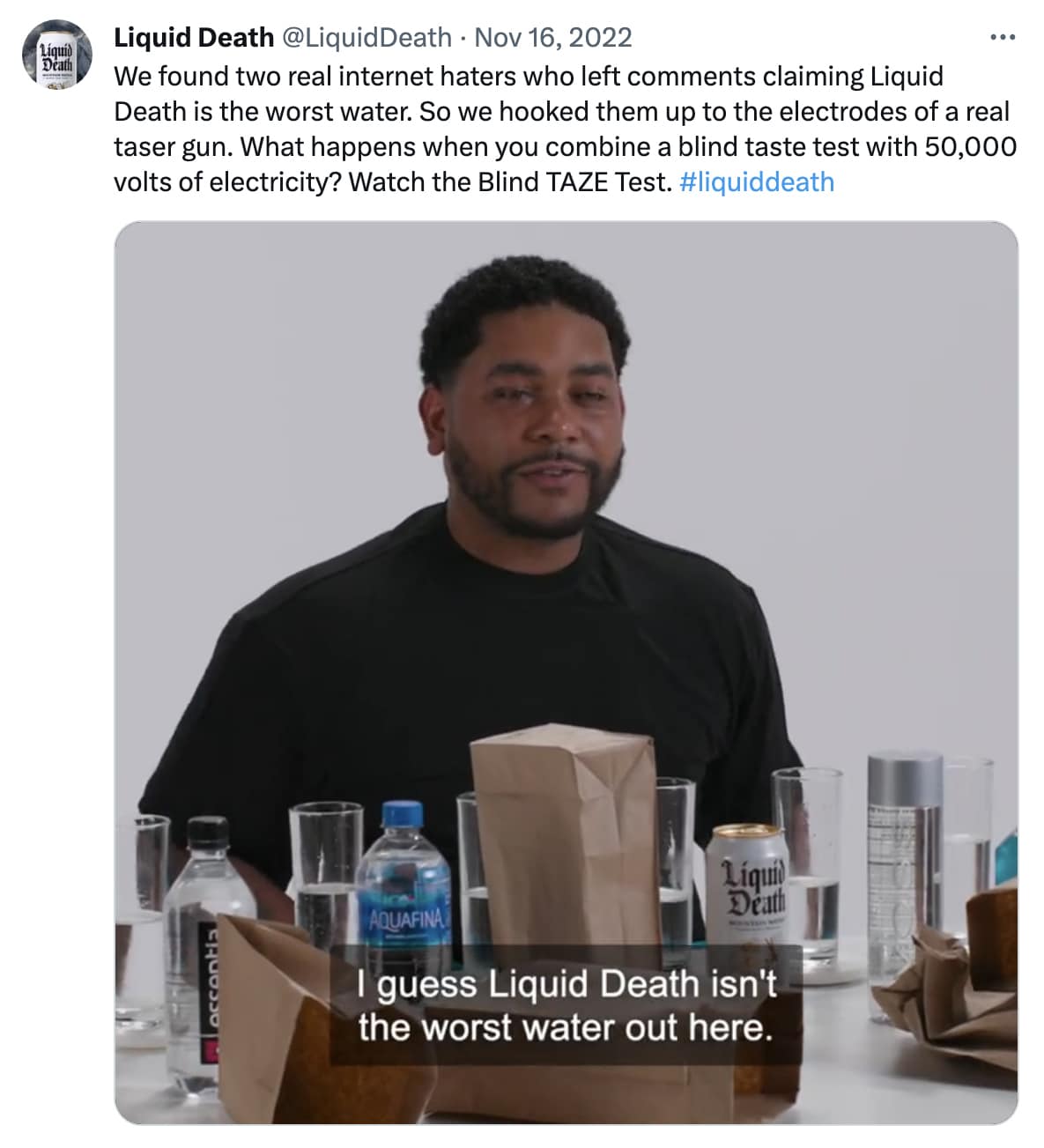 On Twitter, Liquid Death invites users who left negative comments to compare their water to others in the category—and encourages them to reconsider their opinions during a "taze" test.
8. Tell your story
What does your beverage brand stand for? Social media is the perfect place to talk about your why and share your mission so you can find your community.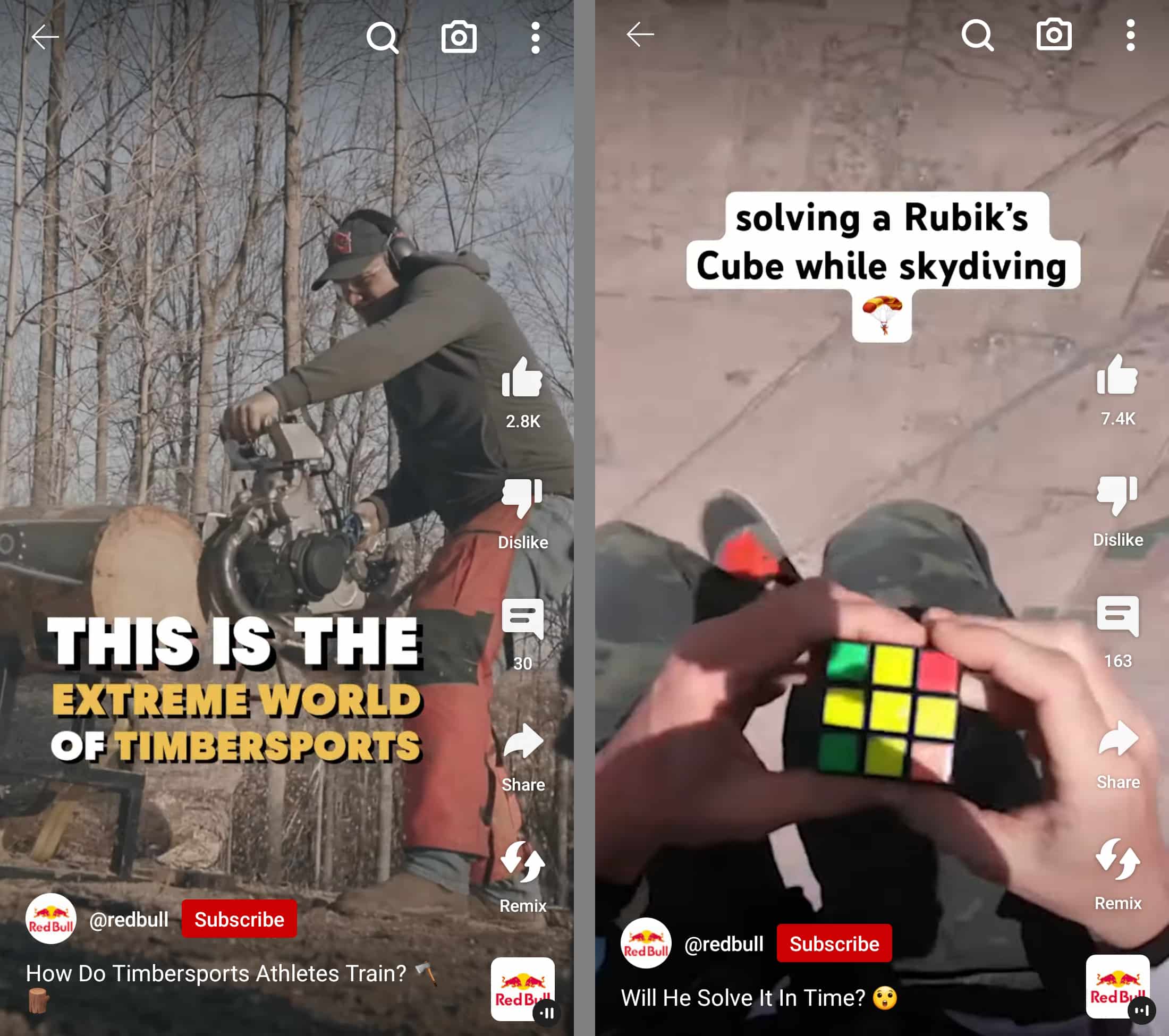 For example, you won't see many product pitches on Red Bull's YouTube channel. Virtually all of the brand's short-form videos focus on extreme sports—activities customers might be inspired to try after the brand's energy drinks "gives you wings."
The Red Bull marketing team cross-posts many of the brand's videos to multiple social media platforms. By sharing to YouTube, TikTok, and Instagram, the brand can get more mileage out of its content while building audiences across channels.
With Agorapulse's post composer, you can easily create content for multiple platforms at once. Although you can post the exact same content across channels, you also have the option to customize captions to make each video unique.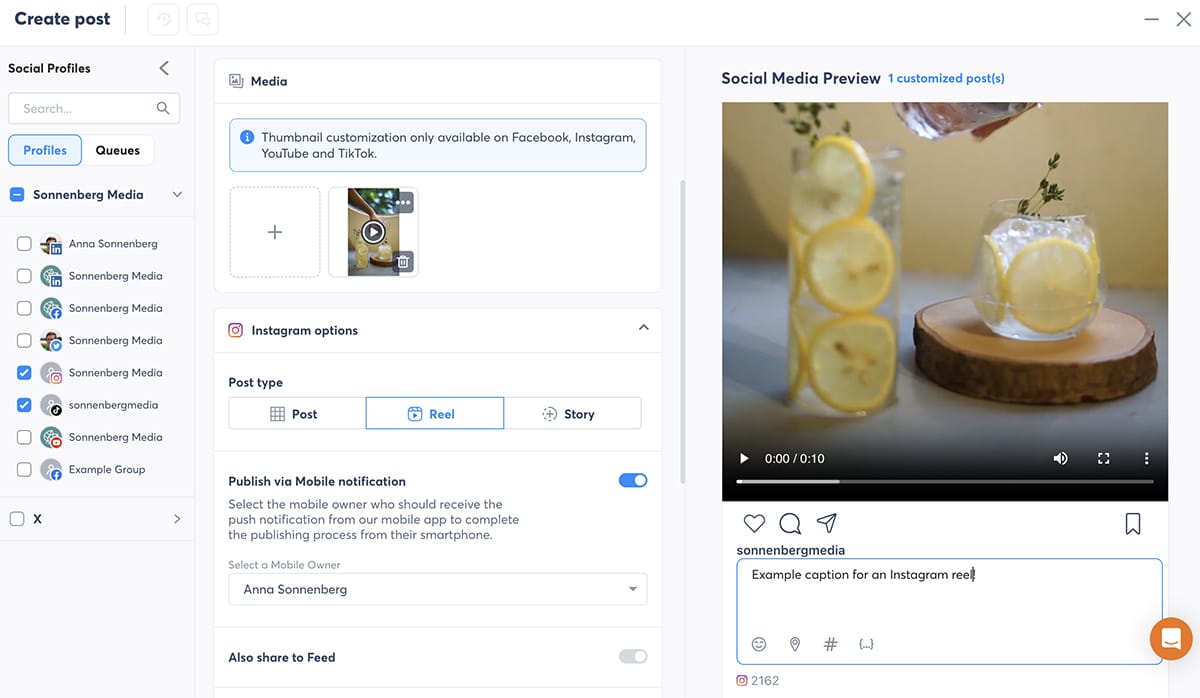 From the post composer, you can also opt to complete publishing manually after receiving a notification on your mobile device. With this workflow, your team can add royalty-free music, trending sounds, or interactive stickers to short-form videos.
9. Introduce your team
Slickly produced posts can certainly work on social media, but less polished content makes your brand appear more authentic. By taking customers behind the scenes or introducing your team, you can make meaningful connections with customers.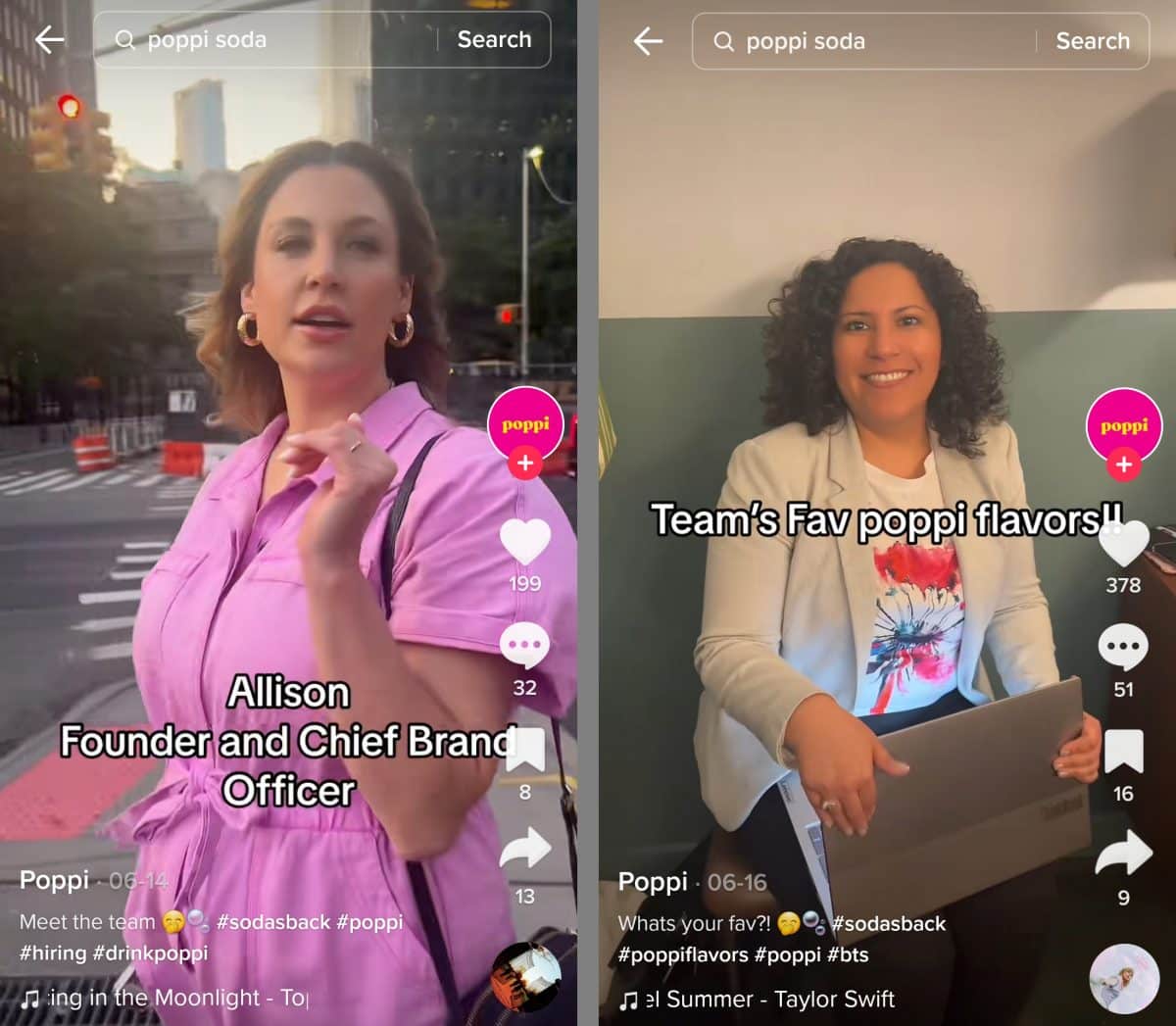 Soda brand Poppi regularly spotlights its team on TikTok. Above left, the brand introduces key team members, and above right, the short-form video reveals each team member's favorite Poppi flavor.
10. Join a viral conversation
Want to join the conversations your customers are already having on social media? By hopping on trends, you can share your brand's personality while sharing your take on a viral topic.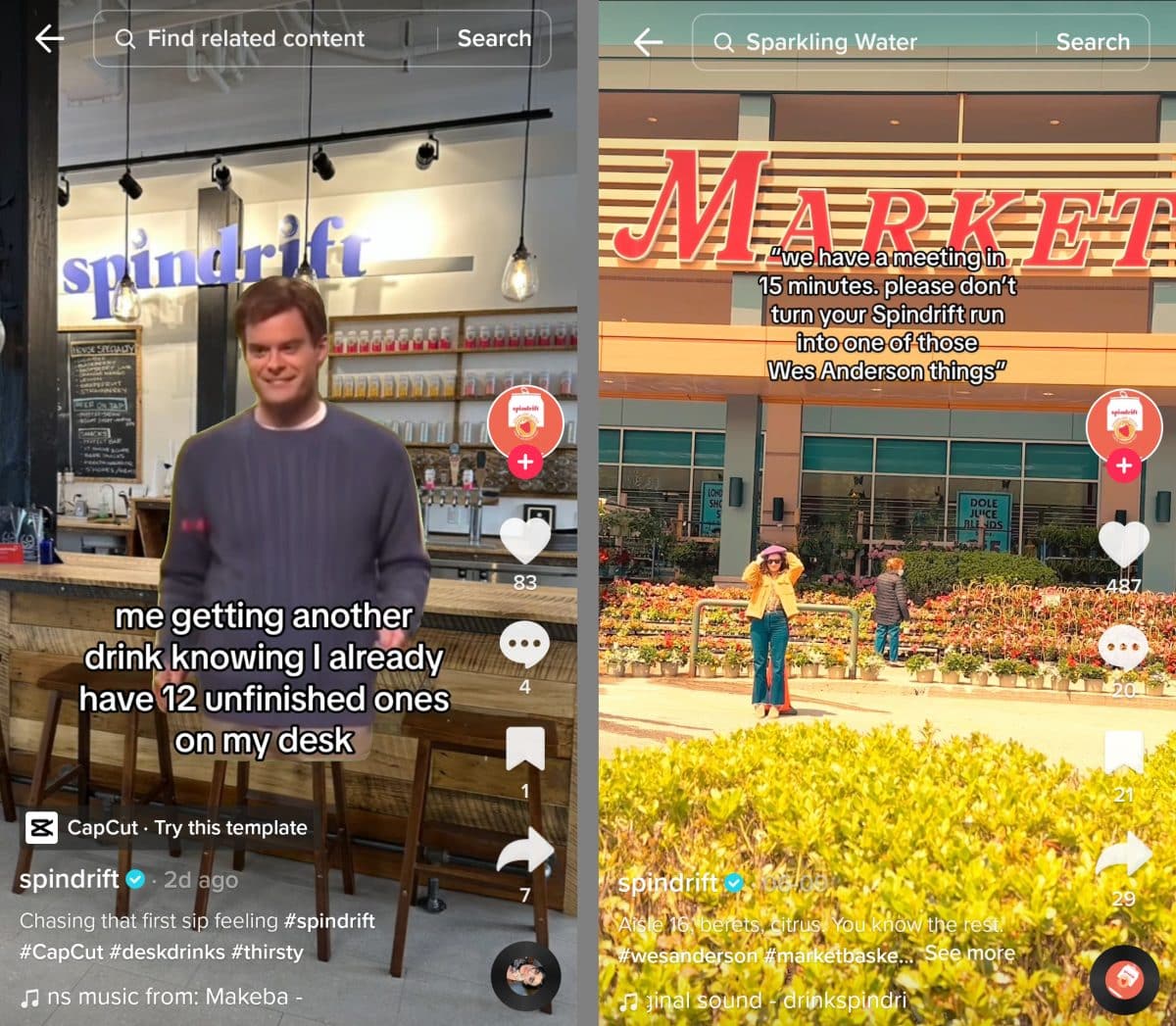 On TikTok, Spindrift regularly hops on trends. Above left, the brand uses the Bill Hader dancing meme to comment on the team's sparkling water intake, and above right, the team films their own version of a Wes Anderson film as they shop for Spindrift.
11. Spotlight your best customers
Do your customers rave about your products in their own social media content? By reposting their content or adding it to your stories, you can thank them and encourage them to share more.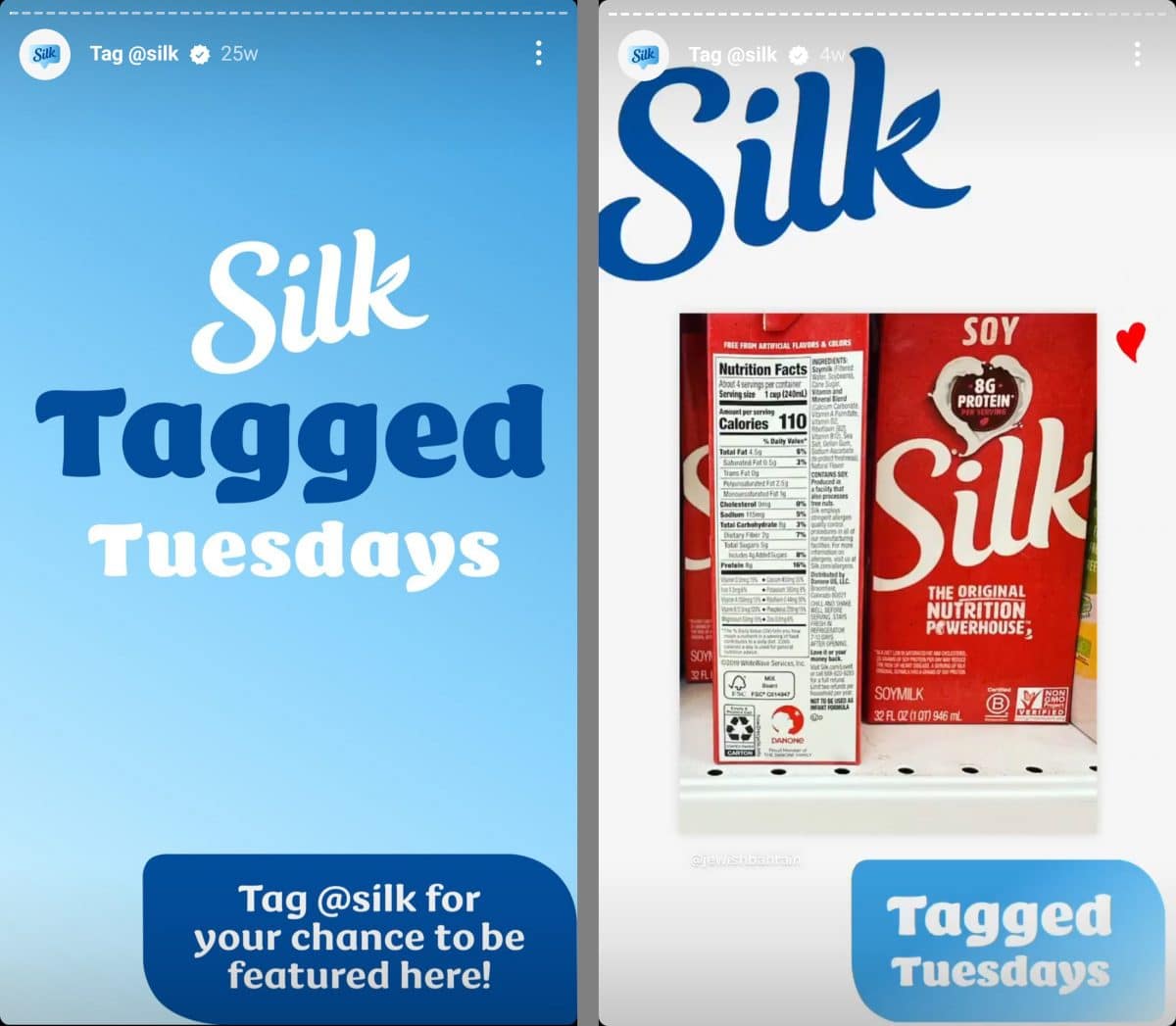 Above, Silk reshares customer content as part of the brand's "Tagged Tuesdays" series. The campaign encourages customers to feature and tag the brand in their own content, and then the team can choose the best examples to share.
The brand shares user-generated content (UGC) to Instagram stories, which would normally disappear after 24 hours. By adding these stories to highlights, the brand can preserve the best UGC indefinitely.
The more your community grows, the tougher it can be to get to know individual customers. Agorapulse's fans and followers dashboard makes it easy to track all the social interactions you've had with a user.

With this dashboard, you can see how many times a user has commented on your content, sent your team a DM, or mentioned you—so you can build relationships and choose content to highlight more effectively.
12. Share a rave review
Have a ton of great reviews from satisfied customers? By sharing them on social media, you can provide social proof and highlight what customers love about your drinks.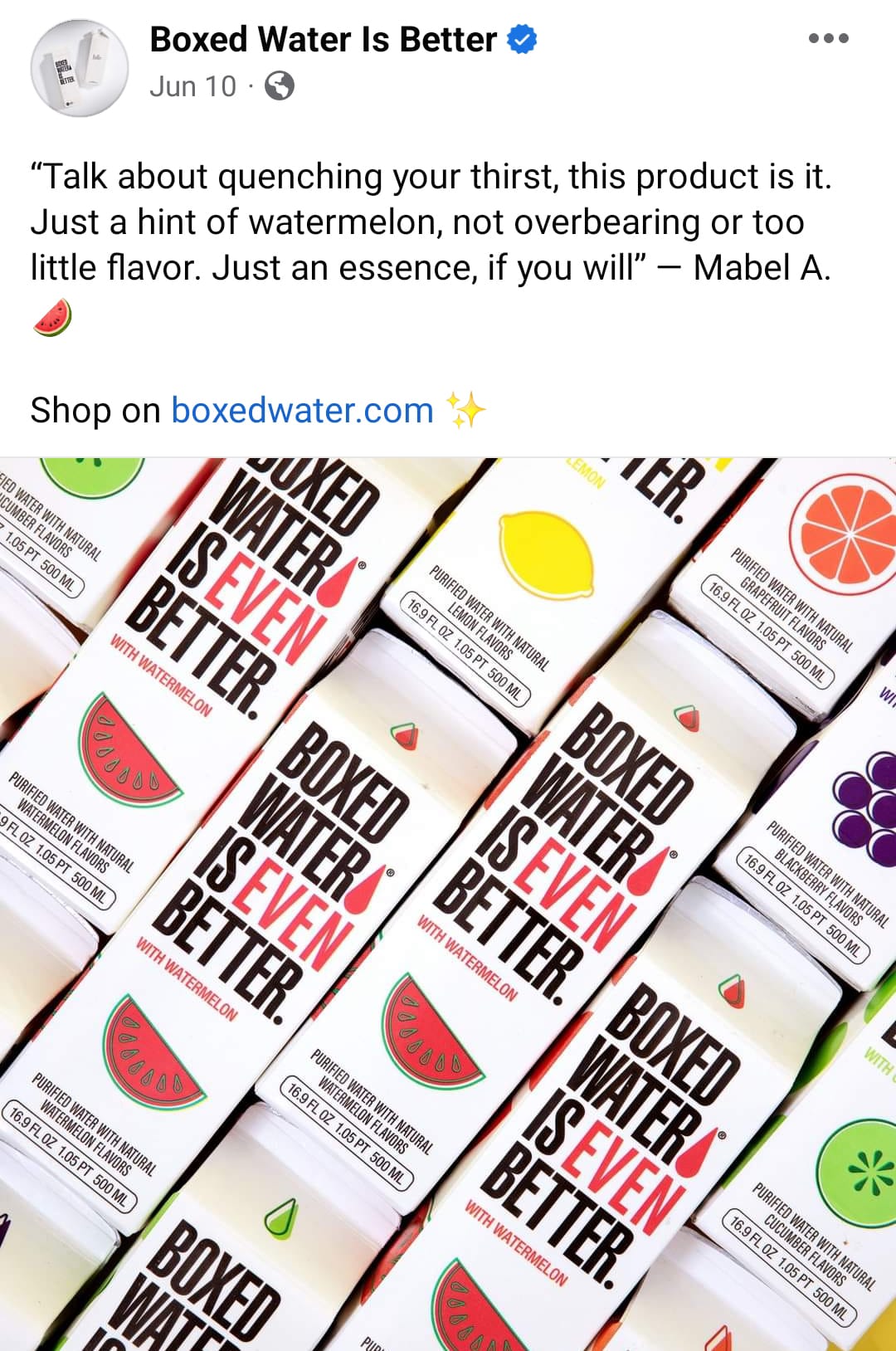 Above, Boxed Water uses a customer quote as a caption. This tactic lets the happy buyer speak for the product while adding some social proof to the Facebook post.
Don't have a system for collecting customer quotes? Using native tools to find and save tags and mentions can be clunky and time-consuming, especially if your customers use several different social channels.
Agorapulse's inbox tools make the process easier.
When you spot a great customer quote in your inbox, you can bookmark or label it directly in your dashboard. Then you can easily find and repurpose it when you're ready to create social media content.
13. Partner with influencers
Want to expand your reach and tap into some of your biggest fans' followers? By partnering with influencers, you can get your products in front of a new audience while effectively getting an endorsement.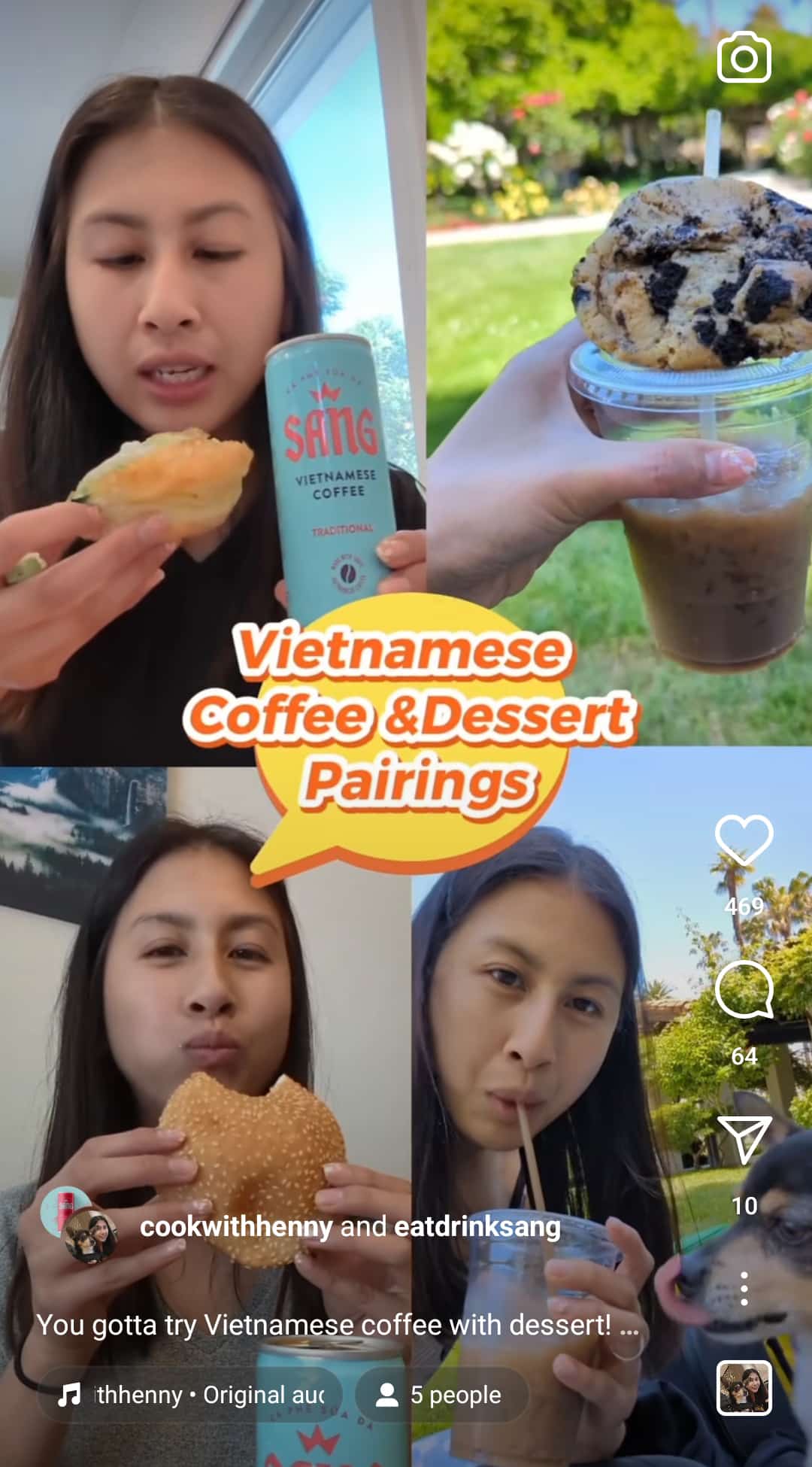 Above, Vietnamese iced coffee brand Sang partners with an influencer to promote coffee and dessert pairings. Since the content uses Instagram's native collaboration tools, the video can display on both accounts' profiles and reach a wider audience.
14. Give away fan favorites
Prefer to partner with other brands instead? With a co-branded giveaway, you can generate tons of audience engagement while cross-promoting complementary brands.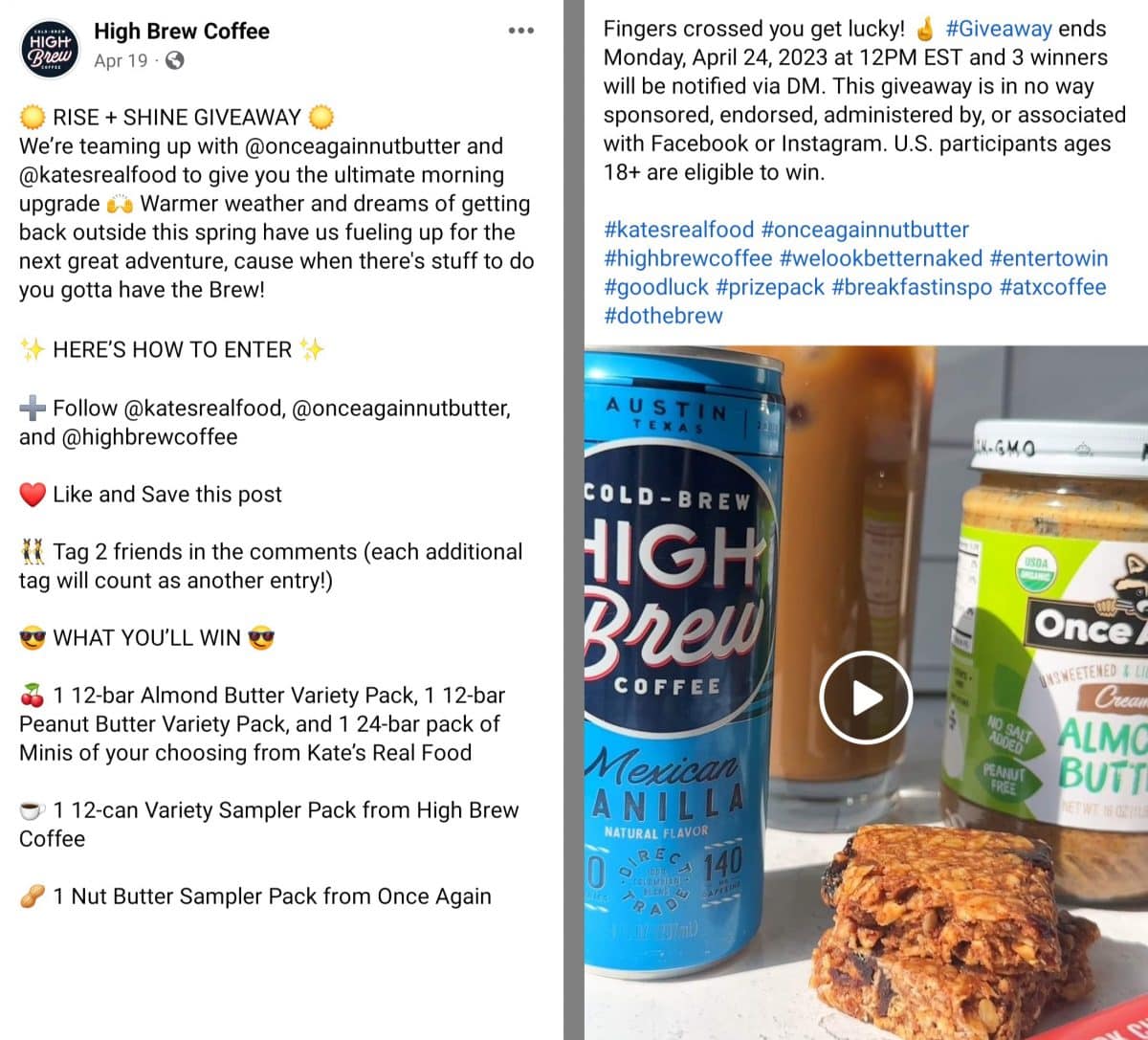 Above, High Brew Coffee hosts a Facebook giveaway with Once Again Nut Butter and Kates Real Food. By cross-posting the giveaway to Facebook and Instagram, the three brands can maximize the impact of the campaign.
Dedicated giveaway tools can help you manage these campaigns, but they aren't always necessary. With Agorapulse's social inbox and hashtag tracker, you can respond to engagement and monitor hashtag metrics.
How to Measure Results and Optimize Your Food and Drink Marketing
How do you know what's working for your brand? From audience research to link tracking to social media reports, Agorapulse simplifies measurement and attributes social media ROI.
Get to know your audience
Food and beverage market research can tell you about your target addressable market and where to find them on social media. But this data won't tell you much about your social media followers.
As your brand starts to build an audience on Instagram, TikTok, and other channels, you need to make sure you're attracting the right followers. Agorapulse's demographic report offers an overview of your audience on each channel.
In many cases, you might notice that your followers' ages, genders, and locations don't match up exactly on each channel. If that's the case, you can consider shifting your messaging slightly to fit your followers.
Wondering when your audience is online and engaged so you can publish content at the ideal time? Agorapulse generates custom publishing recommendations for each channel so you know when to post.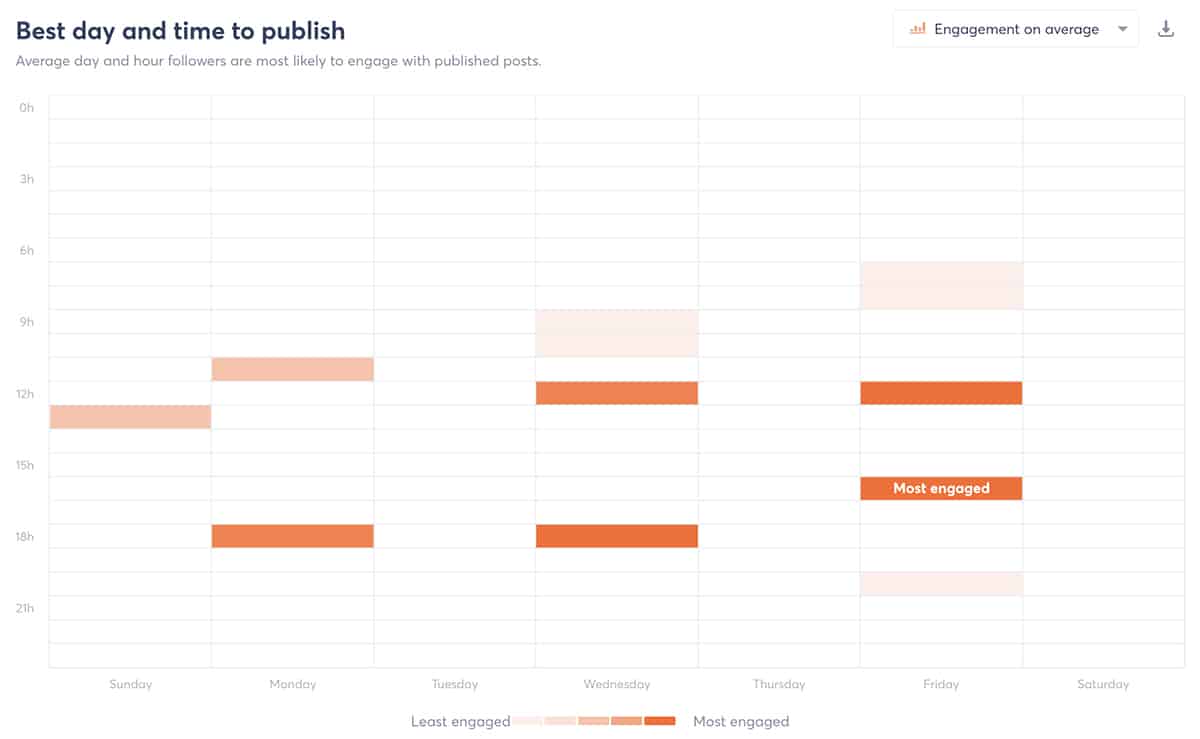 Agorapulse provides user activity reports so you can see when followers are most likely to engage with your accounts. This data can help you staff teams appropriately so they can respond quickly.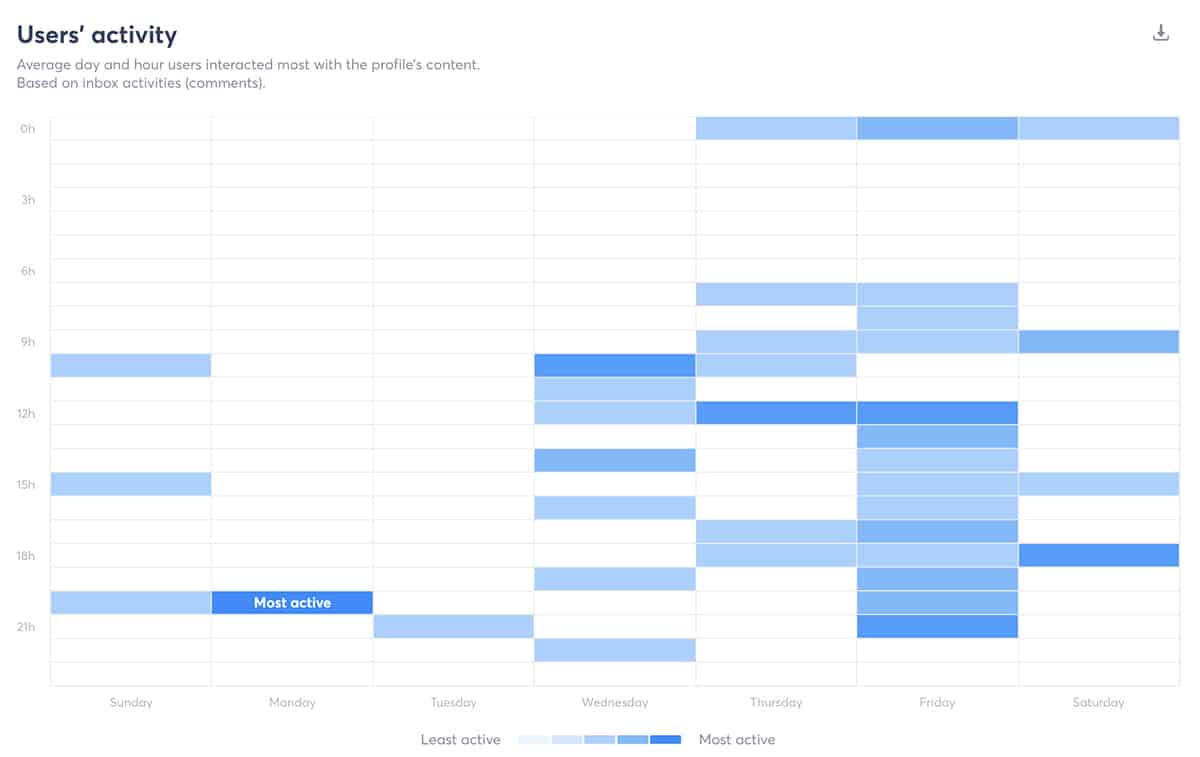 Track social media links
Attributing website visitors and e-commerce conversions to social media has never been easy, but Agorapulse makes the process simpler. With our link tracking tool, you can add custom UTM codes to every link your team adds to Facebook posts, tweets, and YouTube video descriptions.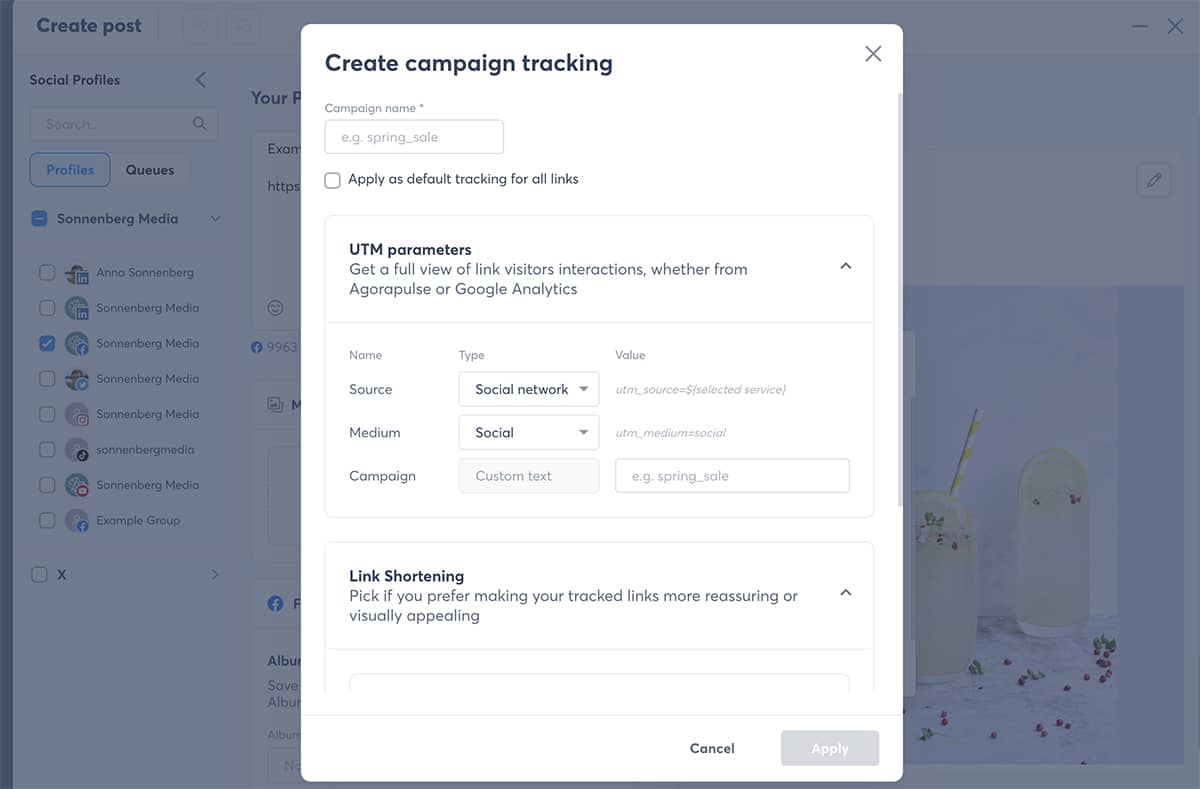 Since each UTM code is connected to a campaign and can be used multiple times, you can track both campaign and post metrics. Agorapulse automatically attributes relevant website traffic, transactions, and revenue to both.
Agorapulse also lets you add link tracking to the conversations you manage in your social inbox. When followers click these links in your comments or DMs, you can attribute results accurately and get a more complete picture of the total value of your social media efforts.

With this data, you can see exactly how much value your organic social media posts are generating. Need to prove your marketing team's value to executives? This report can help.
It can also help you avoid compiling external analytics and cross-checking them against social posts. With Agorapulse's ROI report, you can easily see which channels, social profiles, campaigns, and posts generated the greatest value for your business.
Analyze results and optimize efforts
As valuable as link clicks are, they don't tell the whole story about your social media marketing strategy. Agorapulse's social media reports offer comprehensive analytics for Facebook, Instagram, TikTok, and Twitter.
With these reports, your team can:
Track audience size over time to ensure you're growing at the right rate
Monitor reach and impressions to confirm you're getting in front of your audience successfully
Analyze content performance to see what's resonating with your audience
Check hashtag performance to assess brand and campaign exposure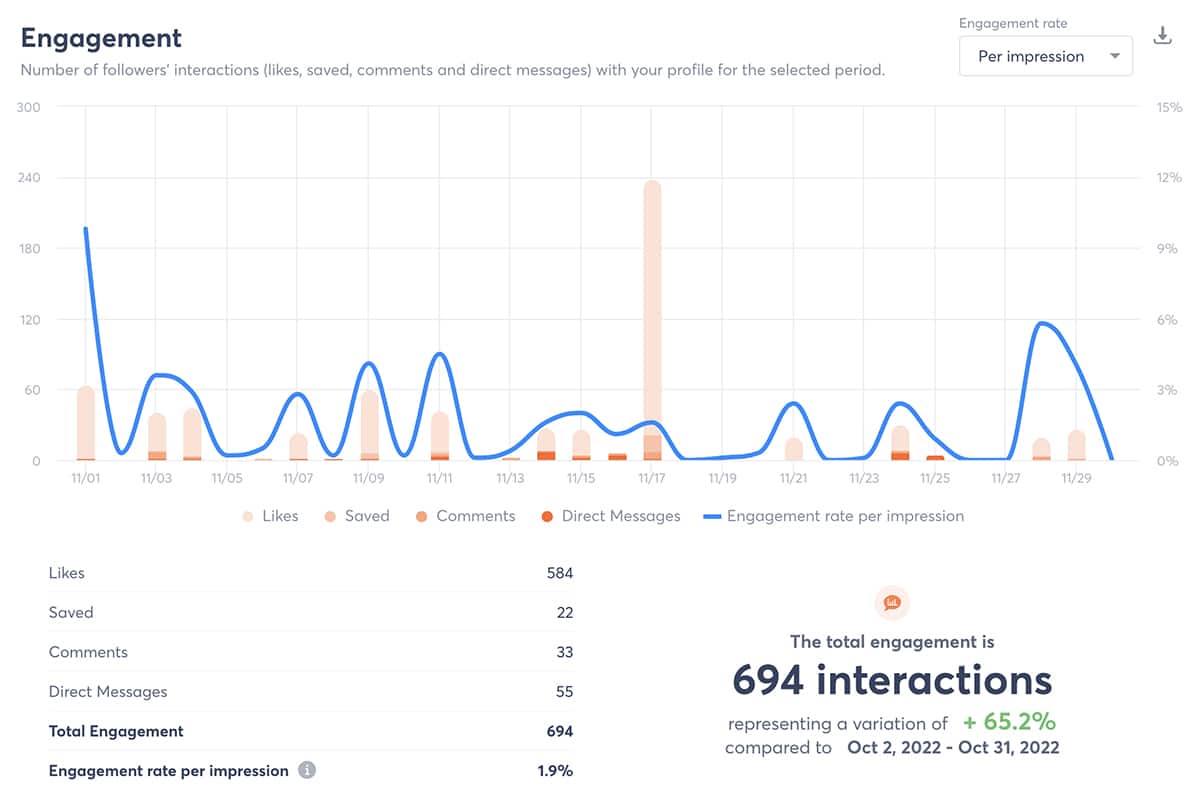 Agorapulse's content performance report automatically highlights top-performing content so you can see what's working for your audience. Since you can sort by the metric that matters most to your team, you can control the definition of "top content."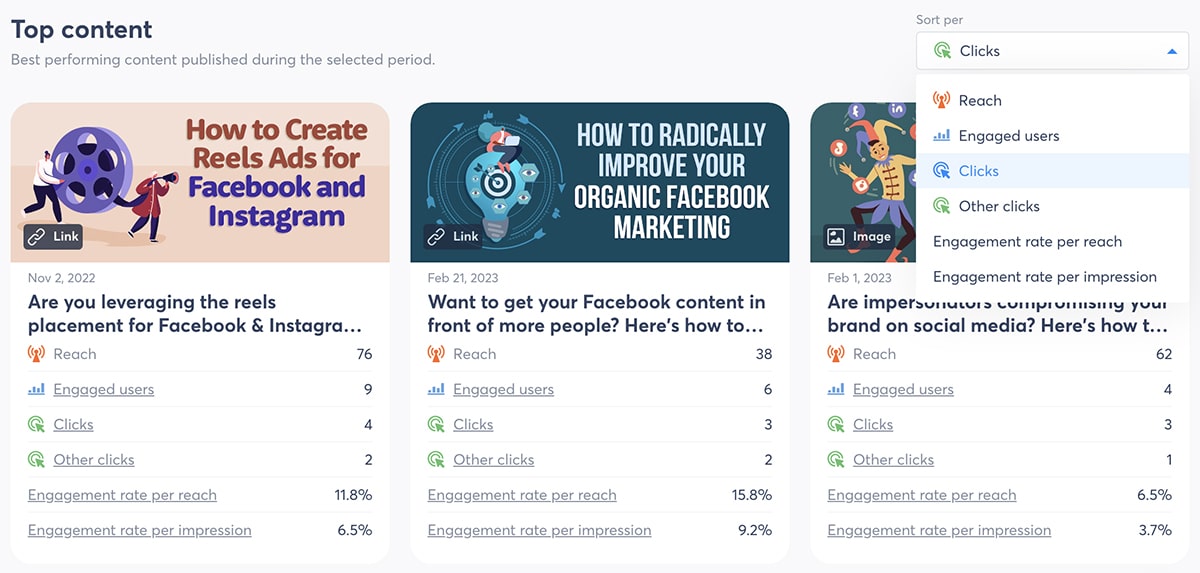 With Agorapulse's brand awareness report, you can get a better sense of who's talking about your brand and ensure you're reaching the right KPIs.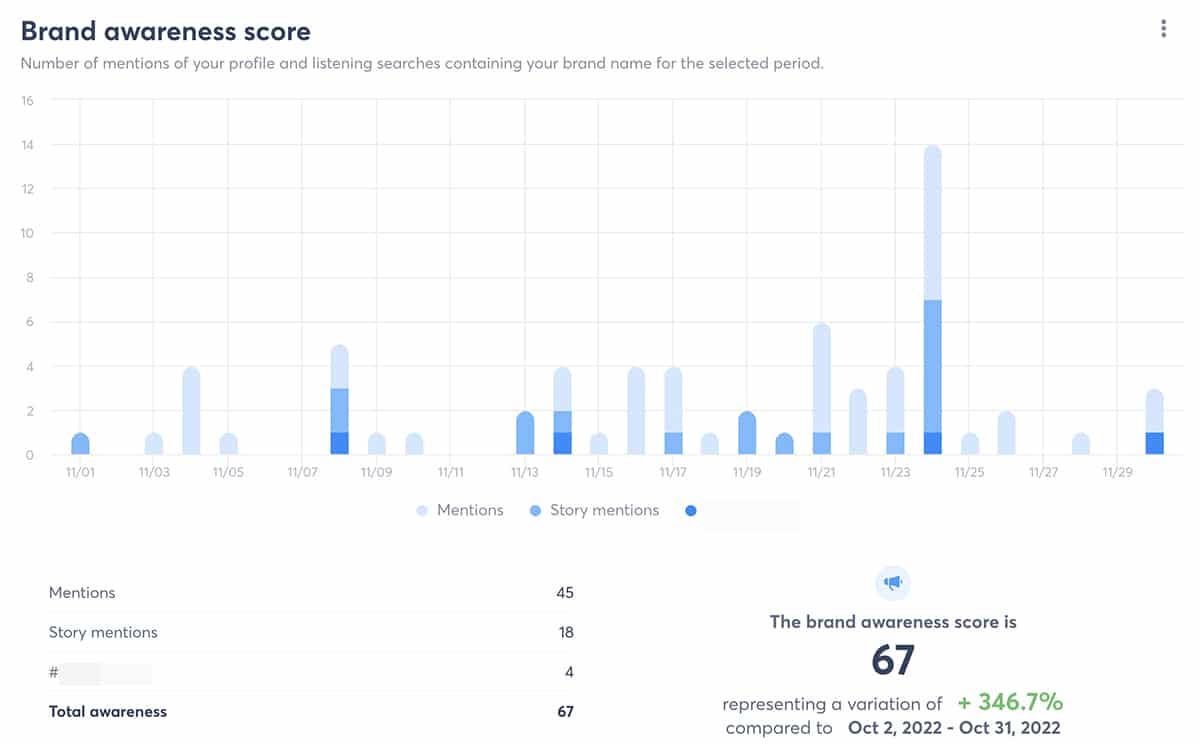 Are people mentioning your brand in stories and feed posts? Are they using your brand hashtag? With this report, you can make sure your brand is sparking conversations and staying top-of-mind with customers.
Report to stakeholders
Agorapulse's analytics are designed to help your marketing team find what's working (and what isn't) so you can make progress toward goals and optimize your content strategy.
But these reports don't have to live in your Agorapulse dashboard. You can export standard or custom reports to share with stakeholders. You also have the option to schedule weekly or monthly reports so stakeholders always have updated analytics on hand.
To create custom reports, use Agorapulse's Power Reports add-on. With this feature, you can build reports by brand or channel so you can get a complete picture of how your social media strategy is working.
If you add publishing labels to the content you publish in Agorapulse, you can also use Power Reports to analyze campaigns. Then you can review the exact content and metrics that matter to your team.
Between custom reports and ROI reports, you can track KPIs, measure progress, and prove the value of your team's social media marketing work—without having to compile any reports manually.
Wrapping Up What We Learned About Food and Beverage Marketing
A successful social media strategy can help food and beverage marketing agencies and brands meet goals at every stage of the funnel. With Agorapulse as your social media solution, you can create and repurpose great content, engage and grow your audience, and report on ROI and metrics that matter.
Get a FREE demo of Agorapulse and transform your social media management.