Social media is a platform to build authentic relationships with your customers.
And if you're a SaaS business, your team must create connections that not only grow your revenues but also shape your brand.
So, why is social media so important? Take a look at the four reasons below.
1. Shape Your Brand Narrative
Research shows that "45% of a brand's image can be attributed to what it says and how it says it." So, it's vital that you tell a narrative that highlights your brand's values.
Social media opens the door to truly express how your SaaS can benefit customers. You can showcase your company's culture or demonstrate your product's worth.
"At its essence, a story isn't really about your company. Your company is the construct, but the goal of the story is to create a connection with your customers. Tell your story in such a way that it tells your customers we relate to you, we understand you, we are like you," says Neil Patel, a lifelong evangelist of Kissmetrics.
Shopify accomplishes this technique on Twitter. A simple tweet about success stories empowers its followers to continue their entrepreneurial journeys.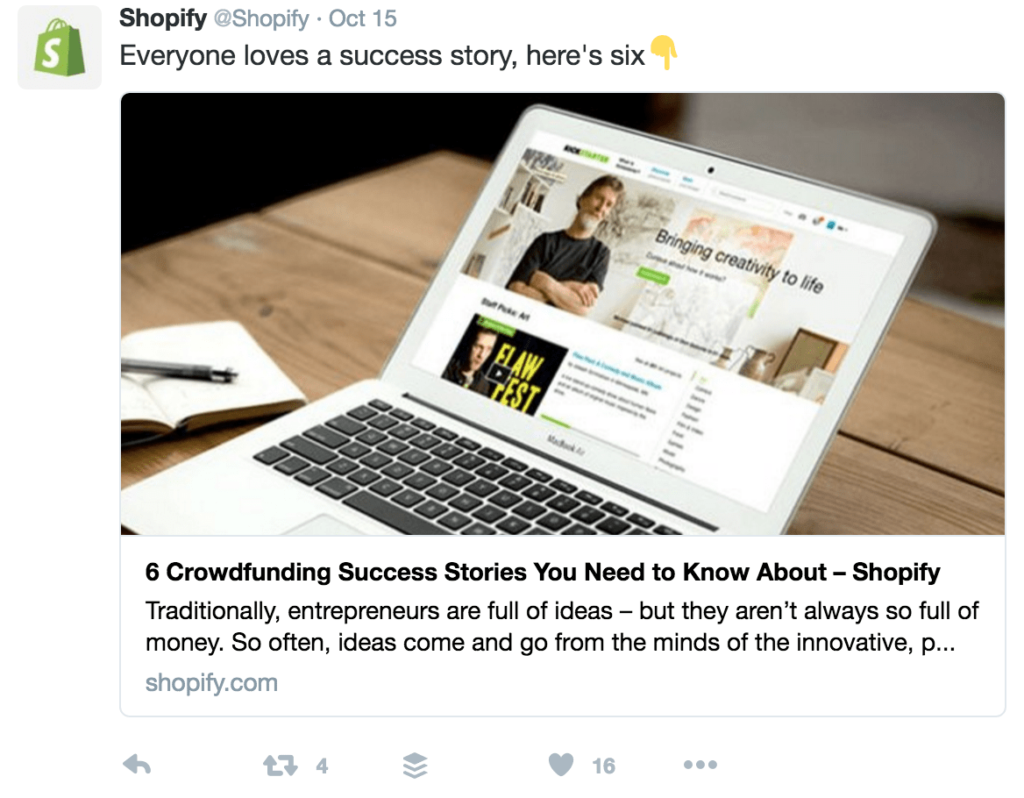 Sit down with your team and explore how to bridge your brand with your target audience. Then, broadcast those insights on social media.
2. Engage With Industry Leaders
When developing a marketing strategy, you'll quickly learn the significance of teaming up with others. Collaborations can take your business to the next level.
To engage with industry leaders, start interacting with them on social media networks. Observe what topics they discuss and how they communicate with their own followers.
The Evergage team believes "if you can truly engage with your users, you begin to speak their language and understand their mindset." This knowledge will offer an opportunity to relate to individuals.
That's why social media is so important. It gives you direct access to witness influencers in action. And based on those observations, your SaaS team can determine how to move forward.
Ever wonder who's publishing tweets about your brand? Withsocial media management tools like Agorapulse, you can find your top ambassadors in the Reports tab under the Awareness section of the tool.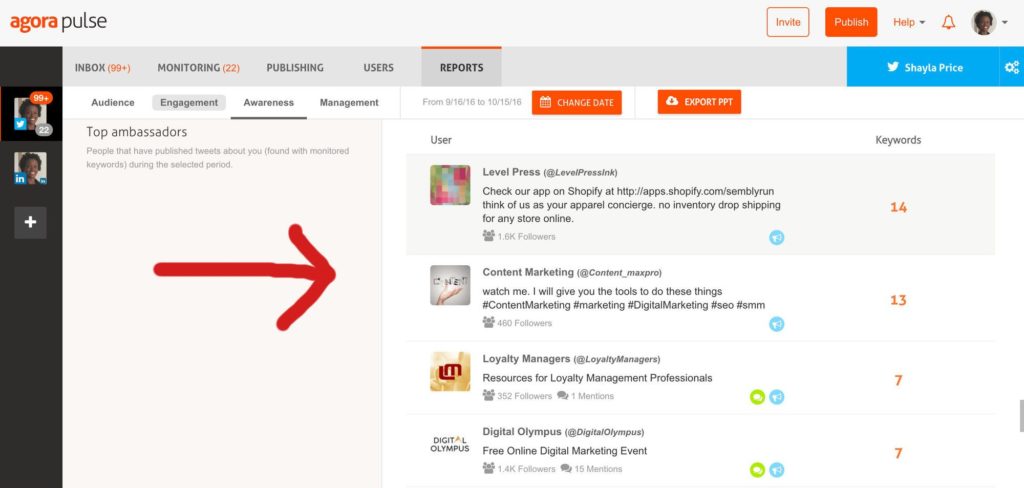 Use social media as a medium for researching and contacting influencers. It may even lead to a future partnership!
3. Earn Sales Leads
Hubspot reports that "salespeople using social media as part of their sales process exceeded quota 23% more often." Social selling is a well-kept secret in most industries.
The combination of social media and sales works well because sales reps can easily discover the buying behaviors of their consumers. You can even poll your prospects about what they like or dislike about your products.
Inc. contributor Drew Hendricks writes, "Ultimately, you need to obtain sales any way you can. While social media has many potential uses (including brand building and customer service), it's maximized when it's used as a sales tool."
Leverage social selling by targeting specific prospects and nurturing those relationships. It's all about educating people and not forcing them to buy right now.
Kissmetrics uses Facebook to lead prospects down its sales funnel. In the example below, the SaaS company announced a new feature and urged people to take a look.
Watch your potential customers. Let social media be a pathway to sales leads.
4. Publish Relevant Content
Social media is one of the best ways to educate your followers. It's another channel to display your brand's expertise.
Begin by publishing relevant content. This may include links to how-to videos, informative ebooks, or downloadable checklists.
Spice up how you deliver this content by adding vibrant images, inspirational quotes, and funny GIFs. And don't be afraid to curate content that fits your audience's needs.
Like most marketing tactics, remember that quality trumps quantity.
"More isn't better on social media. It's all about matching audiences to the right content. Where are your readers and where are they in the habit of buying? Targeted is better. Know your audience," states Chris Syme, the principal of CKSyme Media Group.
On Instagram, Zendesk gives its fans tidbits on how to improve the customer experience. The brand also directs people to learn more with a call-to-action to click the link in its bio.
Amplify your brand by publishing content that matters to your followers. With social media, you can start the conversation.
Promote Your SaaS With Social Media
Integrate social media into your digital marketing strategy. Encourage your SaaS team to learn more about its importance.
Shape your brand narrative and earn more sales leads. Take advantage of the many possibilities of social media.
Why is social media important for your SaaS? Let us know in the comments!