What is Twitter Moments?
Twitter Moments are curated stories made up of tweets that encapsulate current events and happenings around the world. The feature was launched about a year ago to get news and events to users outside of trending topics. Recently, the feature has been rolled out to all accounts – and there are benefits to using Twitter Moments for your brand.
Twitter Moments is yet another way for your brand to tell a story, but delivered in a new medium. This new feature not only lets you group tweets into one cohesive timeline and place, but Moments are easy for people to share with their networks – which can help drive more engagement and traffic to your Twitter account.
Twitter Moments supports photos, videos, and GIFs, so you can get creative and present different media to tell a story.
5 Ways to Use Twitter Moments for Your Brand:
1. Curate Moments Based on An Event
You can use Twitter Moments while building up buzz for an event. Use the moment to tease speakers, share speaker quotes and anecdotes. Create a Moment leading up to the launch. After the event you can curate tweets from sponsors and guests giving your followers a full picture of all the happenings from your perspective. This is a great way to add value to event attendees, and possibly sway anyone who missed your event to join your next one.
2. Get More Traction from Old Tweets
Twitter is fast paced, which means it's very easy to miss a tweet. To breathe new life into older tweets create a Twitter Moment that compiles evergreen tweets based on a particular topic. This can be a great way to create a list of resources for your followers.
3. Product Demo or Behind the Scenes
Twitter Moments is about telling a story. Take your fans behind the scenes of your next interview or event to drum up excitement, tease upcoming content and more. Twitter Moments can be great to show off your product features or step by step instructions.
Here's a Moment from digital marketing strategist Brian Fanzo in which he highlights his "Think Like A Fan" philosophy.
4. Influencer and Resource Round Ups
Like I mentioned before, Twitter Moments can be a great way to gather a resource list in a fun new way. Round ups are a good way to connect with influencers and get noticed. Gather tweets from your favorite accounts, or organize them by subject. You can then reach out to these influencers with the link to the moment for them to share as well – which can bring more eyes to your account and content.
5. User Generated Content
Twitter Moments can be a great way to showcase user generated content, share a Twitter chat, or gather testimonials about your product or service. Consider gathering tweets from a specific hashtag campaign to show off results and responses from your fans.
General Tips
Clarify your narrative: Twitter Moments are a way for your brand to share a story. Define your narrative and plan it out before you put your moment together to make sure the order and timeline of the tweets make sense.
Mix up content: Use a mix of photos, videos and GIFs to add variety to your Twitter Moment.Simple images and "snackable" stories are most easily digested and shared. Twitter advises to keep moments to 10 tweets – you may have to ignore this rule for some instances (like creating a moment based on an event).
Get creative!
Share your Twitter Moment: There are so many different ways to share Twitter Moments. You can tweet them out, ask followers to share the moment (they can simply retweet it or tweet it with their own thoughts added) send a link in an email to your list, embed them on a blog or landing page, or pin them to the top of your profile.
Now that you know about all the exciting reasons to use Twitter Moments, here is how you set one up.
Twitter describes 3 ways to create a Twitter Moment
1. From the Moments tab:
From the Moments tab, click the Create new Moment button.
Click the Title your Moment field to give your Moment a name.
Note: Titles can be up to 75 characters in length.
Click the Add a description field to type in a description for your Moment.
Note: Descriptions can be up to 250 characters in length.
Choose Tweets to add to your Moment:

From the Add Tweets to your Moment section at the bottom of the page, quickly access content to select Tweets from Tweets I've liked, Tweets by account, Tweet link, and Tweet search prompts.
To add a Tweet to your Moment, click on the checkmark icon

Click Set cover to choose a cover image from one of your selected Tweets, or to upload an image from your computer. Drag your selected image to set a Mobile preview, click the Next button, then click theSave button.
Note: To change your selected image, hover over the cover image and click on Change cover media. After you've set your cover media, the source will be credited below the image.
Once you have Tweets in your collection, click on the up or down arrow buttons to the right of a Tweet to move it up or down.
Click on the delete button to remove a Tweet from your Moment.
Click on the crop button next to any of your selected Tweets to make an image selection for mobile viewing.
Click the Finish later button at the top of the page to save a draft.
When you are ready to make your Moment live, click on the Publish button at the top of the page.
2. From a Tweet:
Click the more button
Select New Moment to add the Tweet to a new Moment.
Note: Any completed Moments or Moments drafts you have in progress will also be listed in the drop-down to choose from.
Follow the directions above to complete your Moment.
3. From the Moments tab on your profile page:
Click on the Moments tab, then click the Create new Moment button to get started.
Follow the directions above to complete your Moment.
After you've started a Twitter Moment from the options above you'll be taken to a dashboard. From here you will title your moment, add a short description to entice your readers to interact with the moment and add a cover. You'll be able to choose the media and tweets that you'll include in your moment. The "more" menu on the left hand of the screen lets you choose a color for your moment on mobile, add a location, share your moment privately or delete your moment. Once you're done putting together your moment hit publish. That's it!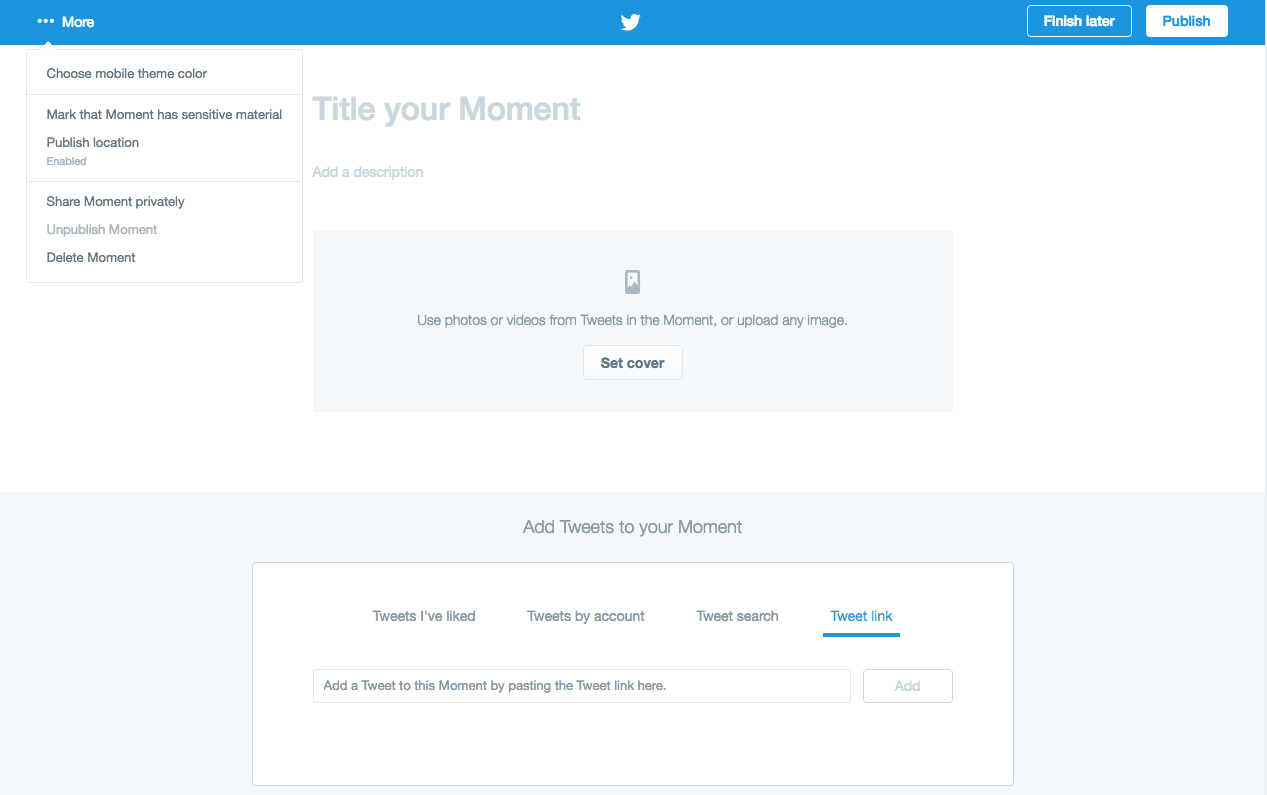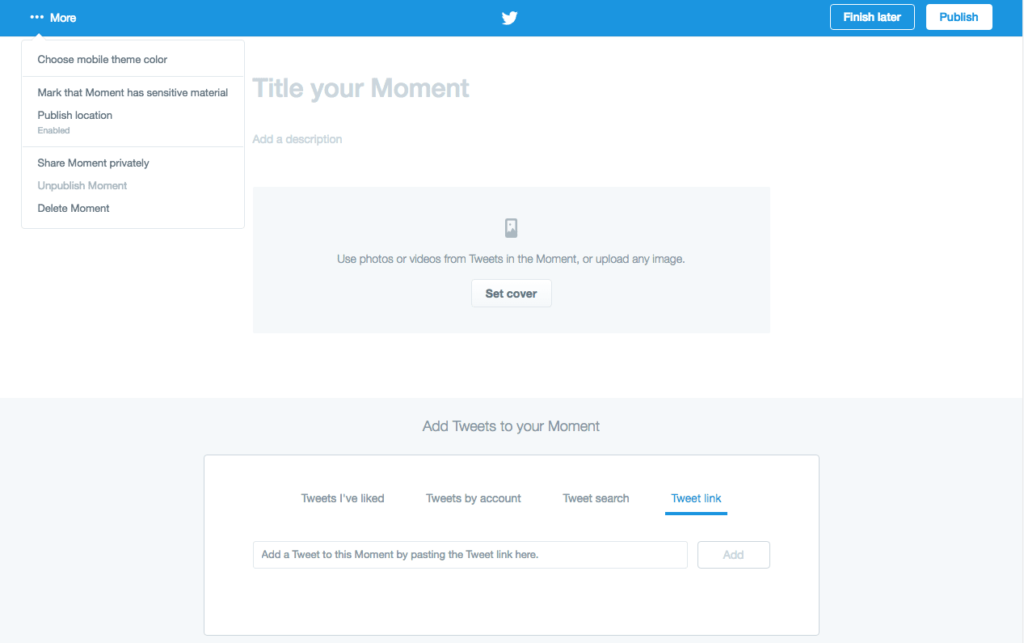 Is your head swirling with ways to use Twitter Moments for your brand or business? Got any questions? Let me know by leaving a comment!