Need a new job in social media? These tips can help you set your best foot forward on the job hunt.
In times of uncertainty, many businesses have to make difficult decisions—including reducing their workforce. If you are a social media manager who has just lost her job, I'd like to help you get back on your tweeting feet.
Start by saying this to yourself: Even in turbulent times, social media jobs are out there.
Now say it again.
Say this mantra with assurance. Because in writing this article, I discovered many recently opened social media jobs.
Where to Immediately Look for Social Media Jobs
Let's start by looking at the sites with primarily full-time, in-house social media jobs.
LinkedIn
Though LinkedIn tries not to be "the site you only go to when you're looking for a new job," it's very helpful when you are indeed looking for that new position.
I highly recommend you see whether you're eligible for the 30-day free trial of LinkedIn Premium. Premium offers you insights into the possible salary range, other candidates who have applied for the position, and the tenure of an employee at that company.
Here's an example of a marketing agency in the Boston, USA area. While the marketing department has grown by 75% over the past two years, its median tenure is only 1.7 years. Longevity at a company might not be a concern of yours if you're quickly looking to get re-employed.
But if you're looking for a social media job for the long haul, tenure is an important consideration.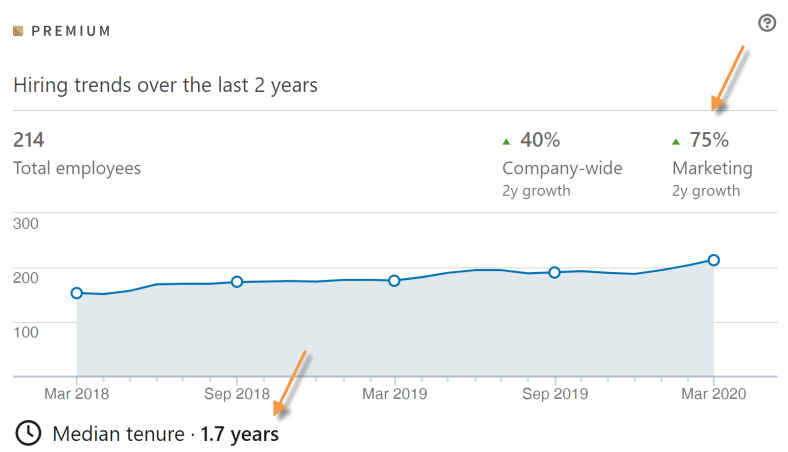 LinkedIn Premium also gives you four InMail messages per month—great for thanking hiring managers for interviews. (We'll talk about interviews later in this article.)
Glassdoor
Although Glassdoor is most well known for company reviews, the site also has an impressive job listing section. And as you might guess, each job listing features the overall review average of the hiring company.
What better way to know if you should swipe left or right on a particular job listing under social media jobs?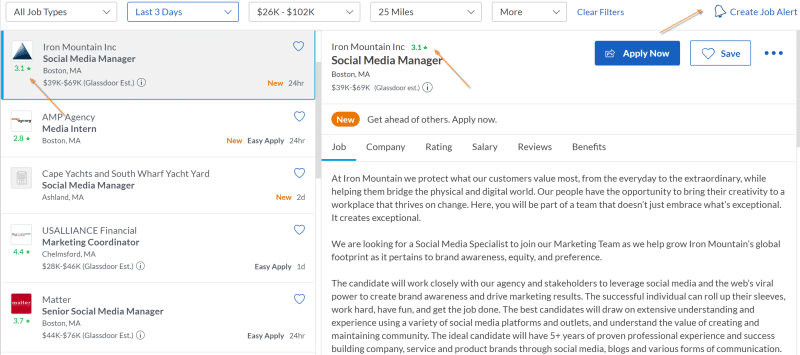 Glassdoor also allows you to set job alerts for your specific requirements. Say you want a social media manager position with a salary of between $45-80K within a 10-mile radius of your home … Easily set up such an alert by using the appropriate filters shown in the image above and clicking or tapping on "Create Job Alert."
Tech Ladies
"Above all else, we are a community."
Tech Ladies is a HUGE community of more than 50,000 people that features a supportive online community, job board, success stories, and advice for job seekers and job changers. Membership is free.
Also, you can sign up for a constantly updated job-listing newsletter that actually does more than just list jobs. It also gives a tip and a success story as well to keep you encouraged in your job hunt.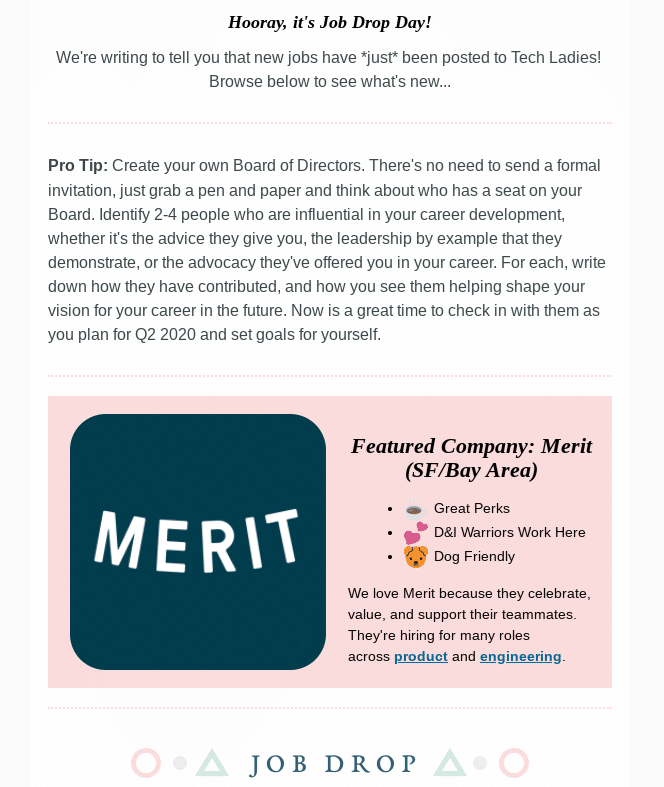 Google—seriously!
It's official. Google can give you just about anything … including jobs for social media management.
Simply search for a social media job on Google, and you'll find a few recent related posts. Click on the three dots to the right of the listing.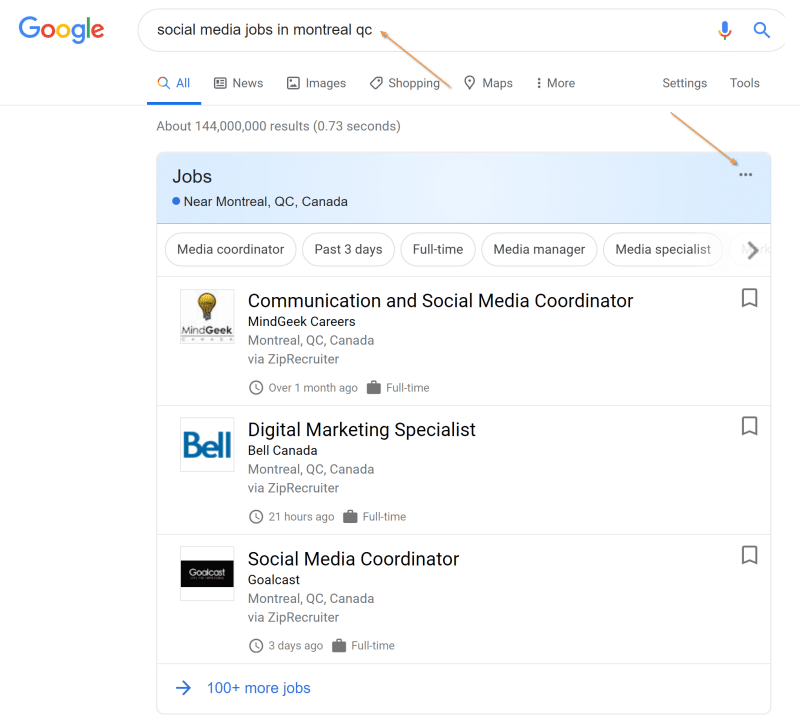 You'll then be led to a more comprehensive job board that has notable options to hone in on what type of positions you're looking for in social media jobs.
Easily customize your search by using the filters at the top navigation bar. To zoom right by listings you've already seen, simply choose the "Haven't read yet" tab.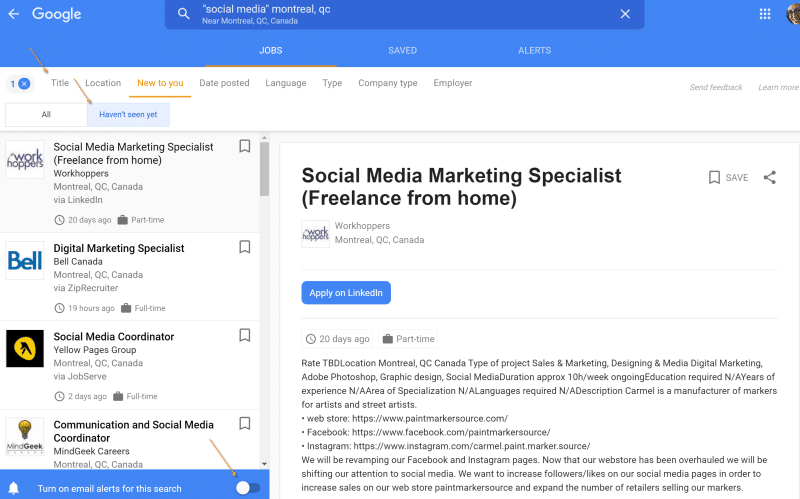 Facebook Groups to find social media jobs
Several active Facebook Groups focus on social media jobs. I chatted with my colleagues today about this topic, and we agreed that these two are the best of the bunch in terms of volume of positions and positive vibe of the community.
Social Media, Marketing & PR Jobs. This group, in addition to job listings, has a "Mentorship" section for you to help others or for you to receive mentorship in landing a great next social media job.
Social Media Masterminds Group. Social agency owner Carlos Gil runs this group, which talks about many things social, including jobs. In fact, its most recent pinned post is about job hunting.
Where to find freelance social media jobs
The proliferation of the gig economy and the gradual acceptance of remote work have given birth to a wealth of different opportunities in the space of social media management positions.
If you're interested in pursuing freelance or remote social media jobs, read on for helpful sites.
Upwork
During the years that I ran my social media agency, I found many good social media freelancers on Upwork (previously called oDesk).
Jobs on Upwork are usually led by employers. They'll post jobs that you can apply to. However, many employers take a more proactive approach and search Upwork profiles to handpick a great freelancer. If you want to be cherrypicked, you absolutely must optimize your profile as soon as you sign up.
Fiverr
Fiverr is based on services (sometimes called "gigs" on this site). Decide what social media projects you'd be great at offering (say, managing social profiles, creating content, providing social media strategy, or conducting a social media audit) and build Fiverr services for them.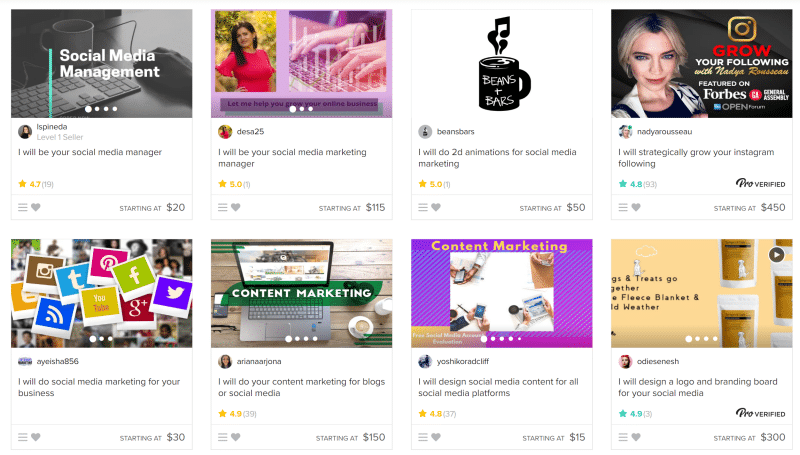 Employers don't post jobs on Fiverr. Instead, they search the site for services. If they like what you offer in your posted service, they'll place an order with you. Here are some tips on how to stand out on Fiverr.
Where to find remote social media jobs
If you're looking for a stay-at-home job but would like a more steady position than those offered on freelancer sites, check out these remote job resources for social media jobs.
I've used Remote.co to recruit for our semi-remote company in the past and always loved the array of backgrounds of the candidates. As a job seeker, you can immediately see which new jobs in your field are jobs are part-time, international, freelance, or entry-level. These callout tags will save you many a clickthrough!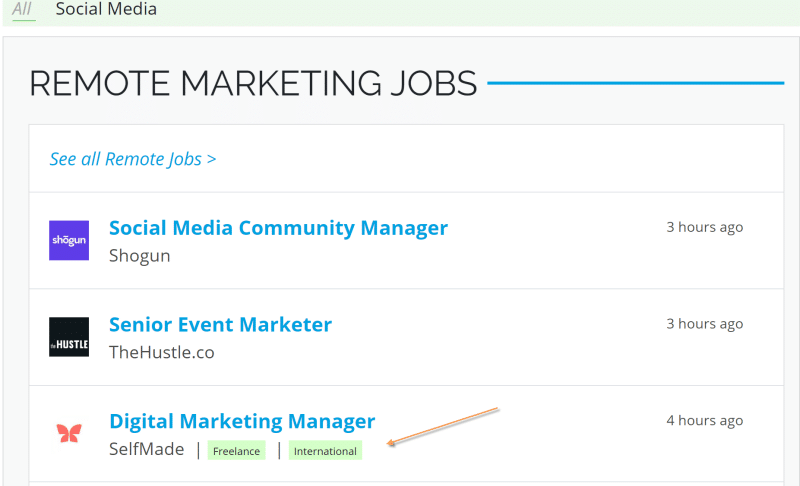 We Work Remotely
Jobs on We Work Remotely (WWR) show you if they're truly "work from anywhere" or if they are remote jobs in a particular geographic region.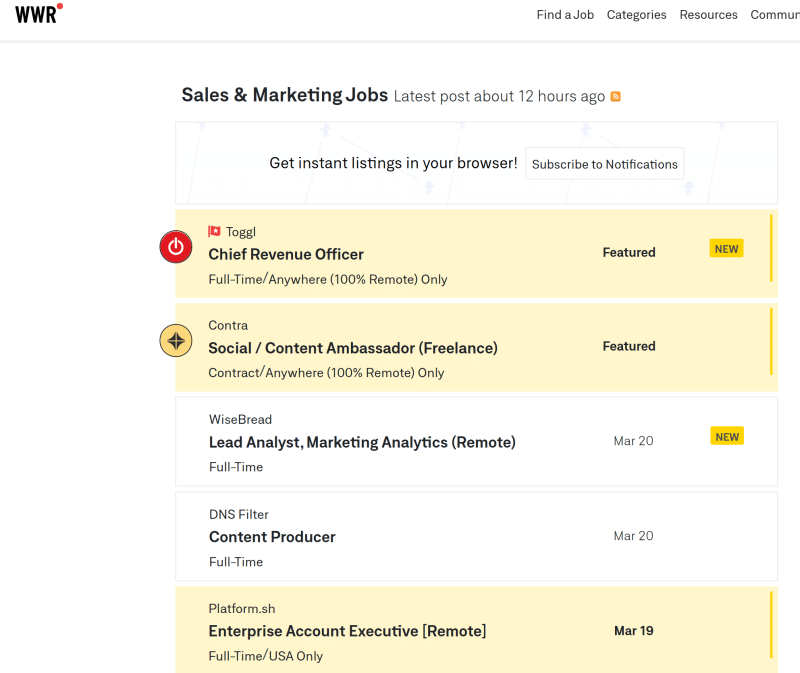 The WWR marketing jobs have a handy RSS feed, so you can be alerted if there are new additions to the page. If you prefer, you can sign up for a browser notification if a new job opens.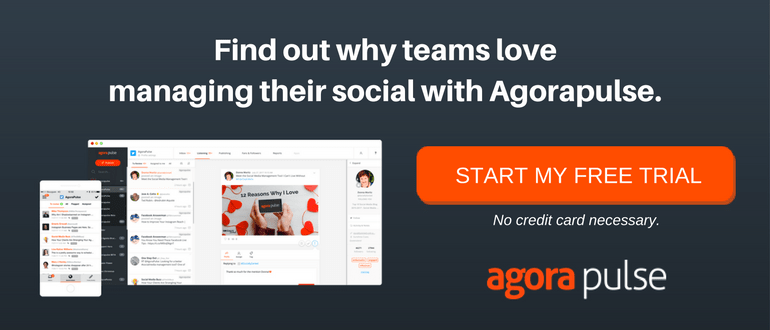 Optimize Your Resume for Social Media Jobs
You might have just opened all the sites I mentioned in a bunch of browser tabs.
And that's fine for simply seeing what's out there.
But hold off on applying for anything. That is, hold off until your resume really speaks to both your skills AND the position you'd like to nab.
After all, you want to put your best foot forward … instead of your frantic foot forward.
Check out these resources to polish and shine your resume.
Do know that many employers use applicant-tracking software (ATS) to easily scan and filter resumes based on keywords. If you want to make sure your resume sails through ATS with flying colors, you should consider these keyword optimization ideas.
Fiverr
Now that you know a bit about Fiverr, you should check out its resume review services and find one that offers ATS/keyword optimization. Many of these gigs offer a LinkedIn profile review as an add-on service.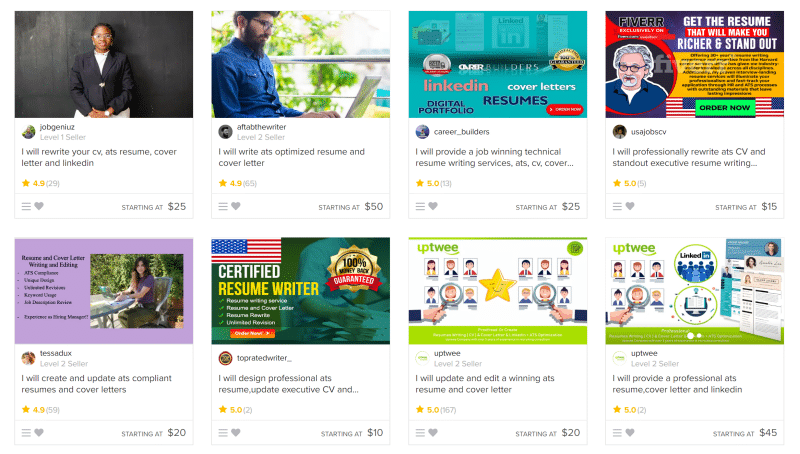 (By the way, this resume reviewer makes over $40K USD *per month* on Fiverr!)
Jobalytics Chrome extension
If you're tight on money or would like instant feedback, the Jobalytics browser extension can give you some keyword insights for free.
This extension matches keywords in your resume to a job listing you see on any of the above sites.
Upload a resume to Jobalytics. Then go to a job you are interested in. Then select the extension in your browser.
You'll then see which keywords in your resume match that social media job position … and which keywords you should add to be more compatible with the responsibilities of that job.
LinkedIn
Once you've optimized your LinkedIn profile with the same keyword strategy as your resume, you can easily convert your LinkedIn profile into a sleek PDF resume.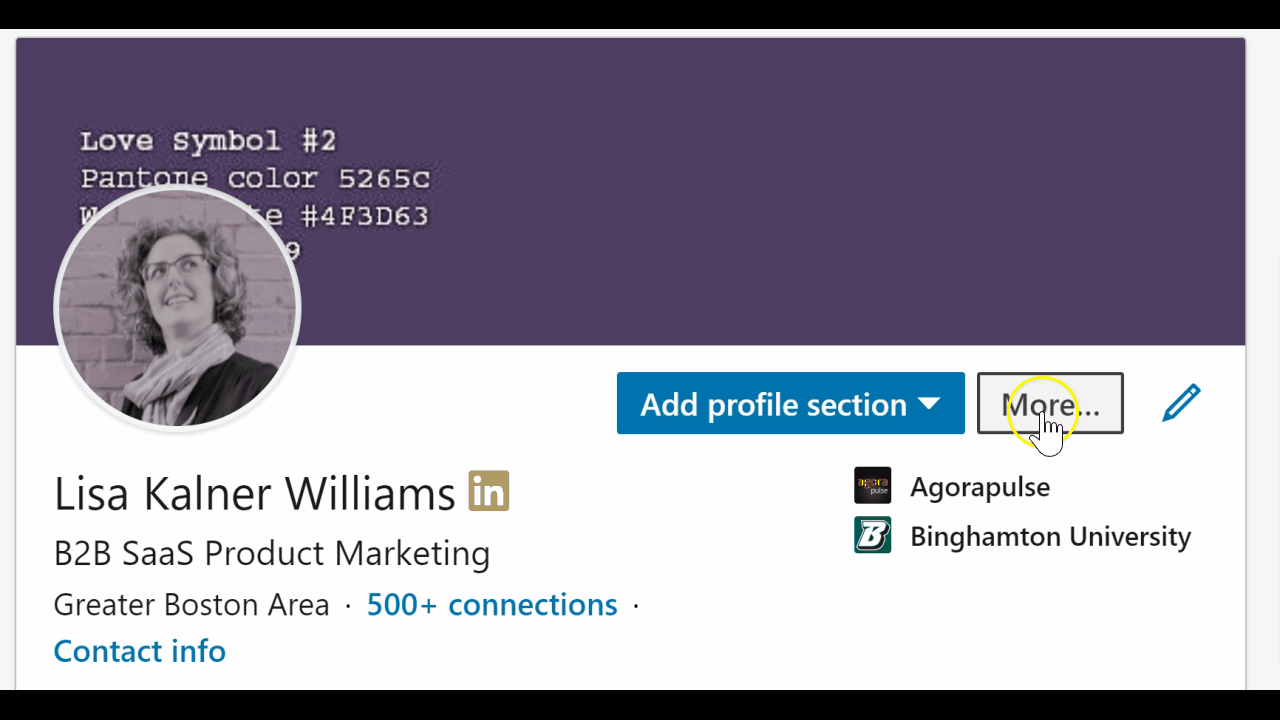 Beef Up Your Digital Marketing Skills
These days, many social media jobs aren't standalone, 100% social jobs. You might be surprised to learn that many social media management responsibilities are baked into "full stack marketer" jobs.
If you want to widen your job net and apply for such positions, take a few online courses in other areas of digital marketing, including, but definitely not limited to:
Google AdWords
Web-bound content (blogging, gated content)
Email campaigns
Landing page creation and optimization
The following resources offer classes that you can take on your own to get that well-rounded marketing experience.
LinkedIn Learning (free with LinkedIn premium)
With your LinkedIn premium subscription, you have a treasure trove of free online courses to take. Many courses, like this one in "Email Marketing: Drip Campaigns" offer certifications of completion—a nice thing to add your optimized resume.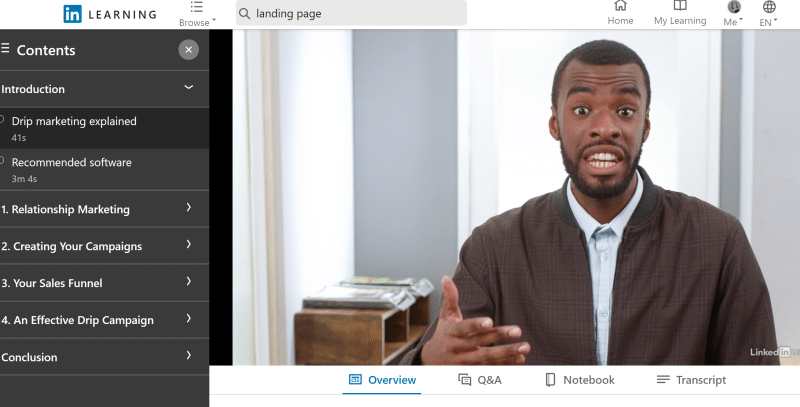 Udemy
Udemy is the largest marketplace of online courses. I searched for courses on Facebook advertising and got nearly 10,000 results!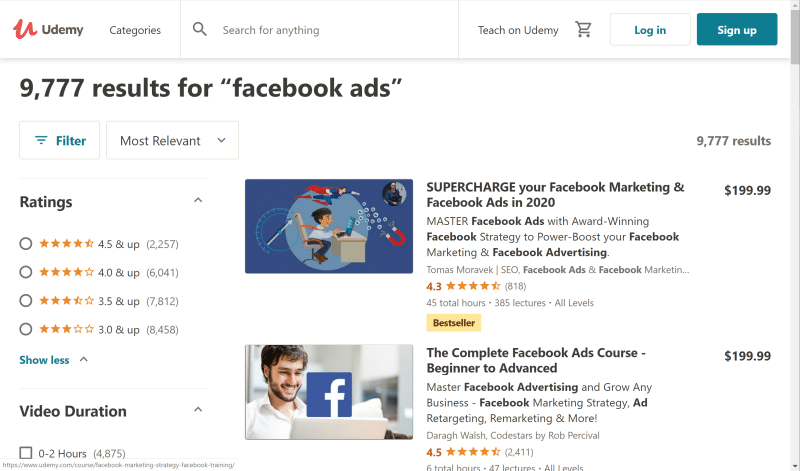 Luckily, you can filter results by course duration, ratings, and cost, among other categories.
I've taken several Udemy courses over the years. A majority of them were helpful. Do pay attention to the reviews. And because social media is always changing, check to see if the course is recent. You certainly don't want a Facebook Ads course that hasn't been updated in the past few years. (A LOT has changed in the space since then.)
Coursera
If you prefer a more structured course taught as if you were taking an online university course, try Coursera. Instead of an open marketplace, Coursera offers a more selective approach to the instructors who give courses.
By comparison with Udemy, only 10 courses deal with Facebook ads. But as you can see, they are from respectable universities around the world.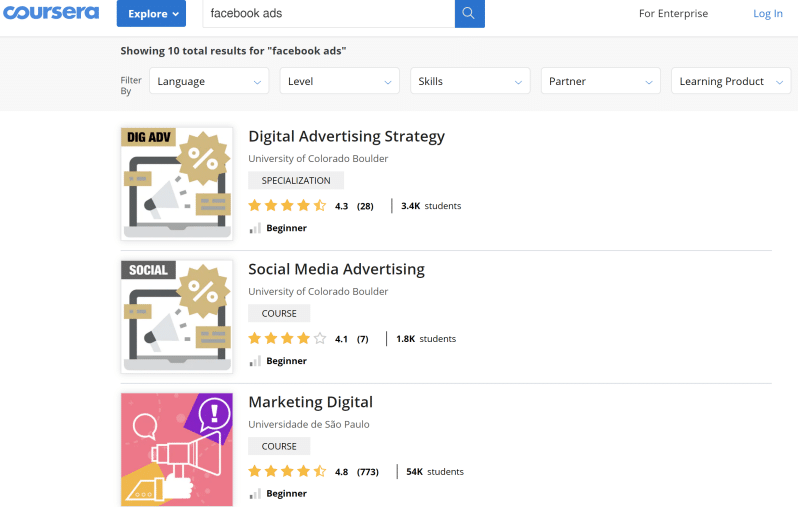 Courses have specific start dates, but many have a flexible schedule once the course is underway (Also: My cousin works there. Hi, Shantelle!)
Wherever you decide to round out your skillset, don't forget to put these completed courses or certificates on your resume. Keywords, keywords, keywords.
Practice Interviewing
Once you've revised your LinkedIn profile and resume, applied to a few jobs, and have gotten up-to-speed on other digital marketing areas, it's time to think about the next step …
The interview.
Now that Zoom has become the de facto Video Conference Tool of the Year, why not take the time to set a time up with a friend to simulate an interview? It is a great excuse to chat with someone face to face, especially if you've socially retreated as a result of your job loss.

Here are some commonly asked questions in social media job interviews — and ways you should structure your answers.
Consider Volunteering for a Nonprofit Organization
If you're not getting positive responses from companies, think about how you can lend your social media skills to a good cause. In tough times, many nonprofits are even more strapped to help the people they serve.
Your pro bono experience will also show your willingness to help others in tough times and as well as your initiative in putting your social media skills to good use.
Create Your Own Social Media Job
If you don't find a job that you like, don't hear back from companies you've applied to, or can't financially swing a volunteer gig, why not hang up your own "social media services" sign?
Get your toes wet
You can start by seeing how a few freelance Fiverr gigs go. If they're successful, you may receive some wonderful testimonials to advertise your new business.
Build your home plate
Regardless of the Fiverr outcome, you'll want to invest time—and a possibly a bit of money—into a professional-looking Website. As you might imagine, there are people on Fiverr and Upwork who can help you with Website hosting, on-page SEO, and Web design if you're not skilled in those areas.
Your Website clearly specify the following:
The types of services you provide
The type of clients you are best poised to work with (small businesses, nonprofit organizations, real estate agents)
Why clients love working with you (Get testimonials from Upwork and Fiverr gigs—or even your prior job. Many employers will be happy to at least give a glowing recommendation to hardworking employees they had to lay off in tough times.)
Your social media work—even it's your own social media profiles
An easy way for potential clients to contact you
Pricing
Pricing out your services will most likely be the most foreign aspect of starting a new business. Though you might be tempted to look at other social media managers' Websites to see what they offer, view those plans only as an end result of your planning.
Start by determining how much money you want to make each year from your business. Say you want to make $50K a year.
Then jot down what services you want to offer. For this example, say:
Social media consulting
Paid ads
Once you have your end goal ($50K) and the avenues to get there (your services), you'll have to figure out how much you want to make with each one of those avenues.
Social media consulting = $15K
Social media management = $30K
Paid ads = $5K
Now ask yourself the question, how many clients or gigs will you need to get that dollar amount for each of those services? The answer to this question will determine your pricing.
Social Media Managers School (recently acquired by Agorapulse) is a great resource to connect with other social media managers who have created businesses selling their services to others. In fact, long before our acquisition, I was a member of this school! (In writing this, I'm getting a flashback of this Hair Club for Men video.)
The school offers learning modules, helpful templates (pricing, audits, etc.), and a very active, encouraging, private Facebook Group.
In Conclusion
My goal with writing this article was to provide you with as many resources as I could without overwhelming you. A job search takes time, so don't try to do everything at once.
Let me say that again … in a different way.
Take a couple of days to work on your resume or familiarize yourself with the various job boards. Then move on to another section of this article—perhaps sign up for a course or create a freelancer profile.
And each day go back to the mantra:
Even in turbulent times, there are social media jobs out there.