Using native tools well enough but intrigued by a social media management solution? Read on for solid reasons why it might be time to ditch the native tools and go with a social media scheduling tool.
If you've been using native social media tools to manage your brand's social channels, you probably feel like you have to be everywhere at once.
You're checking Facebook notifications in one tab, uploading to YouTube from another device, posting Instagram Stories from your phone, and the list goes on. Phew.
So, you can do basic social media management using native apps.
But in my experience, using multiple built-in tools is clunky and time-consuming—which can lead to lower productivity and compromise results.
Because my agency manages several social media profiles and depends on team collaboration, I find that using a single dashboard is more efficient and helps eliminate mistakes.
Read on to discover how a social media management tool can help your team do more, from scheduling and engagement to listening and reporting.
Facebook Marketing
Whether you handle Facebook Pages or Facebook Groups, you need a tool that can manage them all.
Social media dashboard vs. native tools
With post scheduling options, an improved inbox, and in-depth analytics, Facebook Business Manager offers decent management features for Pages.
Yet Business Manager doesn't have these social media dashboard features:
A bulk uploader that lets you schedule dozens of posts at once from your website, a CSV file, or an RSS feed
A republishing feature for scheduling evergreen content at regular intervals without having to create multiple posts
Customer relationship management (CRM) tool that organizes all comments and messages from a single user in one screen—so you can build on past conversations.
Inbox assistant that can automatically delete certain comments, assign messages to team members, or bookmark inbox items for review or follow-up. Agorapulse also has an ad comment manager that aggregates responses to your paid posts, so you can reply more efficiently.
Competitive benchmark tool that lets you compare your brand's metrics against industry peers.
Business Manager doesn't support Facebook Groups either.
If you need to schedule posts in your group, you have to switch over to your personal Facebook profile.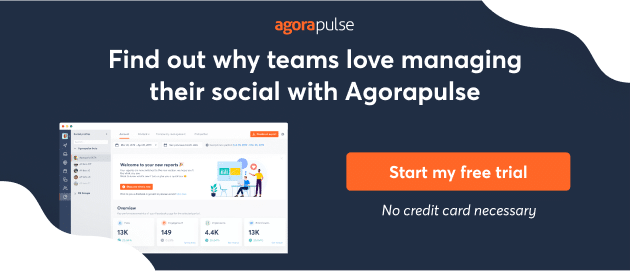 When should you use native Facebook tools?
Select Facebook Page tools like polls, live video, and sponsored posts are available only through Business Manager, Brand Collabs Manager, or Creator Studio.
(Here's a deeper look at Facebook Creator Studio vs. Agorapulse for comparison.)
In addition, some Facebook Group functionality, such as engagement and insights, are accessible through native apps only.
Instagram Management
If you've ever struggled to schedule posts or find analytics via the Instagram app, you know that it lacks basic functionality that most Instagram managers need.
Social media dashboard vs. native tools
If you use a social media dashboard like Agorapulse instead, you can access these features in a single place:
Post scheduling so you can plan ahead and batch tasks instead of posting in real-time. If needed, you can schedule post notifications on the mobile app, where you can create Stories or add Instagram filters.
Hashtag groups that let you skip retyping or pasting your brand's best hashtags every time you post.
Social inbox that aggregates DMs and comments so you don't have to click through individual posts to engage with followers. With a dashboard, you can also create saved replies to respond more quickly.
Hashtag monitoring that lets you monitor branded content, industry keywords, or popular conversations.
Analytics for Stories and posts so you can track progress easily. A dashboard also has optional scheduled reports so you can get updates every week or month.
When should you use native Instagram tools?
Although Instagram apps offer decent functionality, you'd need to use multiple tools—Instagram mobile app, Creator Studio, and Business Manager—to handle even basic social media dashboard tasks.
To keep your team as efficient as possible, use native Instagram tools only when you need access to exclusive features like shopping or IGTV.
LinkedIn Management
LinkedIn can be an excellent platform for sharing company updates and posting industry-focused content.
But if you need to moderate comments or schedule posts in advance, the native app leaves a lot to be desired.
Social media dashboard vs. native tools
Here's what you can do with a social media dashboard:
Schedule content or add it to a publishing queue in advance. With a dashboard, you can also re-queue evergreen posts repeatedly to get more value from your best content.
Create labels for your content or inbox items to help your team stay organized.
Customize and schedule reports so your team or your clients can gauge your progress.
Handle all engagement in one social inbox. Tools like Agorapulse aggregate comments from company pages and DMs from personal profiles, so you can respond to them from one dashboard.
Save standard replies, such as answers to support questions or rate inquiries, so you can send them with one click.
When should you use native LinkedIn tools?
A third-party tool can do almost everything social media managers need to do on LinkedIn.
However, you have to use native tools to upload documents or communicate with groups.
Twitter Marketing
If you've lost track of your DMs or felt overwhelmed by endless notifications, you know that Twitter doesn't make it easy for brands to build real relationships with followers.
Social media dashboard vs. native tools
With a social media dashboard, you can get DMs and mentions under control so your brand can focus on what's important.
A tool like Agorapulse has:
Social inbox that can automatically review certain mentions or assign them to team members for quick follow-ups.
Social CRM that lets you track interactions with other users and add labels so you can keep up with influencers and other important figures.
Bulk scheduling so you can upload an entire month's worth of content (or more) at once.
Publishing queues that make it easy to fill your social media calendar and post at optimal times. With Agorapulse, you can also pause a queue with one click and clear up calendar space for breaking news.
Social listening with unlimited saved searches so you can monitor and bookmark important hashtags.
Advanced reporting with extras like a brand awareness score and a chart with the best times to post.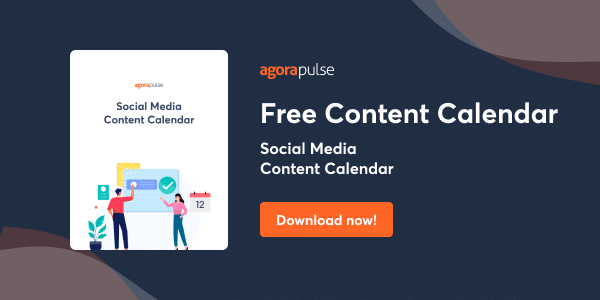 When should I use native Twitter tools?
Twitter lists and polls are currently available through the native app only.
If you want to restrict who can reply to your tweets, you also have to publish using native tools.
YouTube Marketing
YouTube Studio manages key tasks like scheduling videos, responding to comments, and reviewing insights.
Social media dashboard vs. native tools
But if you manage more than one YouTube account or if you want to maximize your value from the platform, you need a social media dashboard that can:
Support multiple YouTube accounts from the same console.
Organize your YouTube comments so you can respond to them more efficiently. With Agorapulse, you can also automate labels and bookmarks so you can find or follow up on comments.
Make your team's collaboration efforts smoother with internal commenting features and automated assignments.
Video Evan Agorapulse review – agorapulse
Automatically search for keywords and users so you can stay on top of trending topics and important conversations.
When should you use native YouTube tools?
Select features, such as copyright management, audio library, and monetization tools are available in YouTube Studio only.
You can livestream and access analytics exclusively through the native YouTube app, too.
In Conclusion
Ultimately, you can probably get by with native tools if you manage one or two small social profiles.
You're much better off with a social dashboard if you manage multiple profiles, need team support, and want to streamline your workflow with extra features like bulk scheduling, CRM, and social listening.
Get started on saving time and energy on your own social media management! Check out our free trial of Agorapulse to help you schedule, track, and measure all your social media efforts.