A year ago, Twitter released research showing that tweets containing images got 35% more ReTweets.
By November Social Bakers was reporting that tweets including photos got by far the most engagement on any tweet type.
Add to that the fact that our brain processes images 6000 times faster than the written word and you have a pretty compelling argument for including photos in your tweets.
But this should not be a random thing. You need to know when to share, what to share and which tools can help you, and that's what I'm going to show you today!
When should you share a Twitter image?
When we see the statistics above it's easy to think we should share a photo with every tweet. This isn't a bad policy as long as you ensure that each photo you share is of good quality and will appeal to your target market.
Think about images that will enhance your tweets before falling into the trap of sharing cat memes.
Here's some ideas:
Sharing images with Links
Even if you are curating content it's a good idea to share images with your links for more interaction.
Look at this example from Co-Schedule, the chart tempts readers to click the link.
Try using one of these 4 Twitter image types when sharing your next link:
o
An image from the article you are sharing (see Twitshot below)

o

A screen cap of the webpage you are sharing

o

A quote from the post turned into an image (see PullQuote below)

o

An image with the title of your blog post overlaid (see WordSwag and Pablo below)
Sharing what is happening now
Twitter is a real time network, people see your tweets as they happen. This immediacy makes Twitter the ideal place to share what is happening now. You can share snippets from your day or as in this example from Dublin City Council use it to promote the run up to an event.
Quotes
Love them or hate them Inspirational quotes can make powerful content. When people see a quote that resonates with them they share it. Choose your quotes carefully and create attractive images to accompany them and you will maximise the sharing potential of your posts.
Look at this recent post from Hubspot. It's nice to look at and resonates with the reader.
A more simple approach is to share an inspirational image along with a quote. This is the approach Tamara McCleary has taken here.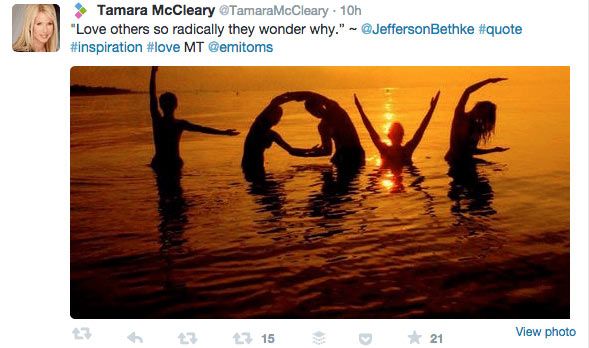 Show off your product or skill
If it's true that a picture is worth a thousand words we can squeeze far more into our tweets than the 140 character limit just by adding a photo.
Robert Bohan Artist shows off his skill with this simple sketch. It encourages me to click and find out more.
The sunshine in this set of images from Nick Ellison captured my attention. It encouraged me to read the tweet about his aerial photography service.
Meet The Staff
Social media becomes a cold place when we hide behind our logos. Human beings respond well to seeing photos of other human beings. It also reminds users that there is a person behind the tweets. Whether it's a selfie or a picture of staff, putting a face to a brand can help people make that personal connection.
This selfie from Ali Spagnola oozes personality.
And this picture of Meltwater #SXSW team would make me more comfortable visiting their stand.
What size should your Twitter image be?
The optimum size is 1024×512 pixels. It displays as 440×220 pixels in the feed. Twitter will crop or shrink images shared at a different ratio.
Twitter doesn't always get the cropping right as you can see in this image from Monster Energy Drinks.
Knowing how Twitter will crop your image is an art. As this infographic from Bob Watling shows us it isn't an exact science.
Bob recommends clustering the strong elements of your image in one area. Strong elements can include faces or text.
5 tools for creating Twitter images
Creating quality images for your tweets can take time. If you want to share more photos but are short on time these tools will help.
Twitshot
Twitshot captures images from links, and adds them to your Tweets. It's really easy to use. Just compose your tweet and add your link. Twitshot will offer you a selection of images from the post, select the one you want to use and click 'Tweet'.
There's a Twitshot iOS app that lets you do the same thing from your mobile device.
Pablo
Pablo is a new tool from Buffer that lets you create images with text. They claim that it only takes 30 seconds to build an image for sharing on Twitter.
Choose your photo from their bank of images or upload your own, add text, choose a font and you have a picture ready to share. You can either download the finished image or share it straight away.
If you use this tool I'd recommend uploading your own images. We are going to start seeing a lot of these pictures in our Twitter feeds and the stock images will soon become familiar to tweeters. Adding your own picture will ensure your content will look fresh.
Wordswag
WordSwag is an app fro iOS that adds funky text over your images. When you add and re-position your text WordSwag will show you the safe area for Twitter.
Apologies to Android users, WordSwag is only available for iOS at the moment. A Beautiful Mess is a nice alternative but doesn't include the Twitter safe area option.
Pull Quote
PullQuote is a useful tool for sharing links that have no images attached. It's an extension for the Chrome browser that allows you to select text from an article or blog post and share it as an image.
When you Tweet via PullQuote it links back to the original webpage with a pop up window displaying the highlighted text.
The downside to PullQuote is that it doesn't format text too well. It's better to grab short snippets rather than extended areas of text like I have below.
One Shot
One Shot is an app from iOS that helps you crop and highlight sections of screen shots you take on your mobile device. it's a nice way to share your screen caps without the top and bottom iOS menu bars.
If you are an Android user kitch offers a good alternative and has lots of extra features.
Your Turn
Do you share images with your tweets?
What tools do you use to create visual content?
Have you tried any of the tools above?
I'd love to hear your thoughts in the comments below.