Social media keeps on getting bigger and bigger. As it's done so, it has become both more necessary for our businesses and significantly more complicated for everyone. With some brands trying to post on each platform multiple times per day, both brand and agencies alike have fallen back on marketing automation. Many have started focusing on pumping out as much good (or half-decent) content as possible and recycling the content at a later date.
This trend has been brought to a screeching halt by Twitter's new spam rules, which were announced last month. It happened just as the dust was settling from the chaos of the Facebook Zero announcement, and in the middle of questions about Facebook's and Instagram's API. I can honestly say that I think this is the most I've seen actual social media marketers flipping out about what this means for our businesses, and brands are being directly affected, too.
Here's the thing though. Crying over spilled milk does you no good. All you'll do is end up wasting a lot of time and energy being frustrated when you should just adapt your strategy now.
We can help you do that. This post will go over actionable ways to deal with the new Twitter spam rules.
What Do The New Twitter Spam Rules Mean, Exactly?
If you've missed it, here's what the new Twitter rules forbid:
Social media tools, managers, and brands can no longer post the same tweet to multiple Twitter accounts. If one marketer is handling Red Lobster's and Olive Garden's account, they can't share content between them.
Even a single profile on Twitter can no longer re-post the same content over again on their own account. No duplicate content is allowed. This includes scheduling duplicate content far out in advance, which is a feature Twitter's own TweetDeck had previously offered.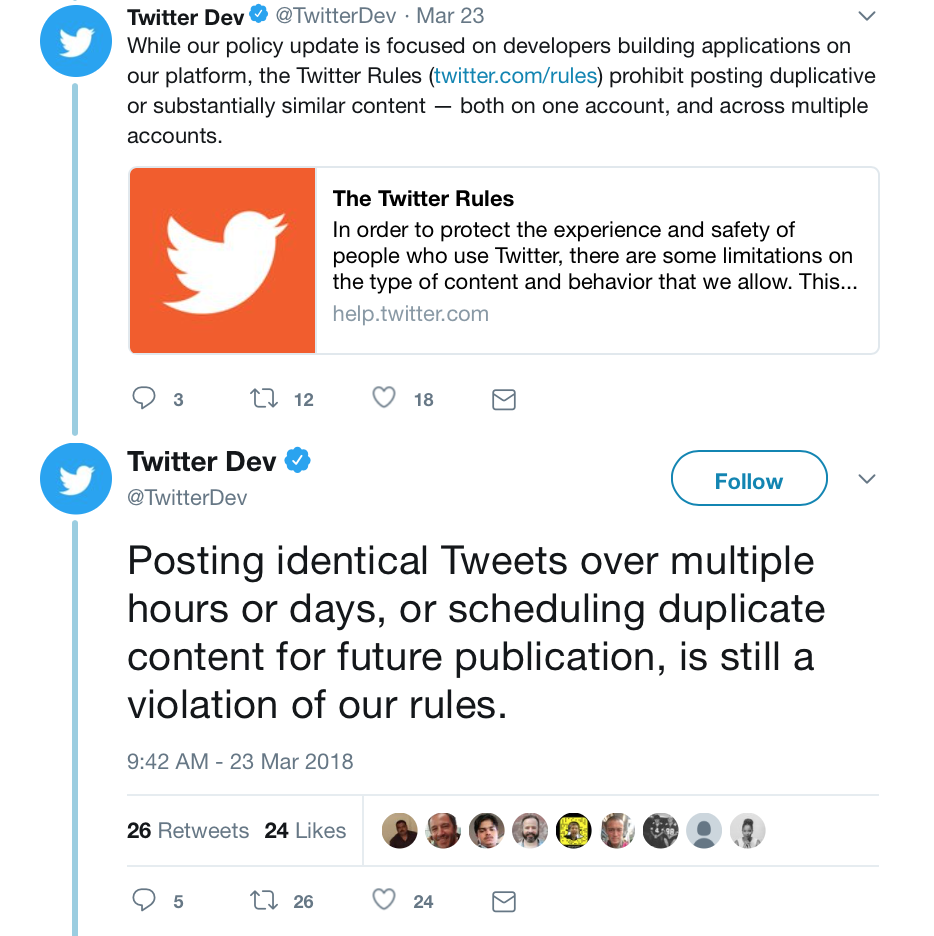 Twitter is doing this in order to crack down on spam and to sort through a lot of what I call "blackhole posting." This is the phenomenon where brands just dump content onto the platform like people throwing ideas at the wall to see what sticks. The goal of these new rules is to make the platform more enjoyable for users and to cut through some of the clutter.
You should not try to find the smallest of technical loopholes around these rules, or use a tool that claims to be able to trick the system. Twitter marketing has changed, and we need to accept that.
This doesn't mean, however, that Twitter marketing as we know it is dead. It's still possible to get great results with Twitter and to even implement some amount of automation, but you need to know how and when to do this while following Twitter's new rules.
Here's what you can do…
Create Queued Content
Queued content with social media scheduling tools like Agorapulse is the best way to use marketing automation without breaking any Twitter rules. You can create "queues" of content that are completely ready to be posted, but are evergreen and can be saved for a later date.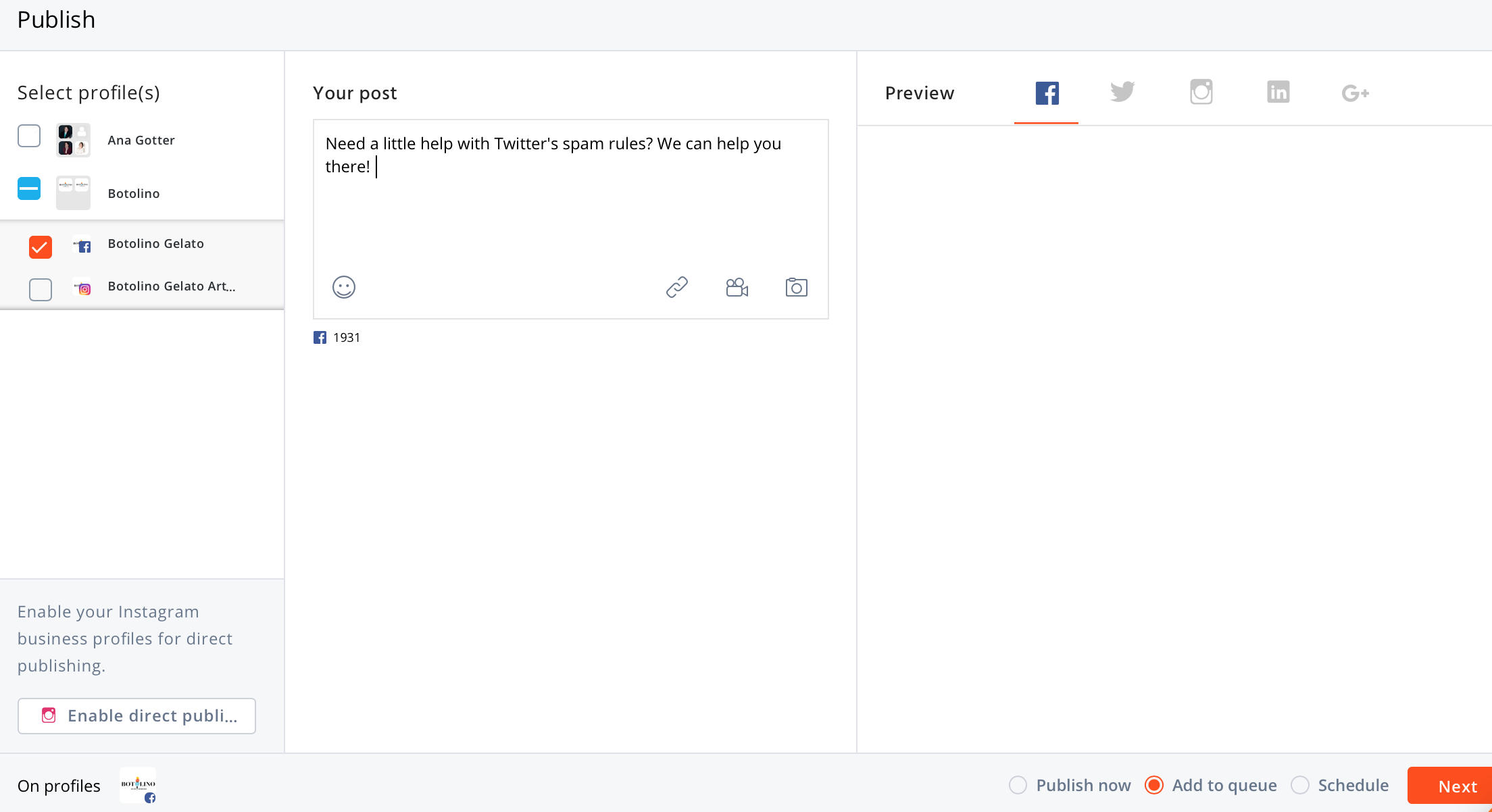 Agorapulse takes the queue feature to the next level by allowing you to create categories for different types of queued content, and schedule which categories you want to go live when. This ensures that you don't accidentally have six links to blog posts go out all in a row, increasing even distribution. It also makes creating a cohesive social schedule easier because you'll have a better idea of what's being posted.

When you're queueing content for Twitter, make sure that you don't select the option to "re-queue multiple times." You can still use this feature for other platforms, but this is where you'd end up in violation of Twitter's rules.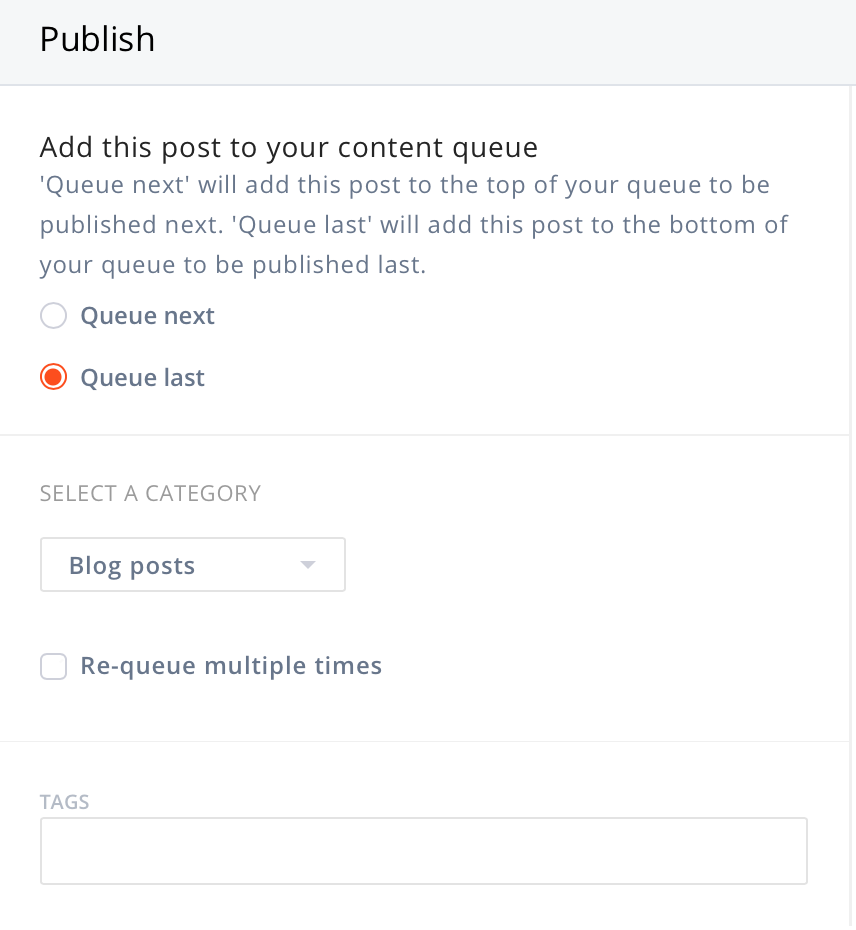 Use Advanced Scheduling to Create Significant Variations
Read this full section completely so that you understand what you can and can't do because this is where a wrong step with your strategy could land you in big trouble.
If you have an event, contest, new product, or even a great blog post, it's expected that you'll post about it more than once. And, if you're like me, you like to create most of the content for these things all at once so you can make sure that you cover your bases well.
You can still do this. Instead of using the same Tweet over again and again, however, make sure you add a significant variation to it and add it to your social schedule.
Let's say your original plan was to post the following tweet several times to promote your social contest:
"Don't forget about our contest! Enter through the link below. #Twittercontest #weloveourcustomers."
Use this tweet once. Then copy the link into another post, and change the copy to something like this:
"Have you entered our Twitter contest yet? Don't miss your chance to win! Click the link below to enter. #socialcontest #retweettowin."
There's another quick fix around this if you want to use the same image or link multiple times. After creating the first post, duplicate it and schedule it to run at a later date. Then immediately go to edit the second post and change the copy.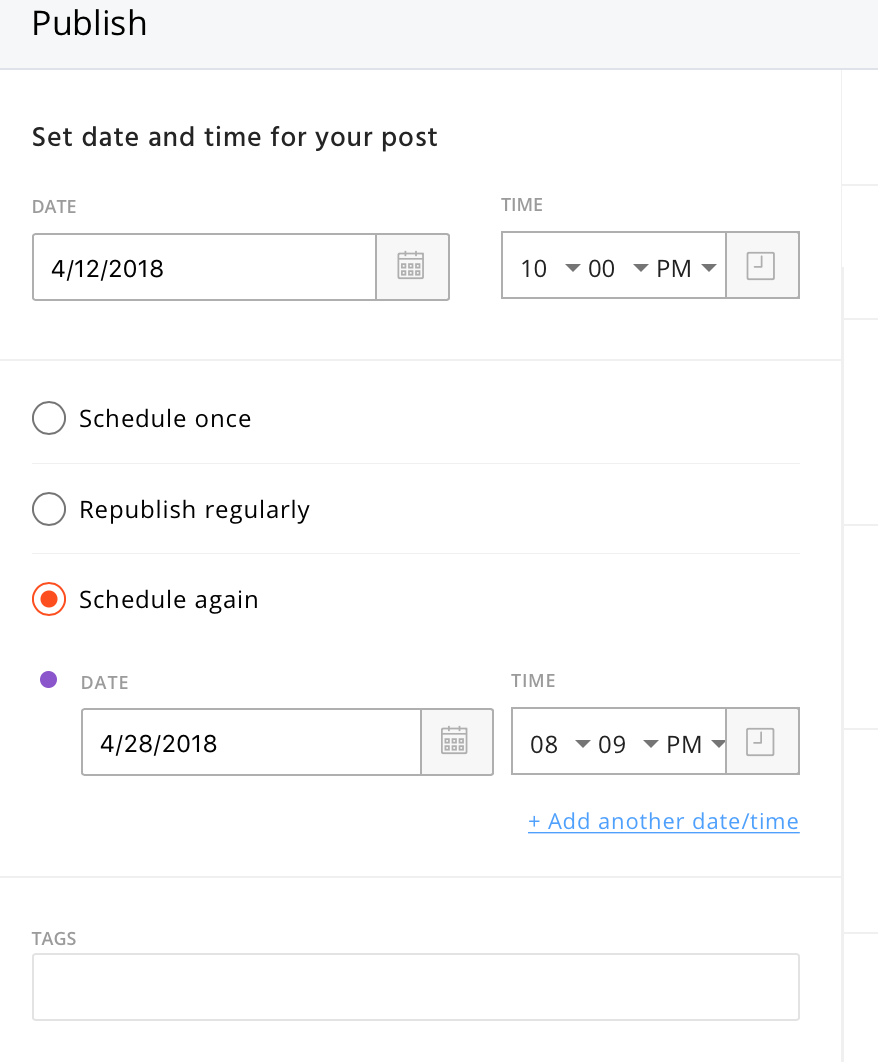 Either way, schedule everything at once. You can absolutely share similar content– you just can't have the copy be the same.
Scheduling content all at once gives you the convenience and ability to form a cohesive plan, without the rule breaking. Social scheduling software will be the new master, replacing social rescheduling software for Twitter.
Focus on Quality Over Quantity
With a lot of the new, highly restrictive social media changes that have been happening recently, a lot of people panic.
That being said, the new rules are really being implemented to force businesses to use the platforms the way it was intended. Specifically, sharing content not to get clicks to your site, but because you think it's interesting and relevant to your audience. Social media is social, after all. It's undeniably an excellent marketing tool, but users don't log into the site so advertisers can run circles around them.
Create posts and content that you believe your users will want to engage with. It really is all about quality over quantity, now more than ever. When in doubt about what this looks like, check out Agorapulse's Twitter analytics data to look for trends in your top performing content.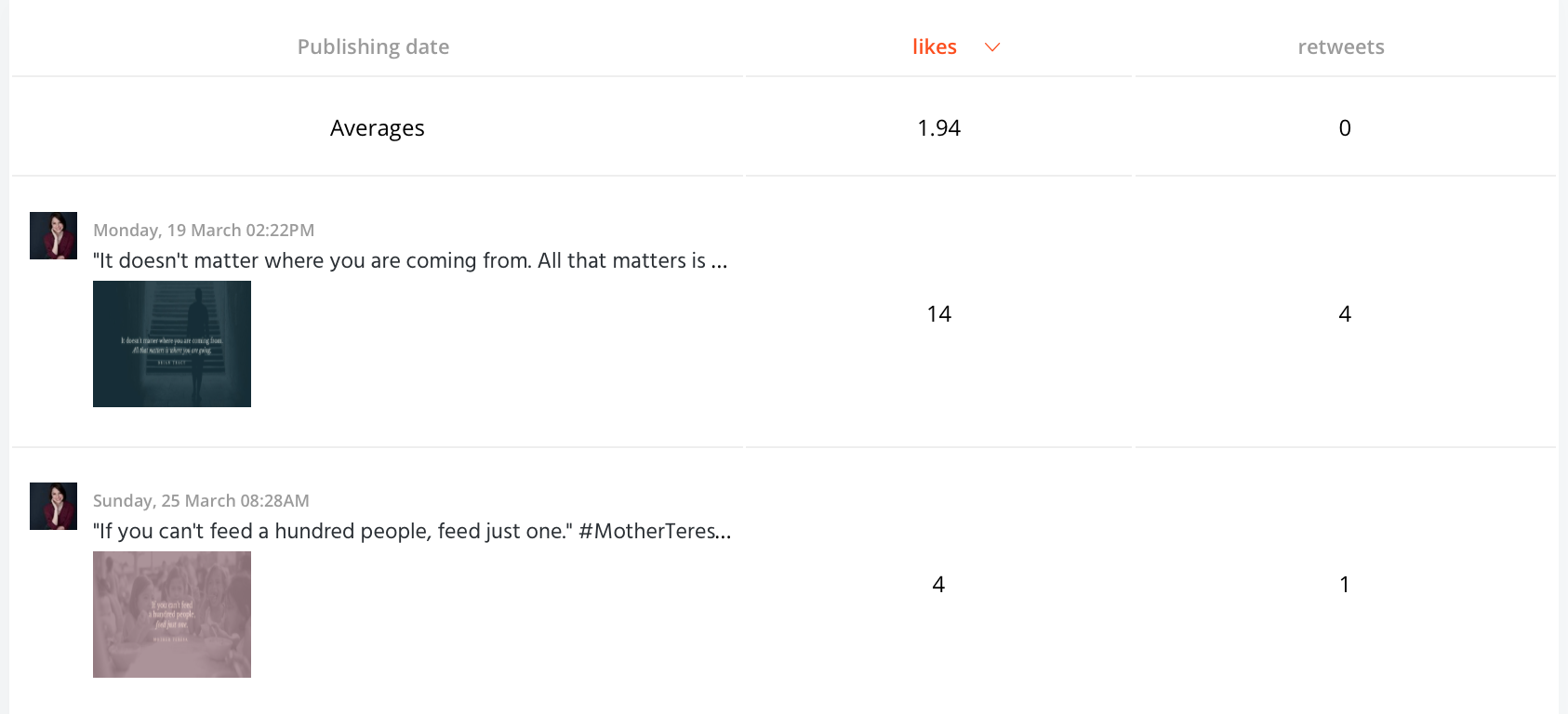 You can even see which hashtags help to get you the best reach.

This has always been the case, even if some people disagreed about the importance of it.
It's about fighting reach, they'd say. This was their explanation for why they were churning out 6 mediocre, low-performing posts per day. Meanwhile, other brands had only 4 high-performing posts per week but better results.
Think about what people will share and what they'll engage in conversation with. This is how you get more visibility with less effort in the long run, not endlessly recycling enormous amounts of content that's just-ok, hoping someone will see it the fourth time around.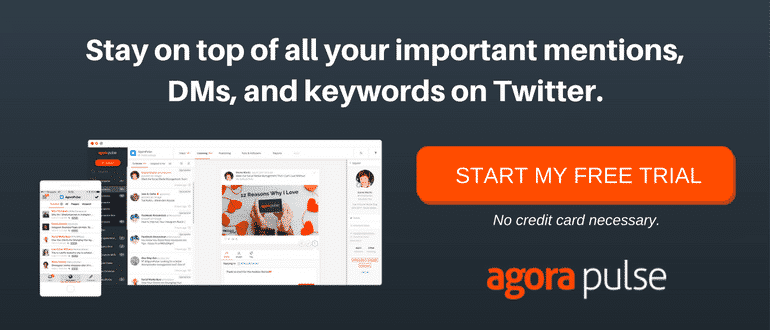 Final Thoughts
The second the news about Twitter's spam rules broke, people were mumbling (or shouting) how they'd find ways to cheat the system.
Let them go ahead and try, but I don't recommend trying it for yourself. All that will happen is Twitter will find any potential loopholes that need closing. Oh, and your account could end up in a world of hurt.
Don't be that guy. Use these white-hat strategies to maintain a streamlined, efficient Twitter posting strategy. You can still take advantage of a certain degree of automation without breaking any of Twitter's spam rules. You'll have to adopt new strategies eventually– might as well be now.
What do you think? How do you feel about the new Twitter spam rules? Have you adapted your strategy? Has it affected you? Share your thoughts and questions in the comments below!