Inflation, an unstable economy, and a global decline in economic growth mean that you have an even tighter budget to manage. You're heavily scrutinized for every purchase decision that you make. You're under immense constant pressure to bring back a return for every dollar that you spend.
That is why we've changed our pricing.
From Dec. 6, 2022, our pricing will be different.
We value the two-way relationships we've developed with our existing, potential, and new customers more than anything. So, although many brands will prefer to shy away from explaining why they've changed their pricing, we're doing the opposite: We want to share it all, with you.
Keep reading to find out what changes we've made to our pricing, what those changes mean for you as an existing, potential, or trial customer, and why we decided to make these changes.
What Changes Have We Made to Our Pricing?
We've switched from a package-based pricing model to a pricing-per-user (PPU) one to give users and teams more flexibility with their budgets while giving them access to the specific features that they need.
Our new approach also means that customers will now have the ability to purchase their plan and any extra users, profiles, and features themselves without having to reach out to the sales team.
To show you exactly what's changed, let's look at our old pricing vs our new pricing.
The old vs the new pricing plans
Our old, package-based pricing approach: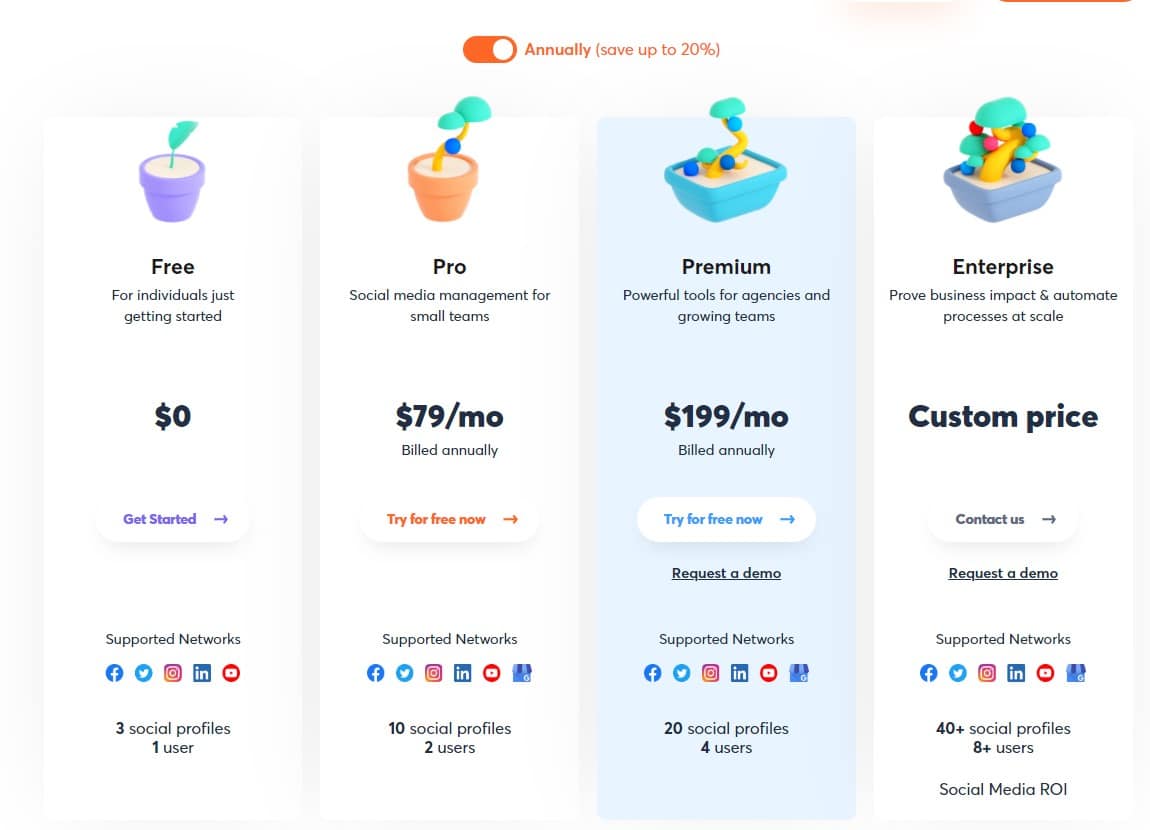 Our new, pricing-per-user plans: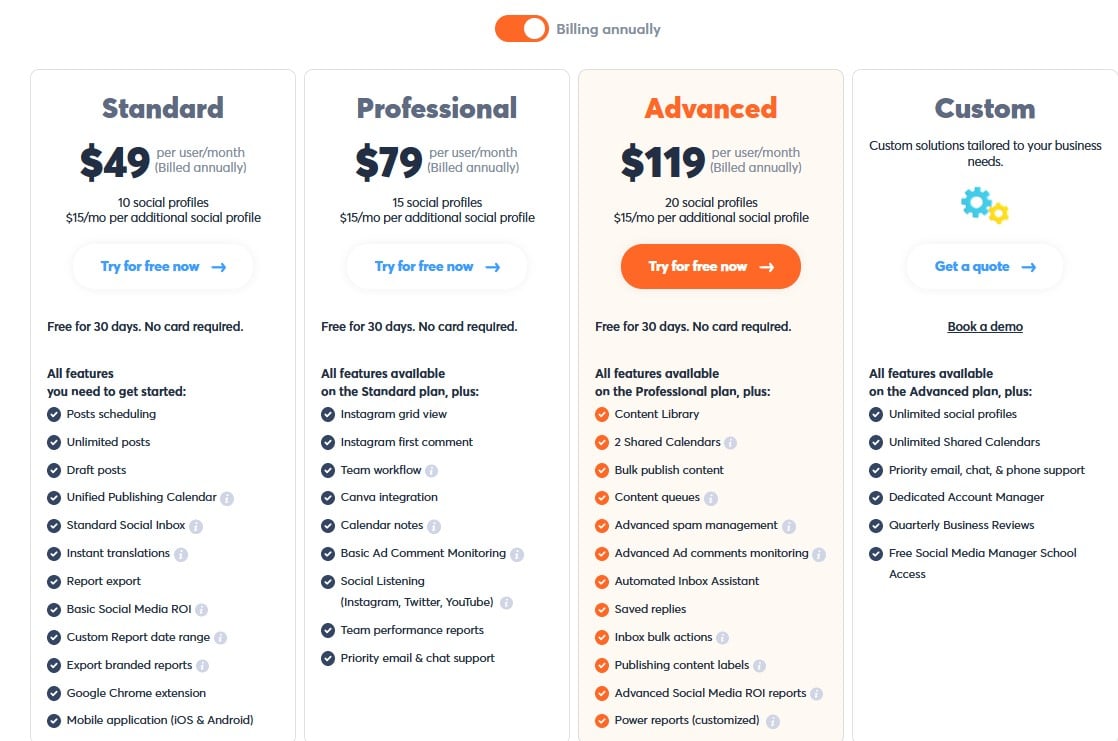 To summarize, our 8 major pricing changes include …
Pricing change #1: New pricing tiers
We now offer four pricing tiers, an agency package, and a custom-made plan option. As you move up the tiers, you'll get access to more collaboration, productivity, and analytical features, or more advanced versions of existing features.
Pricing change #2: Pay-per-user/profile
All our tiers give you a base-level number of social profiles and users to start with. If you find that you need more but are happy with the features you have on your current plan, then rather than upgrading to the next tier you can simply buy extra users and/or profiles: $15 per extra social profile, per month, and between $49 and $149 per extra user, per month.
Pricing change #3: Self-serve upgrades
Feature locks, which are identifiable by a purple star, will allow you to quickly and easily upgrade your plan and unlock features that aren't available on your current plan. For example, say you were on a Standard plan and needed to manage ad comments. Rather than booking a call with the sales team, watching a demo, and then upgrading your plan, simply click the CTA button to upgrade and unlock the ad comments feature, and more.
Pricing change #4: Access to our Social Media ROI tool
We believe that every social media team should have the ability to attribute monetary value to their social media activity and prove Social Media ROI to key stakeholders. So, all our plans now include access to our Social Media ROI tool (previously only available on our old Enterprise plans).
Pricing change #5: New entry-level plan
Our new, entry-level Standard plan gives you the same number of social profiles as our old entry-level Pro plan did (10), but the price starts at $49 per month, instead of $79. You will need to pay extra if you want more than one user, so this plan is perfect for solopreneurs or micro-businesses that only really need one user.
Pricing change #6: New mid-tier plan
Our Professional plan also gives you the same number of social profiles as our old Premium plan did (15), but the price starts at $79 per month instead of $199. Because of the advanced features that this plan offers, it's ideal for bigger businesses that need more comprehensive workflows. Again, you get to choose how many users and social profiles you need on this plan, and you only pay for what you need.
Pricing change #7: New top-tier plan
Our Advanced plan is our top-tier plan because it includes 20 social profiles and all of our most advanced features. Starting at $199 per month, nothing is restricted. But again, you get to decide, and pay for, the number of users and social profiles you need.
Pricing change #8: New custom plan
Our Custom plans are for enterprises and agencies who have more complex or specific social media management requirements and need extra guidance from our sales team. Contact the sales team to discuss your tailor-made Agorapulse plan.
What Do These Pricing Changes Mean for You?
If you're an existing customer, on a (now) legacy Pro, Premium, or Enterprise pricing plan, then do not worry: Nothing will change unless you need additional features that aren't available on your current plan and need to upgrade. Then, we'll move you onto one of our new plans.
But until that point, you'll stay exactly as you are.
If you have any concerns, our Customer Success team is on hand to answer your questions, or give you help and advice.
If you're about to become a new customer, then you'll go straight onto one of our new pricing plans, and you'll be able to choose the features that you want and pay for the number of users and social profiles that you need.
Please do speak to our sales team if you have any questions, doubts, or concerns about what our pricing changes and new pricing plans mean for you.
Why Have We Changed Our Prices?
Previously, with our package-based approach to pricing, we had two, fixed-price plans (not including the free plan, which is still available with our new pricing!), and an option to build a custom plan that could be molded to fit your social media management needs.
For full transparency, we realized that this approach to pricing was clipping your wings a little.
For example, say you were on the Agorapulse Pro plan: You'd pay $79 per month for 10 social profiles, and two users. Sounds fair, right?
But what if you were happy with your plan, but due to growth, found you needed five extra social profiles?
You'd have to upgrade to the top-tier Premium plan and pay $199 per month. That's a massive jump in costs, that would do a lot of damage to your planned budget.
The top-tier plan would give you access to advanced features, like the Advanced Social Inbox and advanced reporting capabilities, but if you didn't need those advanced features, we felt that $120 extra, per month for five extra profiles was a little steep.
Our new pricing approach not only gives you flexibility with your budget, but it also gives and the space to grow, by allowing YOU to control the features that you need and the number of users and profiles you want to pay for. Our new self-serve functionality also means that it's now super-quick and easy to upgrade your plan or purchase additional users and profiles.
Conclusion
Check out our new pricing here.
Whether we're building new features (like the Social Media ROI tool), connecting to upcoming platforms (like our recent integration with TikTok), or changing our pricing, we always put YOU at the heart of everything we do.
As a result, we offer the best value for money on the market, features that will help you grow, and pricing plans for every stage of growth.
If you're new to Agorapulse, try us out for free. If you're an existing, treasured customer, tell us what you think about our new pricing, we'd love to hear your feedback.