Whether you're the social media manager for a brand or an agency with multiple social media clients, you're sure to be asked this one question: What's our social media ROI?
When your boss or client asks you for the return on investment (ROI), they mean: "What am I getting back for the money I've spent on you and the social media channels?"
If this question sends you frantically scrolling for answers, don't fret anymore. We're going to look at the different ways to prove your social media ROI quickly and easily.
How Do You Calculate Social Media ROI?
First, let's make sure we're using the same definition for terms.
What is social media ROI?
Social media ROI ("return on investment") is the return from the cost of investment in social media.
In other words, social media ROI is how you can prove that all your social media marketing efforts are worth it. If you've got the cold, hard data available, you can prove to your agency clients or your company that, yes, all the resources used in a social media campaign, ad, etc. was really worth it.
(On the other hands, social media ROI can prove that, oops, you actually did not get more than you put in. But you can learn from that social media metric and plan for success next time.)
How to calculate ROI for social media
The most basic social media ROI formula appears as follows.
Investment: The total cost of your social media marketing efforts
Profit: The money you earned from your social media marketing efforts
Profit / Investment x 100 = social media ROI%
Use this formula to calculate ROI for paid social media campaigns that are tracked.
For example:
Investment: I spent 2,000 euros ($2,363.48) on a Facebook ad campaign.
Profit: From that campaign, I got 10 customers who spent in total 7,000 euros ($8272.18).
Profit/Investment x 100 = 250% ROI … or I could say I earned 5,000 euros ($5,908.70) profit after the cost of my ads.
For service-based brands, we tend to focus more on LTV (also known as lifetime value). That's because there isn't a one-off purchase but rather many years of payments. For example, a client paying $5,000 a month over 10 years has an LTV of $600,000.
Things do get more complex when you're talking about organic social media or social media with a less tangible value.
For example, an influencer marketing collaboration may attract sales over time. Or a video you uploaded that has a lot of likes. Did that contribute to your company sales?
With social media becoming increasingly data-driven, we need to do more than manage channels and guesstimate success.
Related read: How Ecommerce Brands Can Use Social Media ROI
So, how can you prove your social media ROI?
1. Set social media KPIs
Only 28% percent of organizations feel they can attribute value to business outcomes driven by social media.
Setting KPIs (key performance indicators) helps with this. Doing so is essential for keeping you on track with your social media activities and spend. KPIs also help you define how social actions align with business and departmental goals.
Identifying your monetary investment on social media means attaching a dollar amount to your social media goals.
We always ask clients what their social media KPIs or goals are at the start.
What to measure
Usually, with KPIs, you measure:
Reach
Engagement
Conversions
Leads
Here's a quick breakdown of what these KPIs mean:
Reach refers to how many people have seen your post.
Engagement can be defined by a whole host of actions including how many likes, comments, shares, or follows your post gets. Basically, any action that someone takes after seeing your post.
Leads are not necessarily someone saying they want to buy your product. It could be a subscribe, newsletter signup, e-book download, or other gems you can use for lead nurturing.
Conversion is probably the most important KPI. This is the number of click-throughs and subsequent sales made by the people that see your post.
Social media ROI can be obtained quite easily from conversions and leads. However, proving ROI on reach and engagement is more difficult.
Your post got super-high engagement on Facebook, but what happened next? Your Instagram Reel got tons of views … but how does this translate into dollar value?
The short answer is you cannot calculate the return on investment on these with complete certainty.
That's not to say "vanity metrics" such as Instagram Reel views are not highly useful for getting a general picture of how popular your campaigns are. Use vanity metrics to shape future content and social media decisions. Clients enjoy seeing overviews on all their social media metrics when we generate monthly reports.

Social media ROI tip
Make sure you have retargeting set up properly through Facebook.
Facebook retargeting, often called remarketing, means that when someone interacts with your brand online but doesn't convert immediately, they will see your company or products when they log back into Facebook.
2. Install Tracking Pixels
If there's one word that's guaranteed to put a smile on your client's face, it's conversions.
However, in marketing terms, a conversion doesn't just mean a sale.
A conversion is the process of getting your client to complete an action, which you track through your analytics panel.
A sales funnel often is longer, and it may involve the potential client seeing your brand numerous times before they reach out to you.
Types of conversions
A conversion could be any of the following:
Subscribing to your newsletter
Completing a contact form
Downloading an e-book
Adding a product to the basket
Purchasing a product or service
But how do you know if the leads you are sending from social media are converting? You install a tracking pixel.
A tracking pixel allows you to set tangible and measurable actions for your social media audience. You will then be notified through your ads panel when a social media user has completed the action.
On Facebook
Installing a Facebook pixel is easy. It simply involves embedding a line of code into your website, which then connects with your advertising interface.
Once installed, the pixel will track conversions, retention, and the LTV of the client.

On Twitter
You can install tracking pixels on Twitter by choosing from the following.
Universal website tag: A single code snippet that can be placed across your entire website to track multiple site actions or conversions
Single-event website tag: A unique snippet of code that can be used to track a single website conversion on your website
Most advertisers use the Universal Website Tag, as it simplifies the tagging process and allows for tracking of a user's journey across your entire website.

On LinkedIn
Yes, you can do the same on LinkedIn.
Social media ROI is easier to prove on the platform by connecting ads to conversions, including those who just viewed your ad.
You can see how your ads led to actions on your website, including content downloads, sign-ups, purchases, and more.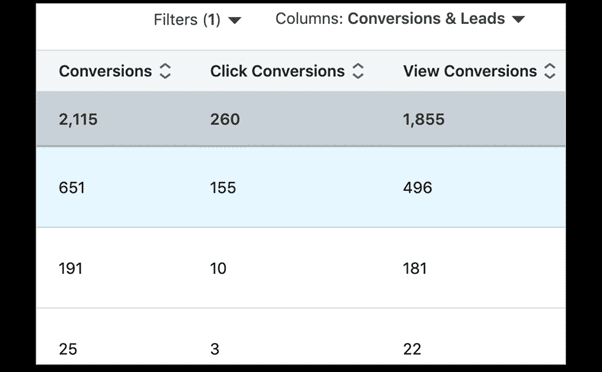 The LinkedIn Insight Tag is a lightweight piece of JavaScript code that makes conversion tracking work. Installing the LinkedIn Insight Tag on your site takes just a few minutes, and you only need to do it once.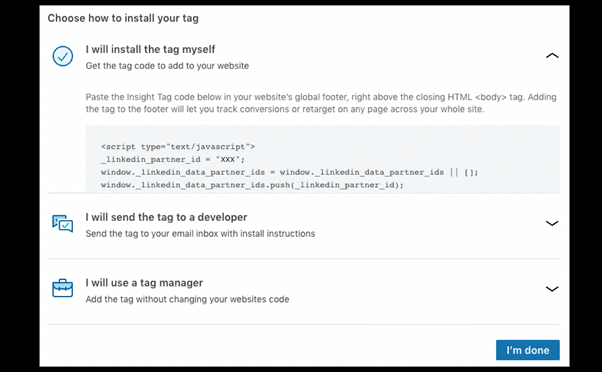 If you need a little more insights into what metrics to track, we've got deep dives into metrics for:
Or you can read an overview of social media metrics instead.
3. Check your costs per click
How much is your CPC (cost per click)? It is easy to find this for all the main social media platforms. Just go to your analytics/ad manager and view a recent campaign. (On Facebook, this is termed "cost per result" because it can refer to various actions taken, not just clicks alone.)
This is a simple visual representation of how much it cost your company to achieve each action from each fan.
Real-life example
Our "Keith Financial Services" ad below cost us 0.15 euros (.18 cents) per landing page click.
742 people went to the landing page from that ad.
The campaign URL for that landing page is tracked. So, if I head on over to my Google Analytics panel, I can see how many of the 742 people who visited the landing page actually converted into clients.
For conversions, as an agency, we count direct contacts as conversions. Brands selling tangible goods will link conversions with their checkout.
We can also see that the reach was 14,569 and impressions were 52,825. But for the purpose of CPC, we are only interested in clicks.

Social media ROI tip
When you create a campaign, especially a paid one, you should create unique URLs for each channel even if they all lead to the same landing page.
That way, you can not only track the success of the campaign but also show which network yielded the best results.

4. Track site traffic to prove return on investment
If you're not careful, web traffic that originated from your social media campaigns may be misinterpreted as direct traffic on Analytics. Or it will just be lumped into social traffic with no breakdown over campaigns, ads, or post links.
You want to be able to see that, so you can report on campaigns that drove traffic and conversions.

Many clients will approach us with a spreadsheet of tracked links, which we will use in their posts. They do this so they can track return on investment on social media on their end.

How do you make a tracked link?
First, you'll need to make customized URLs for every link you post on social media. That way, when someone clicks through to a landing page, video, e-book, etc. you'll be able to tell exactly where they've come from.
You can use Google Campaigns URL Builder to create unique URLs for free. You just need to fill out basic details relating to your campaign. See how it looks below: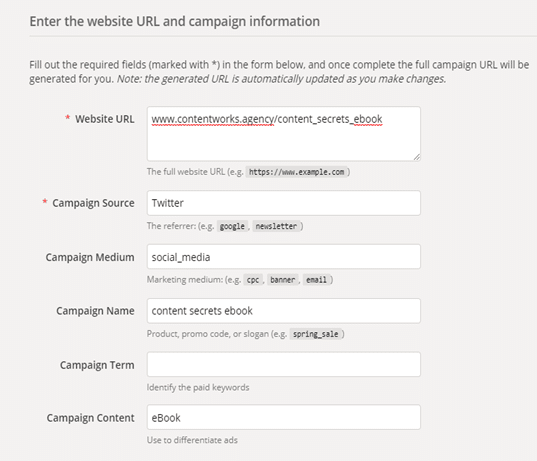 Once you've done that, you'll get a unique URL to use on that social media channel, which will look like this:
As you can see above, you have the option of converting the URL to a short link. Use this URL for every related social media promo you do for that channel.
You'll then be able to accurately track any resulting conversions as part of your proven social media ROI.
Be sure to keep track of your custom URLs, so you have them on hand for future posts. You could do this via a Drive sheet.
Or you can skip that extra step by using Agorapulse UTM tracking. This Agorapulse feature keeps track of all your links and makes proving ROI simple.
Three Social Media ROI Case Studies to Light a Fire Under You
Agorapulse UTM tracking
You create your post through Agorapulse like usual and then switch on UTM tracking as shown below. You're also able to use the Bitly integration to shorten your link.
Agorapulse users can add a Bitly account to each network they use, too.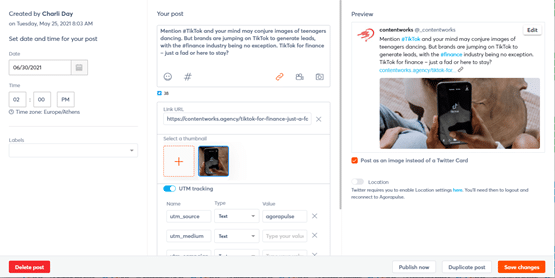 Choose whether you want to input your own values (text) or let Agorapulse populate the fields (Dynamic). When sharing to multiple networks at the same time choose the Dynamic option. Doing so will select the correct social network, medium, and social profile to add to the tag.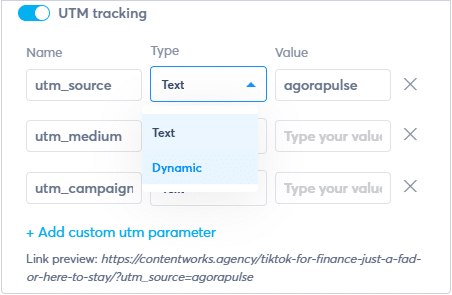 By using UTM tracking, you can follow the life cycle of customers.
For example, you'll be able to see if a high number of people are following your links, getting as far as adding an item to the cart but then abandoning their purchase. You'll then be able to draw conclusions as to why.
If you've set up your tracking link correctly, you'll be able to view the results from your individual campaigns in Google Analytics.
5. Provide easy-to-digest reporting for social media ROI
Knowing you generated great social media ROI is one thing. Proving your investment in social media, measuring your social media, and presenting it is another.
Social media reporting is often a sore spot for agencies. Collating social media stats from multiple channels, pulling out their KPIs, and turning them into a good-looking report usually takes hours.
In a recent social media survey, 31% of marketers spend up to 10 hours on reports, compared to the four hours outlined as industry normal. That's just for one set of reports.
Using the inbuilt Agorapulse reporting system, it takes about 5 minutes to collate the data for social media campaigns!
In my experience, agency clients want neat, concise reporting for their channels. A snapshot of what you did, what worked, what didn't, and how their channels are growing.
What to include in a basic social media report
A basic report from Agorapulse includes the following metrics:
Account growth
Audience demographics
Impressions
Content overview
Engagement
Community management
Best times to publish
An Agorapulse Power Report has a ton more options that are accessed via the Create a Report tab on the top left side of your dashboard. They are ideal for creating multiple reports on multiple channels and provide some deep dives into your social media performance.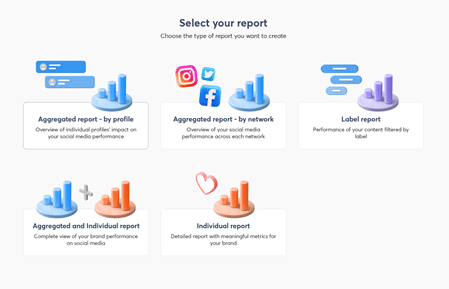 A channel-by-channel Individual Report provides all this: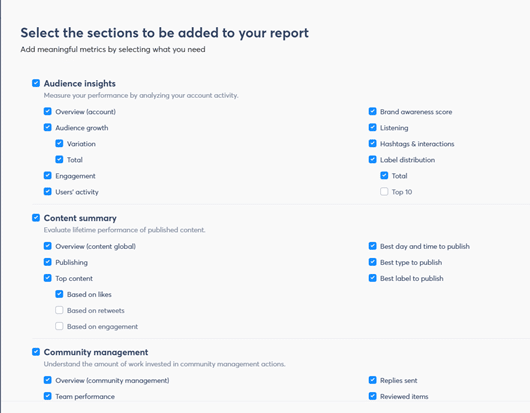 Let's look at some of the social media ROI specifics available inside Agorapulse reports.
An ROI Calculator
Agorapulse provides an ROI calculator? These tools are a marketer's dream for measuring social media ROI.
Just input your data and the calculator will add your ROI to your customized report!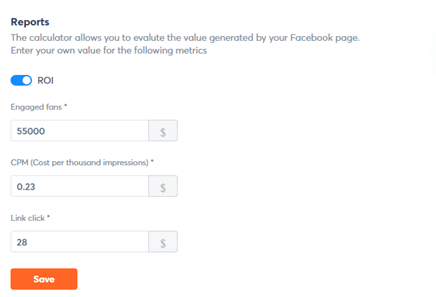 Connect your ad accounts
With Agorapulse, you can connect your ad accounts. This allows you to monitor comments on ads and to view stats and results.
To do this, simply input your Facebook/Instagram ad token and link it to your profile.
Agorapulse is super-advanced on this because multiple admins can connect their ad tokens and select an additional ad account. This way, the panel can fetch comments under ads from different ad tokens and ad accounts. Each user can view other user's ad settings but not modify them unless they have an Admin role on a given ad account.
Prove volume of work
Part of demonstrating ROI to a client or boss is proving the volume of content completed.
Sending a monthly report clearly highlights this.
For example, 202 tweets were published for one of our clients in June.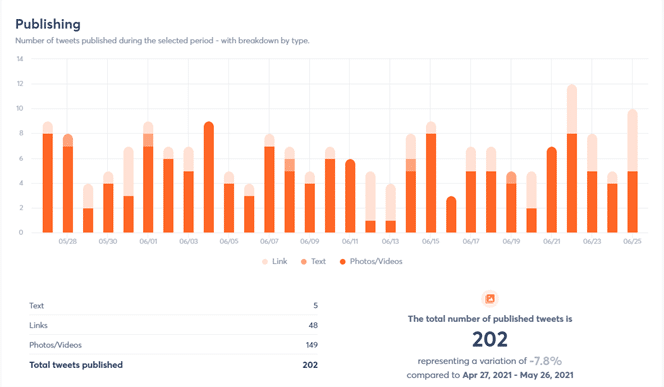 Reports can also include replies sent and the speed of these. This will help brands to see the number of resources (in-house or outsourced) that are taken up on social media.
Compare time frames
When discussing social media ROI with clients, it is helpful to compare timeframes.
For example, here are your results for July 2021 with an agency vs. July 2020 without an agency. Or Christmas campaigns in 2021 vs. Christmas campaigns in 2020.
Agorapulse allows you to compare any time frame easily in its reporting option shown below.

Benchmark against competitors
At Contentworks, many of our clients are in the finance space, and they are fiercely competitive. They want to see how they are faring against their competitors, which is something we can show using Agorapulse. Though this isn't specifically ROI, clients love to see tangible changes in this area.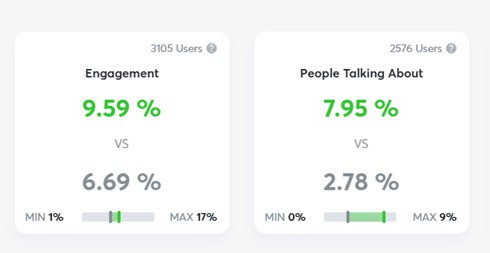 These are just some of the great social media ROI tools inside Agorapulse. And of course, they can be scheduled to go out to clients every month. Reports are easy to digest, well presented, and take about 5 minutes to create.
Social media ROI tip
To keep your clients informed (and confident that you are bringing in a sound social media ROI), it's a good idea to provide regular monthly reporting. You can also draw your own conclusions via email.
Top content and most clicked on posts may form the basis for future content and ad spend for each of the social networks.
Providing solid social media ROI doesn't only benefit a brand. It benefits you as a social media manager or agency.
You can enjoy the kudos of a successful campaign, great customer support, and a team of talented writers and designers. Without it, you have no idea just how well you're actually doing.
Why Do I Need to Prove Social Media ROI?
When I first started out as a social media manager circa 2012, I remember asking this question. Social media managers are often reluctant to focus on ROI because they are creatives. They are the ones driving channel content, answering fans, following trends, and coordinating designs.
They are not usually data analysts.
The role of a social media data analyst is a more recent addition to the space and usually only afforded by large corporations.
Now, as director of Contentworks Agency, I know brands are investing more than ever before in social media. They want to know the cost of an agency, designs, videos, content and that's before you consider ad spend.
58% of marketers say they need to prove social media ROI before getting approval for future spending, and yet, only 37% are 'very confident' in doing so.
Marketers who compute their ROI are 1.6 times more likely to be awarded higher budgets for their marketing activities.
72% of the most prosperous companies compute the ROI of their content marketing compared to 22% of the least successful companies.
What We Learned About Social Media ROI
Clients need to have the reassurance that their social media efforts are paying off. And some want to delve deeper to understand specifically what's working and what's not.
In that respect, measuring social media ROI is key to your social marketing strategy even if you're mostly organic.
Ready to take control of your social media and prove your social media ROI? Sign up for a FREE demo.