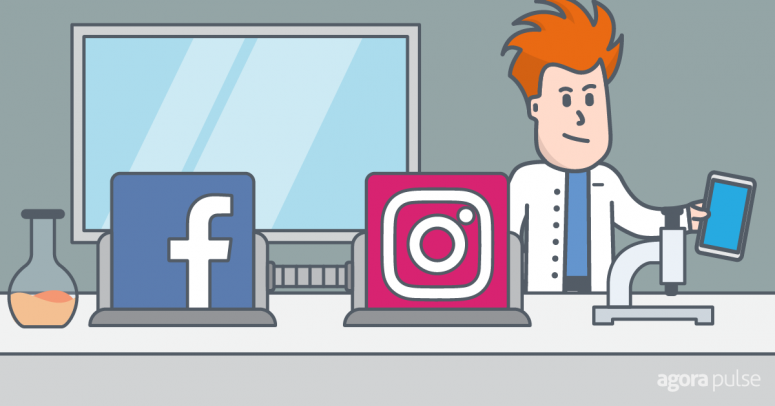 Should you Cross-Post from Instagram?
As a Facebook Page owner, you're always trying to find a way to get more. More likes, more comments, more shares.
At the same time, trying to create "more" content for every social site available can be time-consuming.
Could there be a workaround for this? Say, if you share a particularly engaging Instagram post directly to Facebook?
I wanted to test this to determine if sharing a post from our Instagram account directly over to Facebook could bring us more engagement for less effort.
Some Background on Cross-Posting from Instagram
This theory has been discussed many times in the social media blogosphere in the last few years.
BuzzSumo concluded that posts reposted from Instagram to Facebook got 23% more engagement than posts natively on Facebook.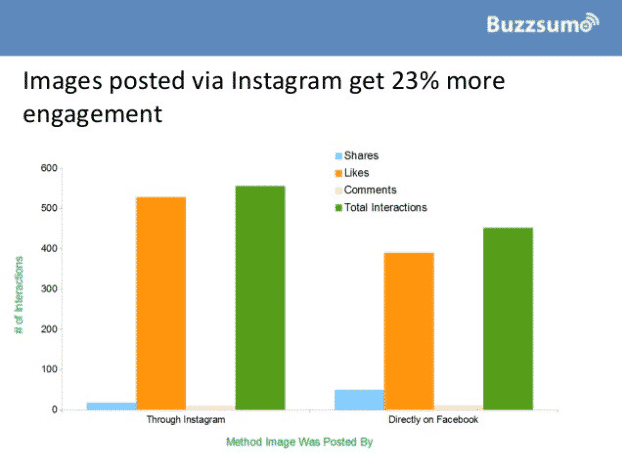 The problem I have with this sort of data is it's arbitrary and not scientific.
Sure they surveyed millions, if not billions of posts, to get to this conclusion but engagement is impossible to compare post to post and page vs page.
Every audience is different — they like different things, follow pages for different reasons, etc.
Plus timing is a factor for engagement that has to be taken into consideration, yet is not factored into the results BuzzSumo gave us.
It's a great starting point to say posting from Instagram to Facebook could get more engagement, but there needs to be more.
Social Media Examiner also recommends cross-posting from Instagram to Facebook as they found when doing so they achieved a much higher Reach — which is the more important number when comparing posts.

In their example, the #4 post was from Instagram.
There are many ways to cross-post from Instagram to Facebook as covered in the Social Media Examiner article. The author of that article chose to copy the URL from Instagram and post to Facebook.
For our test, I'll narrow down to just one type of posting method to get accurate results.
Subscribe to the Social Media Lab Podcast via iTunes | Stitcher | Spotify  | Google Play | RSS
Hypothesis: Posting content from Instagram to a Facebook Page will have no impact on Reach and/or Engagement.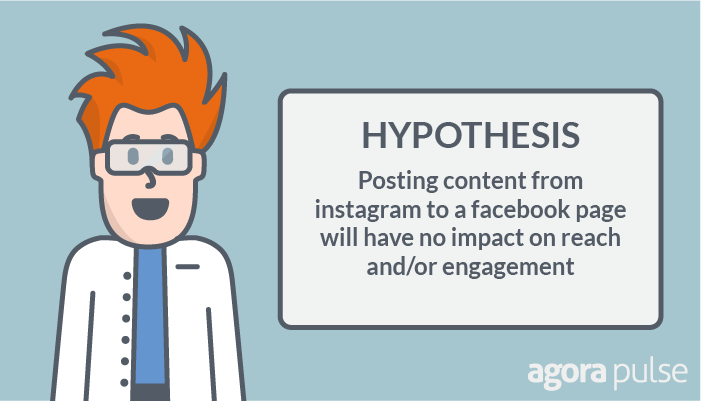 Testing Cross-Posting from Instagram
We'll use three different Instagram accounts to test this.
Agorapulse – Our own company accounts.
Space Walk of Central Texas – The accounts for a bounce house business I own ( This account is no longer active as of 2020).
Grace Bible Church – Accounts for a church I go to and run social for (This account is no longer active in 2020).
We'll use only one posting method so that the results are as similar as possible and not skewed in any way.
I'll simply be sharing a previously posted update from Instagram over to the corresponding Facebook page.
This is how you share on an Android device. This could look a tad different on iPhones but the idea is the same.
Choose a photo to share from Instagram to Facebook, then click the menu icon (the 3 dots on the upper right). 
Now select "Share".
Next, you'll tap the Facebook page shown below the post, it will turn blue. Then click the now blue checkmark on the upper right hand corner. 
Once you click that checkmark you're done and the post is on Facebook! Almost instantly too.
I will be sharing 7 photos from Instagram to Facebook to each of the pages previously mentioned.
I'll then gather the Reach count and number of Likes for those posts as well as 7 posts that were previously posted directly to Facebook.
This is what a shared post from Instagram to our Facebook page looked like: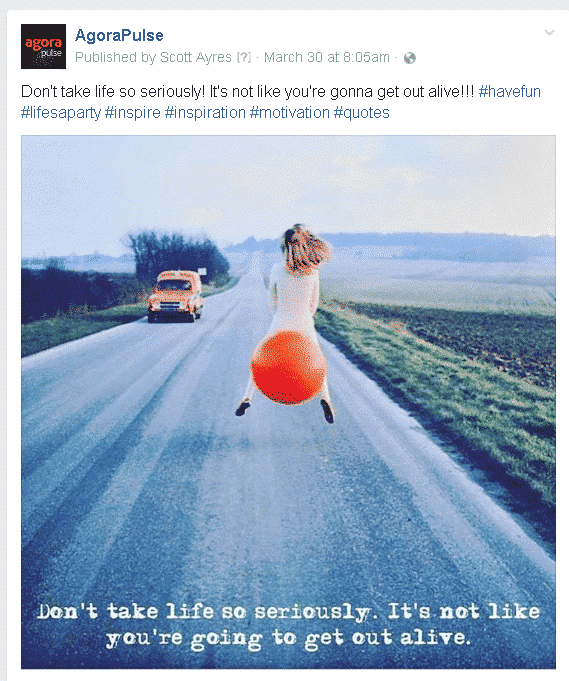 The "Published by Scott Ayres" only shows to admins of the page, followers see no such tags and the post actually looks like a normal Facebook post.
Note: I'm reposting content that has already been published on Instagram. There is a method to post to Instagram and Facebook simultaneously but I've opted not to go that route for this experiment.
Data on Cross-Posting from Instagram to Facebook
To be honest, the data surprised me. In fact, it was so surprising that I posted a few more times to see if the data would change.
It didn't.
Bottom line: On all 3 pages, native Facebook posts had drastically higher Reach than posts shared from Instagram.
Agorapulse Facebook Reach:
Posts Cross-posted from Instagram – 706
Posts directly on Facebook – 1316
Space Walk Facebook Reach:
Posts Cross-posted from Instagram – 680
Posts directly on Facebook – 1076
Grace Bible Facebook Reach:
Posts Cross-posted from Instagram – 189
Posts directly on Facebook – 291
(What I mean by "native Facebook posts" were post originally posted to the page and not cross-posted from Instagram.)
Take a look at these graphs: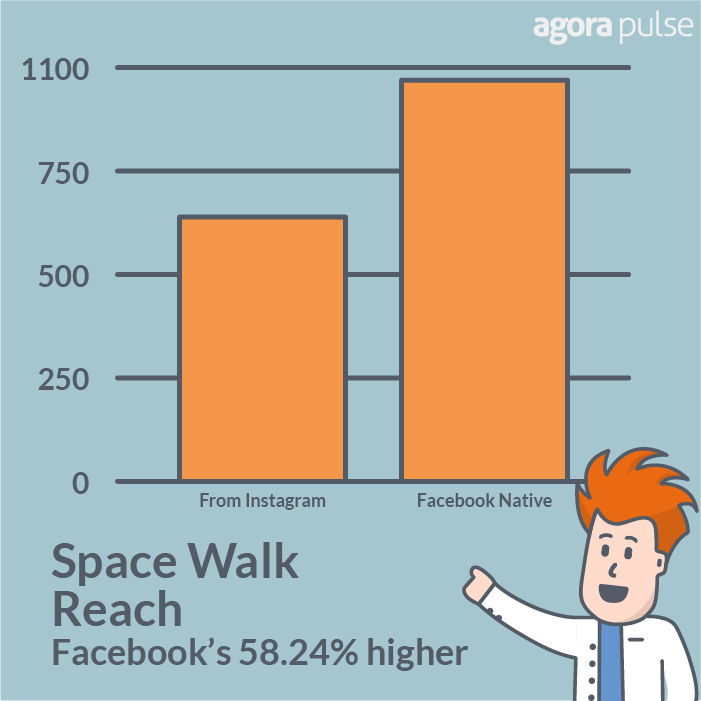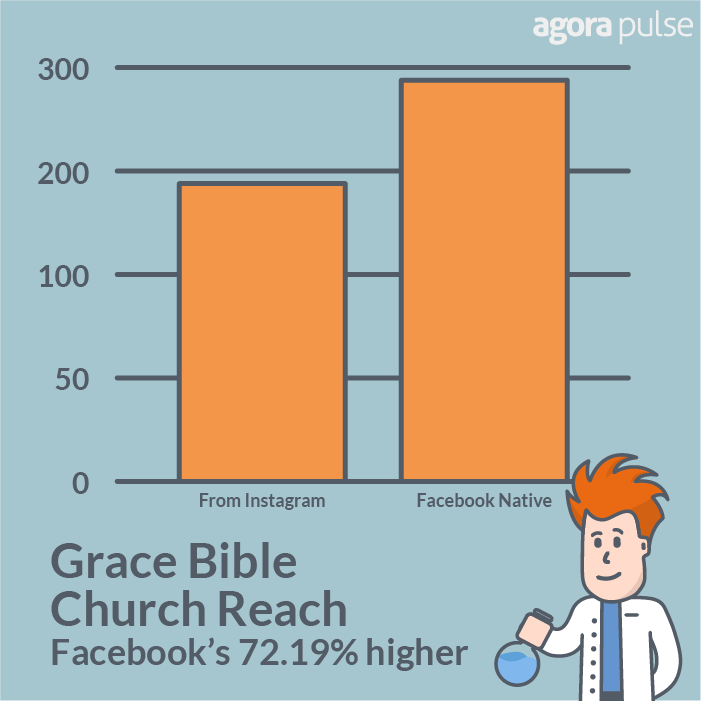 As you can see the Reach for Facebook native posts were 86.14% higher on Agorapulse, 58.24% higher on Space Walk, and 72.19% higher on Grace Bible Church.
On average Facebook native posts had a 72.28% higher Reach than posts cross-posted from Instagram!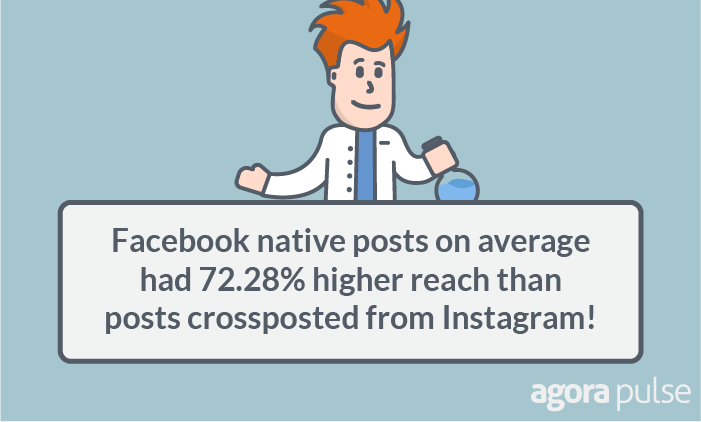 The Like numbers also favored Facebook:
Agorapulse – 140% more Likes
Grace Bible – 100% more Likes
Space Walk – Even
Where Did I Go Wrong?
Data doesn't lie — even when we don't like the results.
Remember my Hypothesis: Due to Facebook's algorithm, I hypothesize that posting content from Instagram to a Facebook Page will have no impact on Reach and/or Engagement.
I was categorically wrong. It did have an impact — a very negative one.
This goes against everything I've read about reposting from Instagram to Facebook, but the numbers don't lie.
Based on this, I will cease cross-posting from Instagram to my Facebook pages and focus on handling them separately as they were intended.
I'll admit it's nice to quickly share the same post to both audiences, but with that drastic of a drop in Reach, I (you) can't afford to risk that based on this data.
Other Insights
You could argue that if I had grabbed the link and shared the Instagram post as a link on the desktop that the results could have been different, and this is true.
But with the vast majority of people using mobile to conduct their social media presence, I don't see that as a worthwhile exercise.
You're typically going to cross-post an older post from Instagram that perhaps performed well or post it to Facebook at the same time — while on your phone.
But to satisfy your curiosity, I tested this on 1 post and the Reach was even worse!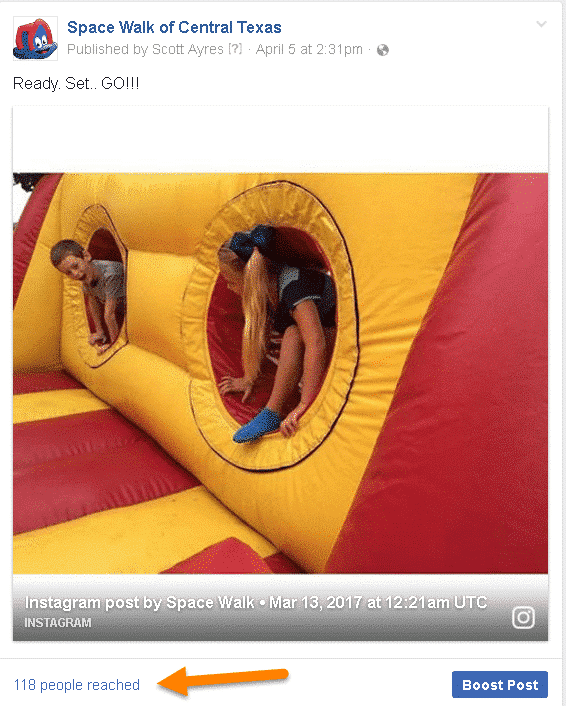 Stop Cross-Posting from Instagram!
Based on the data I would not recommend posting from Instagram to your Facebook business page — unless you want to risk having lower Reach.
Sure it's the quicker/easier way to post updates to both social platforms, but it's not worth it when Reach has the potential of being lower by doing so.
Each platform is unique and deserves to have tailored content made just for it in the voice that most appeals to that audience.
If you're wanting to save time and post the same photo to Instagram and Facebook use a tool such as Agorapulse and customize the text for each platform instead.
Don't miss an experiment!
New experiments and exclusive content straight to your inbox