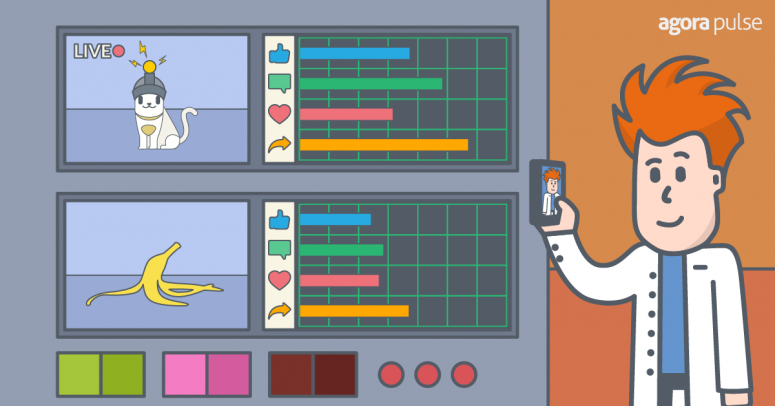 Subscribe to the Social Media Lab Podcast via iTunes | Stitcher | Spotify | Google Play | RSS
Does Facebook Live Video Truly Outperform Pre-recorded Videos?
It's 2018 and by now you've likely been beat over the head that Facebook Live is the future.
And the future is NOW!
Live video isn't that hard to do — either from your phone or desktop.
Add in super easy tools to use such as BeLive.TV and anyone can truly broadcast like a pro live on Facebook.
But with recent updates to Facebook's algorithm is Facebook Live the better format for your page?
That's what I wanted to find out and will reveal in this experiment.
Facebook Live vs Uploaded Video
According to a Facebook report in late 2017 over 20% of all videos on Facebook were Live videos.
This graph by L2 in August of 2017 shows how Facebook Live videos has increased over the last 2 years.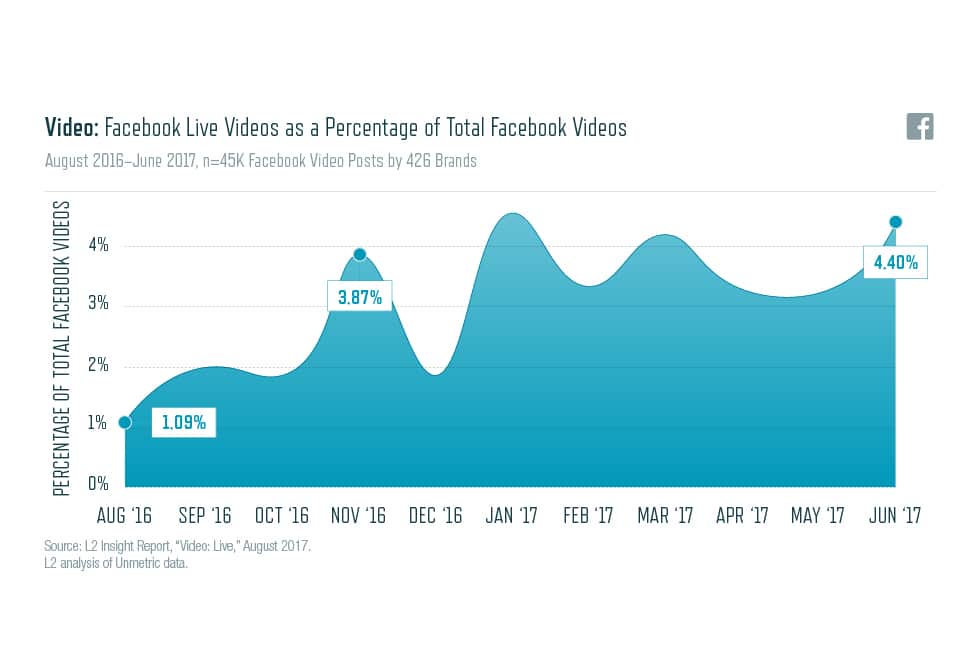 In a previous experiment here in Social Media Lab, I tested the engagement and Reach when I posted a Facebook Live, Uploaded Video, Photo and Link post all about the same topic.
This was a small post and primarily was seeing if Facebook Live videos got more Reach than other posts — photos had higher Reach in that experiment.
Live video did far better than the uploaded video in the test.
But since this was a test with just 1 post of each type, and being the same exact content, I wanted to dive in a bit deeper.
According to Mark Harbert:
Facebook Live Videos Are Viewed 3X Longer Than Recorded!
Facebook LIVE Grabs Up Comments at 10X the Rate of Recorded Videos!
I'm not 100% sure where he got his stats as they aren't mentioned in his blog post, if these numbers are true WOW!!!
Why We are Testing This
We recently reached out to influencers in the social media world and asked them to email their list for ideas to test on the blog.
Folks like Ian Anderson Gray, Kim Garst, Lilach Bullock, Jeff Bullas and Ian Cleary.
Our goal was to get some ideas we maybe hadn't thought of, and in exchange we'd mention that person in our experiment.
We proposed this:
"If the Lab chooses your winning idea, they'll run an experiment on your behalf. Finally, no more lost sleep over that unsolved social media riddle. Best of all, you'll also get a brand mention and backlinks when the Lab writes up the results."
The topic for this test was chosen from the dozens and dozens of entries we got.
It was submitted by Laura Matiz ( @lmatiz on Twitter) after getting the email from Ian Cleary of Razor Social.
Laura is a real estate broker in New York, which made this pretty fun to test seeing as she's not someone in the "social media niche." She's on the ground doing work in the trenches.
Hypothesis
But first let me share what I think we'll find out and how we'll come to a conclusion.
Based on the data Facebook has given us regarding Live video as well as other sources, I'm going to say:
Hypothesis: Facebook Live video will have a higher amount of engagement (Reactions, Comments and Shares) as well as Reach than uploaded videos.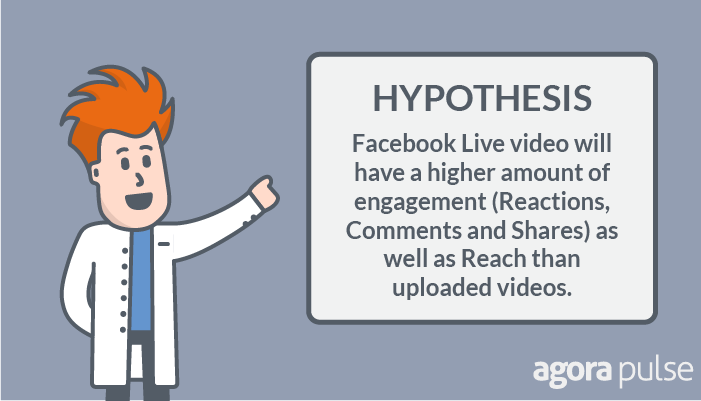 Although I included Reach in my hypothesis, the more important numbers are the engagement stats.
It doesn't matter how many people you Reach if they aren't engaging with your posts it's the equivalency of talking to the mirror!
I'll report on Reach, but only just to see how it compares — not to draw a conclusion with it.
Testing Facebook Live vs Uploaded Videos
To get data worth looking at we did the following on the Agorapulse Facebook page.
We'll pull data from 15 videos we uploaded to the page in January and February.
Most Fridays I broadcast a Facebook Live on the page, this gave us data for 7 Live videos.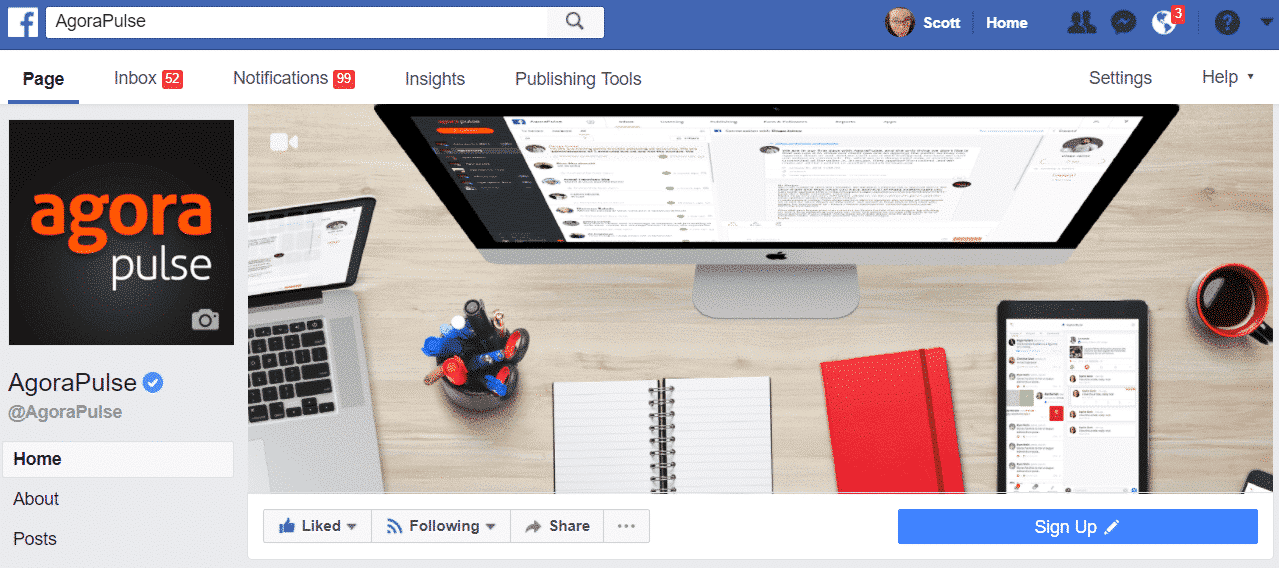 We will also look at the stats from 7 Live videos and 16 uploaded videos on the Geeks Life page.
The page is run by David Foster, who is also a part of the company Live Streaming Pros along with Luria Petrucci (you may remember her as Cali Lewis from GeekBeat.tv)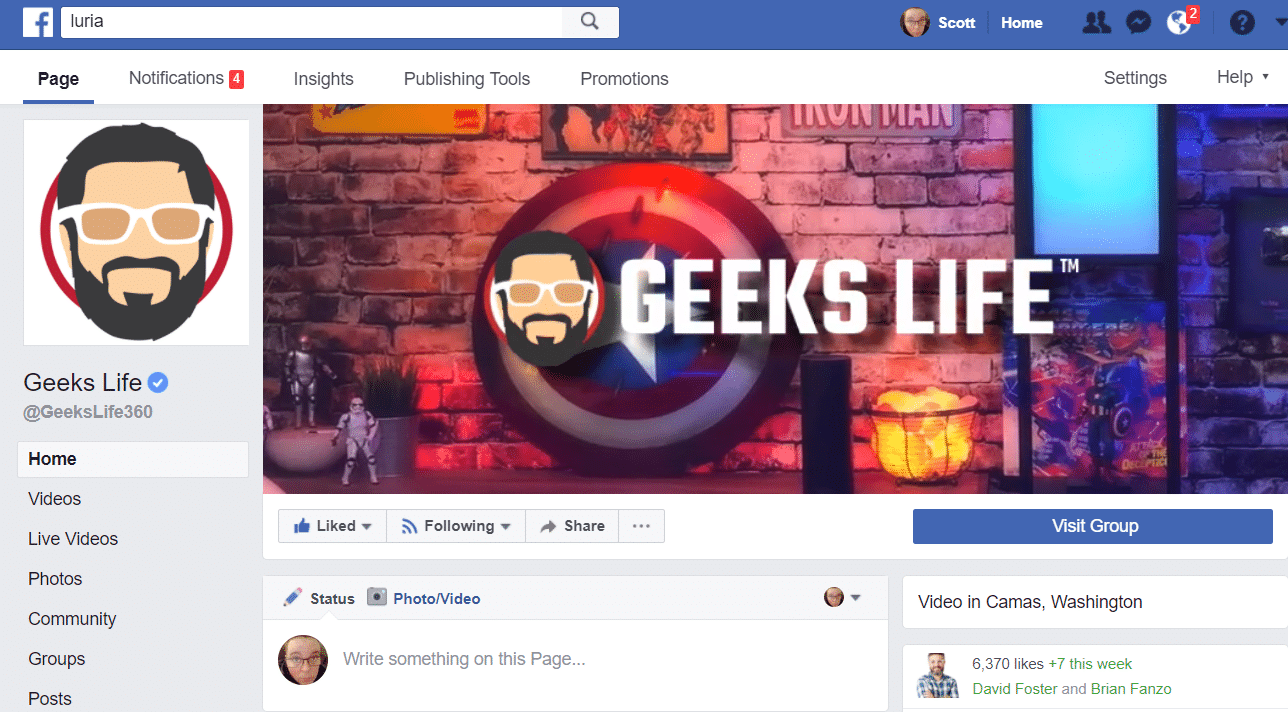 You might ask "Why aren't you looking at the Live video stats from Live Streaming Pros?"
That page pretty much only posts Live videos so I couldn't get good data to compare to uploaded videos for the page. But I will include the data from this page in a future test regarding Facebook Live and how users view videos. Stay tuned!
What the Data Says about Facebook Live and Uploaded Videos
For the stats below I'll give the average of the videos within each category.
Facebook Live Videos:
Agorapulse

Reach: 2206.71
Reactions: 17
Comments: 19.29
Shares: 3.43

Geeks Life

Reach: 596.14
Reactions: 15.86
Comments: 39.71
Shares: .1.43
Facebook Uploaded Videos
Agorapulse

Reach: 685
Reactions: 3.2
Comments: 0.27
Shares: 0.13
Geeks Life

Reach: 711.44
Reactions: 6.44
Comments: 3.69
Shares: 0.75
Every stat favors Facebook Live videos, except the Reach on the Geeks Life page. This surprised me. The Reach on those videos were just over 19% higher than Live video, while the engagement stats were much higher on their Live videos.
I don't have a real answer for that, but it could be possible some of the uploaded videos were used on blog posts or shared by a large page, which would account for the higher Reach. But ultimately we have no way of knowing.
This is further reason why I want to dig further into the engagement numbers to draw a conclusion on this study.
But just for kicks, the Reach of Live videos on the Agorapulse page was 222% higher than uploaded videos — I could probably just end this blog post now.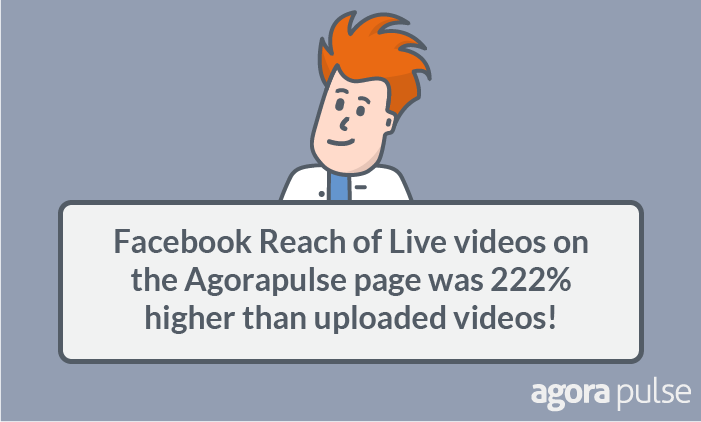 When pulling the data Facebook gives you the option to see the engagement on the original posts and shares.
All of the data above for engagement was from the actual post, not from the shares.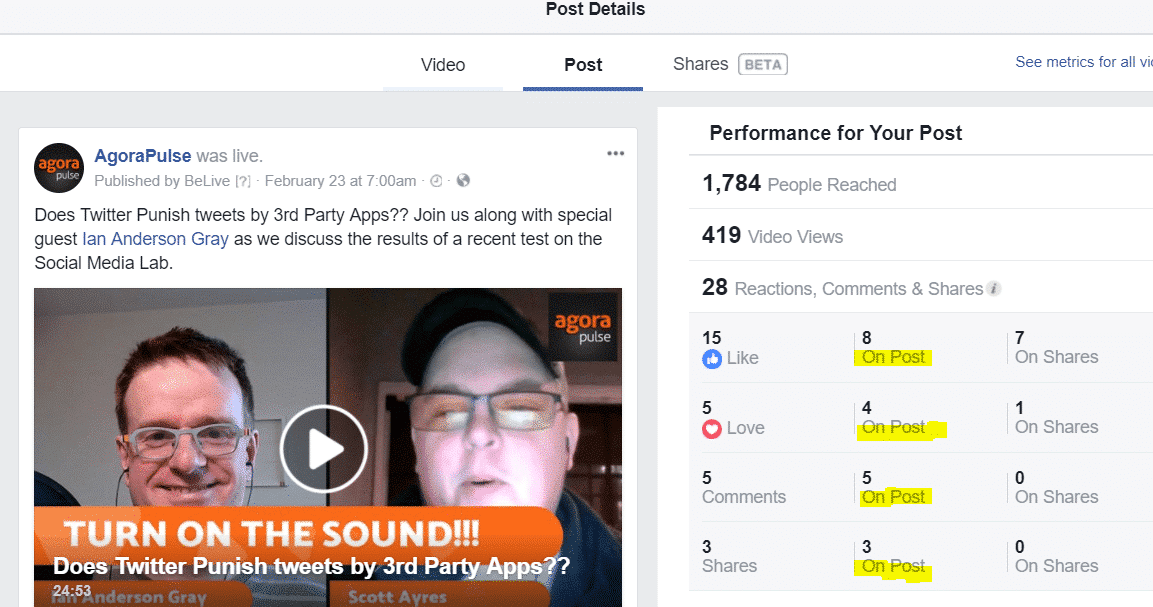 Diving Deeper Into the Data
Comparing the average numbers of engagement this is what we find:
Agorapulse:

Reactions: Facebook Live 431% higher
Comments: Facebook Live 7044% higher (WOW)
Shares: Facebook Live 2538% higher
Geeks Life:

Reactions: Facebook Live 146% higher
Comments: Facebook Live 976% higher
Shares: Facebook Live 91% higher
Pretty obvious from this data that Facebook Live gets WAY more engagement than uploaded videos to Facebook.
Even when I average the 2 pages together Facebook Live wins hands down:
Reactions: Facebook Live 240.87% higher
Comments: Facebook Live 1389.90% higher
Shares: Facebook Live 425.27% higher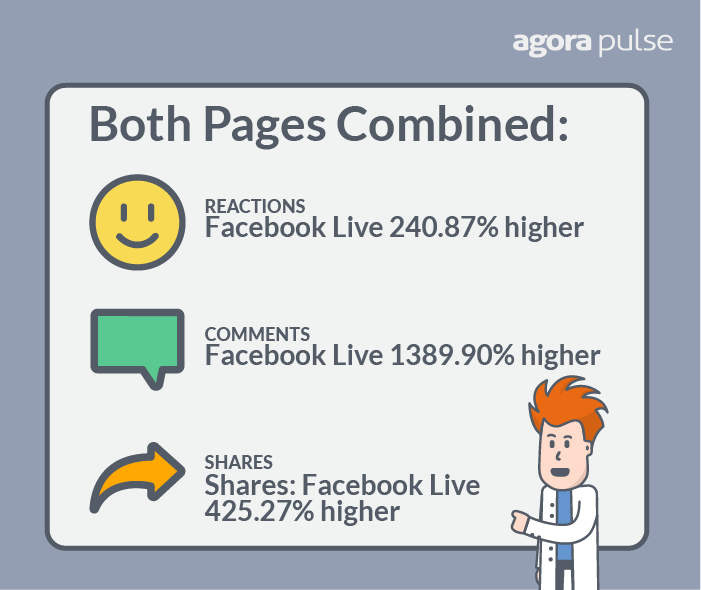 These 2 graphs below give a great visual representation of the disparity between Live and uploaded video (do note that other post types are shown in the graphs).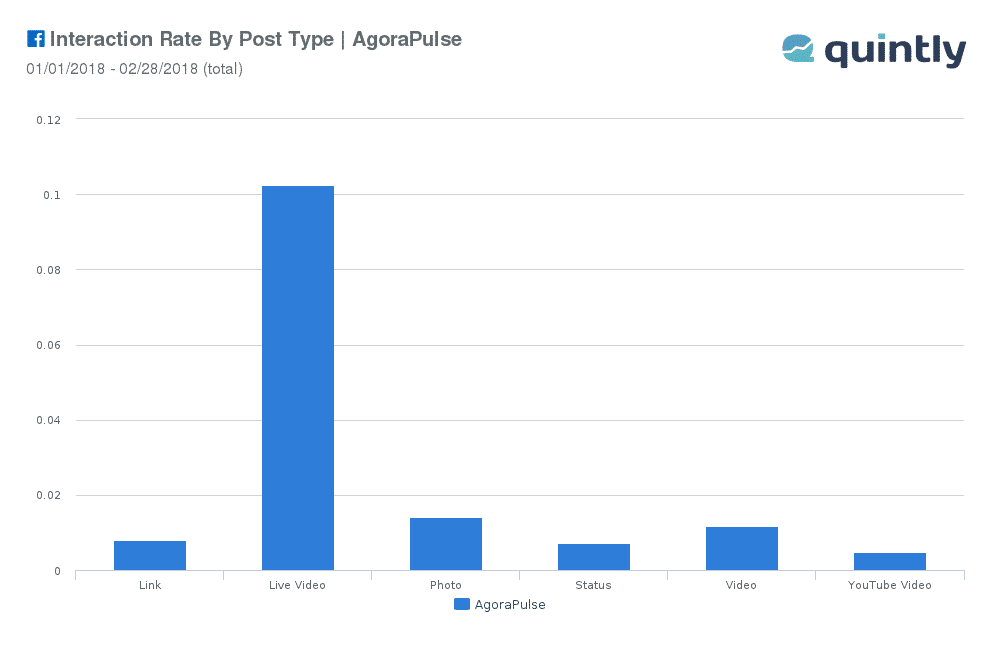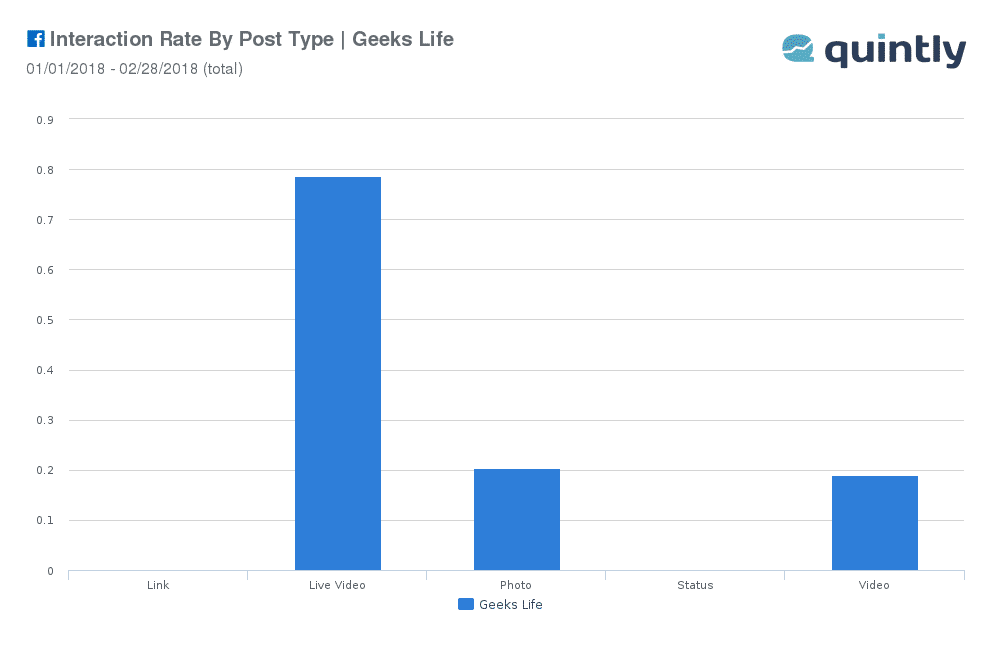 Conclusion Regarding Engagement on Facebook Live vs Uploaded Videos
It's easy to see from these stats the performance of Live video is far superior to that of uploaded videos.
The only real problem I ran into when trying to draw a conclusion was proving the results were 'statistically significant.'
That's something that is very important to us in the Lab and we strive to reach that with every test.
But no matter how hard I tried to get the data to spit out the results needed to do so I simply couldn't.
Why?
I'm not sure.
It could be due to the size of the test — afterall we looked at just 7 Live videos on the Agorapulse page.
That being said I'm still 100% confident that Facebook Live video will get you not only more Reach, but more engagement than uploading a video to your business page.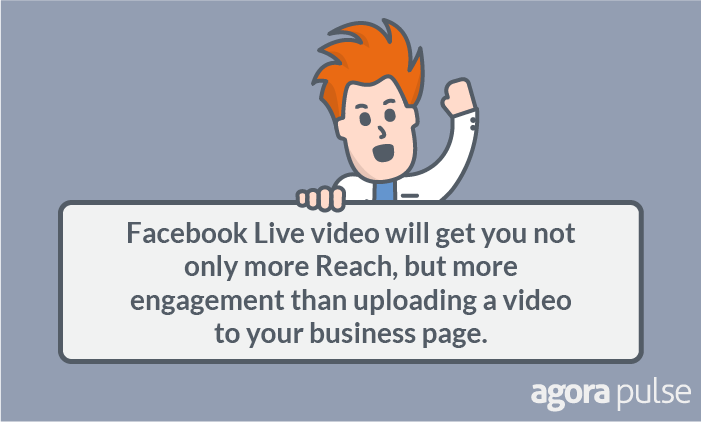 Due to Facebook's focus on Live video, your business should make it a priority to go Live, even if just once per week.
All you need is at least your phone and you can begin broadcasting.
You'll get a more professional look by using your desktop and a program such as BeLive.tv, but you could simply use your computer/laptop and no other software to begin broadcasting.
Once you get the hang of it and see how valuable it is to your community you might look at getting more equipment to give you better lighting, better sound, multiple camera angles, etc.
But none of this is a necessity right out of the gate.
If you are looking for a quick start guide on Live Video go here..
As our friend Brian Fanzo says — Just Press the Damn Button!!
#PressTheDamnButton at #SMMW18
? via @dgingiss pic.twitter.com/Pf2HmAyHfE

— Brian Fanzo ? #SMMW18 Speaker (@iSocialFanz) March 2, 2018
Subscribe to the Social Media Lab Podcast via iTunes | Stitcher | Spotify | Google Play | RSS
Don't miss an experiment!
New experiments and exclusive content straight to your inbox