As any social media manager knows, managing your workload can be a tedious task, especially if you're juggling multiple social accounts and clients. Fortunately, many different social media management tools are available to help you streamline your content scheduling and publishing process and make your life easier. In this article, we will take a look at two choices: Agorapulse and SocialBee.
We are going to do a full competitive comparison of these popular social media management tools, including a breakdown of their features, customer support, and overall usability. By the end of this article, you will have a better understanding which tool is right for your social media management needs: Agorapulse or SocialBee. Let's get started, shall we?
Agorapulse: At A Glance
Who it's for
Businesses and agencies
Unique social media management features
Analytics report builder
All-in-one social media inbox
Visual content calendar
Post builder integrated with Canva
Competitive comparison
Social listening
Agorapulse is a powerful, award-winning social media management tool specifically for businesses and agencies who are looking for a well-organized system to create, publish, and analyze their social media strategies. With Agorapulse, you can easily manage all of your social media accounts in one place, including Facebook, Twitter, Instagram, LinkedIn, and YouTube.
SocialBee: At A Glance
Who it's for:
Online media outlets, magazines, and news organizations
Unique Social Media Management Features:
Concierge support services (for an additional cost)
Works with Pinterest
Content importing from Pocket
SocialBee is another social media management tool that focuses primarily on content curation, automation, and growth by connecting to your various social media accounts.
While both of these social media marketing tools offer a range of features to help users manage their social media accounts, there are some key differences between the two. Let's take a closer look at features on each platform.
Comparison of Social Media Management Features
Publishing and Content Calendar
Content Publishing in Agorapulse
Agorapulse allows you to add content with ease with their visual content calendar. The content calendar gives you the ability to create, schedule, and edit posts all from one place – and it even includes an integration with Canva, so you can create a graphic without ever leaving the page.
With Agorapulse, you can schedule your social media posts in advance. You can also create queues of content to be posted at optimal times for engagement and reach.
SocialBee Publishing
SocialBee also has a content calendar, but some users find that it's less appealing, and from a user experience point of view the navigation isn't very intuitive. The calendar and content organization can also be limiting in a number of different ways. For example, in SocialBee you can only import bulk media when creating a post, whereas in Agorapulse you can store and organize your content in a media library.
Because SocialBee has more steps required to organize your calendar and content, it can be confusing to follow, and this process can actually result in working more than you would otherwise. For example, you cannot drag and drop posts in the calendar to move them around. You need to actually click into each post to update the date it will be published. This can be frustrating if you are wanting to move things around quickly, and it is a less than an ideal solution.
That being said, the one publishing feature in SocialBee that is unique is the ability to import content directly from RSS feeds or Pocket.
This feature may be useful for organizations who rely on a stream of curated content like news organizations or online media outlets. However, for many business owners, this feature likely isn't something they would regularly use.
Centralized Social Media Inbox
Agorapulse
Agorapulse's social media inbox allows you to manage all your social media messages in one place. This can save a lot of time and effort, especially for businesses that receive a large volume of social media messages. From this centralized inbox, you can reply to messages and comments faster without jumping from tab to tab, creating a much more efficient workflow. Additionally, you have the ability to label, assign, and bookmark items, so all team members can easily manage inbox activities.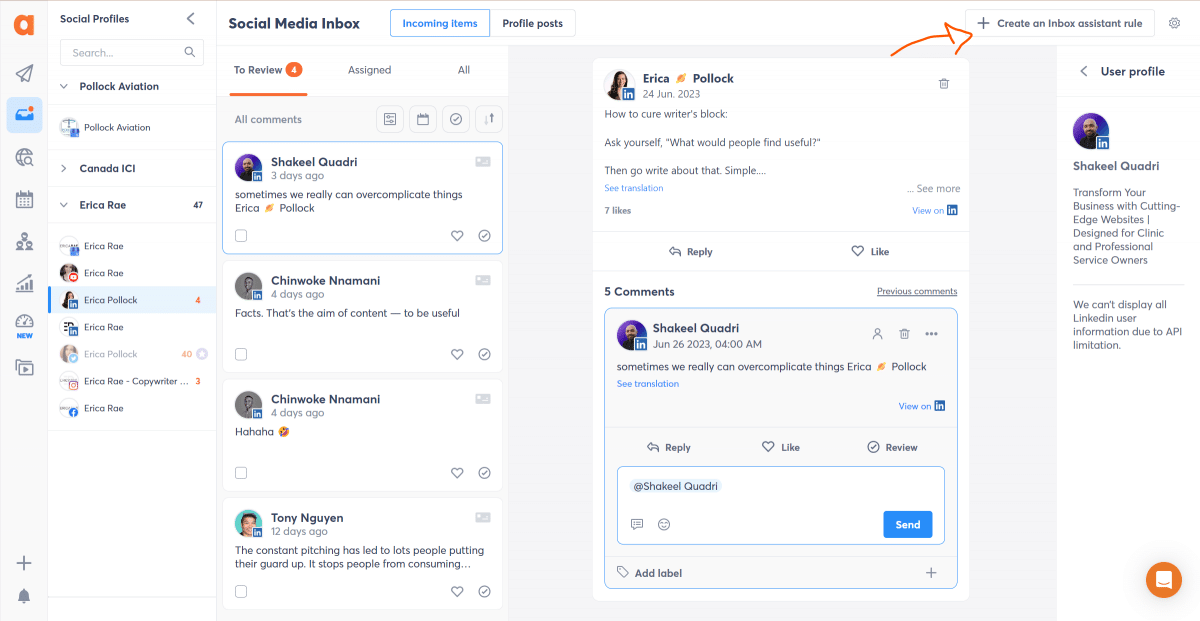 Additionally, if you run social media ads, Agorapulse can help you manage the comments on those ads in the social media inbox too. Not only that, but you can easily double your productivity by using inbox filters, saved replies, and one-click translations to get more done in less time.
SocialBee Engage
Overall, the centralized inbox is a standout social media management feature in Agorapulse, and in that regard SocialBee is no match. SocialBee kind of has a centralized inbox (it is called the Engage Dashboard) but it is still in the testing beta phase, and has very limited features right now.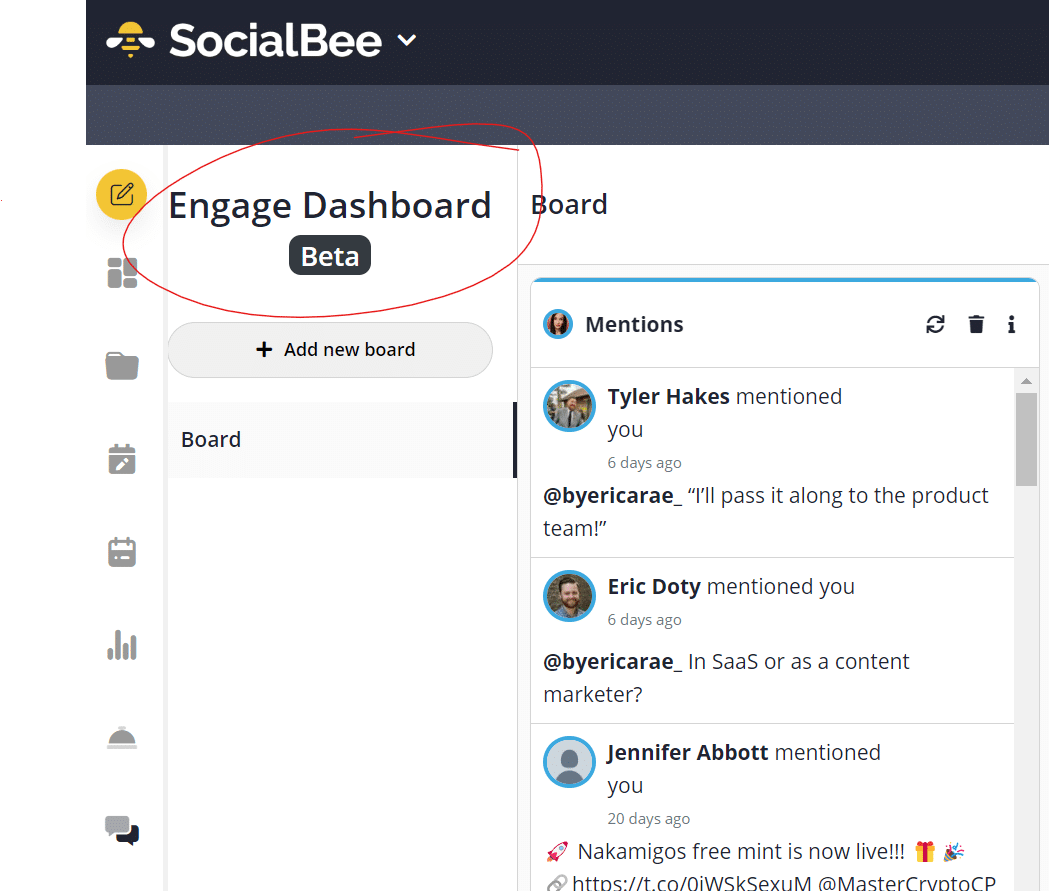 For example, the SocialBee inbox feature is limited to just mentions and comments, and doesn't have any filtering or management options. They also do not have a social listening feature, nor the ability to manage comments on Facebook ads.
In this area, Agorapulse is the clear winner due to their advanced features like saved replies, filtering, and the ability to label and assign messages to team members.
Related reading: Agorapulse vs E-clincher
Scheduling Capabilities
Both Agorapulse and SocialBee offer social media post scheduling capabilities that allow you to plan your social media content in advance. This is a crucial feature for businesses and individuals who want to maintain a consistent presence on social media without having to manually post every day.
Agorapulse Post Scheduling
Agorapulse's scheduling feature is reliable and user-friendly. You can create your content and upload it in bulk, which saves time and effort. The platform also offers a queue feature that automatically schedules posts at optimal times based on your audience's engagement patterns. This means that you can be sure that your content will be seen by your followers when they are most active on the platform.
Additionally, you can create a customized queue for your social posts based on the schedule you set. This allows you to recycle and continually republish your older, evergreen content, keeping it fresh and in front of your audience.
Another useful feature of Agorapulse's scheduling tool is the ability to preview your posts before they go live. This allows you to make any necessary edits and ensure that your content looks great on all devices, on each platform.
Overall, Agorapulse's scheduling feature is an excellent tool for businesses and individuals who want to save time and streamline their social media management.
SocialBee's Post Scheduling
SocialBee's scheduling feature is similar but not as advanced as what you find in Agorapulse. It does include a customizable posting schedule and content library.
Within SocialBee's scheduling tool is the ability to create different categories for your content. This allows you to target specific segments of your audience with content that is relevant to their interests.
However one thing to note here is that in SocialBee, you can't publish Instagram stories directly, it is only through a notification, which is a bit of a bummer if you use Instagram a lot.
Social Media Reporting and Analytics
One of the most important features within a social media management platform is the reporting and analytics capabilities. Both Agorapulse and SocialBee have this feature, but how do they compare when you really get down to it?
Agorapulse Reporting and Analytics
In Agorapulse you can easily track your brand's social media performance across various platforms, including Facebook, Twitter, Instagram, LinkedIn, TikTok and Youtube. With detailed engagement metrics such as tracking likes, comments, shares and mentions, you can easily measure the success of your social media campaigns (And yes, you can even track the performance of your Instagram Reels and Stories!)
The analytics tool provides in-depth metrics such as listening, impressions, page growth, reach, demographics, hashtags and interactions, replies sent, team performance, and best post type to publish.
Agorapulse also allows you to easily monitor your competitors' social media accounts and see how they are performing in comparison to your own brand. This can help you identify areas where you need to improve your social media strategy, or where there are some gaps in your content.
Additionally, you can connect Agorapulse to your Google Analytics account, allowing you to track the entire customer journey in more detail.
With just a few clicks, you can collect and merge data from Agorapulse and Google Analytics (UA or GA4) to create reports that show the real impact of your social media campaigns.
The best part is that the data is presented in a simple and organized way, so you don't need to be a Google Analytics expert to know what is going on with each of your social channels.
PLUS, it becomes that much easier to prove the ROI of your social media marketing efforts to stakeholders and clients.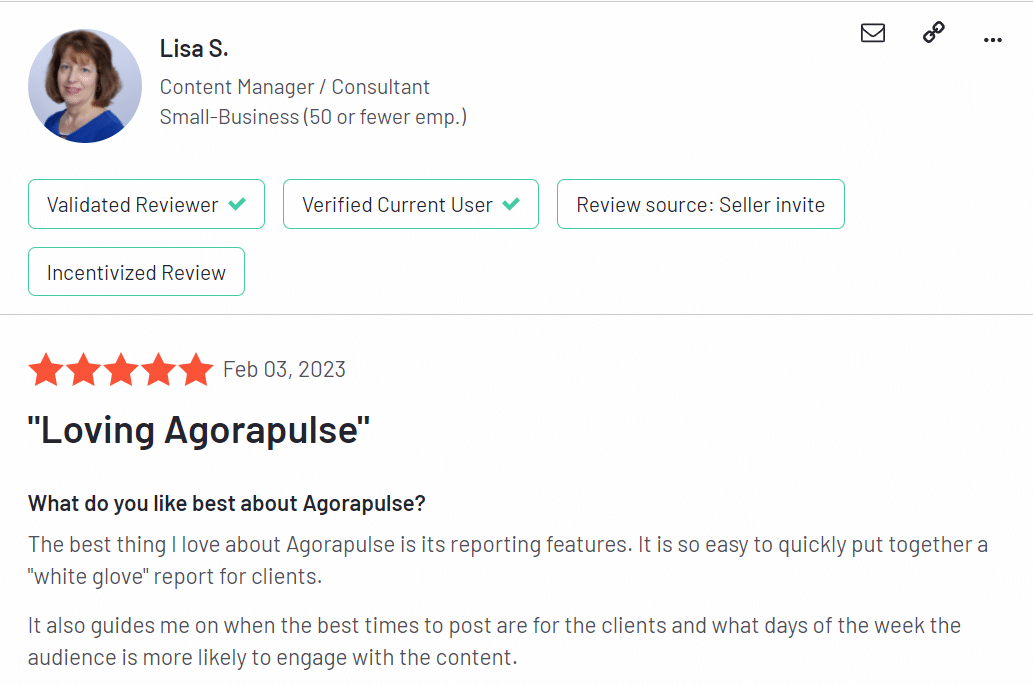 Overall, Agorapulse has everything you need for accurate reporting and analytics (and then some) so you can improve your overall marketing strategy, and reach your business goals.
SocialBee Reporting and Analytics
SocialBee's social media analytics and reporting features are not nearly as comprehensive as what you will find in Agorapulse. For example, SocialBee does not have any way to track important metrics such as hashtags, interactions, or Instagram stories, which can be a dealbreaker for those who are heavy Instagram users.
And while there is a reporting feature in SocialBee, the reports are not customizable as they are in Agorapulse. SocialBee reports are also limited to just one social platform per report. So you can't share metrics on all your social media profiles within the same report, you have to download each one separately. This is just more work, and the process is tedious and time consuming.
There also isn't any Google Analytics integration within SocialBee, so you'll likely wind up constantly switching between tabs, or buried in Excel spreadsheets, trying to figure out how you can prove the ROI of your social media marketing (I've done this and trust me, it's not fun.)
While both Agorapulse and SocialBee offer reporting and analytics features to help businesses track their social media performance, Agorapulse has more in-depth metrics, and the ability to generate custom reports that can easily be shared with stakeholders or clients, making you look like a social media rockstar. For that reason, Agorapulse is the winner in this area.
Customer Support
Agorapulse Support
Agorapulse has consistently dominated the market when it comes to providing excellent customer support. Agorapulse has a friendly and helpful customer support team with some of the fastest response times in the industry. This is evident from the many positive reviews you find on Capterra and G2 of Agorapulse users who rave about how great the support team is.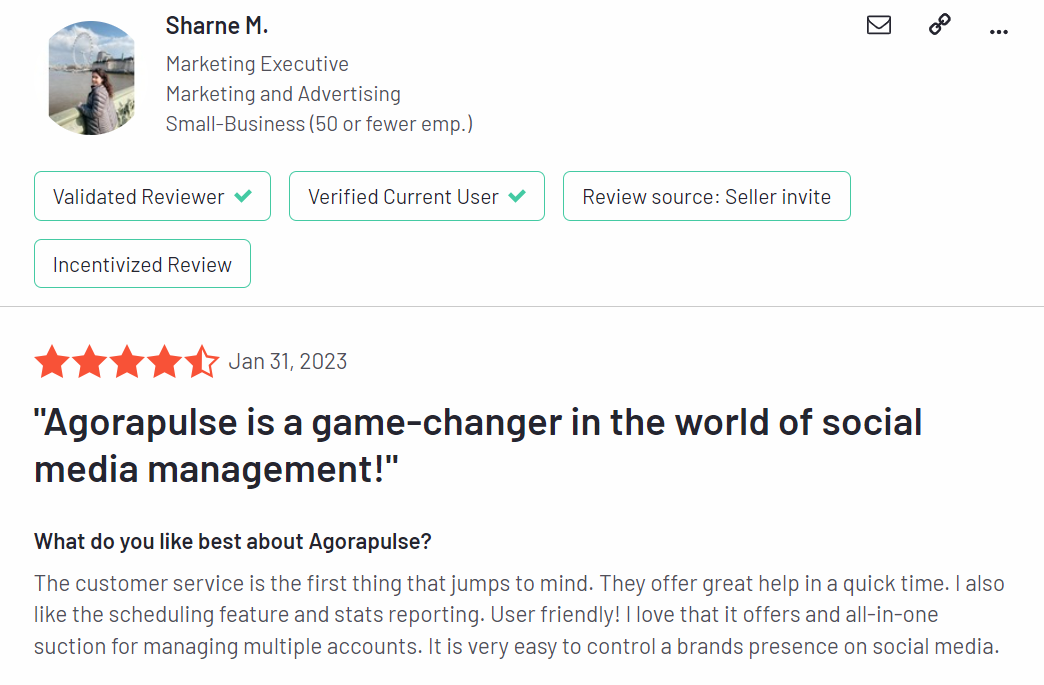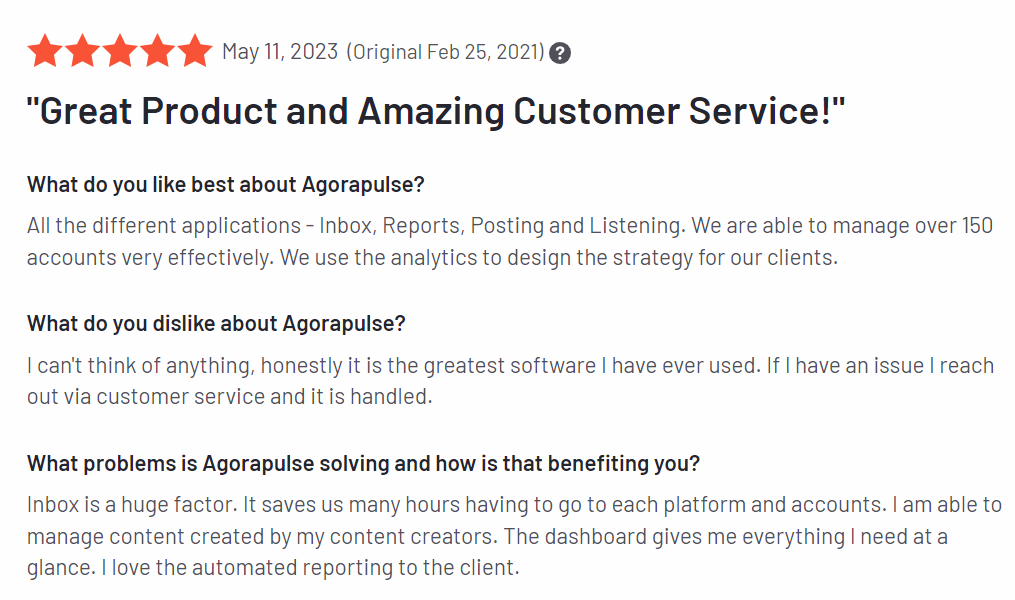 In fact, Agorapulse has been recognized by G2 multiple times for their excellent support, and was a leader across the board in the G2 Grid Spring Report with 22 awards.
No big deal though or anything.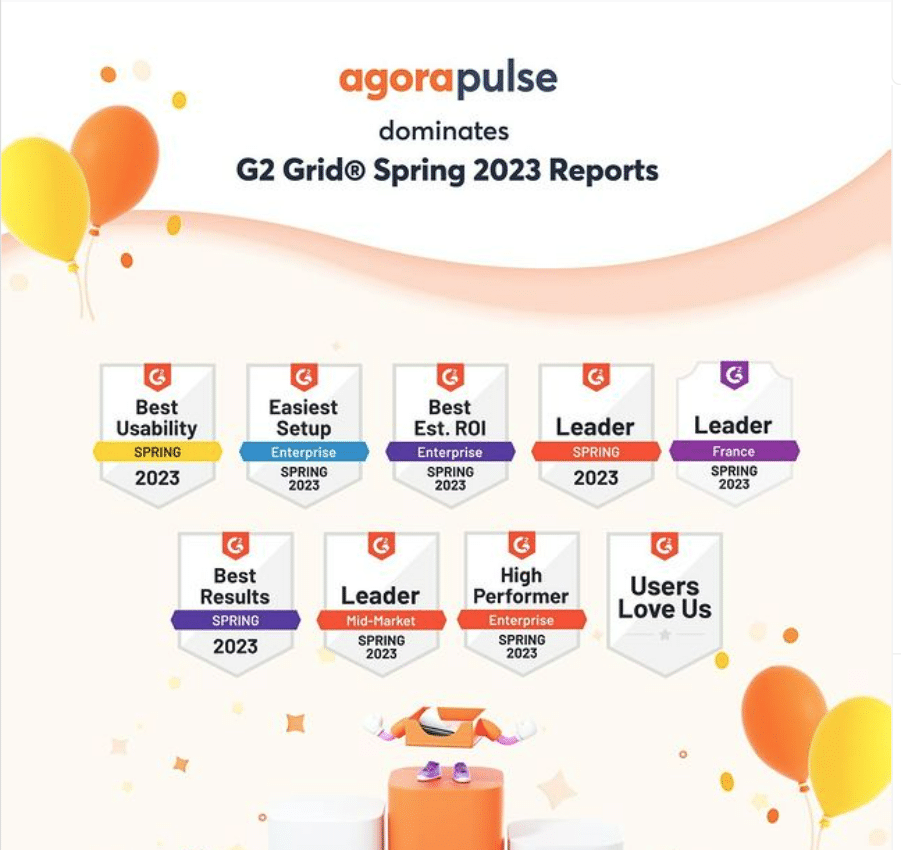 Socialbee Support
SocialBee also has pretty good support, and you'll find that their team is fairly responsive to users on chat and email. SocialBee also has many training materials available on their website to help you learn how to use the platform.
However, Agorapulse stands out here because G2 has recognized them more than once for their responsive customer support teams, unlike SocialBee. For that reason, Agorapulse is the winner in this category.
Final Verdict: Which Social Media Management Platform is Best
After taking a look at both of these tools extensively, we think the best social media management platform for most users is Agorapulse (although, we're biased, of course).
At the end of the day, the right platform for you will depend on your business needs and goals.
We're just saying that if those goals happen to include effective social media marketing, streamlined content publishing, and in-depth reporting and analytics… Well, at least now you know who to call for a demo.