Does it seem like your paid social strategy is stuck in 2022—or worse, still using pre-2020 tactics? Wondering what your social media marketing agency can do to update your approach or get up to speed on current advertising trends? A recent Agorapulse Agency Summit panel, The Future of Advertising, takes a deep dive into these topics from both agency and client perspectives.
In this article, we'll cover key takeaways from the panel to help social media marketers grasp the state of advertising in 2023 and prepare for what's next for paid social.
What Are the Biggest Changes in Digital Advertising Since 2020?
Led by Amanda Robinson of The Digital Gal, the Future of Advertising panel shares thoughts on major developments in paid social. In addition to mobile-first ads and an increased emphasis on video and personalization, the following changes have made the biggest impact on advertisers.
Consumer buying habits
Since 2020, consumer attitudes and buying habits have changed in a big way. For example, online shopping and ecommerce spiked, while online events largely replaced in-person events.
Kristin Gallucci, senior manager of Strategic Marketing at Adobe, confirms that brands and agencies alike are still adjusting to these changes. Many are wondering if these buying habits have stopped evolving and reached a new sense of stability.
If you're still using pre-2020 advertising benchmarks or audience data to guide your campaigns, it's important to update these references. Instead, compare ad results to more recent time periods and review your audience makeup and attitudes.
Social commerce
Katelyn Krulek of the agency Have Soul, explains that social commerce has grown substantially in the past few years. Platforms like Instagram (below) and TikTok can now guide buyers' shopping habits and even allow them to check out without leaving the app.
If your agency works with ecommerce brands, it's crucial to become adept at social commerce tools and gain a better understanding of social selling. If your agency specializes in B2B clients, social selling still applies—and the platforms' new lead generation tools can help you reach advertising goals.
User-generated content
Although branded content still has its place, user-generated content (UGC) has become much more popular and effective in the past few years. Kristin explains that UGC can offer an alternative to large-scale brand campaigns, and they can even help drive more customer engagement.
Social media platforms' UGC tools are evolving in response to the growing demand for this type of content. To use UGC effectively, make sure your agency team is up to speed on new developments like Instagram's partnership ads tools.
Media planning cycles
Before 2020, agencies and brands alike often planned ad campaigns a year ahead of time. Kristin explains that in 2023, both sides have to be much more flexible with media planning.
As a result, planning cycles are much shorter. Even major global brands plan a month in advance rather than a year out. This approach lets brands monitor consumer attitudes, check trends, and review new technology before committing.
Optimization and scaling
In addition to accommodating clients' shorter planning cycles, agencies are spending significantly more time testing new ad tech and optimizing campaigns. Amanda explains that the agency framework has changed completely.
Agencies can no longer take a roadmap for one client and apply it to others. Instead, agencies often have to do exponentially more work to maintain results and find what's working. That can make scaling agency operations incredibly challenging.
How Should Social Media Agencies Position Themselves in 2023?
Along with mastering the changes above, social media marketing agencies can position themselves for success in 2023 using the ideas below.
Innovation and creativity
No matter how in touch brands might be with advertising trends, they tend to rely on agency partners to drive innovation and creativity. In many cases, they hire agencies specifically for these factors—especially among brands that have lean in-house teams.
Kristin explains that her team at Adobe tends to prioritize working with agencies that are at the forefront of technology and innovation and that go above and beyond with creativity. By partnering with these agencies, her organization can lead events rather than simply sponsor them.
Strategy over trends
That said, innovation and trends shouldn't get in the way of guiding and executing strategy. Katelyn points out that hopping on some trends might generate buzz for brands. But in some cases, trends drive vanity metrics or temporary spikes in exposure rather than genuine or long-term results.
Katelyn recommends that agencies put brand strategy first and take care to assess whether a trend truly makes sense for a brand. By emphasizing strategy, agencies can often make a bigger business impact and help brands achieve goals that matter to stakeholders.
Metrics that matter
Advertising campaigns can produce a wide range of metrics, but it isn't necessary to follow most of them. Amanda recommends ignoring vanity metrics like impressions and followers and focusing on predefined key performance indicators (KPIs) instead—like return on investment (ROI).
By focusing on the metrics that matter, agencies can help clients meet their most important goals—especially those that stakeholders care about. Amanda also recommends getting as specific as possible when reporting metrics. For example, rather than reporting on clicks, she suggests ensuring that you report on link clicks.
Turn data into takeaways
As important as it is for agencies to report on KPIs, it's easy to overdo the details. Kristin recommends that agencies focus more on optimization and insights.
How might that look for your agency? In addition to reporting on the metrics that matter to your client, translate them into key takeaways that help convey what's happening with your campaigns. Then use those insights to optimize your clients' campaigns.
Kristin clarifies that clients often want more action. Agencies that know the end goal and can tell clients how they can get there using campaign insights are more likely to build successful relationships.
How Agencies Are Approaching Advertising the Wrong Way
In 2023, social media marketing agencies have plenty of options for positioning themselves and providing real value to clients. Yet some agencies continue to miss the mark. To provide better service and land longer retainers, make sure to avoid these common mistakes.
Falling short of KPIs
Kristin notes that failing to meet or exceed KPIs is one of the biggest things an agency can do wrong when partnering with clients. Although neither party can control the results of an ad campaign, agencies can take critical steps to improve performance.
First, it's essential to set appropriate KPIs and campaign goals before the launch. Industry benchmarks and comparable results from your agency's other clients can give you a good idea of reasonable KPIs. But it's just as important to review the past results in your clients' ad accounts as well.
Monitoring ad campaigns closely can help your agency team identify underperforming ad sets. For example, tools like Meta's Automated Rules can notify you when ad sets reach certain thresholds and even turn them off automatically.
Skipping regular check-ins
Clients generally hire agencies to take projects that they can't manage internally, often for resource or expertise reasons. Although they expect agencies to handle projects efficiently, that doesn't mean they expect agencies to do so in silence.
Kristin recommends that agencies keep the lines of communication open. Many agencies plan check-ins once a quarter, which isn't often enough. Consider checking in more frequently to get a better sense of your clients' real needs—and ensure your team is meeting them effectively.
Neglecting adequate investment in the brand
Clients can't always expect agencies to care for the brand and its audience in the same way in-house marketers do. However, Katelyn recommends that agencies find a way to embed themselves in the brand to improve results and relationships.
In some cases, that means assigning multiple agency team members to the brand account so they can give it adequate attention. In other cases, that means working with clients in specific niches only, making it easier for agency teams to live and breathe these brands, audiences, and trends.
Should Agencies Embrace Automation in Advertising?
Automation and artificial intelligence (AI) have completely disrupted marketing and advertising—and new tools and features launch nearly every day. So should your agency use AI and automation advertising technology?
Kristin explains that in many cases, this type of ad tech can help your agency run more efficiently. For example, using Meta Advantage tools can help you build Facebook and Instagram ad campaigns more efficiently.
Meta Advantage lets you automate campaign creation at every step of the process. You can choose campaign-level options like app automation and shopping campaigns, and you can use ad set-level options like Advantage Placements to deliver your ads more efficiently.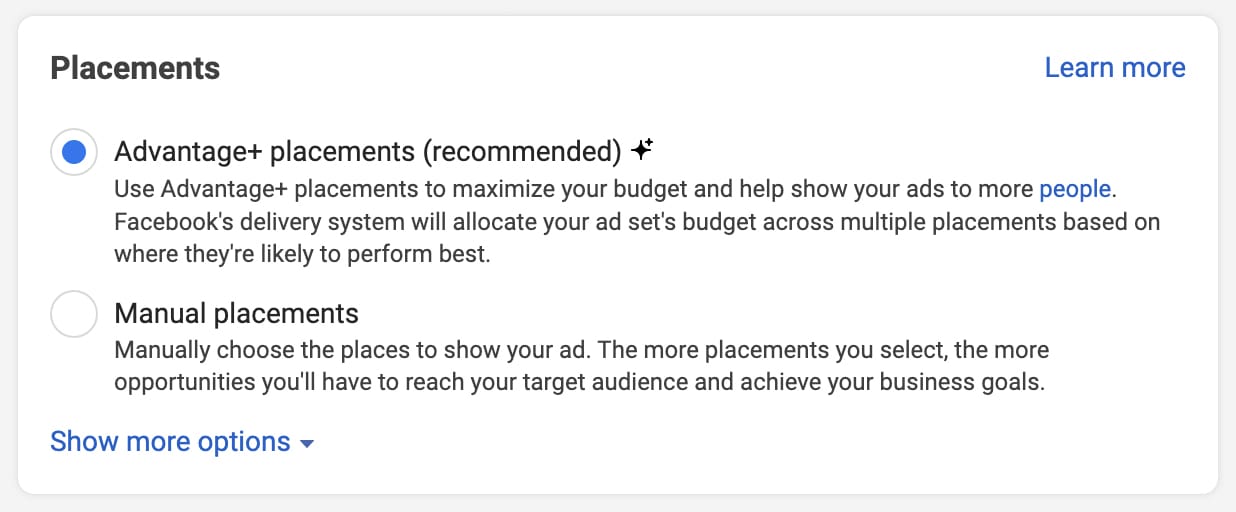 At the ad level, you can use Advantage Creative to optimize images and videos. With this option, you can even add music or call-outs to your ads automatically.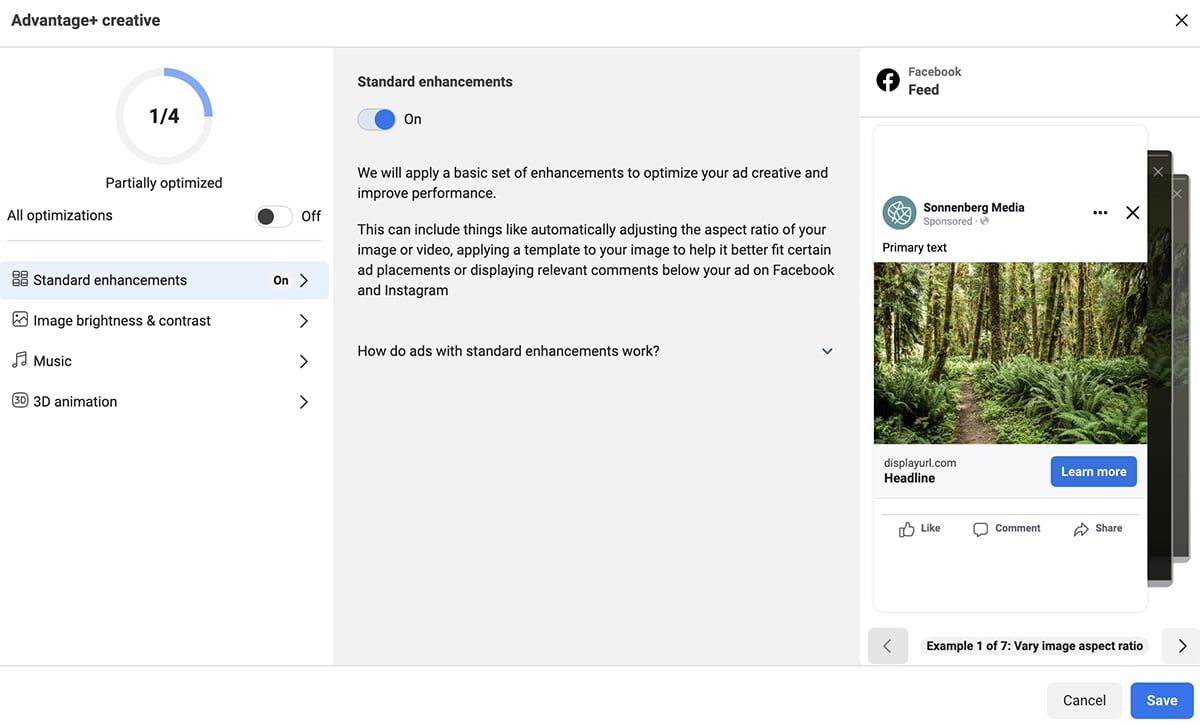 However, it's important to remember that these tools also remove many customization options that you'd have with manual campaign setup. Before you use these tools for client accounts and campaigns, Kristin recommends doing research and testing extensively.
No matter how many automation and AI tools your agency decides to use, Amanda cautions against putting campaigns or communications on autopilot. Social media marketing still requires a personal touch, and agencies can stand out by striking the ideal balance between automation and personalization.

How Social Media Agencies Can Leverage Messenger Marketing
In 2023, organic social media has taken a turn toward sharing content via DMs rather than in public feeds. Should brands use sponsored DMs to connect with prospects and customers? How can agencies anticipate and overcome potential issues?
In many cases, Messenger marketing can benefit brands, as it lets them make deeper connections with customers in a space that's usually reserved for friends and family. Yet Messenger marketing isn't the right fit for every brand or objective.
Before adopting this channel, Amanda recommends getting to know your client and their customers. Are their customers using DMs already? What kinds of questions do they want to ask or which tasks do they want to complete in Messenger? Use these questions to guide your approach.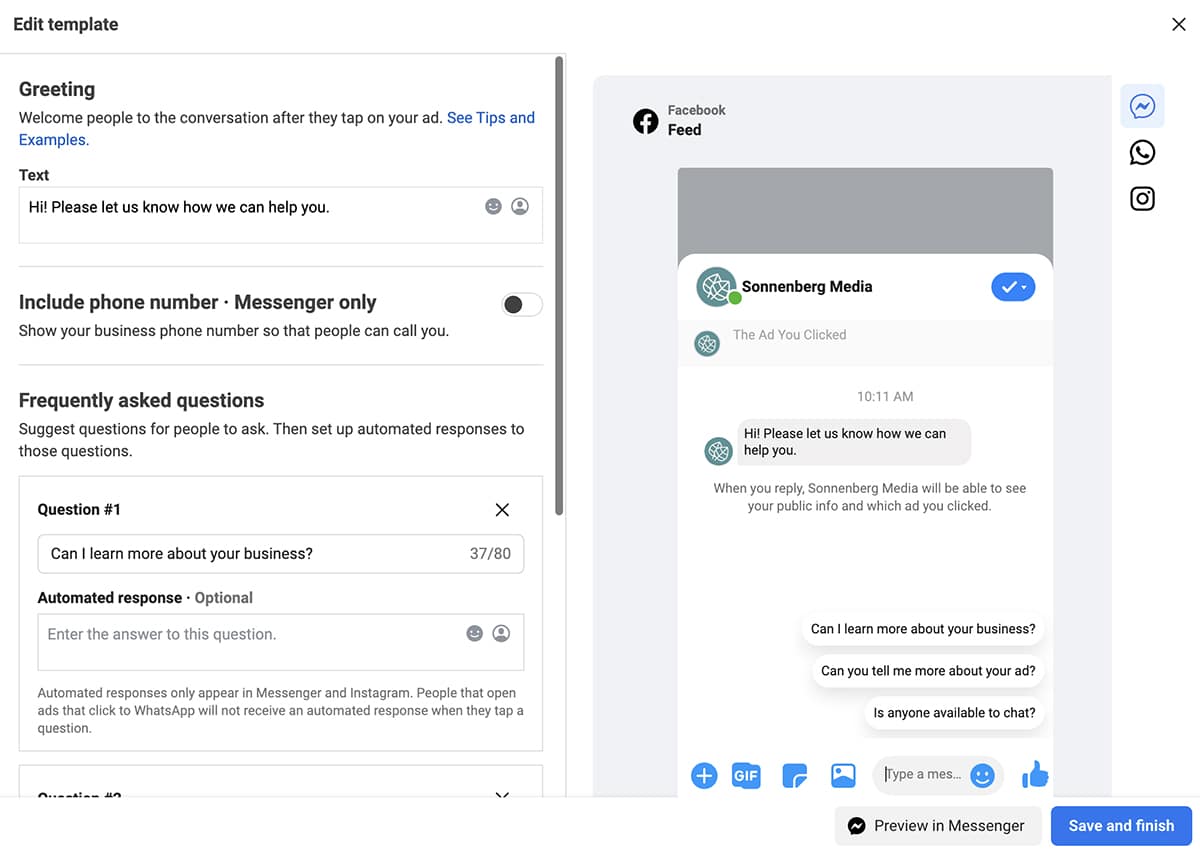 When automating Messenger marketing, Kristin encourages agencies to be cautious. In many cases, automated chatbots work well for answering simple questions or providing information that doesn't require much nuance.
However, more detailed questions or inquiries that require personalized responses are usually a better fit for humans. With that in mind, agencies should build an option for customers to talk to a human into automated chat sequences.
Although getting Messenger marketing right can be tricky, it has the potential to pay off for agencies. Amanda encourages agencies to consider using Messenger marketing and automated chat as a selling point to stay ahead of the curve.
How Agencies Can Prepare for a Cookie-less Future
If you've run even a single ad on any social media network in the past two years, you've likely noticed a major change in tracking technology. As Amanda explains, Apple's App Tracking Transparency (ATT) often gets blamed for these shifts.
Launched in April 2021, Apple's ATT is designed to allow iPhone users to opt out of tracking between apps. Users who interact with a Facebook ad and tap to visit the advertiser's website can opt not to be tracked as they browse the website.
The rollout of Apple's ATT initially caused substantial challenges with reporting and attributing results from ad campaigns. Since 2021, most advertising platforms have introduced new tracking technology that advertisers can use to improve reporting and retargeting.
For example, agencies can now create and prioritize conversion events for clients using the Meta Events Manager. Because Meta's ad tracking tools now use aggregated or modeled data, advertisers often see a delay of up to 72 hours with ad results.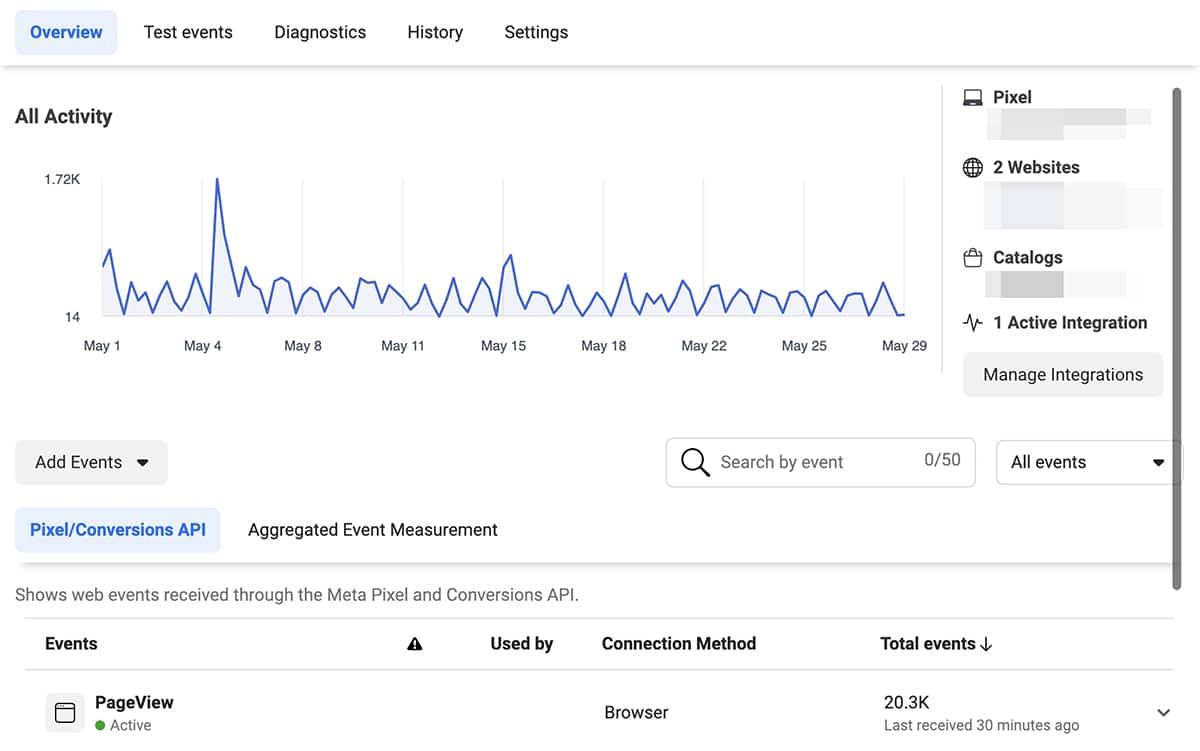 Going forward, agencies need to incorporate this three-day delay into their campaign planning and optimization processes. In many cases, agencies should also work with clients to report data using the conversions API.
Another option for improving reporting and attribution is using first-party data. Kristin recommends prioritizing this type of data, using tactics like uploading customer lists for targeting customers.
Agencies that rely on Google Analytics for campaign should also work with clients to make the shift to Google Analytics 4 from Universal Analytics, which is scheduled to sunset on July 1, 2023.
5 Ways Agencies Can Get (and Stay) Ahead in Advertising
How can social media marketing agencies can stand out against the competition? Here are a few ideas from the Future of Advertising panel.
1. Master new analytical tools
The transition from Universal Analytics to GA4 will be complete on July 1, 2023. But for many months afterward, brands are likely to need assistance managing the transition. By mastering GA4, your agency can guide brands through any setup issues and ensure that clients track and attribute conversions correctly.
2. Explore new channels
If your agency focuses exclusively on Facebook ads, you're far from alone. To differentiate your agency, explore new channels and niches. Kristin recommends considering the metaverse and augmented reality (AR), two areas that are poised for significant growth and that may offer new advertising and creative opportunities.
3. Monitor reemerging tactics
Hopping on completely new trends before other agencies do can be a good way to set yours apart. But it's also important to keep an eye on tactics that reemerge after falling out of favor.
For example, Kristin recommends paying attention to QR codes, which many marketers once wrote off. QR codes have since regained popularity in print marketing, but they're also common across digital platforms like Instagram.
4. Preserve brand integrity
Amidst rapidly changing consumer trends and opinions, Katelyn highlights that it's more important than ever for agencies to preserve brand integrity. In addition to embracing clients' values and missions, take steps to ensure that your work makes client brands appear genuine.
5. Know when to pause
It's easy to get carried away with trends, innovations, and standing out. However, Amanda recommends putting guardrails in place.
In such a rapidly changing environment, it's essential to keep your finger on the pulse and know when sentiments have changed. Then you'll know when to pause ad campaigns before they create negative outcomes.
Wrapping Up What We Discussed About the Future of Advertising
Whether you run Facebook and Instagram ads, focus on B2B ads on LinkedIn, or specialize in video ads for YouTube, you've undoubtedly noticed that the digital advertising landscape has evolved dramatically since early 2020. With the tips above, your agency can offer more value to clients, deliver better results, and stay ahead of the curve.
Discover how Agorapulse can help you manage all your social successfully. Sign up for a free demo right now.