Imagine a world where college sports fans can flaunt their team's history and traditions through uniquely designed apparel. Homefield Apparel, based in Indianapolis, IN, brought that dream to life with effective social media reporting and marketing. Driven by a passionate commitment to capturing the essence of each college, the company disrupted the market by offering officially licensed merchandise that resonates deeply with fans.
By initially focusing on underrepresented schools and gradually expanding their horizons, Whitney Medworth, the Director of Content for Homefield Apparel, was able to build a loyal following of college fans that craved its distinct designs.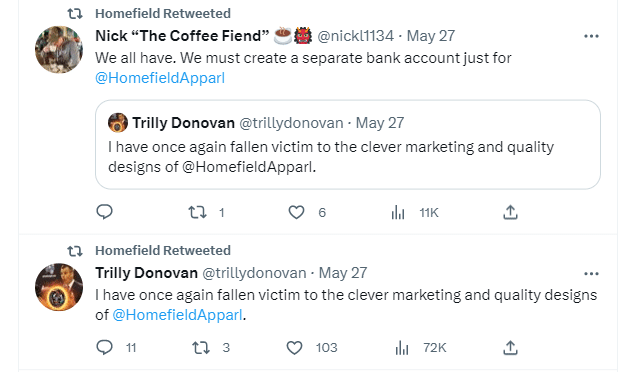 Social Media as a Go-To-Market Strategy
In this digital era, social media has become a goldmine for generating revenue and brand visibility. Homefield Apparel recognized Twitter as its ultimate go-to-market platform. Homefield Apparel focused its social media efforts there to immerse themselves in the vibrant community of college football enthusiasts.

Whitney forged a powerful bond that propelled the brand's growth exponentially by:
Participating in engaging conversations
Collaborating with influencers
Crafting genuine interactions with fans
The authenticity and human touch of the brand's social media marketing strategy caught the attention of influential figures in the college football community, which helped take the brand's success to a new level.
Challenge of Social Media Reporting
As Homefield Apparel's success reached new heights, they were faced with new obstacles to overcome.
With the addition of new schools and fan bases every week, there was a constant stream of new customers, and Whitney wanted to make the most of each launch by optimizing their social media efforts for particular days of the week.
Up until that point, she had been tracking her conversions from her organic social media efforts manually with spreadsheets – but eventually this method was just too time consuming and tedious to keep up with.
The constant stream of new orders required her to shift focus towards accommodating the influx of customers, rather than analyzing social media metrics.
"I knew that 2023 was gonna be a big year for us, but in a different way," said Whitney. "And I knew that my workload was about to increase by quite a bit … I knew that I couldn't keep just doing my little Excel spreadsheets and spending half my day on it."
This led to the realization that in order to continue building on the success Homefield Apparel had so far, she would need to find a more efficient solution to navigate the complex landscape of social media analytics and also to keep their established fan base engaged with their content.
Implementing Agorapulse for Streamlined Analytics
Agorapulse is the award-winning social media management tool that helped Homefield Apparel get rid of Excel spreadsheets for good. Agorapulse provided social media reporting features like Social Media ROI, detailed analytics, engagement metrics, and invaluable audience insights that helped measure success on Twitter.
This abundance of information has been a game-changer for the Homefield Apparel social media strategy: There is no more guessing, or spending all day sorting through numbers.
Whitney can easily prove the ROI of organic social media efforts, and is able to make informed decisions that are backed by the data provided in Agorapulse.
"Now I have more time to do my creative stuff and think about what's next, instead of being like, 'Oh man, I haven't done my reporting for the week,'" says Whitney.
"There is nothing better than having the actual data, and having it fast and easy, rather than spending all that time trying to figure it out myself."
Building Brand Loyalty With Social Media Reporting
With a social media strategy backed by Agorapulse, Homefield Apparel witnessed unprecedented growth in a remarkably short period.
Their unique designs and unwavering online presence attracted the attention of major universities and passionate fan bases. The result: Brand loyalty soared, and revenue streams poured in.
Agorapulse played a pivotal role in helping Homefield Apparel truly understand their audience through proper analytics and social media reporting. In turn, Homefield Apparel was able to maximize their social media campaigns, and cultivate engagement that extended far beyond the initial launch excitement.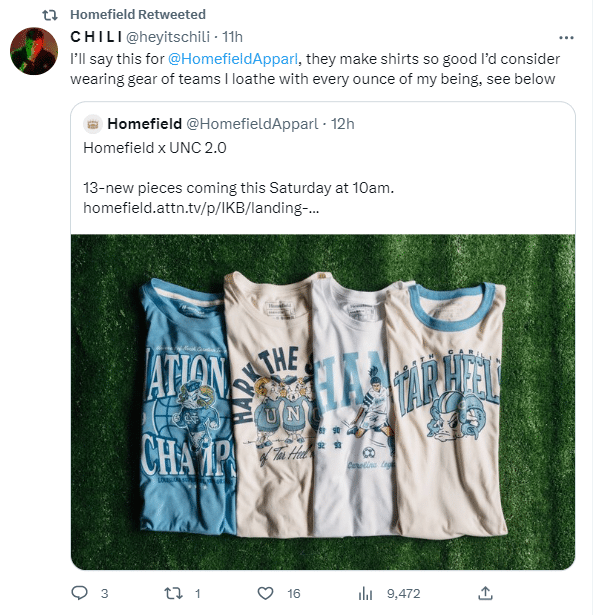 Homefield Apparel's journey serves as an extraordinary testament to the power of social media in driving e-commerce success.
Through Whitney's unwavering dedication to Twitter and effective social media management with Agorapulse, she cracked the code of measuring social media ROI, generated substantial revenue, and fostered an unparalleled sense of community with college students across America.
This case study emphasizes the critical importance of a data-driven social media strategy and highlights how using the right social media management tool with analytics and reporting plays an integral part in finding long-term success in the dynamic digital marketplace.
Want to see how Agorapulse can make a difference to your e-commerce business? Check out a free demo with our team today.