[[November 9, 2017 update: Agorapulse allows users to tweet up to 280 characters.]]
Have you ever had a 140-character tweet that was virtually impossible to shrink down? You're in luck!
Twitter recently announced the universal roll-out of their enhanced character-limit rules.
While the 140-character limit still remains, photos, GIFs, polls, videos, and quoted tweets will no longer count toward your 140-character limit.
What are the benefits of this update? Read below for the scoop.
Changes to Your Tweets
Say more about what's happening! Rolling out now: photos, videos, GIFs, polls, and Quote Tweets no longer count toward your 140 characters. pic.twitter.com/I9pUC0NdZC

— Twitter (@twitter) September 19, 2016
Most of the included functionalities are still present. You can still send messages, add attachments, and/or quote others.
The full list of changes include:
Replies: When replying to a tweet, @names will no longer count toward the 140-character count. You'll no longer have to penny-pinch your words to ensure they reach the whole group.
Media attachments: When you add attachments like photos, GIFs, videos, polls, or quote tweets, that media will no longer count as characters within your tweet. More room for words!
Retweet and quote tweet yourself: Twitter will enable a retweet button on your own tweets, so you can easily retweet or quote tweet yourself when you want to share a new reflection or feel like a really good one went unnoticed.
Goodbye, .@: These changes will help simplify the rules around Tweets that start with a username. New Tweets that begin with a username will reach all your followers. (That means you'll no longer have to use the ".@" convention, which people currently use to broadcast Tweets broadly.) If you want a reply to be seen by all your followers, you will be able to retweet it to signal that you intend for it to be viewed more broadly.
Why the Change in Twitter Character Count is a Good Thing
This update is beneficial for numerous reasons. First, Twitter has been shifting toward a more image-heavy platform with more and more businesses integrating related images to their tweets.
Now, companies can do so without compromising the amount of text description they add.
Similarly, the extra character allotment when responding to individuals can also be beneficial. Brands can now use the extra characters to provide additional context (and, hopefully, resolution) to any questions they receive.
For group conversations, this is also extremely beneficial. Previously, if numerous people were engaging in conversation on Twitter, nearly half their characters may be compromised by tagging the other individuals alone.
In an interview about these changes and how they'll benefit conversations on Twitter, Twitter CEO, Jack Dorsey, told The Verge:
"Generally, we want to make sure we're encouraging a whole lot more conversations on Twitter. This is the most notable change we've made in recent times around conversation in particular, and around giving people the full expressiveness of the 140 characters. I'm excited to see even more dialog because of this."
Retweeting other users will also now be easier and less time consuming since the handles won't count. I can't tell you how many times I've had to edit down RTs in order to make them less than 140 characters!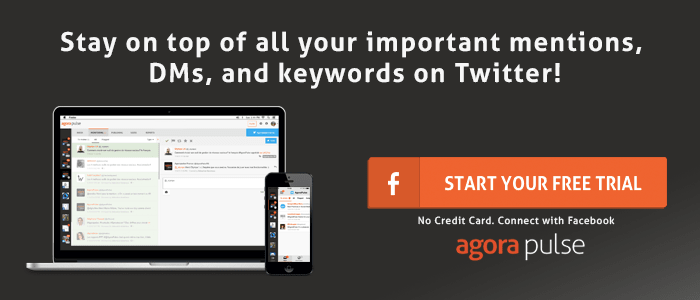 What Does This Look Like For Me?
Twitter shared this great diagram on their dev blog that visually conveys shows the high-level change to Tweets: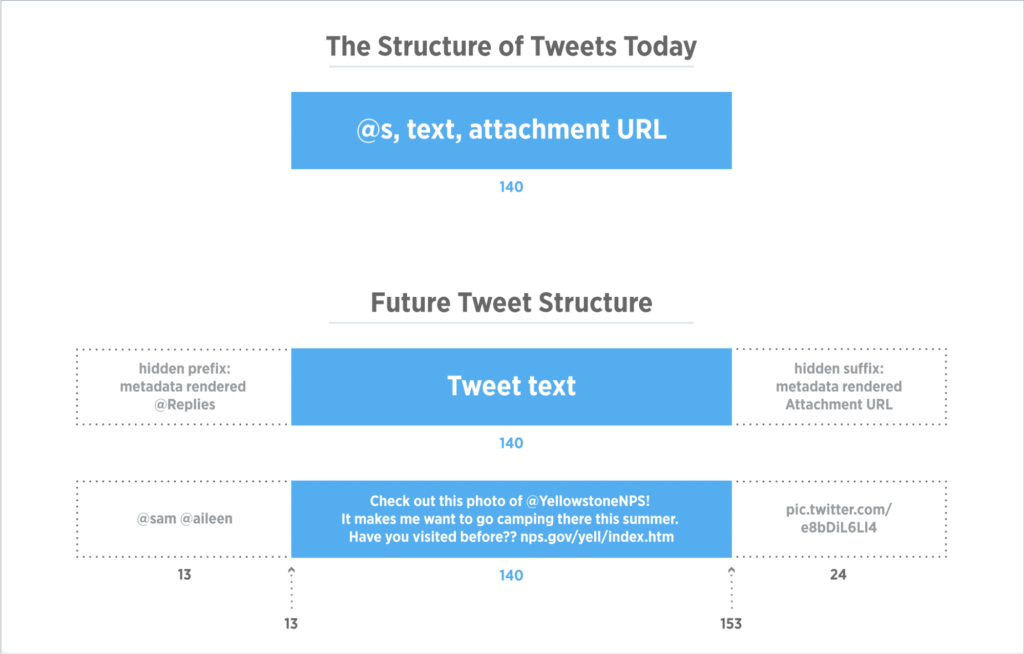 It's easy to keep track of characters when composing a tweet in your social media dashboard, too.
For example, If I wanted to share my latest article, Agorapulse makes it easy to create my message as well as add a link and thumbnail, and still know how many remaining characters I have left.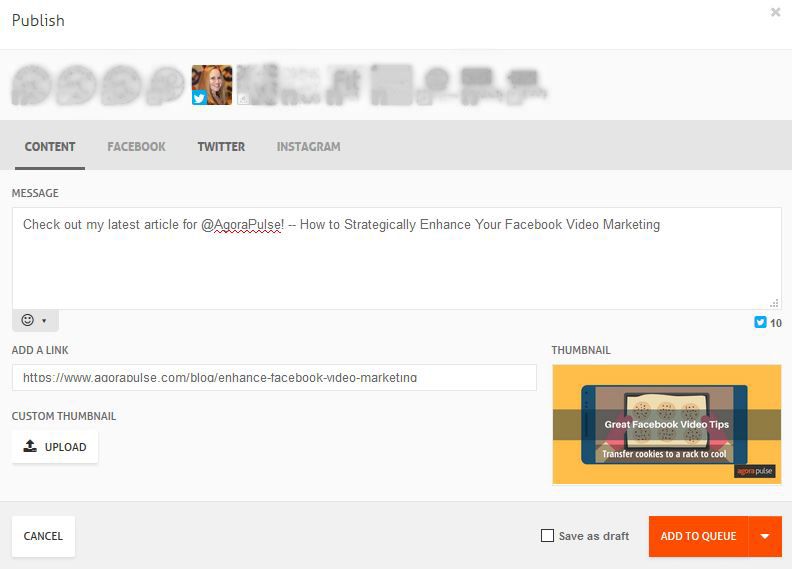 Due to the fact the updated Twitter character count allows businesses to easily include more context for posts and responses, it seems like a win/win in allowing us to have extra space while still maintaining the simplicity that makes Twitter stand out in a busy social environment.
What do you think about Twitter's latest updates? Let me know in the comments!