This post is part of a weekly series by Ravi Shukle auditing the best performing Facebook Pages to give you real life best practices that will help you improve your Facebook content strategy.
This week in our best Facebook Pages series we are analysing Normandie Tourisme, a 59,000+ fan page representing the Regional Tourist Board (CRT) of Normandy, whose goal is to promote Haute-Normandie and Basse Normandie as tourist destinations in France.
They consistently achieve hundreds of shares on their posts and we're going to find out how.
1) Share high quality video content and collaborate with other pages
Normandie Tourisme regularly shares high quality videos to help showcase the town's beauty and sights. Many of these videos have been created by professionals, which leads to a high amount of shares when posted. It's also important to note that these videos have been shared via a Youtube URL, which means the page has lots of content to choose from.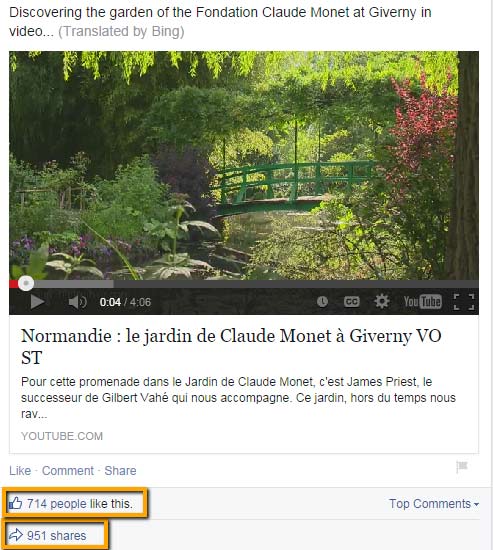 Sharing popular videos from your niche can also be a great way to engage your community ~ Click To Tweet
Normandie Tourisme has received 951 shares for this post!
2) Get fans excited about their town by asking questions about specific areas
Normandie Tourisme recognizes the fact that those who visit love to share their stories and experiences. To help encourage fans who have visited to engage, they often share question-style posts asking fans if they recognise various iconic locations.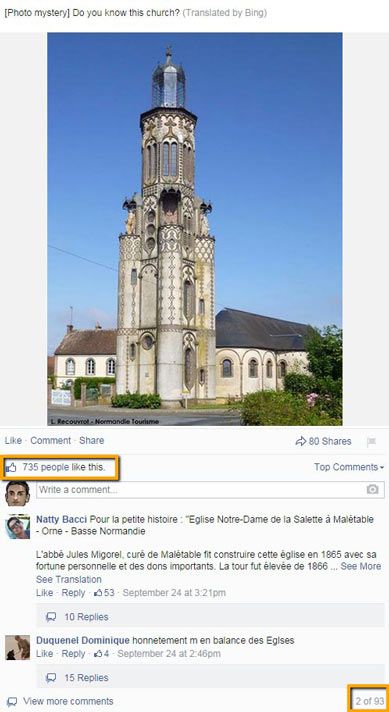 Involve your fans by encouraging them to share their experiences about your business ~ Click To Tweet
By asking their fans specific questions about the area, they were able to drive more awareness and encourage those who have visited or recognised the sight to comment. As a result, this post received 95 comments. This has proven to be a great way for the page to identify its most passionate followers.
3) Host competitions to win tickets to the town
To reward their passionate Facebook fans who love the area, Normandie Tourisme regularly host competitions offering their fans a chance to win a free weekend trip!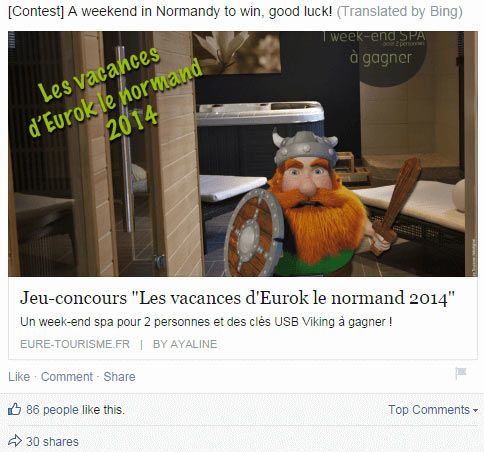 Running a Facebook contest with a relevant giveaway offers a great opportunity for your business to engage and attract new fans ~ Click To Tweet
This style of competition works very well for Normandie Tourisme, as it not only encourages those who have never been to participate, but also those who want to return — all while promoting the area. Another added advantage is that the contest allows 2 people to win, which further encourages users to share the contest with their friends, family or partners.
4) Share picturesque scenery from the town
To help raise awareness of what the town has to offer, Normandie Tourisme regularly shares great picturesque scenery from their various attractions. This has proved to be very popular with their audience, and encourages fans to share the images with their friends.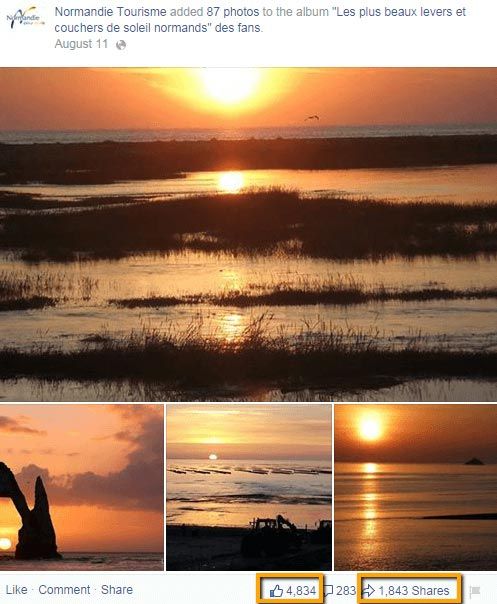 It's important to pay attention to the quality of your Facebook images to help increase the chances of your post being shared ~ Click To Tweet
The result – Normandie Tourisme boasts an amazing 1,843 shares on this Facebook photo album with 4,834 likes!. This is definitely an area your business cannot afford to skip. Ensure all photos that are being shared are of high quality.
If you're worried about your camera or equipment, here are some free tools you can use to edit your images:
o
o
o
5) Grow the community by sharing questions from other visitors
Normandie Tourisme often posts questions from visitors who aren't fans of the page, encouraging fans to come in and comment with their suggestions and insight.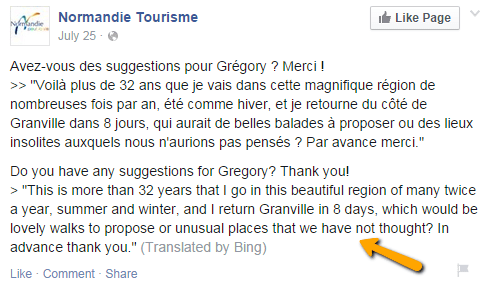 To build loyal Facebook fans, give them the opportunity to share their experience and knowledge ~ Click To Tweet
This is a great way to not only identify your most passionate fans but also to get them talking to each other, helping to drive a more loyal and dedicated following. When the page joins in on the conversation, they're helping to further build the fans' relationship with the brand.
This concept can be applied to any business and shows your audience you're a brand who listens and engages.
How do they stack up against the "big guys"?
When auditing a Facebook page's performance, we always compare it head to head against the big brands competing in their space. In this case, the travel industry: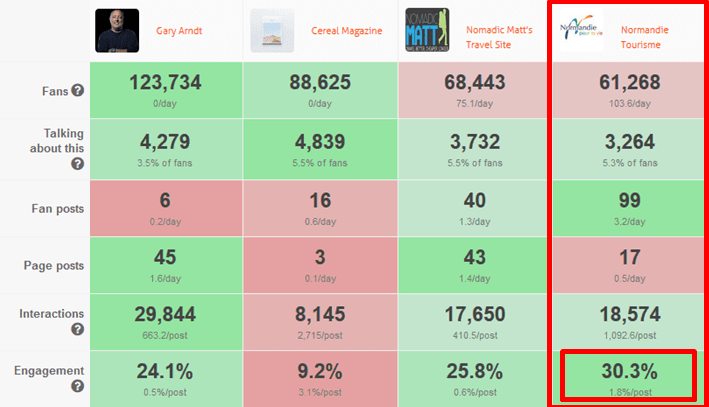 Some interesting takeaways from this comparison:
o
Although Normandie Tourisme has the lowest number of fans, they were still able to maintain the highest monthly engagement rate (30.3%!)
o
Most their engagement comes from fan posts rather than page posts with 3.2 fans posting daily on the page
o
Normandie Tourisme is still able to achieve a higher number of interactions on their page by posting just 0.5 posts per day (Posting every other day)
This is impressive as it shows their page can still achieve great results without necessarily increasing their post frequency. Focusing on quality over quantity.
What could they do to improve?
Normandie Tourisme is doing a great job sharing high quality images and video with their fans — however, here are a few tweaks they could make to help give them the edge.
o
Create promotions for users visiting the area
o
Collaborate with local businesses to offer their fans special deals
o
Share testimonials from fans who have recently enjoyed their visit
o
Showcase more user generated content in the form of top tips / guides or suggestions from fans
Key takeaways for you
Now that we've gone through & broken down the key ways Normandie Tourisme receives hundreds of shares on their posts, here are a few key actions you can take today to help you achieve the same for your business:
o
Share high quality pictures and video – Sharing higher quality pictures and video increases your brand's chances of the post being shared. This does not always have to be your own content and can be shared from other pages or Youtube channels.
o
Involve fans in your content – This can be as simple as asking their opinion about your products or services. If your business is in the travel niche, another great idea would be to ask your fans for recommendations on places to visit, eat, etc., which you can then feature later on the page.
o
Host regular competitions – It's been proven that one of the key reasons fans "like" a page is to receive special offers or competitions. This is a great opportunity for your business to capture leads while raising awareness of the brand, remembering the most important rule that the chosen prize is relevant to your audience
o
Spotlight your fans in your content – Post questions from your fans. This is a great way to encourage those more passionate to comment, and your fans will thank you for answering the query at the same time – A win-win!
Does your business share questions from fans?