Here at Agorapulse we're about to make a big decision about our Facebook pages. Should we switch to a 'Global page' or run individual regional pages for individual countries?
Digital marketing has come of age — and followers are no longer satisfied with generic updates from our pages. They expect a more personalized experience online. If we want to offer real value to our audience and customers we need to segment.
We've designed our tool (and blog) to serve four languages: English, French, Spanish, and Portuguese. And we do our best to reach all language groups on Facebook without alienating others.
But we're seeking alternatives.
We can:
limit the distribution of localized posts on a post-by-post basis (our current approach)
create multiple pages for our business targeting segments of our audience (more on this later), or
establish Global pages.
Global Pages?
Facebook Global pages incorporate the best of running individual national pages with the advantage of directing users to their local version of the page.
For example. When I search for software company 'Sage' on Facebook, I get one result — their Global page.
When I click through to the page I'm brought to the specific page for Ireland (my country of residence).
You don't have to create a page for every country in the world. People who live outside regions you create specific content for will be diverted to the 'Default page'.
The number of Likes on a Global page is the sum of the people who like all the regional versions of the page.
Spot the difference?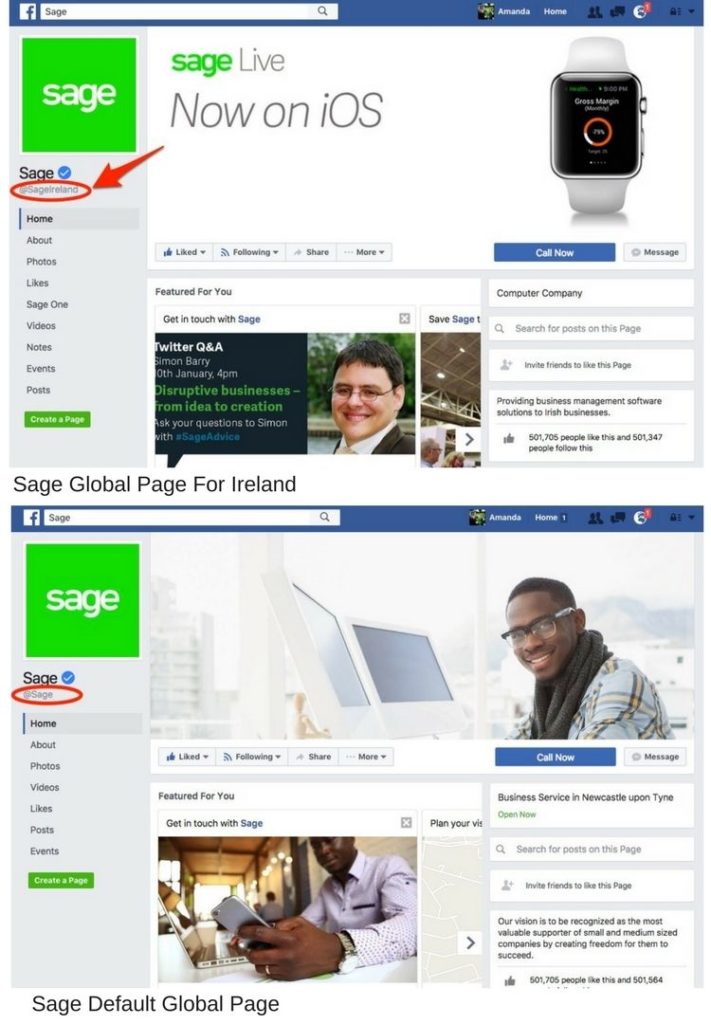 Visitors also have the option of switching the region that they are offered by Facebook. To do this click the 'More' tab a Global page and select 'Switch Region' from the drop-down menu.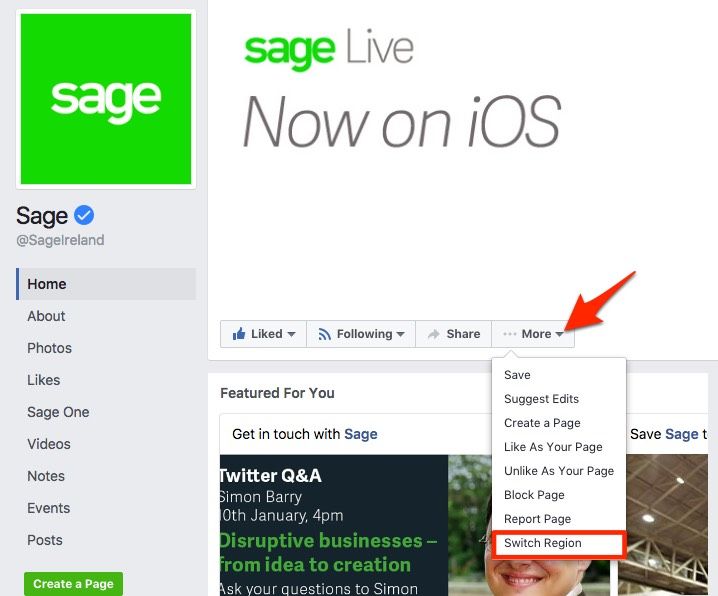 Sage haven't always had a global page. I was originally a fan of their 'Sage Ireland' and 'Sage One' pages but they recently consolidated these into their Global page.
I thought I'd find out why they chose to make the change. I talked to Lauren Burton, Social Community Engagement Lead for Sage about Sage's decision to choose Facebook Global pages.
Lauren Burton – Sage
Sage is a global SAAS company offering accounting software solutions to businesses of all sizes.
Sage used to run lots of regional Facebook pages. Why did you decide to change over to a Global page?
We needed to be more consolidated and aligned in our approach. Previously we had limited guidelines around creating Facebook pages. As you can imagine, in a global company with 13,000+ employees we had many social profiles ranging from regional, country-specific, products etc.
We chose a global page, with sub-pages for each of our local markets. This allows users to be redirected to the correct country page and in doing so, makes it simpler for prospects and customers to engage with us on Facebook, as they no longer have to choose the page that is right for them.
What advantages are there to having a global page?
The main advantage is that it is simpler for prospects and customers to find and engage with – they're no longer presented with many pages to choose from when searching for Sage on Facebook.
This of course also generates one URL that we can promote effectively globally, both externally and internally. It gives countries the opportunity to run their own campaigns.
We can also pull global insights as well as local to understand the areas that work well on Facebook globally, and locally.
Are there any challenges or downsides you have experienced from having global pages?
Amendments to structure can be a challenge. For example, adding new pages. We cannot do this ourselves as Facebook manages the structure.
Global Pages for All Advertisers
Until recently Global pages were only available to large businesses but Facebook is now rolling out the option to all advertisers. It hasn't reached me yet.
To check to see if you have the ability to create a Global page start by creating core page for managing Global pages. Click on settings. If you have the option to create Global pages you'll find a 'Global' tab on the left hand side.
If you have the option follow Facebook's tutorial to continue the set up process.
If you are a larger advertiser and don't yet have the option get in touch with their account managers to start the process.
An Alternative to Facebook Global Pages
Global pages are a great solution for international businesses but what if you operate in just one country but serve different regions within it?
Here in Ireland we have a tiny population but there are still distinct differences between the dialects and world views of many different regions. People from Cork, Dublin, Donegal even my home county of Kildare are distinctly different. We are fiercely proud of the counties we come from.
For businesses this presents a challenge. We can't use Global pages so should we create a page for
each region we serve and produce localized content? Or should we have just one page that serves the whole country?
I talked to two nationwide businesses who had chosen different solutions to the problem.
Kate McQuillan – Pet Sitters Ireland
Pet Sitters Ireland offer a Pet Sitting and Dog Walking service across Ireland, they have over 30,000 Facebook likes. I spoke to Kate McQuillan about their decision to run just one page for the whole country.
You operate in regions across Ireland. Did you ever consider creating new pages for the areas you operate in?
I considered it at the start but decided that one central page would be more effective in the long term. We have a very active social media presence and to create pages for each of the counties I felt would dilute the brand and create a lot of unnecessary work.
Why did you choose to stick with one page?
The strength of a Pet Sitters Ireland franchise lies in the brand and it would be a very time-consuming task to oversee the quality and volume of content going out onto all those pages. What sets us apart from other companies is that we consistently create content that is unique and aimed at our ideal customers. To hand this responsibility over to each franchisee would involve a lot of training and also would require someone monitoring closely that pages were being updated, and that comments and messages were being answered in a timely manner.
Are there any challenges you have come across by keeping just one page?
Our page has always worked very well for us and we have a great community of Pet Lovers that follow us. We regularly promote that we are a nationwide business and work hard to create county-specific content as much as possible.
You've recently launched a franchise model. Do you anticipate letting franchisees manage pages for their territories in the future?
No, this isn't something that we plan to do. Our franchisees are committed to face-to0face networking and relationship building in their community and creating content for us to share with our Facebook Fans via the main Pet Sitters Ireland Facebook page.
What advice would you give to a company trying to decide if they should use one or multiple pages for their business?
I would recommend they consider if they really need more pages and whether they can run the business from one page instead. The more pages that are representing your business the less control you have over your brand.
People expect a swift response on social media so consider if you have the resources to manage all the pages and continue to keep it updated with relevant content.
My advice would be to focus on creating amazing content and sharing it on one Facebook page and build a large community that are all in one place.
MyKidsTime have taken a different approach with regional pages. I spoke to them about their reasons for this decision and how it was working for them.
Jill Holtz – MyKidsTime
MyKidsTime started in Galway, Ireland in 2007 as a local listings directory for kids activities and events. It grew county by county across Ireland before becoming national in 2011 and evolving into an award-winning global parenting website and blog. They have over 620,000 fans on their main Facebook page.
Why did you choose to run regional Facebook pages for MyKidsTime?
Originally it came from being a very local business. We had people in different counties putting together the information for their area. It made sense at the time to use a local page to promote local information direct to local parents. That is what the local businesses who paid for advertising wanted.
We later merged the counties into regional pages so we have a main brand page www.facebook.com/mykidstime as well as 10 regional pages e.g. www.facebook.com/Mykidstime.Cork.
We have just launched our new business page for our business brand Digital4Sales, as to us, it made more sense to have a separate page for business content.
How do you manage to keep all those pages populated with content?
We have a content plan for our social media. Whether we have one or twelve pages we need good content to go out to parents to engage them and our aim is always to bring them to our website and mailing list. Once you have a content plan it's relatively easy to schedule multiple posts at the same time.
What other challenges does having multiple pages present?
Having to check more than one page for responses or messages from the community does take extra time but I find the Facebook pages manager app fantastic for when I'm on the go as it is very easy to cycle between the pages to check in on what people are saying. AgoraPulse also lets me see quickly what the community responses are.
If you had the option of merging all your pages together, would you do it?
We have considered merging many times as it is extra workload but then we love the fact that we can put a regional message out to parents. We just did one for Lidl where we told parents about fun Christmas events in their local Lidl store. We couldn't have pushed such a local message out on just one page.
What would you advise other businesses that are considering starting more than one page for their business?
Ultimately think about what the reasons for using Facebook are for your business and whether it makes sense for there to be more than one page. It really depends on your business, your brands and your objectives. If you have more than one page, you need to organize your content in advance and be smart about the tools you use to manage your scheduling and listening.
The BuzzFeed Solution
So far we've talked about businesses that target multiple locations. But what if your audience is segmented by interest rather than location?
For example, a hotel might have some distinctly different audiences.
Brides & grooms
Business travelers
Event organizers
Tourists
They could use the preferred audience function on a post by post basis but this relies on Facebook being accurate with its interest targeting.
If they had a large following on their main page and know they have an engaged audience in each segment, they could create additional pages for each of those segments.
For example: My Hotel Weddings, My Hotel For Business
Perhaps the biggest example of a company doing this is publisher BuzzFeed. Their main page has over 9 million Likes. If you search for Buzzfeed on Facebook, you'll find hundreds of pages. Some of the pages are local but others are specific to interests.
For example 'BuzzFeed Animals' includes memes, videos and articles from their site related to animals and pets.
Each page has an active community and they can be sure that they are serving relevant content to each of those audiences.
If you chose to go this route, I'd recommend building traction on your main page first. If you find a topic is gaining a lot of traction you could branch out and create a new interest page for that specific area.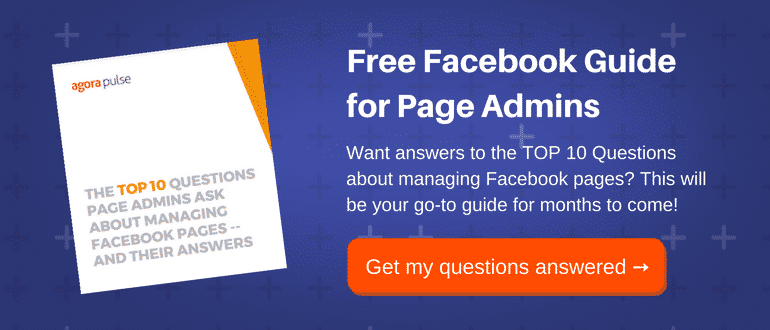 Should We Choose A Global Page?
So back to Our Dilemma: Should Agorapulse switch to a Global page model?
Here's what to consider:
Advantages
We target multiple regions who speak different languages
Running (non-global) regional pages could confuse our audience
All our Likers will be consolidated into one number on our page (we don't risk having 5 likes on a new regional page)
Deliver relevant content to segments or our audience
Disadvantages
Because the country we are targeting with the page won't appear on the page, people may not realize they are getting a localized experience
Complicated process to add new pages
Extra resources required for creating content for each local page.
Conclusion
Before choosing a Global page, local/interest pages pages or to umbrella pages you need to understand to understand your audience. Are they large enough to splinter to individual pages?
You need to be realistic about resources. Do you and your team have time to update more than one page with quality content?
Do you run a Facebook Global Page or localized/interest pages for your business? If not did you consider the option and reject it? We'd love to hear about your experiences in the comments below.