Are you overwhelmed by all the content to publish and share in your role as a social media manager? A social media post scheduler can ease your workload.
Is your company ready (finally!) to start using a social media scheduler? Do you need to upgrade your agency's current tool to a more full-featured option?
Choosing the right social media post scheduler is crucial for a social media manager, especially if you want to avoid wasting time or missing out on opportunities to grow a brand. So, how do you know which tool is ideal for your organization?
After relying on social media scheduling apps for the better part of a decade, I've tried most of the available options—and developed a running list of the must-have and nice-to-have features.
Let's take a look at what you can get from using these tools and highlight some key features you need in a social media post scheduler.
What Is a Social Media Post Scheduler?
A social media post scheduling app is a digital tool that lets you create posts and set them to publish at certain times.
With this type of tool, you can schedule just about any kind of content—such as a text post, an image, a link, or a video—for any of your social media pages.
Most social media schedulers let you set posts to publish anywhere from 10 minutes to several months in the future.
Many social media schedulers allow you to connect multiple brand pages, so you can manage all your company or client channels in a single place.
The scheduler then allows you to set a time in the future to post your content to the platform of your choosing.
Four Big Reasons to Use a Social Media Scheduler
Manage social media for your company solely or you handle more than a dozen clients?
Either way, a social media scheduling tool can improve your workflow in these fundamental ways.
1. Helps you focus
When you use a social media scheduler, you can stop disrupting your day every time you need to publish content. Sure, you can still host live videos or post announcements at a moment's notice. But because you can schedule most of your content in advance, you can focus your efforts on social media strategy and engagement instead.
Read more: How Digital Agency Seopoint Cut Its Posting Time in Half by Using Agorapulse
2. Saves tons of time
Creating social media posts one by one (or as you think of them) isn't always great for productivity. When you use a social media scheduler, you can publish content in batches or even upload posts in bulk. That means you can streamline your workflow and take your time management to the next level.
3. Promotes advance planning
If you regularly publish posts at the moment, you might not be inclined to plan content very far in advance. As a result, your strategy can suffer, and you might not achieve the growth you want to see. With a scheduling tool, however, you can prioritize strategy and plan rather than create content on a whim.
4. Encourages social media teamwork
It's easy to assume that scheduling your social media content means you take a more hands-off approach to social media management. Yet the opposite is often true. Most social media schedulers support teams, so all the key players can easily become involved.


Social Media Scheduler: 12 Essentials That You'll Want
When you search for social media management tools, you'll find more than a dozen options at a variety of price points. Finding the right tool depends on your budget and the size of your team.
But any scheduler you choose should have at least a few critical functions.
Look for a scheduling tool with these essential features.
1. Primary platform connections
Your company might use Facebook, Instagram, Twitter, LinkedIn, and other platforms.
Maybe your agency specializes in YouTube management. Either way, you need a scheduler that works with the social channels you use.
Otherwise, you could end up juggling multiple tools or unable to schedule the content you create.
What to look for: A tool that supports the primary social platforms your company or agency uses
Related Post: How to Schedule Instagram Posts
2. Multi-brand support
If you work for an agency, you might need to schedule content for dozens of different clients. Yet some scheduling tools limit both the number of profiles you can connect and the number of brands you can associate with an account.
If you aren't paying attention, you could reach your limit way before you've linked all the necessary social media pages.
What to look for: A scheduler that has the profile and brand capacity your team needs
3. Bulk scheduling
If saving time is a priority, then bulk scheduling is a must. With this feature, you can schedule a handful or hundreds of posts in just a few minutes. Some scheduling apps even let you choose different ways to upload content in bulk.
That means you can export your content calendar as a CSV and import it into your scheduling tool, or you can upload a group of images or an RSS feed.

What to look for: A social media scheduling tool that allows bulk publishing using a format that actually saves you time
4. Queueing and rescheduling
For many businesses, scheduling social content at a single, specific time isn't always the end goal.
Instead, you may want to schedule evergreen content to post repeatedly and provide continual value to your audience.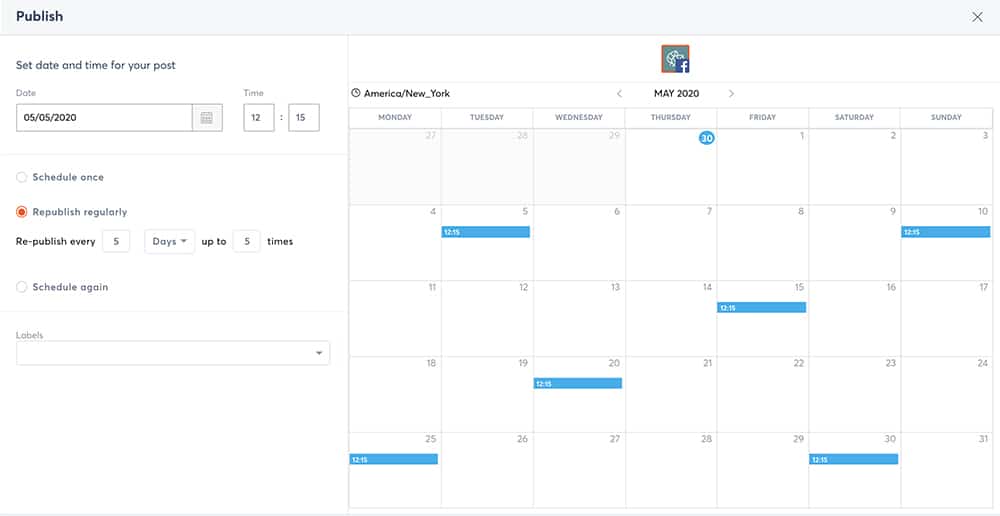 Or you might prefer to fill a queue with content that can automatically post whenever there's a gap in your schedule.

What to look for: The option to create content queues and republish or reschedule posts
5. Labeling systems
If your company's content calendar is filled with a rainbow of colorful labels, you'll want to translate your organizational system to your scheduling tool.
After all, you may want to tag content for specific campaigns or label certain media types to maintain structure and keep your team on track.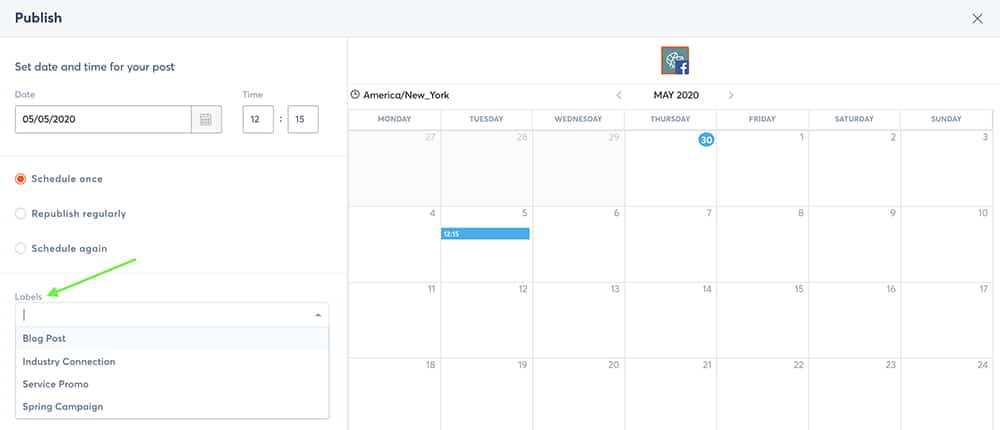 What to look for: The option to create a labeling system to organize your social media calendar
6. Image optimization
It doesn't matter if you have an in-house design team or if creating social graphics is one of the many tasks on your own to-do list.
Sometimes you just need to make some minor edits to an image or resize it for the right platform. Some social media schedulers have built-in editing features so you can fix images quickly — without adding extra apps or steps to your workflow.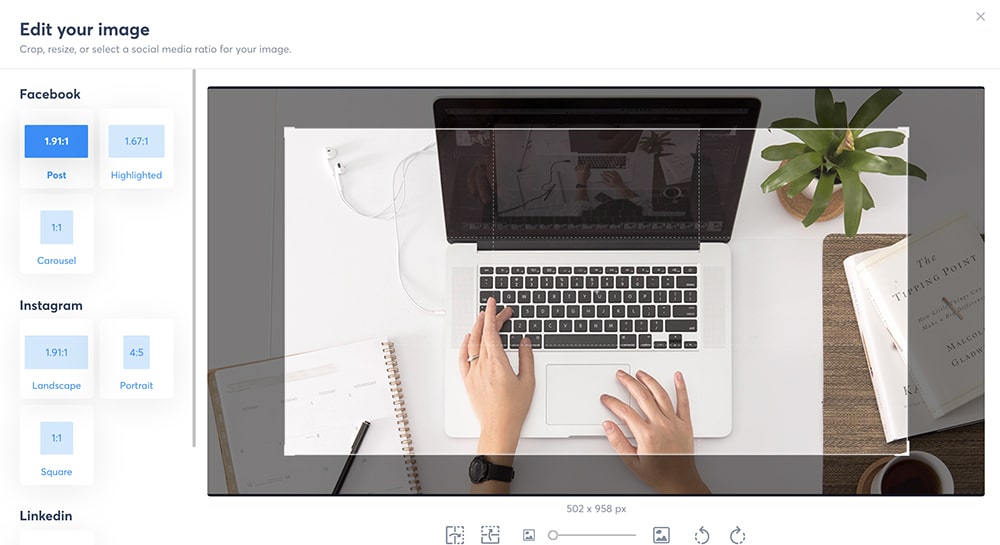 What to look for: A tool that can resize, edit, and optimize images for each social media platform
7. Hashtag groups
From Twitter to Instagram, hashtags can increase reach and improve engagement. But if you're used to typing hashtags manually or copying and pasting them from another document, you know how much time it takes to add them to your posts.
If you use hashtags regularly, you'll want to be able to access lists so you can skip retyping or copying and pasting.


What to look for: The option to create and reuse hashtag groups every time you create a post
8. Approval workflows
When you work on a social media or marketing team, you depend on your coworkers' contributions. You might even need to get their input on your copy or their approval before you schedule a post.
Choosing a scheduling tool designed for teamwork ensures that you get all the input you need without having to sign in to yet another app.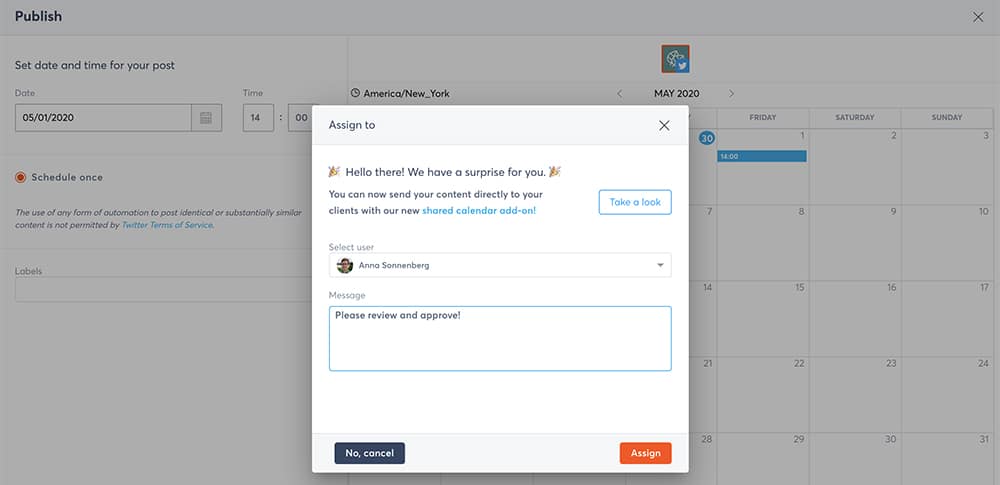 What to look for: The option to assign items to team members or set up approval workflows that streamline the scheduling process
9. Shared calendars
Keeping your team on the same page can be tough enough. But if you work with clients, keeping everyone up to date can seem impossible.
Creating a shared social media content calendar can be a smart way to update your team and get client approval at the same time.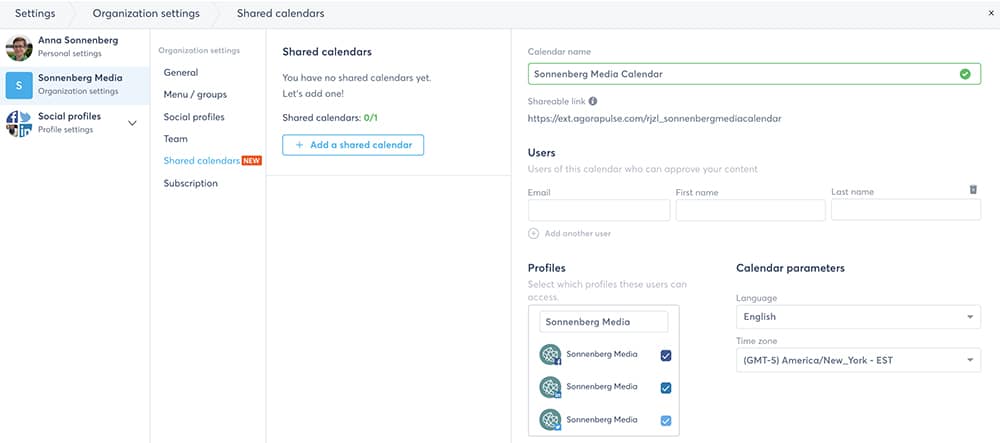 What to look for: The option to share publishing calendars with clients — without making them sign up for the tool or create another account
10. Analytics and reporting
As a social media manager, you need to do more than schedule content. You also have to track your social media performance and monitor progress toward goals.
Many scheduling apps feature built-in analytics, so you check daily, weekly, or monthly performance, and prepare reports for your team or clients.

What to look for: A scheduling tool that also offers comprehensive analytics and the option to create reports
(Want powerful reports? With Agorapulse, you can add-on Power Reports—free from now until the end of September for Agorapulse users. You can create and save customized reports with metrics from 1-5 social profiles; analyze aggregated data charts; automatically send reports every week or month chock full of data, and choose date-to-date comparisons to see how your social media efforts are doing. You'll save so, so much time in building reports once and for all instead of hours cobbling them together continually.)
11. Social media management tools
If you want to tackle scheduling, reporting, and other social media tasks in a single tool, then you need an app that can do it all.
Some social media scheduling tools have built-in inboxes, so you can respond to comments and messages. Others offer social listening options so you can join conversations about your brand.
What to look for: A tool that offers engagement, listening, and other features for seamless social media management
12. Routine updates
Scheduling tools can quickly become outdated as social media channels update their APIs or as competitors add on more options. Before you commit to a scheduling app, make sure that any tool you choose makes regular updates and upgrades.
What to look for: An app that has a history of routinely fixing bugs, introducing new features, and supporting platform changes
Conclusion
Ready to streamline your social media workflow and prioritize long-term strategy over last-minute tasks?
Take control of your social media! Check out our free trial of Agorapulse to help you schedule, track, and measure all your social media efforts.