Is social media reporting your least favorite task of the week, month, or quarter? Wish you could compile analytics more efficiently so you can share actionable insights with your team or clients?
Creating reports doesn't have to be as annoying or time-consuming as you might think. With the right social media reporting tool, you can automatically pull analytics, benchmark results, and share takeaways that stakeholders will actually read and understand.
In this guide, we'll cover everything you need to know about social media reports—from essential analytics and efficient workflows to solutions for reporting on the metric your stakeholders care about most: return on investment (ROI).
Why Social Media Managers Should Care About Reporting
Whether you manage one large account for an employer or you oversee dozens of profiles for an agency, reports are critical for succeeding with social media marketing.
With routine reports, you can accomplish tasks like:
Pinpointing what works (and what doesn't). Which content types drive the best results? Do some topics fail to resonate with your audience? By creating reports regularly, you can easily find trends and see what's working for your audience.
Building more effective campaigns. When you know what works for your audience, you can create social media campaigns that lead to a bigger business impact. With reliable reporting, you can continue improving results over time.
Communicating results to stakeholders. From clients to managers, decision makers need to know what kind of results you've achieved. With visual reports, you can efficiently communicate wins and struggles while making data-driven suggestions.
3 Types of Social Media Reports
When is the best time to create a social media report? Should they always be time-based?
Here are three reports that should be on every social media manager's to-do list.
1. Weekly or monthly reports
Whether you work in-house or for clients, regular reports can help you track your work and ensure you're making progress toward key goals. In most cases, that means preparing either weekly or monthly reports.
How can you choose the right timing for your team's social reports?
Weekly reports are best for brands that publish a lot of social media content (i.e., dozens of tweets per day or several short-form videos per week). With weekly reports, you can identify performance trends and correct course quickly.
Monthly reports are usually sufficient for brands that publish a standard amount of social media content (i.e., a few posts on each platforms every week). With monthly reports, you can review a longer time frame without overreacting to small changes.
With a social media reporting tool, you can easily produce graphs and charts that reflect your organization's weekly or monthly progress. Yet analytics only tell part of the story.
Make sure to include your own takeaways in these reports, especially if you're sharing them with your team. By adding insights and recommendations, you can make your social media reports actionable.
2. End-of-year reports
Weekly and monthly reports give you a snapshot of your social media performance during a moment in time. But at least once a year, it's important to take a step back and look at the bigger picture.
End-of-year reports are ideal for identifying performance trends that have had a bigger impact on your business. They're also helpful for making longer-term plans for the future.
You can also use end-of-year reports to audit your brand's social media performance and compare the results to previous years. Using these insights, you can make smarter decisions about how to allocate marketing budgets or which campaigns to prioritize.
3. Campaign reports
Not all social media reports are time-based. If your team plans campaigns around product launches, seasonal sales, or other marketing initiatives, you'll need campaign reports too.
Unlike time-based social media reports, campaign reports typically omit all non-campaign content—such as evergreen posts and trend-based short-form videos.
Instead, campaign reports center solely on the initiative at hand and often focus on goals like traffic, conversions, and social media ROI.

Essential Analytics to Include in Social Media Reporting
Wondering which metrics to feature in your social media reports? Use your team's social media marketing goals to zero in on the results that make the biggest business impact.
For example, if your main goal is to drive traffic and conversions, then you'll want to focus on clicks, transactions, and revenue.
In contrast, if your main goal is to build a community around your brand, then you'll want to pay attention to engagement and reach.
Let's walk through some social media metrics to consider adding to your reports.
Audience growth
It's so easy to dismiss audience size as a vanity metric. In some cases, it truly is. For example, if your team is focused on securing sales, then follower numbers don't have a direct impact on your business.
But when you want to increase brand awareness, audience growth is a valuable measurement of success—which means you should monitor it closely.
Agorapulse automatically tracks audience growth for connected social media, plugging the data into a chart that shows gains and losses over time. You can toggle between total growth (to make sure you're on the right path) and variation (to track gains and losses).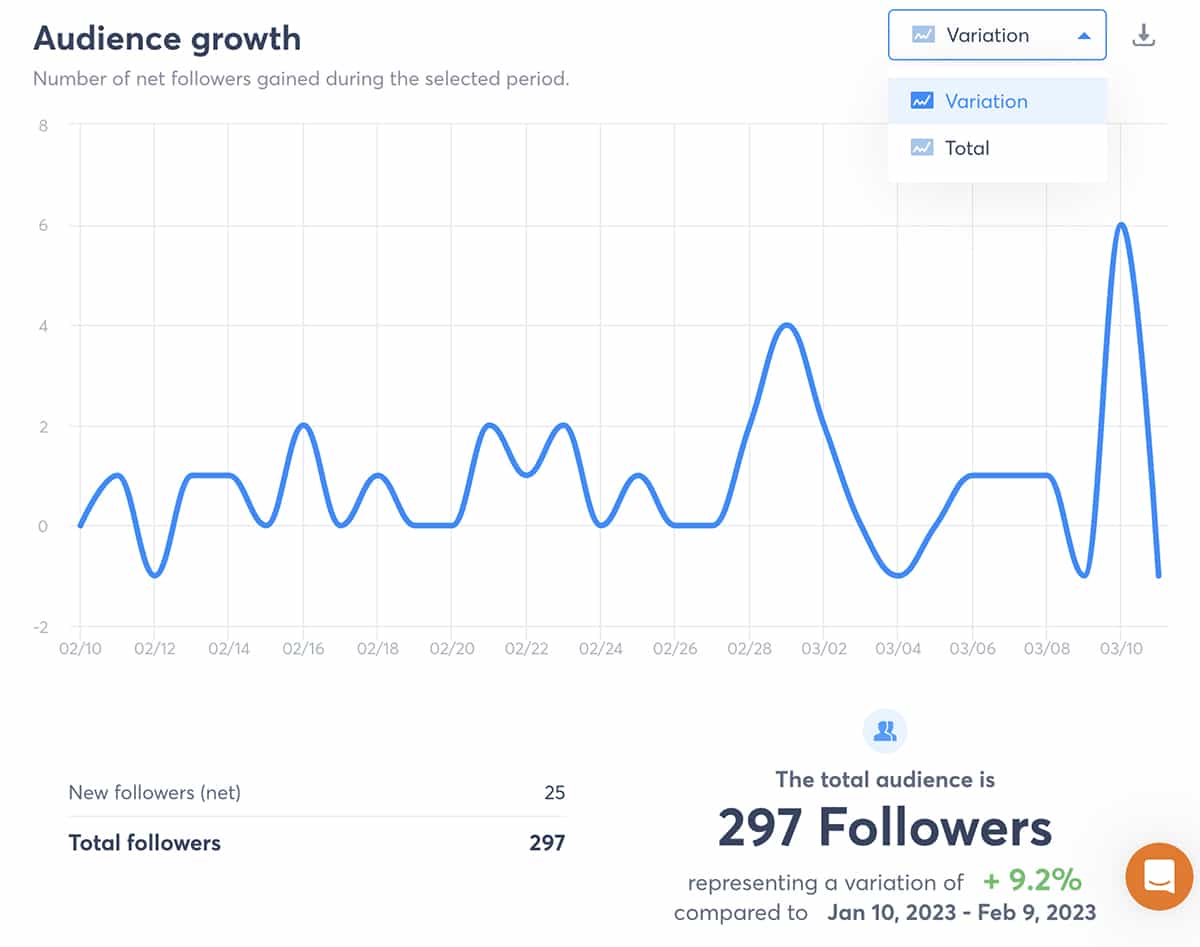 Like most Agorapulse reports, this audience growth chart also provides comparative analytics automatically. As a result, you can easily compare audience growth from the past month to the previous month or even the previous year.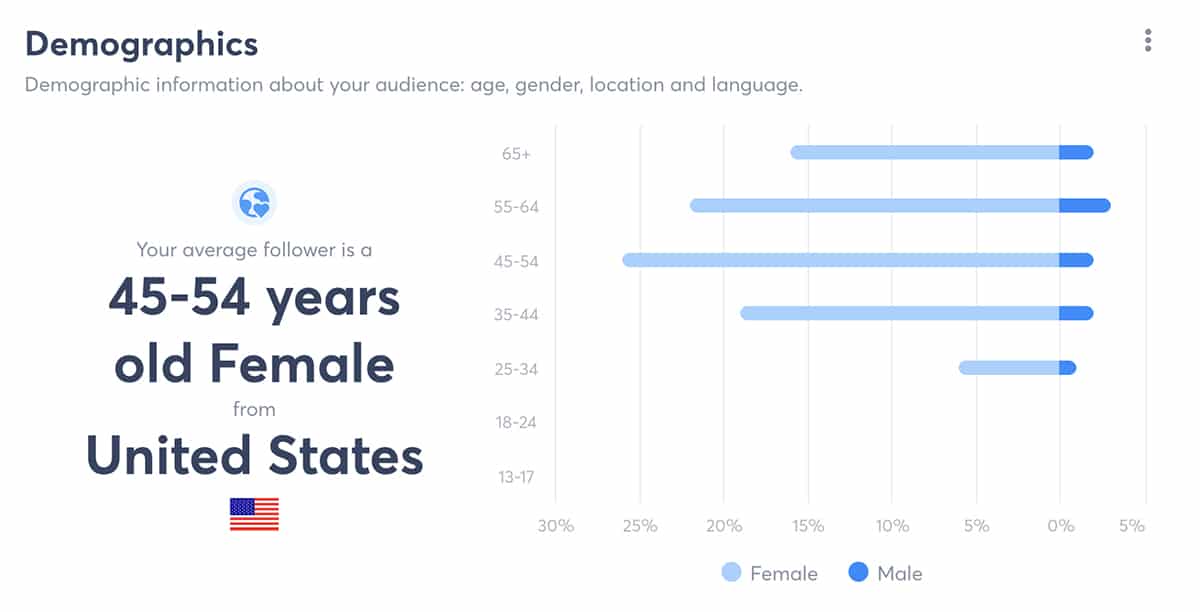 Do your social media followers align with your ideal customer profile? Agorapulse's demographic reports reveal age, gender, location, and other data to help you visualize your audience.
Brand awareness
Tracking follower numbers can be useful. But how do you know if those followers actually know about your brand?
With a brand awareness report, you can monitor if and how people are talking about your brand.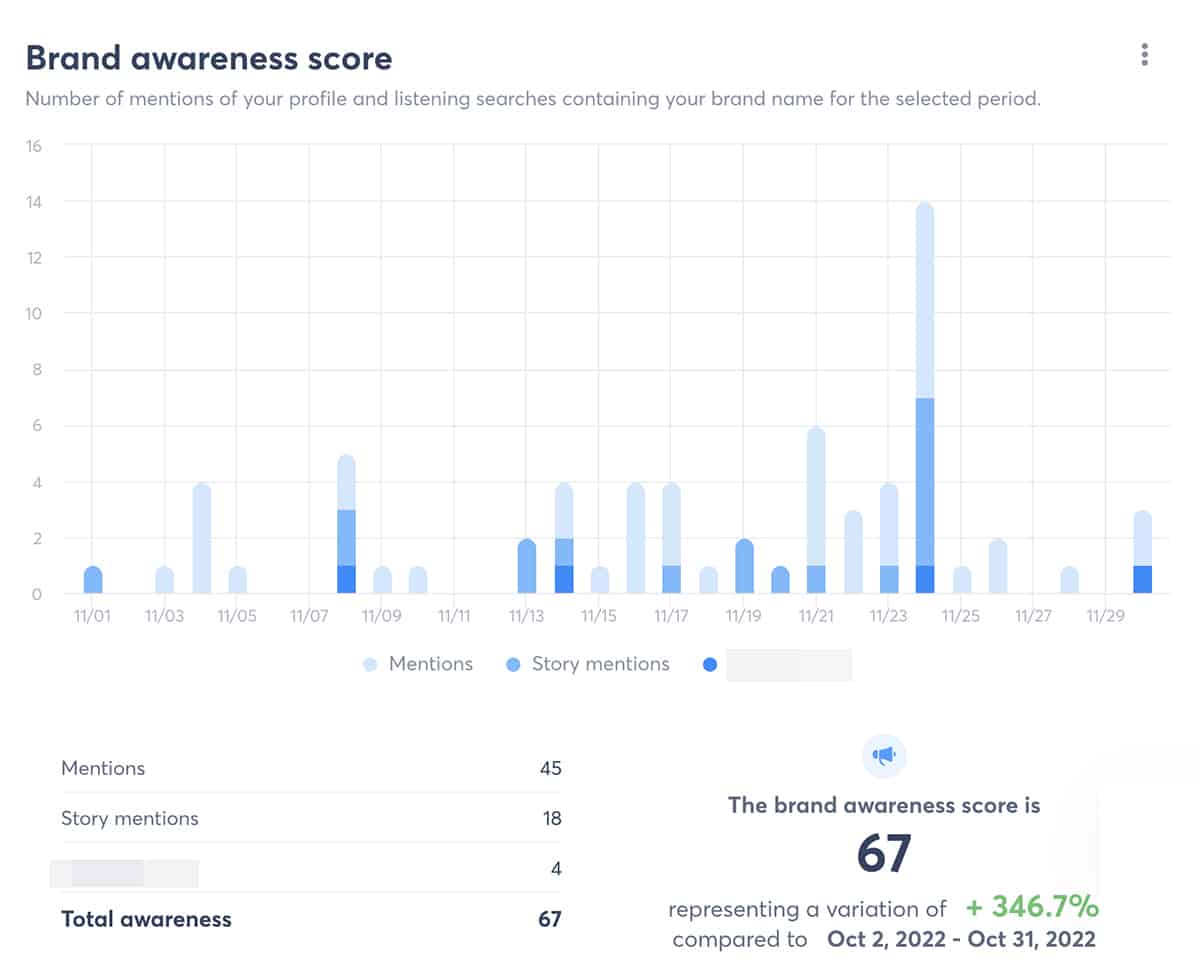 Agorapulse's report uses mentions, story mentions, and branded hashtags to calculate a brand awareness score for supported profiles. Since this report also includes comparative metrics, it reveals whether knowledge of your brand is growing over time.
Impressions and reach
By tracking impressions and reach, you can gauge how many people are seeing your social media content—and take steps to keep increasing that number over time.
Agorapulse automatically tracks impressions for supported social media accounts, providing a daily breakdown for each profile. Using this chart, you can look for patterns over time and pinpoint when your content was particularly successful.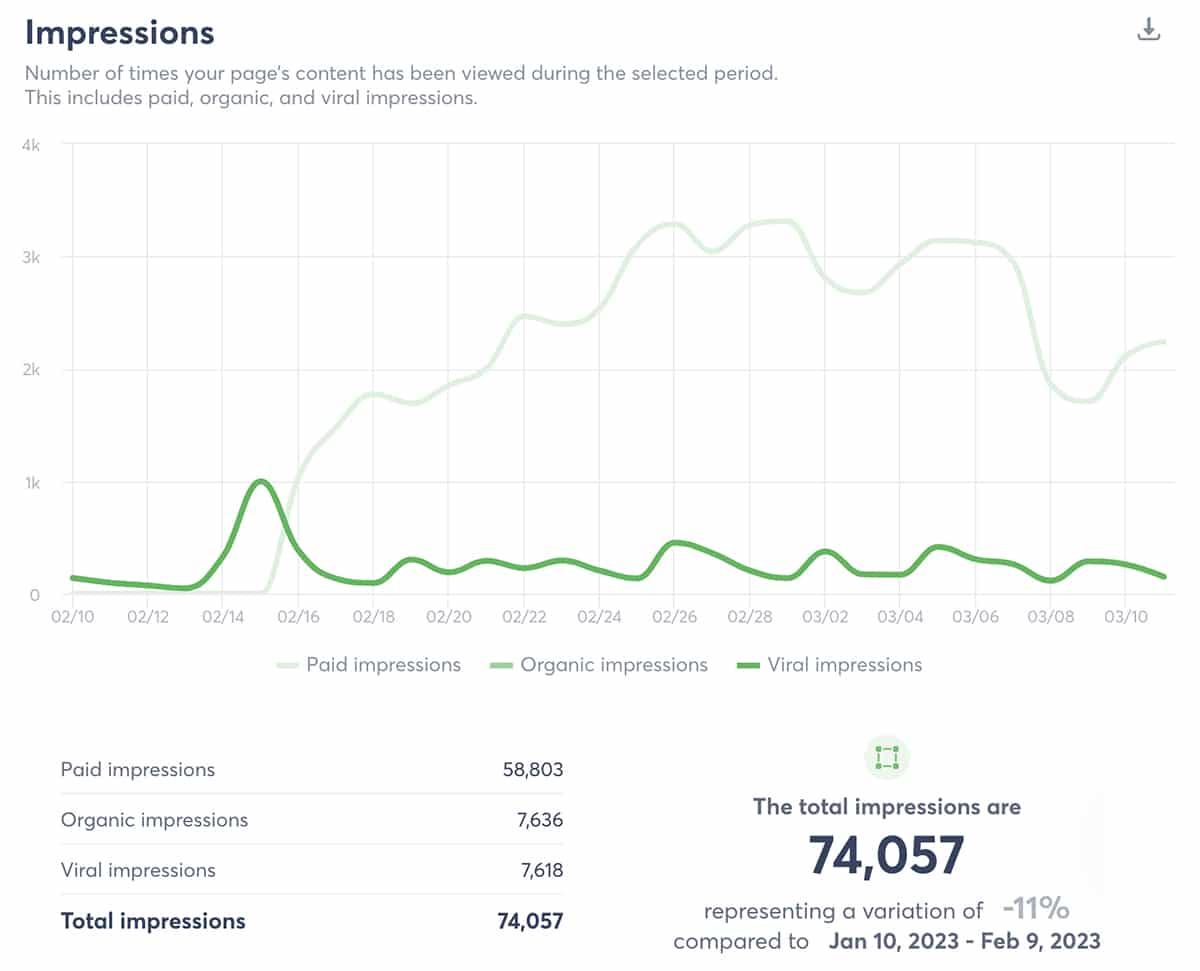 Like the audience growth chart, Agorapulse's reach reports automatically provide comparative metrics. Are you continuing to get your content in front of more people from month to month? Or does your social media strategy need a refresh?
Social media engagement
Is your social media content resonating with your audience? Or are they scrolling right past your posts? You can answer these questions and get actionable insights with engagement analytics.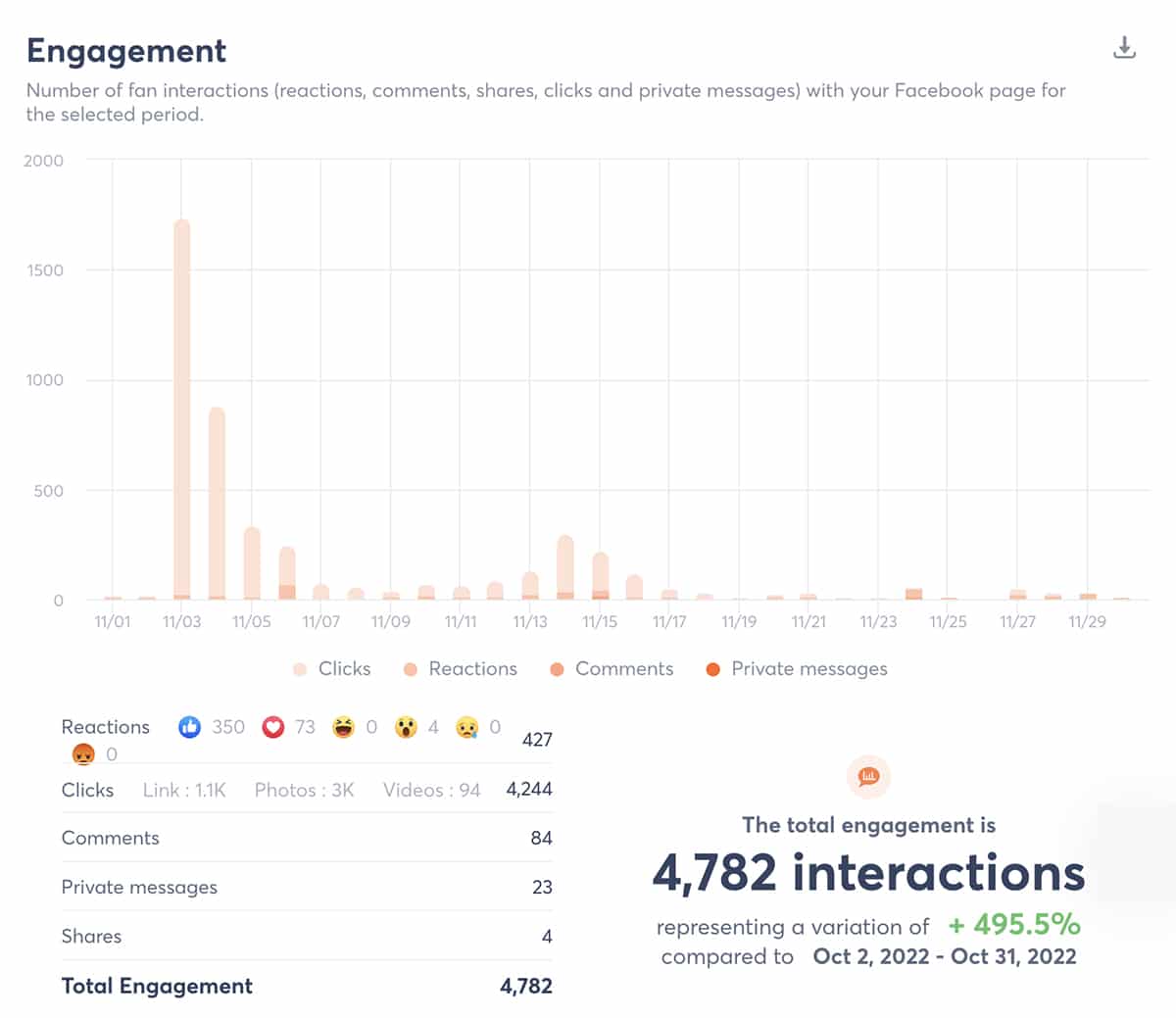 Agorapulse's engagement report charts everything from likes and comments to DMs and shares. Since the engagement report charts break down data by day, you can easily see when your content generated the most engagement—and whether engagement grew or dropped over time.
Social media content
For more insight into which posts drove the most engagement, you need a content report. Agorapulse's content report automatically highlights the top content for each profile, making it easy to see which posts your audience responded to best.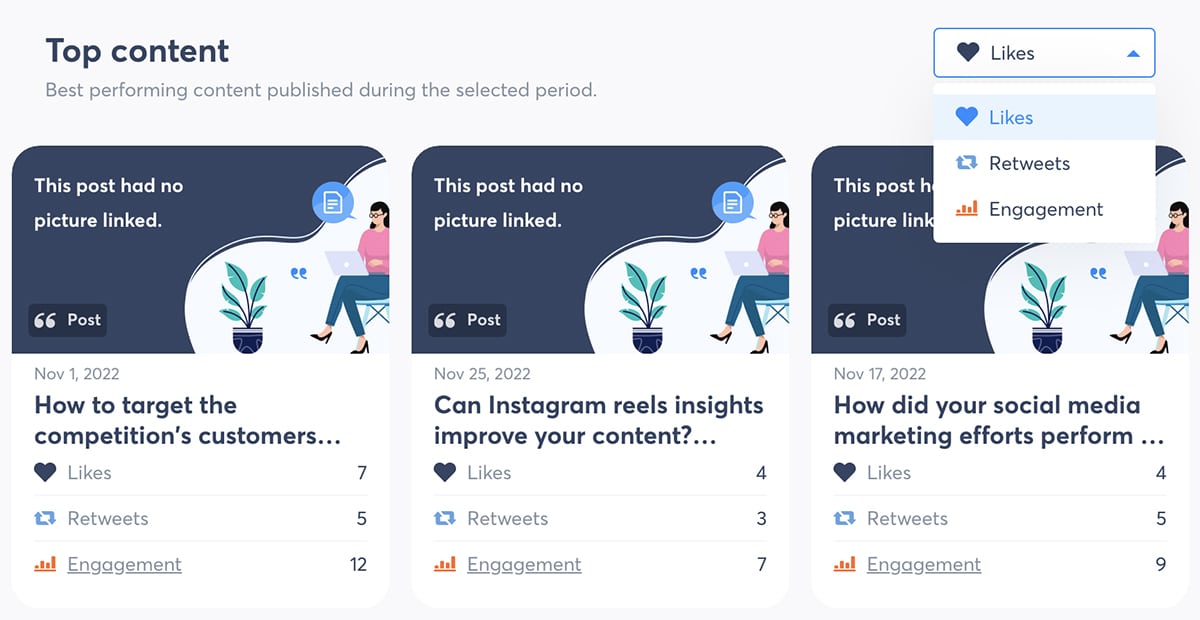 If you're not sure what kind of posts to create or when to publish them, Agorapulse's detailed content reports can help. For example, you can see which post type generates the most engagement and when your audience is most active—so you can maximize results.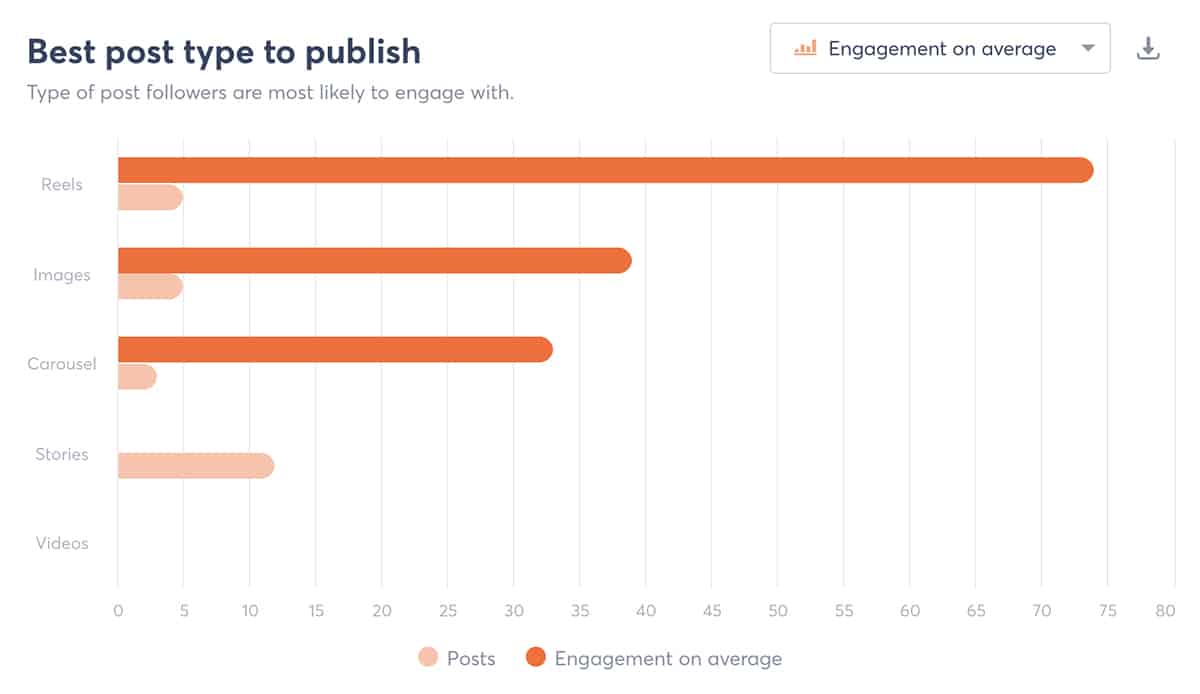 Social listening
You can track branded hashtags with a brand awareness report. But what about campaign hashtags, industry hashtags, and other hashtags that reflect conversations about your products, services, or brand?
With a social listening report, you can monitor conversations that feature the hashtags you've identified as important to your brand. Using Agorapulse's listening charts, you can look for trends and track performance over time.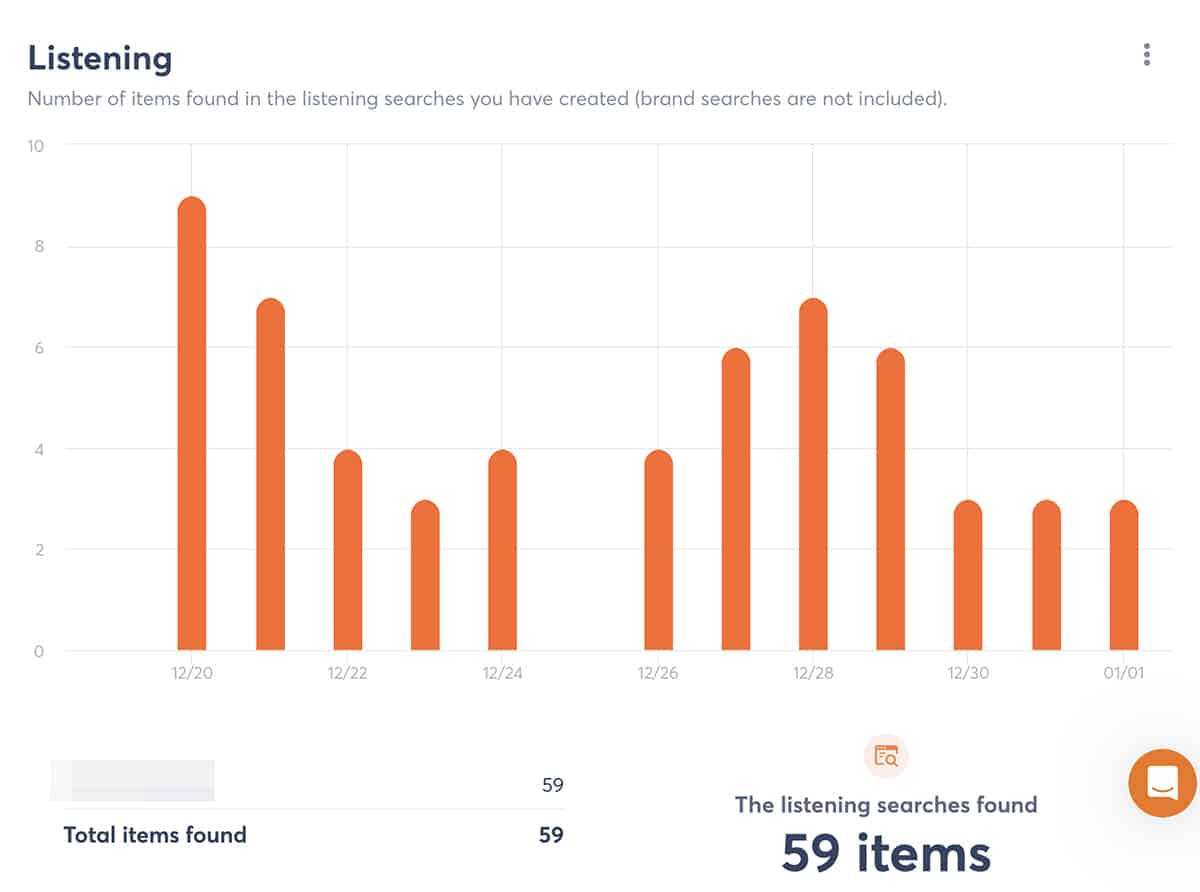 Listening reports can be particularly helpful for keeping an eye on topics that are relevant to your business or clients. When you know what's on your customers' minds, you can position your offers and market your business more effectively.
Website traffic
If you rely on your website to drive conversions or guide prospects through your sales funnel, then you need to track traffic. To save you time, Agorapulse integrates with Google Analytics to track all the traffic your website gets from major social media platforms.
You can use the graphs to visualize how traffic increases or decreases over time. You can also use the built-in chart to monitor traffic by landing page, campaign, or social channel.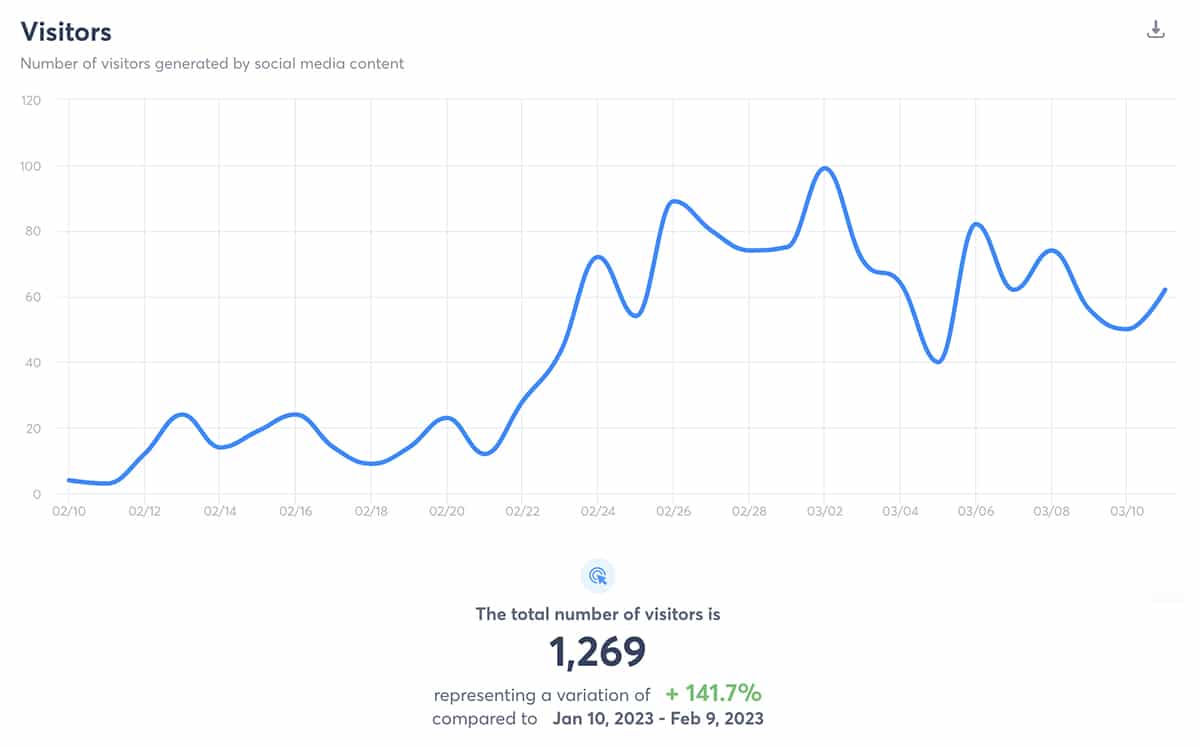 With this data in hand, you can easily see which social channel drives the most results on your website. For your next social campaign, you can make sure to prioritize your top-performing channels so you continue to maximize results.
Social media ROI
Last but certainly not least, you need a simple way to measure the value of your efforts on social media. With Agorapulse's social media ROI reports, you can track much more than just website visitors. You can also monitor transactions and revenue.

If you add campaign tracking (i.e., UTM codes) to the social posts you schedule or the links you share in comments and DMs, you can access more detailed data. Using your social ROI report, you can see what type of content and which posts contributed to the greatest ROI.

How to Create Social Media Reports
As a social media manager, you need a way to create social media reports efficiently.
Here are a few options to consider adding to your workflow.
Social media reporting templates
If you've ever tried to rely on native analytics from channels like Facebook or Twitter, you've probably found that it's impossible to download graphs and charts. Instead, you're stuck downloading data in spreadsheets—which you have to organize in a visual format.
An easy way to tackle this issue is to find a social media reporting template that works for your company or clients. Design apps like Canva can help. Search for a template in the app, modify it to work for your brand, and use it to generate a report every week or month.
Social media reporting tool
Even if you find a great template, preparing reports manually can still take a ton of time. But with Agorapulse, you can speed up the process dramatically.
The best social media tools for reporting pull analytics automatically—so all you have to do is select a relevant time period. For example, Agorapulse lets you select both a reporting time period and a comparison time period.
Then you can download a report for each social profile with a single click. Since you can choose between PDF, PPT, and CSV files, you can get the data in the format you need.
Custom social media reports
Standardized social media reports can save you a lot of time. But what if a typical report doesn't have the data you need? Or what if you need multiple social profiles in a report?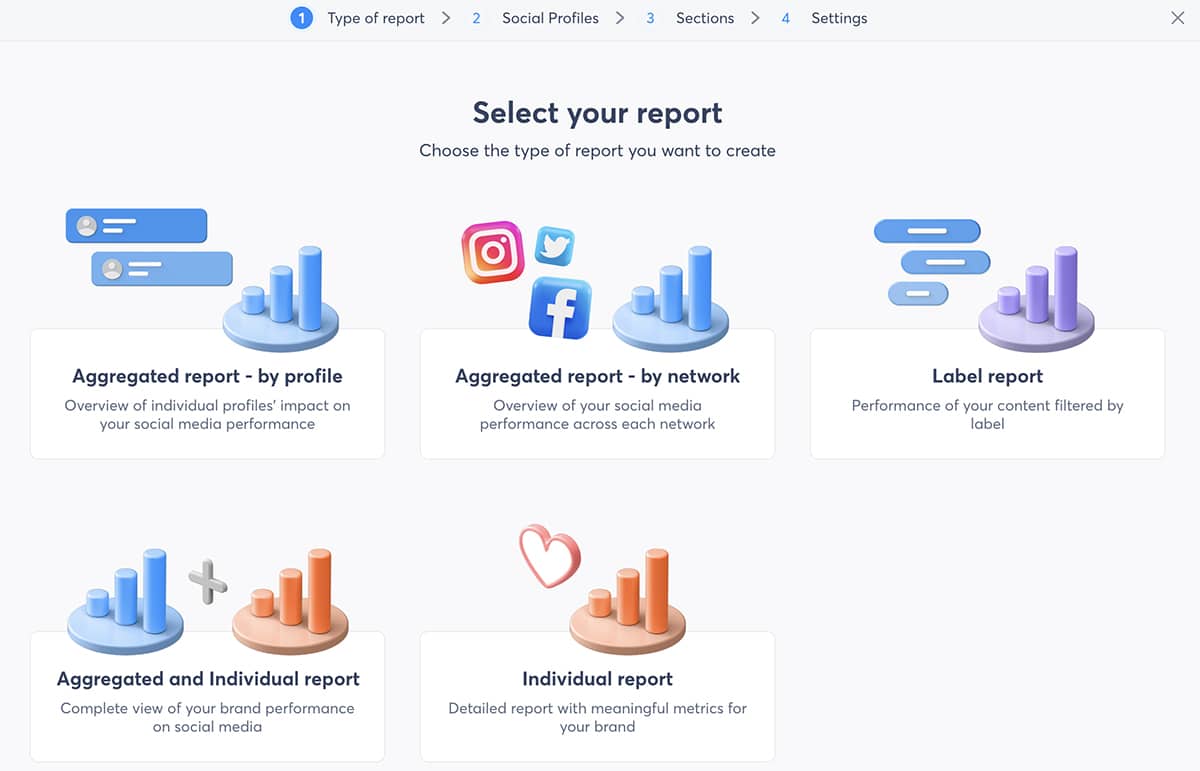 With Agorapulse's Power Reports add-on, you can build custom reports for your company, agency, or clients. Choose the type of report you want to create, pick one or more social profiles, and select the data you want to feature.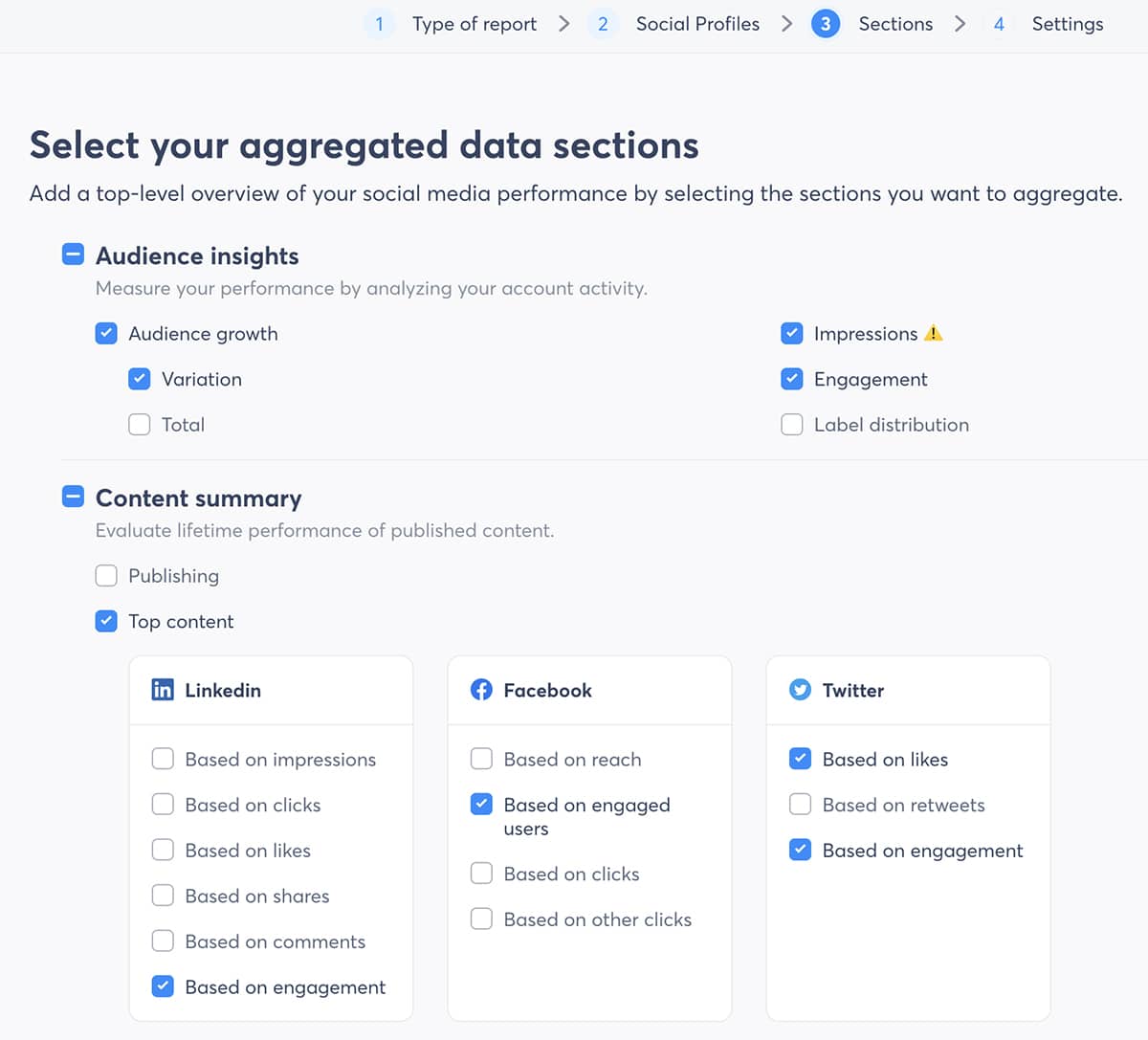 Then export your ultimate social media report. Agorapulse's reporting dashboard automatically saves your custom reports so you can reuse them every week or month.
White label reports
If you work for a social media agency or if you provide white label services for an agency, you'll probably want to add branding to your reports. With a social media reporting tool like Agorapulse, you can easily add customization.

In the report settings, upload your company logo and add your name or the agency's name. Then save, export, and share with your team.
How to Streamline Workflows With a Social Media Reporting Tool
Curious how a social media reporting tool can enhance your workflow? Let's take a look at some pro tips for busy teams and social media agencies.
All-in-one reporting dashboard for convenience
Does your business have a social media presence across several channels? Do you juggle  multiple client social media profiles? Either way, you know how challenging it can be to access essential data efficiently.
With a social media reporting tool like Agorapulse, you can find current data in seconds. All you have to do is go to the reports dashboard and select the social profile you want to review.
That means you can stop jumping from tab to tab, toggling between accounts, or signing in and out of profiles. As a result, you can focus more on providing genuinely valuable insights with brand or agency reports.
Automated report scheduling for efficiency
Exporting a report from your Agorapulse dashboard only takes a few seconds. But if you're really short on time or if you want to avoid missing a key step, you can schedule reports to arrive in your inbox automatically.
Select the report you want to automate (including standard and custom reports) and open the settings. Choose a weekly or monthly cadence, and pick a format.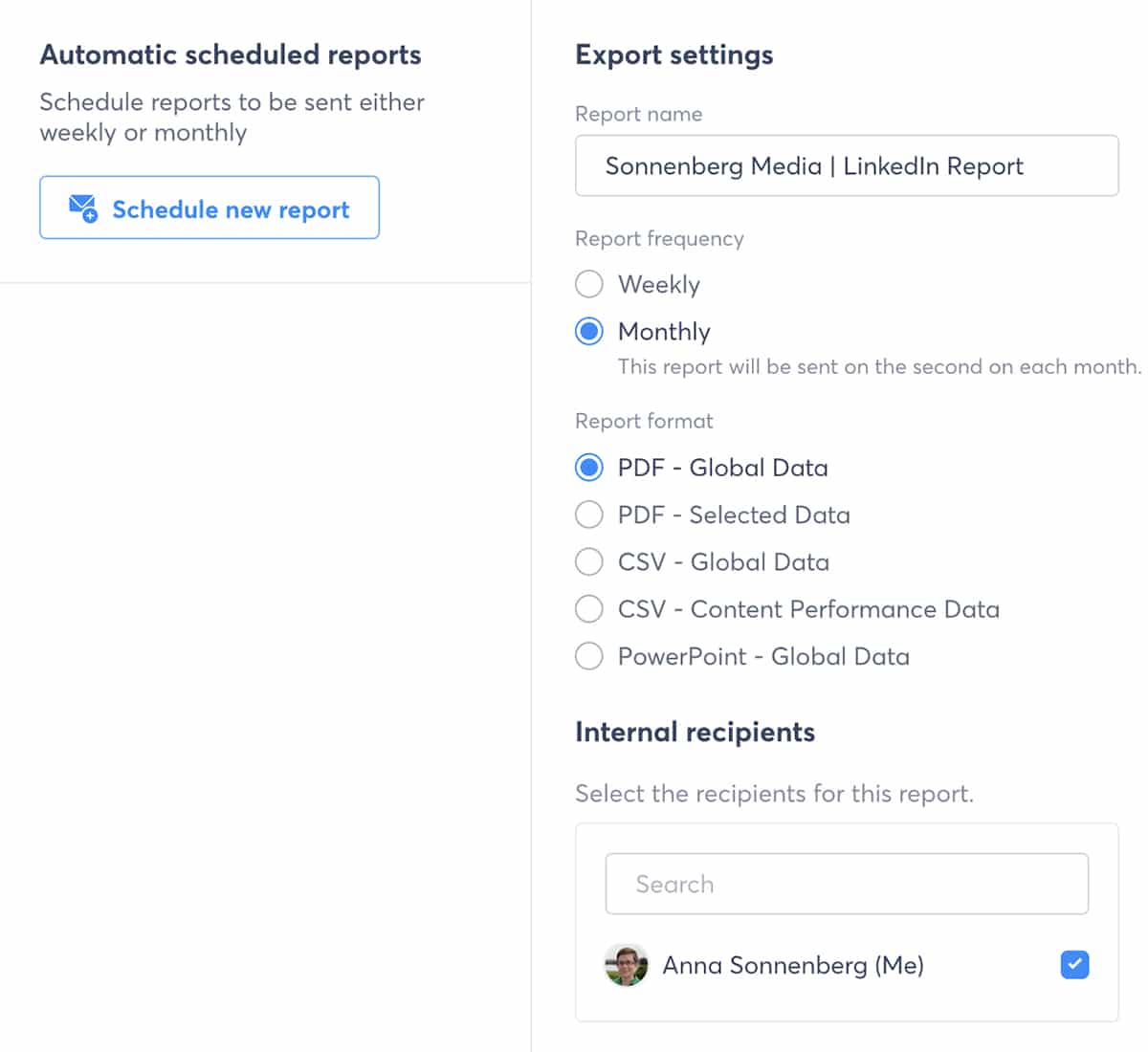 Then select all the stakeholders who should receive the report. You can automatically send reports to both internal and external recipients—making client reporting much easier.
For example, digital agency Clicmark saved more than 25 hours per month using Agorapulse's reporting dashboard to automate client reports.
Publishing labels for campaign insights
Agorapulse automatically tracks all the content you publish on social media. But you have the option to create campaign reports that feature select content only.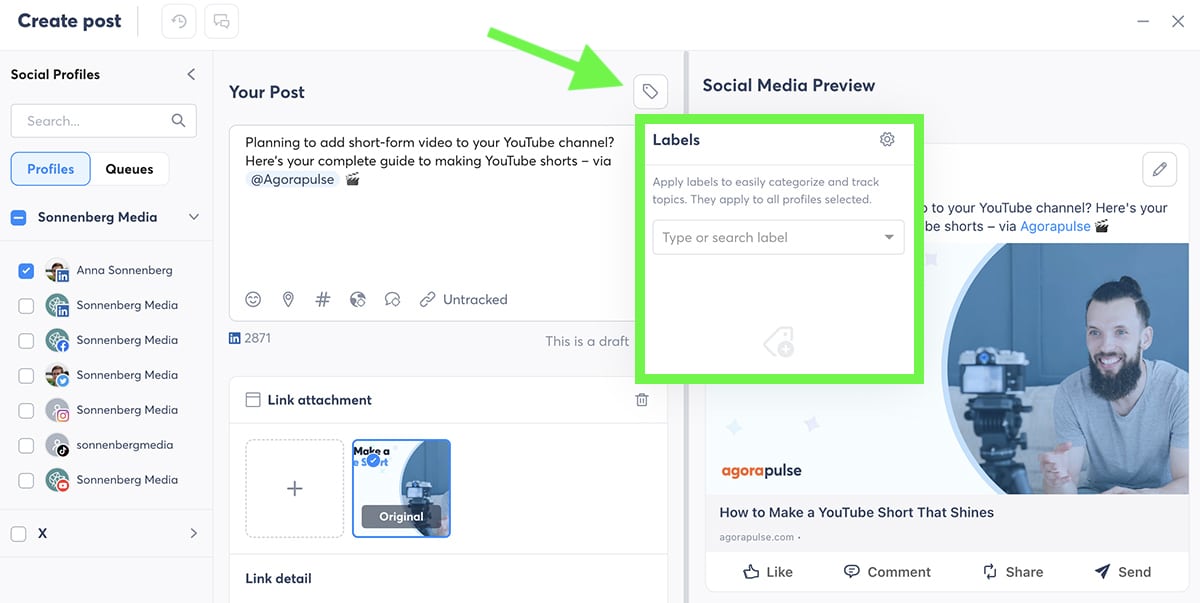 You can lay the groundwork for these reports by using your Agorapulse dashboard to add publishing labels. Then you can create a Power Report based on any publishing label to build a custom campaign report.
Team tracking for optimized performance
Looking for a way to incentivize your team or keep everyone on track? With a social media reporting tool, you can monitor performance automatically.
On the community management tab, Agorapulse automatically tracks the number of items each team member has reviewed and calculates their average response time. You can use these metrics to ensure your team is responding efficiently.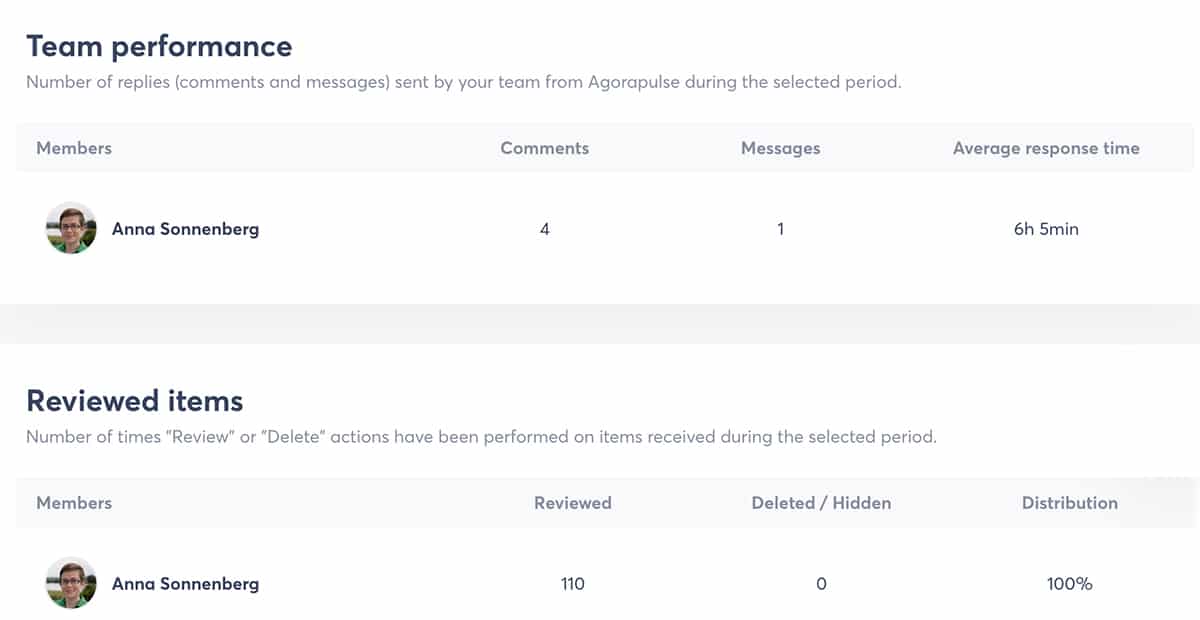 On the ROI dashboard, Agorapulse displays the website traffic and revenue each team members' work has contributed. You can use these metrics to see who's creating the most value for your company or clients.
Wrapping Up What We Learned About Social Media Reports
Manual reporting can be frustrating and arduous. But with the right social media reporting tool, you can access analytics automatically, customize output as necessary, and even schedule ahead for added efficiency.
When you automate much of your social media reporting process, you can devote more energy to analyzing reports, making informed decisions, and developing smarter strategies that make a measurable impact on your company or clients.
Sign up now for a FREE demo and find out how you can easily start creating data-rich but readable social media reports!