Will posting on your Instagram account at 11.11 on a full moon make your brand go viral? Probably not. So, why should we care about the best times to post on Instagram? Of course, you're free to post whenever you like, but you could be getting more engagement if you post when your audience is online. Let's cut to the chase and take a no nonsense look at the best time to post on Instagram for your brand.
Is There Really a Best Time to Post on Instagram?
The short answer is no. That's because every time zone, brand and sector is different. And let's be blunt and say that if you're posting mediocre or bad content then it won't get great engagement at any time! However, there are peak traffic hours when more people are using the platform. And then there are peaks that are specific to your brand, its demographic, and the content you post. One of my favorite sayings for social media is "One size doesn't fit all." Not all audience demographics are the same, not everyone will like your posts, and one strategy won't fit all our clients.
And that's OK. This isn't a one size fits all article.
Key Instagram Demographics and Stats
What's the Instagram landscape looking like in 2023? Let's dive in and look at some key Instagram demographics and stats.
Instagram has just under 2 billion active monthly users worldwide.
130 million Instagram users click on shopping posts per month.
More than 1 million users watch live videos each day.
63% of American users check Instagram at least once per day.
The American Marketing Association found that posting content in the afternoon generates 21% more clicks than in the morning. On the other hand, posting at night leads to a 9.7% decrease in click rates.
Deloitte Global predicts the social media ecommerce market will surpass US $1 trillion globally in 2023.
India leads the way on Instagram with almost 230 million users.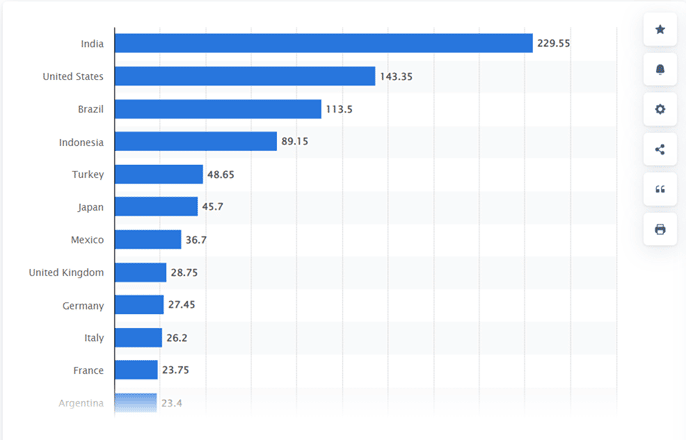 The Best Times to Post on Instagram (in Your Local Time Zone)
Based on peak traffic stats and Shopify sales, these are thought to be the best times to post on Instagram.
Monday: 5 a.m., 11 a.m., 1 p.m.
Tuesday: 9 a.m., 1 p.m., 2 p.m.
Wednesday: 5 a.m., 9 a.m., 11 a.m.
Thursday: 5 a.m. to 6 a.m., 11a.m. to 1 p.m.
Friday: 7 a.m., 11 a.m., 2 p.m.
Saturday: 9 a.m.
Sunday: 1 a.m., 7 a.m., 6 p.m. to 8 p.m.
When you look at those times, they make sense. People are browsing Instagram before work and during their lunch hour on Monday to Friday. On the weekend, Instagram sees less activity as people are out and about living their best real-world lives! Instagram traffic picks up again on Sunday evening as people wind down ready for another working week. Remember, though: Big brands know this and will be hitting the feeds at peak times.
Instagram post tip: A lot of brands will schedule posts to go out exactly on the hour. (9am, 10am and so on.) You can schedule your posts to go out within the hour (9.15, 10.20 ) to stand out and not join the bulk posts hitting user feeds.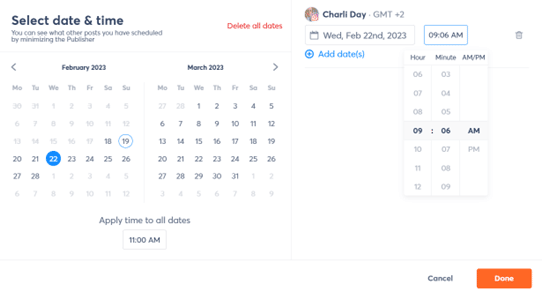 Find Your Best Time to Post to Instagram
So now you know the peak times users are scrolling, let's make this work by finding the best time to post on Instagram for your brand.
1. Think about your desired outcome
What are you wanting to achieve with your Instagram account? Is it to gain fans, get engagement, sell products through your website or Shopify catalog? Or delving deeper, are you looking for quick purchases? For example, say you're running a lunch time offer at your restaurant. Before you schedule your post, think about:
The content you're posting and whether it fits on a specific day. #TacoTuesdays don't belong on a Monday. (Disclaimer: I would still eat them on a Monday!) But, why not have a #SundayFunday post featuring your delicious food like El Cocina. This post gives opening hours, delivery instructions, and some foodie-friendly hashtags. Remember to time foodie posts just right to allow people time to get hungry and order!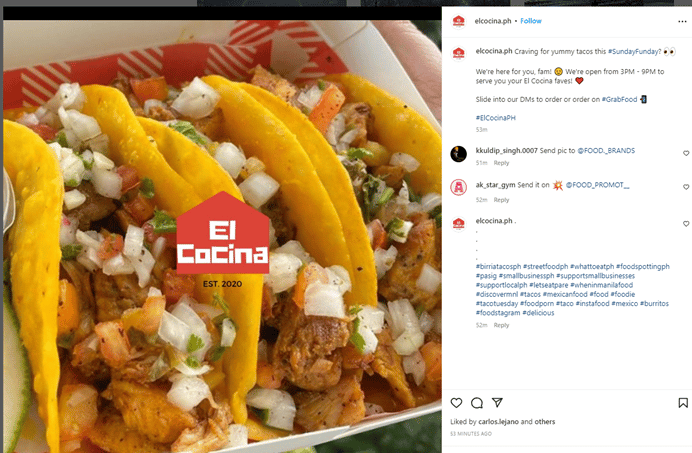 The goal of your post. Is it to sell now, to sell later, to raise awareness about a cause or event, or for evergreen traction? If your post is a flash sale or lunchtime offer, then consider an Instagram Reel for more instant traction.
Whether you will repeat the post on other channels and on different days. With Agorapulse, this scheduling option is one click away. You could also vary the times when you repeat the post to see what works best.
2. Look at your top-performing posts
You can use Instagram insights in the mobile app to learn more about your followers and performance. You can also view insights on your audience's engagement with specific posts, Stories, videos, Reels, and Live videos. So you technically don't need a tool to find your analytics.
But native tools' analytics are very segmented and hard to collate.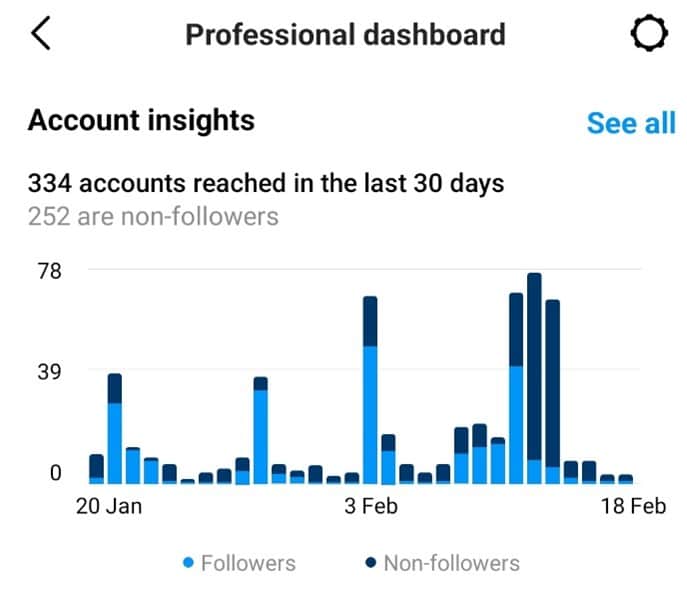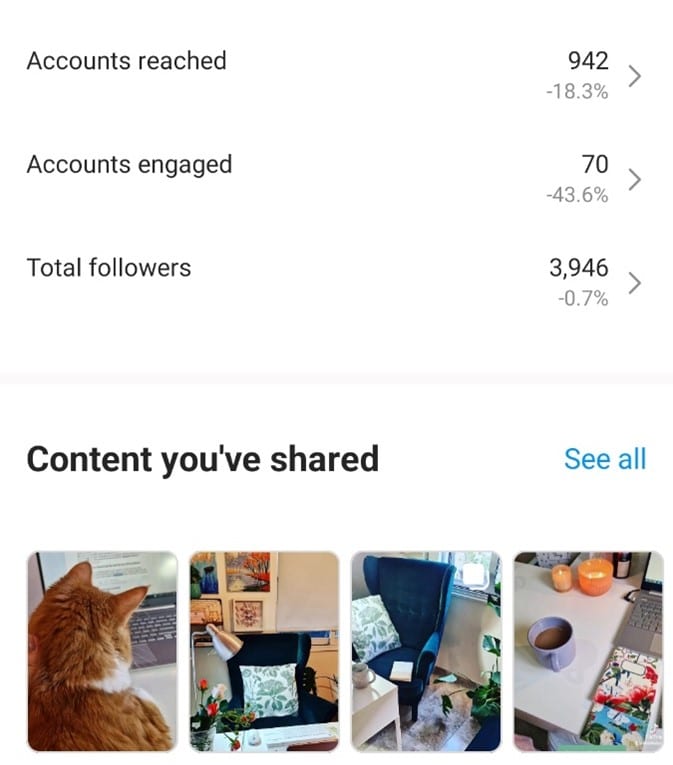 For a marketing agency, logging in and out of multiple Instagram accounts via mobile is a headache, so I prefer to access all the accounts in one place via my desktop on Agorapulse.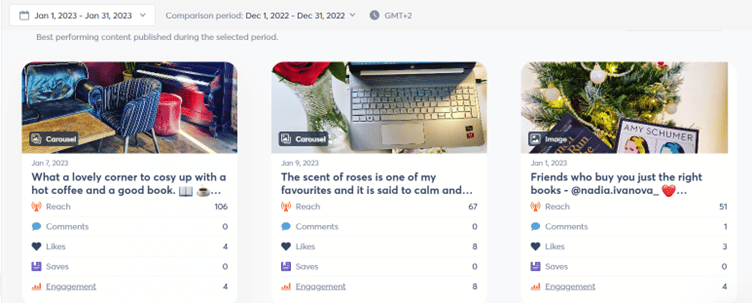 Analyzing top performing posts with Agorapulse is so easy and even better! You can turn social media metrics into a nice-looking social media report for clients. In addition to top-performing posts is a breakdown of the types of content you posted (Images, Videos, Carousel, Stories and Reels), the time you posted it, and how it performed.
Instagram content tip: If you've taken over an Instagram account (as an agency or new social media manager), you can run comparisons between the previous years or months performance. If you've changed the strategy, content, or posting schedule then this can show you the difference it made.
Your Instagram insights and analytics can help you to find your top-performing posts and create more like them for the future.


3. Look at when your audience is online most
Using Agorapulse's intuitive dashboard, you can see when your audience is online. That's your own unique audience, not a generic peak traffic report. And not just by day but by hour, too. Note down the times for posts and you're going to improve your visibility.
These analytics are unique to your Instagram account and provide a clear indication of when your audience is online.
For example, for my account @charli_says, Monday at 12pm and Sunday at 6am are clear winners. Digging into my demographics makes this more logical as most of my followers are based in Brazil and the USA.
Instagram posting tip: Once you know where your audience is located, you can post at the best times for them and include localized content. Create an Independence Day post for your US-based friends, for example.
4. Get inspired by your competitors
Some industries are fiercely competitive, and top brands will certainly have done their research on the best times to post on Instagram. Look at a few top players in your industry, what time they post and what time they get the best engagement.
If you're in the beauty sector for example, you might want to look at a big brand like Estee Lauder and check out their Instagram. You can see the times they post to Instagram, what yields the best results, and also where their fans are located. You can see this by clicking on the likes on each post and spot checking a few. This exercise might take a while but you will get some great takeaways on their schedule, fans, content and strategy.
You can also scroll back through their previous posts to see how they prepared and posted ahead of major retail holidays like Christmas or Valentine's Day.
Instagram posting tip: Don't compare their likes with yours if their fan count is vastly different. Instead, look at engagement percentages. Estee Lauder for example, has 4.4 million fans, and their engagement on this post is 977 likes. That's 0.02%. The average engagement rate on Instagram is 0.67% so this is a little below average.
5. Automate your Instagram posts With Agorapulse
A solid social media posting schedule helps you make sure your posts are going up at the right time, day, and even month. Some marketers have their posting schedule in an Excel spreadsheet or shared Google Drive document. From an agency perspective, this wouldn't work for the multiple accounts we manage. So we use the Agorapulse content calendar.
Some of the benefits of scheduling your Instagram content include:
Hitting Instagram feeds at the right time for your audience, even if it's the middle of the night for you!
Scheduling posts to go out before lunch for restaurants or exactly midnight on a Friday for a weekend sale!
Getting content approvals in advance from compliance or clients in sectors like finance or pharmaceutical
Planning content and graphics for holidays, events, and promotions
Easily creating well timed countdowns to a launch or product release
Scheduling posts, Reels and Stories. You can even include tags in your advanced schedule.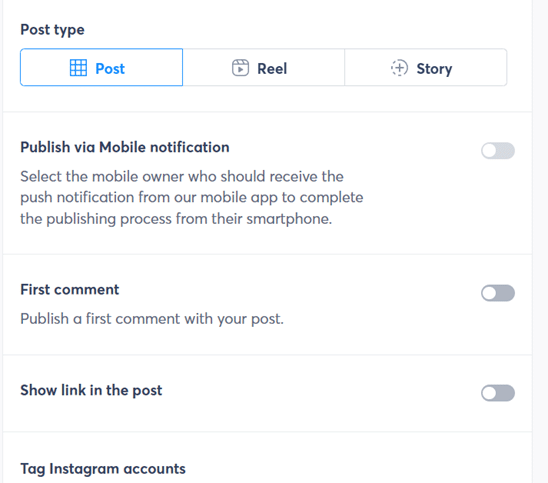 Instagram posting tip: Be consistent, even if you vary up the times you post to Instagram. Social media algorithms soon learn when fans stop interacting with your posts and will stop showing them. So, skipping a few weeks of posts isn't good for maintaining a solid engagement rate. When you have an authentic, organic connection with your Instagram audience, the algorithm notices, and so does your social media ROI.
Let's Recap the Best Time to Post to Instagram
Finding out the best time to post to Instagram doesn't need to leave you stressed out and fed up. Let's recap what we learned:
There's no official best time to post to Instagram. It depends on your audience, content, the hashtags you use, offers you post, and numerous other factors.
Understand the peak traffic times when most people use the platform.
Remember your KPIs and desired outcome
Check your dashboard to see your top content and when your audience is online.
Check out your competitors and when they post to Instagram.
Schedule your content in advance to stay consistent and plan ahead for great campaign ideas.
By discovering your best time to post on Instagram and scheduling in advance, you can boost your engagement and drive traffic. And once you know, you don't need to keep checking. Just pull off an Agorapulse report each month!
Sign up for a free demo and find out how Agorapulse can help you with all your Instagram posting, scheduling, and more!