Are you planning to hire a freelance marketer to handle paid campaigns, organic scheduling, or community management? You need to know what to expect for freelance social media manager rates, ideally far before you post a job listing or start interviewing candidates.
After all, rates can vary dramatically based on factors like the job requirements and the candidate's experience.
When you know what kind of costs to expect, your business or social media agency can budget appropriately and plan staffing more effectively.
How much should you expect to pay a marketing contractor?
Here's everything you need to know about freelance social media manager rates—from current ranges to what affects the cost of hiring a consultant.
What Is a Freelance Social Media Manager?
A freelance social media manager is a professional who provides social media marketing services on a contractual basis. Instead of becoming an employee of a single organization, they typically work with a number of different clients simultaneously.
Most freelancers work independently, serving as a one-person team. Some contractors focus on certain marketing services. Others offer complete social media management.
What does a social media manager do?
Freelance social media managers usually provide one or more of the following services:
Organic content calendar development
Copywriting or creative asset production
Engagement and community management
Paid social media campaigns
Social media audits and strategy
Organic or paid social media reporting
Some freelancers focus solely on certain industries, allowing them to become experts at marketing clients in specific niches.
Others differentiate themselves by working with local businesses or with organizations that have certain budget ranges.
Benefits of Hiring a Freelance Social Media Contractor
As an agency owner or a marketing manager, you may have to decide between hiring employees and contracting freelancers. So, when should you prioritize a freelancer over a full-time employee?
Take a look at some of the perks of working with a contractor.
Gain a new perspective
Hiring an in-house team to manage your organization's social media marketing can be great for consistency. But if your team has been working toward the same goals without making much progress, it's helpful to get an outside opinion.
Because freelancers work with a wider variety of clients, they bring a new perspective to your social media marketing challenges. They can often tell you what's working for their other clients and recommend tactics and workflows you haven't considered.
Get the exact services you need
Social media management employees and freelancers often have similar skills—at least in terms of marketing. But most employees manage a wide variety of tasks and projects, which means they may not provide highly targeted help.
When you contract freelancers, you can hire them for specific services rather than wide-ranging lists of tasks. With freelancers, you can easily get assistance with certain campaigns or consulting in niche areas—especially if your in-house team is already too busy.
Build out your team on a small budget
Is your organization considering a new marketing channel? Does your in-house team lack expertise beyond their current specialties?
You may need to consider hiring a new team member—but your budget may prevent you from creating a full-time position.
By hiring a freelance social media marketer, you can increase your range of specialties without having to pay an additional full-time salary. This approach can help you build a more resilient team, even with a limited staffing budget.
2022 Freelance Social Media Manager Rates
If you already have full-time team members, then you may already have an idea of the average social media manager salary.
But how much do marketers make when they work as freelancers?
Let's take a look at typical freelance social media manager rates for 2022.
Annual freelance social media manager rates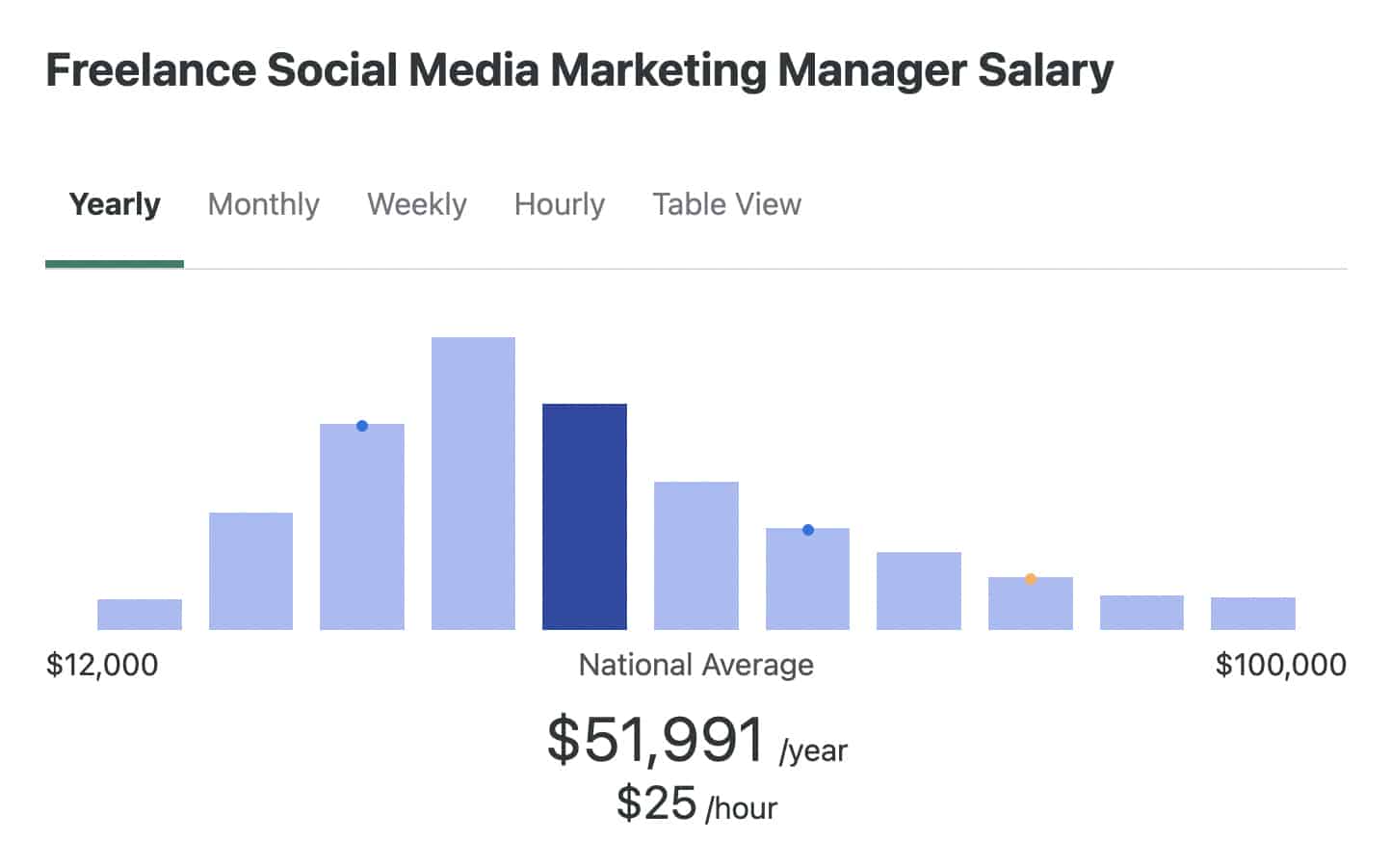 Across the United States, the average annual wage for a freelance social media manager is between $50,000 and $65,000. According to ZipRecruiter, the average annual rate is about $52,000 per year.
Glassdoor estimates a bit higher, placing the average annual rate at about $64,000.

However, both sites list much wider ranges for possible wages. For example, Glassdoor states that a range between $43,000 and $96,000 per year is possible. ZipRecruiter's possible range spans $35,000 to $60,000.
(In the next section, we'll cover some of the factors that affect these ranges.)
Monthly and weekly rates for freelance social media managers
For long-term projects or for general planning, it's helpful to know the average annual rate for freelancers. But in many cases, agencies and businesses don't intend to hire a contractor for a full year.
For shorter term projects, it's helpful to know the average monthly and weekly rate for freelance social media managers. According to ZipRecruiter, the average monthly rate is about $4,333, and the average weekly rate is $1,000.
Hourly rates for freelance social media managers
In other cases, you may be looking for a freelance social media consultant who offers an hourly rate. ZipRecruiter estimates the average hourly rate for freelancers at $25.
What Affects Freelance Rates for Social Media Contractors?
As helpful as it is to know the average rates for freelance social media managers, it's important to know that the costs you end up paying may be much lower or higher.
Let's look at some of the key factors that affect how much freelancers charge.
1. Marketing experience
As you might expect, experience is one of the biggest factors that affects freelance marketers' rates. Naturally, more experienced marketers tend to charge much higher rates than entry-level freelancers.
For example, LinkedIn lists $50,000 as the median salary for social media managers. But the average wages vary significantly based on experience.
Here's the breakdown:
Entry-level social media marketers: $42,000 per year
1 to 5 years of experience: $50,000 per year
6 to 14 years: $70,000 per year
15+ years: $65,000 per year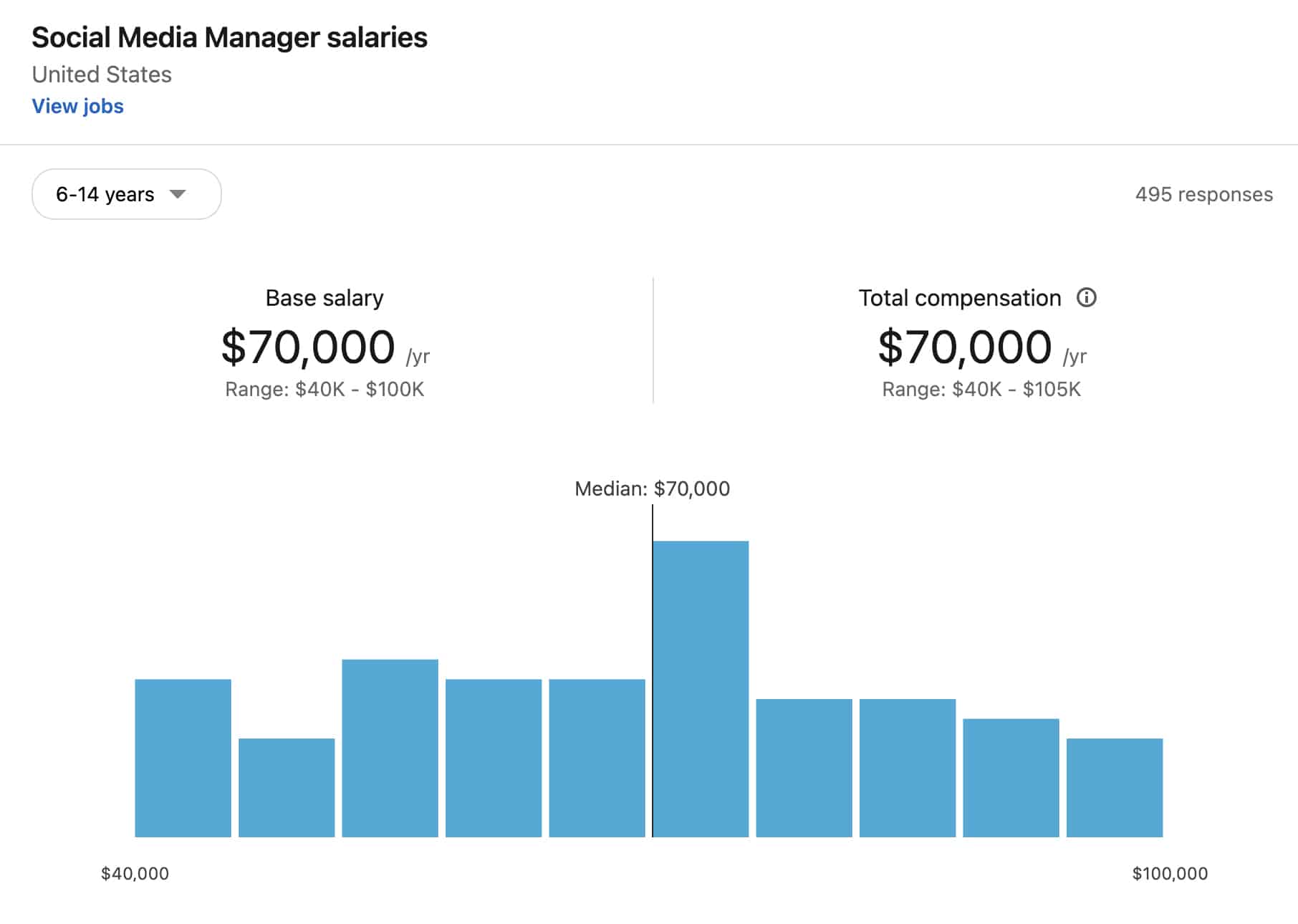 If you're planning to contract an entry-level freelancer to assist your team, you can budget for the low end of the average range. But if you're in the market for an experienced social media consultant, it's a good idea to budget for the higher end of the range.
2. Region and location
City and state can also affect freelance social media manager rates—whether you plan to hire a remote contractor or you need a freelancer to work on-site with your team. Freelancers often base their rates on their local cost of living, creating wage differences that add up quickly.
For example, according to ZipRecruiter, freelance social media marketers in Sunnyvale, California, charge $31 per hour. In comparison, contractors based in New York City charge closer to $28 per hour. For a CMO or an agency owner on a budget, these location-based differences are critical.
Even if your business is based in an area with a low cost of living and you plan to hire a local freelancer, tread carefully. Some contractors charge extra for travel and on-site meetings, both of which can contribute significantly to your project budget.
3. Type of work
Freelance social media managers handle a wide range of tasks and projects. Naturally, some types of projects—especially those that require higher levels of expertise—typically cost much more than others.
For example, freelancers who offer social media consulting or strategy often price their deliverables or hourly rates on the higher end of the spectrum.
In contrast, community management retainers often have smaller price tags.
As a general rule, one-time projects like social media audits or strategy sessions usually have higher hourly rates. Retainers and ongoing social media management work typically have lower hourly rates—but they may require you to commit to a certain number of months.
4. Campaign complexity
If your business generally focuses on a single social media channel, your social media campaigns may be relatively simple. But if you need a contractor to manage multiple channels at once, you can expect to pay more.
Most freelance social media managers charge per platform. Some also price retainer services differently based on the work involved.
For example, if you need a contractor to handle content calendar development, copywriting, post scheduling, and community management you can expect to pay much more than you would for post scheduling alone.
5. Paid vs. organic tactics
If your social media marketing plan includes paid ads, you may need to budget more for management fees. Freelancers may charge more for advertising, as the stakes tend to be much higher.
Mastering advertising platforms requires deep knowledge and extensive hands-on experience. In addition, the payoff from advertising tends to be much higher for businesses—which can lead to higher management fees.
6. Volume and timing
In some cases, you may want social media managers to meet certain time frames or engagement levels. For example, you might expect contractors to reply to customer comments or DMs within a set amount of time.
You can expect freelance social media managers to charge more for strict time-based requirements. The costs can be especially high if contractors must be available during certain time frames or if your social media accounts receive a large volume of engagement daily.
5 Skills to Look for in a Freelance Social Media Manager
Searching for a great contractor is a little like looking for the ideal employee. But it's important to make sure that any freelancer you hire has capabilities that go beyond social media marketing skills.
Ideally, any contractor you hire should be skilled at the following.
1. Communication
When you work with an in-house team, you can easily set expectations for communication and check-ins. With freelancers, however, you need to be able to trust that they can communicate effectively.
When interviewing freelancers, consider asking if they have a policy for returning client messages. For example, you may want to know that they'll respond within one business day—or even sooner.
It's also helpful to ask how freelancers prefer to communicate. If you thrive on video chats but your contractors prefer brief emails, you may not be able to build a successful relationship.
2. Organization
Contractors often work with multiple clients at the same time. For disorganized freelancers, keeping projects and assets separate can be difficult. Before you hire a freelance social media marketer, however, you want to know that they'll keep your assets secure.
Consider asking candidates about the workflows they use or the project management apps they prefer. Even if you don't use the same systems, you can get a sense of how organized freelancers are so you can assess if they'd be a good fit.
3. Time management
In addition to keeping client assets organized, social media freelancers have to manage their time efficiently. In some cases, you can get a sense of contractors' time management skills by assessing whether they arrive at meetings on time and prepared.
But before you commit to working with a contractor, it's essential to ask how much time they'll need to complete the project in question.
When you create a social media manager contract, be sure to get the timeline in writing.
4. Self-reliance
As a busy CMO or agency owner, you don't necessarily want another person to manage. Instead, you likely want to hire a contractor who's self-reliant, proactive, and capable of working independently.
When interviewing social media contractors, ask about their workflows. Get a sense of how often they'll need to check in with you or whether they can make informed decisions on their own to keep projects moving forward.
5. Flexibility
You might be highly intentional when planning social media campaigns and marketing efforts. But needs and priorities can change unexpectedly. You need a freelancer who can be just as adaptable as your in-house team.
When you talk with potential contractors, ask about projects they've completed that didn't go according to plan. Listen carefully to their response to assess how easily they can adapt to changes.
Best Practices for Hiring a Freelance Social Media Manager
Ideally, the social media contractors you hire carry out your projects flawlessly and collaborate easily with your in-house team. To find a great freelance social media manager, use the best practices below.
Ask for referrals
If you're bringing on a freelancer for the first time, ask peers for referrals. Ask other marketing manager or agency owners in your niche to recommend a contractor they've enjoyed working with.
Know which skills you need
Even if you don't post a job listing, it's helpful to create one—just as you would when hiring a full-time employee. By listing the qualifications and skills you need, you'll be able to narrow down your options more efficiently.
Create a clear project proposal
Freelancers interview clients just as much as you interview them. Whether you interview in person or over video chat, aim to be organized and have a complete project proposal prepared.
Explain how you envision the contractors' role and invite candidates to offer input regarding the project scope, timeline, or workflow. If you're talking with experienced freelance social media marketers, they may offer ideas that enhance the project and change the scope.
Consider a trial project
In some cases, you might plan to hire a freelancer for an extensive project or an ongoing monthly retainer. But rather than jumping into a big contract, you might consider starting with a paid trial project.
A paid trial or a mini project can be great for testing your working relationship.
For example, you might hire a contractor for a social media audit before signing on for six months of social media management. Or you might bring a freelancer on for a small paid campaign before hiring them to create a paid social media funnel.
Sign a social media manager contract
No matter how large the project is, it's essential to get your agreement in writing. A social media marketing contract is critical for protecting both parties and making sure everyone is on the same page.
With a contract, you can define the scope of work to avoid potential misunderstandings. A contract can also clarify timelines and costs so there are no surprises along the way.
A great social media marketing contract usually includes elements like:
Scope of work, including who will provide each deliverable
Timeline, including start and end dates and other key milestones
Fees, including due dates and late fees
Copyright and intellectual property (IP) guidelines
Terms, including how you or the contractor can end the agreement if necessary
Wrapping Up What We Covered About Freelance Social Media Manager Rates
Now that you know what freelance social media managers usually charge and which factors affect their rates, you can use this information to find the right type of contractor for your budget. Use the tips above to seek out a freelancer with the right mix of skills and create a social media manager contract that meets everyone's needs.
And don't forget you'll want an organized social media manager who knows how to tame the social media chaos. Sign up for a free trial of Agorapulse to see how!