Are you building a new social media agency from the ground up? Maybe you're an experienced agency owner seeking new tools and tactics for your team. Or perhaps you're a business owner looking to partner with the right digital agency.
Agorapulse has the resources you need to stay ahead of the competition. In this article, we'll walk you through what you need to know about launching and running a successful social agency, and, for those seeing one, working with a social media agency.
How to Launch a Social Media Agency
When you have a reliable blueprint, starting a social media agency can be easier than you think. Take a look at our agency basics, including resources for making money, hiring team members, and setting clear client expectations.
How to start a social media marketing agency
With social media marketing usage at an all-time high among midsize and large businesses, it's a great time to launch a digital agency.
So what's the first step?
USP
Clarify your unique selling points (USP) to stand out from the countless other agencies competing for your clients. Your USP may focus on:
A sector like fashion, food, or pharma
Services like content creation or paid social
Outcomes like lead generation or sales
Services
Next, list the services your agency can offer. Your service list may include full social media management, social strategy, or paid social. Depending on your team's strengths, you may offer other digital services like content creation or pay-per-click advertising (PPC).
Pricing
How much will running your social media agency cost and how should you price your services? This part of the agency planning process requires a ton of research.
Chart your anticipated costs, ranging from office space and staff salaries to software and equipment. Then do some competitor analysis to get a sense of market rates for similar services.
Finally, do the math to estimate how much you should charge.
Once you've assigned roles and mapped out workflows, you may be ready to take on your first client.
How to run a social media agency
After launching, it's time to move on to the next phase: keeping your social media agency running smoothly.
From finding clients to working with them to scaling your business, agency owners have a lot to juggle.
Here are just a few of the issues you'll need to address:
Establish trust with agency clients. The more your clients trust your team, the more business they're likely to give you. For most agencies, building trust starts with being transparent and proactive in regards to client work. Communication is key. It helps clients understand what you're doing and why.
Choose tools. The tools your agency uses should help your team do their jobs more efficiently while keeping client data secure. From social media dashboard to hashtag research tools, decide on the platforms your agency needs to work smarter.
Demonstrate ROI. Your clients deserve to know what kind of return on investment (ROI) they're getting from your work. Add a standard ROI formula to your weekly or monthly reports to show clients the value you're generating.
One of the best ways to learn how to run a social media agency is listening to expert insights. Tune in to this episode of Social Media Lab LIVE for some pro tips.
Human Resources tips for digital agencies
For your agency to grow, you need qualified team members. But how do you hire and train social media managers, especially if you're new to running an agency?
Even if you're an experienced social media agency owner, you'll need to know how to hire new team members. Especially when you have more work than you can handle independently.
Here are a couple of ideas to consider as you search for the right person.
Be specific about the experience level you expect. Do you want to hire entry-level marketers who you can train to use your workflows and tactics? Would you prefer to hire experienced marketers who can eventually lead their own teams?
Seek out social media specialists. Consider hiring team members who can focus on certain areas of your business, such as paid social. Specialists can often bring more value to your business; they already have advanced skills.
Plan incentives and professional development early on. To keep employee turnover as low as possible, don't wait to think about how you can cultivate a great team. You may want to establish a timeline for promotions or offer incentives for performance that goes above and beyond.
In addition to providing on-the-job training, think about how you can help your team improve their skills. For example, you can encourage learning and leveling up by stocking your office with the best social media marketing books.
How to find clients for your social media agency
As your agency grows, it's important to keep a steady stream of clients in the pipeline. After all, some client turnover is natural.
In many cases, you can leverage your current and past clients to secure more work.
Here's how:
Testimonials. Ask clients to share what they've appreciated about working with you. Then get their permission to publish their comments on your website.
Referrals. Ask clients to refer your agency to fellow business owners. Consider giving them a discount on services or a referral fee for their recommendation.
Case studies. Explain the challenges you overcame and the process you used to get exceptional results for a client. Share your case study with prospects to show them what your team can do.
You can also use your digital marketing expertise to expand your client roster:
Social ads. Create compelling ads on Facebook, LinkedIn, or other social media platforms.
Search engine optimization (SEO). Publish helpful content on your website and optimize it for business owners who need social media marketing.
But why stop there? From partnering with complementary agencies to becoming an industry leader, get our top tips for finding more agency clients.
How to build an agency pitch deck
When clients consider signing with your agency, sending them the perfect pitch deck can help seal the deal.
A powerful sales tool, a pitch deck lets you introduce your agency to prospective customers.
Although some agencies simply send a standard deck to prospects, you can also create personalized decks for high-profile clients.
A typical agency pitch deck includes:
Your agency's USP. What makes your agency unique? Concisely explain what you do differently, whether it's your services, niche, or expertise.
List of services. Create a list of the services your agency offers. If you're preparing a personalized deck, only mention services relevant to the client.
Up-to-date pricing. Spell out your pricing tiers so prospective clients know if your agency fits with their budget. If you typically price out custom packages, simply list a starting price.
Examples of results. Take the opportunity to highlight some of your agency's most impressive results. Pitch decks are too short for full case studies, but they're great for short descriptions of some of the best campaigns you've run.
Social proof. Has your agency worked with high-profile clients? List some of your best-known clients so prospects can self-identify as an ideal customer.
Do you need a hand getting started with your deck? Get more details, see examples, and download a template in our agency pitch deck explainer.
How to set agency client expectations
Your team may know exactly what to expect from social media campaigns. But if you don't guide your clients through the process, they could end up disappointed—even after successful campaigns.
Setting clear expectations is essential for agencies because it helps you build successful client relationships. It can also affect your ability to get the testimonials and referrals you need to build your business.
To set client expectations, follow these steps,
Set clear goals and communicate them to your clients. Use your knowledge of what's realistic given the budget, resources, and starting point. Make a point of underpromising, so you can overdeliver.
Develop a marketing plan that details the scope of your work. Explain which platforms you'll use, how often you'll create content, and how you'll manage engagement.
Share any updates to the plan as soon as possible. Be transparent about unexpected challenges and explain how they may affect campaign results. Don't overwhelm clients with constant messages—but do err on the side of communicating too much rather than not enough.
Ensure clients know who their point of contact is, That way they can always get answers to their questions. Clarify how your agency works so they know when things are going smoothly and when to reach out.
Tips for social media collaboration
When your agency manages social media for clients, you automatically take part in a collaboration. After all, you're not working independently—far from it. Instead, your agency's team works alongside every client.
Of course, each client may take a slightly different approach.
In some cases, working with clients may feel like a true collaboration. That is, the client may provide creative resources, offer input, and work with your team to produce the optimal outcome.
In other cases, your agency may manage a much more significant portion of the work.
If your agency doesn't view every client partnership as a collaboration, you run the risk of inconsistent messaging, missed communications, and even loss of trust.
How can you overcome these challenges? Take a look at our tips for acing social media collaboration:
Work with clients to create a style guide so you can get the tone and messaging right.
Develop a social media approval workflow to ensure the right people get a say before content goes live.
Set a coverage schedule so someone is always on hand to handle issues or prevent crises.
Ways Your Digital Agency Can Make (More) Money
As a social media agency owner, you can choose from countless approaches to generating revenue. Consider offering these services as part of a complete package or as independent options:
Social media strategy: Work with clients to craft an effective strategy that aligns with their business goals. Advise clients which social media channels to use, whether to use organic or paid social, and how to create a content plan.
Content creation: Creating social media content that helps achieve marketing goals isn't easy. Work with clients to write captions, stage photo- or video shoots, or design graphics that are optimized for social media.
Brand monitoring: Maintaining a strong brand reputation is critical for brands in every industry. Use social listening tools to tap into conversations about your clients' brands and help them find opportunities to improve.
Paid social: Advertising platforms like Facebook or LinkedIn ads are ideal for reaching social media goals faster and more effectively. Develop goal-focused paid social campaigns that complement your organic efforts.
If your agency has the capacity to do more, think about ways you could expand your services. Read more on making money as an agency by introducing related digital marketing services or partnering with another agency that already offers them.
Social Media Marketing Agency Best Practices
After launching your social media agency, it's essential to stay on top of best practices. From managing dozens of social media accounts to producing insightful reports, these resources can help you run your agency without missing a beat.
Social media stats that agencies need to know
For social media agency owners, staying on top of industry trends is a must. You need to know about emerging platforms and advanced features, so you can drive value for your clients.
When you track the latest social media statistics, you can feel confident that you won't miss a valuable opportunity.
Some essential statistics to know include:
Top social media platform for business-to-business (B2B) companies. This is especially important if you work primarily with B2B clients or if you offer lead generation services.
Content types social media users want most. These statistics can guide your content calendars and ensure that you create the most compelling posts for clients.
What people use social media for. This data can help you shape your social media goals so you can drive better results.
When social media users tend to be online. These statistics can help you publish content at the optimal times for your audience.
Which social channels are gaining or losing followers. This data can help you decide which channels your clients should use and which deserve the greatest investment.
How to manage multiple social media accounts
As your agency gains clients, you'll need a process for managing all their social profiles securely and efficiently. Relying on native tools like Facebook Business Manager or the Twitter app is definitely an option.
But using native tools means spending a lot of time switching back and forth between client profiles. Not only does this approach waste time, but it also leads to mistakes—like replying from the wrong account.
Instead of using native tools for social media management, consider a social media solution like Agorapulse.
With Agorapulse, you can:
Manage all client profiles in a single place without switching between accounts constantly.
Give team members access to specific client profiles while keeping accounts safe and secure.
Accomplish everything from publishing and scheduling to monitoring and reporting with one tool.
Organize accounts however you like so you can easily track, say, all accounts for a single client or location.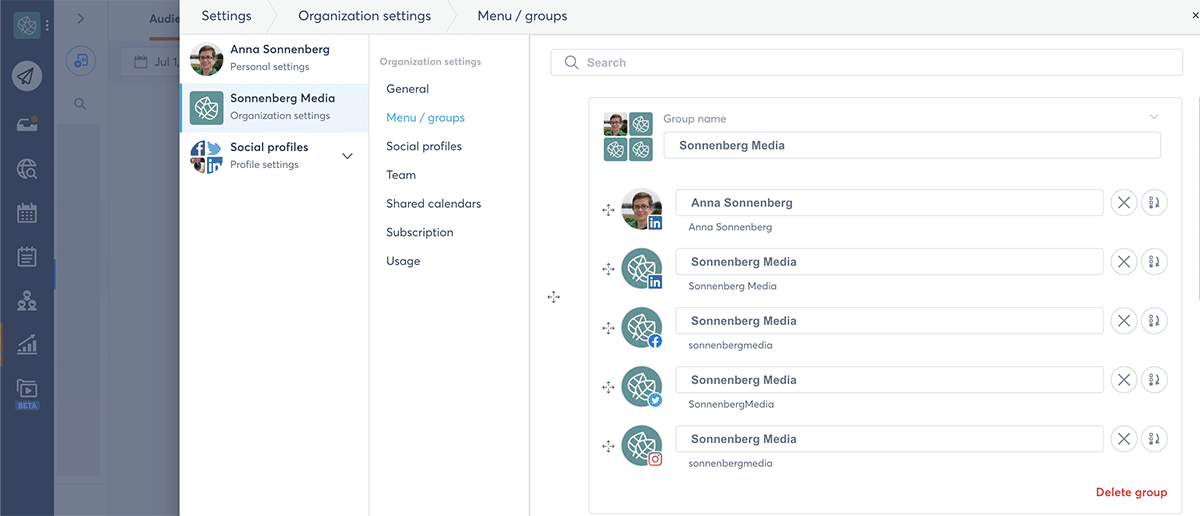 Do you want to manage client approvals and collaborate with your team as well? See other ways Agorapulse makes it easy to manage multiple social media accounts.
How to do brand monitoring for clients
Monitoring clients' brand reputation is an important part of managing their social media.
By offering brand monitoring services, you can help clients understand how, why, and where people talk about their business.
This process lets clients assess how often people mention their brand, where conversations tend to happen, and whether the sentiment is positive or negative.
It also allows them to join conversations and respond to questions and comments rather than reading them passively.
In the event of a crisis, brand monitoring is critical. It can help you identify and address minor problems before they escalate. It can also guide your response to major issues, increasing the chance of an appropriate reaction.
Brand monitoring can also help you track the outcome of efforts to increase brand awareness and other marketing initiatives.You can use brand monitoring techniques on virtually any company, so it's also ideal for competitive analysis.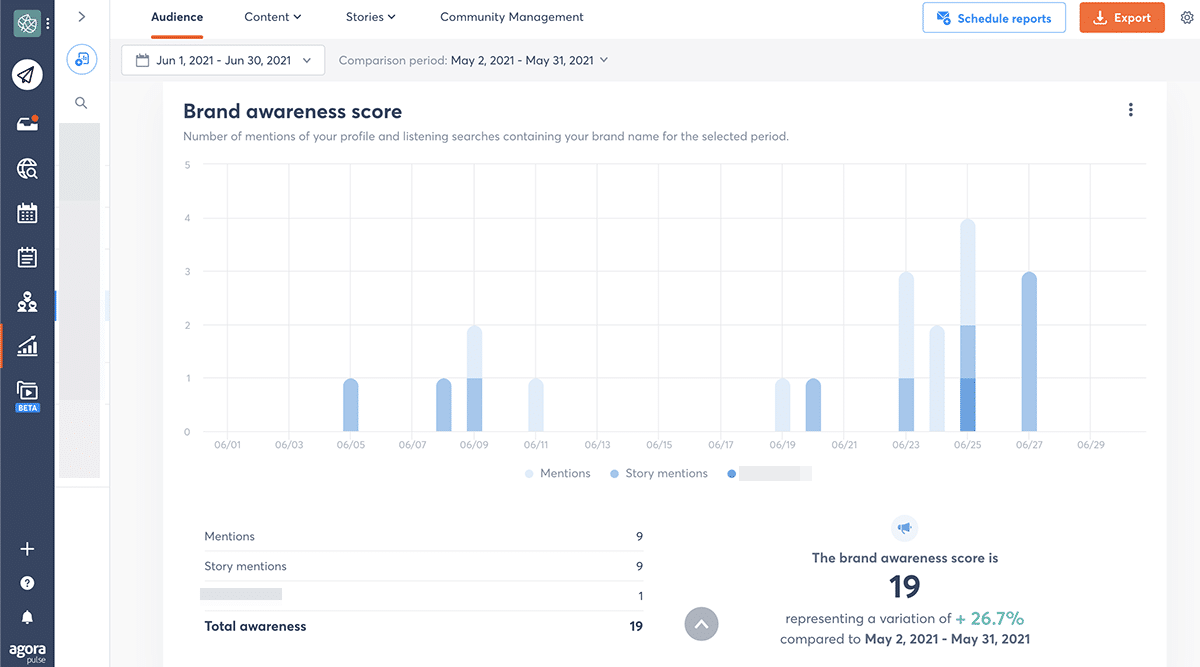 So what tools and tactics do you need to keep an eye on a brand's reputation? Get our brand monitoring tips and best practices so you can set up an effective process for your agency.
How to create social media reports for clients
As a social media agency owner, you're responsible for setting client goals and implementing relevant strategies.
But how do you show clients what you've accomplished and demonstrate that you've met (or exceeded) goals?
Creating insightful reports for multiple clients can be a major pain point for agencies. Without an efficient workflow, client reporting can be time-consuming and tedious. If you develop reports manually, you also run the risk of introducing inaccuracies.
From your clients' perspective, agency reports can seem overly complex and difficult to understand. Reports often focus too much on data while overlooking useful insights.
To streamline client reporting, follow these tips.
Define standard reporting time frames and delivery dates. Be consistent, so clients know what to expect and can compare reports easily.
Identify relevant data to include. Avoid reporting on all possible analytics and focus on the metrics that matter to your clients. Audience growth, impressions, engagement, and content performance are good starting points.
Use a tool like Agorapulse Power Reports. This tool lets you create custom client reports, so you can prepare and share them in minutes (not hours).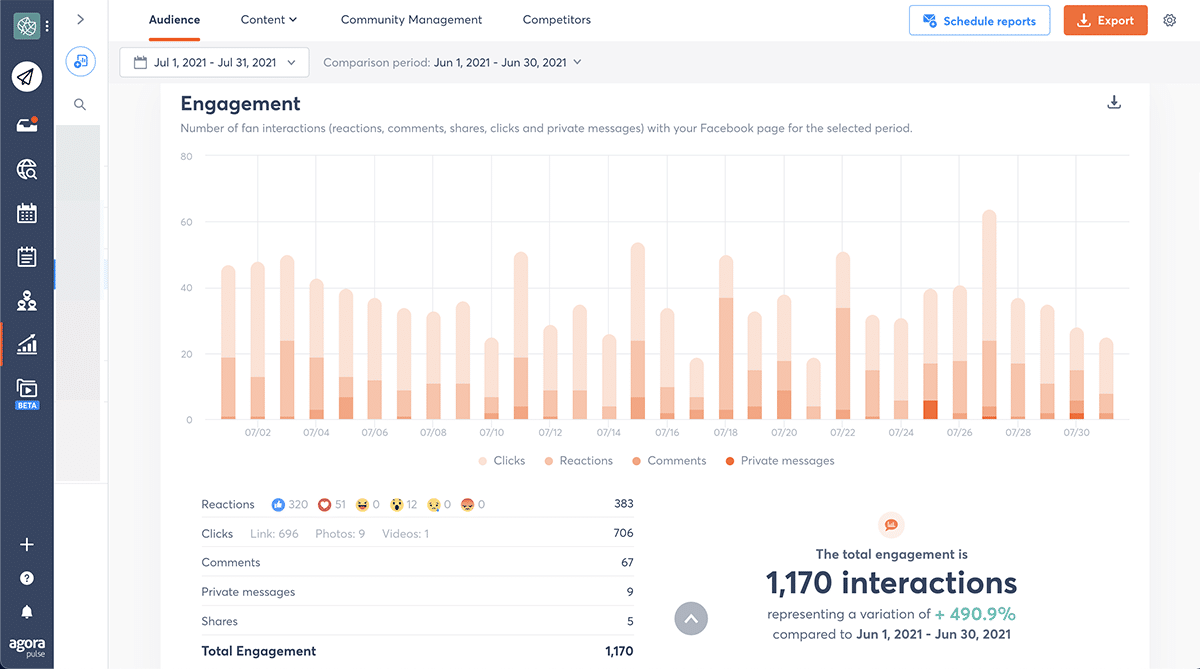 How to plan for end-of-year social media reports
Creating weekly, monthly, or even quarterly client reports can be difficult enough. Preparing for end-of-year reporting can be downright daunting, especially if you leave all the work until the last minute.
Instead of waiting until December to prepare annual reports for clients, get started in January.
If you set up a framework and start collecting data as early as possible, you'll have a much easier time compiling end-of-year reports.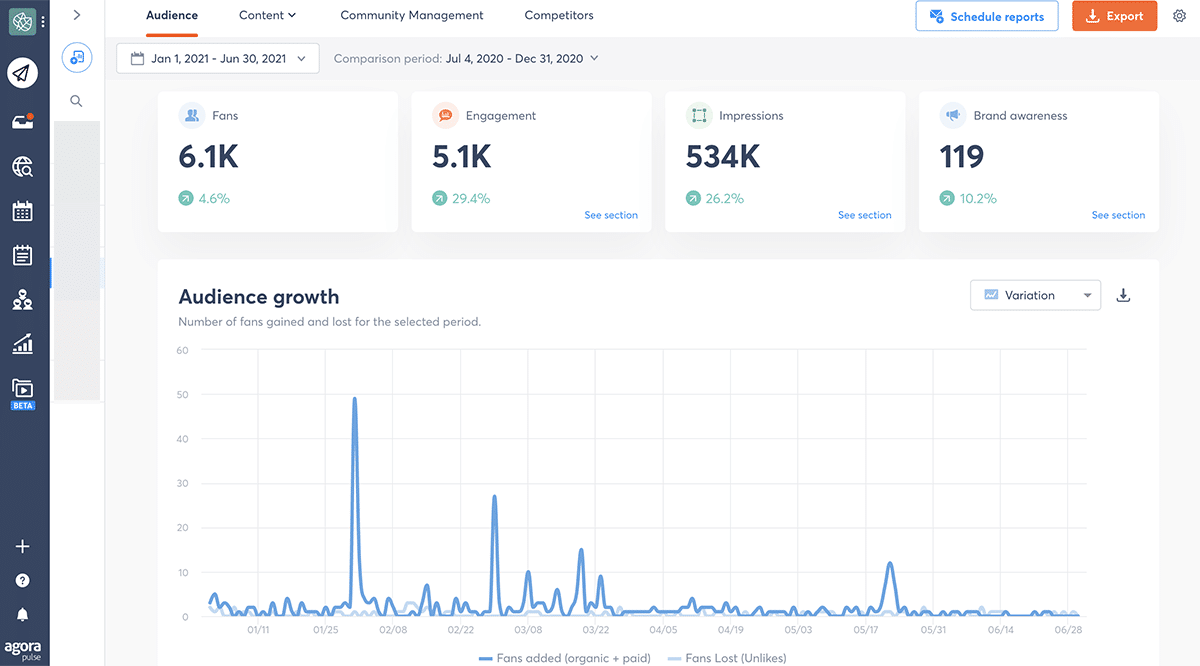 Use these simple steps to get started.
Add client social accounts to Agorapulse. Using Agorapulse can streamline the reporting process significantly. But the platform can start tracking data from just 30 days prior to when you added a client account. That's why it's important to add client accounts to Agorapulse as early as possible.
Access client web analytics accounts. Web analytics allow you to report on web traffic and conversions, which can add tons of value to your reports.
Define clients' decision-making units (DMUs). When you know your clients' DMUs, you can create reports that better demonstrate your value and showcase your accomplishments.
Are you ready to get ahead and start preparing annual reports? See how we recommend producing end-of-year reports for agency clients.
Survival tips for a digital agencies in tough sectors
From global events to market shifts, major happenings can compromise your clients' businesses. As a result, they may consider cutting their marketing budget and ending your working relationship.
Does your team work with clients in hard-hit sectors? Use these social media agency survival tips to maintain relationships and help clients make the best of bad situations:
Communicate proactively. Don't wait for clients to contact you with bad news. Schedule a call sooner rather than later so you can see where they're at.
Brainstorm solutions. Clients in tough sectors may want to decrease their marketing spend. How can you continue to help them address challenges.
Provide more value. Do a lot of your clients have the same questions and concerns? Consider offering resources that can help many clients at once.
Social Media Tools and Tactics for Agencies
Finding effective tools and tactics can help you run your social media agency much more smoothly. From automation to collaboration, use these tips to establish efficient workflows for your team and clients.
How Agorapulse can help agencies thrive
As the top social media management solution for agencies, Agorapulse is designed to help you manage multiple client accounts seamlessly.
With Agorapulse, your agency team can:
Assign roles to team members to ensure everyone gets the access they need.
Publish and schedule content at optimal times so you can work more efficiently.
Create Shared Calendars so clients can monitor and approve content securely.
Prepare client reports and schedule them to send automatically.
Manage engagement in bulk, moderate clients' social inboxes, and assign inbox items.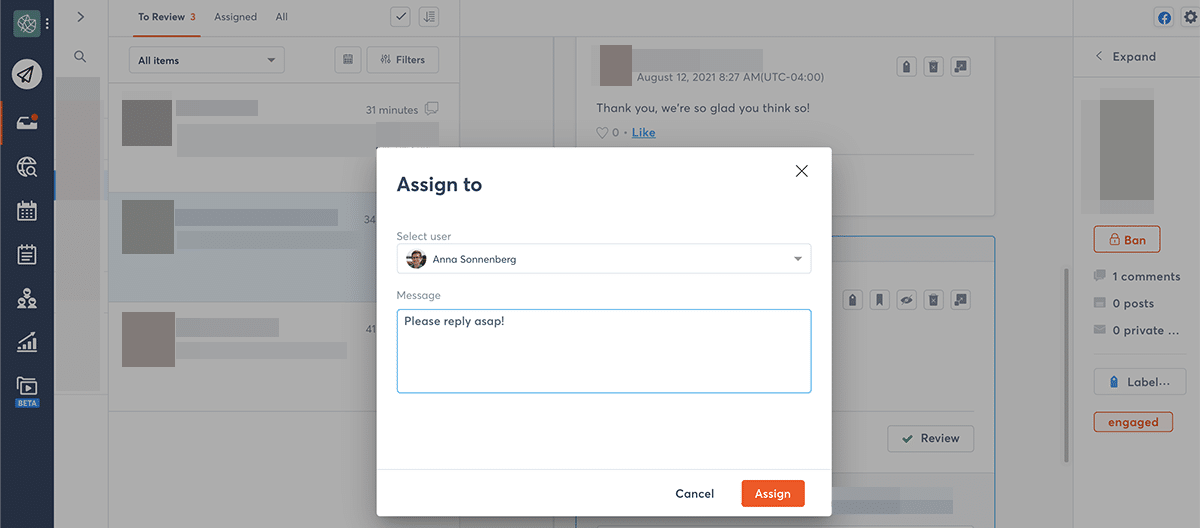 Agorapulse's array of agency-focused social media tools makes it easier than ever to generate value for your clients.
Here are just a few examples:
Team reports that indicate how much time your agency has spent on clients
Social customer relationship management (CRM) tool that supports lead generation
Facebook Barometer that offers competitive analysis for client brands
Publishing recommendations that help you optimize client social media content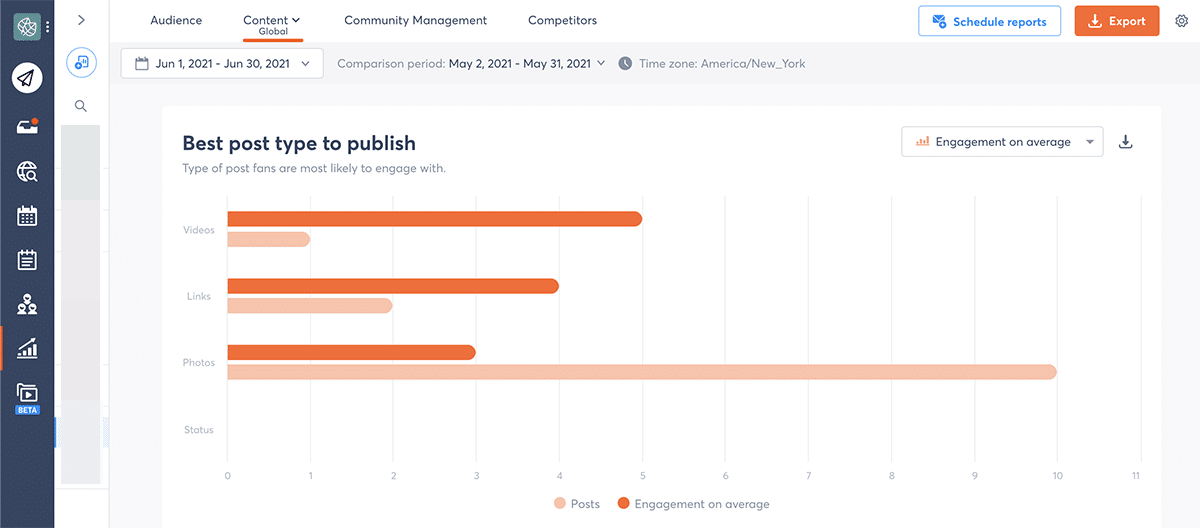 How to automate social media successfully
The busier your agency gets, the less you'll want to manage social media tasks manually. Tackling tasks one by one can be a huge waste of time.
Publishing content manually also requires you to set aside valuable time throughout the day, interrupting your productivity.
Automating social media management can save your team a ton of time. It can also help you establish consistent workflows, avoid mistakes, and get better results.
So how can you embrace automation while still adding a personal touch to client accounts?
Start with these suggestions and then access our advanced tips to get more from social media automation:
Pinpoint the ideal times to publish on each client profile, based on follower activity.
Batch tasks by uploading multiple posts at once and scheduling them to post at the right time.
Create automated inbox rules and saved replies so you can tackle social media engagement efficiently.
Republish evergreen content every few days, weeks, or months to continue to extract value.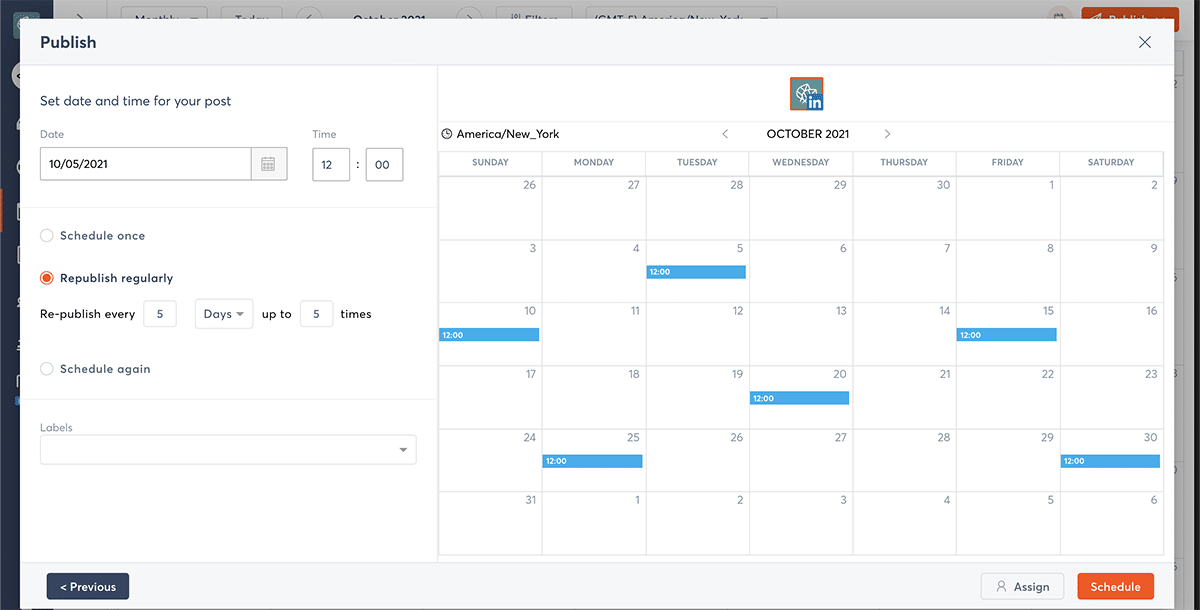 Why agencies should use shared calendars
If you've ever tried to share content ideas and get client approvals via email or chat apps, you know that this approach is a disaster waiting to happen. Suggestions and requests often get buried in threads, causing your team to miss great ideas. Clients ignore requests for approval, causing publishing delays and unnecessary stress.
So what's the solution?
Agorapulse's Shared Calendars are your ticket for everything from transparency to approvals. Shared Calendars:
Give clients a complete view of all the content you've published or scheduled for their accounts.
Allow clients to comment on, request changes for, or reject content you've planned.
Let you request client approval, ensuring content won't be published without their confirmation.
Better yet, you can create separate Shared Calendars for each client. That way you can manage permissions and keep client content secure.
See why agencies and Shared Calendars are the perfect pair and find out how to get started.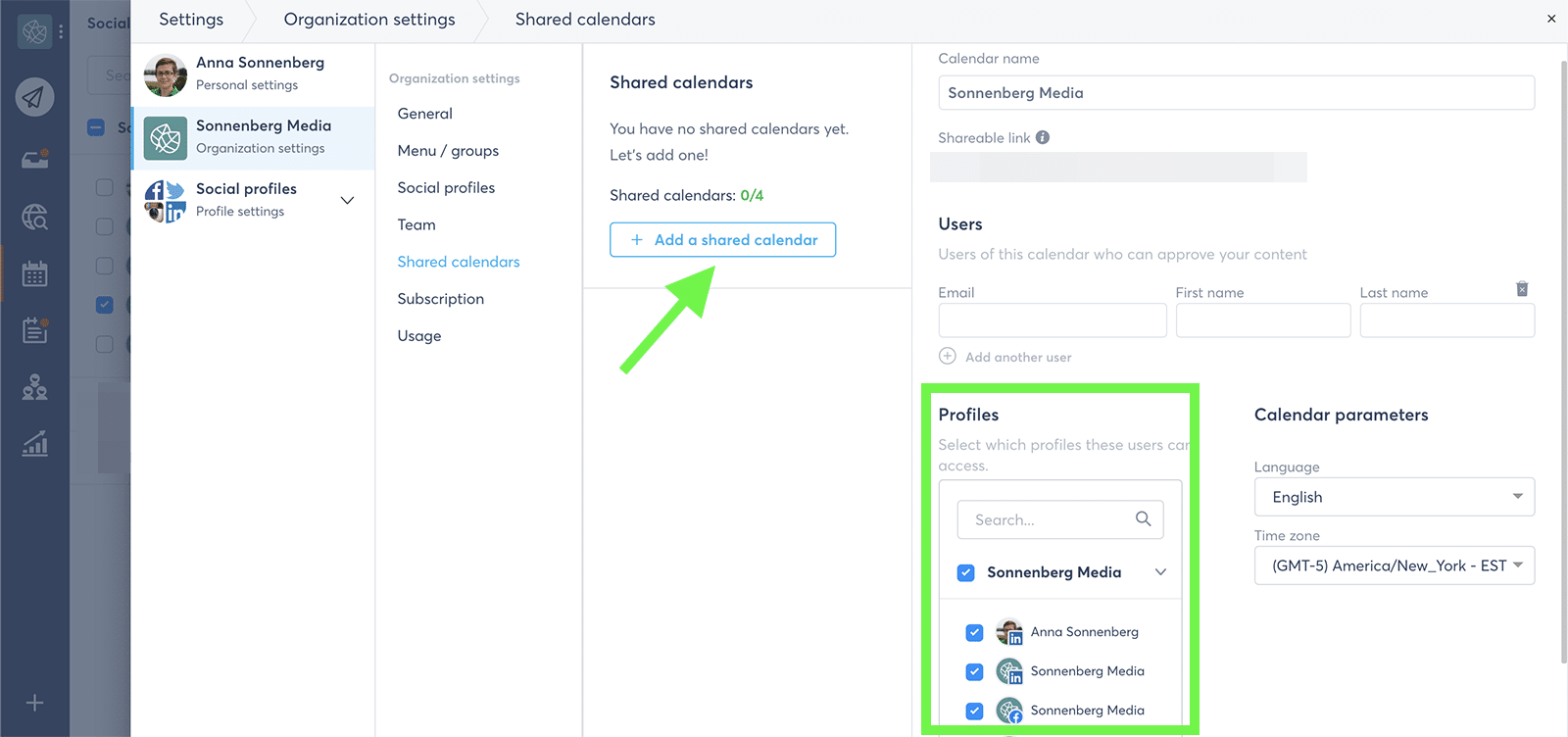 How Agencies can leverage video marketing
For years, marketers have raved about video marketing and the added value it can offer brands. Yet many clients still hesitate to embrace video, making it tough to deliver great results.
How can you help clients leverage video marketing?
Here's how to take the first few steps:
Address client concerns—such as cost and resources—by demonstrating how video can generate tangible results.
Choose the most appropriate social media channel for each client, ranging from YouTube to TikTok to Facebook.
Show clients how to plan and execute livestreams so they can connect with their customers more effectively.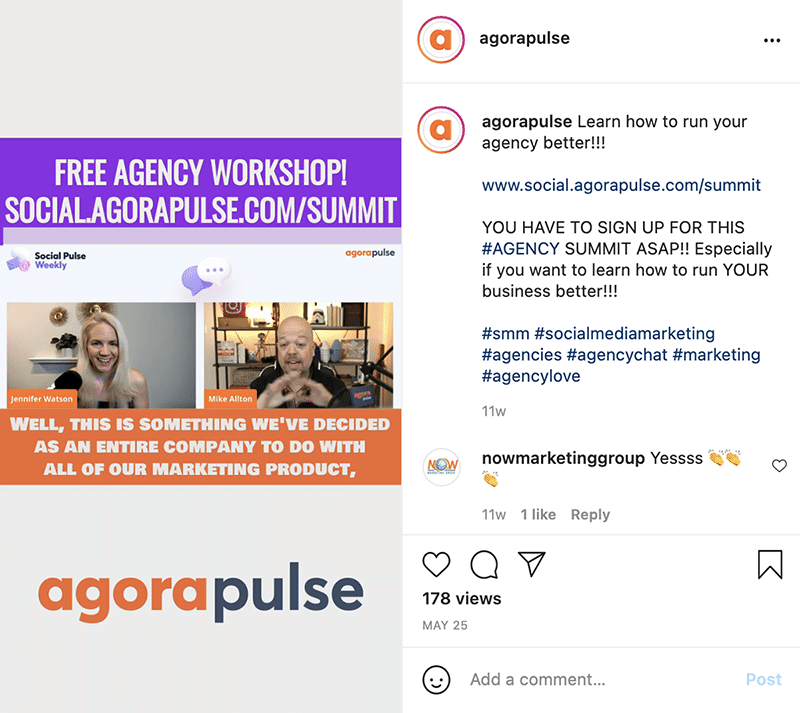 When you're ready to take your agency's video marketing to the next level, consider using this format with other channels. For example, you may want to use video for paid social, influencer marketing, or even email marketing.
How to repurpose social media content
The social media content you post for clients should be unique. But that doesn't mean that you can only publish original content one time only.
If you're smart about how you repurpose, you can get tons of added value from social media content.
These recommendations for repurposing content can help you establish a time-saving workflow:
Avoid cross-posting. Don't share the exact same post across channels without formatting or creative changes. This tactic can look lazy, as it doesn't leverage the features of each individual platform.
Optimize content for each channel. Use the appropriate photo resolution or video length for each platform. Update captions to ensure they're the right length and include the right messaging.
Rework your clients' best posts. Identify the posts that generated the most engagement or clicks. Then add new information to make the content relevant again. For example, when you reshare a blog post, call out a different quote in the caption.
Republish content over time. Schedule evergreen content to publish several times over weeks or months. Experiment with different times to ensure you reach the maximum number of people.
Top productivity tools for social media agencies
For busy social media agencies, efficiency and value are top priorities. That means it's critical to adopt tools and apps that help your team work smarter.
Some of our favorite productivity tools for agencies include:
Agorapulse. Whether you manage a few or a few dozen social media accounts, Agorapulse makes the process easier. With Agorapulse, you can save time by scheduling content in advance and creating client report templates to reuse again and again. You can also see what team members are doing in the app—so you never have to repeat tasks.
Asana. For successful collaborations with team members and clients, you need a project management tool. Asana keeps everyone on track, thanks to features like project assignments, due dates, and attachment uploads. You can even chat in the app when you want to ask a question or provide an update.
BuzzSumo: Finding great content to share on client profiles can be incredibly time consuming. With BuzzSumo, you can identify top-performing content quickly so you can get more value from your social media shares.
Ideas for experienced social media managers
Gaining experience as an agency owner comes with plenty of benefits. Ideally, you can build a fabulous team, establish airtight processes, and keep your client pipeline full.
But what happens when you're ready to take your agency to the next level and skyrocket your growth?
The social media landscape changes at lightning speed.
If you want to stay competitive, you can't keep doing the same thing forever. Instead, borrow some of our ideas for energizing your social media agency:
Invest in networking. Use your newfound knowledge of platforms like LinkedIn to expand your professional network. Join relevant groups or create your own to cultivate an engaged following.
Sponsor an event. Are you ready to get your agency's name out there in a big way? Sponsor an event in your industry, such as a pharma or finance conference. You'll get your name in front of tons of potential clients.
Target your dream clients. Why wait for clients to find you? Draft a list of the clients in your industry who you most want to work with. Then make a plan to build relationships with them over social media. Once you get to know one another, find the right way and the right time to make your pitch.
How to Work With a Digital Agency
For business owners, entrusting an agency with social media marketing isn't always easy. When you choose the best agency for your business and know what to expect from the beginning, your partnership is bound to be much more successful.
What clients can expect from a digital agency
If you're new to working with an agency, you might not know what to expect. That means you might be pleasantly surprised or really disappointed with the results.
Here's what you should know before you even start talking with an agency:
Services. Most agencies offer a set of services that you can purchase individually or as a package. These may center on social media, or they may include other aspects of digital marketing.
Fees. Agencies generally have flat rates or monthly fees rather than hourly rates. This fee structure helps you budget more effectively.
Expertise. You should expect your agency to become an expert on your brand. They should be eager to learn about your products, services, mission, and goals.
Processes. Digital agencies generally have established processes and workflows. They may ask you to use certain applications or software to access reports or other data.
Input. Agencies often request client input and approval before publishing social media content. Be prepared to offer constructive criticism and guidance.
Before you partner with an agency, you'll probably want to learn more about what it's going to look like. Learn more about what to expect from a social media marketing agency so you can find the right partner for your business.
How to partner with the right social media agency
Now you know what to expect from a social media agency. But how do you find one in the first place?
First, think about what you want. Do you need someone to manage all or part of your social media efforts?
Then consider how you'll work together. Can you contribute in-house resources? How do you want an agency to complement your existing marketing team?
Once you've defined what you're looking for, it's time to start your search.
Here are a few ideas to guide your search:
Do a Google search for an agency in your niche. Type "social media agency for beauty brands" or "pharma social media agency" into the search bar. Then click through and take a look at the top results.
Check agency reviews. Dig into review sites about social media agencies. You might also read Google, Yelp, or social media reviews.
Ask for recommendations. Chances are that some of your business owner colleagues already work with great agencies. Find out if they're happy with their agency, and then ask for a referral.
After you've narrowed down your search to a few agencies, schedule a call. Get our tips for interviewing a social media marketing agency so you can make sure it's a good fit.
In Conclusion
With the right tools and tactics, your social media agency can flourish. Create a free Agorapulse account to find out how our social media solution can streamline your workflows and help your agency succeed.