From budgets and goals to channels and creatives, marketing campaigns have a lot of moving parts. Marketing planning software is essential for keeping track of all these elements, whether you're working in-house or with agency clients.
Which platforms are ideal for your organization? Discover the best marketing planning software for your team and find the tool most likely to help your organization succeed.
What Is Marketing Planning Software?
Teams use marketing planning software to collaborate on strategies and to organize creative elements—so they can execute campaigns successfully. Some tools support multi-channel planning. Others focus on a certain campaign aspect or a particular marketing channel.
Strategic marketing planning software is critical for complex campaigns that require input from multiple stakeholders or perfectly timed launches across channels.
But these tools can also help you save time and improve productivity when planning simple campaigns.
Types of marketing planning platforms
Unsure which type of software your team needs?
Most planning tools fit into one of these standard categories:
Work management applications let you schedule and assign all kinds of projects, including marketing campaigns.
Campaign planning tools allow you to organize and track campaigns, from setting goals to monitoring results.
Social media management software helps you create and manage media, schedule content, and track results.
Research and measurement tools provide analytics, so you can evaluate results and plan more successful campaigns.
What to look for in a marketing planning app
Marketing planning tools have a range of capabilities, integrations, and price points.
Use these tips to find the right platform for your team:
Channel support for the outlets your team uses most, so you can plan and schedule campaigns effectively.
Collaborative tools that let you assign tasks, get approval from stakeholders, and keep track of conversations among team members.
Predictive tools help you forecast results, so you can adjust your campaign strategy as necessary. Those tools can help you maintain a competitive edge and make data-driven decisions.
App integrations that support the supplementary tools your team uses. When you pick a planning tool that fits with your ecosystem, your team can work more efficiently and avoid having to complete tasks twice.
Subscription models that work for your organization. Some planning tools are designed for small teams, while others are geared toward larger enterprises—with price tags to match. Make sure the tool you choose fits your team and your budget.
Work Management Applications
Whether you call them project management apps or work management platforms, these tools are ideal for planning a wide range of marketing initiatives.
ActiveCollab
Designed to make campaign workflows transparent, ActiveCollab is ideal for in-house teams and agencies working with clients. You can use the platform to map out campaigns, divide the work into tasks, and invite collaborators. Each project supports file management and team discussions, so you always have what you need in one convenient spot.
To help you save time, ActiveCollab has Zapier and webhook integrations that can automate simple tasks and connect apps.
To prevent your team from becoming overwhelmed, the platform also provides resource management. You can use the built-in Workload tool to distribute tasks effectively and ensure that everyone has enough time to meet deadlines.
Asana
As a work management platform, Asana is designed to organize projects and keep teams on schedule. You can use the platform's templates to plan marketing campaigns, or you can develop unique workflows for your team.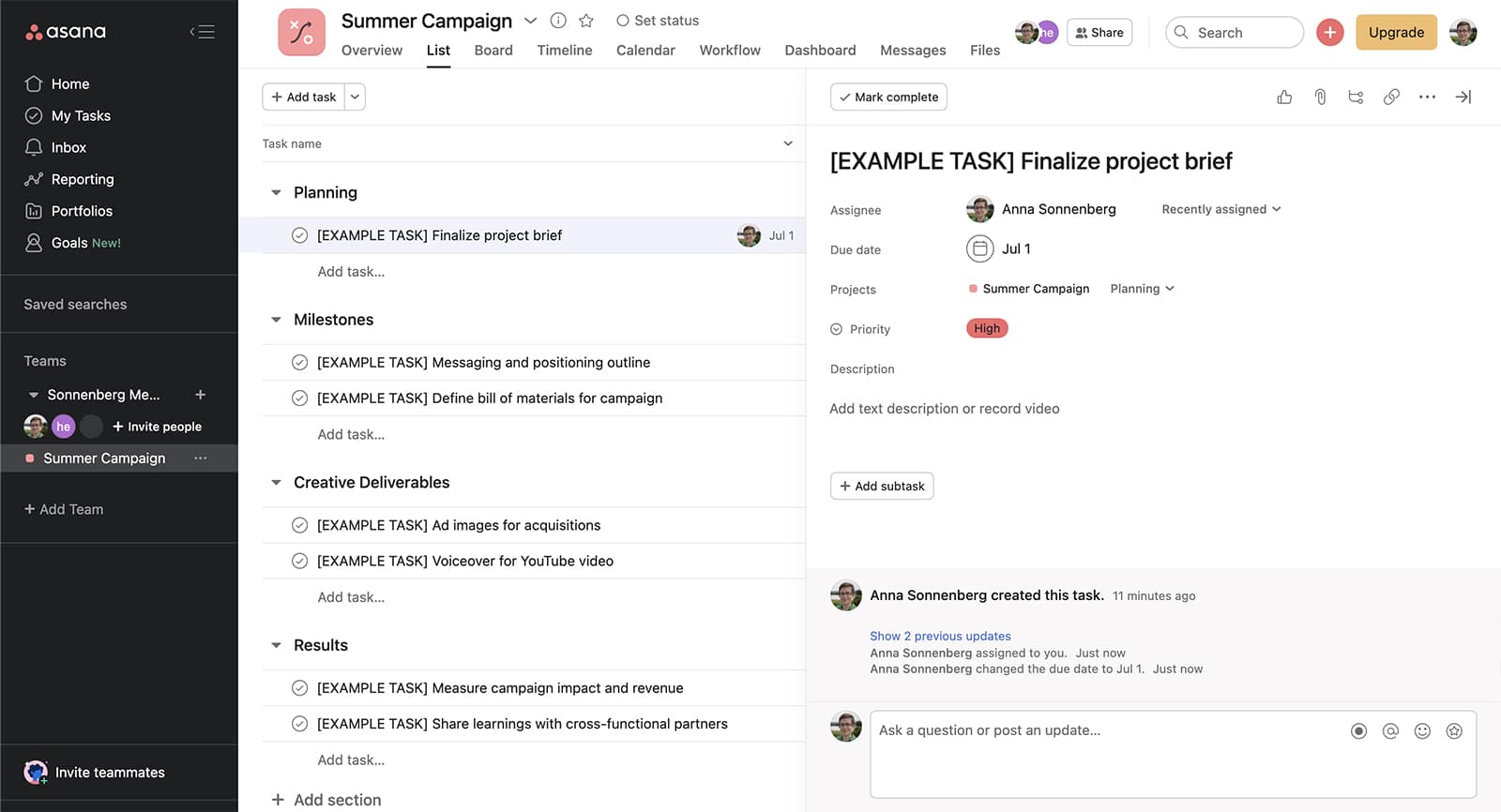 Once you add tasks to your campaign planning workflow, you can assign them to team members and add due dates. You can also upload files to ensure everyone has access and ask questions or provide updates within the task. Asana also allows you to prioritize tasks, so you never miss anything important.
Asana offers several visualizations, so you can use lists, boards, or calendars to tackle projects. You can also use Asana's reporting tools to monitor progress and collaborate more efficiently with teammates.
monday.com
A work operating system (OS), monday.com lets you create and customize workflows that fit your in-house or agency team's needs. You can use the platform to manage all your in-house or agency team's projects or adopt its built-in monday marketer tool to focus on campaign management.
With monday marketer, you can develop strategic plans, create content calendars, and manage campaigns on social media and other channels. To streamline your workflow and allow you to manage everything in one place, this tool also has systems for digital asset management (DAM) and creative requests.
The platform's automations can save your team time and help you work more efficiently. Using the built-in automations, you can keep everyone in the loop about deadlines and approvals.
Wrike
No matter which marketing channels you plan to use, Wrike can help you organize campaigns. You can use the platform's premade templates to start managing campaigns quickly, or you can develop custom workflows with your team. Both options provide complete overviews of campaign status so you can collaborate and delegate efficiently.
To streamline projects even further, you can leverage Wrike's artificial intelligence (AI) driven tools, which automate tasks and alert you to project risks. You can also use the platform's time tracking and analytics tools to measure progress, identify bottlenecks, and plan future campaigns more effectively.
Campaign Planning Tools
With campaign planning tools, your team can set goals, create cross-channel strategies, and work together to launch and analyze.
Mediatool
From social media and email to digital ads and content marketing, Mediatool can organize marketing campaigns across channels. Just provide input about your campaign type and your team's collaboration style, and the platform automatically creates your ideal workspace.
Once you've set up your workspace, you can quickly toggle between campaign overviews and details like creative assets or landing page links. Team members can easily comment on campaign elements, keeping the discussion flowing and consolidating feedback.
When you need input from agency clients or stakeholders throughout your organization, you can seamlessly send media plans from Mediatool. The platform keeps track of approvals and campaign status to ensure that everyone is in the loop.
As strategic marketing planning software, Mediatool helps your team reach goals of all sizes. You can input custom measurements, prepare reports, and share results to simplify your team's analytics workflow.
Opal
Whether you're planning a single social media campaign or a series of interconnected efforts, Opal can help you keep everything organized. Designed for marketers and agency teams, this platform can help you identify top-performing campaigns. Then it can turn proven campaigns into templates that you can reuse again and again.
With Opal's asset management system, your team can develop and use creatives more effectively. Using the platform's approval workflows, you can ensure you always have the feedback you need before deadlines. The platform also integrates with third-party tools like Facebook Ads Manager so you can easily upload and launch campaigns.
Social Media Management Software
Social media management tools allow your team to plan, schedule, and analyze social media campaigns across key channels.
Agorapulse
When your marketing campaigns center on social media, Agorapulse is your solution for streamlining every step of the process—from planning and scheduling to engagement and analysis. Agorapulse supports organic Facebook, Instagram, LinkedIn, Twitter, and YouTube campaigns as well as engagement for paid Facebook and Instagram posts.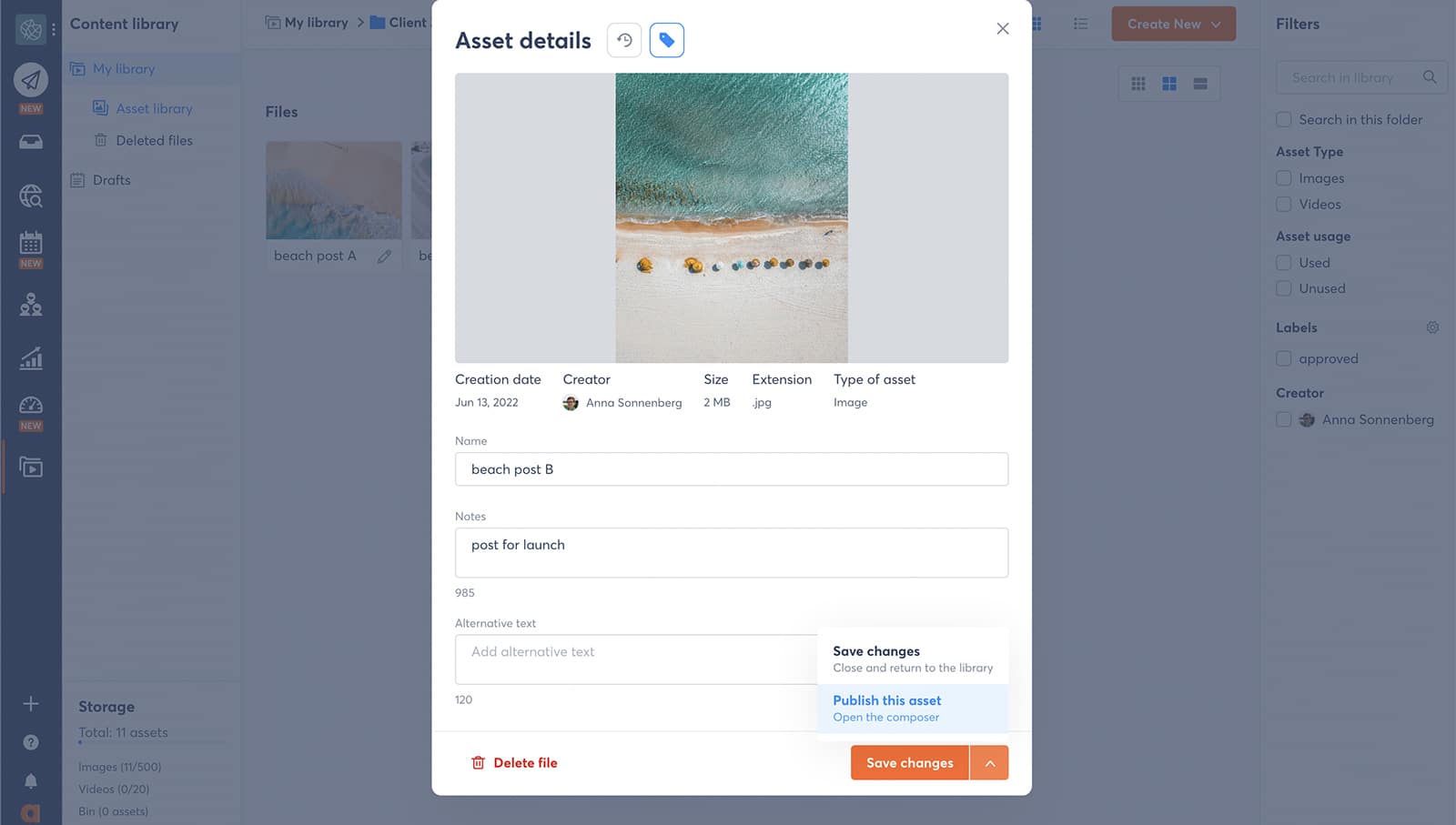 As you develop creative assets, you can upload them to your Agorapulse content library, where you can organize assets by campaign, client, or theme. Add labels and notes to keep assets organized, and click to publish any creative directly.

Then as you create posts, use Agorapulse's built-in campaign tracking tools. First, add a campaign label to each post so you can easily track all the content that's part of your social media campaign.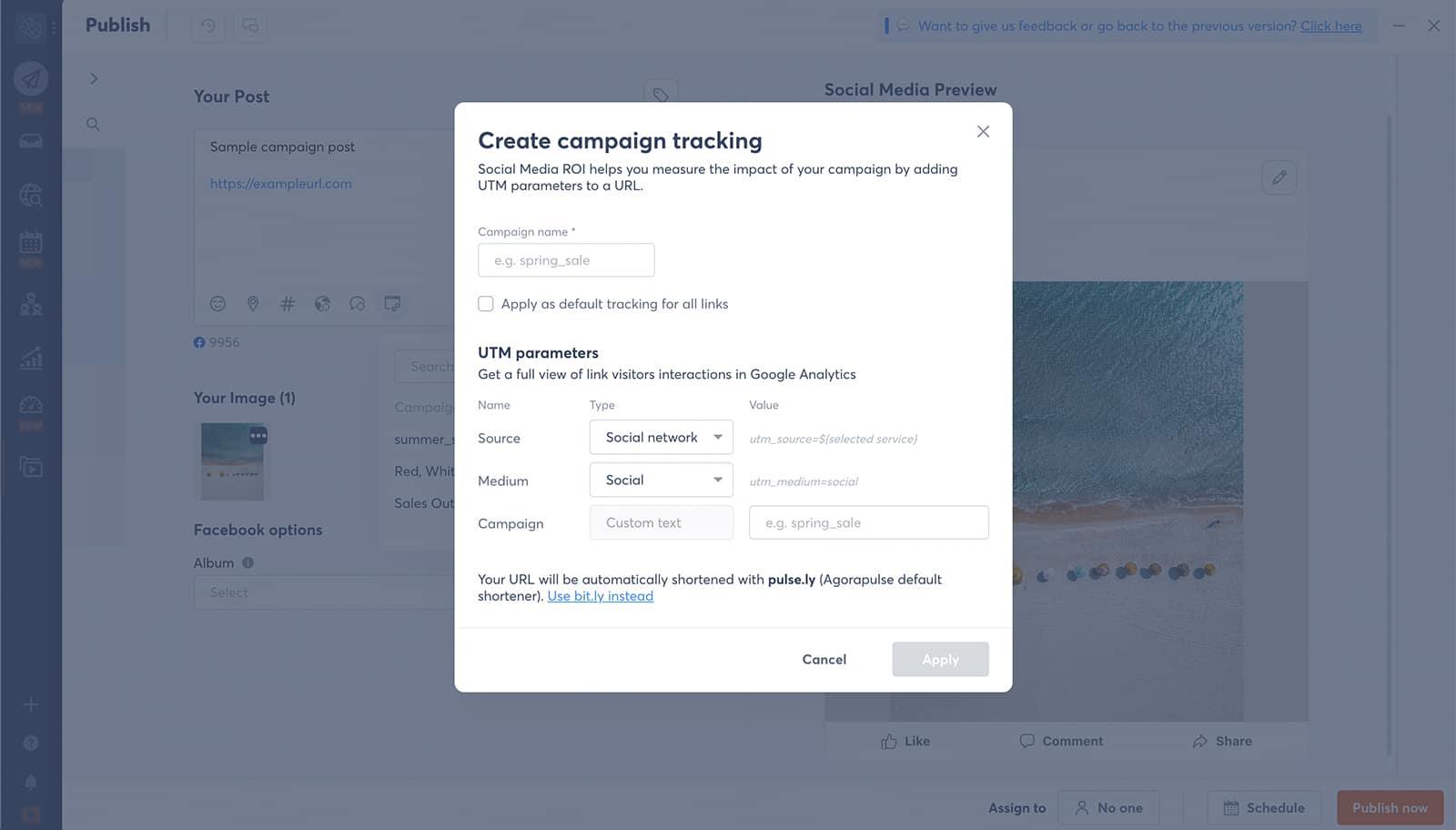 Then set up UTM parameters for any link posts, so you can track ROI and related website analytics automatically. If you need stakeholders to approve content, you can assign posts to one or more internal or external team members directly from Agorapulse.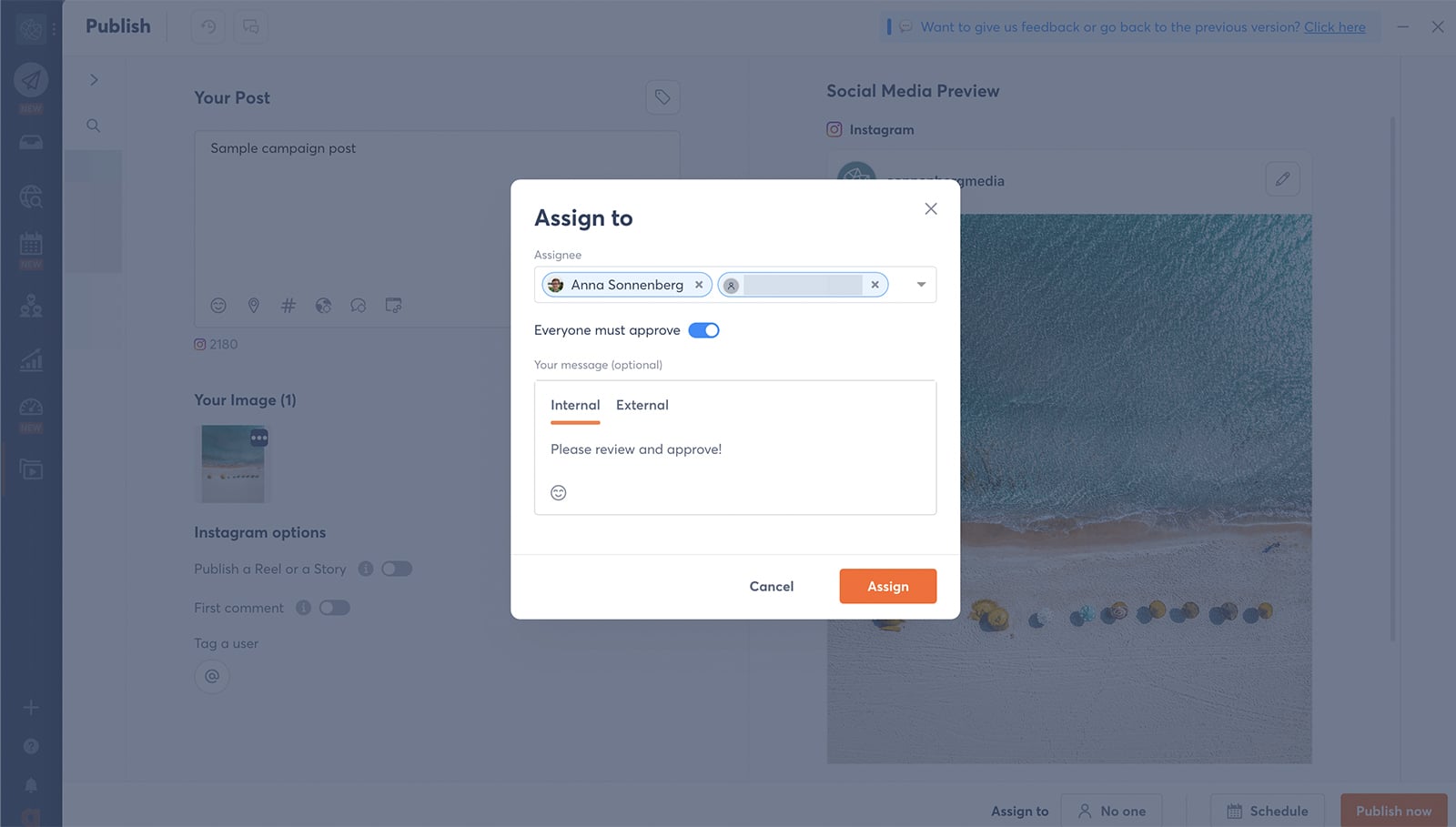 If you're planning to run Instagram or Facebook ad campaigns, be sure to connect your ad account in your social profile settings. Then you can respond to both paid and organic engagement efficiently from Agorapulse's social inbox.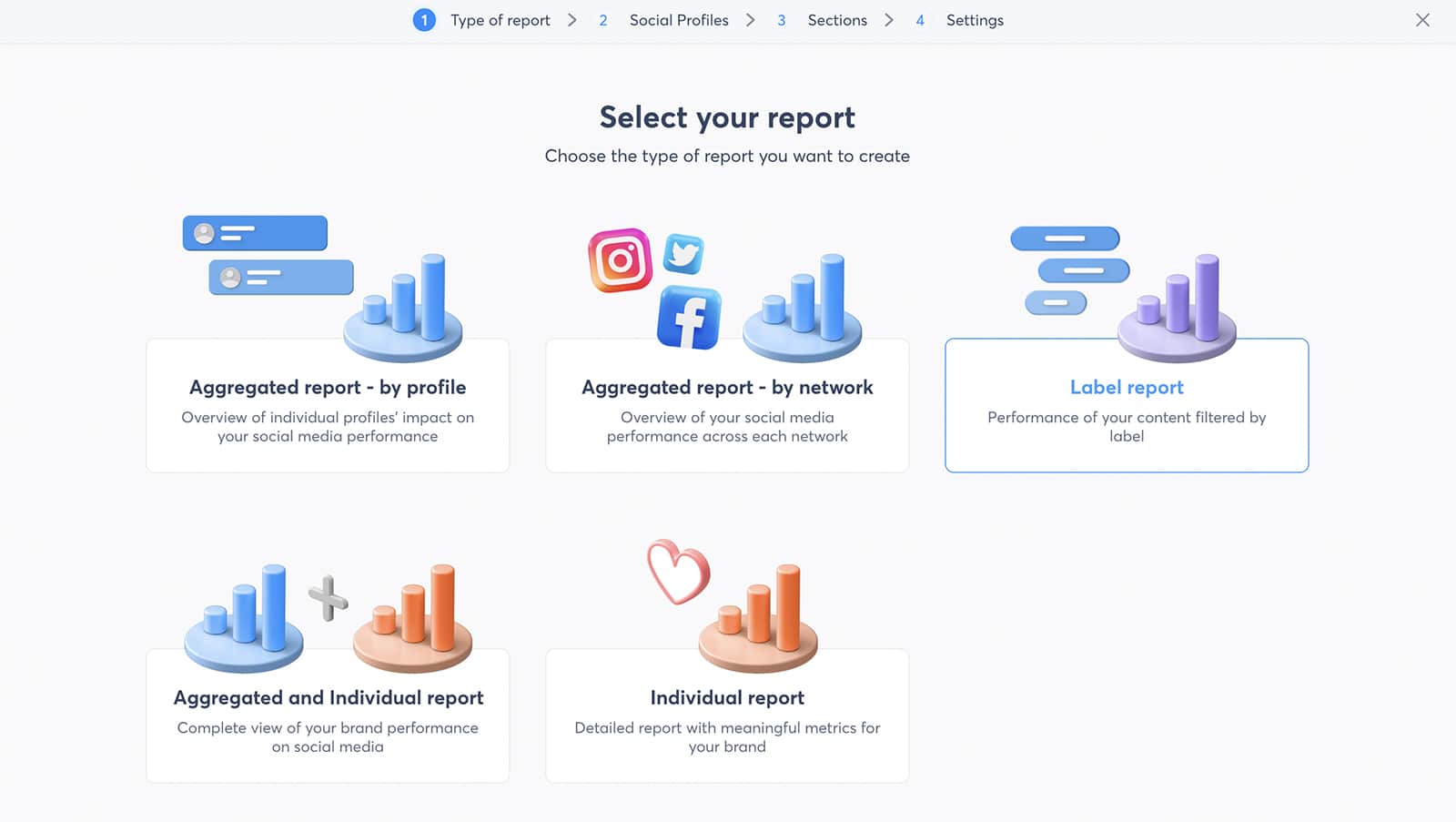 After launching your social media marketing campaigns, you can use Agorapulse's reports and ROI features to track results. Use the Power Reports add-on to create a custom report that includes all content that has your campaign label. Then use the ROI tracker to monitor the website visitors, transactions, and revenue your campaign has generated.
Airtable
From social media posts to creative assets to landing page links, Airtable can organize all the elements that go into your social media marketing campaigns. You can set up separate bases for each client or campaign—and then start planning all your posts for each platform.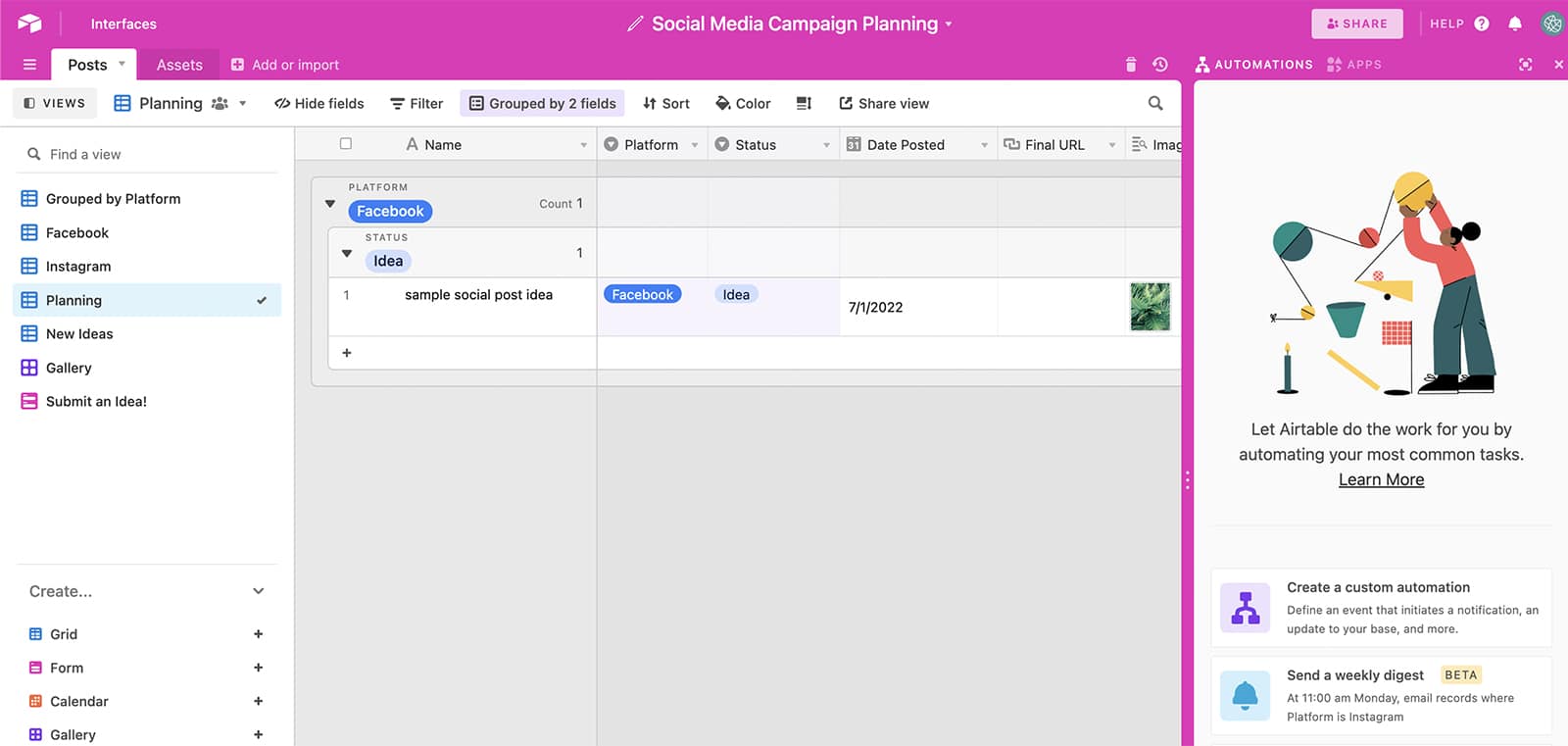 Then you can brainstorm posts, keep track of landing pages, upload creative assets, and even draft different copy for each social platform. Because Airtable can track content status and publication dates, you can get a quick overview of any campaign at a glance.
To help your team improve productivity, Airtable also makes it easy to automate much of your planning process. For example, you can automate notifications and team updates, so nothing falls through the cracks.
Canva
Whether your social media marketing campaigns focus on photos, videos, or graphics, you need a platform to plan and create assets. With Canva, you can design content for any social media platform and easily repurpose top-performing content for cross-channel campaigns.
Your team can use Canva's templates to create campaign graphics efficiently, adding animations, audio tracks, and edits optimized for social media. This design app also supports brand kits and asset management so you can organize client projects and campaigns.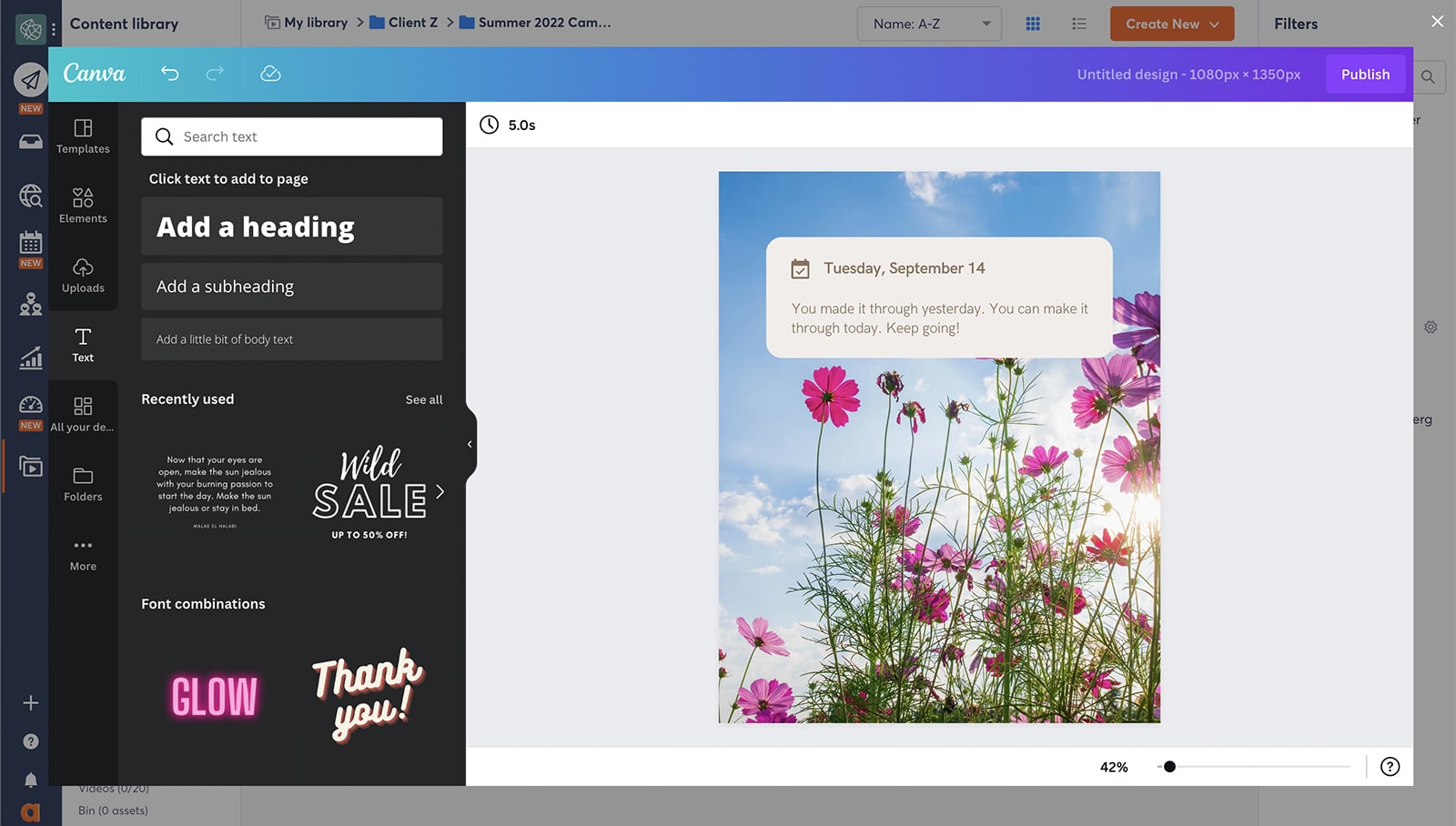 If you use both Canva and Agorapulse, you can plan social media campaigns even more efficiently. You can save time by adding Canva designs to your Agorapulse content library or uploading graphics directly to Agorapulse post drafts.
CoSchedule
When you have a limited budget for marketing planning software, free tools are critical. The free marketing calendar from CoSchedule is ideal for in-house teams and agencies that want to move beyond shared calendars and spreadsheet tools.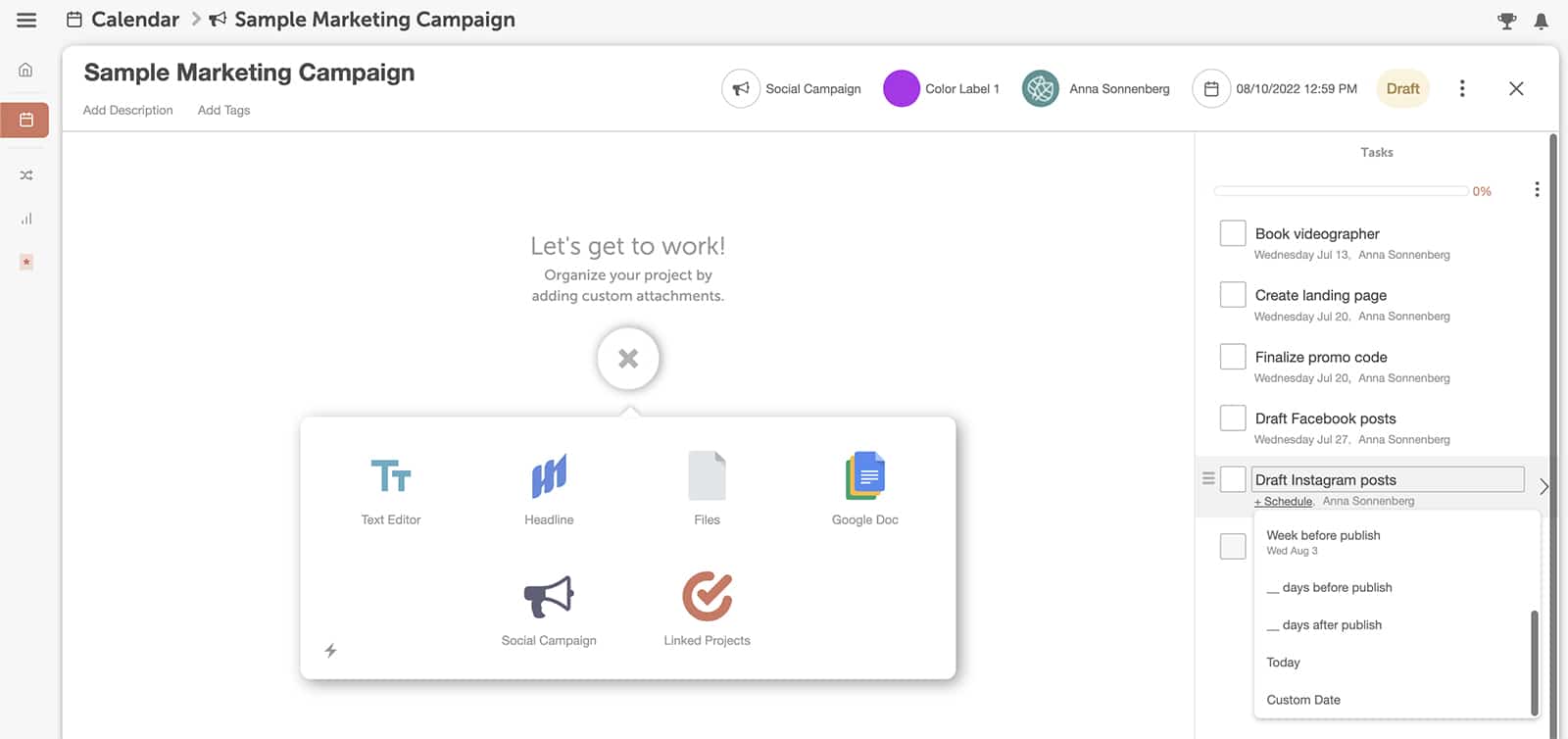 With this marketing calendar, you can brainstorm social media campaigns and schedule all the tasks you need to complete before launch day. You can assign tasks, attach assets, and track progress to ensure you check everything off the list with plenty of time to spare.
Research and Measurement Tools
Research and measurement tools are essential for planning, analysis, and continuing to develop successful campaigns.
Dreamdata
When your campaign goals focus on driving revenue, Dreamdata can help you pinpoint what's moving the needle. This data analysis platform specializes in attributing revenue for business-to-business (B2B) marketing campaigns and identifying the most valuable channels and touchpoints.
Then your team can use the insights to plan even more successful marketing campaigns. You can make data-driven decisions about channels, assets, and promotions while continuing to increase ROI.
Factors.ai
Engineered to optimize ROI, Factors.ai reviews activity from all your marketing efforts to assess which channels and campaigns have the biggest impact on revenue. This analytics platform evaluates the entire customer journey to help your team better understand marketing campaign performance.
You can also use Factors.ai to configure multi-touch attribution and identify performance trends. With these insights, you can decide which channels to focus on, test new tactics, and fine-tune your marketing efforts. The platform's automations can help you get more even value from your work, as you can create custom reports and checklists.
Measured
If you manage marketing for direct-to-consumer (DTC) brands, you need marketing planning software that fits your needs. Measured is designed to help DTC companies identify the best media investments. This analytics platform evaluates all your cross-channel efforts and determines the true value of each. Measured works with every major social media marketing and advertising platform so you can easily connect all your channels.
You can use Measured's built-in attribution tool to analyze sales data and revenue sources. With the platform's native testing tools, you can create experiments that help you continue to optimize and improve campaign outcomes.
Wrapping Up What We Learned About Marketing Planning Software
With the right strategic planning platforms, your team can develop, execute, and analyze more successful marketing campaigns. From free marketing planning software to enterprise-level platforms, use the tips above to choose the optimal tools for your team.
Are you ready to get started with Agorapulse's social media management software? Sign up for a free 30-day trial of Agorapulse and see how this social media marketing solution can work for your team.